10 Best Caterpillar Boots Reviewed & Rated
last updated:
Apr 02, 2021
Though technology is advancing in other sectors of the industry, there are fields where manual labor is the norm. These industries include farm work, construction sites, yard tasks and industries where able-bodied men and women still do a load of the jobs. However, these individuals have to have the protected and caps just won't cut it.
One must invest in work boots seeing as the toes are the most protruding part of the body. Therefore, there is a high likelihood of falling objects or rolling objects crushing your toes. Thus you need sturdy work boots, so you are ever safe.
Our Top 3 Picks
[srpshortcode id="22130″][/srpshortcode][srpshortcode id="22131″][/srpshortcode][srpshortcode id="22132″][/srpshortcode]
One company that has been in the construction of work boots is Caterpillar renowned for the CAT logo on their shoes and other products. Though the company has diversified to luxury shoes and casual wear, their mainstay still happens to be work boots which are highly recommended.
Nevertheless, there are various CAT work boots available and thus picking the right pair might be a challenge. Below are our recommendations for the best Caterpillar boots, but first, our buying guide should you choose to buy boots, not on the list.
10 Best Caterpillar Boots
1. Caterpillar Men's Second Shift 6'' Boot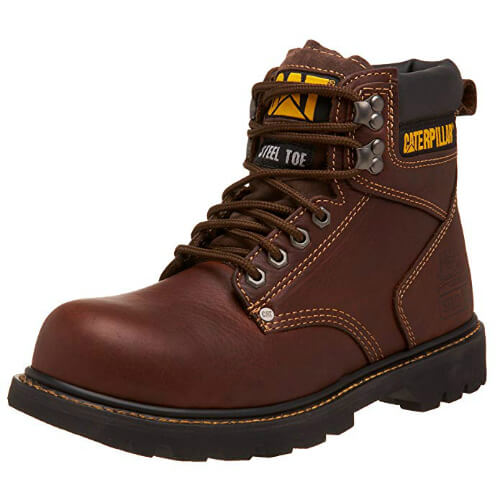 Topping the list for the best Caterpillar boots is the Second Shift Men's steel toe boot. First, the boot is rugged, has classic styling, and is brown. It is built to be comfortable and durable for both heavy-duty and light tasks.

One fascinating feature of this unit is that it is affordable as it is a mid-range price boot. However, the features found on it are for premium boots. The boot is a Goodyear welt construction which increases the stability and strength while making it a bit more work friendly.

As stated earlier, it is a steel toe, and it happens to be roomy for comfort. To regulate the temperature, it includes a climasphere sock liner and also has a nylon mesh to wick moisture and prevent sweating. You will also appreciate the padded collar as it increases comfort and stability.

Outer sole – The Caterpillar Second Shift outer sole increases traction, and it is oil and slip resistant. It is also one solid piece that is glued on to the construction, and thus it will last longer.

Speed lacing – First, the lace features are sturdy thanks to the durable eyelets and hooks. The hooks allow for speed lacing and make the boots easy to wear and remove.

Expand to see more
Product Features

Steel toe protection
Goodyear welt construction
100% leather
Hex-shaped grommets

Who is it for?

First, owing to the slip-resistant outer sole, we recommend the Second Shift for anyone in the auto industry. However, it is splendid for heavy and light work.

It is a premium shoe but one that is reasonably priced
It is durable; thus you can expect it to serve you for long
They look good and breaking in takes no time
One shortcoming is that the innersoles are glued down
It is not waterproof
2. Caterpillar Men's 2nd Shift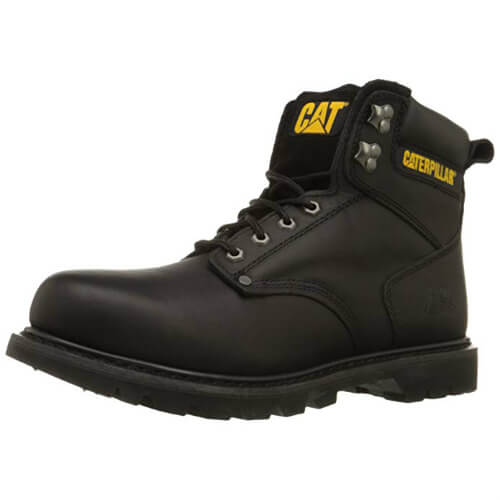 Understanding that there are jobs where steel toe boots are an inconvenience, Caterpillar manufactured a second, Second Shift boot that features a soft toe for areas where the risk of crushing your toes is almost non-existent. Again, this is a mid-price range boot but with features only found on premium boots. It too has garnered a 4.2-star rating after 2,000+ reviews which speaks of the quality.

The quality of the soft-toe boot is similar to that of the steel-toed shoe. First, it features an oil and slip resistant outsole and thus excellent for auto-industry. The uppers are full-grain leather, and though they are not waterproof, they can withstand abuse. You will also appreciate the Goodyear welt construction as it increases strength, stability, and ease of use. The padded collar makes the boot comfortable and retains warmth while keeping cold out.

You will also appreciate the speed lacing thanks to the hooks; wearing and removing the boots will be a breeze. Finally, there is the climasphere inner sole that regulates temp while wicking moisture and preventing sweating.

Hooks and eyelets – The quality of the hex eyelets and the hooks is outstanding. First, the hooks are flanged on the inside so bending outwards of collapsing them is nearly impossible. Furthermore, they have two rivets instead of the standard single rivet securing them.

Soft toe – Being a soft toe boot, it is lightweight and thus easy to work with. Furthermore, it is comfortable, and you can work for long hours with ease.

Expand to see more
Product Features

Material: full grain leather
Height: 6.6-inches from the arch
Heel: 1.5-inches

Who is it for?

The soft toe second shift is for people involved in lightweight work. That is areas where there is a low likelihood of crushing your toes. Moreover, it is great for workers on a budget.

It is reasonably priced
Short break in period
The soles are puncture proof
They are comfortable
They are durable lasting up to a decade with the proper care
It is not waterproof, and the innersole is glued in
The laces too could be better
3. Caterpillar Men's Alaska 2.0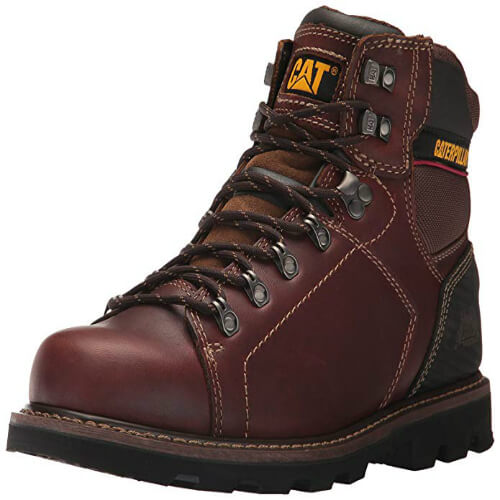 Following on our best Caterpillar boots is the Alaska 2.0 steel boot that is designed to keep you safe and comfortable for long working hours. First, the unit has leather uppers, and thus you can expect it to last. The leather uppers can handle abuse and therefore is excellent for use in demanding industries. The soles are rubber with high traction (T1330 durable outsole) keeping you safe in auto industries or areas where there is a high likelihood of it being slippery.

The steel toe is spacious increasing comfort though it does add to the weight of the boot. The Goodyear welt construction increases stability and strength of the shoe while making it easier to use. However, it's electrical hazard rated and has a lace-up design.

Lace-up design – Unlike the second shift that uses hex eyelets and hooks, the Alaska 2.0 has a lace-up design for a more comfortable fit. However, it has strong hooks thanks to the flanged inside and for speed-lacing.

Electric hazard rating – The Alaska is rated ASTM F2413-05 1/75 and will protect you from 600 volts of an open circuit.

Expand to see more
Product Features

Material: full grain leather and T1330 rubber soles
Steel Toe
Lace-up design

Who is it for?

The Alaska 2.0 is superb for electricians thanks to the electrical hazard rating. It is also great for people in heavy-duty industries thanks to the steel toe.

They are comfortable and quite light
The lace-up system allows you to get a tighter custom fit
Include a cushioned footbed for added support and comfort
• The steel toe has the highest rating for compression and impact.
• Waterproof
It is pricey compared to our top pick
The laces could be better
4. Caterpillar Men's Diagnostic Waterproof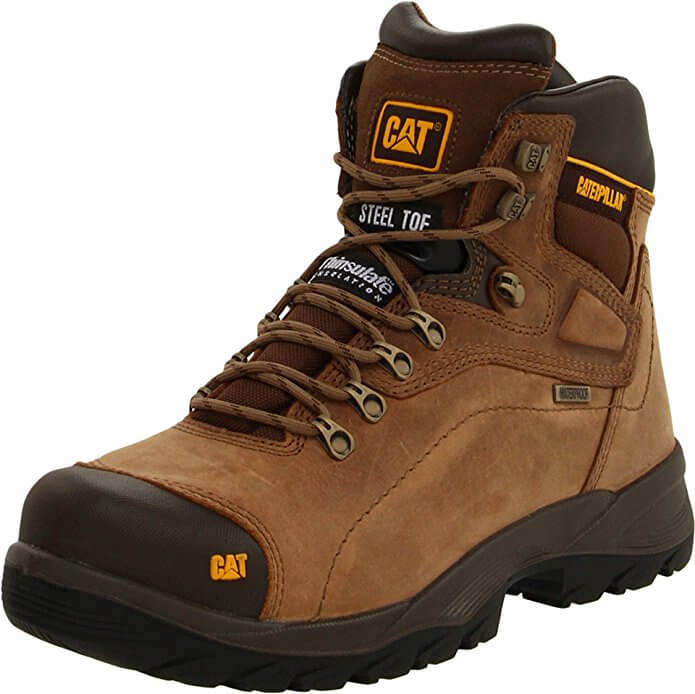 The Diagnostic are designed with advanced high tech to ensure comfort for long work days. They are available in black and brown, and you will appreciate the athletic design. However, they have some fancy features that make them stand out but more on this later.

First, they feature a 200g Thinsulate insulation for cold areas. The Thinsulate is not for extreme winters, but it is enough for standard cold days. There is also the nylon mesh that wicks moisture and keeps your feet dry and cool. The outsoles are non-slip, and they can go the distance even in demanding job sites. Nonetheless, we appreciated the comfort, and that it is waterproof.

Waterproof – The full grain leather uppers are waterproof which increases the versatility as you can use the boots in dry and wet weather.

Ergo comfort system – This advanced tech supports your foot's natural movement. It also increases the stability, comfort, and flexibility as it is anatomically correct — furthermore, the shoe contours to stabilize every step, unlike other boots that are rather flat. The uppers too are padded (generously) again increasing the support for long days at work. Finally, the EVA insoles are removable and have gel tech that absorbs shock and impact, and it is high performance.

Expand to see more
Product Features

Material: full grain leather uppers and rubber outsole
Steel Toe
200g Thinsulate insulation

Who is it for?

Though it is great for any job site, we recommend it for electricians especially people repairing downed cables during storms. It is also ideal for cold climates thanks to the Thinsulate.

They are comfortable allowing you to work for long hours with ease
The heel support is unmatched
They are easy to clean and durable
The treads come off quickly and thus are not great for people who work with shovels
The wear off after minimal use and are no longer waterproof
5. Caterpillar Men's Revolver Pull-On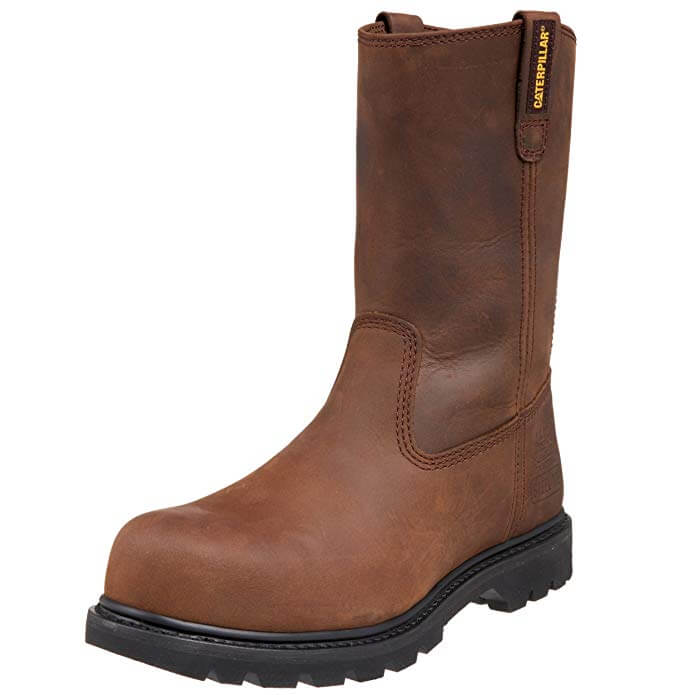 If you are on the hunt for a boot that you can use in snow, mud, and water; one that will keep your feet dry at all times without affecting the quality, then consider the Revolver steel toe boot.

First, the shoe has full grain leather uppers and rubber outsoles. The rubber outsole has electrical hazard protection of up to 600 volts and thus great for use in areas where there are open circuits. Moreover, the outsole is slip and oil resistant; therefore you can use it in fields where traction is compulsory.

The Revolver feels like a lightweight tank in that it is durable and can hold up to abuse, but it is light for extended usage. Moreover, being a steel toe boot, it protects your toes from bumps or being crushed by falling and rolling objects. However, our best features were the fit and quality.

Fit – Most people prefer purchasing boots that are one or a half size larger than their standard size. Not with the Revolver as they fit like a glove. Moreover, though they have a break-in period, they will eventually expand. Thus get your actual size to avoid blisters and discomfort.

Quality – The Revolver boots are designed to last. First, the leather uppers can withstand abuse without scratches or gouges. Moreover, the boot is a single stitch, and the Goodyear welt construction ensures that the boot will last in any condition. It also increases flexibility as you can squat with ease. Finally, they are simple to wear even for individuals with large calves thanks to the pull-on handle.

Expand to see more
Product Features

Electric hazard rating up to 600 volts
PVC midsole
Nylon mesh lining
•Rubber non-slip outsole

Who is it for?

We recommend the Revolver for people in Forestry or electricians. Forestry due to the quality and grip and electricians owing to the electric hazard protection.

Has a nylon mesh liner that wicks moisture, and keeps your feet dry
They hold up to abuse
They fit as expected
It might cause a bit of knee and ankle ache if you are standing on concrete for long periods
6. Caterpillar Men's Endure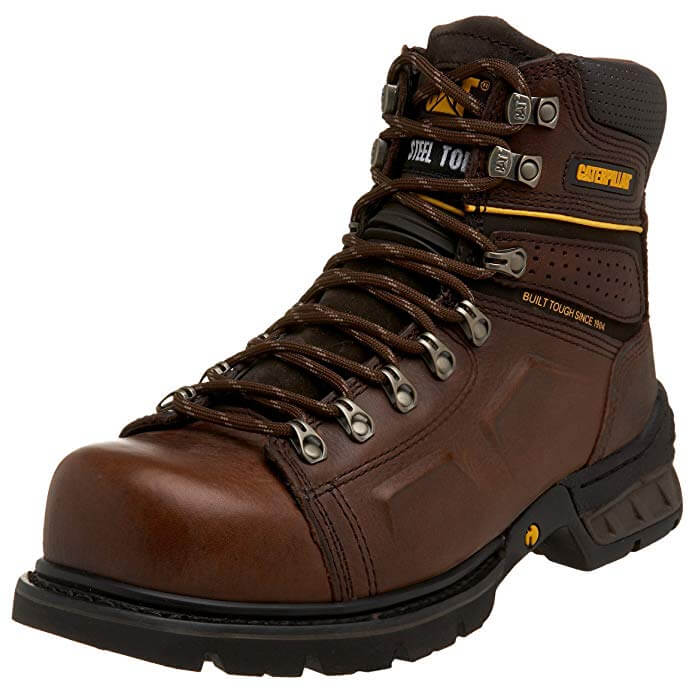 The Caterpillar Men's Endure is a bit pricey compared to the other shoes on this guide, and thus we recommend them for people on a budget. One remarkable feature of the Endure is the speed lace design that allows for a better custom fit. The hooks on the top will enable you to slide out and wear the boots with ease.

These are steel-toed boots and are great for demanding job sites. Caterpillar claims the shoes are waterproof but use them only in rain and snow and not for standing in puddles. As for the safety, other than the steel-toe, the Caterpillar is electrical hazard rated up to 600 volts, and thus you can use where there are open circuits. Moreover, it is slip resistant, and you can use it in areas where traction is compulsory.

Finally, the boots increase support with the generously padded tongue and collar. Nevertheless, our best features were the insole and quality.

Quality – The reason Endure Men's commands such a high price point is due to the quality. The boots are designed to last with advanced tech such as the iTechnology and SuperDuty tech allowing the shoes to take insane amounts of abuse.

Insole – The anti-microbial insole will keep your feet smelling fresh. Moreover, it is removable, unlike our top picks.

Expand to see more
Product Features

Steel-toed
Ortholite antimicrobial insole
Electric hazard protection up to 600 volts

Who is it for?

The Men's Endure is for people who are on a rather generous budget. Also, it is excellent for electricians and people who are on the hunt for water-resistant boots.

The speed lace design allows you to get a custom fit
They are robust in the field but still look good in the office
The toe box is spacious
• They are soft inside and thus comfortable.
Though the company claims they are waterproof, you cannot use them in puddles
They are bulky
7. Caterpillar Men's Silverton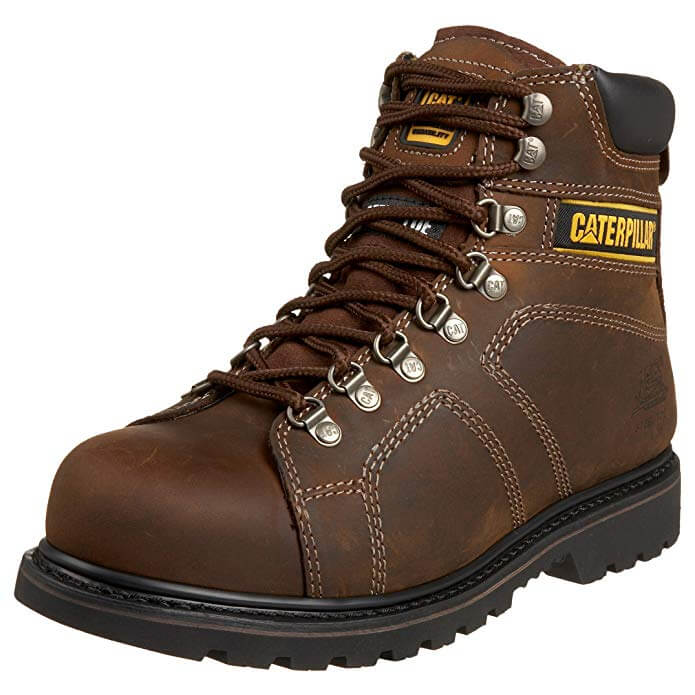 The Silverton is available as a soft toe boot for areas where you need a sturdy boot, but your toes are not in any immediate danger. However, this is a review of the steel toe boot thanks to the reviews rating it has garnered.

First, the Silverton protects you from impact and compression thanks to the steel toe. However, it also keeps you safe from open circuits as it is electric hazard rated up to 600 volts. The boot also features a Goodyear welt construction that ensures flexibility near the toe box while increasing strength and stability. The shoe also has a generously padded collar and tongue increasing the support on your ankles.

The full-grain leather upper can handle abuse, and we recommend it for people on the hunt for outdoor gear. Finally, there is the space lace system that allows adjustment at every point for a custom, comfortable fit. It is also easier to slip in and out off. However, our best features were the comfort and the sole.

Sole – The outer sole is deep-treaded increasing the traction, and thus you can work in wet areas. Furthermore, it can absorb shock and impact. The PVC midsole increases strength and support on challenging terrain and is still great for absorbing impact.

Comfort – The Silverton is cozy, and you can work in it for long periods. The nylon mesh lining increases breathability, while the Nylex and PU foam sock liner are odor resistant that move moisture away.

Expand to see more
Product Features

Nylex and PU foam sock liner
Full grain leather
Rubber outer sole
Goodyear welt construction
Steel-toed

Who is it for?

The Silverton are great for a factory worker as well as an outdoorsman. It is built for areas where there is the risk of tripping, and work sites with open circuits.


You can expect it to serve you for long
Thanks to the steel shank and the PVC midsole, you have unmatched support
They have a short break in period
It is bulky owing to the steel too.
There are some odd bumps under the insole
8. Caterpillar Women's Carlie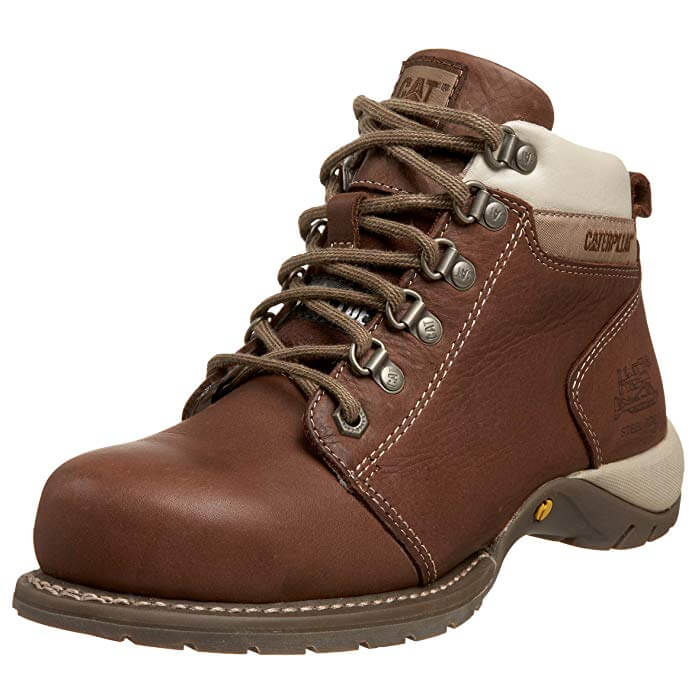 The Caterpillar Carlie is a classic work boot that combines toughness with an athletic design. It is comfortable while still being functional. You can use them to step into town, to go into the office or for industrial work. This versatility is what increases the boots appeal.
The Carlie is built to last. It is for heavy-duty industries and areas were women will eat through the tread. First, the uppers are 100% leather and thus can withstand harsh conditions. Furthermore, the sole is rubber therefore has higher traction. The Goodyear Welt Construction ensures flexibility especially the area near the toe box, and thus you can squat with ease.
Safety is another exciting feature of these boots. First, it has an
electric hazard
rating of up to 600 volts. Thus you will be safe in areas with open circuits. Moreover, it is slip resistant thanks to the class 75 rated outsole. Finally, there is the steel toe that keeps you safe from impact and compression.
The Carlie boots also happen to be comfortable thanks to the EVA cushioning and energy return. It helps you in your work and absorbs shock and impact
Speed laces
– The Speed lacing system allows you to get a custom fit as you can adjust the laces from the throat upwards to the tongue.
Odor resistant ortholite
– Other than increasing comfort, the ortholite insole ensure that your boots scent free, and thus you have a pleasant experience when you arrive home from work.
Expand to see more
Product Features

9-inch boot opening
4.5-inch arch
Rubber sole
100 % leather
Ortholite insole

Who is it for?

The Carlie boots are best for women who spend their time outdoors given their athletic design. It is also great for ladies looking for a work boot that can double up as casual wear.

They are aesthetically pleasing
They are breathable and great for areas with sweltering heat
They provide splendid ankle support
They are large, and you should get a size smaller
They are for dry areas only
9. Caterpillar Women's Echo Boot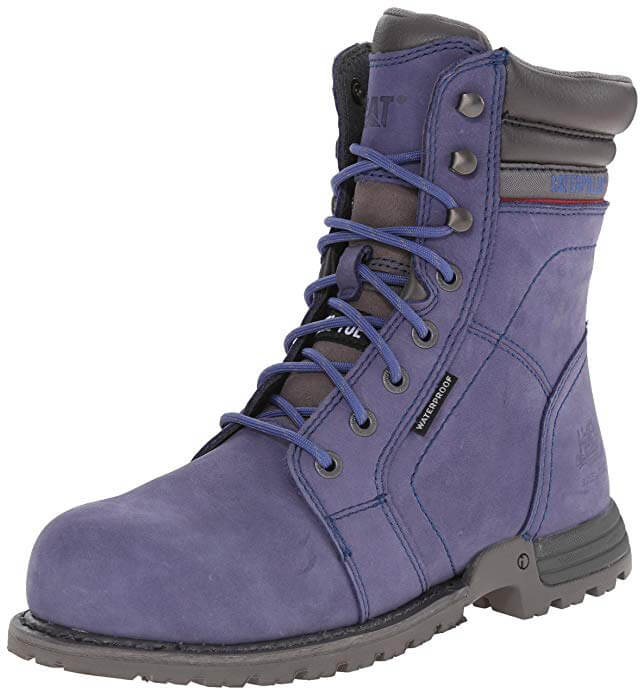 Though we love rugged work boots, there are instances where classic, stylish boots trump the standard work shoes as is the case with the Caterpillar Echo. First, these are work boots but with an athletic design. They are great for outdoor work, as well as casual wear when stepping into town.
First, you will appreciate the design. The boots measure 8-inches from the arch resulting in a lovely look, and they are available in various colors. Moreover, they feature CAT's Ergo technology, and iTechnology (more on this later).
Another impressive feature is the quality of the boot. It is entirely
waterproof
made of Nubuck leather and with a gusseted tongue to keep water out. The outer sole is fully rubber for traction, and the middle bottom absorbs shock and impact.
You will also appreciate the safety that the boot has from electrical hazard protection, and thus you can use it in areas with open circuits to deep treads that increase grip and leading edges that allow water to sip out. Finally, there is a steel toe that protects against compression and impact.
Ergo technology
– Ergo is all about an anatomically correct and anatomic design. It follows the natural foot surfaces and adjusts to how your foot moves. It is contoured in the heel and midsole for comfort, and around the arch to provide more support.
iTechnology
– This patent-pending tech from Caterpillar combines durability and comfort. The front is made of Goodyear welt construction to withstand abuse and features the techni flex construction that increases flexibility especially when squatting. However, the back is cement construction for comfort.
Expand to see more
Product Features

8-inch from the arch
Nubuck leather
PU foam footbed

Who is it for?

The Caterpillar Echo is a women's work boot but one that can double as casual wear.

They are aesthetically appealing
They are high and waterproof; thus you can wade through puddles or work in snow
They fit perfectly and are designed to follow your foot surface
• They have a generously padded collar for support.
• The insole/footbed is open cell and thus breathable to avoid stink.
You have to buy a right fit as they refuse to break in; don't purchase a smaller shoe expecting to expand it
A bit pricey
10. Caterpillar Women's KenzieBoot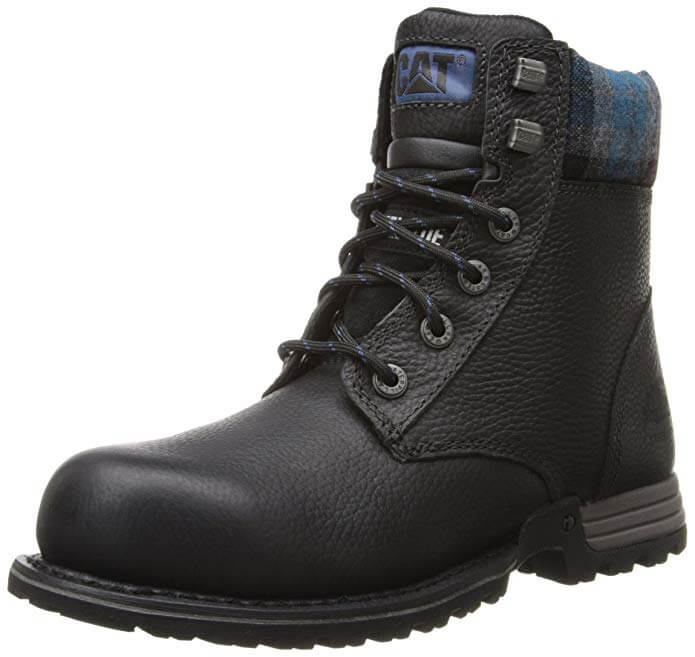 The Kenzie is similar to the Echo in terms of features only that it is shorter at 6-inches. It happens to be stylish, with the strength and style of a combat boot.

The Kenzie too features the ergo tech that increases comfort as t is anatomically correct and biochemically designed. It contours with your foot, and provides support to all critical points. The heel is cushioned, and the arch is contoured to increase comfort and support. The boot also incorporates the iTech in that the front is Goodyear welted for durability and flexibility while the back is cement construction increasing comfort.

Other than the advanced tech you will appreciate the full-grain leather used in construction as it increases longevity and the rubber sole as increases traction. The lace-up design allows for adjustability, and you can get a custom fit. Moreover, there is the collar which keeps you warm while providing support.

PU Foam liner – First, the liner is open cell and breathable. It is also contoured to provide support to all areas of your foot. Moreover, it has an anti-microbial top to keep the boot from stinking.

Steel shank – Work boots are subjected to a ton of abuse, and they lose stability rather easily. However, the steel shank ensures support and stability keeping you from expending funds buying new boots.

Expand to see more
Product Features

6-inch from the arch
Full grain leather uppers
T1170 outsole
EH rated

Who is it for?

The Kenzie is a lady's boot and one that is great for industrial use. However, it still works as casual wear thanks to the stylish design.

Provide more support as they are anatomic
They are aesthetically pleasing
They fit as expected
They are a sure fit and will lead to blisters (at the back of the foot) if you but one that is close fitting; also, they don't break in
Caterpillar Boots Selection Criteria

Safety Toes
Your toes are the lowest part of your body and are exposed to bumps and get tripped a lot. Thus, safety toes should be compulsory especially in demanding industries such as construction. Safety toes should withstand 200 joules of impact and carry 1000kgs of resting mass. Steel toes are the most common, but there are equally good alternatives such as composite and alloy toes.
Steel toes – If you want protection that goes above and beyond, pick steel toe Caterpillar boots. They are compact and a traditional choice for people in hazardous industries. They are difficult to damage and bend without breaking when under pressure. However, steel conducts temp, and thus they are not for use in areas with electrical hazards or extreme temperatures.
Composite toes – These, on the other hand, are either plastic, carbon fiber, or Kevlar. However, they comply with ANSI/ASTM standards, but that means they have to be thicker. They are non-magnetic and non-conductive and thus excellent for areas with electrical hazards.

Alloy toes – Alloy toes offer the same protection as steel but happen to be lighter. Nevertheless, they are thicker than steel toes; they also bend when under pressure instead of snapping or breaking. If you are on the hunt for protection and mobility, alloy toes are a great option.
Soft toes – Finally, there are instances where safety toes will be an inconvenience. If you are involved in an industry or task where toes are not in any danger of getting crushed such as shoveling sawdust, soft toe boots are the best option. However, focus on other safety features without burdening features.
Heel and sole
Other than toe protection ensure your boots will keep the bottom of your feet safe from impalement. First, ensure they are puncture proof, to keep you safe from nails, debris, and broken glass. Work boots with solid sole construction are paramount even for individuals involved in simple yard work.
Most boots incorporate steel or Kevlar midsoles that can withstand 1100N of penetration pressure. You should also ensure that the soles are slip resistant. Multi-treading is one feature that provides dependable traction especially in areas where oil spills are frequent. Finally, the bottoms should be durable for longevity.
Fit
Small fitting shoes result in ailments such as blisters and corns while large boots will rub raw certain places leading to discomfort. Therefore, get an appropriate pair especially when working for long hours.
One common mistake that most new buyers make is the misconception that a safety toe boot will expand like any other shoe. This is not the case, and you will be stuck with a small fitting shoe for the life of the attire. Ensure you get a natural fit the first time.
Insulation
Uncooperative weather happens to be unpleasant as it ruins your working environment. However, you can maintain optimum conditions with insulated boots. Composite toes boots are for areas where there is extreme weather, but the uppers too should be insulated. Ensure they are waterproof when working in wet environments, and breathable for areas with sweltering heat.
FAQS
How do I identify genuine CAT work boots?
Given the proliferation of knockoffs, it is best you know what to look for. First, consider the packaging and ensure it is an original CAT box. Look for the spacing, color, branding, and positioning and check if there are any errors. Next, check the detailing label and ensure the details match those on the boot. Also, inspect the outsole and ensure it has a CAT loo with the registered R trademark sign. Next, check the label on the inside of the lip and ascertain the details match those on the boot and the box. However, the tongue label should feature "Licensed Merchandise."
Also, ensure that the boot has a logo on the uppers of either the CAT name or a machine. The logo should have the registered R trademark as well. Finally, check the eyelets and stitching. Some CAT boot eyelets have Caterpillar 1904 engraved on it. As for the stitching, it should be straight and neatly finished.
What is the difference between cement and Goodyear welt construction?
A Goodyear welt is a design to attach the leather uppers to the sole of the shoe. It entails a welt, which is often a strip of leather that is on the perimeter of the bottom. The welt is sewn into the upper, then glued to the sole and later stitched to the sole too. The design improves water resistance and makes the boot easy to repair as the welt acts as a buffer between the insole and outsole. The shortcoming of a Goodyear welt is that it is pricey owing to use of more materials and labor.
Cement construction, on the other hand, is the cheapest and easiest way to make boots. It is also a better method for attaching gummy, and they result in a more competitive price. However, the connection isn't as durable as that of the Goodyear welt.
How do I clean my footwear?
First, always brush the dust and dirt away after a work day, and clean with mild soap and warm water after periods of rugged use. Ensure you rinse all soap. Drying should be done at room temperature and ensure the boot is fully opened, and insole and laces are removed.
Finally, only apply treatments depending on the construction and material.
Wrapping up
These are the best CAT boots and are versatile enough for any industry. Get a unit that is within your budget, and meets your needs. Finally, we love to hear from our readers so please leave a comment below.
Subscribe to our newsletter