10 Best Pool Cleaners Reviewed & Rated
last updated:
Jan 23, 2019
We all appreciate swimming in crystal clear water, and very few activities are as refreshing. However, there is often the laborious task of keeping the pool clean which is necessary for the sparkling water. If left for long periods without cleaning, pool water collects slime and grime. These are contaminants from organic materials such as dead skin, hair, to chemicals and not to mention larger debris such as leaves and sticks. They threaten people's health, and your circulation system, especially the pump.
Our Top 3 Picks
[srpshortcode id="20744″][/srpshortcode][srpshortcode id="20745″][/srpshortcode][srpshortcode id="20746″][/srpshortcode]
However, cleaning pools is an arduous task, and we recommend you hightail to the pool shop and get a pool cleaner. Picking the best gadget also happens to be a challenge. There are various designs with a myriad of features which can befuddle a newbie in the pool cleaner market. With that in mind, we have provided our ten best pool cleaners and a buying guide.
10 Best Pool Cleaners
1. Dolphin Nautilus CC Plus Automatic Cleaner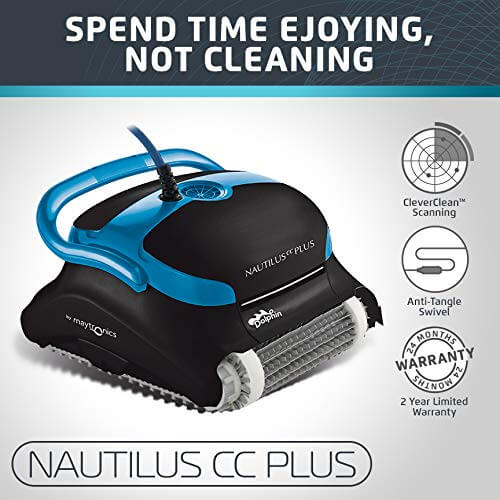 If Tesla were to get in the poll cleaner industry, it is highly unlikely that they would beat this unit. The Nautilus CC is a bulldog of a cleaner and will clean all dirt, grime, and larger debris with ease. It is for in-ground pools up to 50 feet long and is a one-button operation machine.

One fascinating feature of this unit is the Intelliscan tech that it runs on. This tech incorporates algorithms for efficient cleaning of the pool. The technology analysis the dimensions of your pool and its filter requirements enabling it to work out a cleaning pattern. You will also appreciate the active scrubbing brush as it attacks the tough and sticky messes. Moreover, it scrubs all walls limiting algae growth. As for energy consumption, this cleaner is 8X more efficient than most suction and pressure options.

We would also recommend this unit that's to the top water release. The gadget takes in water from the bottom and exits through the top so that it doesn't disturb debris. The ingenious, clean system detects obstacles and avoids for quicker cleaning. It is also fast cleaning most pools in about 2 hours. Nevertheless, our top features were the water release and dual-layered filtration.

Water Release – Most robotic options are bulky and wrestling them out of the pool is demanding given their weight and the added weight of water and dirt. However, the Nautilus CC plus is already lightweight at 18.75 pounds, and the water release drains water and thus is more comfortable to take it out of the water.

Dual-layered filtration – Unlike most options that rely on one filter for both large and small debris which causes lengthy downtime. However, the Dolphin Nautilus uses two layers to catch large and tiny debris.

Expand to see more
Product Features

Length: 60-foot cable
Suction rate: 4,233 gallons per hour
Weight: 18.75 pounds
Single-button operation (plug and play).
Self-programmed

Who is it for?

The Nautilus CC is for in-ground pools and, the pool should not exceed 50ft.

Anti-tangle patented swivel cable tech ensures constant cleaning
It is energy efficient
It is lighter but sinks to the bottom effortlessly
It works pretty fast
It is easier to clean as the filters are at the top
Affordable
The manual could be better
2. Polaris F9450 Sport Robotic in-Ground Pool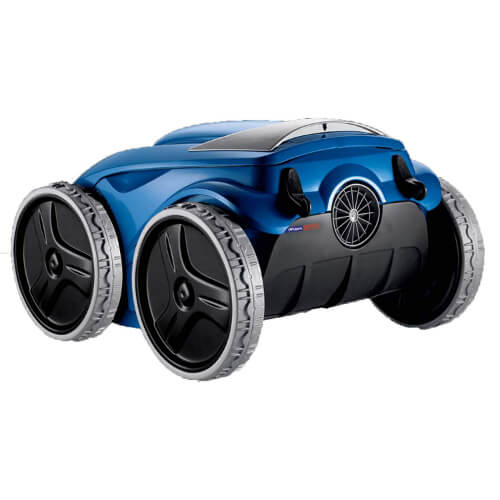 Following is the Polaris F9450. The F9450 is designed to be a fun unit to use with its blue body and toy car design. However, it is a robust machine and will make quick work of any task. The unit features an oversized suction that enables it to ingest larger debris such as leaves. Moreover, the vortex technology keeps the debris suspended for better cleaning performance.

You will also appreciate the rear water cleaning stream as it cleans corners and other tight spots by blowing debris out of them. Moreover, there is the trajectory detector, the 3D sensor, and the low torque watertight swivel that keeps the cable from tangling. The Polaris F9450 also happens to be energy efficient and can reduce consumption by 90%. The unit also allows you to program a 7-day schedule and cleaning cycles for busy users.

It works efficiently on all pool surfaces, thanks to its pleated scrubbing brush. The scrubbing action limits algae growth.

Finally, there is the easy lift system that automatically gets rid of water in the unit so that it is easier to remove from the pool. Our top features though were the 4WD and activemotion sensor.

4WD – Leaving the pool cleaner on only to come back and find that it is stuck is quite unpleasant. However, the four-wheel drive design allows this unit to go over obstacles and stairs for better results.

Activemotion Sensor – This incorporates an accelerometer that speeds up the cleaner. It also controls the movement of the unit at all-time ensuring complete coverage of your pool. It also measures the 3D position of the cleaner to adjust the cleaning action.

Expand to see more
Product Features

Weight: 43.5 pounds
60' swivel hose
Four-wheel drive
For 50' pool
Includes a pool caddy

Who is it for?

Even amongst pricey robotic options, the Polaris F9450 is pricey. Therefore we recommend it for people on a generous budget. Also, it is for in-ground pools not exceeding 50 ft.

The cable is tangle free
It is super quiet
It is energy efficient
Capable of collecting larger debris
It is pricey
The water output is on the rear, and it blows disturbs dirt as it moves
3. Hayward RC9740 SharkVac Automatic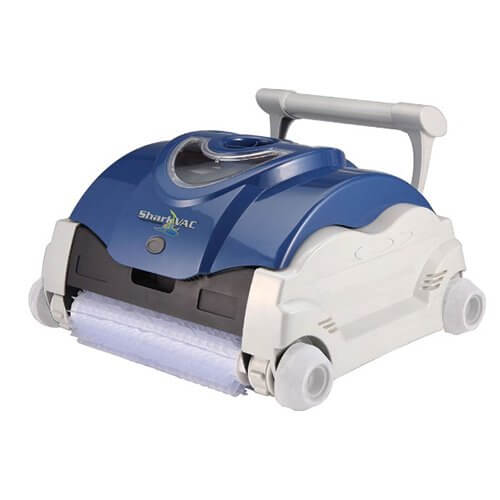 Hayward is renowned for their pool filters, but their cleaners are equally good. The RC9740 is designed for in-ground pools not exceeding 40' and is a workhorse. This gadget will make quick work of any cleaning task and will power through most tough messes thanks to the scrubbing brushes.

You will also appreciate that the debris stays in the cartridge eliminating the need for collection bags. It also includes subtle elements for porosity filtration ensuring that it traps the tiniest dirt. Maintenance also happens to be straightforward as you can clean the cartridge with a garden hose. Another exciting feature of this unit is the energy efficiency as it lowers your utility bills.

The Hayward RC9740 cleans a 20' by 40' pool in an hour and a half thanks to the tech that automatically calculates the dimensions of your pool and thus formulating an effective cleaning pattern. Our top features were the quick-clean tech, and that it's programmable.

Programmable – For the busy homeowners, you can set a cycle when your cleaner should turn on. The programmable cycle allows you to go by your tasks without concerning yourself with the pool.

Quick clean technology – This accelerates the cleaner and cleans the pool in one hour. Nonetheless, there is the automatic 2-hr cleaning cycle that covers the entire pool surface.

Expand to see more
Product Features

Weight: 21.5 pounds
530 cubic inches filter capacity
50-foot power cord
Power: 110/120V

Who is it for?

The Hayward RC9740 is for in-ground pools measuring no more than 40'.

It is a sturdy unit that is built to last
It is affordable
It is energy efficient owing to the programmed pattern
It leaves your pool sparkling
Seeing as the dirt stays in the cartridge, the unit dumps it back into the pool as water evacuates the system
4. Dolphin Escape Robotic Above Ground Cleaner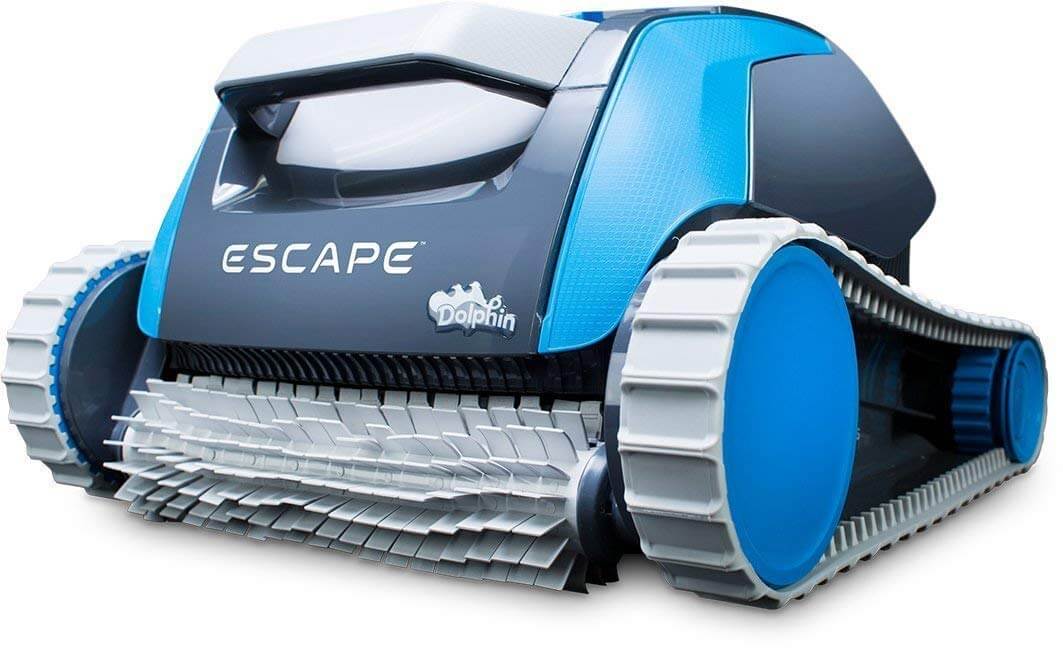 At 9.88 pounds, the Dolphin Escape could be the lightest option on this buying guide but the best for above ground pools. Its low weight makes it easy to wrestle out of the pool and includes a comfortable grip handle that makes it easy to transport. It is designed for pools up to 40' and cleans all surfaces including granite, and fiberglass.
You will also appreciate the rubber cable as it prevents frictional drag, and that this is a plug and play unit that doesn't need human intervention. Another remarkable feature of this unit was the hypergrip continuous tracks that enable it to scale walls and clean up to the waterline. Furthermore, given that they have exceptional traction, they remove debris effortlessly and consume less energy as it doesn't slip down walls. However, our top features were the Smartnav 2.0 and the brushes.
Smartnav 2.0
– This is a pool mapping system that enables the unit to map the floor and chart the best cleaning power. This reduces the energy consumed, unlike other cleaners that use a random pattern. It also records all cleaned surfaces to avoid going over the same area twice. However, you will enjoy its ability to identify obstacles and get around them.
Brushes
– The high-powered hyperbrush system scrubs and vacuums all the algae, and sticky messes from your walls and floors.
The brushes
move twice as fast as standard brushes allowing the appliance to dislodge even the toughest debris easily.
Expand to see more
Product Features

Weight: 9.88 pounds
Thermoplastic rubber cable
Smartnav 2.0 technology
Hypergrip continuous tracks
75GPM cartridge

Who is it for?

The Dolphin Escape is best for people on the hunt for a lightweight above ground pool cleaner. Moreover, it is for 40' pools.

Affordable
The results are exceptional
The cartridge capacity is exceptional at 75 gallons per minute and thus will make quick work of any pool
It is lightweight and wrestling it out of the pool is simple enough
It is quiet
The cartridge is easily accessible for cleaning and replacement
The manual is a joke, and you will have difficulties figuring essential functions
5. Pentair GW7900 Automatic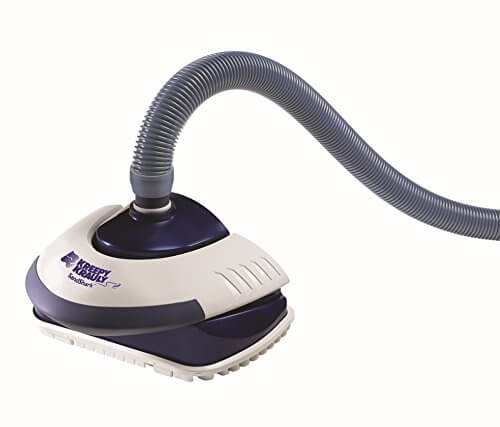 Suction pumps connect to the skimmer or suction line and use your pool filtration system to collect all debris which is later deposited in the pump basket. Though this is a suction cleaner, it includes some of the quality technology that is on pricey
robotic cleaners
. One could say it is the perfect blend of basic design and ingenious programming.
First, you will appreciate the 12" cleaning path that the GW7900 cuts as it makes quick work of any pool. Moreover, it is lightweight at 14 pounds, and thus it is easy to carry and wrestle out of a pool. It also happens to be a versatile unit as it can clean all pool surfaces including fiberglass, granite, and vinyl.
You will also appreciate that it cleans the floor and can scale the pool walls to the waterline. Nevertheless, our top features were the smarttrac programming and footpad.
Smarttrac programming
– Though this is a suction cleaner, it tries to integrate the cleaning technology from pricey robotic units. The smarttrac programming is such technology that allows it to chart a pattern and navigate obstacles with ease and accuracy.
Footpad
– Stubborn debris is often difficult to get rid of unless you have pricey robotic units. The GW7900 footpad has multiple rows of fins that get rid of any stubborn debris especially in corners and other tight spots.
Expand to see more
Product Features

Weight: 14 pounds
12" cleaning path
13 * 13 * 13 inches

Who is it for?

The Pentair GW7900 is for in-ground pools up to 40' long. Moreover, it is best for people with time to monitor the cleaning.

It is powerful and almost has enough power as the robotic units
It is fast and efficient
Though it needs a little monitoring, you can leave it to work alone
The suction gets choked by leaves and larger debris
Seeing as the debris ends up in the filter basket, you have to empty the basket often
6. Zodiac BARACUDA G3 W03000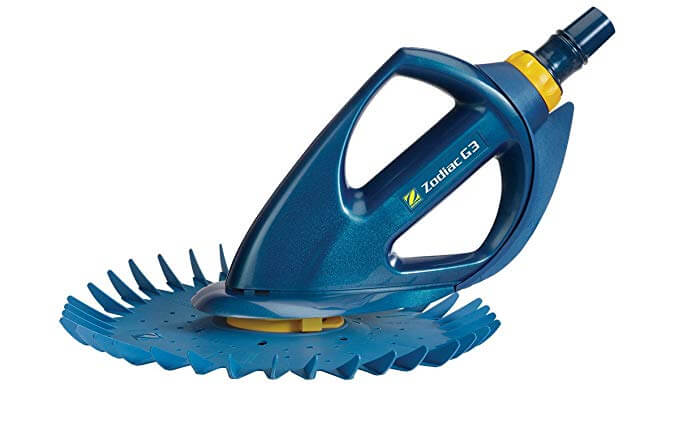 If you are on the hunt for an affordable unit, we recommend the Zodiac Baracuda G3 W03000. You will appreciate how quiet the unit is and you can work next to the pool as the gadget cleans. The G3 incorporates only one moving part and thus is easy and cheap to maintain as very few pieces can be damaged.

You will also appreciate the installation which is simple enough. Connect it to your pool's circulation system, and you are set to go. The wheel deflector, on the other hand, allows the cleaner to handle corners with ease. The hoses are top-quality, and you can expect them to be around for a while, and it can also skim with the flick of a button. Another fascinating feature happens to be the versatility The Baracuda G3 is capable of cleaning tiles, gunite, and fiberglass surfaces.

36-fin disc – One of the features that piqued our interest though was the disc with its 36-fins that increase adhesion to pool walls and floor. However, it also helps to get hung-up on lights, drains covers, and fittings.

Flow-keeper valve – To keep the unit running, the flow keeper valve regulates the pressure when water pressure in the pool drops maintaining peak performance.

Expand to see more
Product Features

Weight: 18.2 pounds
One moving part
36-fin disc

Who is it for?

The Zodiac Baracuda G3 is for in-ground pools and more so pools without slopes. Moreover, it is better for people with 30' pools and are on a limited budget. Also, it should be used to clean small to medium debris and should be used by people who have the time to monitor the cleaner.

It is affordable, and you are getting more than you paid for
It is powerful
It is easy and cheap to maintain thanks to the few moving parts
It is quiet
It includes a quick release cassette design for access to your G3 diaphragm
The performance on slopes and curves could be better
The unit chokes on larger debris
7. Hayward Poolvergnuegen 896584000-013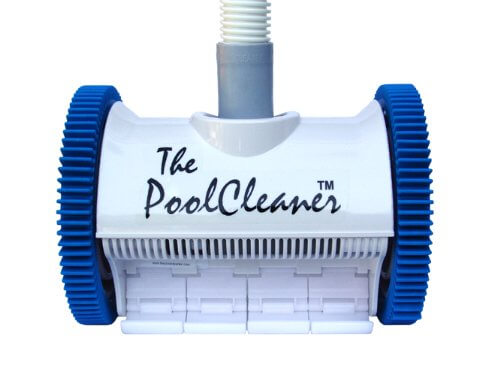 First, there are two Poolvergnuegen cleaners; the 2-wheel and the 4-wheel. However, this review is for the 2-wheel cleaner which also happens to be one of the most common suction side pool cleaners.

First, this is a lightweight unit, weighing 16.9 pounds and is easy to transport. It is designed for average size pools up to 16' * 32'. One fascinating feature of this unit is the flexible turbines that enable you to operate at max power despite the flow speed. Moreover, there is the adjustable roller skirt that allows the pool cleaner to maintain consistent suction every time it comes across an object. The appliance lifts one of the skirts, and self-adjusts to maintain optimal suction. The self-cleaning swivel, on the other hand, turns freely and ensures there is no debris accumulation.

Nevertheless, our top features were the steering system and advanced wheel treads.

Self-steering system – The Poolvergnuegen is programmed such that the left wheel reverses turning the cleaner in the opposite direction. Five turns are programmed in the unit between 90 and 450-degrees. This allows the appliance to cover all surfaces and corners. The 2-wheel turns after every 8 to 10 feet.

Advanced treads – First, these tire treads are patented and give the Poolvergnuegen an edge over other cleaners thanks to the impressive climbing ability, and capability to maneuver obstacles. The treads have wear markers that will let you know when to replace the tires.

Expand to see more
Product Features

Weight: 16.9 pounds
For pools up to 16' by 32-feet
It turns after 8 to 10 feet

Who is it for?

The Poolvergnuegen is designed for average size in-ground pools up to 13 by 32-feet.

It works like a charm, and the results are quite pleasant
It is designed to spend more time in the shallow end that sees the most traffic
It is excellent at handling obstacles – it climbs the steps and sinks back when it senses there is no more water
Affordable
Easy to maintain
The parts are expensive to replace, and Support from Hayward could be better
8. Polaris Zodiac Vac-Sweep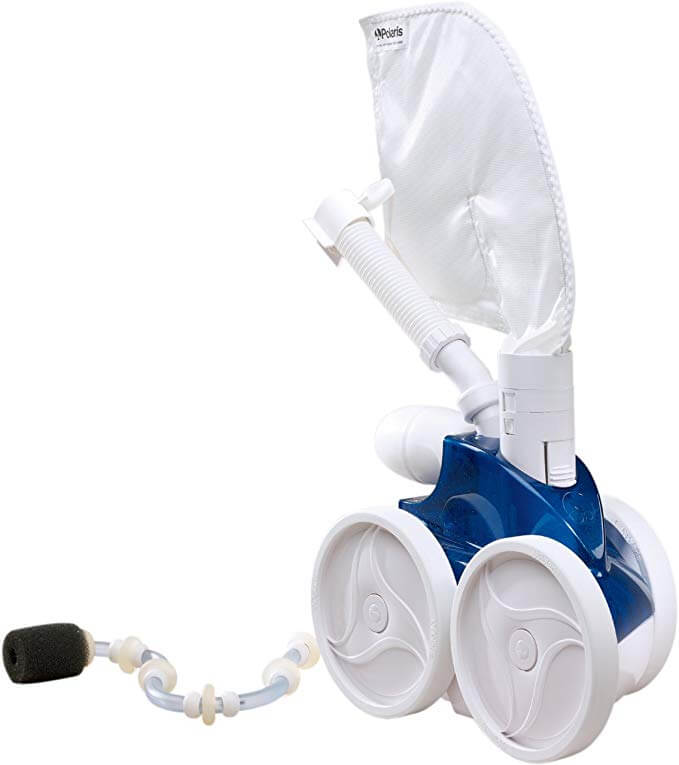 The Zodiac Polaris 360 connects to a dedicated pressure port on your port and cleans with the pressure from your return side. The Polaris 360 happens to be the best pressure side pool cleaner and works with any surfaces. I.e., it cleans fiberglass, vinyl, gunite, concrete, etc. The unit is made for all in-ground pools and includes a 31-foot hose. If this isn't enough for your pool, backup hoses are available to fit your pool. Remember to get an extra 5 to 10 feet for maneuverability.

You will also appreciate the all-wheel drive on this unit as it serves to get the device unstuck and go over obstacles. Another fascinating feature is the large, powerful debris intake that enables it to collect large debris. Moreover, it includes a dirtbag where it stores the dirt and debris. The dirtbag is a ingenious addition as it is easier to dispose of waste. The Polaris 360 runs on a triple-jet cleaning technology for better cleaning results.

Finally, there are two models; the Black Max, and the White Max. We recommend the White Max as the Black unit will be difficult to spot in pools with dark surfaces and can leave tread marks on pools with lighter floors. Nevertheless, our top features were back up valve, and that it doesn't need a booster pump.

Doesn't need a booster pump – First, it is cheap to install as all that is required is connecting to the pressure side port. Moreover, it saves cost on electricity and maintenance.

Backup valve – Enable it to get unstuck.

Expand to see more
Product Features

31-feet feed hose
2.25 vacuum inlet
Weight: 15.6 pounds

Who is it for?

We recommend the Polaris 360 for people with trees adjacent to the pool as the gadget is ideal for cleaning large debris.

The hose length is easy to adjust
It is low-cost to install and maintain
It is not as robust as it is not connected to a booster pump
9. Pentair LL505G Kreepy Krauly Legend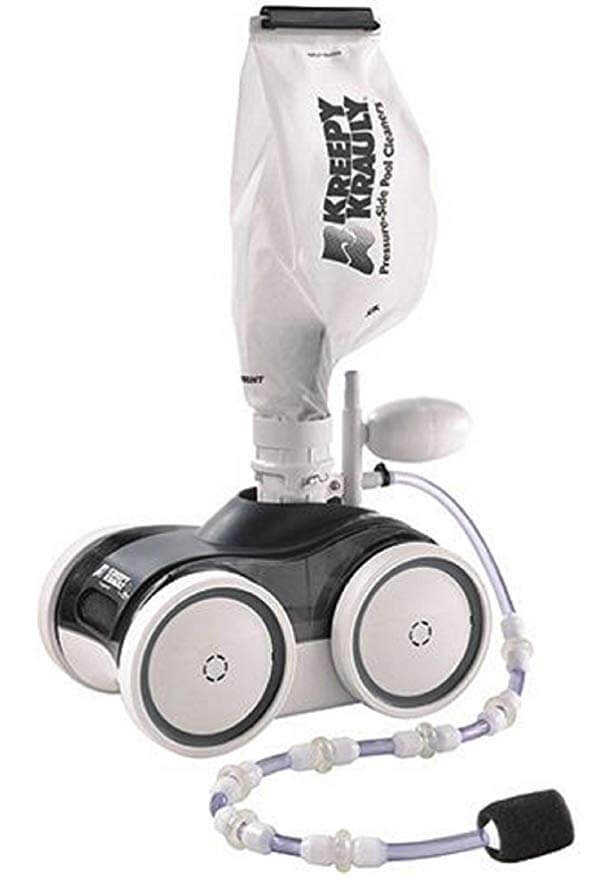 Pentair makes pool cleaning more straightforward and more convenient and very few options can compare to their flagship gadget the Pentair LL505G. This is a front and all-wheel drive unit and has an unrivaled cleaning bag (more on these two features later). First, this is for darker colored pools as it can leave tread marks. It incorporates a large intake throat and thus is best for cleaning large debris.

Another exciting feature is the back valve that offers relief. The back valve is actuated every 3 to 5 minutes, dispensing water from the back. The back valve keeps the unit from getting compromised or stuck in corners for uninterrupted operation.

Moreover, the gadget works with a booster pump increasing the power of the unit. The sweep hose removes all the debris from hard-to-reach corners. The treaded wheels increase the traction for better traction and less power consumption.
However, our best features were the stability and the collection bag.

Stability – Most 3-wheel cleaners are notorious for tipping and thus interrupting the cleaning process. However, the LL505G has a low profile reducing the likelihood of it tipping. The forward wheel drive increases the traction for cleaning on inclined surfaces, while the four-wheel drive increases stability further.

Collection bag – The dirtbag is heavy duty, and you can expect it to serve you longer. Moreover, it is easy to clean and has a large capacity.

Expand to see more
Product Features

Weight: 22.7 pounds
Dimensions: 24 * 23.5 * 11 inches
4-wheel design

Who is it for?

We recommend the Pentair LL505G for homeowners with dark-colored in-ground pools. Also, it is fantastic for homeowners with trees near their pools as it cleans large debris with ease.

The results are exceptional
The four wheels increase stability over 3-wheel cleaners
The high capacity dirtbag stores a considerable amount of debris and thus doesn't need frequent emptying.
Has incredible traction for cleaning all inclined surfaces
It is a pricey unit, and the booster retails separately
10. Polaris Vac-Sweep 380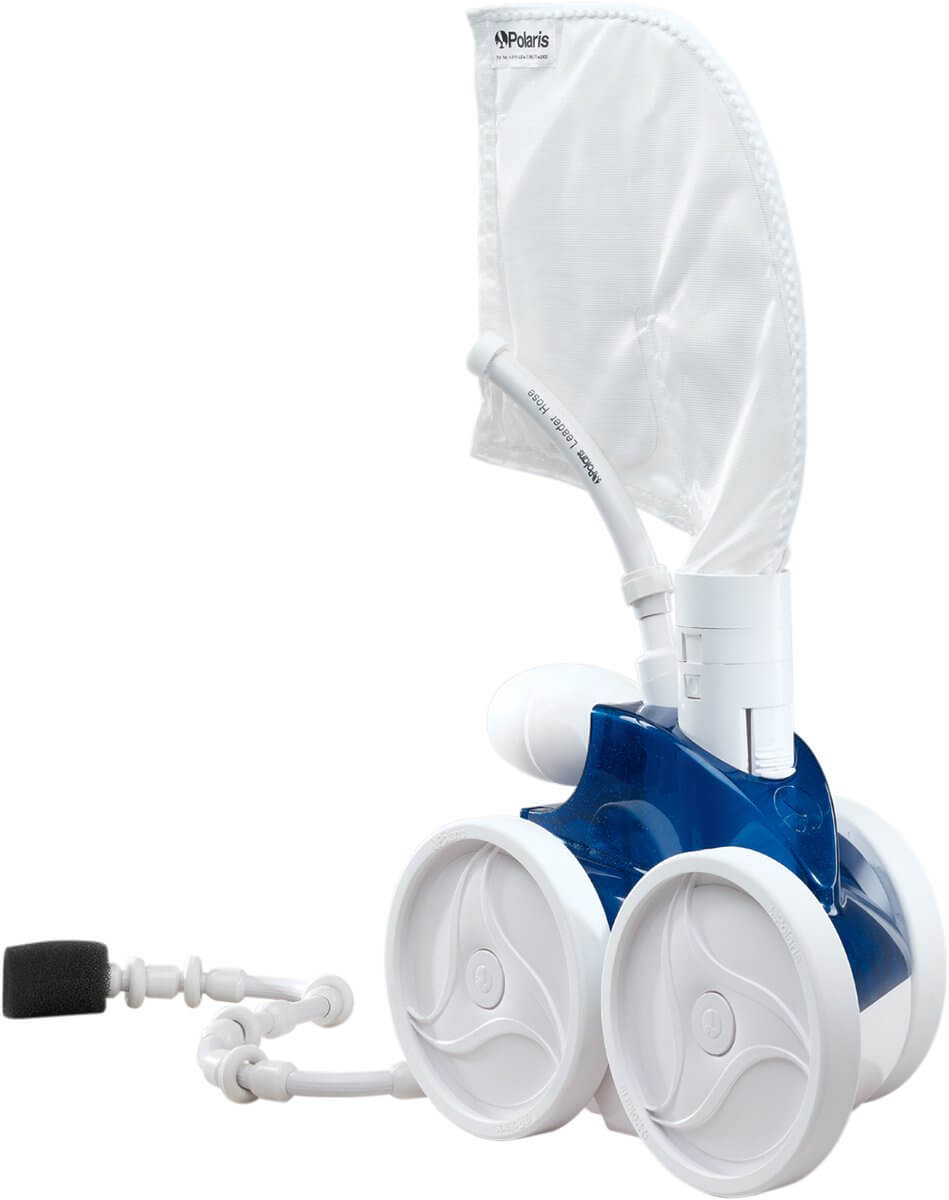 If you are in the market for a more powerful Polaris cleaner, we recommend you get the Vac-sweep 380. It is more robust than the Polaris 280, and 360 thanks to the triple jet propulsion. It also works on all in-ground pool surfaces; that is, fiberglass,
vinyl
, concrete, and gunite. It also runs on a booster pump (sold separately) increasing the power of the gadget.
The 31-foot hose allows the unit to clean pools up to 30-feet, but you backup hoses are available for larger pools. It cleans in 3 hours or less and incorporates a backup valve, so the unit is rarely stuck. Nevertheless, our top features were the belt-drive and climbing abilities.
Climbing ability
– The 38o can climb any wall or inclined surface cleaning every inch of your walls.
Belt drive system
– The Vac-sweep 380 relies on an all-wheel belt drive system for a smooth operation. However, the best feature of this was the ease of repair. The parts are easy to come by and effortless to replace.
Expand to see more
Product Features

Weight:16.3 pounds
Hose: 32ft
Dimensions: 9.8 * 20 * 22.5-inches

Who is it for?

The Polaris Vac-sweep 380 is for cleaning fine dirt. The small vacuum opening limits its use in cleaning large debris. However, it cleans all pool surfaces and sizes thanks to the backup hoses.

The filter bag tech traps all debris before it gets to the pump basket, thus increasing the life of the cleaner
It is fast, cleaning in less than 3 hours, and the results are exceptional
Versatile as it can climb walls and untangle itself from corners
The filter bag is easy to clean and has a large capacity
It requires a booster pump which is sold separately, and it is not efficient on the pool steps
Pool Cleaners Buying Criteria

Type
Automatic pool cleaners – Automatic pool cleaners work with very little human intervention. They rely on motors, chips, and sensors to complete their tasks and they need to be connected to a power source unless they rely on batteries. The unit has two motors; one to move it along the floor and walls of the pool while the other picks up dirt and debris and pumps it out.
They collect the debris in a bag and direct clean water back into the pool, and it can filter waste as tiny as 2 microns. They are easy to use, not connected to the pools circulation system, work rather quickly, and have a pretty decent range. However, they are heavy and expensive. Repair too can be quite pricey.
Suction pool cleaners – This is more like a vacuum, and it relies on your pool's circulation system to work. These units attach to your skimmer box using a hose and are the most common pool cleaners. There are two types of suction cleaners; inertia driven and geared suction pumps.
The former cleaner operates in a random pattern and is best for curved walls with no sharp corners. The latter works in a predetermined pattern and is best for pools with many steps and sharp bends. However, they need more maintenance as they have more moving parts.
Suction cleaners are affordable and easy to install, but seeing as they are attached to the skimmer, it means all debris has to go to the bottom before it can be removed.
Pressure pool vacuums – Also known as booster pump powered cleaners, pressure pool cleaners connect to the return side of the circulation system. You can set this gadget on a timer thanks to the booster pump. This unit depends on three devices, for good results: the sweeper tail which stirs smaller debris, so it is easier to eliminate, the thrust jet that jettisons filtered water out to help with propulsion, and the venture port on the bottom where larger debris is sucked into the bag.

Pressure cleaners are great for picking larger dirt and can get into tight spots. Nevertheless, they need more maintenance and are more expensive than suction pumps.
The size and type of your pool
First, the structure and features for an in-ground pool cleaner differ from those from an above ground pool cleaner. Above ground pool cleaners are only designed to clean at 90-degrees where the walls meet the ground, and can't maneuver curves and onto inclined planes.
In-ground pool cleaners, on the other hand, can maneuver slopes, steps, and curves. Finally, given the various pool sizes, we recommend you get a cleaner with an adjustable hose, main flow, and buoyancy.
Cleaning cycle
Cleaning cycle is the number of hours a pool cleaner will run before it has to shut down. We suggest you get a cleaner with a longer cleaning cycle.
Filtration Rate
Filtration rate is the speed at which a cleaner can work within a specified period. Pick a product with a high filtration rate as it will have better storage capabilities.
Hose Length
Ensure the hose stretches from one end to the other plus one or two meters. You can also get a unit that works with a pool cover.
FAQS
What type of pool cleaner is best for above-ground pool cleaners?
Most in-ground pool cleaners will work for above ground pools unless otherwise stated by the manufacturer. However, you can get a cheaper model as above-ground pools are shallow, and not as elaborate as in-ground ones. Most above-ground pools are either rectangular or circular, and thus cleaners don't have to contend with inclines and curves.
Furthermore, take into account that most above-ground pools don't have powerful pumps and hence suction pumps and pressure-side units will not be as powerful.
We recommend robotic cleaners, but you can still invest in a suction or pressure side cleaner only that you have to let them run longer.
How much do pool cleaners cost?
Well, there is no specific price, given the different types and the various features available on different units. Robotic units are pricey, running between $500 and $900 however, they don't need supervision. Suction cleaners, on the other hand, are cost-effective running up to $300 but requires constant monitoring. Pressure side pool cleaners are in the middle running between $300 and $900.
How much, running costs are different as maintaining a robotic cleaner is more expensive than a suction pump.
How often should I clean my pool?
Professionals recommend cleaning it at least once a week. This is easy with a robotic unit but rather hard with a suction or pressure side cleaner. Moreover, consider the size of your pool, the type of cleaner, and the amount of debris the pool gets. However, don't let the intervals exceed three weeks.
How long should I run my pool cleaner?
That depends on the cleaner you have. Robotic cleaners include sensors that increase their effectiveness, and thus clean pools faster. Suction pumps, on the other hand, take longer than pressure-side and robot cleaners. Nonetheless, pay close attention to the amount of time it takes the first time and ensure you run it for the same amount of time.
Conclusion
Given the sanitation and safety issues of keeping pools clean, we suggest you get tools that ease the process. Sure you can spend an entire weekend scrubbing the walls, but a pool cleaner will save you the time and effort.
And as always, if you feel there is something we missed, or you have a question feel free to drop it in the comments below.
Subscribe to our newsletter