Best Wallpaper Steamers Reviewed & Rated
last updated:
Aug 24, 2021
Stripping your wall of old, outdated, or dog-eared wallpaper can be a tricky and messy business. If you want to end up with a completely clean surface without time-consuming hand-scraping the wallpaper, your goal should be to resort to one of the best wallpaper steamers available. The market is flooded with many choices that promise superior performance – but only a handful deliver.
Because of their speed and efficiency, the cost-effective models on our list are ideal for tackling old layers of wallpapers. They are eco-friendly as they loosen all types of wallpapers from all types of surfaces without requiring the use of brute force or harmful chemicals.
Our Top 3 Picks
[srpshortcode id="22227″][/srpshortcode][srpshortcode id="22229″][/srpshortcode][srpshortcode id="22228″][/srpshortcode]
Finding the most effective steamer can be an onerous task, especially for users new to wallpaper removal. These days, there are many general-purpose steamers that buyers also use to remove wallpaper, but we have only considered tools designed with wallpaper in mine. Luckily for you, we've combed the market and analyzed and reviewed the best there are.
5 Best Wallpaper Steamers
1. Wagner Spraytech 2418327 725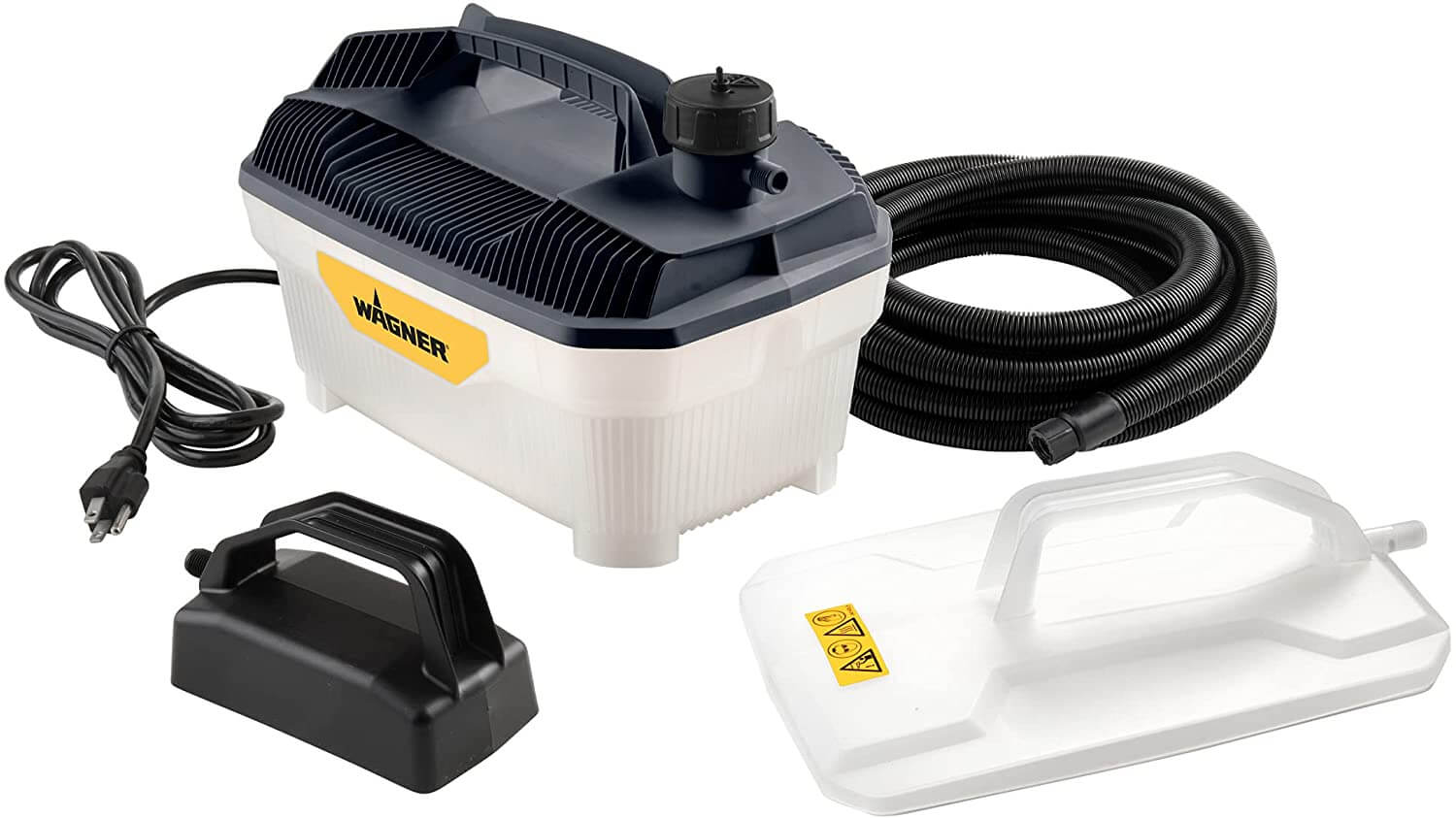 Expand to see more
With the Wagner Spraytech 2418327 725, removing wallpaper is no longer the arduous, time-consuming exercise it once was. This high-quality wallpaper steamer takes the time and hard work away from the endeavor, leaving you to do little heavy lifting. Very versatile, it works like a charm with a wide range of wallpapers, several layers of wallpaper, and even the ones you've painted over. It comes with a large steam plate measuring 3" by 6" and 8" by 11" respectively and only uses distilled water to get the job done.

With 1500 watts of steam power to do the task, the Wagner Spraytech 725, takes the frustration and hassle away from removing wallpaper. It works quickly and efficiently to remove even multiple layers of wallpaper because its steam plates penetrate the wallpaper and loosen it in 10 seconds.

Priced around $60, the steamer has an ergonomic design, easy-grip handle, and lightweight 12-foot long steam hose to access tight or confined spaces and spots without straining. It also features a large capacity 1-gallon reservoir that offers up to 2 hours of usage time.

If you want an easy-to-use and quick-acting wallpaper steamer for removing vinyl, painted, and multiple layers of wallpapers, this lightweight and long-lasting Wagner Spraytech 2418327 725 is your best bet.

Strips paper quickly and smoothly
Cost-effective
Generous 12-month warranty
Long hose and large water reservoir for continuous use
Durable and easy to use
Water gauge hard to see
No overheating cut out
2. Wagner Spraytech 0282014 915e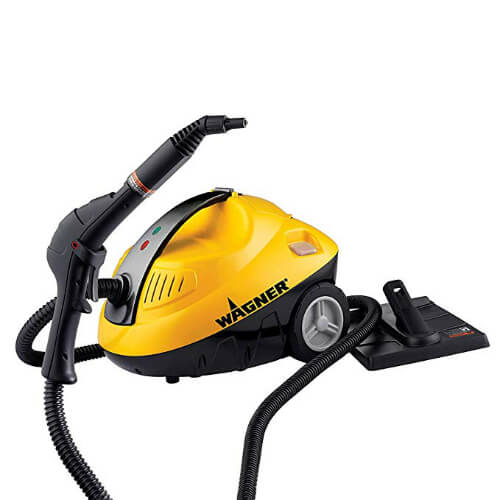 If you want your old wallpapers to literally fly off the wall, this Wagner Spraytech 0282014 915 On-demand cleaner will prove a worthwhile investment. Very powerful and versatile, it removes layers of wallpaper, even the ones you've painted over. Easy to master, using it takes minimal effort and time. The 45-ounce water tank capacity, ergonomics, and 45-minute continuous runtime are impressive too. It is even on wheels to avoid back sprains.

Expand to see more
Thanks to the potent combination of a heavy-duty, high-performance 13" by 9" steaming plate, a 10-foot hose, and an ergonomic design, its performance is swift, exceptional, and reliable. Unlike some models, it relies on an internal hot water reservoir and quickly and reliably produces 212°F/100 C steam that loosens wallpaper without the additional help of harsh and harmful chemicals. The performance remains effective, quick, consistent, and efficient with all types of wallpaper.

Besides removing wallpaper, it is also perfect for cleaning and sanitizing various surfaces around the house, including kitchen countertops, sinks, toilets, showers, floors, and even appliances. It's cost-effective for all it does at $118, so your wallet won't take a hit either.
Offers smooth, flawless performance
Perfect choice for hardened wallpapers
Great for general household cleaning
Easy to use
Heats up slowly
Short power cord
Tank is small
3. Wagner Spraytech 0282036 715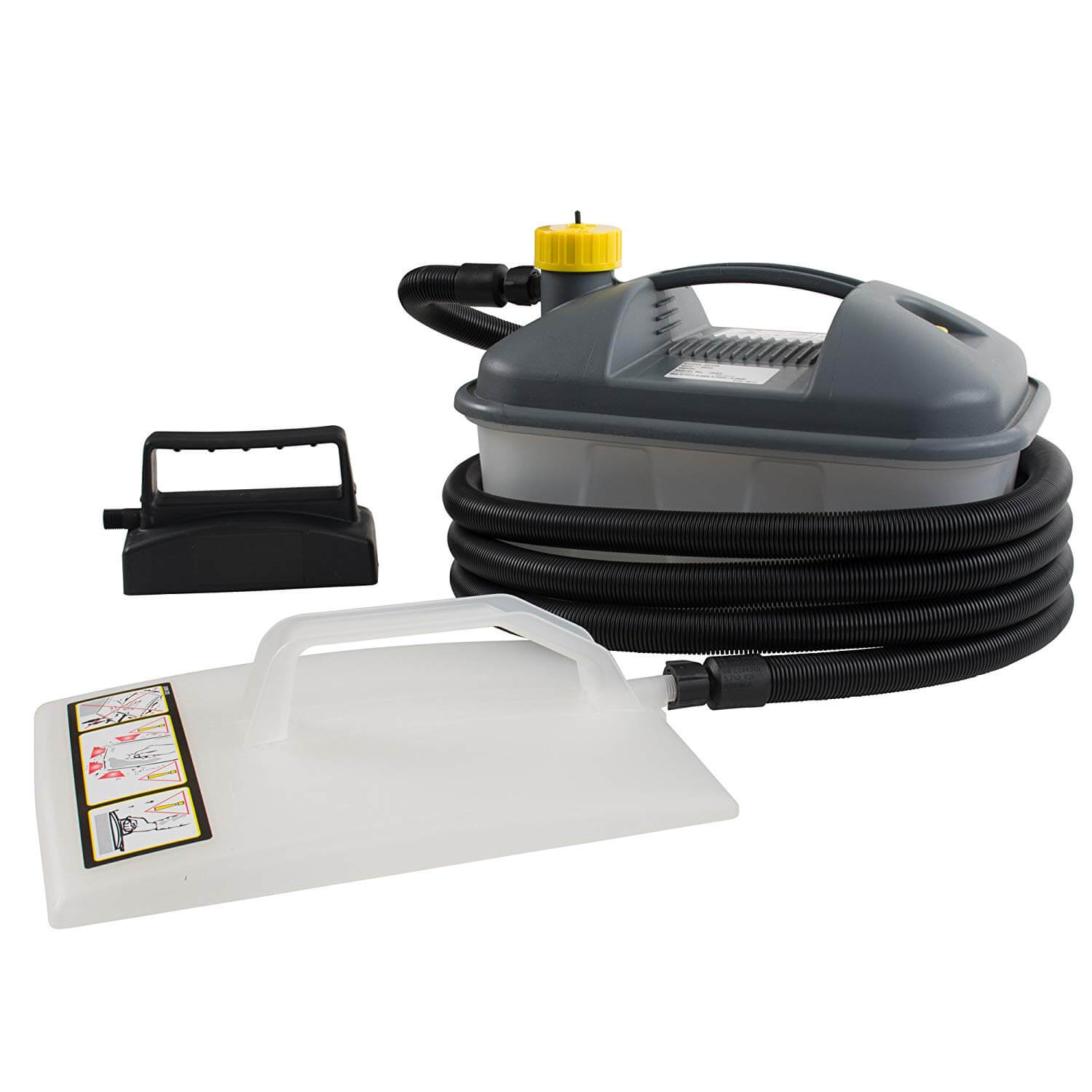 Expand to see more
Our 3rd pick is again from Wagner, a brand renowned for the consistent, powerful, and reliable performance of its tools. The Wagner Spraytech 0282036 715 steamer, like its other cousins, comes with all the bells and whistles that succeed at making the arduous task of removing wallpapers a quick and easy one. It runs efficiently and seamlessly for up to 70 minutes, thanks to a large one-gallon tank. It comes with two steam plates; the first measures 8" by 11" to cover large surfaces and big projects, while the smaller one has dimensions of 3" by 6" that works well on small to medium projects.

With its long 12-foot cool-to-touch hose that reaches even hard-to-reach places, weight of about 5.7 pounds, and a compact, portable design, you get to take the wallpaper steamer to the project instead of the other way around.

Like any other eco-friendly unit, this model doesn't use chemicals and harsh detergents, so it's safe to use in places with children and pets.

The Wagner Spraytech 0282036 ticks all the right boxes and packs the essential features for quick, easy, and worry-free wallpaper steaming and stripping. And it's not even as expensive as you'd expect.

Budget-friendly price
Small and lightweight profile for a greater reach
Powerful
Easy to use for long periods
Small capacity water reservoir
4. Earlex SS77USSG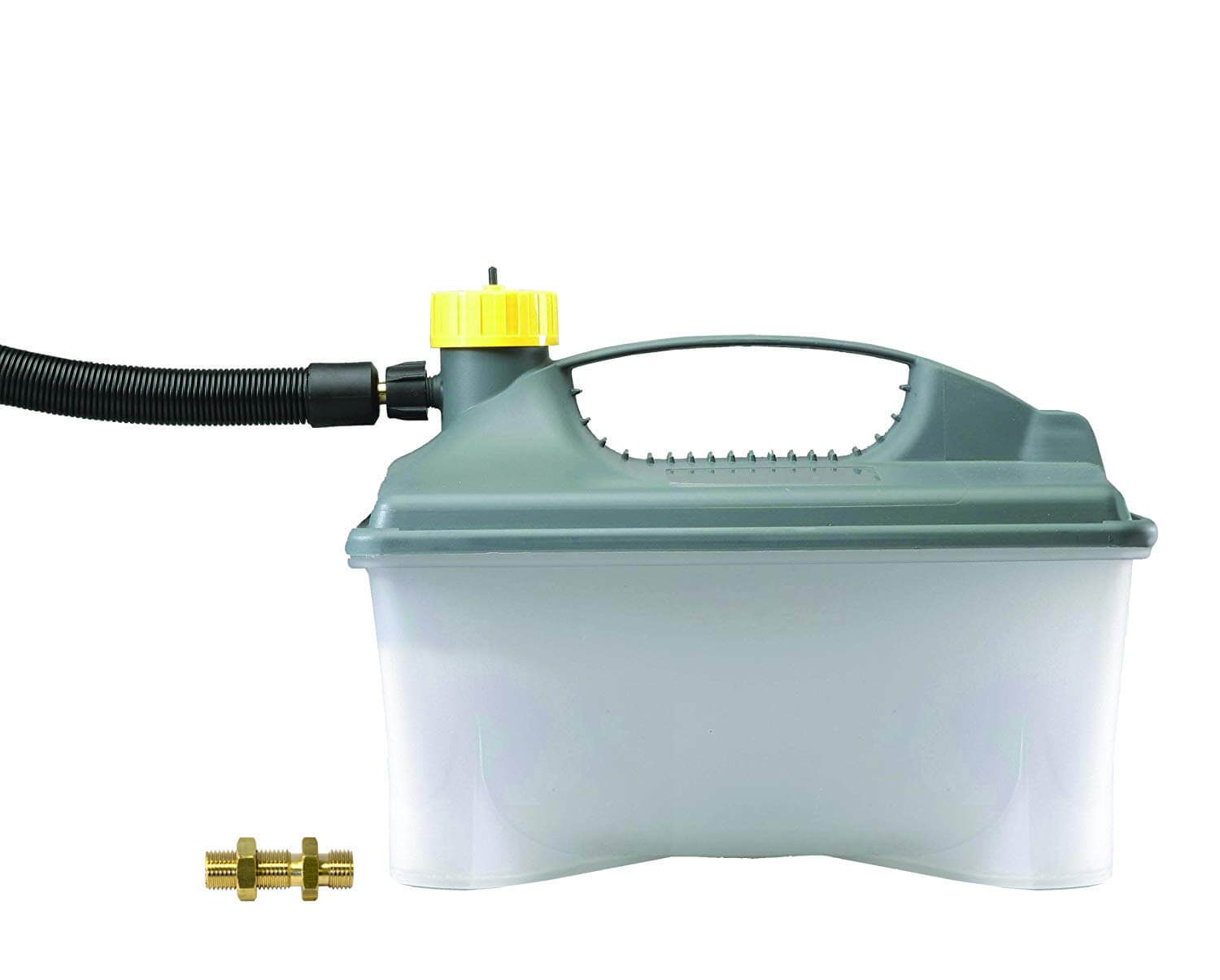 Expand to see more
The Earlex SS77USSG is another option to consider for the efficient, quick, effortless, and accurate removal of various types of wallpaper from different surfaces. It boasts an impressive 1500 watts of stripping power and has a large capacity 1.3-gallon water tank container that is ready to go in 23 minutes or less. These two features ensure a powerful and continuous runtime of 2 hours, enabling you to work efficiently for as long as it takes to get the job done right. On top of these features, its generously long 12-foot hose makes it possible to access every corner of the wallpaper with minimal effort.

The Earlex SS77USSG takes things up a notch by including a steam box adapter so you can quickly and easily attach it to your steam chamber – a useful feature if you do woodworking projects where you need to bend wood. Amazon reviews indicate that the SS77USSG is very popular for this use.

You don't need any technical skills to use the steamer. Both seasoned professionals and greenhorns attempting to remove wallpapers for the first time will see exceptional results as the learning curve is remarkably quick. Earlex SS77USSG uses standard current and comes with detailed, easy-to-understand instructions on how to set it up and get started with your wallpaper steaming project.

The fact that it only requires clean water and not environmentally harmful detergents or chemicals makes it an eco-friendly selection. Further, it's safe to use.

With the $70 Earlex SS77USSG, steaming wallpaper will never be simpler, quicker, and more fun. It works safely and powerfully and comes with all the accessories you need to get started right away.

Steams up quickly and easily
Lightweight and highly portable
Exceptional hose connectors
Safe to use
No power cord
Ongoing problem with missing parts
Ineffective overheat protection system
5. Earlex LMB150NA SteamMaster

Expand to see more
The other wallpaper removers we've reviewed have been light- to medium-duty wallpaper steamers geared to home use. If you're a professional in search of something with a little more heft for tackling heavy-duty, contractor-scale projects, then the Earlex LMB150NA is just the unit for you. This unit is often available for rental to occasional users, but if wallpaper services are your business, you may want one of these.

Heavy-duty applications necessitate using a rugged, sturdy machine and with this option, you get just that. It's crafted from industrial-strength materials to make it tough and long-lasting. Considerably heavy at 21 pounds, it packs a punch and will get stubborn wallpaper flying off the walls quickly. The trade-off for performance though is a high price tag of $588.

The unit has two steam plates for reaching large and small areas. The large steam plate with central steam distribution tube and you have a tool you can use to remove various types of wallpaper plus Artex textured finishes without putting in any significant effort.

Further, the Earlex LMB150NA comes with a large capacity 7.5-liter water tank to minimize refilling and allows for continuous, uninterrupted wallpaper removal for several hours. Though the unit is heavy, it comes with a non-tip, steady platform that can be used as a stool and an anti-kink 16-foot cool-run steam hose for accessing hard-to-reach and tight spots.

Additional features include the handy onboard storage, easy-to-read water level indicator, and a 5-meter long power cable. Together, these features are responsible for the machine's flawless, quick, and remarkable performance.
Professional grade for years of service
Eco-friendly and safe to use
Platform that can be used as a stool
Durable
Has a water level indicator
Occasionally heats up slowly
Pricey
Criteria for Choosing the Best Wallpaper Steamers
Performance
You need to base your product decision on the workload you want to undertake which can be light, medium, to heavy-weight. As a rule of thumb, the best wallpaper steamers sport a higher power output compared to their less powerful counterparts. As a result, they perform quickly, effortlessly, and with considerably fewer hiccups.
The most powerful wallpaper steamers require less time to heat the water which produces steam to do the job. The best ones have large tanks that require less refilling and larger steam plates with wide coverage which also translates to more efficient performance and faster completion time.
Convenience
Convenience relates to the weight of the tool, the length of its accompanying power cord, and the size of the water tank and steam plate. A unit with a manageable weight and compact design is not only portable but easy to maneuver into tight and confined spaces. It's also comfortable to use throughout the job without burdening the user. – a point goes that hand in hand with the length of the power cord.
The longer the cord, the further you'll be able to reach without constantly unplugging and plugging it into nearer power outlets. Obviously, a large steam plate boasts a wide coverage and this translates to quicker completion time and more efficient performance, while a big water tank, on the other hand, means less frequent trips to the sink to refill.
Safety
If you've ever used a wallpaper steamer before, we need not impress upon you the significance of putting safety first. While it comes third on our list, it easily supersedes every other consideration. Before you start using yours, make a point of religiously checking to ascertain that the connection between the steam pad and stripper is air-tight to prevent burns. Since a wallpaper steamer can run out of water and overheat, a cut-out is an essential feature if you're planning on using the wallpaper steamer for an ongoing job.
Additional features you want to pay attention to are the price, length of the warranty, as well as the quality of construction. No one wants a wallpaper steamer incapable of taking a few hard beatings.
Frequently Asked Questions
Q: Do I have to add a detergent to the water for optimal performance?
A: No. wallpaper steamers work best with just water.
Q: After how long does the water turn into steam?
A: That depends on the size of the water tank and the wattage of the unit and several other factors. On average though, you'll have to wait for between 10 and 30 minutes.
Conclusion
With the modern wallpaper steamer safely and securely at hand, you'll be quickly and easily stripping various wallpapers in no time. Our picks effectively harness the power of steam and a high-performance steaming plate to help you remove the most hardened, toughest, and peskiest wallpapers, leaving the surface clean enough to paint or repaper.
And because they only use water without the slightest trace of various harsh chemicals, the best wallpaper steamers are safe both to the environment and the user. It's our hope that by reading our reviews you've gained useful insights to help you make an informed decision going forward. Happy shopping!
Subscribe to our newsletter