Best Wallpaper Steamers Reviewed & Rated
last updated:
Mar 11, 2019
Stripping the wall of old, outdated, or dog-eared wallpapers can a tricky and messy business. If you want to remain with a completely clean surface and not damage the wallpaper, your best bet would be to resort to a high-quality wallpaper steamer. And the market is awash with thousands of those from all sorts of manufacturers promising the best, effortless, and quick performance even though only a handful deliver. Because of their speed and efficiency, the high-end yet cost-effective models on our list are ideal for tackling the hardened wallpapers. They are eco-friendly as they loosen all types of wallpapers from all types of surfaces without the use of brute force or harmful chemicals.
Our Top 3 Picks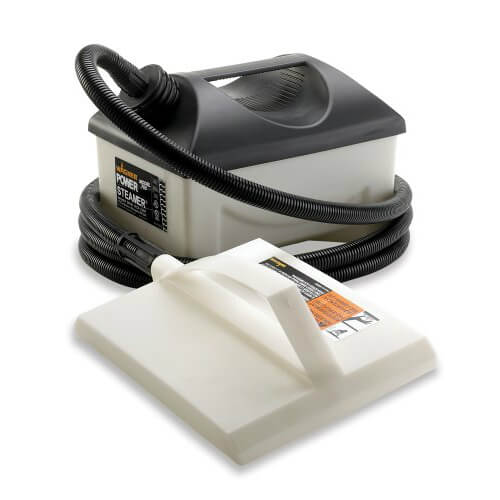 Wagner 0282018

Our rating
Smooth
Price:

See Here



Black&Decker

Our rating
Sturdy
Price:

See Here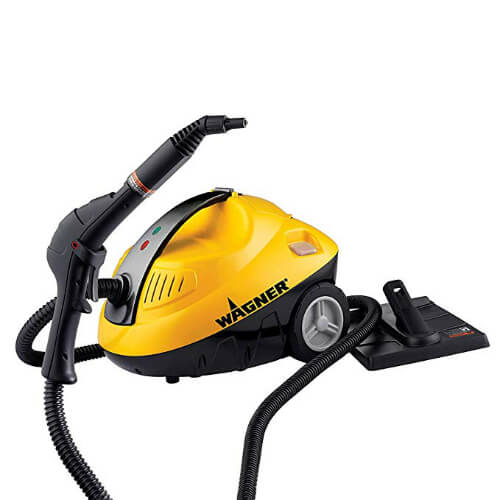 Wagner 0282014 915

Our rating
Value
Price:

See Here


Considering that the market is flooded with all kinds of wallpaper steamers, separating the good guys from the bad guys can be an onerous task, especially for greenhorns. Luckily for you, we've made it our responsibility to comb through the market, spending hundreds of hours analysing, comparing, and reviewing the best there are. Before presenting our top 10 picks, let's walk you through the factors/criteria to consider before you commit your hard earned cash.
10 Best Wallpaper Steamers
1. Wagner Spraytech 0282018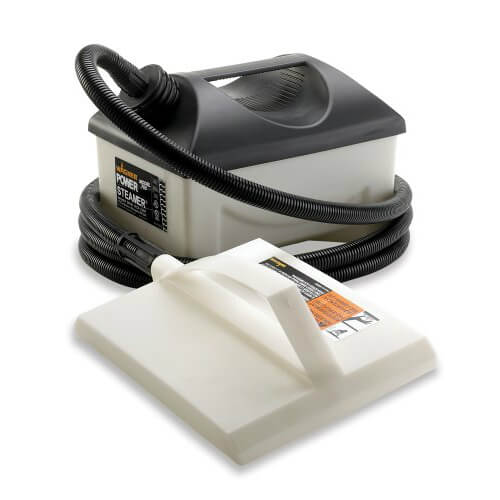 With the Wagner Spraytech 0282018, removing wallpapers is no longer the arduous, time-consuming exercise it once was. This high-quality, functional, and practical wallpaper steamer takes the time and hard work away from the endeavour, leaving you to do very little heavy lifting. Among other things, it is safe and devoid of harmful chemical substances. Being a versatile option, it works like a charm with a wide range of wallpapers, several layers of wallpaper, and even the one you've painted over. It comes with a small and large steam plate measuring 3 by 6 inches and 8 by 11 inches respectively and only uses clean water to get the job done.

As mentioned earlier, Wagner Spraytech 0282018 takes the frustration and hassle away from removing wallpaper. You'll be removing a wide range of wallpaper on the first attempt considering that it's a high-performance option capable of effortlessly producing powerful 1500 watts of steam power. As a result, multiple layers of wallpaper and even those you've painted over don't present much of a challenge to it. It works quickly and efficiently because compared to its cheap, off-brand counterparts, it comes with a sufficiently large 8 by 11-inch steam plate with considerably large coverage. It takes a paltry 10 seconds for the steam to penetrate the wallpaper, quickly aiding in its efficient removal.

Expand to see more
As for convenience, you can safely and confidently use it around kids and pets as it's free of harmful chemicals, solvents, and detergents. It's a cost-effective alternative that simply uses regular tap water. Further, it features a lightweight design and has an ergonomically design, easy-grip handle. An equally lightweight 11-foot long steam hose makes it easy to access tight or confined spaces and spots without straining. It also features a large capacity 1-gallon reservoir, a game-changing pressure relief, and overheat protection for trouble-free, smooth performance.

If you want an easy-to-use and quick acting wallpaper steamer for removing vinyl, painted, and multiple layers of wallpapers, this lightweight and long-lasting Wagner Spraytech 0282018 is your best bet.

Strips excellently and smoothly
Cost-effective
Has a generous 12-month warranty
Long hose and large water reservoir for continuous use
Durable and easy to use
2. BLACK+DECKER KX3300T

If your eyes and heart are trained on acquiring the best option that runs smoothly, efficiently, and powerfully steams all types of wallpapers, you're looking at the right product. BLACK+DECKER KX3300T comes with all the flair you'd expect from a high-end model. It may be expensive but in return to get quickly and effortlessly remove all types of wallpaper from a wide range of flat surfaces. It sports a safety feature that prevents overheating and its large capacity 4-litre tank has a convenient water level indicator and provides the user with an outstanding runtime of about 60 minutes. Very few wallpaper steamer on and off this list can replicate that and if it were not for the expensive price tag, it should have occupied the first spot.

Flimsy, run-of-the-mill options on the market will struggle to strip some wallpapers, especially the dreaded woodchip. BLACK+DECKER KX3300T, on the other hand, powers quickly and effortlessly through, stripping it in a fraction of the time it takes some of its counterparts. Additionally, it perfectly strips vinyl, multi-layered, painted, and textured wallpapers and coatings, effectively making it the kind of the playground. Such quick, easy, versatile, and dependable performance is wholly attributable to the fact that the product has a large steam plate offering a large coverage and large 4-litre tank. These two latter features let you work for up to 60 minutes without the slightest interruption.

Expand to see more
For your safety and those around you, it has a few safety features to eliminate the possibility of injury or harm while working. A safety release valve, for instance, prevents overheating while a boil dry safety cut-out feature guarantees that in the off-chance it overheats, the damage to the unit is minimal at best. The unit's hose measures 3.65 metres and the cable comes at 3 metres, enough to extend your reach. There's also a generous 24-month warranty.

In all, BLACK+DECKER KX3300T provides a continuous runtime and is a cinch to use. Because it also offers excellent value for money, it's also an ideal choice for the value-conscious users out there.

Robust and sturdy construction
Long hose for extensive reach
Affordable
Has a 24-month long warranty
Not ideal for heavy-duty use
Expensive
3. Wagner Spraytech 0282014 915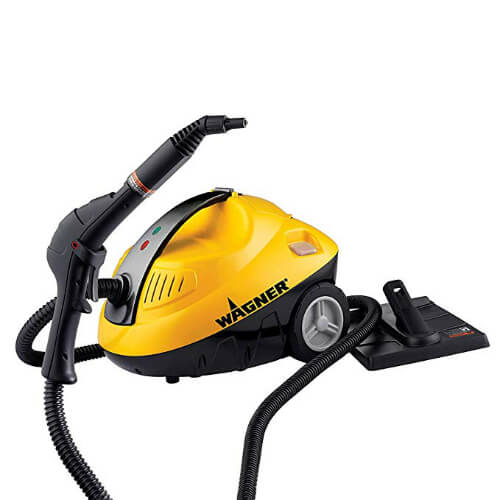 If you want your wallpapers to literally fly off the wall or any other surface for that matter, this Wagner Spraytech 0282014 915 On-demand cleaner will prove a worthwhile investment. It's cost-effective so your wallet won't take a hit and in light of its gentle learning curve, using it takes minimal effort and time. It's also very powerful and versatile and helps remove a wide array of wallpapers including multi-layered ones and the ones you've painted over. The want tank capacity, ergonomics, and runtime are impressive too.
The 3rd position deservedly goes to Wagner Spraytech Wagner 0282014 915 Thanks to the potent combination of a heavy-duty, high-performance 13 by 9-inch steaming plate, a 10-foot hose, and an ergonomic design, its performance is nothing short of swift, exceptional, and reliable. Compared to other models, it relies on an internal
reservoir of hot water
and coupled with its ingenious design, quickly and reliably produces steam that loosens wallpaper without requiring the additional help of harsh and harmful chemicals. The performance remains effective, quick, consistent, and efficient whether it's a light-weight wallpaper, a stuck-on one, painted over, or multi-layered, as is often the case.
Expand to see more
Besides removing wallpaper, it is also perfect for cleaning various surfaces around the house including the kitchen countertops, sinks, toilets,
showers
, floors, and even appliances. The tank can hold as much as 45 ounces of water and provide up to 45 minutes of continuous runtime. The steam reaches temperatures of up to 100 degree Celsius and thanks to its heavy-duty wheels, you don't stand the risk of throwing your back out trying to move it from one room to another.
A perfect choice for use around the house and the office, this tool has a handy button for supplying steam. In addition to quickly and easily removing old wallpaper, it's also an ideal choice for sanitizing various surfaces around the house and office.
Offers smooth, flawless performance
Perfect choice for hardened wallpapers
Cost-effective
Easy to use
4. Wagner Spraytech 0282036 715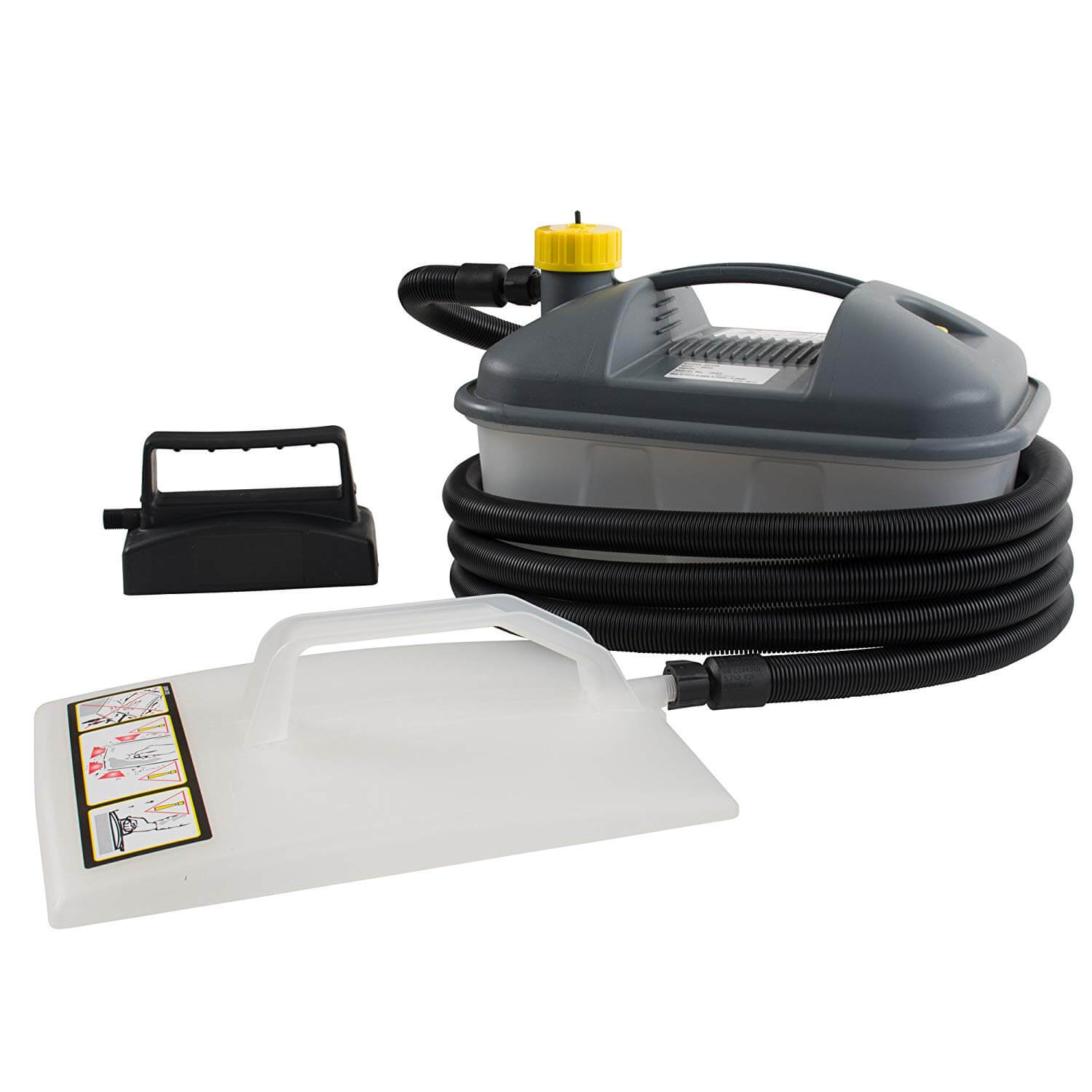 Our 4th pick is again from Wagner, a brand renowned for the consistent, powerful, and reliable performance of its tools. Wagner Spraytech 0282036 715 steamer, like its other cousins, comes with all the bells and whistles that aim and succeed at making the onerous task of removing wallpapers a quick and easy one. It runs efficiently and seamlessly for up to 70 minutes, thanks to a large one-gallon tank. It comes with two steam plates; the first measures 8 by 11 inches while the smaller one has dimensions of 3 by 6 inches. With its long 12-foot cool-to-touch hose, you get to take the wallpaper steamer to the project instead of the other way around.

An all-time favourite of homeowners and professionals all around the world, the Wagner Spraytech 0282036 is an epitome of efficiency and convenience. The larger steam plate that measures 8 by 11 inches makes it a prudent choice for professionals as it covers large work areas and reduces the time and effort to invest in the wallpaper removal exercise. The smaller steam plate, on the other hand, is optimized for use around the house on light- to medium-duty projects. On top of the versatility of the steam plates, add the already mentioned one-gallon tank that enables you to work uninterrupted for up to 70 minutes.

Expand to see more
With a weight of about 5.7 pounds and a compact, portable design, it takes minimal effort to move the unit around whenever the need arises. The ergonomic handle minimizes hand fatigue and strain while the 12-foot hose gives you quick and easy access to hard-to-reach spots and spaces. Like any other eco-friendly unit, this model lacks the chemicals and harsh detergents its rivals use. It's, therefore, safe to use in places with children and your flurry friends.

Patently, Wagner Spraytech 0282036 ticks all the right boxes and packs the most essential features for quick, easy, and worry-free wallpaper steaming and stripping. And it's not even as expensive as you'd expect.

Budget-friendly price
Small and lightweight profile for a greater reach
Powerful
Easy to use for long periods
Small capacity water reservoir
5. HomeRight C800880

The 5th option to effectively make wallpaper removing its stomping ground is this high-end HomeRight C800880 steamer. Our mouths formed a perfect "O" the first time we watched it powerfully, quickly, and easily bring down a multi-layered wallpaper. Touted as one of the best things to happen to the industry, it seamlessly harnesses the power of steam to perfectly handle a wide range of household chores besides removing wallpapers. That it's a high-performance wallpaper steamer and a solid choice for softening wallpaper for quick removal or sanitizing and cleaning various hard-to-clean surfaces around the house is not questionable. Read on for a brief but in-depth review of the workhorse.

Compatible with a wide range of attachments, this unit makes it remarkably easy and quick to remove old, out-dated, or tired from regular and irregular surfaces. The heating elements are capable of raising the water temperature to more than 200 degrees Fahrenheit, effectively converting it to steam that quickly softens and allows for the easy removal of all types of wallpaper. For convenience, it comes with a sufficiently long 8-foot hose complete with a locking pistol grip handle that guarantees accuracy and manoeuvrability while giving you access to hard-to-reach spots.

Expand to see more
Designed with the convenience of the user in mind, using the unit is very easy. All you have to do is plug it in, turn it on, add the recommended amount of water, and wait some 8 minutes for it to steam up and then you're ready to go. Easy peasy. It even comes with on-board storage for safely keeping various accessories. It's a versatile option that generates pressurized, high-temperature steam you can use for a wide range of uses around the house or the office. And did we mention that in addition to being lightweight and compact the unit features two built-in wheels for hassle-free portability?

Those who want to get it right the first time and save time and effort in the process, this HomeRight C800880 is meant for you. It never disappoints.

Versatile and powerful performance
A cinch to use
Portable
Provides chemical-free cleaning and wallpaper removal
6. Earlex SS77USSG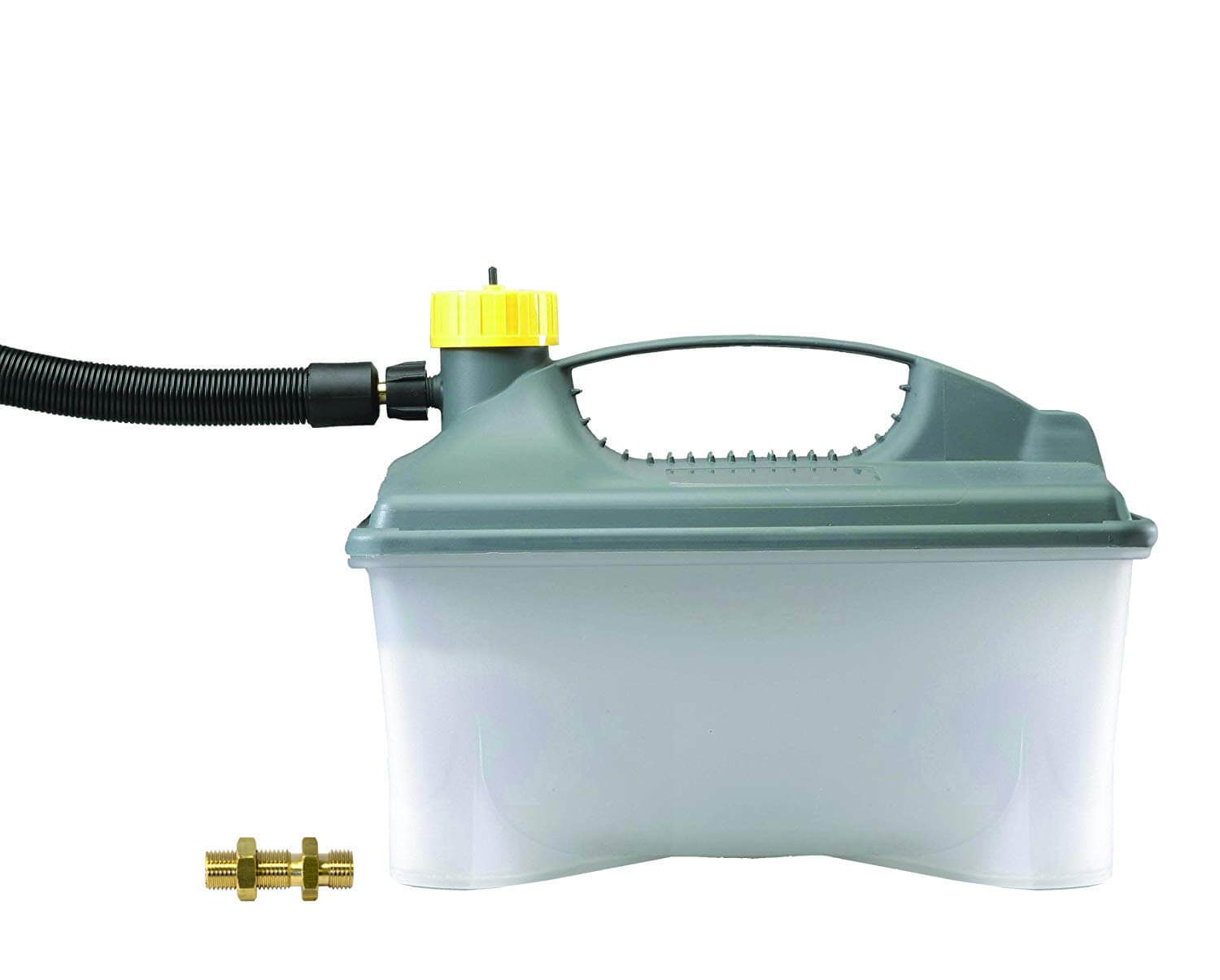 Earlex SS77USSG is another option to consider for the efficient, quick, effortless and accurate removal of various
types of wallpaper
from different surfaces. It boasts an impressive 1500 watts of stripping power and has a large capacity 1.3-gallon water tank container. These two features ensure a powerful and continuous runtime, enabling you to work efficiently for as long as it takes to get the job done right. On top of these features, add a generously long 12-foot hose that makes it possible to access every corner of the wallpaper with minimal effort.
The Earlex SS77USSG comes with a powerful 1500 watt element that pairs nicely with its 1.3-gallon water tank. Compared to other simplistic, humdrum options on the market that will keep you waiting for hours to steam up, this model takes just 23 minutes to steam up and offers you more than 120 minutes of steam with every fill. It takes things up a notch by including in its package a steam box adapter so you can quickly and easily attach it to your steam chamber, further helping you accomplish your wallpaper removal endeavour with exceptional ease.
Expand to see more
You don't need any technical skills to use the steamer. From the seasoned professional to the greenhorn attempting to remove wallpapers for the first time, the results will invariably be exceptional as the learning curve is remarkably gentle. Earlex SS77USSG uses standard current and comes with detailed, easy-to-understand instruction on how to set it up and get started with your wallpaper steaming project.

The fact that it only requires clean water and not environmentally harmful detergents or chemicals makes it an eco-friendly selection. Further, it's safe to use.

With Earlex SS77USSG, steaming wallpaper will never be simpler, quicker, and more fun. It works safely and powerfully and comes with all the accessories you need to get started right away.

Steams up quickly and easily
Lightweight and highly portable
Exceptional hose connectors
Safe to use
Ineffective overheat protection system
7. Silverline 128966

Our list features something for everyone and this particular one is for the value-conscious professionals and homeowners out there. Silverline 128966 is very effective, powerful, easy to use, and a perfect solution to all the tough and pesky wallpapers that just won't come out through conventional means without ruining your walls. Setting it up requires no skills at all and so is using it. The implication of this is that in the off-chance that you get tired removing wallpapers, your teenage daughter can easily take over.

Performance-wise, it is a force to reckon with. It demonstrates its mettle by running at 2200 watts and delivering a remarkably powerful blast of steam for quickly and easily peeling off multi-layered wallpapers in a single pass. Irrespective of whether the wallpaper is painted over or not, the unit will make quick and short work of removing it from the wall, leaving you with a clean, smooth, and ready-to-use surfaces.

Expand to see more
The two features that substantially contribute to the unit's flawless performance or the icing on the cake, if you will are the steam pod and the water reservoir. The latter measures 280 by 200 mm and provides a large coverage, enabling you to accomplish your tasks quickly, easily, and efficiently. The former is capable of holding up to 4.5 litres of water, providing you with up to 70 minutes of continuous runtime, meaning that it reduces the frequency of trips to
the sink
.
The flexibility of the 3-metre hose and equally long power cord ensure remarkable mobility and portability. You'll be able to reach the furthest corners or hard-to-reach spots without much of a struggle. Further, the steamer is lightweight and has a user-friendly handle and steams up pretty quickly. To cap it all off, you get a generous 36-month warranty.
There's every reason to consider going with Silverline 128966. It works quickly and efficiently and its steam pad covers large swaths of a surface. Its hose is also long and it boasts a large capacity 4-litre container.
Produces a powerful blast of steam for quick and easy performance
High-capacity water reservoir for continued use
Has a long, flexible hose
Lightweight and user-friendly
8. Earlex LMB150NA SteamMaster

The choices we've reviewed so far are optimized for light- to medium-duty wallpaper steaming and removal. If, on the other hand, you're a professional in search of something higher up the line with a little more heft for tackling heavy-duty, contractor-scale projects, then the Earlex LMB150NA is just the unit for you. Expectedly, it takes up some space and is considerably heavy at 21 pounds. It packs a punch though and will get those pesky wallpapers flying off the walls in quick succession. For such a heart-stopping performance though, you're going to dig a little deeper into your pockets. Now, let's dive right into it, shall we?

Heavy-duty applications necessitate using a rugged, sturdy machine and with this option, you get just that. It's crafted from industrial-materials to make it hardwearing and long-lasting and can, therefore, take some serious beating for years on end without any significant flagging in performance. To that quality add the large steam plate with central steam distribution tube and you have a tool you can use to remove various types of wallpaper Artex finishes, painted, and multi-layered ones without putting in any significant effort. For confined spaces, you can resort to using the smaller 150 by 75 mm steam plate.

Expand to see more
Further, the Earlex LMB150NA comes with a large capacity 7.5-litre water tank. The sheer size of the tank goes a long way in minimizing frequent trips to the sink and allows for continuous, uninterrupted wallpaper removal for several hours on end. With a weight of 21 pounds, this unit is heavy but can still be carried around with ease. If you can't, it comes with a non-tip, steady platform and an anti-kink 16-foot cool-run steam hose for accessing hard-to-reach and tight spots.

Additional features include the handy on-board storage, easy-to-read water level indicator, and a 5-metre long power cable. Together, these features are responsible for the machine's flawless, quick, and remarkable performance.
Works efficiently and reliably for long
Eco-friendly and safe to use
Lightweight and portable
Durable
Has a water level indicator
Occasionally heats up slowly
9. Warner Electric 5687

In the off-chance that our previous doesn't make the cut for you, we can guarantee you this Warner steamer will get it right the first time and with a few passes. Compared the out-dated, traditional method of first wetting then scrapping off the old wallpaper, this unit comes armed with
technologically advanced features
to make the process quick, less laborious, and even fun. Rather than using chemical additives that are inimical both to the environment and human health, the unit uses powerful steam to soften wallpapers, making them easy to remove quickly.
It runs on 1,500 watts of power, which translates to quick and effortless heating up time. As a result, it steams up in a fraction of the time it takes other cheaper, less powerful models mushrooming in every corner of the market. Like the heavy-weight wallpaper steamer that it is, it operates on 110V, 15-amp current and generates more than enough steam for quickly and easily removing all types of wallpaper from all types of surfaces. It doesn't matter whether the wallpapers are coated, painted over, or multi-layered; the wallpaper steamer softens them in a heartbeat.
Expand to see more
A versatile and easy-to-use choice, the steamer comes with two steam pans; a narrow and standard one. The latter feature allows you to match the task at hand to the size of the steam pan. A light-duty to medium-duty task will require the use of the smaller one while heavy-duty, commercial-level projects will necessitate the use of the larger one to save on time and effort. Other features worth pointing out include the 15-foot steam hose that extends your reach to those hard-to-reach spots and there another 15-foot electric cord with GFCI housing. The tool's tank has a capacity of 1-1/2 gallons and can run continuously for up to 1-1/2 hours on a sing tank of water.

It enables you to work like a pro, allowing you to quickly and effortlessly remove all of those old wallpapers from the walls. It's a heavy-duty option and expectedly expensive but the flawless performance makes up for it.

Powerful
Eco-friendly
Versatile and easy to use
Long hose
Large-capacity water tank
10. Costway 2200W Professional

Our 10th position goes to yet another high-quality option from an industry doyen. The Costway 2200W comes with a choke full of head-turning features for a heart-stopping performance. It considerably simplifies and quickens the process of removing wallpaper from multiple surfaces. Like the other workhorses before it, it works reliably, overshadowing several other worthy contenders both in performance and convenience. It has a high-capacity water tank, provides continuous runtime, and boasts a large, heavy-duty steam plate that works quickly and efficiently.

Admittedly, this steamer isn't very different from its counterparts we've reviewed so far. It offers you slight variations of the same features. With regards to performance, for instance, it expertly brings together a 27 by 20 cm steam plates and incredible 2200 watts of stripping power for efficiently, quickly, and smoothly removing all kinds of wallpaper from all kinds of surfaces. Not even pesky multi-layered wallpapers can get in the way of this unit's stripping prowess.

Expand to see more
Still on performance, it comes with a large 4.5-litre capacity tank that holds a decent amount of water. Consequently, it can keep running for up to 70 minutes without the slightest performance hiccup or glitch, allowing you to work quickly and efficiently. It packs several other convenience features, too. This tool has an overheat protection feature and an automatic cut-off to prevent any irreparable damages to it.

It also comes attached to a long 3-metre hose that gives you a considerably wide reach and takes the hassle away from reaching tight or confined spots. Further, it's lightweight and compact and comes with ergonomically designed handle grip for a firm and comfortable grip. The design makes it a perfect choice for overhead wallpaper removal.

If you're looking for a wallpaper steamer that works safely, powerfully, conveniently and doesn't leave a gaping hole in your wallet, this option should be up your alley. We can't recommend it enough.

Large-capacity water tank
Works effortlessly and quickly
Ideal for heavy-duty wallpaper stripping
Perfect for hard-to-reach spots
Adjusts temperature automatically
Criteria for Choosing the Best Wallpaper Steamers
Performance
You need to base your decision on the workload you want to undertake and this ranges from light, medium, to heavy-weight. As a rule of thumb, powerful wallpaper steamers sport a higher power output compared to their less powerful counterparts. As a result, they perform quickly, effortlessly, and with considerably fewer hiccups.
It takes a powerful wallpaper steamer less time to heat up a given amount of water, meaning that it produces steam much faster too. A high power output goes hand in glove with a large tank. On the same note, consider the steam plate. A large one has a wide coverage which also translates to more efficient performance and faster completion time.
Convenience
This criterion encompasses weight of the tool, the length of its accompanying power cord, and the size of the water tank and steam plate. A unit with a manageable weight and compact design is not only portable but easy to maneuvre into tight and confined spaces. It's also comfortable to use for long hours on end without burdening the use. This point goes hand in hand with the length of the power cord.
The longer it is, the further you'll be able to reach without constantly unplugging and plugging it into nearer power outlets. Obviously, a large steam plate boasts a wide coverage and this translates to quicker completion time and more efficient performance. A big water tank, on the other hand, means less frequent trips to the sink to refill.
Safety
If you've ever used a wallpaper steamer before, we need not impress upon you the significance of putting safety first. While it comes third on our list, it easily supersedes every other consideration. Before you start using yours, make a point of religiously checking to ascertain that the connection between the steam pad and stripper is air-tight. If it's not you may just be another victim of hot steam. Also, considering the likelihood of the wallpaper steamer overheating, a cut-out is an essential feature if you're planning on using the wallpaper steamer for several hours at a time.
Additional features you want to pay attention to are the price, length of the warranty, as well as the quality of construction. No one wants a wallpaper steamer incapable of taking a few hard beatings.
Frequently Asked Questions
Q: Do I have to add a detergent to the water for optimal performance?
A: No. wallpaper steamers work best with just water.
Q: After how long does the water turn into steam?
A: That depends on the size of the water tank and the wattage of the unit and several other factors. On average though, you'll have to wait for between 10 and 30 minutes.
Conclusion
With the modern wallpaper steamer safely and securely in the palm of your hand, you'll be quickly and easily stripping various wallpapers in no time. Our picks effectively harness the power of steam and a high-performance steaming plate to help you remove the most hardened, toughest, and peskiest wallpapers, leaving the surface as clean as it once was.
And because they only use water without the slightest trace of various harsh chemicals, they're safe both to the environment and the user. It's our hope that by reading our reviews you've gained useful insights to help you make an informed decision going forward. Happy shopping!
Subscribe to our newsletter