Best Wire Crimpers Reviewed & Rated
last updated:
Sep 17, 2018
To securely attach a cable to a connector, or conjoin a wide range of metals to each other, you'll first need to deform the particular material or object to ensure it assumes the preferred shape, size, or posture. And this's where a wire crimper enters the scene. Besides joining specific connectors, wire crimpers are also perfect for cutting and stripping wires, dealing with cables, and terminating components. At home, it can be particularly handy for homeowners who want to hook up the electrical system, install or upgrade various fixtures/electrical outlets around the house.
Our Top 3 Picks
[srpshortcode id="17963″][/srpshortcode][srpshortcode id="17964″][/srpshortcode][srpshortcode id="17965″][/srpshortcode]
Considering their usefulness in various industries such as construction, home improvement, and metal works, it's prudent that you choose the one that best meets your needs. We understand the difficulty ignorance, misinformation, and lack of time poses in the search of the most suitable wire crimper. In this piece, we aim to provide you with the most relevant info to help with the selection process. Continue reading for our top ten picks and adetailed description of the factors to keep in mind while shopping.
10 Best Wire Crimpers
1. Titan Tools 11477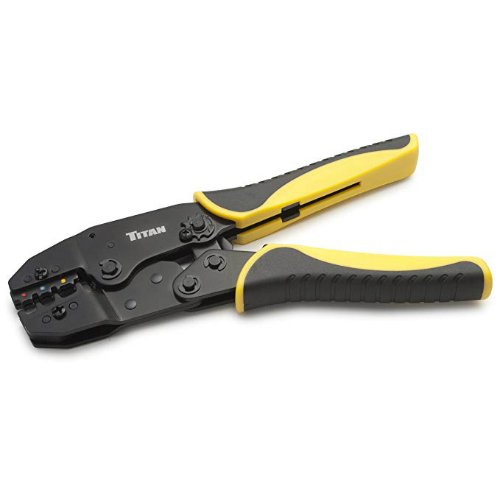 If you're looking for a high-quality, durable, easy-to-use, and cost-effective option for domestic or commercial use, look no further than the Titan Tools 11477. The performance, convenience, and durability of the machine is a far cry from those of its cheap, off-brand counterparts on the market. Its unique design, construction quality, and the value it provides easily overshadows and dwarfs its closest competitors, which partly explains why it's an all-time favorite of electricians, network admins, and LAN operators. Its signature features include a ratcheting mechanism design, an easy-to-adjust crimping compression, durable steel jaw, and comfortable grip.

The simplicity of the tool's design will immediately appeal to the user who needs effortless, efficient, accurate, and quick performance. Among its litany of features, the ratcheting action stands out the tallest. The multi-stage ratcheting system goes a long way in helping you monitor the progress you're making, thereby taking the time and effort away from an otherwise onerous endeavor. It brings to an end the days of missing steps and ruining your wires.

Expand to see more
To the ratcheting feature above add a highly functional and customizable compression wheel. You can easily and quickly adjust the compression wheel, making it an ideal choice for effortlessly handling and accommodating a wide range of loads. The resulting versatility means that you can easily vary the effort and strength for tackling a specific project, giving you the confidence and peace of mind for taking on several loads.

The tool is designed with the safety and convenience of the user in mind. It features a useful and convenient safety release mechanism that works by promptly disengaging the crimp upon detecting the slightest obstruction unrelated to the workpiece. Additionally, it sports a comfortable, easy-to-use grip and a high-quality steel constructed from industrial-grade steel for durability and strength. The jaw features color coded wire sizes for easy identification of the right sizes.

The Titan Tools 11477 is patently the perfect wire crimper for light tasks around the house as well as on the work site. The steel jaws are long-lasting and thanks to the ratcheting action and the adjustable crimping compression, it's a cinch and joy to use.

Has a handy ratcheting mechanism
Boasts easy-to-adjust crimping compression system
Comfortable
Heavy-duty construction
Not ideal for light-duty tasks
Difficult to use
2. IWISS Crimping Tool Kit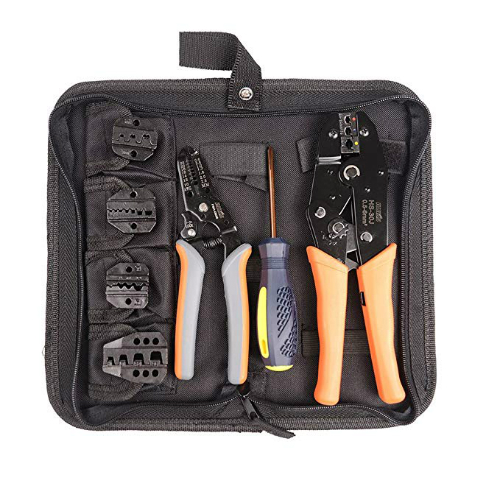 The IWISS Crimping Tool Kit is a feature-packed crimper ideal for a wide range of professional tasks. Like our previous pick, the product is versatile, long-lasting, labor- and time-saving, easy to use, and cost-effective. Together, these features and several more blend seamlessly and perfectly to provide the user with the best experience in cutting, joining, or stripping wires of different shapes and sizes.

The first thing you'll notice about it when you first try it out is the ease with which it strips and cuts various types of wires. The speed and efficiency are entirely attributable to the fact that it's manufactured using high-quality, rugged, and long-lasting materials. As such, it effortlessly maintains its sharp cutting edge for prolonged periods even with constant exposure to extreme abuse. The implication is that cutting through tough or abrasive wires, such as the AWG 10-22 solid copper wire, for instance, will be a breeze.

Expand to see more
Unlike cheap, humdrum options on the market, using it is actually a cinch. It comes with a self-adjusting ratchet system that couples nicely with its automatic release mechanism to enable you complete wire crimping tasks quickly and efficiently. To these features add the fact that the machine is lightweight and compact and as a result, poses minimum to no risk at all of straining your hands or causing hand fatigue even with repeated use.

The handle is durable and like the rest of the frame, is made from high-quality, durable material. It's also comfortable with its ergonomically designed handle grip that ensures you use considerably less effort to get the job done. The handle grip also guarantees a firm and secure fit with remote possibilities of slippage.

For the best wire crimping results, we highly recommend you consider going with the IWISS tool. The sturdy construction quality, safe self-lock feature, ergonomic and comfortable handles, and the attendant ease of use mean it's ideal for light- to heavy-duty projects.

Robust and sturdy construction
Lightweight and easy to use
Very portable
Provides clean and high-quality results
Not ideal for simple projects
3. Channellock 909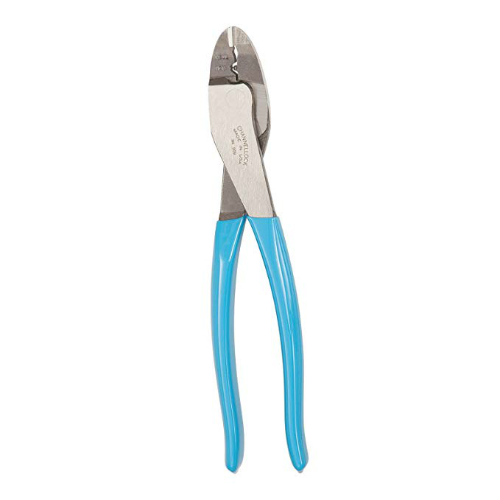 For homeowners and
professional electricians
in search of a high-end, feature-packed wire crimper, let's introduce you to the workhorse that's the Channellock 909. At a pocket-friendly price, the tool gives you a taste of premium features that have, until now, been the preserve of costly, top-of-the-line options. For instance, in addition to cutting wires, you can also use it for crimping both insulated and non-insulated terminals and connections.
The rust-resistant coating works in tandem with
the laser
edges, which are heat-treated, to augment its lifespan by simultaneously ensuring longevity and optimum performance.
Few options blend performance and affordability like this one does. The fact that it's forged from high carbon C1080 steel means it can stand up to the rigorous task of cutting and crimping tough and abrasive wires without the slightest hesitation.
Expand to see more
High carbon steel is also renowned for its resilience and durability, features it easily passes on to tool. Even after several years of heavy-duty use, its performance will invariably be exceptional.
Performance aside, the tool is designed to be easy to use. First off, as mentioned earlier, it's an all-around tool that crimps both
insulated
and non-insulated solderless connections and terminals. Secondly, it sports a sleek nose design to make it easy and quick to reach wires and terminals in hard-to-reach spots without much straining. Identifying it in a tool chest or box should also be easy considering the hands boast the brand's distinct and iconic blue color.
Speaking of the handle, they are cushioned so they're comfortable to use for prolonged periods. And because they're also a little textured, they'll stay firm and secure in your hands for the entire duration of your application. And the overall weight of the wire crimper is just 13.9 ounces and has dimensions of 11.5 inches by 2.9 inches by 0.8 inches, making it both lightweight and compact enough for hassle-free transportation and portability.
The superior, flawless, and efficient performance of the Channellock 909 is hard to overlook. The quality of construction is top-notch and it's remarkably easy to use. For one of the best wire crimping experiences, don't hesitate to go with this model.
High-quality, durable construction
Optimal performance
Comfortable and easy to use
Versatile
The handle is a little slippery
4. Ratcheting Modular Crimper Cutter Stripper


This tool is an embodiment of all the features an electrician and other tradespeople prioritizes in a crimper. Being the brand's flagship tool, the model is a reflection of its tradition of unyielding dedication to perfection. It has several highlights including but not limited to a durable, all-steel construction, a performance-enhancing black oxide coating, and ergonomically designed handle for the best performance. In light of its speed and reliability, the wire crimper offers the best bang for the bucks and would be a solid choice for the value-conscious user.

The all-steel construction and the attendant black oxide finish mean the machine will provide you with several years of flawless and smooth operation even when it starts approaching the tail end of its useful life. It's capable of withstanding any wear and tear and rust that comes with undertaking demanding cutting or crimpling projects. A sturdy and high-performance tool works quickly and accurately, which makes it an ideal choice for data and voice projects.

Expand to see more
In addition to cutting, stripping, and crimping twisted pair, Ethernet, RJ45 voice and data cable, the tool is also a versatile machine designed for crimping 4, 6, and 8 position modular connectors. Like our previous pick, the model accords you remarkable control by featuring the convenient and easy-to-use ratcheting action. It similarly features a lightweight and small profile for minimizing hand fatigue and strain and for giving the user quick and easy access to hard-to-reach spots.

And in light of its ingenious design, the likelihood of coming to harm while using it are minimal at best, and that because it incorporates a ratchet safety release and blade guard.

The user-friendly design aims to take the time and effort away from cutting, stripping and crimping wires, and to that end, it performs exceptionally. It's without a doubt a solid selection if you want speed, reliance, and comfort.

Durable steel construction
Works quickly and accurately
Slim and lightweight design
Very comfortable to use
5. Fluke Networks 11212530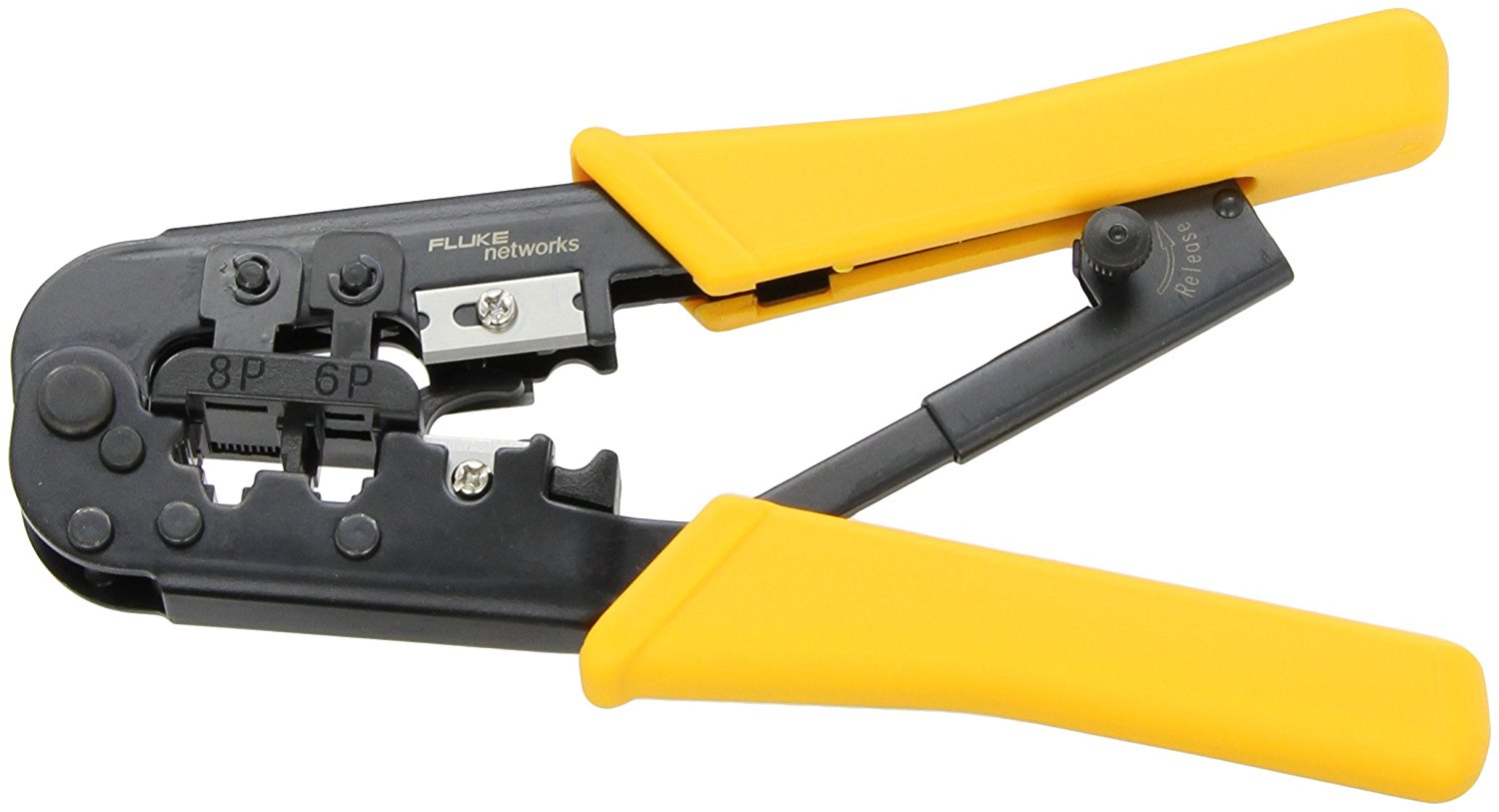 The Fluke Networks 11212530 is a mid-range option offering pro-grade performance at an affordable price. The construction quality is top-notch and the ease of use is exceptional. Unlike thousands of options on the market, the tool is one of a few that's ideal for working with heavy and thin cables. It's also versatile and will quickly and efficiently crimp a variety of connectors. The two other features that separate it from competitors on the market are the embedded flat cable cutter and stripper and the long-lasting high-quality all-steel construction. And to top it all off, the machine also incorporates a ratcheting action. Now let's get started.

That the tool is a versatile, all-around wire crimper is not in question. As mentioned in the introductory paragraph, its versatility easily earns it a spot on the list of ten of the best wire crimpers on the market.

Expand to see more
It will also prove to be of great assistance to the tradespeople whose line of duty involves cutting and stripping wires. It comes with an embedded flat cable cutter and stripper that make the two tasks a cinch. The ease with which the connectors slide in and out enables the user to quickly and efficiently crimp cables and connectors. With the wire crimper in the palm of your hands, you'll be using a fraction of the energy it would take with weak, flimsy alternatives out there.

The ratcheting action, on the other hand, minimizes the likelihood of the wire slipping in during the crimping process, thus providing you with additional protection as you work. As is also the case with the vast majority of options on the market, this model features an all-steel construction for strength and durability. And in consideration of its lightweight and compact design, accessing tight spots should be a breeze. And the yellow handles are ergonomically designed for comfortable use and easy identification.

If you're a sucker for exceptional and smooth performance, you won't be able to resist the charms of the Fluke Networks 11212530. It works exactly as advertised. You can never go wrong with this one.

Compatible with both thick and thin cables
Features effort- and time-saving ratcheting action
Long-lasting, all-steel construction
Light and slim profile
6. TRENDnet 8P/RJ-45 and 6P/RJ-12, RJ-11 Crimp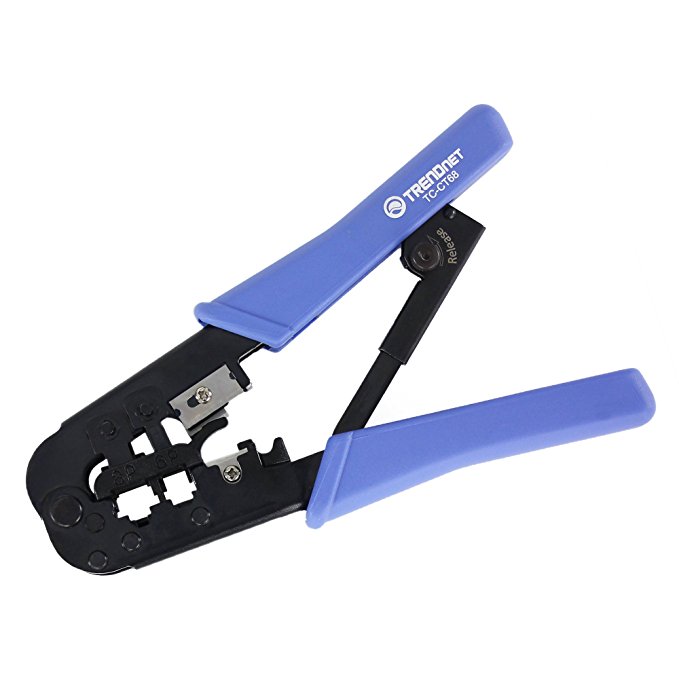 The value-conscious user with eyes trained on acquiring a high-end, versatile wire crimper, take a look at the TRENDnet crimp. The machine is bursting at the seams with a litany of convenience and performance feature aimed at providing you with the best performance. As well as helping with maintaining network accessories, the tool is also a perfect choice for crimping, stripping, and cutting various cables for 8- and 6-position modular plugs. The wire crimper brings together auxiliary features and attributes such as reliability, durability, and ease-of-use at an affordable price.
For effortless and dependable cutting and crimping of various telephone and
Ethernet cables
, the wire crimper features an all-stainless steel construction to provide the requisite strength and rigidity for effortless and quick performance. The high-quality construction will ensure the machine stands the test of time and weather the toughest work conditions. Also, it won't be succumbing to rust or corrosion any time within the near future considering its rust- and corrosion-resistant coating.
Expand to see more
The fastidious construction aside, it features a gentle learning curve and should be a solid choice for seasoned and greenhorn users, and everyone else in between. The wire crimper also doubles up as a cutter and performs both functions in a remarkable fashion. The combination of the two features means you'll henceforth enjoy the convenience of quickly shifting from cutting to stripping, saving yourself time and effort in the process.

Reaching tight and awkward spots should be a breeze considering that the machine is both lightweight and compact. The user-friendly design of the handles spares your hands lots of unnecessary strain and fatigue for those planning on working for several hours straight. Like the rest of the frame, the handles are also made from steel, providing the much-needed longevity and strength for handling tough and demanding cutting and crimping tasks around the house and on the worksite.

If you don't find the versatility, ease of use, fastidious construction, and superb performance of this tool convincing, maybe the fact that it comes with a generous 12-month warranty can do the trick. And did we mention that it's very cost-effective?

Excellent customer service
Generous 12-month warranty
Offers incredible convenience
Powerful performance
Not ideal for heavy-duty projects
7. Platinum Tools 100054C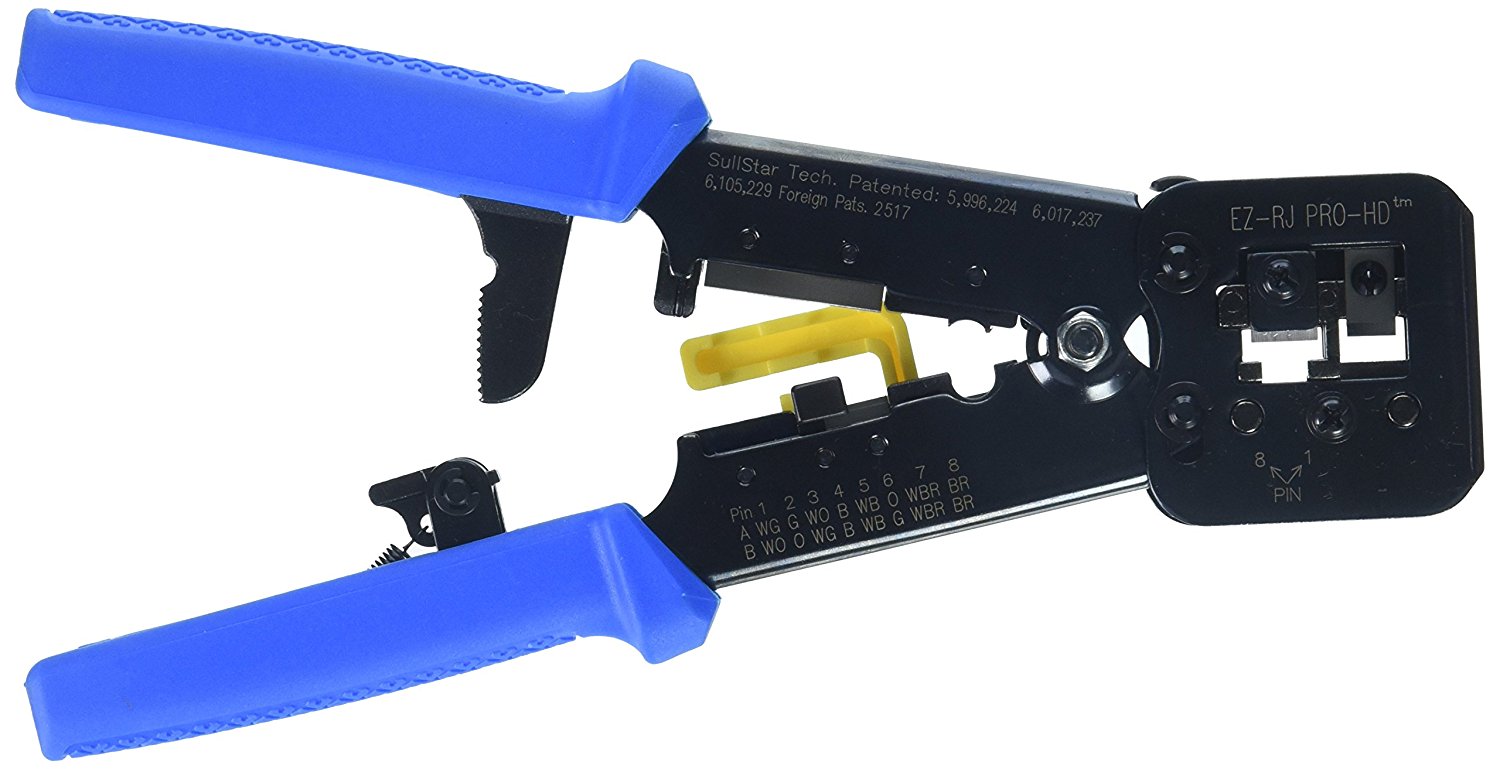 In a competition pitting industry giants against one another, Platinum Tools easily finishes at the top and unscathed. The brand offers the market several leading wire crimpers but its flagship product, the crimper, stands out tallest and proudest. The machine is an ideal choice for the professional looking for a ratcheted, high-leverage, and superbly stable platform for high-quality, consistent results. It's a cost-effective option that offers clean, flush trim on the extended conductors for all EZ connectors. And because of its ratcheting action and its lightweight and compact profile, using it is remarkably easy.
Unlike some no-frills options on the market, it packs a rift of auxiliary features that make it one of the best wire crimpers in the industry, helping it to effortless meet and even exceed FCC standards of quality, performance, and safety.
One such feature is the zero-flex frame that preventing even the slightest bending or caving of the machine when you subject it to the harshest abuse. The ruggedness and structural integrity of crimper is further underscored by its long-lasting all-stainless steel build. As such, you won't experience any loss of
torque
as you crimp the toughest of wires.
Expand to see more
The ingenious design allows for consistency and repeatability with terminations, thanks to the fact that it incorporates a high-leverage ratcheting action on a stable platform. Creating flush, clean trims is also remarkably easy with this tool. It also doubles up as a cutter and stripper to make short and quick work of flat and round cables. The tool's die head assembly provides the connectors with a 360-degree support which, coupled with the high-leverage ratcheting movement, takes the time and effort away from crimping large, high-performance OD cables.

You'll also like the machine compatibility, seeing as it works perfectly with EZ-RJ45, EZ-RJ12/11 connectors, and standard modular plugs. And like mentioned earlier, the wire crimper is lightweight and compact enough to fit securely and firmly in the hand. You can comfortably hold and use it the entire day.

If you need a heavy-duty, feature-packed, yet easy to use wire crimper, take another look at this option. It's a high-performance machine with all the features you need in a wire crimper.

Features handy ratcheting action
Rugged and robust construction
Useful 360-degree support
Lightweight and easy to use
Versatile
8. Etekcity Multifuntional Coax Compression Connector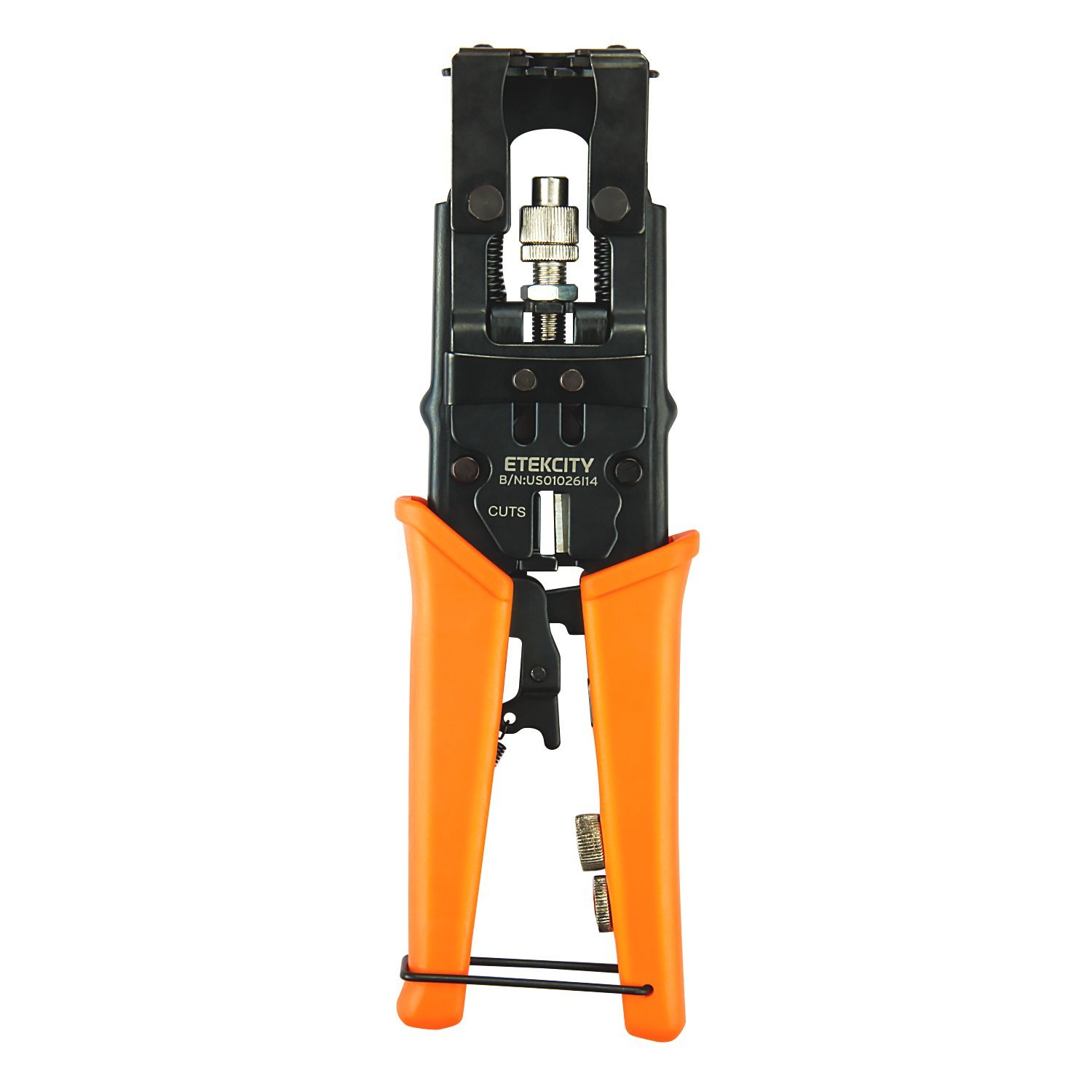 You don't have to grope aimlessly in the dark when the market has a highly functional and practical wire crimper such as the Etekcity Multifunctional Coax Compression Connector Adjustable Tool. It's a versatile machine that the busy tradesperson can use for handling and performing a wide range of crimping projects and applications. Enthusiastic DIYers will also find it useful around the house, especially considering its compatibility with RG59, RG58, BNC, RG6, F, and surprisingly RCA. It's a pocket-friendly option that will come handy for users looking to customize coax cables to a preferred length.

It is guaranteed to provide you with smooth, trouble-free crimping for several years on end in light of its sturdy, robust construction. The use of first-rate materials enables it to withstand heavy, severe abuse. The durability is further reinforced by the fact that the machine features an anti-rust coating, giving you the confidence and peace of mind to comfortably use the wire crimper in various settings without a care in the world.

Expand to see more
It incorporates three adapters for the best and most accurate results. To this add a heavy-duty cutter that's considerably thicker and tougher for quickly and effortlessly tackling coaxial cables. Its compatibility with several connectors including but not limited to F, BNC, and RCA translates to unmatched versatility, which explains its popularity among tradespeople.

The innovative and user-friendly design, especially the incorporation of 2 double springs, augments its reliability, exceptional performance, durability, and elasticity. The springs enable the user to quickly and easily adjust it to their specifications, making it a cinch to use even with tough coaxial wires. The machine weighs a paltry 15.8 ouches and is remarkably lightweight and comfortable. You'll be using it for several hours without having to take frequent breaks to stretch your hands, as is often the case with flimsy, humdrum alternatives on the market.

Finding an option that performs accurately, efficiently, quickly, and with minimal effort is never an easy task in a market flooded with several varieties. Which makes the Etekcity tool an ideal choice as it offers all of these qualities and several more at an affordable price.

Features 3 useful coaxial cable adapters
A cinch to use
Cost-effective
Comes with a factory-installed cable cutter
Insufficient 90-day warranty
Not perfect for heavy-duty projects
9. Klein Tools 1005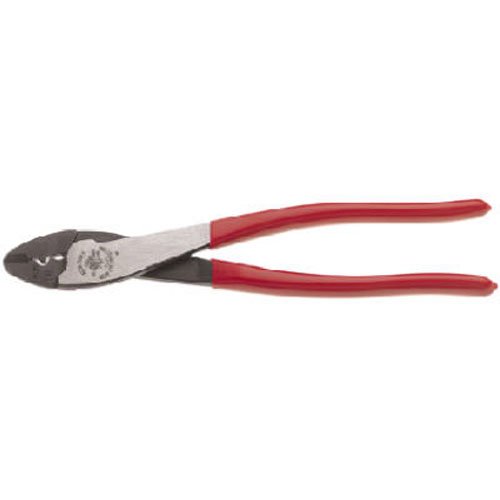 Another wire crimper to balance affordability and performance is the Klein Tools 1005, another leading product from the customer-trusted Klein Tool brand. Like the name suggests, the wire crimper works great with both insulated and insulated solderless terminals and connectors. On top of that, it boasts an intuitive and easy-to-use design, so that seasoned and novice tradespeople can enjoy using it. And like other first-rate options, it's a robust and sturdy choice with a useful built-in wire cutter besides the tapered noise design.

The construction quality is arguably one of its highlights. Besides the use of strong and durable materials for construction, it also features hot-riveted joints at strategic points all through its frame. They offer, among other things, unmatched reliability, convenience, and rigidity. Unlike the case of using cheap, weak alternatives on the market, the wire crimper is significantly less susceptible to wobbling during use or poses minimal risk to the user.

Expand to see more
A second auxiliary feature that stands out is the specially-hardened wire cutter. The cutter is capable of retaining its
sharp cutting edge
and integrity for long, meaning that it can stand extreme abuse for years on end. The hardness and ruggedness also explain the ease and speed with which it crimps 10-22 AWG as well as insulated and non-insulated solderless terminals and connectors.
As for convenience, it is not any different from its competitors. It's lightweight and compact and provides superb traction on the handles for a firm and secure hold. Also, it sports a tapered nose for giving the user quick and unhindered access to wires in confined spots.
Patently, while the Klein Tools 1005 is cost-effective, there absolutely no correlation between that and its performance. It packs a punch and pulls all stops to provide you with an unforgettable crimping experience.
Versatile
Comfortable
Exceptional performance
Durable
Only for light- to medium-duty tasks
10. Hilitchi Professional Insulated Wire Terminals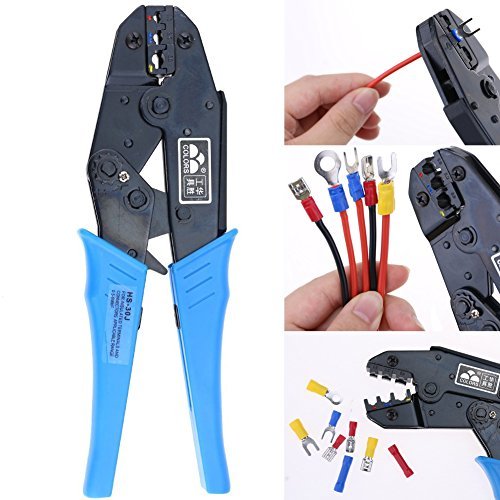 If our first nine picks didn't meet your unique performance or convenience needs, the Hilitchi Professional crimper is bound to be up your alley. It's a hard, rugged, and easy-to-use option that's perfect for tackling the most challenging butt terminal connection you are likely to come across in your line of duty. Versatility is also one of the product's fortes seeing as it's capable of handling semi and fully insulated terminals with ease and efficiency. For a detailed review of these and several more equally impressive features, keep on reading.
The fact that it features a handy and convenient self-adjusting ratchet system makes for quick, effortless, and efficient crimping of different types of wires. From the moment you lay your hands on it, you'll immediately appreciate the convenience it introduces to tackling various projects around the house and on the work site. A little effort on the handle is quickly amplified to
incredible cutting
and crimping power on the other end, enabling you to finish your project in a fraction of the time it would take flimsy, run-of-the-mill options masquerading as wire crimpers.
Expand to see more
Another attribute it shares with other top-end options in high-quality, professional construction, enabling it to perform exactly as advertised and handle all tasks within its specified scope. Compared some models on the market, you won't experience any performance glitches or hiccups during use, however tough the cables are. The result is superb, accurate, and remarkable results, no matter the setting. Additional features include an integral clock for additional safety and dependability, a lightweight and compact profile for effortless use, and a knack for adjusting accurately at all times.

Clearly, it comes with features that separate it from its closest competitors. While there are drawbacks, the upsides completely overshadow them. For professional and greenhorn tradespeople in search of a high-end, pocket-friendly, high-performance, and easy-to-use option, don't look any further than this model.

Accurate and powerful performance
Easy and quick to use
Lightweight and compact design
Safe and reliable
Short warranty
Complex operation
Criteria for Choosing the Best Wire Crimper
Crimp Size
Starting us off on the essential factors to consider before committing your money is the size of the wire crimper. Expectedly, they come in various sizes, a fact that increases their versatility. For use around the house or for light – to medium-duty projects, a unit capable of crimping 4-, 6-, and 8-position modular connectors should suffice.
If, on the other hand, you need a model covering larger size ranges, then you can choose between RJ11, RJ12, and RJ45. Note that wire gauges fall on a range of up to 50, with lower numbers representing larger wires.
Ratchet System
Some wire crimpers come with a full cycle ratchet system while others don't. If your heart is set on acquiring a model that delivers the best results while keeping you safe and taking most of the effort from the crimping process, we recommend getting one with a full cycle ratchet system. The feature eliminates the likelihood of the wire slipping off or of partial crimping. The system ensures the handles don't inadvertently release before the crimping process is complete, a fete that can be hard to achieve if you're dealing with large handles.
Ease of Use
Cutting, conjoining, stripping, and crimping differently sized wires is obviously an onerous, energy-draining, and time-consuming endeavor. Unless of course, you're using an intuitive, user-friendly, and ergonomically designed handle. Soft and textured handles make for a comfortable and easy use with minimal likelihood of experiencing hand fatigue or strain. And to stay safe, consider getting a model with a blade guard or invest in one as it keeps you safe from inadvertent injuries.
Warranty
The length of a warranty cover is one sure way of gauging the quality of a product and is indicative of the manufacturer's level of confidence in their product. High-quality product come with longer warranties compared to weak, flimsy ones, though this is not a rule of thumb.
Still, a warranty gives you the confidence and peace of mind to reach your full potential knowing that any deficiencies in material or craftsmanship will be addressed by the manufacturer without you incurring any additional costs.
Frequently Asked Questions
Q: Does handling a wire crimper require lots of effort?
A: Contrary to popular expectations, the vast majority are remarkably easy to use. Obviously, the more complex the tool and the more demanding the project, the more forcefully you'll need to squeeze the handles.
Q: Any safety tips to keep in mind while using one?

A: There are several, actually. To stay safe, never work on uneven or rough surfaces. The area should be sufficiently lit. Make a point of religiously wearing gloves and ensure your hands don't wander to the top of the crimper as you apply force.
Conclusion
The market offers several types and sizes. For the best performance and results, make a point of settling for one that best meets your unique crimping needs. It doesn't necessarily have to be the most expensive or biggest. And our list features the best the market has to offer.
They are an ideal choice for the value-conscious user who wants to get the most out of their crimper. Irrespective of your choice, ensure the product is easy to use, versatile, high-quality, and durable.
Subscribe to our newsletter