Best Glass Cutters Reviewed & Rated
last updated:
Jul 30, 2021
When you are working on a glasswork project, winning means that you successfully make the straight cuts and patterns you desire in the finished piece. Losing means the pattern did not come out right or you cracked or shattered the glass. A successful outcome when working with glass depend on your patience, craftsmanship, and have the best glass cutters at your disposal.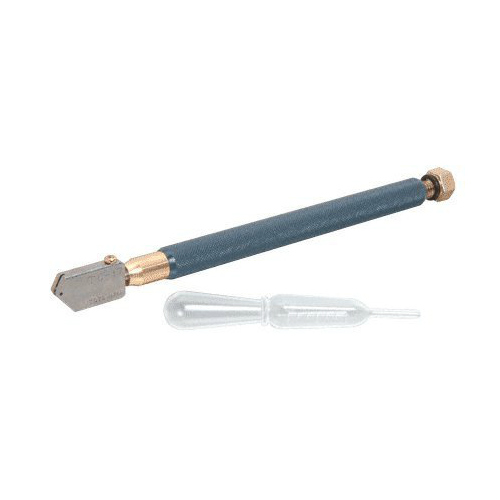 CRL

Our rating
Reliable
Price:

See Here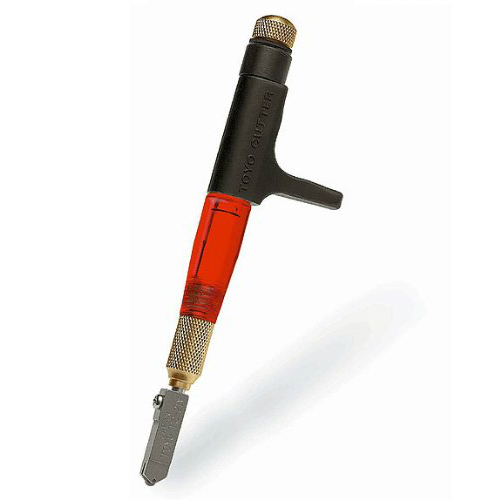 VGCE

Our rating
Durable
Price:

See Here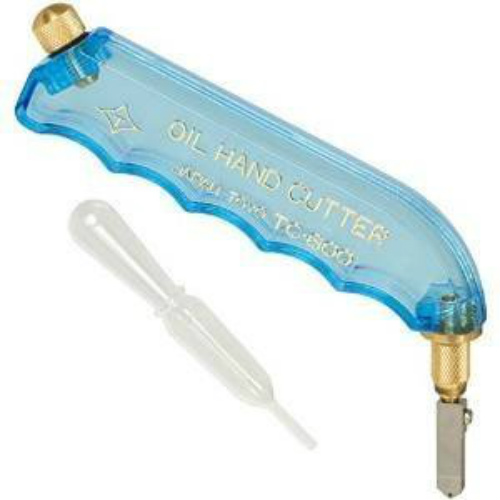 Toyo

Our rating
Consistant
Price:

See Here


Whether making your own stained-glass windows, or undertaking some other creative home project with glass, having the right tools for the job at hand is critical.
Picking up the best glass cutter you can get your hands on really isn't that difficult – or that expensive, and you will be glad you did when it's time to precisely score your glass panes to get the best possible cut you can get. It will also help reduce wasted product due to unnecessary mistakes, caused by not using the right tool.
8 Best Glass Cutters
1. CRL Toyo Original Tap Wheel Oil Glass Cutter TC17VVB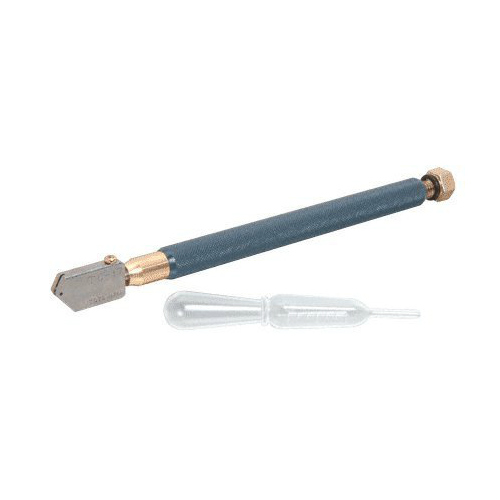 Considered among the best in the industry for long wheel life, the Toyo Oil Cutter was built to last, while making the cleanest scores in glass cutting today. It features two wheels, including a patented tap wheel that gently vibrates when rolling, to provide a stable score line and deeper cuts. An automatic oil dispensing system keeps the wheel lubricated every time you cut.

The brass handle acts as an oil reservoir so this cutter is always ready to go. The carbide will last longer than steel before it needs sharpening. You will also appreciate the size of the unit. At 6-inches, it is excellent for people with large hands, and it will fit comfortably into any pouch or pocket.
Expand to see more
Product Features
Size: 7.01" x 1.22" x 0.51"


Weight: 2.47 Ounces


Head Type: Straight head cutting


Handle Design: Pencil style with brass handle


Material: Tungsten carbide blade with brass handle


Function: For glass thicknesses 1/8" – ½"


Self-Oiling: Integrated oil reservoir


Wheel Hone Angle: 138°


Price: $30
Who is it for?
The CRL Toyo Supercutter is a versatile unit and can work for most cutting activities. We recommend it for glass craftsman, as well as people in straight-line cutting applications.
Perfectly scores glass for easy cutting
Requires you to exert very little pressure
Top-quality cutter that will last
Reservoir does not always work
Carbide tip has some play
2. Toyo TC21PVR 5-1/2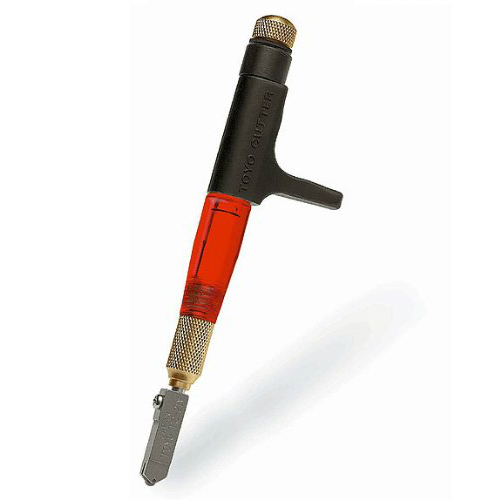 This neon-colored cutter has a four-position adjustable saddle built into the barrel between the thumb and forefinger to relieve the fingers of strain. Equipped with a spring-controlled oil flow system, the cutter delivers oil to the blade when you press down on the top. However, the cutter can be used with or without oil.

The tap wheel on this cutter has an axle bore with eight microscopic cams creating eight ''taps" per revolution of the wheel. The cams improve axle lubrication and allow the score to be driven deeper into the glass with less pressure. The result is longer wheel life and a clean, consistent score. To accommodate the wheel technology, the Custom-grip Supercutter uses standard TC-21P and TC21S heads and includes the small head. (#15257)

Expand to see more
Product Features
Weight: 0.32 ounces


Length: 5.4-inches


Head Type: Pattern head, but straight blade available


Handle Design: Custom grip with saddle


Material: Tungsten carbide


Function: For thinner and thicker glass


Self-Oiling: Spring controlled flow system


Wheel Hone Angle:140°
Who is it for?
The Supercutter is best for people who have to makes tons of cuttings. It is also ideal for individuals who cannot hold other cutters due to numbness or pain in their hands.
Easier breakouts, clean edges, and lower user fatigue due to tap technology
Sits comfortably in your hand, and making cuts is effortless (cuts like butter)
Durable, and you can expect it to last
May takes a little while to adjust to the handle
3. Toyo Pistol Grip Glass Cutter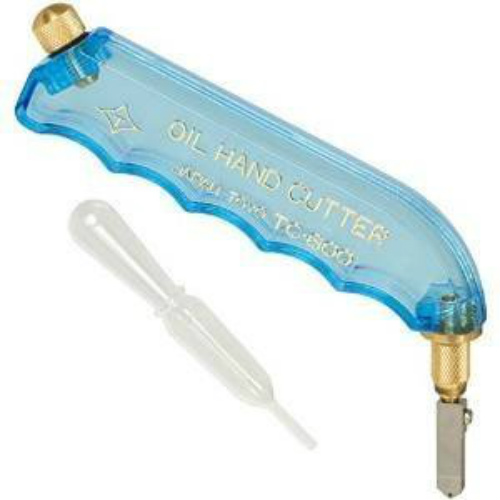 The pistol-grip Supercutter® from Toro is a self-oiling cutter with an ergonomic pistol handle that offers great leverage with cutting. Though it comes with a pattern head TC-600PR, you can swap the carbide blade out for a straight head TC-600S. The handle also stores the oil.

Toyo Supercutters live up to their name and will last 25 times longer than standard cutters. However, even better is that the unit uses Toyo's patented tap technology. The tap technology adds vibration to the wheel so that it drives deeper and with less effort. Deeper score lines result in cleaner cuts, easier breakouts, and less fatigue.

Toyo happens to be the leading manufacturer when it comes to making glass tools, and that explains why their equipment dominate the top positions on this list.

Expand to see more
Product Features
Size – 5.1" x 1.6" x 0.6"


Weight – 2.39 ounces


Head Type – Pattern cutting blade included, but straight cutting blade available


Handle Design – Pistol grip handle offers leverage for scoring


Wheel Diameter – 5 mm


Material – tungsten carbide


Function - Suitable for glass thicknesses 2-6mm


Self-Oiling – patented system with positive oil-shut-off


Wheel Hone Angle - 140°


Price - $37
Who is it for?
We recommend the Toyo Pistol Grip for people having trouble gripping a cutter, and for beginners.
Clean distribution of oil
Easy to make cuts as it is consistent
Tap wheel technology so one pass is enough for a deep score line
Some complaints of oil leakage
4. Toyo Thomas Grip Supercutter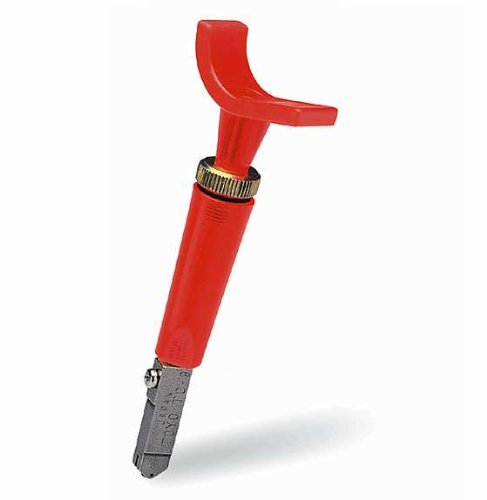 The Toyo Thomas Grip glass cutter is only 6-inches and will sit comfortably in your palm. It includes a saddle that will sit between your thumb and index finger creating a three-point grip resulting in better precision. Moreover, you can apply pressure from your shoulder instead of your wrist reducing fatigue. Many glass cutters who suffer from arthritis love this saddle style.

The Supercutter° uses a carbide blade that will serve you for lengthier periods, and the pattern cutting head TD9P is replaceable with straight one TC9S.

Another fantastic feature is that the unit is self-oiling and thus the wheel is free-rolling resulting in a consistent score line. Our top features though were the tap wheel technology and comfort.

Expand to see more
Product Features
Size: 1.7 x 0.8 x 6.1 inches


Weight: 0.8 ounces


Head Type: Pattern cutting blade included, but straight cutting blade available


Handle Design: Saddle


Material: Tungsten carbide blade


Function - Suitable for glass thicknesses 2-6mm


Self-Oiling: Automatic oil feeder


Wheel Hone Angle: 140°


Price: $24
Who is it for?
The Toyo Thomas Grip Supercutter is for people with small hands and people who have undergone carpal tunnel surgery. Also, if you are looking for a glass cutter that you can use for lengthy periods, we recommend you get this unit.
It is simple to use and sits comfortably in your palm
Easy to guide for those complicated cuts
The head plays and thus is a bit difficult to make straight cuts
5. IMT Pistol Grip Oil Feed Glass Cutter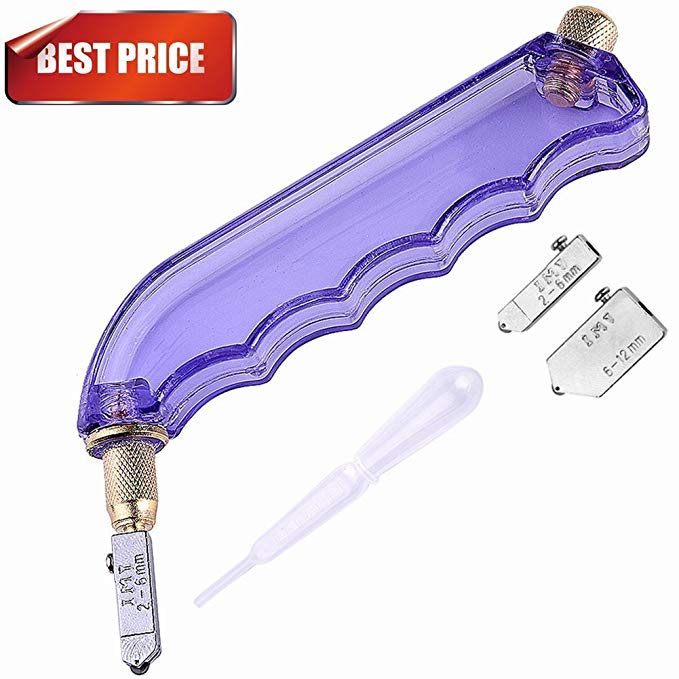 If you are looking for a cutter with the same durability as the Toyo cutters, we recommend you consider the IMT, which also happens to be more affordable. The cutting wheels are tungsten carbide which is corrosion and rust resistant. Moreover, it has a 94.5 rigidity and rated 1550mpa anti-bend. The cutting head to is industrial grade frosted iron, and thus you are sure that this unit will serve you longer.

Another fascinating feature of the IMT pistol grip cutter is the refined oil-feed system, so your wheel is ever lubricated. You will also appreciate that it is CE and SGS certified. However, our best features were that it has two cutting heads and it is comfortable.

The pistol ergonomic grip fits well in your palm and is simple to hold resulting in lower fatigue and better scores.
Expand to see more
Product Features
Size: 5.1" x 1.6" x 0.6"


Weight: 3.2 ounces


Head Type: Roatating


Handle Design: Pistol grip


Wheel Diameter


Material: Tungsten carbide


Function: For cutting stained glass, mirror, tiles, mosaic and other craft and household uses.


Self-Oiling: Fill handle with oil


Wheel Hone Angle: 140° cutter wheel and a 120° cutter


Price: $17
Who's it for?
We recommend the IMT pistol grip cutter for anyone who is on the hunt for a versatile cutter; one that can cut glass of different thicknesses.
Durable unit
Comfortable to hold
Comes with 2 heads
Affordable
Great for people with small hands
Cuts not comparable to Toyo
It leaks
6. Kewayo 5mm-15mm Silver Pencil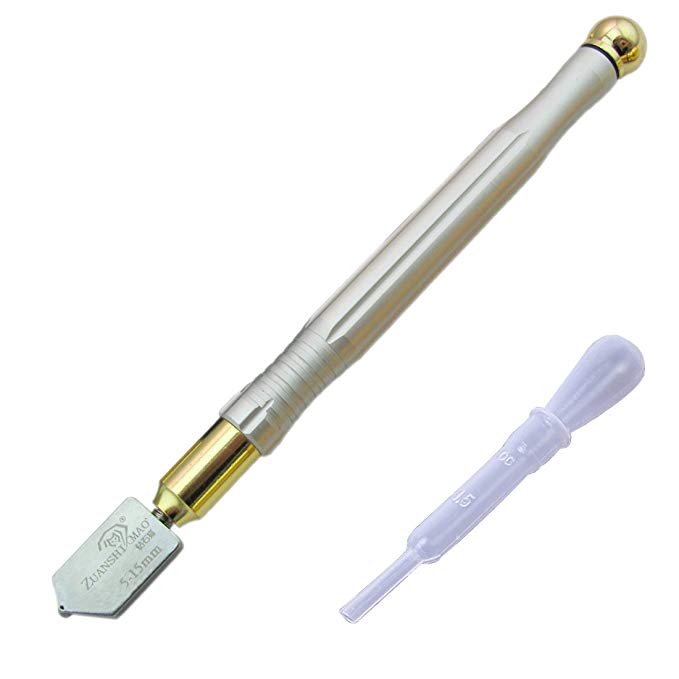 Kewayo is an affordable option, but one that is designed like premium products. Therefore, you can expect top-notch results but at a fraction of the price. This Its YD-05 wheel is high-precision wheel and made carbide for longevity and better cuts. However, our best features were the shank and the 360-degree oil.

For glaziers who need to make tons of cuts, the Kewayo is worth considering. The aluminum alloy shank happens to be comfortable, and the oxidation coloring treatment ensures that it is free from any rust. It also allows you to check the oil level, so it doesn't run out at an inopportune time.

You will also appreciate the tools oiling system as it is the latest 360-degree style that ensures that the grease is more fluid and flows smoothly to the parts that need it.

The aluminum version is out of stock at many places, but Kewayo makes a gold-colored version.

Expand to see more
Product Features
Size: 7.4" x 0.6" x 0.5"


Weight: 3.2 ounces


Head Type: Straight


Handle Design: Pencil


Material: Tungsten carbide


Function: For glass and mirrors between 5mm and 15mm


Self-Oiling: 360-degree oiling system


Wheel Hone Angle: 142°


Price: $8
Who is it for?
We recommend the Kewayo glass cutter for people on the hunt for an affordable yet versatile unitI is for experienced glaziers seeing as it is a pencil grip unit.
Affordable and solidly built.
Premium unit but at a not so premium price
Feel great in your hands (comfortable)
Wheel dulls out rather quickly
Need to apply a lot of pressure for clean breakouts
7. JPD Heavy-duty Circular Cutter with Suction Cup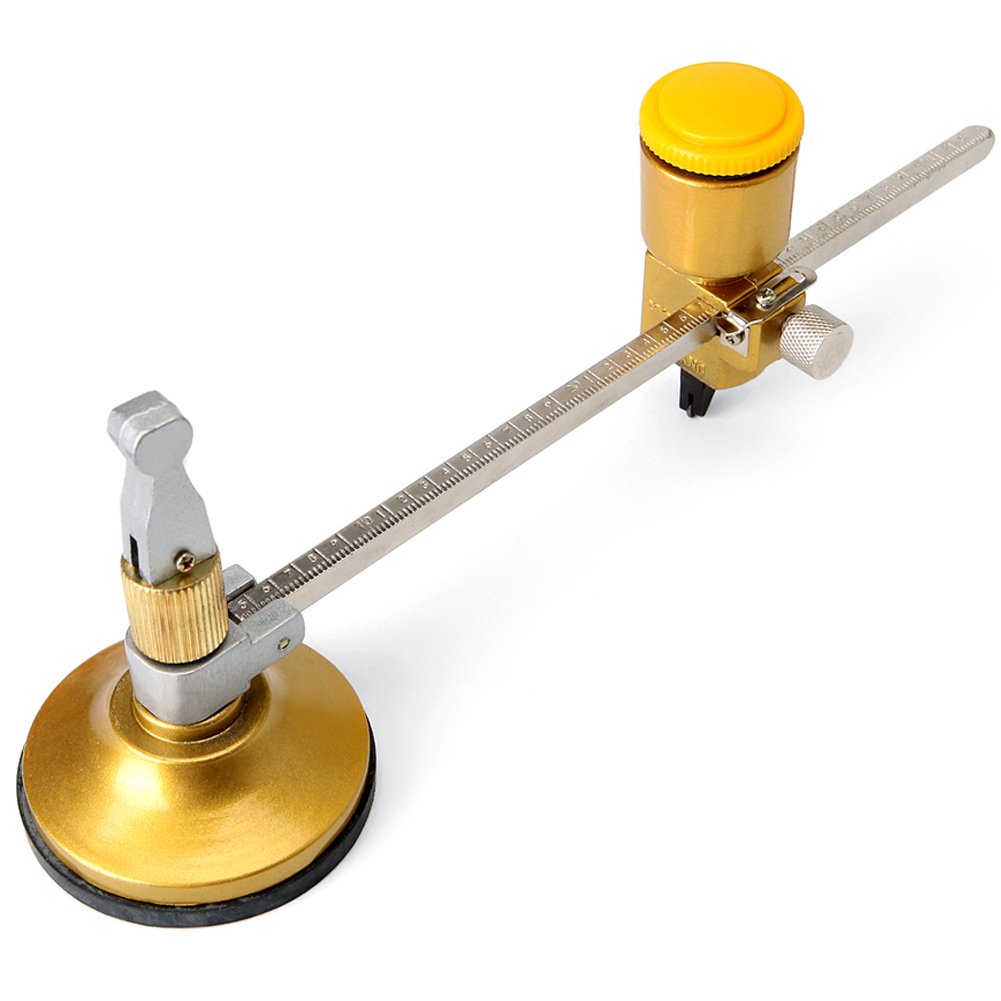 When you are on the hunt for a cutter that can make circular cuts, the JPD circular glass will serve you well.

The cutter has a powerful suction that you attach to the center of the glass while the head scores/ scribes a circle. However, our top feature was the adjustability. The JPD can make circles of various diameters with the smallest ring being about 2.5-inches. It includes a scale on which you slide the cutter until you can pick the correct radios.

The wheel blade also happens to be replaceable should it dull or sustain irreparable damage. You will also appreciate that it makes quality scores, resulting in easy breakouts and clean edges.

The unit is self-oiling as it has a reservoir on the handle so you can expect to make cuts with ease as the wheel will always be greased. Moreover, you can monitor the fluid level rather effortlessly.

Expand to see more
Product Features
Size: 9.88" x 2.72": x 2.72"


Weight: 8 ounces


Head Type: Pattern - circular


Handle Design: Lever with cutter head


Wheel Diameter: 7-40cm/2.8"-15.7" Cutting diameter range


Material: Glass 3mm-10mm thickness


Function: Cuts circles


Self-Oiling: automatic oil dispensing system


Wheel Hone Angle: 134°


Price: $20
Who is it for?
Hobbyists and artists might give this a try.
Tool includes a strong suction cup ensuring your circles are even
Durable and includes a large head thus ideal for production tasks
Versatile and can make circles of different diameter
Portable as it fits in a pouch or pocket
Poor instructions, so newbies will find it difficult to use
Device measures in centimeters instead of inches
Suction cup does not stick well
Not stable
8. Fitool 2Piece Glass 3mm-12mm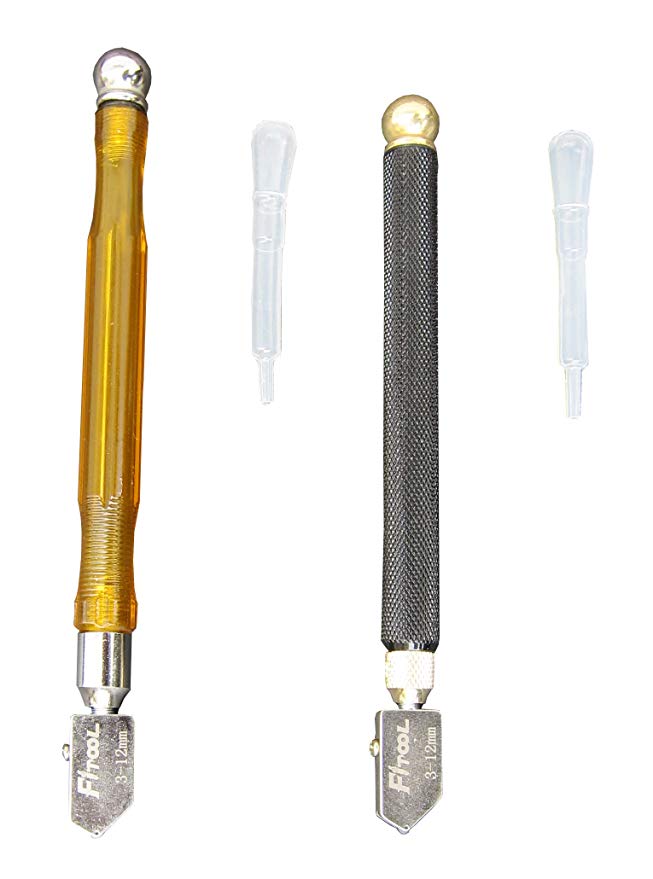 If you are a hobbyist, you might want invest in an affordable glass cutter such as the Fitool 2-piece. This 2-piece set will give you the most bang for your buck. The blade is long-lasting and will rarely need resharpening. The cutting capacity is between 10,000m and 12,000m.

The units are not self-oiling in that they contain oil to lubricate the blade. Instead, the cutters apply oil to fill the score so that it can be broken out easier so you get the best results.

Another exciting feature of the Fitool 2-piece is that the tools have a different build and a different feel in the hand. One is carbon fiber, and the other has a metal shaft. They are both simple to hold despite being pencil-grip units. Nevertheless, our best features were the capacity and the versatility.
Expand to see more
Product Features
Size: 7.6" x 0.6" x 0.5 (each piece)


Weight: 4 ounces


Head Type: Straight


Handle Design: Pencil


Wheel Diameter


Material: Tungsten carbide


Function: Cuts glass 3mm-12mm as well as diamond and minerals


Self-Oiling: No, but uses wool as automatic oil dispensing system makes lubricating effect more even and smooth


Wheel Hone Angle: NA


Price: $14 for 2-pack
Who is it for?
The Fitool is for someone who is on the hunt for an affordable option. However, it also happens to be ideal for anyone looking for a tool that can be used on other minerals such as diamond.
Affordable
Easy-grip handle that makes them easier to use
Versatile enough to work on material of various thickness
Pencil option, may be somewhat tricky to use especially for newbies
Though they are tungsten carbide, some reviewer found them ineffective
Glass Cutter Selection Criteria

When shopping for a glass cutter, what do you look for? You want something that will do the job, whether you are creating a window or turning a bottle into a vase, and that is comfortable to use. The most important criteria are the head type, the handle design, and the wheel diameter.
Head Type
The cutting heads on glass cutters are designed for straight cutting or pattern cutting. While straight cutting heads do not pivot as they cut the glass, pattern cutting heads swivel 360°. You'd use a straight cutting head for windows and windscreens, but the pattern cutting type for cutting circular shapes or decorative patterns.
Handle Design
Glass cutters have a pen style or pistol-grip design. Pistol grip models are more comfortable for the long run on big cutting projects as they fit the hand better. There are several variations available for pistol grip models, such as
 Wheel Diameter
The bigger the glass-cutting job, the bigger the diameter of the wheel you will need. Many projects are done with a 5.5mm wheel, but a small, intricate one might require a 3mm one, while large-scale cutting to softer glass calls for a 6mm size. Many product descriptions lack this information.
 Other Criteria To Consider When Buying Glass Cutters
 Function:  Some glass cutters do better on some types of material or for certain purposes. You may find some good for window glass, while others are for cutting plexiglass, glass bottles, or for cutting circles on mirrors.
Material: While steel cutting heads are cheap, common, and easy to sharpen, tungsten carbides are better as they don't dull and can be used on a lengthy project.
 Wheel Hone Angle or Sharpness: Between 120° and 154° is common; the higher the angle, the sharper the wheel. For thick glass over .5 inches thick, higher angles are needed.
 Self Oiling: Keeping the cutting head lubricate ensure a clean, neat, and accurate cut. Self-oiling models save time and patience.
Styles Of Glass Cutters
One of the few areas where glass cutters vary is the style. These tools are available in various designs that affect the comfort of the user. Though a cutter will not lead to fatigue, ease of use is a feature one must consider especially for people making tons of cuts. Moreover, most units can be filled with oil ensuring the wheel is ever lubricated. We suggest you invest in various glass cutters so you can switch your grasp to avoid fatigue.
Pencil Grip Glass Cutters – The pencil grip is the most common type of glass cutter, and it resembles a pencil just as the name implies. It is available with or without a reservoir, and on all wheel types. Your index finger has to rest on the shaft to apply pressure and to guide the tool along the surface.
Custom Grip – This is a new design and one we recommend for its flexibility, longer life, a better score, and improved comfort. The glass cutters have an oil-filled custom grip, which is compact and includes a saddle that one holds between the index finger and the thumb. The saddle happens to be adjustable to 4 different heights for flexibility. You will also appreciate the tap-wheel design as makes taps as you score leading to deeper cuts. Finally, it needs less pressure.
Pistol Grip Glass Cutter – The pistol grip is another commonplace design; the units are comfortable and designed for beginners or DIYs who have a problem holding cutters. The grip is hollow and filled with lubrication fluid.
Thomas Grip Glass Cutter – Similar to the custom grip, the Thomas Grip includes too includes a saddle. However, it is for people with small hands. Your index finger rests on the swivel head that is simple to guide.
Fletcher Grip Glass Cutter – Fletcher is a respected name in glass tools seeing as it is one of the oldest companies. The Fletcher Grip Glass cutter is the original design with a thin metal shaft and a ball at the end for tapping the glass to break it. Moreover, it is oil-less, but you can dip it in a lubricant for more comfortable use. The device also incorporates some notches to snap off any remaining piece of glass.
FAQs
Where else can I use a glass cutter?
Owning a versatile tool that can handle various applications is often a dream come true. You probably want a device that cannot only cut glass but one that is perfect for ceramic and diamond. However, not all tools can handle different materials. Just use cutters that are designed to cut through different minerals lest you run the risk of ruining the equipment. One such device is the Fitool 2-piece cutter that is for cutting glass and diamond.
How do I maintain one?
First, you need to consider the type of wheel on your device. Steel wheels don't last long, but then they are affordable. Use these to make scores on softer glass, so they don't dull fast and for general purposes. Tungsten carbide, on the other hand, happens to be expensive but lasts longer. When you are not using the instrument, store it in a jar and ensure the cutting head is covered by a lubricant to reduce any likelihood of oxidation.
The lubricant will clean up any dirt and slivers of glass that might interfere with the rotation of the wheel. If you stop your scores 1/8-inch from the edge of the glass, rather than running beyond the edge, you will lengthen the life of the cut as running it over the side will shorten the life.
Finally, ensure you are not using too much pressure as this is a sign of a dull blade, and check the score line; if it is dotted, it is an indication that the wheel may be dented.
Conclusion
We hope that after reading our buying guide, you will spend your money on a quality option. Some tools on this list are pricey while others are affordable. It is best you pay a little bit more for a quality product that will serve you longer. However, if you are a newbie or a hobbyist, you may not want to spend a small fortune on a cutter, but even spending $30 or 40 is better than ruing your project.
Moreover, we recommend Toyo cutters as they have withstood the test of time, and they are top quality. Finally, feel free to ask any questions in the comments below.
Subscribe to our newsletter