Best Patio Heaters Reviews & Prices
last updated:
Jun 05, 2018
Perhaps you like spending time in the outdoor space of your home? If you do, you don't have to end your time outdoor early as a result of temperature drops. You can stay out for as long as you want while maximizing your time fully. This is possible with the aid of a good patio heater.
Our Top 3 Picks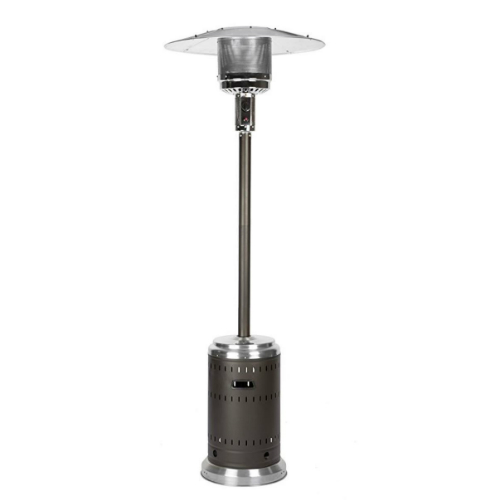 Fire Sense

Our rating
Budget Friendly
Price:

See Here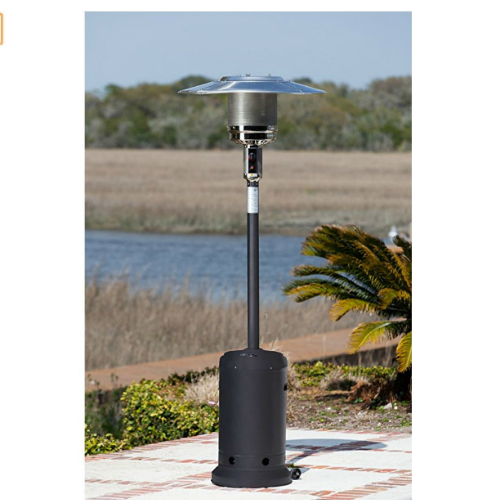 Golden Flame

Our rating
Adjustable
Price:

See Here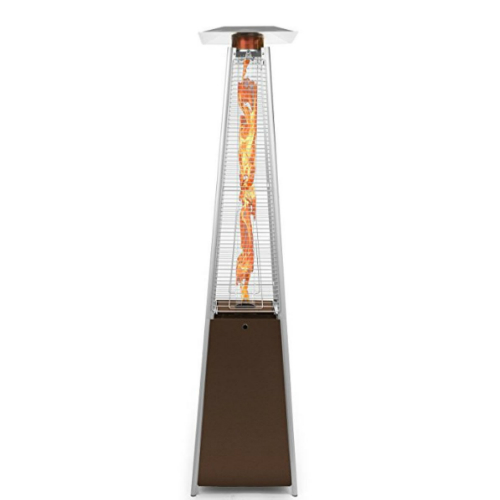 Thermo Tiki

Our rating
Smart
Price:

See Here


The best patio heaters are those that you can easily use, that also do not cost much. For that, there are a host of heaters to select from which is regardless of your style or size of your outdoor space. So, how then do you make a choice? For that, we've created a buying guide below, on how that can be done. But if you prefer to skip the effort and time-consumption required to run that guide, then below are some of the best patio heaters you can purchase.
10 Best Patio Heaters
1. Fire Sense 46,000 BTU Patio Heater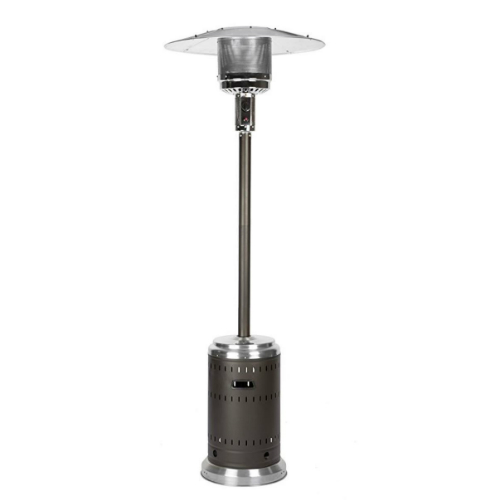 With a 46,000 BTU rating, this heater is an excellent choice for those cold periods where you want to relax outdoors. It offers an excellent look with the Mocha finish with a powder coating.

The heater also has a great appearance with a tank housing to hide the propane tank out of view and out of reach of children. The heater burns with a blue flame, with a double mantle heating grid.

Additionally, the flame can generate a lot of heat with ease and a dial-knob on the heater allows for easy regulation. Starting up the heater is easy and simple. All you need to do is use the auto-ignition switch. It has a Piezo igniter which requires an AAA battery to function. This battery is not available in the package so its purchase will be separate.

The stainless steel material selection makes this heater very durable. And long time use is not a problem for it. The heater also has a wide base area to fit the propane tank where fuel will be sourced to and from. The tank housing is easy to raise out of its position and fits back with ease after carrying out a replacement. Finally, it has a weighted base which eliminates the need for sand and water.

Expand to see more
Features

Piezo igniter
Mocha finish
Heater base and tank housing with stainless steel material
46,000 BTU heat
Wheel assembly
Tilt valve with auto shut off function
Powder coating on the finish

Price

A lot of heaters of the same quality sell at a much higher price than this product. And that's despite the durability and work quality that this piece produces. Hence, we can add good value for money to its lists of highlights.

Conclusion

This patio heater has a height of 89 inches, which is well out of any range where you have to worry about your kids playing with the flames or your hair getting burnt. The auto igniter is also long-lasting and reliable as it will always work when it is needed. Couple this with easy mobility and budget-friendly price, and it holds its position as 1st on our list for a good reason.

No need to spend a lot of time assembling the product
The heater has a height where it can distribute the heat to the surroundings and also prevent unwanted scenarios
It has an appealing design
The price is budget-friendly
It comes with a wheel for easy maneuverability
It is lightweight and falls over with ease in windy conditions
2. Golden Flame [XL-Series]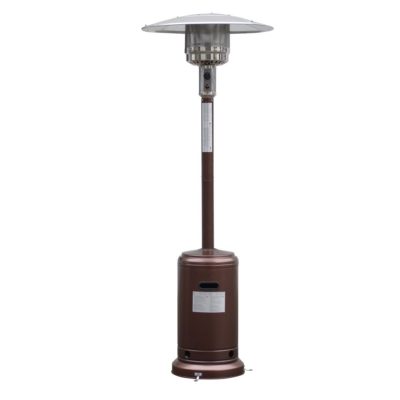 The heater features a Quartz glass tube with a base which ensures maximum stability. Although it does not come with a fuel tank, its design includes a tank space at the base. To access this space, there is a door which opens with ease and fits a 20 lbs. tank. So, saying it has made enough provisions for long sessions actually fits in this case.

Like most patio heaters, this one also has an auto-electric ignition system. After which you turn it on and It burns with a golden flame in an enclosure. The flame on the heater has a power of 40,000 BTU and the flame adjustment feature makes it easy to use the heater in different conditions.

Assembly is one necessary consideration when purchasing a patio heater. And on that, this heater is very easy to assemble with basic home tools. The heater comes with a user-friendly guide to ensure that all the right bolts go into the proper spaces. For easy mobility, there are durable wheels at the base of the heater that makes it easy to move around.

Expand to see more
Features

Quartz Glass tube
Roller wheels
40,000 BTU
Electronic ignition system
Adjustable flame settings
Silver finish
Safe, protective packaging

Price

The patio heater hovers around an average price that'll be well appreciated. At the same time, not a single one of its functions is compromised because of the price.

Conclusion

A lot of features on this heater are exceptional and we loved them. However, the base is not very stable. But for a single disadvantage that can be fixed by weighing down the heater itself, against a number of advantages, it's hardly a deal breaker.

The smart auto-tilt shutoff feature improves the safety with use of the heater
The heater has an adjustable height for enhanced usability
Easy to read instructions with rapid assembly
It comes in very safe and protective packaging
Comes at a good price
Heat is surplus and control feature is effective
The base is not very stable
3. Thermo Tiki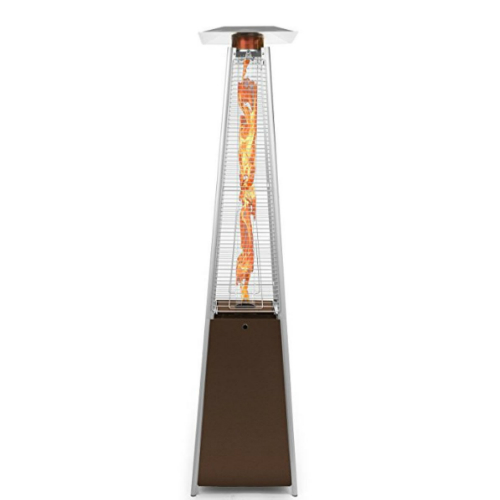 As an outdoor heater, this product uses a lot of durable materials in its design. Each component of the heater uses either aluminum or high-grade steel for the sake of quality. One benefit of this is that the heater is both resistant to fading and corrosion which is important for outdoor use.

While all these are excellent features, there are cases where it is necessary to move the heater into storage. To easily work this, there are wheels on the bottom of the heater, which make it easy to push and transport.

Some additional components which come with the heater include a flexible hose, propane gas regulator, ceramic-glass heating element, and more. So, let's just say they're generous with the extras.

The heater is easy to use as it offers a push-button ignition for a simple start-up. After that, an adjustable flame intensity feature makes it easily adjusted to your preference. It also has a safety design which ensures it goes off when it tilts. This is to prevent starting a fire in a case where the heater falls on its side with no one around.

Expand to see more
Features

38,000 true rated output
Components are weather resistant
Comes with necessary components except the propane tank
Wheels for portability
Height of 7' 6"
Finish is corrosion and fade resistant
Auto shut-off when tilted
Push-button ignition
Adjustable flame intensity
Has high-grade steel and aluminum material

Price

This heater sells at quite a high price, which we think is because of the fade and corrosion resistance quality of the heater. Though, the former products are no slouch in that regard.

Conclusion

Ease of use is an excellent quality in any product. This heater offers all this and more with a push-button ignition, wheels, and control for adjusting the flames.

The heater is worth the price you pay thanks to durable its durable construction and power.

A 20-pound propane tank can fuel the heater for up to 10 hours
It has an height of 7' 6" which puts the ceramic glass column enclosing the flame out of the reach of children
When tilted, it shuts off automatically. This ensures safety at all times
It is weather resistant
A cover is often necessary for rainy conditions
4. Heater - Tall Hammered Finish

The ignition system and the burner on this heater are of top quality. And for the former, all you need to do is simply press the ignition button and the heater will ignite.

The heater burners work excellently, producing even flames within the flame screen. With a maximum power output of 41,000 BTU, a control valve on the heater allows adjustment of the power output at any time. We mean, you can easily tailor the heat output to your surrounding with ease.

It features a compact tank housing to keep the appearance of your home neat and appealing. The heater, as a whole, has an height of 88.6 inches. There is a lot of room to avoid contact with the heating area of the product. This is especially great around children since there's bound to be some rough play.

In the case where an individual knocks down the heater by accident, the auto-tilt shut off prevents further accidents by ensuring the heater flames go off.

Expand to see more
Features

A 40 inches pole height
Fuel can be any of LPG, butane, or propane
A variable control valve
41,000 BTU
Push-button auto-ignition
Tank housing
Flame screen
A maximum flux rating of 870g/hour

Price

This is by far the cheapest patio heater on this list with a price far below average. Still, though it has a lot of specifications, the overall quality of those specifications do not match up to some heaters which come at a higher price.

Conclusion

One of the key aspects where this heater is lacking is the area of stability. The absence of an area which can be water or sand filled limits its usability in extreme winds.

Aside this noticeable downside, the heater gets a pass mark in other important areas including its design, appearance, and ease of use.

Assembly time is quite short and the process is easy
Value for money is outstanding
It has a variable control valve
Uses propane, butane, or LPG
It has a BTU of 40,000 which can be sufficient for a host of heating needs
The base does not allow water or sand filling while it remains light
5. AZ Patio Heaters

A 20 lbs. propane or butane gas tank can fuel this heater for 10 hours on its highest setting. And with the possibility of using either propane or butane gas as fuel, it is quite easy to get the lamp to function.

The maximum heat output on the heater is 40,000 BTU which is easily adjustable. Unlike a lot of patio heaters which come with an auto-ignition feature, this one is different as it uses a more traditional (manual) approach. The heat from the heater covers a diameter of 3 to 5 ft.

It has a pyramid shape which converts to better base stability against harsh winds. Like most patio heaters, it also has an auto-tilt switch off in case the heater falls to the ground.

The heater has a hammered bronze finish, Quartz glass tube, and a height of 87 inches. It also has base wheels which are helpful when washing plates, clothes, etc.

Expand to see more
Features

A hammered bronze finish
Uses butane or propane gas as fuel
10 hours runtime per 20 lbs. tank
40,000 BTU heat output
Base wheels
Quartz glass tube
87" Hiland

Price

This is another heater which sits around an average price with a lot of high-grade features. The heat it produces is effective, the wheels at the base allow for easy mobility, and the compact design makes it an appealing decor item for your yard.

Conclusion

At a time when most heaters are turning towards the auto-ignition system, this heater brings back the traditional method of lighting heaters. The coverage area of the heater varies from 3 to 5 ft depending on how cold the region is at the time. Also, the price is good and the overall quality is top-notch.

A 1-year warranty is available for the heater
The glass tube in the heater is replaceable
It comes with base wheels for easy transportation
Overall durability of the heater equals long-term use
Price is ok as well
Use of propane gas reduces the amount of CO emission
Despite the welcomed change, the manual ignition feature can't be compared to its counterpart
6. Fire Sense Hammer Tone Bronze

If you want a patio heater that never fails and is also of very great quality, then this is a great choice to consider.

The heater features a BTU of 46,000 and this means it has the capacity to heat up a massive living space. Additionally, its appealing design makes it perfect for any home (near your patio at least), since it can act as a decor item.

Moving on, it comes with a Piezo system which ensures it's easily operated. The device also has a stainless steel construction that's a sure sign of durability, and hence, indefinite use.

You can easily move the unit with ease as it comes alongside tough rolling wheels. For additional safety, it comes with an auto shut-off valve.

Expand to see more
Features

It comes with 46,000 Btu's
It is constructed from stainless steel
It comes alongside wheels
It has a Piezo ignition for easy on and off
It has an auto shut off valve

Price

In comparison to other heaters, the price of this particular one is a bit above average. Therefore, if you plan on enjoying the features provided by this patio heater, you may have to invest a little extra than usual.

Conclusion

Provided you are in search of a simple and easy to use patio heater that has the capacity to cover a large living area, then the Fire Sense heater is just what you require.


It is easy to operate
Moving can be done with ease using its wheels
It has an appealing design
Its 46,000 Btu gives it the capacity to heat up a large living space
Easy mobility is ensured
It does not come with a propane tank
7. Hammered Bronze Heater

This is a patio heater which is easy to assemble and use. The Hammered Bronze Patio Heater has 46,000 BTU, which is ideal for large spaces. And the bronze color makes it a great item for decoration.

It comes with a Piezo ignition system which ensures you can easily turn on or turn off the heater. Also, to ensure you can move it about with ease, it comes alongside wheels which lets you push the heater without feeling any strain.

This unit has a tip over protection system which ensures the wind does not tilt or push it over. As a result, you can leave it in your outdoor space all night without worrying about it tilting over. For additional appeal and protection, it comes alongside a vinyl cover. Still, on the downside, you have to purchase a 20 pound LP tank before you can use the unit.

Expand to see more
Features

It has an output of 46,000 BTU
It comes along a tip over protection system
It has a Piezo ignition system
For easy mobility, it comes with wheels
A vinyl cover is included
It works alongside a standard 20lb LPG BBQ tank which you have to purchase separately

Price

The heater is not for you if you are working on a tight budget. It is a bit above the average price in comparison to other patio heaters. If you do have a flexible budget, this would be a great choice for you.

Conclusion

This patio heater comes with a lot of great features you can benefit from. The very large output power makes it a great choice for individuals with large spaces. Also, the quality overall is excellent and should last a long while.

It has a power output of 46,000 BTU
It comes with wheels which allow for easy movement
It can easily be turned off or on with the aid of its Piezo ignition system
The tip over protection system ensures it does not fall over due to strong winds
You have to purchase your own 20lb tank to use alongside it
8. Uenjoy Heater

If you are in search of a powerful heater, then look no further than this. It has a BTU of 48,000 which makes it usable in large patios (up to 22 ft) or really, any other area you need it.

The heater provides heat quietly and consistently, making it a great choice for individuals who prefer the silence.

In regards to the mobility, the unit is quite portable with a weight of just around 45 lbs. This ensures anyone can move it around without hassle. For additional ease of transport, it comes with 2 smooth rolling wheels which are also built to resist wear. The heater has a unique appearance which most individuals would find appealing. For enhanced durability, it is constructed from quality stainless steel material. This means you can use it for a long while before considering a replacement.

Expand to see more
Features

High-quality stainless steel construction which ensures safety and durability
Powerful heating power of 48,000Btu
It comes alongside 2 smooth rolling wheels
It has a weight of 45Lbs and size of 87'' H x 32'' D
It is very quiet and does not emit flames or smoke

Price

The Uenjoy heater although not the cheapest you would find on the market, does not cost much either. You can easily purchase this patio heater and enjoy its benefits with a fair budget.

Conclusion

With a powerful heating power of 48,000 BTU as well as a high-quality stainless steel construction (among others), this option is definitely worth checking out.

It is constructed from quality stainless steel
It is easy to assemble and operate
It has a BTU of 48,000 which ensures powerful heat
It is portable
It can easily be transported
It is not as sturdy as one would expect
9. Ashley Furniture Heater

This patio heater is portable and ideal for patio spaces or
decks
. It is constructed with a steel frame which is powder coated for enhanced durability. The ignition system is battery operated and ensures even inexperienced users can easily control it.
Point made, the heater has an adjustable frame control which allows you to choose from multiple heat settings. This allows you to create your own ideal atmosphere. For easy mobility, the device comes alongside smooth wheels.
One other quality of the heater is that it requires some assembly after purchase. Though, it comes with comprehensive instructions to put you through. On that note, setting up the heater is easy and does not require in-depth technical knowledge.
Expand to see more
Features

It has a durable design. Constructed with touch safe borosilicate glass column and powder-coated steel frame
It has numerous heat settings
It requires assembly. Comes alongside battery, hardware, and instructions
it has an output power of 46,000 BTU
This outdoor heater has a measurement of 21" W x 21" D x 75" H

Price

This patio heater doesn't come cheap and you may need to look at other options on the list if you don't like it. Nonetheless, it does have it its quality features. However, the features can't be compared to that of the other devices on this list.

Conclusion

If you want a patio heater constructed with durability and appeal in mind, and also offers you a great heating capability. This option is the one for you especially if cost is not an issue.


Great heating power of 46,000 Btu
It comes alongside wheel for easy transport
It has a high-quality design
It comes with well-detailed instructions
It offers multiple heat settings
It requires some assembly before use and does not come with a screwdriver needed for assembly
Dauphine Square Mission Mocha

The Dauphine Square Mission Mocha comes in an appealing mocha color that completely merges with lots of patio décors. So, it's not only about functions (more on this below), since it looks top-notch as well.

The heater has a powder-coated finish for increased durability. In turn, the patio device easily resists outdoor wear, which equals to prolonged longevity. The powerful 46,000 BTU ensures you have adequate heat to keep you warm during those cold days and nights.

Moving on, the unit comes with an electronic ignition system which runs on one AAA battery. Likewise, the heater has a LED tank storage which produces a calming illumination just with the push of a button.

This patio heater runs on a typical 20 lb tank of liquid propane gas which you have to purchase separately. The access panel is easy to get to and ensures fast and quick tank replacement. It also comes with heavy duty wheels which allow you to easily maneuver anywhere (including rough terrains).


Expand to see more
Features

Comes with a LED tank storage
It has 46,000 Btu of heat output
It runs on a standard 20LB tank of liquid propane gas which you have to separately purchase
It comes alongside heavy duty wheels
It has a reliable electronic ignition system

Price

The price of this unit is higher than its other counterparts, but for the features it brings, we have no complaints. Nevertheless, it does need some getting used to.

Conclusion

If you are after a patio heater that has an outstanding design but does not compromise on its effectiveness, then the Dauphine Square Mission Mocha is just right for you.

It has a heat output of 46,000 BTU
It is easy to operate
Transportation is easy with the aid of the heavy-duty wheels
It has an appealing décor
The liquid propane gas tank, as well as batteries, have to be purchased separately to use this unit
Factors to Consider When Buying an Outdoor Heater
To make a choice about which outdoor heater is perfect for your patio, you need to know your options then you can choose the features that most matters to you. Hence, you're in search of the best outdoor heaters to buy, there are some important factors we considered which you can also put into consideration when choosing yours.
How Will You Use the Heater?
How you will use the heater is the most important factor you have to take into consideration when making a choice.
In which situations will the heater be used? Also, what about the shape and size of your patio, and the number of people the heater will cater to?
Putting these factors into consideration is good, as it helps streamline the selection process. Nonetheless, an example is in order. For a small patio, wherein you stick close to one table, you should consider a tabletop heater.
If your space is enclosed, the best option is to make use of an electric outdoor heater. And for social situations where you want your heater to serve as the focal point, a fire pit is definitely the best option. It all usually depends on your personal preference at the end of the day.
Think about the Price
The cost of the options available varies based on the type, size, and style of heater you want. Still, regardless of the one that you opt for, your budget plays a crucial role here, since it's the factor that'll determine whichever one you'll purchase.
No matter, chase value irrespective of the price, though be on the lookout for alternatives for any expensive patio heater that you decide to buy. Chances are, you might find something cheaper (though having the same quality) than your current option at the time.
What's Your Preference Power-wise?

The more powerful your heater is, the more space it heats. The measurement of the power of a heater is in British Thermal Units (BTUs). In which, the more the BTU, the bigger its heat output, and thus, range.
How far the best can go is also dependent on many other factors such as the degree of cold outside. In comparing different models to each other, you can use measures like BTUs and wattage, although they could be misleading sometimes.
Also giving heed to what customers say in their review about the product is very important too as they speak from experience.
Tip: An heads-up; price typically increases as BTU increases.
Safety
There's always a risk to every product, heaters inclusive. And the most common is when a heater tips over during windy days. For this, many models of heaters come with a shutoff feature.
Therefore, if you live in a very windy area, you should consider buying a model that offers this feature or find a way to pin down the heater.
The Weather
Your weather also influences how much heat you'll be needing, and thus, the heater you'll be purchasing. If your area is very windy, then a floor standing patio heater isn't recommended because it may be hard to keep upright. And in an area prone to drizzling, a fire pit is definitely not a good choice.
Additionally, depending on cold your weather is, the BTU will have to increase to accommodate the cold, or you won't notice any difference.
It is important to know what your weather looks like during seasons of the year when you'll be needing an outdoor heater. This is to make sure that the model you go for will be suitable for your climate.
Aesthetics and Atmosphere

As some people are satisfied as long as the heater is performing its function, others are in search of heaters that will give their patio a nice look. Some heaters are designed to add a nice aesthetic touch to the area you place them. Hence, it's only ideal you go through the different options you find, in order to select the device that delivers exceptional experience and also brightens (pun intended) up your patio in terms of looks.
Mobility should be Noted
All patio heater, mostly through the use of wheels are extremely mobile, though this doesn't translate to the wheels being tough themselves.
In regards to that, the wheels of a patio heater must be durable to handle different terrain with ease. Alternatively, we can say the wheels of a patio heater must be able to stand the test of time.
Frequently Asked Questions
How long does it take to set up a patio heater?
Most of the time, setting up a patio heater is straightforward and it only takes a few minutes. It also doesn't require any skill and all you need is a few household items and the instructions manual to get started.
What is the best outdoor heater that I can invest in?

Usually, the 1st product on the list is the best patio heater to buy. But when you look at this guide, you have 9 more products to go through. The reason for this is simple.
All of the patio heaters above are exceptional in function as well and their presence to create variety. You have options to consider and depending on the one you choose, the 1st product might seem underwhelming to it. It all falls on your own personal best at the end.
Which portable patio heater has the best wheels for traveling?
In this case, all of them do. This otherwise means that you can choose any patio heater above that catches your fancy.
Subscribe to our newsletter