Best Patio Heaters Reviews & Prices
last updated:
Oct 25, 2021
If you love outdoor living, you may get dismayed every fall when the temperature drops, and you can no longer enjoy long hours comfortably sitting on your deck or patio. A good patio heater can extend your time by offering the heat and light you need, and our guide to the best patio heaters will direct you to the best choices for your home.
Patio heaters are literally a hot item these days, both for residential and commercial use. After Covid kept people quarantined in their homes for much of 2020 and 2021, socializing outdoors at a safe distance became a popular way of keeping in touch. The popularity of patio heaters, fire pits, and barbeque grills soared, leading to shortages.
While many restaurants were forced to shut down their indoor dining rooms, serving food outdoors became a way for many restaurants to survive as patrons who wanted the dining-out experience, not just food delivery or takeout, flocked to places that survived outdoors. Eating establishments prepared outdoor spaces with patio lights, patio heaters, and partial patio enclosures to make the cold bearable.
Our Top 3 Picks
[srpshortcode id="14357″][/srpshortcode][srpshortcode id="14358″][/srpshortcode][srpshortcode id="14359″][/srpshortcode]
The best patio heaters are those that are safe and easy to use, reasonably priced for what they deliver, and appropriate for the style, purpose, and size of your outdoor space. Our updated buying guide presents the best patio heaters you can buy.
7 Best Patio Heaters
1. Fire Sense 46,000 BTU Patio Heater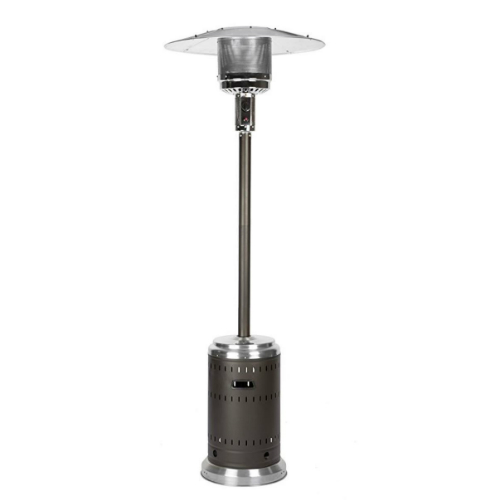 With a 46,000 BTU rating, this heater is an excellent choice for those cold periods where you want to relax outdoors. It offers an excellent look with the Mocha powder-coated finish.

The heater also has a great appearance with a tank housing that hides the propane tank out of view and out of reach of children. The heater burns with a blue flame, with a double mantle heating grid.

Additionally, the flame can generate a lot of heat with ease, and a dial-knob on the heater allows for easy regulation. Starting up the heater is easy and simple. All you need to do is use the auto-ignition switch. It has a Piezo igniter which requires an AAA battery to function.

The stainless steel material selection makes this heater very durable. The heater also has a wide base area to fit the propane tank, where fuel will be stored and easily replaced when needed. The tank housing is easy to raise out of its position and fits back with ease after carrying out a replacement. Finally, it has a weighted base which eliminates the need for sand and water.

Expand to see more
Key Features
Size: 89"


Piezo igniter


Powder-coated Mocha finish


Heater base and tank housing with stainless steel material


46,000 BTU heat


Comewith wheels


Tilt valve with auto shut off function
Price
This heater is currently $255 on Amason, a bargain compared to other heaters, given the quality.
Conclusion
This patio heater has a height of 89 inches, which is well out of any range where you have to worry about your kids playing with the flames or your hair getting burnt. The auto igniter is also long-lasting and reliable as it will always work when it is needed. Couple this with easy mobility and budget-friendly price, and it holds its position as 1st on our list for a good reason.
No need to spend a lot of time assembling the product
Excellent height/li>
It has an appealing design
The price is budget-friendly
It comes with wheels for easy maneuverability
It is lightweight and falls over with ease in windy conditions
2. Golden Flame [XL-Series]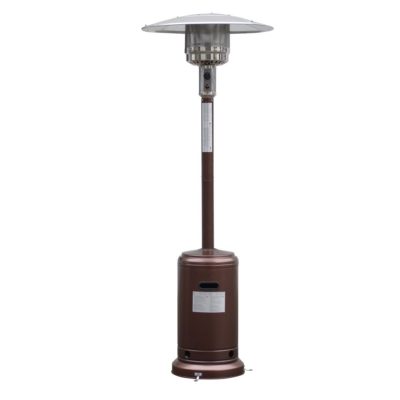 The heater features a Quartz glass tube with a base that ensures maximum stability. Although it does not come with a fuel tank, its design includes a tank space at the base. To access this space, there is a door which opens with ease to fit a 20 lb. tank.

Like most patio heaters, this one also has an auto-electric ignition system. After you turn it on, it burns with a golden flame in an enclosure. The heater has 40,000 BTU output and an adjustable flame.

Assembly is one necessary consideration when purchasing a patio heater, but this heater is very easy to assemble with basic home tools. The heater comes with a user-friendly guide to ensure that all the right bolts go into the proper spaces. For easy mobility, there are durable wheels at the base of the heater that makes it easy to move around.

Expand to see more
Key Features
Quartz Glass tube


Roller wheels


40,000 BTU


Electronic ignition system


Adjustable flame settings


Silver finish


Safe, protective packaging
Price
The patio heater hovers around an average price that'll be well appreciated. At the same time, not a single one of its functions is compromised because of the price.
Conclusion
A lot of features on this heater are exceptional and we loved them. However, the base is not very stable. But for a single disadvantage that can be fixed by weighing down the heater itself, against a number of advantages, it's hardly a deal breaker.
The smart auto-tilt shutoff feature improves the safety with use of the heater
The heater has an adjustable height for enhanced usability
Easy to read instructions with rapid assembly
It comes in very safe and protective packaging
Comes at a good price
Heat is surplus and control feature is effective
The base is not very stable
3. Thermo Tiki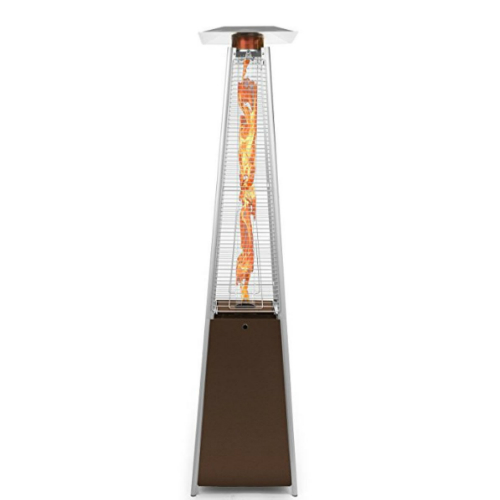 The Thermo Tiki outdoor heater uses many durable materials in its design. Each component of the heater uses either aluminum or high-grade steel for the sake of quality. One benefit of this is that the heater is both resistant to fading and corrosion which is important for outdoor use.

The heater is easy to use, as it offers a push-button ignition for a simple start-up. An adjustable flame intensity feature is easily adjusted to your preference. It also has a safety design, which ensures it goes off when it tilts to prevent starting a fire in case the heater falls on its side with no one around. When it is necessary to move the heater into storage, wheels on the bottom of the heater make it easy to transport.

Some additional components which come with the heater include a flexible hose, propane gas regulator, ceramic-glass heating element, and more.

Expand to see more
Key Features
38,000 BTU output


Components are weather resistant


Comes with necessary components except the propane tank


Wheels for portability


Height of 7'6"


Finish is corrosion and fade resistant


Auto shut-off when tilted


Push-button ignition


Adjustable flame intensity


Has high-grade steel and aluminum material
Price
This heater sells for nearly $500. It is beautiful as well as functional.
Conclusion
Ease of use is an excellent quality in any product. This heater offers all this and more with push-button ignition, wheels, and control for adjusting the flames.
The heater is worth the price you pay thanks to durable its beauty, durable construction, and power.
A 20-pound propane tank can fuel the heater for up to 10 hours
It has an height of 7' 6" which puts the ceramic glass column enclosing the flame out of the reach of children
When tilted, it shuts off automatically. This ensures safety at all times
It is weather-resistant
A cover is often necessary for rainy conditions
4. Mr. Heater 45,000 BTU Patio Heater
When sitting on your deck or patio or working in your garage becomes unpleasant because it is a bit too cold, the Mr. Heater 45,000 BTU Patio heater nearby can make a noticeable difference in the temperature. Powered by a 20 lb. propane tank, the heater is mounted atop the tank and can provide up to 9.5 hours of warmth on a single tank.
Key Features
360-degree burner head


30, 000 - 45, 000 BTU tank top heater


Push Button TE Valve


Safety shut off tip-over switch


Mounts to a 20 lb. Cylinder


Size: 0.4" x 10.4" x 17.5"


Weight: 5.5 pounds


1-year warranty
Expand to see more

Design

The Mr. Heater 45,000 BTU unit has an industrial feel to it as it is mounted right on top of the propane tank. The appearance makes it more suitable for locations where the object is warmth, not appearance.

Amazon reviewers reiterated how even on very cold days, the heater kept the garage warm enough to work comfortably in shirt sleeves or made it bearable to sit on a balcony ad smoke cigars. The heater does its job, even though it doesn't look like a sleek patio heater.

Fuel and Fuel Efficiency

The heater has three settings for 30,000, 36,000, and 45,000 BTU. As a 20-pound propane tank holds 4.5-4.75 gallons of propane, you get about 2 hours per gallon or 8-9.5 hours per tank; the usage varies according to what setting you have it on. Smaller tanks also work if the connections are the same, but the hours of service will be less.

The device lacks a thermostat to indicate the actual temperature at any of the three settings.

Range

The radiant heat it provides covers a 925 sq. ft. area. It is ideal for warming up your outdoor not only your living space at home, but also garages, fishing, hunting, camping sites, at sporting events or tailgate parties, or on loading docks or at construction sites. It is for outdoor use only.

A group of people sitting three to six feet away would reap the benefits of this heater even as the temperature dipped.

Heat Output and Performance

Mr. Heater provides radiant heat over every direction for over 925 square feet. The center of the device heats to an infra-red glow which can be directed where the heat is needed.

Starting it just requires holding the on button for 60 seconds, and it warms up within 15 minutes. The heater cools down within about 10 minutes, so it can be put away quickly if you are breaking camp or a tailgate party is ending.

During operation, the heater is no louder than a fan, so it will not interrupt conversation. Some hunters complain that it is too nosy when hunting, but most comment that it makes activities such as hunting in a duck blind much more comfortable.

Safety Features

This heater is safe to use outside. As with any heater, it can burn someone who touches it during operation; if a strong wind blows it over, it should turn off before it ignites any flammable materials nearby. Sitting too close to the heater in a windstorm could be dangerous. The product is not intended to be left outside at the mercy of the elements. It is easily disconnected from the propane tank so bringing it out of rain and snow is an easy way to protect it. Carrying it with the tank attached is 30 pounds or less.

The unit is not intended for indoor use as deadly carbon monoxide can build up when the heater is used in a closed setting. Even using the heater in the garage requires proper ventilation, such as an open door.

The heater should not be used in a workshop where the excessive dust could pose an explosion hazard.

Price

Currently listed at $93 on Amazon, the price fluctuates $20 up or down at different retailers.

The true competitors to this heater are other garage heaters, such as those offered by Dura Heat, Gasland, or even Mr. Heater itself. For the price, this model F242540 is unbeatable.

With over 1,700 Amazon reviews and 95% of them at 4- or 5- stars. The heater gets high marks for heat output, ease of assembly, ease of use, portability, and more.

Verdict

For warming up and outdoor area for work or recreation, the Mr. Heater 45,000 BTU heater is unbeatable.


360-degree burner head warms a 925 sq. ft. area
Durable
Minimal assembly
5. Hampton Bay 38,200 BTU Heat-Focusing Patio Heater
If you are looking for a patio heater that will keep you warm for backyard entertaining and looks like a lamp, the Hampton Bay 38,200 BTU Heat-Focusing Propane Gas Patio Heater may be just right for you. Finished in powder-coated bronze, the heater has large cone-shaped burners to churn enough heat to heat up to 120 sq. ft.
The unit has adjustable reflectors to direct the heat where you need it the most. Being able to tilt the head and the reflectors are two of the best selling points for selecting this model.
Key Features
Size: 86" tall


Weight: 81.8 pounds


38,200 BTUs heats up to 120 sq. ft


Propane-fueled, propane tank not included


Heat-focusing reflectors adjust to offer excellent heat distribution


Anti-tilt design and flame failure cut-off switch for safety


Fitted with wheels for portability


Weighted base offers stability


Hinged cylinder chamber door provides easy access


No pilot light - fast ignition and no potential pilot blockage


Heater has an electronic ignition system
Expand to see more
Design

The Hampton Bay 378,200 BTU is built like a torchiere floor lamp, with the heat channeled through a torch-like top and a base that hides a 20-pound propane cylinder. With wheels on the bottom, it can be conveniently moved to warm up the table area where people are eating or conversing.

Assembly may take up to an hour with a Phillips screwdriver and a socket set, but the process is easy and is well-explained in the instructions.

Powder-coated in bronze, the heater never looks tarnished from the weather. However, some customers have complained that the bolts used in the assembly may rust. The heater comes with a vinyl cover for the head.

Fuel and Fuel Efficiency

The heater broadcasts heat to a large circle, which is great if a group is sitting around the heater talking. It has reflectors that can be adjusted with a handle to focus on the part of the circle where guests are congregating to make them more comfortable and save energy. The reflectors are very effective at doing what they are intended to do – focus the heat where you want it.

Range

The Hampton Bay 378,200 BTU has a range of 120 feet.

Heat Output and Performance

The gas can be turned off and on with a switch near the top of the unit. Just turn the unit on, depress the battery-operated igniter button, hold the on/off switch in place for 10 seconds to make sure it stays lit. The gas can be turned down to a lower flame position for comfort and energy savings.

Safety Features

The propane tank fits in a compartment at the base of the heater. Once the heater is attached to the tank with a hose, the tank is secured in the chamber with a light chain, and the whole compartment closes with a latch. If the unit were to fall over, the tank is unlikely to fly out.

Though the heater has a weighted base (due to the weight of the propane cylinder), it has an anti-tilt design and flame failure cut-off switch for safety in case the winds are too strong. The heater is hard to accidentally knock over, but if there are tornado or hurricane warnings in the areas, roll it to a sheltered area.

The heater should be used outdoors but can be used in a well-ventilated porch or garage with a minimum of 30% of its surface area open. If it is used on a screened-in porch, it should be 40" from the screens. This unit is not recommended for use under awnings or fabric sun shade, pergola covers, or canopies. The heater should not be left unattended.
Price
The Hampton Bay brand is Home Depot's own, so the $199 price is at least $100 better there than elsewhere.

Comparison To Other Products

The Hampton Bay 38,200 BTU heater is highly rated at Amazon and at Home Depot who owns the Hampton Bay brand. Aside from complaints about the product performance, many buyers had issues with the packaging or found that parts were missing. Though this is a Home Deport product, the company does not stock replacement parts, so the buyer has to contact a service sent and wait.

Verdict

The heater is an attractive one for patios. As long as you do not overpay, the heater with its reflectors is a good buy.


6. Lightfire Patio Heater
When you opt for a patio heater, both form and function are important. The Lightfire Patio heaters offers unique styling while providing both heat and light and imaginative style. The flame from the propane heater is visible through a glass tube that ends in a torch and the bottom is illuminated, which makes for a stunning design as well as powerful heat and light source.
The heater comes standard with a stylish, yet durable trolley so the result is a portable heater and lighting source that is very popular in bars, hotels, and restaurants across Europe. It can be fitted with a custom- table, which is convenient for holding drinks or snacks.
Designed in Italy by Francisco Gomez Paz, the heater is manufactured in Moderno, Italy by Italkero, a producer of gas heaters, industrial heating system, contemporary fireplaces, and luxury outdoor furniture. The heater is a stylish upgrade of the three-sided Falo heater made by this company.
Key Features
Steel, stainless steel, and aluminum construction


Shatter-resistant glass tube


42,000 BTU output


Emits infrared heat up to 450 sq. feet


LED light


Includes removable cart for easy placement


Anti-tipping device


Manual and electric ignition


Remote control on some models


Lasts up to 12 hours on one tank


Uses standard 20 lb. liquid propane tank (not included)


Assembly required


Size: 21"L x 21"W x 89"H


Weight: 90 lbs.
Expand to see more
Design

Self-described as a "stunning tube of flame with a lighting option available," the Lightfire patio heater is an Italian-designed and made product that offers 42,00 BTUs and additional LED lighting as well. It not only heats an area but creates a convenient, well-illuminated place to read or work.

The heater comes in Inox steel and galvanized/painted versions to blend with any décor.

Fuel and Fuel Efficiency

The Lightfire can operate with propane or natural gas. The fuel flexibility is especially useful in commercial settings, where multiple units can be connected to a gas line.

The heater also features LED lights powered through the "Seebeck effect," an innovative system that uses special aluminium heat exchanger to turn heat into electricity. Since the sensors that turn on the light are powered by the heat, no rechargeable batteries are required. However, the installation manual mentions that unit uses batteries, but this a likely scenario when the lights are used without the heater.

The lighting package is optional, although getting this option is a no-brainer. When the lights are on, the bottom half of the heater is illuminated for a beautiful, yet functional look. The versatile Lightfire offers an option to use just the lights only, just the heater only, or both heat and light.

Range

The Lightfire emits infrared heat up to 450 sq. feet. While cheaper heaters styled like the Ligthyfire exude more glamour than heat, this model creates a comfortable outdoor space on a summer night.

Heat Output and Performance

The heat output of the 12k Lightfire burner is 42,000 BTUs.
There are three models of this heater: manual, remote-controlled, or radio-controlled operation. The manual model has a piezo ignition system, while the other two have an electronic ignition.

Safety Features

The Lightfire is windproof and has an anti-tipping device and ionization control flame.

Price

This beautiful heater is not for bargain hunters. Not available everywhere, it costs over $4,000.

Comparison to Other Products

The Lightfire is in a class of its own. It's appearance has some similarities to the Thermo Tiki.

Verdict

In terms of looks, versatility, and functionality, the Lightfire is a clear winner. The steep price makes it an unlikely choice for all but the exclusive residential property, but when installed in a restaurant, hotel, or other commercial settings, it would be a unique and stylish part of the branding.

7. Bromic Black Tungsten 500 Smart-Heat Hanging Patio Heater
Having a toasty heat source on your deck or patio will make outdoor living comfortable longer into the fall and winter season, but there are risks of getting burned anytime you use a heater near people. Children are the likely victims, but partying adults could easily trip over it, or get something flammable near the flame, to cause an unfortunate end to the evening. The Bromic Heating Tungsten 500 Smart-Heat is a 25" 43,000 BTU Propane Gas Patio Heater that can be mounted on the ceiling for convenience and safety.
Bromic Heating is the market leader in radiant heaters that perform well and last.
Key Features
Size: 25.4" x 15.9" x 14"


Weight: 54 pounds


43,000 BTU output with 214'2 range


Wall or ceiling mountable


Single switch, electronic ignition allows control over multiple units


Weather-resistant stainless steel construction


Fully customizable installation


Requires 120V for electronic ignition system.


12-month warranty
Expand to see more
Design

Bromic Heating Tungsten gas heaters are perfect for commercial and residential installations as their stylish contemporary designs fit perfectly in the backyard and restaurant patios. The heater has a brushed stainless steel finish casing for protection against dirt buildup and tampering; it is also available in black or white. Though powerful, the heater does not have an industrial look. Its tinted glass-ceramic screen emits a pleasant soft red glow.

The propane-powered 500 with 43,000 BTUs can be mounted on the wall or ceiling and into smart system controls to meet custom heating preferences. The unit is available in natural gas as well as propane. The 500 is a more powerful version of the 300 series, which offers 26,000 BTUs; it has five burners in contrast to the three burners on the 30 model.

Then 500 Smart-Heat propane gas patio heater can be wall or ceiling-mounted and wired into smart system controls to fit custom heating preferences. The universal bracket allows you to easily upgrade from 300 to 500 series heaters for more BTUs without any additional wiring. Mounting from the ceiling requires an optional Ceiling Post Mount

Type of Fuel and Fuel Efficiency

The Tungsten 500 patio heater stands out against standard patio heaters since it can evenly distribute 43,000 BTUs of heat while effectively resisting winds up to 11mph and heat areas up to 200 square feet.

Featuring a single switch and an electronic ignition, the heater allows you control over one or multiple gas heating units, making it possible to heat your entire patio with one device. For a commercial user, this feature is particularly handy for overseeing the temperature of a whole outdoor eating area – an asset during pandemic times when diners are willing to eat outdoors even when it is cold outside.

For the propane model, this item requires a minimum of 100 lbs. propane tank with the appropriate regulator and properly sized fuel supply line.

Range

Offering a 215' range, the heater has a bi-directional pivot arm that offers 25-degree rotation on each side, allowing you to easily adjust the flow of heat for better, custom directional heating.

Heat Output and Performance

Multiple heaters can be operated from a single switch or smart control system (not included). The mounting bracket houses the control valve and module to keep them farther from the heat to make them last longer and allows the heater to pivot left or right to direct the heat where you want it.

Safety Features

The Bromic heater should be installed 8' from the floor and have at least 42" above it or be open to the elements. Otherwise, the heat deflector must be used for safety. The manufacturer offers a lineup of accessories to adapt the heater to different installation scenarios.

The mesh front and patented direct ignition system ensure a reliable start and effective operation in winds up to 11 miles per hour.
If the automatic reignition fails to restore an extinguished flame, the integrated flame-failure safety shut-off control will turn the heater off immediately.

Price

The 500 series of Bromic heaters retail for over $1,800 on the manufacturer's site but start at $1,500 on Amazon.

Comparison to Other Products

Based on price and capabilities, Sunpak or Lynx might be competitors for gas outdoor heaters, while there are many alternatives from Infratech or Solaira when electric heaters are appropriate.

Verdict

While there are few reviews of Brtomis heaters, their capabilities make them the best choice for stylish outdoor heaters.

The high-performance mesh screen manipulates infrared energy giving wind resistance up to 8 mph
The Smart system with direct ignition provides automated reignition allowing you to simply set and forget
Multiple mounting options reclaim valuable floor space in commercial or residential locations
Pivot brackets offer directional control and coverage of heat
Weather resistance and stainless steel construction offers reliable heating and quality that lasts
Birds love to build nests in these
Accessories have poor instructions or none at all
Factors to Consider When Buying the Best Patio Heaters
When selecting the best patio heater, your goal in heating the area is key to your selection. Do you want to give warmth and ambiance to an outdoor dining space or warm up a group on a job site or tailgate party? Will you want to warm 6-8 friends or a larger crowd? Do you live in a climate where the heater will have to raise the temperative by a few degrees to take the chill off or raise the temperature significantly?
For a small patio, where people will be eating at one table, a tabletop heater may be just right for you. When you want your heater to serve as the focal point of your yard, a fire pit is definitely the best option.
With these parameters in mind, patio heater selection comes down to these qualities:
Design
Heater styles and design range from industrial to elegant. Some models are intended to perform their job without regard for looks, while others are intended to be a style element in the room. Our top-of-the-line brand, the Italian-made Lightfire, is a show-stopper that is part patio heater, part work of art.
Type of Fuel and Fuel Efficiency
The heaters considered in this buying guide are fueled by propane or natural gas and are intended for outdoor use in a well-ventilated area. Their output is measure in BTUs.
Some gas heaters have electric starters that are battery-powered.
Range
Patio heaters are intended to warm people within a certain range. Those that serve a small range may be intended for a small conversational group with the patio furniture pulled close together, while those with a broader range might improve the comfort of a number of diners in a restaurant.

Heat Output and Performance
The more powerful your heater is, the more space it heats. The measurement of the power of a heater is in British Thermal Units (BTUs). In which, the more the BTU, the bigger its heat output, and thus, range.
How far the best can go is also dependent on many other factors such as the degree of cold outside. In comparing different models to each other, you can use measures like BTUs and wattage, although they could be misleading sometimes.
Also giving heed to what customers say in their review about the product is very important too as they speak from experience.
Tip: A heads-up; price typically increases as BTU increases.
Safety Features
There's always a risk with any product, heaters inclusive. And the most common risk for patio heaters is when they tip over during windy days.
Most gas heaters do not have a pilot light, but they are very hot and may have a flame. While there are some basic safety rules to follow when congregating near a gas heater, heaters may have weighted bottoms to preventing them from falling over easily, automatic shutoffs if they go out, and other safety features to reduce risk.
Therefore, if you live in a very windy area, you should consider buying a model that offers these features or find a way to secure the heater.
If your space is enclosed, the best option is to make use of an electric heater.
Price
If you want a heater to warm up a deck or keep you comfortable on a hunting trip, you may want to only spend up to a couple hundred dollars. Your budget may be five to ten times that if you want to make outdoor dining appealing to a larger group of people.
Buying the cheapest product you can find may not be a good move as safety is involved. Many heaters have similar features, though, so if you look to find a heater that has the features you want, you still may be able to save.

Other Features to Consider
Patio heaters can be heavy to move, as propane tanks used to fuel them weigh them down. Many heaters have wheels built-in or come with an additional trolley. Not all wheels are well-made, so verifying that a model you like has good well will come in handy on a windy day when you need to move the patio heater to a sheltered area. Moving is not recommended until the heater has cooled down.
Some heaters have additional accessories such as mounts, controls, and reflectors available. Before buying a heater, you will ideally acquire what you need to install and use the unit, but you should at least check about the availability of accessories or replacement parts.
Frequently Asked Questions
1. How long does it take to set up a patio heater?
Most of the time, setting up a patio heater is straightforward, and it only takes a few minutes. It also doesn't require any skill, and all you need is a few household tools and the instructions manual to get started. Some heaters may require up to an hour of assembly time, but ascertain that the job is manageable, even if it takes some time.

2. Are patio heaters safe to use?
As long as you use a patio heater outset or in a well-ventilated area, you should be safe with a gas heater. Make sure the heater is secured so it doesn't fall down or is not positioned so others will bump into it. Keep any flammable materials the recommended distance away.
3. How do you select the right size patio heater?
Figuring out the number of BTUs or even the number of heaters you need depends on the size of the area to be heated and how cold it is.
Multiply the length x width x high of the area to be heated. If you are measuring for an uncovered patio, assume 7′ is the height. If you are buying heaters for a 20′ x 20′ patio heated to 7′ about the ground, the cubic feet is2800
Subtract the current temperature from the desired temperature and multiply the remainder by the cubic feet. If you want to heat it to 75° from 45°, you multiply the difference of 30° x 2,800 and get a product of 84,000. Your heaters should have a combined output of 84,000 BTUs.
Conclusion
Having a patio heater can enhance your enjoyment of outdoor space, so picking the right one for your needs is important. Our buying guide will direct you to the best patio heater on the market with features you'll love.
Subscribe to our newsletter