Best Fire Pits Reviewed & Rated by Our Team
last updated:
Aug 02, 2018
When the nights become longer and you desire to spend less time indoors and more time watching the stars, nothing gets better than sitting by a fire pit with your family and friends. The cackle of coals and the odor of wood smoke is the ideal centerpiece for a hangout in the evening.
Our Top 3 Picks
[srpshortcode id="16199″][/srpshortcode][srpshortcode id="16201″][/srpshortcode][srpshortcode id="16202″][/srpshortcode]
Fire pits come in a range of varieties than most individuals might expect. From the complete choices to the "do it yourself" options, there is a fire pit that would suit any budget, taste, and requirement. If you want a nudge in the right direction, then you are in the right place. In this article, we have compiled 10, top of the line models that will ensure it is easier for you to narrow down your search when choosing a fire pit for your new best spot for a hangout. Below are the 10 best fire pits you can buy.
10 Best Fire Pits

1. Landmann 28347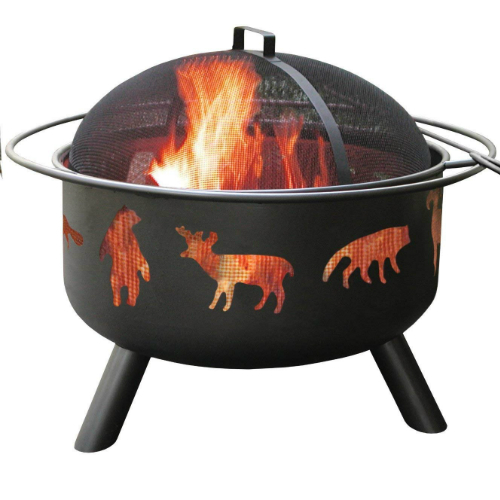 Watching the fire from the Landmann pit is a very beautiful experience with the wildlife animal cutouts which go round the body of it. The glow of the flames gives form to these shapes during your outdoor fire.

The fire bowl is 12.5 inches deep to hold more wood along with a diameter of 23 ½ inches. A cooking grate is available to maximize the use of the flames from the it while a full-diameter handle makes it easy to carry it around. If you decide, the fire pit can also be taken on trips since it is lightweight and portable.

When cooking or turning the wood in the pit, there is a lifting tool as a safety measure so you can avoid injury to your fingers and a spark screen can also prevent the sparks from flying unto clothes.

Expand to see more
Features

A protective screen
Beautiful animal cut-outs
Includes a cooking grate
Easy assembly
Poker tool is available
A full-diameter handle
Fire bowl of 12.5 inches depth
Easy to maintain black finish

Price

Although not the cheapest you can get, this option still comes at an affordable price and is suitable for everyone. The black finish will not fully prevent it form rust so it is best you get an anti-rust spray to improve the durability of it.

Conclusion

The wildlife animals on the body of this pit are the most attractive parts of this product. This is an excellent choice for homeowners who are comfortable with small fires.

It is an affordable option
Portable
The animal cut-outs make a great view during the nighttime
Great for use as a grill
The cover rusts after continuous exposure to outdoor conditions
2. Outland Living Series 401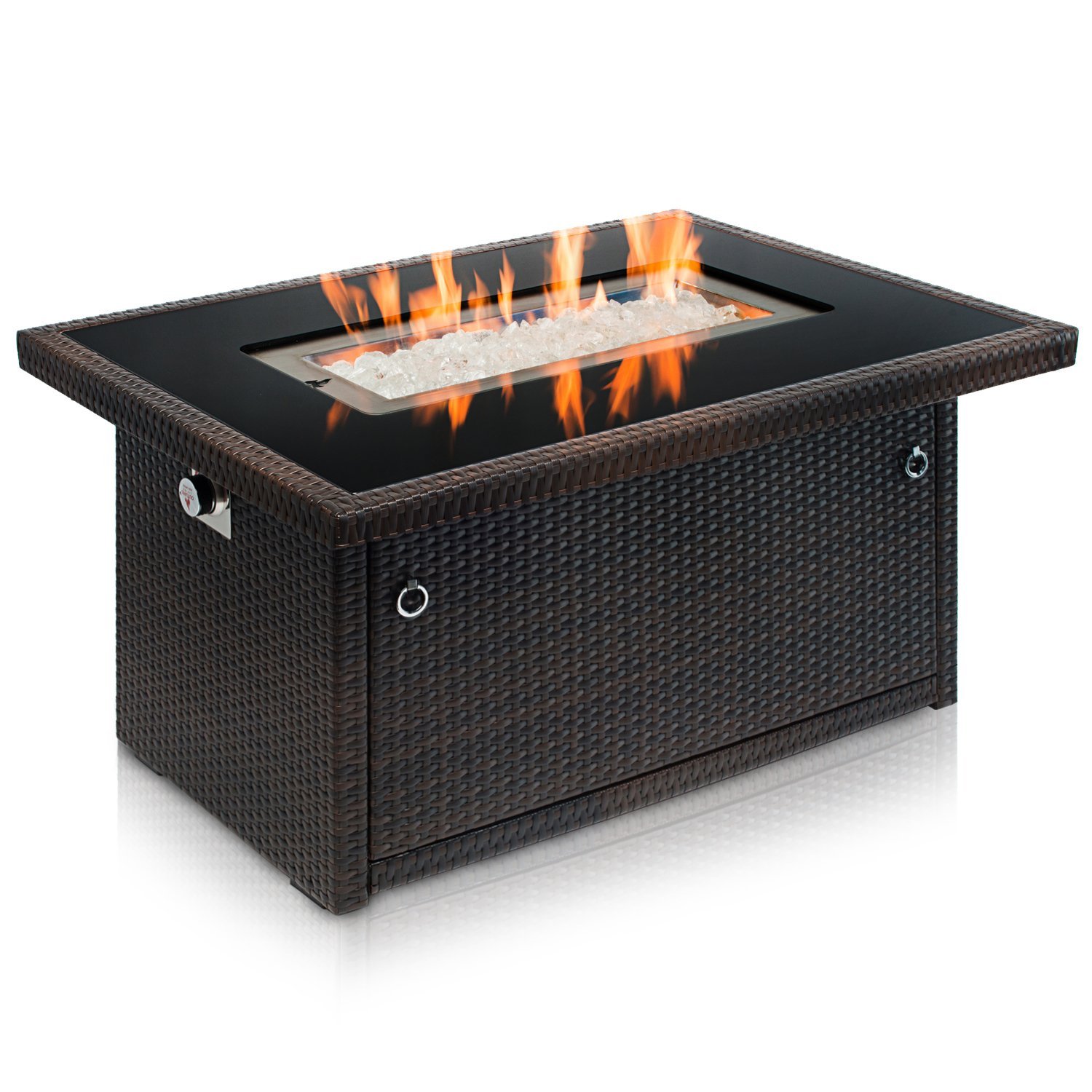 The Outland Living Series 401 has a tabletop design and comes with a CSA approval. This means that it is a viable option during burn bans. It can run for up to 16 hours on a 20 lbs. propane tank at an output of 35,000 BTU. It also has a burner made from stainless steel and an auto-ignition system for a comfortable control.

A UV high-density polyethylene wicker is the material used for the body design of the pit. This material is weather resistant and can handle the outdoor conditions where it will be needed. The base also serves as a housing for the propane tank so it remains aesthetically pleasing.

While a lot of accessories are also available separately, it comes inclusive with a few accessories like the arctic glass rock set, 3-ft hose with regulator, 8mm tempered glass tabletop, and a burn pan. The base is very sturdy thanks to the aluminum frame construction which also features powder coating.


Expand to see more
Features

Chrome manual control
Stainless steel burner
UV HDPE wicker
Heat resistance
Interior propane tank storage
Sturdy base
Arctic ice decorative glass rock set
CSA approved
35,000 BTU rating
23" high

Price

For anyone who purchases this option, there are lots of features which make it one of the best on the market. Considering it comes at a very high price, all these features are necessary for it to be worth the price. Running propane gas, users can save a bit of money compared to using firewood.

Conclusion

The tempered glass tabletop provides an excellent view of the burning flames on it and it also has enough room to conceal the propane tank for a more attractive appearance.

Propane tank storage is accessible from either side of the fire pit
Auto-ignition makes starting the fire a very simple task
It is heat resistant
Parts may come off is screws are not tightened properly
3. Solo Stove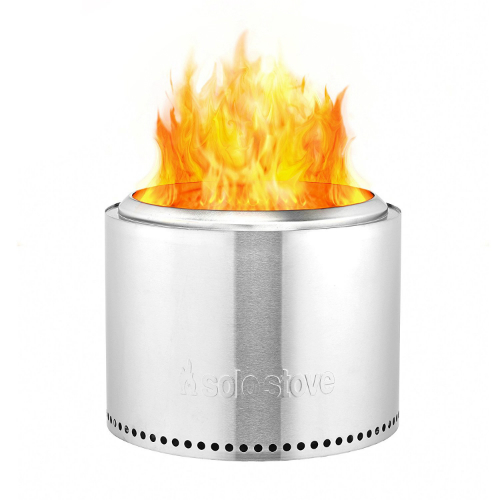 This option is sturdily built and is sure to last a very long time with a heavy duty construction that uses 304 and 430 stainless steel materials. The great part about this is that it comes at a light weight of just 20 pounds that makes it easy to move around.

There are a lot of features which makes it a very efficient product. The first is the addition of holes at the bottom of the body for the purpose of air intake. This cool air is fed to the bottom of the fire while the warm air is directed to the top of the fire pit. After this, the warm air creates a secondary combustion for a complete burn. These features are excellent design improvements which reduce the amount of wood the fire pit requires and also lower the smoke produced by the pit.

One advantage of the reduction in smoke output is that anyone around it can leave without the lingering smell of smoke on their clothes. The pit furthermore needs no assembly and thus, for the best output, hardwood is recommended for use.

Expand to see more
Features

Low smoke production
Complete burn
Durable stainless steel materials
14" height
Weighs 20 pounds
Burns firewood
19.5" wide
Has a secondary combustion

Price

Selling at an average price, it offers a lot of great features that make it a great purchase for home use. It is portable and burns efficiently ensuring that there is no log wasted during use.

Conclusion

The smoke-free burning of wood this pit offers makes it an excellent choice for starting outdoor fires for you and your friends. Since they can leave without the smell of smoke on their clothes, without the quality produced reducing, this is one of the best options to consider.

It does not cause the smell of smoke on the clothes of anyone who stays close to the fire
Logs do not need to be moved around during use
Build quality is intact
Likelihood to rust is slightly high
5. Fire Sense 29-Inch Folding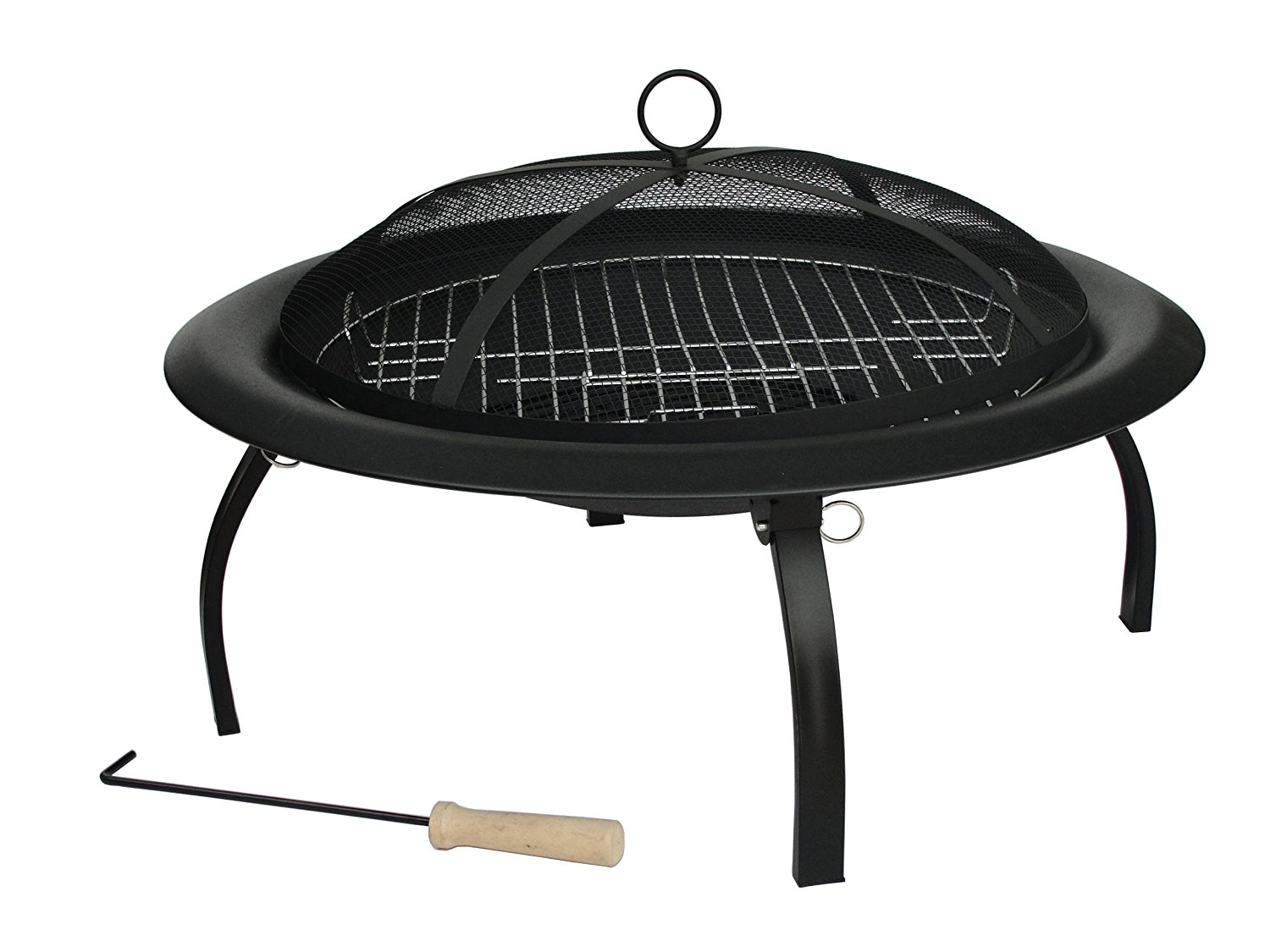 Safety is an important feature of every fire pit considering it is used in creating actual fires. Because of this, this one features a fire screen to prevent fire sparks from flying out of the pit. As a result, this prevents any injury or accidental fire while the product is in use. It also has a screen lifting tool that has various purposes. For one, it used to open the fire screen. Since it will get quite hot during use, you don't want to burn your fingers trying to lift it. Another use is for moving the logs around in the fire pit.

In addition to being very easy to assemble, it is also very portable. It measures 29" and it is foldable. This makes it easy to carry around especially with the carrying case that comes in the package.

Having a heat resistant painted steel has its advantages for a pit. Considering its use will entirely be in the presence of fire, this feature makes it an excellent product to use. Still talking about fires, this fire pit comes with a log grate which offers a platform to place the logs that will be used in starting the fire. It also features a cooking grate which allows the fire pit to be used for outdoor cooking and small BBQs.

Expand to see more
Features

Easy to assemble
Portable
Includes a fire screen
Comes with a carrying bag
Wood grate and cooking grate
Screen lifting tool
Heat resistant painted steel

Price

This is one of the most affordable options available on the market. It comes with a lot of great features but you should expect to get what you pay for with this product. It is best for camping activities which come up occasionally so it can last a longer period.

Conclusion

The Fire Sense pit provides a very easy means of enjoying an outdoor fire with loved ones regardless of location. The carrying case and its lightweight quality make it easy to take along on a camping trip to set the mood for a great nighttime experience.

The carrying case and foldable feature makes it a great option to take on trips
It comes with a cooking grate
A very affordable product
6. Endless Summer GAD1401M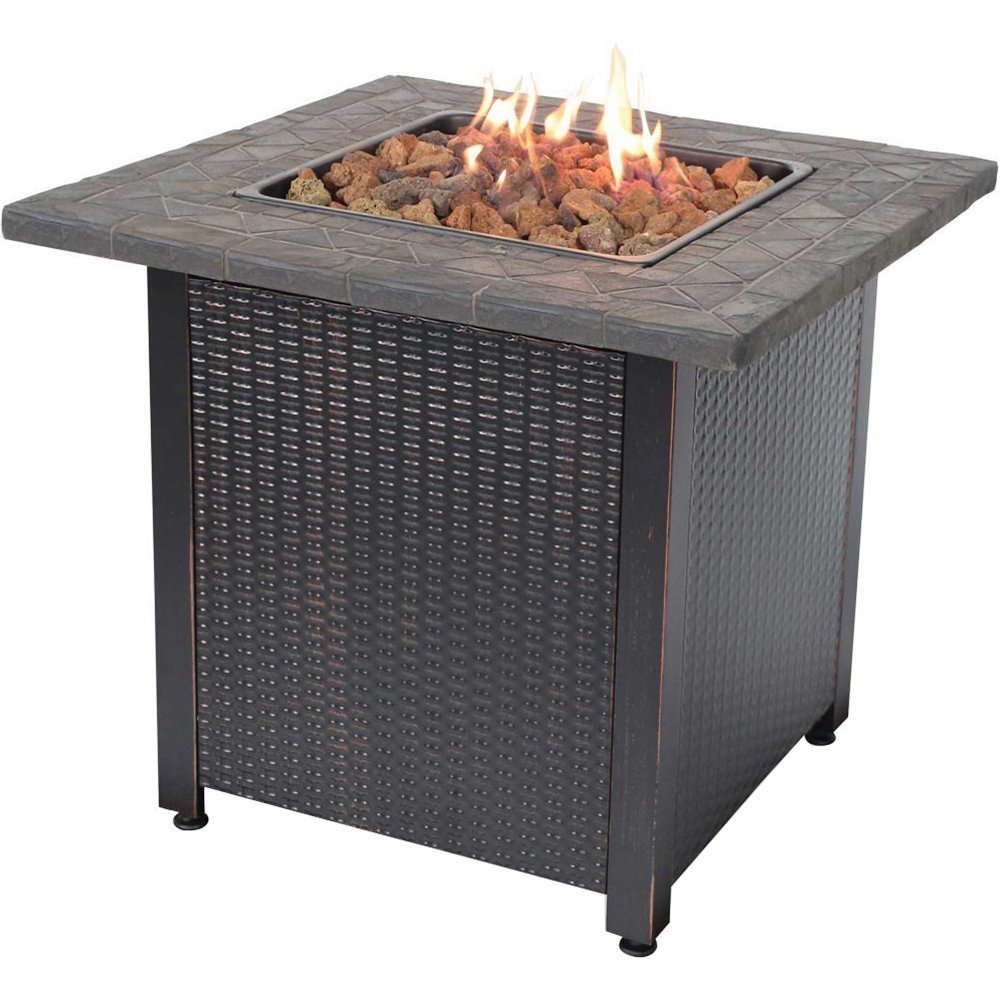 The addition of lava rocks to this pit is a lot more than just for aesthetic quality. With the use of lava rocks around the center of the pit, the flames have an even distribution around the center area. The lava rock also provides a great lighting effect while burning which makes your outdoor gathering experience more memorable.

Having a rectangular shape is not just to give it a unique appearance, it also provides space to keep the propane tank out of sight during operation. With a heating capacity of 8.79KW, the fire pit can produce a maximum of 30,000 BTU.

Assembly does not require tools and is very fast. Outdoor products are built to withstand the environmental factors common with such condition. It has a weather-resistant steel construction and a stainless steel burner that is easy to maintain.

Expand to see more
Features

Assembly requires no tool
Comes with a protective cover
Propane tank is enclosed within the base
1-year limited warranty
30,000 BTU stainless steel burner
Includes lava rocks
Weather resistant steel
Heating rating of 8.79KW

Price

This is an excellent quality gas option which comes at a price well below average. It features weather-resistant materials and comes with a protective cover to offer additional protection to the pit.

Conclusion

Auto-ignition is an excellent feature to reduce the stress as it becomes easier to light. It generates a great amount of heat and has a marble table top which is very beautiful.

Cooking with the fire pit is great with the smoke-free flames
Ashes do not remain as a residue or fly around while using it
An auto ignition feature
It is made of weather resistant steel which ensures durability
The ignition is not dependable
7. AmazonBasics Natural Stone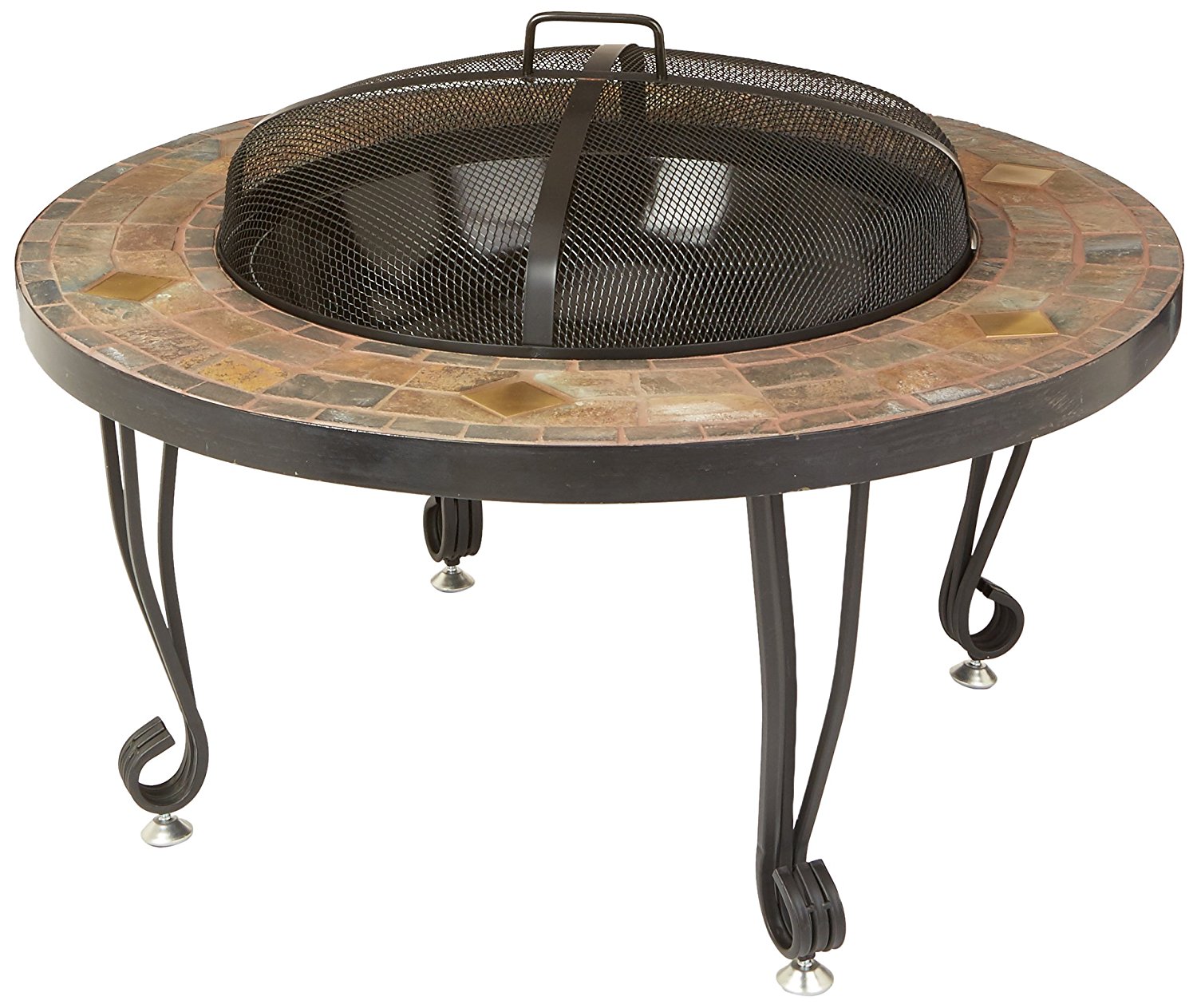 Portability is quite a common feature on a lot of fire pits which are available on the market. And that's mostly why this one follows the useful feature of excellent portability. It comes with four curved legs that also have stabilizing feet. These feet make it possible to use the fire pit on any surface, both even and uneven, with zero worries.

It has a beautiful design that makes it easy to blend in any outdoor environment. It also takes the appearance of a natural stone mantel with copper accents in a diamond shape to complement this design. Likewise, the fire bowl is made from black steel which increases its durability. The stand is also quite attractive with four flared legs to match its excellent design quality.

Design alone will not keep you safe from fire sparks jumping out of it. To provide a solution to this problem, there is a fire screen to keep the sparks within a limited space. Removing the screen and placing it back over the fire is quite easy thanks to the wide handle on the screen. This is not an invitation to remove the screen with your hands as the handle gets hot while the fire pit is in use. There is a lifting tool for use mainly for this purpose.

Expand to see more
Features

Includes log grate
Black steel fire pit bowl
Body made from natural stone
Comes with a fire screen
Stabilizing feet
Beautiful flared legs
Fire pit bowl is 22" in diameter
AmazonBasics 1-year limited warranty
It has a fire tool

Price

This is a very affordable option with a beautiful design, flared legs, and body from natural stone. It features a 1-year limited warranty for AmazonBasics.

Conclusion

It comes with a lot of safety accessories like the fire tool and fire screen while the log grate also improves its performance. The black steel fire pit bowl provides an easy maintenance feature.

The dome-shaped design of the fire screen makes the fire visible from all angles
Has an excellent build quality
Includes safety accessories like screen and fire tool
Comes in a very appealing design
More suitable for small fires
8. Sunnydaze Large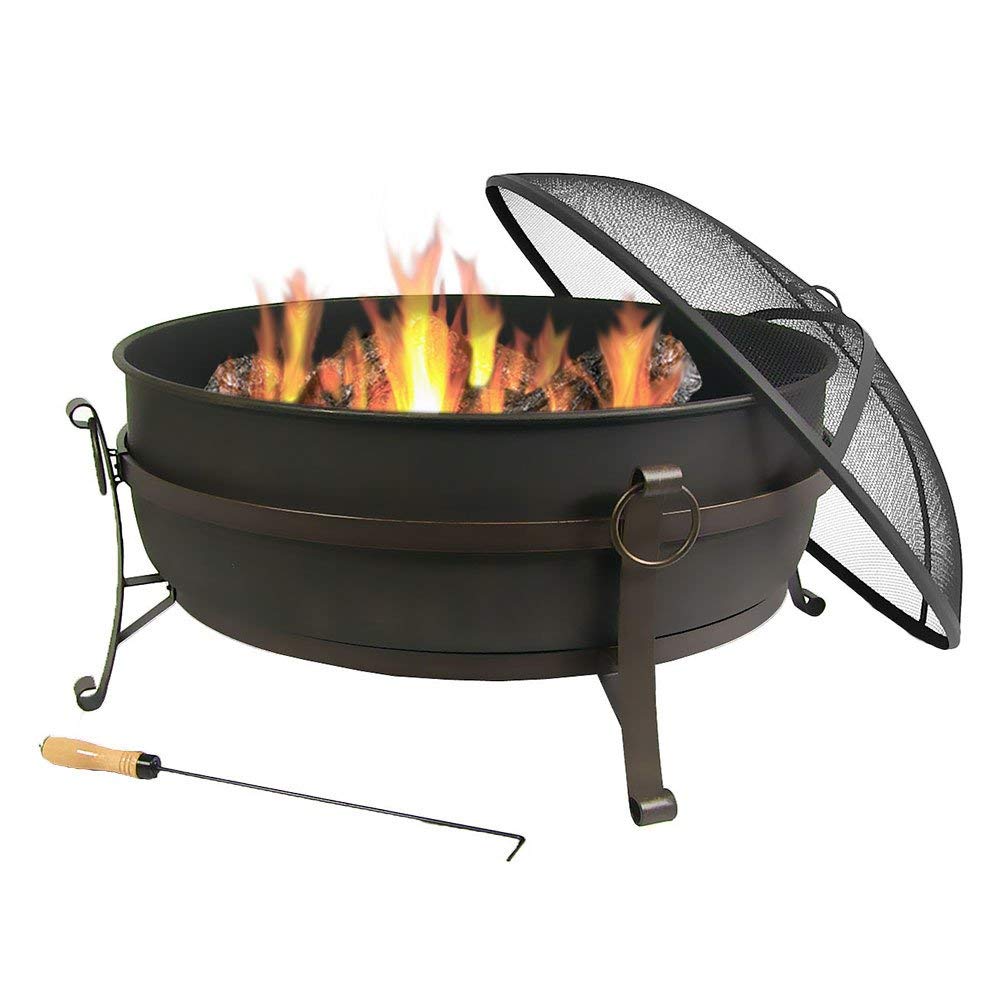 Its construction features the use of a steel metal that is 0.7mm thick. Combining this with the heat resistant finish on the fire pit, it offers excellent durability. Further, the leg assembly on the fire pit is also very durable. Providing a 6-inch increase in height, this decorative leg assembly comes with a bronze high-temperature finish.

It offers great functionality with improved performance. It comes with a built-in wood grate that holds the wood above the bottom of the fire pit. The effect of this is an ifrom the fire pit.

Weighing just 28 pounds, this is a portable option which also has freestanding feature. It also includes a spark screen so that users can enjoy the fire without any likelihood of injury from flying sparks. A lifting tool is also available in case there is a need to turn or move the logs while they are burning. The great design of this pit, a traditional cauldron design, makes it a great addition to your outdoor décor. It also comes with a 1-year manufacturer's warranty to cater for any issue.

Expand to see more
Features

Freestanding with heat resistant paint
Easy to clean and maintain
Portable with durable steel construction
Excellent performance
Built-in wood grate
Spark screen
Lifting tool
Weighs 28 pounds
6-inches high legs

Price

Not many fire pits offer so many great qualities at such an affordable price. Having both a spark screen and lifting tool makes it a very safe option while it is also easy to clean and maintain.

Conclusion

Coming at a very lightweight, this portable option offers a durable steel construction with a heat resistant paint for a long-lasting effect. It has a traditional cauldron design which not only accentuates your outdoor décor but finds great use when decorating for Halloween.

It sits on the legs so it is easy to remove and carry about
Assembly of the fire pit is simple and straightforward
Comes with a built-in wood grate and spark screen for better performance
Needs a cover for protection when not in use
9. Double Flame Patio Pit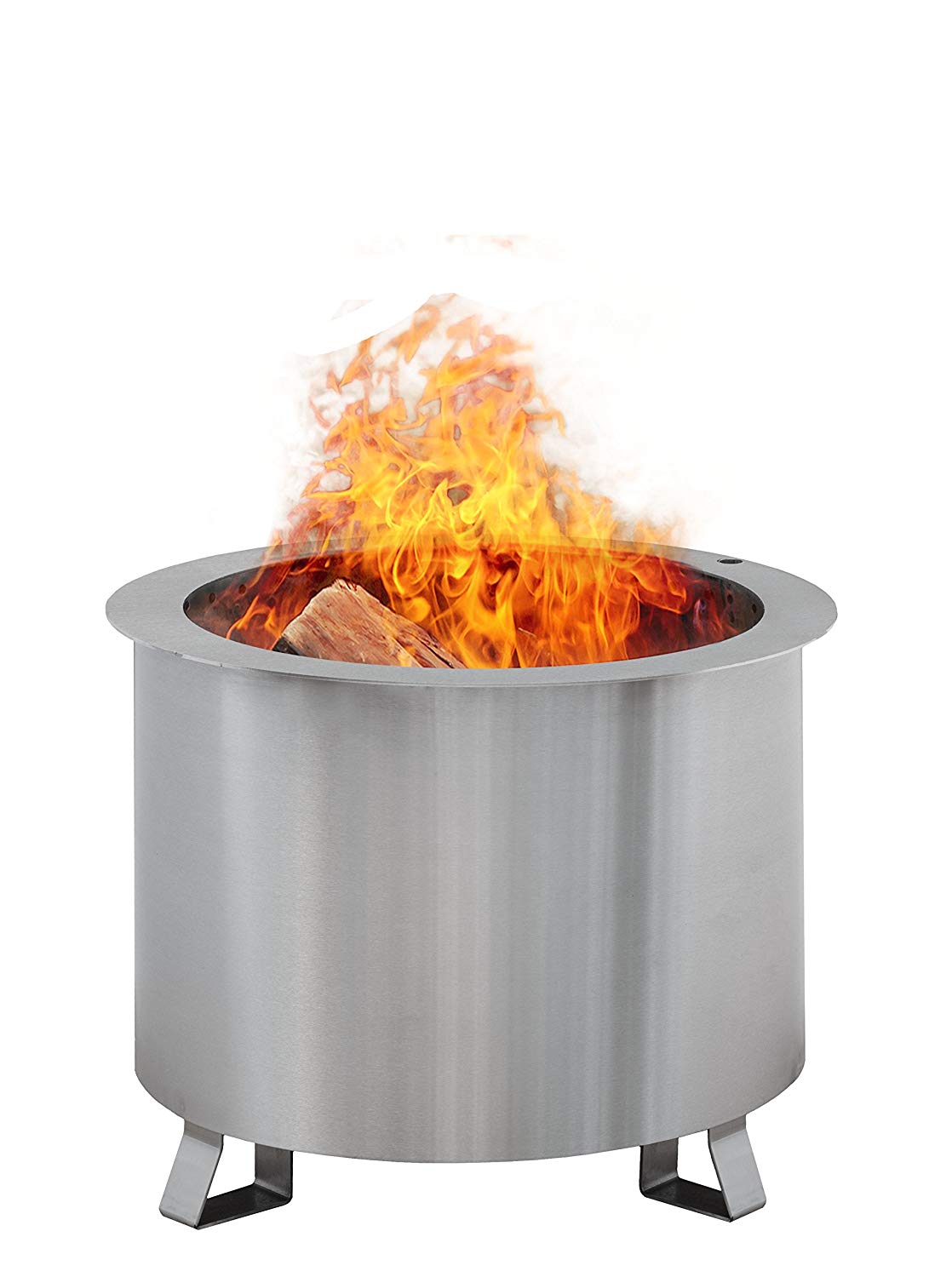 The best in the show for outdoor products which the manufacturing company of this option at the 14th Annual Vesta Awards is proof of the quality you are getting. The company is also popular for excellent designs on its various products as well as a long-lasting quality.

To produce a smoke-free wood burning, the Double Flame Patio pit has a wall design that uses stainless steel with holes at the top through which warm air from the bottom flows to burn of the smoke formed at the top of the fire pit. This also makes the burning process more efficient as the wood also burns in a more thorough manner.

Although it is not as light as a lot of other options which made it to this list, its sturdy construction is packed in a 42 lbs. body that's still portable for use on the beach, while going camping, or during a simple outdoor barbeque.

Proper use of the pit with preventive maintenance activities can make this fire pit last a very long time. This is considering the fact that it uses stainless steel which does not rust or corrode.

It is also compatible with various accessories but the most eye-catching is the swing-away grill which is sold separately by the manufacturers. Moving on to the pit itself, it comes with a heat-resistant handle and an adjustable post to give exceptional results.

Expand to see more
Features

Stainless steel material
Smoke-free burning
It weighs 42 lbs.
Rust and corrosion resistant
Portable and easy to take on trips
Double stainless steel wall for improved burning

Price

This product will cost users a bit of money for a lot of its high-quality features. So, if it does catch your fancy, be prepared to splash a little.

Conclusion

The design of this product which features a double wall makes it a more efficient means of burning wood. It reduces smoke and maximizes the heat output from the wood.

It generates heat very quickly
The stainless steel material provides a long lasting quality
Burning of wood produces a reduced amount of smoke
10. Regal Flame Camp Mate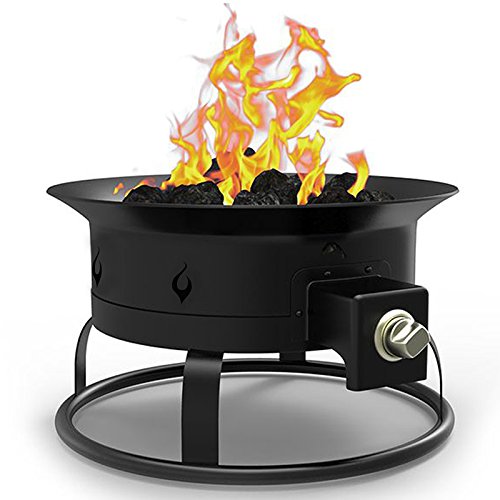 As soon as you open the package of the Regal Flame Camp Mate, you'll find it complete with all the necessary accessories. This includes an LP propane tank stabilizer, a 10-ft gas line and regulator, and a lid with straps.

Running on propane gas presents a lot of benefits to the users. This works with a 20 lbs. propane tank which provides flames up to 15 hours non-stop. The use of propane gas as fuel also eliminates the excessive smoke that comes with the use of firewood. In addition, users do not have to worry about cleaning up any residue leftover after use.

The warmth from this fire pit is also a great reason to have it around the home. Producing up to 58,000 BTU, the use of burners made of stainless steel ensures that they do not fall apart from the high temperature. Nevertheless, using gas, as you probably know is more expensive than burning wood. Although, in the case of efficiency, this fire pit is no slouch in that department.

Expand to see more
Features

Easy assembly
Lightweight
Portable
Lot of rocks to use
Very durable
Cover with carrying handles
20 lbs. propane gas lasts up to 15 hours
Stainless steel materials

Price

Another reasonably priced fire pit, this is more impressive considering it uses propane gas as fuel. Users can enjoy up to 15 hours running on a single 20 lbs. propane gas which burns more efficiently and saves cost.

Conclusion

Burn bans can be a limiting factor but this product remains legal granting users an uninterrupted use.

Legal to use during periods when a burn ban is in effect
There is nothing to clean up after using it
With every 20 lbs. propane gas tank lasting 15 hours, this is a very cost-effective option
Needs a few improvements in the instructions that come with it
Benefits of a Fire Pit
Fire pits have numerous outstanding factors which aid in drawing in more people each day. Some of these consist of:
Variety
You can select from a broad range of choices. Permanent fire pits are normally made from fire-resistant brick, stone or clay. These kinds of fire pits tend to be more detailed. Portable fire pits also come in a host of shapes and materials. Individuals have the capacity to move them to various locations around the yard and can even be taken on camping trips.
Numerous Options for Usage
Fire pits offer warmth, light and can even be utilized for cooking. By placing grills or grates above your fire pit, you can utilize it to make a barbecue. There are a lot of benefits associated with fire pit cooking. Additionally, if you have a large fire pit, you can cook for numerous individuals simultaneously.
Safety
When properly installed or constructed, fire pits are extremely safe. Permanent fire pits come with walls all around them that avert sparks from getting outside. You can also utilize wire mesh above a fire pit for increased security. With a knob, users can easily control gas patio pits.
Ambiance
The fire pit creates an atmosphere that is informal and relaxed. The heat the flame generates also adds to its comfortable ambiance. This ambiance is ideal for a range of occasions users can enjoy.
Criteria for selection/Factors for consideration
The following are some of the criteria we put into consideration before choosing the best fire pit. They include:
Style
The styles available for a fire pit are numerous with some offering a basic wood burning functionality while others have a very versatile use including burning, cooking, warming, and so on. There are a few fire pits which feature a square design which offers a platform for placing drinks and plates on the surface. Some also feature tempered glass surfaces which provide a beautiful reflection of the flames.
Regardless of how much everyone loves to make a fire in their home, there are lots of laws which restrict this activity. A lot of these restrictions are in place to control the greenhouse effect which fire pits cause. Agencies like the Environmental Protection Agency (EPA).
Wood or Propane as Fuel?
The choice of fuel often has a lot to do with user preference. Some people like the smell that wood leaves on their clothes and the sound of burning wood. Others, not so much. In any case, you have the option of wood or propane. Propane burns much neater with no residue.
Material Choices
The best material is one which is rust-resistant and long lasting. Stainless steel and cast aluminum have more advantages over copper for instance.
Cost
There is a great contrast between the more affordable fire pits and those which sell at high prices due to the features which they offer. If you're going for a customized fire pit for your home, then you should be ready to spend a lot of money for the excellent features you want to add.
Permanent or Portable?
Although most fire pits available for purchase are portable, people still go ahead to make custom fittings for a way to fix them permanently to a location. You need to consider if the fire pit will be for use only in your home or if there will be situations where you will need to go to the beach or camping with a fire pit.
Safety Factors
A lot of fire pits come with a few safety features and accessories to prevent injury but it falls on the users to put rules in place. You will be making an open fire so you need to consider measures to prevent children from getting too close.
Uses of the Fire Pit
The purpose of the fire pit is an important aspect to consider. With so many designs offering various features, you should understand that each has a specific function. Will the fire pits be for warming your body, creating a form of attraction, or for cooking?
Location
It is important to learn about the laws governing the use of fire pits or a fireplace around your location. Any information on recreational fire can also be very helpful. There may be certain rules you need to follow which may affect how you set up your fire pit as well as the option of fire pit you can purchase.
There are also a few restrictions on places where you can set up a fire pit. These are locations such as lawns, wooden deck, indoors, close to structures, or too close to the home.
Frequently Asked Questions
Which to buy?
You can buy any of the fire pits above, or you can choose anyone with the "criteria for selection section" that we've provided above.
What wood for fire pit?
Some of the best wood that you can burn in your fire pit are white oak, red oak, white elm, white ash, sycamore, and even yew. Of course, there are more types that you can burn—all with a good fragrance like the ones mentioned.
What metal for fire pit?
If you're talking about the kind of metal used in constructing a fire pit, steel is a very good material that's used.
Subscribe to our newsletter