Best Motion Detectors Reviewed & Rated
last updated:
Apr 06, 2021
Motion sensors are the mainstay of any home security or automation system. These simple devices are integrated into a home automation system and alert the user of any motion. Though they are somewhat simplistic, they are versatile and different brands boast of various features for the best results.
Our Top 3 Picks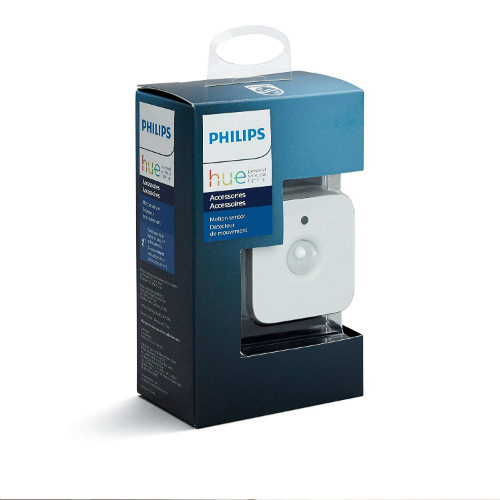 Philips

Our rating
Affordable
Price:

See Here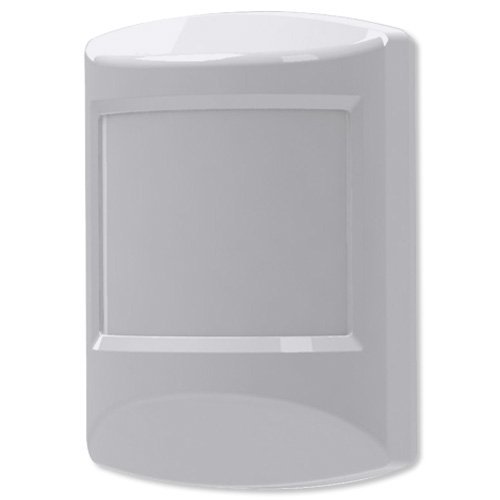 Ecolink

Our rating
Durable
Price:

See Here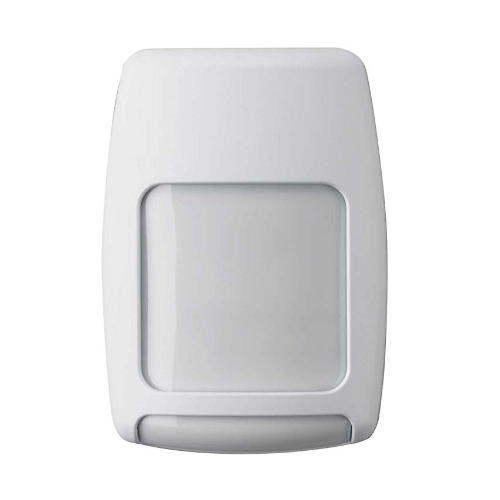 Honeywell

Our rating
Design
Price:

See Here


Surprisingly, motion sensors are for a lot more than security. First, they are great for automatic lighting for safety or kids at night. They are also ideal for detection intruders inside and outside or for alerting you should your kids break curfew. Moreover, they are great for keeping your kids out of areas you don't want them to go, for opening gates or for turning automatic faucets on or off.
Nevertheless, picking the best unit can be a challenge, seeing the many devices in the market. However, we have provided a buying guide of what to look for, and some recommendations of the best motion sensors.
10 Best Motion Detectors
1. Philips Hue Smart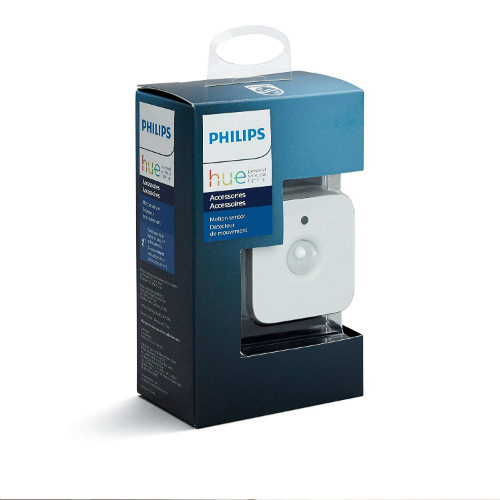 The Philips Hue motion sensor is a light detector and works only with Hue bulbs. It is already a sensation amongst smart home enthusiasts, and it is easy to see why. The device is compact, reacts fast to motion and easy to use. It is also aesthetically pleasing and will blend with any home décor, making it a favorite for smart home fans.

First, the unit has a motion sensor and a brightness sensor. The sensor in on the center while the brightness center is right above. Moreover, it includes two triple-A batteries that will serve you for 2 to 3 years.

Another exciting feature is that it is free standing and you can leave it on any flat surface, and the 16.4ft range is perfect for any room. Moreover, it is compatible with Amazon Alexa for voice control. However, you get the most of the device when you connect it to the Hue App. Here you can adjust brightness, the reset time, and the number of light bulbs it links to. You can also choose a specific light color. However, our best features were the magnetic base and the daylight sensor.

Magnetic base – First, you can screw the base into any location, but it is more versatile than that as it is magnetic. You can attach it to any metallic surface say the fridge and move it around as you please. Furthermore, you can adjust the sensor anyway you want.

Brightness sensor – One downfall of most motion light sensors is that they cannot adjust to light up only during night time. However, the brightness sensor ensures the gadget does not activate any Hue bulb during daylight. You can change the sensitivity between high, medium, and low.
The field angle of this unit is 100-degrees and dims 30 seconds to the reset time.

Expand to see more
Product Features

Shape: Square
Power: Batteries
Magnetic base
2-year warranty

Who is it for?

The Philips Hue Motion Sensor is for homeowners already using Philips Hue Bulbs.

It blends in with most home décor
It is versatile as you can use it free-standing, or connect it to any metallic surface
It reacts fast
Fairly priced
The reset time cannot be less than one minute
It is not compatible with IFTTT and Samsun Smart Things
You cannot set custom colors
2. Ecolink Z-Wave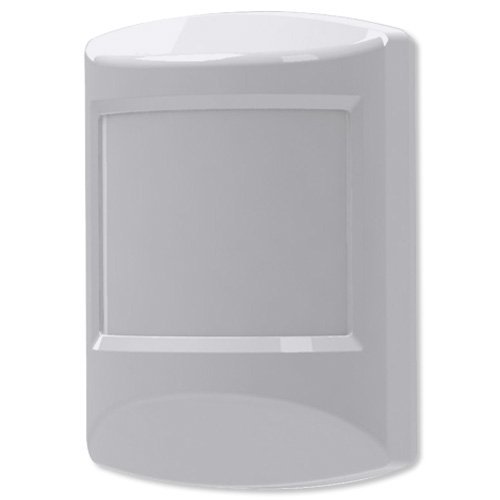 The Ecolink Z-Wave is a passive infrared sensor that is ideal for either home automation or security. The range of the unit is quite generous, and it is compatible with most smart home systems (more on this later).

First, you will appreciate the long battery life the company guarantees. You can expect it to last up to 5 years using the standard settings. Moreover, the unit is easy to mount using the double back tapes or the mounting bracket. You can install it on a flat wall or a corner. Ensure you get the right side up otherwise; installation will be a challenge.

The factory reset time of this detector is 4 minutes which is rather long. However, you can change this to 5-seconds using the test mode, but this will run down your battery faster. As for our top features, we appreciated that it is pet safe and compatible.

Pet Safe – A shortcoming of most PIR detectors is that pets easily trigger them. However, the Ecolink Z-Wave curbs this thanks to the jumper. You can set the unit, so it doesn't detect pets up to 55 pounds preventing false alarms.

Compatible – Homeowners appreciate compatibility in smart gadgets thanks to the flexibility they offer. You can use devices from different companies, and you are safe from manipulation to stay within one brand. The Ecolink is compatible with Vera Plus, Vera Lite, Smart Things, Homeseer, and Piper NV. However, though compatibility is not assured for other hubs, customers report that it is compatible with the likes of Wink.

Expand to see more
Product Features

Power: Battery-powered
5-year battery life
Style: Z-Wave Plus
Pet-immune

Who is it for?

The Ecolink Z-Wave is for individuals looking for compatibility and versatility in motion sensors.

The unit reacts fast to motion
It has a long battery life; twice that of other units
Installation is a walk in the park
False alarms are few as it is pet immune
The reset time is somewhat long at 4 minutes, and the battery type though not a rare make isn't readily available
3. HONEYWELL INTRUSION 5800PIR-RES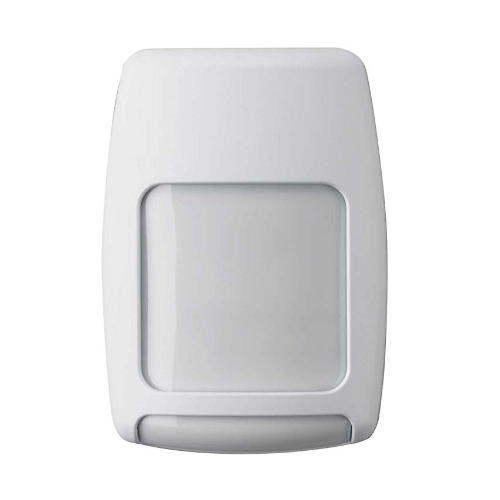 The Honeywell is a PIR (passive infrared) motion sensor, with an 11m * 12m coverage. The reach is enough for any room or even outside. However, this is an add on, and you need a Honeywell Alarm Panel or other panels that it is compatible with.

One fascinating feature of the 5800 is that it is easy to install. You can screw it onto any drywall, or use the double back tapes to stick it on any surface. Using the double back tapes is relatively straightforward, and they are quite strong.

The Honeywell 5800 is best for use indoors and in areas where it is not facing the windows. However, you can install it on the porch provided it is facing the wall. You will also appreciate the battery life of this unit. It uses 3V lithium batteries which you can expect to last between 3 to 5 years. Nevertheless, our top features were the pet immunity and the working temperature.

Pet immunity – To prevent repeated false alarms owing to your furry friends, the 5800 is immune to pets up to 80 pounds. However, it is only safe to pets that stay on the floor. To prevent false alarms avoid directing it at couches or stairs.

Temperature range – The 5800 PIR working temperature is between -4°F and 131°F allowing for cold operations in unheated areas.

Expand to see more
Product Features

Coverage: 35' * 40-feet
Installation height: 7-9 feet
Type: Passive infrared
Battery life: 3-5 years

Who is it for?

The Honeywell 5800 PIR Res is ideal for homeowners with a Honeywell Panel for the best results.

It includes a look down zone to monitor even the area directly below the sensor
The installation height is between 7' and 9' leading to fewer restrictions
The circuit board is covered reducing the likelihood of installer initiated damage
The batteries are easy to acquire
It blends with any décor. Moreover, you can paint the empty cases to match any setting
Black bug guards result in fewer alarms from white light
One shortcoming of this unit is the inconsistent extended-range pickup
4. Motion Detector Alarm w/ Chime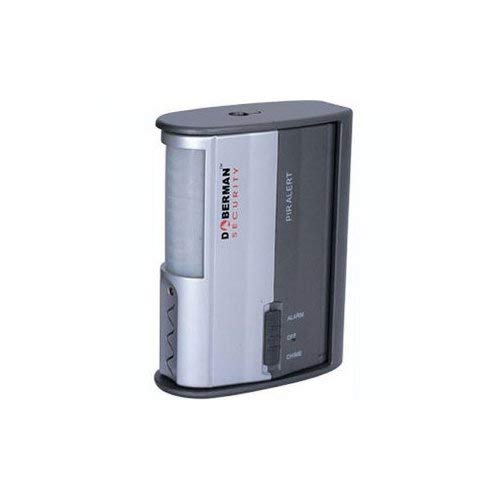 If you are looking for a standalone option, that is a unit that will alert you of movement or say an intruder without it requiring integration; we recommend you get the Doberman Security. The SE-0104-2PK is an infrared unit which will save you the repeated false alarms from inanimate objects. Once motion is detected, it triggers an alarm or a chime depending on the preference.

The range of this gadget is 15ft and 60-degrees vertically and horizontally. However, you can alter the horizontal view with the bracket (more on this later). The unit uses 9V batteries which have a generous life, and are easy to replace. However, our top features were the installation bracket and versatility.

Installation bracket – This rather simple device provides extensive coverage thanks to the innovative bracket. Screw the bracket onto any flat wall, and attach the detector. First, this design reduces the possibility of user installed damage. Moreover, the gadget can swivel up to 270-degrees thus increasing the coverage.

Versatility – First the Doberman motion sensor works in dark areas, and thus you don't have to worry about intruders at night. You will also appreciate that you can power off the unit to avoid repeated false alarms, or set it to chime or alarm using a three-way switch. For top security, we suggest you set it to alarm (top) and expect a 100db alert. Moreover, the reset time is noteworthy at 30 seconds, and thus you don't have to worry about any continued disturbance. The chime (down) is more of a doorbell sound that repeats twice and is best to monitor kids and pets.

Expand to see more
Product Features

Coverage: 15ft and 60-degrees vertically and horizontally.
Swivels up to 270-degree
Reset time: 30 seconds for the alarm and 2X for the chime

Who is it for?

The SE-0104-2PK is for homeowners looking for standalone motion detectors.

It is affordable, and you are getting top value for your money
Great for keeping pets out of rooms they are not wanted
The alarm is quite loud for use in offices or bedrooms
5. Guardline Wireless Driveway Alarm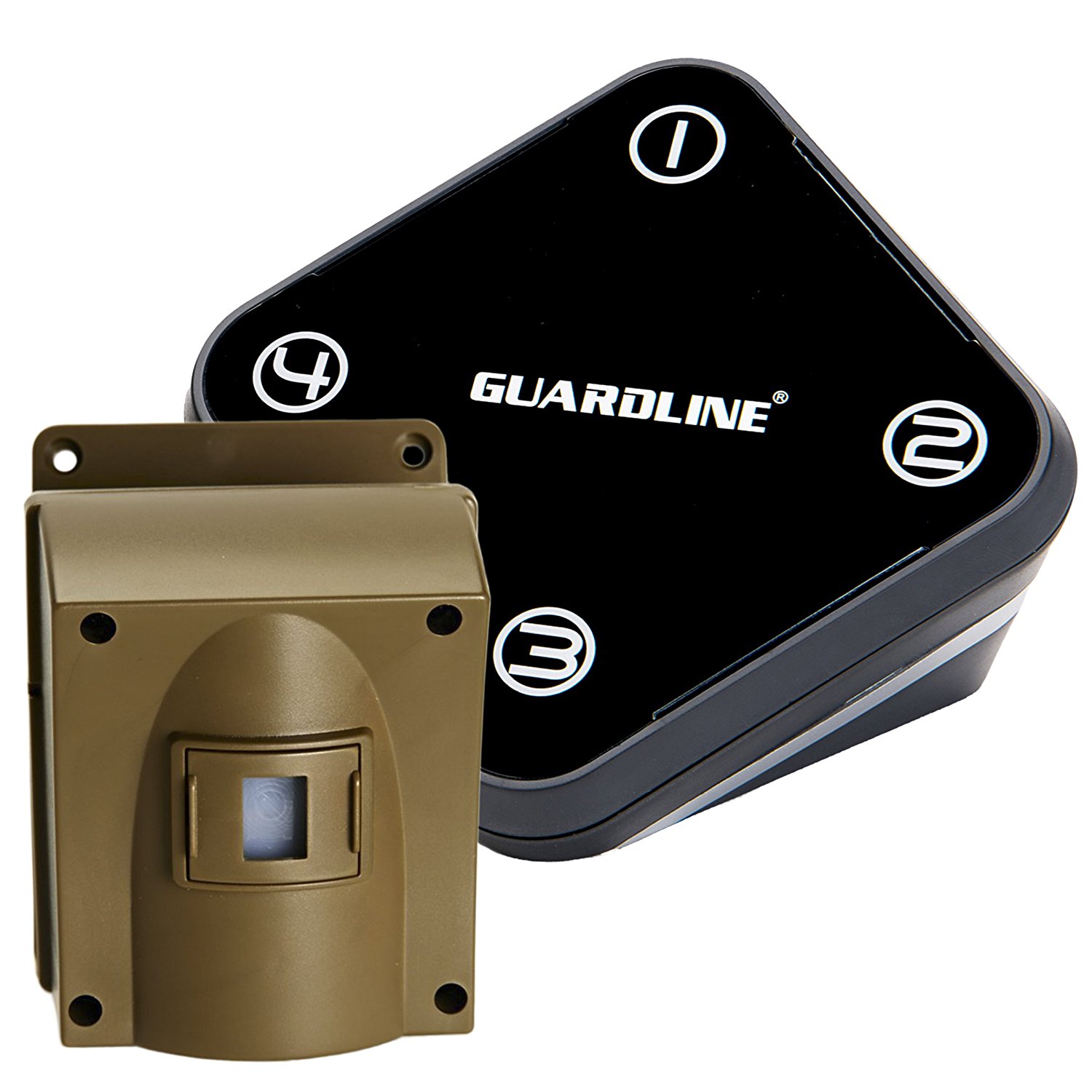 The unit includes a wireless sensor and a receiver unit which can be hardwired. The receiver unit has an impressive ¼ mile range, but you have to consider the obstacles in between. However, this unit works well in most American homes.

You set the sensor on the driveway or walkway, and it sends a signal to the receiver unit whenever the beam is interrupted. The receiver then emits one of the dozen chimes programmed into it alerting you. The receiver can pair with up to 16 sensors increasing the coverage.

Another remarkable feature is the 4 AAAA batteries included in the receiver unit that acts as a backup in case of a power outage. The sensor works with 4 AA batteries that should be replaced annually. However, our best features were the customizability and the 12V device switch.

Customizability – Thanks to the small switchboard included you can customize the unit to your preference. First, you can set the sensitivity to detect thins moving faster or slower. You can also adjust the distance of the beam, so it only spots things on the driveway or walkway. Furthermore, you can improve the mode so that sensors only work at night, or to add a delay.

12V Device Switch – The internal switch allows you to pair one of the sensors 4 zones with any 12V device. You can pair it with a floodlight or any separate alarm system.

Expand to see more
Product Features

Receiver range: ¼ mile
Lifetime warranty guarantee
Power source: Sensor- batteries, receiver – wired but with battery backup

Who is it for?

The Guardline motion detector is for driveways or walkways. It is an outdoor unit and is designed to alert you of people or cars approaching your home.

Connecting the sensor to the receiver is simple
The range on the receiver is impressive and will work with homes with long driveways
It withstands the elements as it is well-built
Includes a screwdriver to install batteries
The Guardline isn't pet immune. Thus you can expect an occasional false alarm from birds or insects
6. Interlogix Indoor Wireless SAW PIR Detector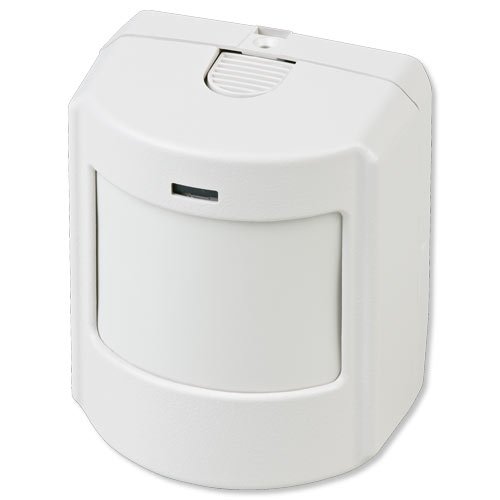 The Interlogix is designed to work with alarm systems, and thus you should not get it to
automate your house
. Also, it is not standalone and works with compatible alarm systems such as the Interlogix control panel.
First, you will appreciate the ease of installation. The unit includes a base that you screw onto any flat surface, and then attach the device. This design makes installation a walk in the park and prevents user installed damage. The company recommends that you install the motion detector between 7.5' and 8-feet. However, for top results, set it up at ankle height so that thieves cannot crawl past it. Nevertheless, our top features were the tamper switch and pet immunity.
Pet immunity
– The GE Interlogix motion detector is immune to pets up to 40 pounds preventing a small or medium dog, or a large cat from causing repeated false alarms. However, it doesn't prevent alarms by a large canine. However, you can install the unit upside down, so it emits a signal upwards.
Tamper switch
– The GE Interlogix has a tamper switch that alerts you when someone interferes with the unit. The tamper switch is somewhat of a hidden button on the back cover that sends a signal every time someone interferes with it.
Expand to see more
Product Features

Height: 7.5 to 8ft
Pet immune: 40 pounds
Low battery indicator
Tamper switch

Who is it for?

The GE Interlogix is an indoor motion detector and works with alarms. Moreover, it is for people with a compatible alarm system.

Has a low battery indicator that warns you when the unit is running low
Installing thanks to the included base is simple
It is compatible with various security systems and panels
The unit sends a signal to the panel every 64 minutes to ensure operations are uninterrupted
Large canines easily trigger it
The instructions could be better
7. Heath/Zenith HZ-5316-BZ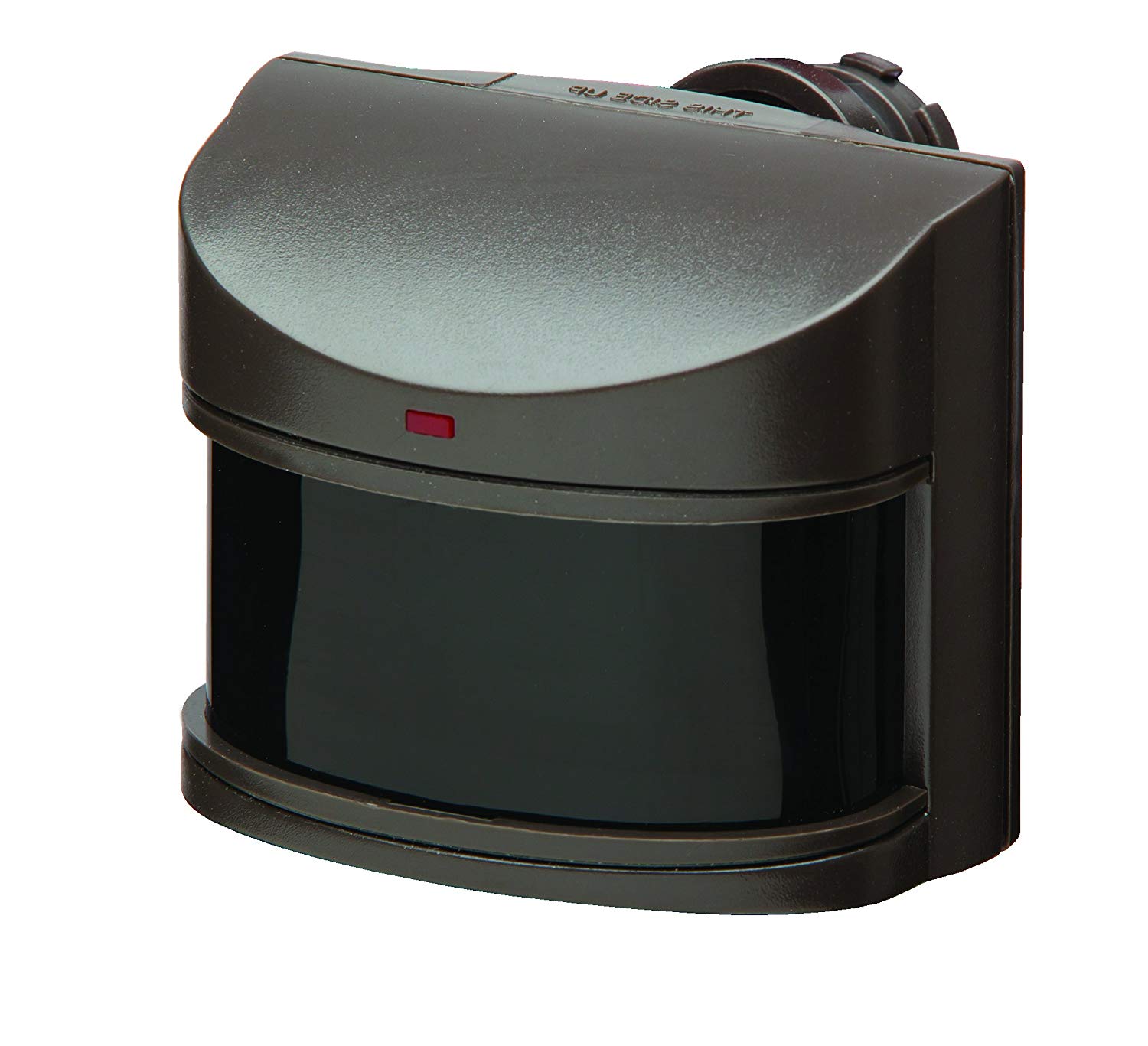 The HZ-5316 is renowned for the impressive range (more on this later). Also, it is an affordable unit at a fraction of the cost of some detectors on this list, it is durable and works well with a high star rating on Amazon which speaks of the quality.

First, this is an outdoor unit, and it will withstand the elements. However, it only lights up and cannot be used together with an alarm system. The gadget includes a 500W bulb that will light up whenever it detects motion. However, our best features were the range and the dual brite 2-level technology.

Range – The Heath Zenith HZ-5316 is designed to cover large areas and has a 100-foot range. It gives you a sense of safety and ensures an intruder cannot get close to your home without being detected. However, this is a PIR unit, and thus it might not always be constant.

Dual Brite 2-level technology – This patented tech gives the HZ-5316 an edge over other motion sensors. The technology ensures that the light only comes on at dusk. Nevertheless, the level 2 tech ensures it shines brightly should it detect motion. Moreover, the second timer sets how long the gadget will stay on after it has detected movement; that is if you don't want it to stay on from dusk to dawn. You can set it to 1 min, 5 minutes, or 20 minutes.

Expand to see more
Product Features

Range: 100 foot
One year warranty
Max Bulb Wattage: 500W
Selectable timer: (1, 5, or 20 minutes)

Who is it for?

This is a standalone detector and best for people who are in the market for a motion detector. It is excellent for walkways and driveways.

Includes a one year warranty
Sturdy to withstand the elements
Affordable
The range is not constant
8. Wireless Motion Alert System

The CWA2000C has been around for a while and for good reason. It is a driveway passive infrared motion sensor that will alert you of people and cars coming up your street. It has an impressive ½ mile range and is ideal for homes with long driveways.

The gadget retails with a sensor, a base, and installation hardware. Installation is a breeze, thanks to the rear mounting flange. It also includes a ball joint for articulation.

Other than the ease of installation, you will appreciate that the detector is expandable up to 4 sensors. The sensors run on AA batteries while the base needs an AC outlet.

The sensors aren't waterproof, but they are designed to withstand most elements. Nevertheless, out top features were the sensitivity and customizability.

Sensitivity – The CWA2000C includes a red button that you can use to adjust the sensitivity of the sensor. At position one, the gadget is highly sensible and prone to false alarms from birds and pets. At position 2, the motion sensor has lower sensitivity, but it can still detect vehicles and people.

Customizability – You can set each of the detectors to its sound, so you know from which direction a person or vehicle is approaching from.

Expand to see more
Product Features

Range: ½ mile
Adjustable sensitivity
120-degree viewing point
Expandable to 4 sensors

Who is it for?

The CWA2000C is an outdoor sensor and is for homeowners who want to monitor their driveways, porches, and walkways for visitors.

It is affordable compared to other driveway detectors
It includes a snooted front to shade the reflector from sunlight
Users have complained of it failing to detect vehicles especially in cold weather and false alarms
9. Honeywell DT8050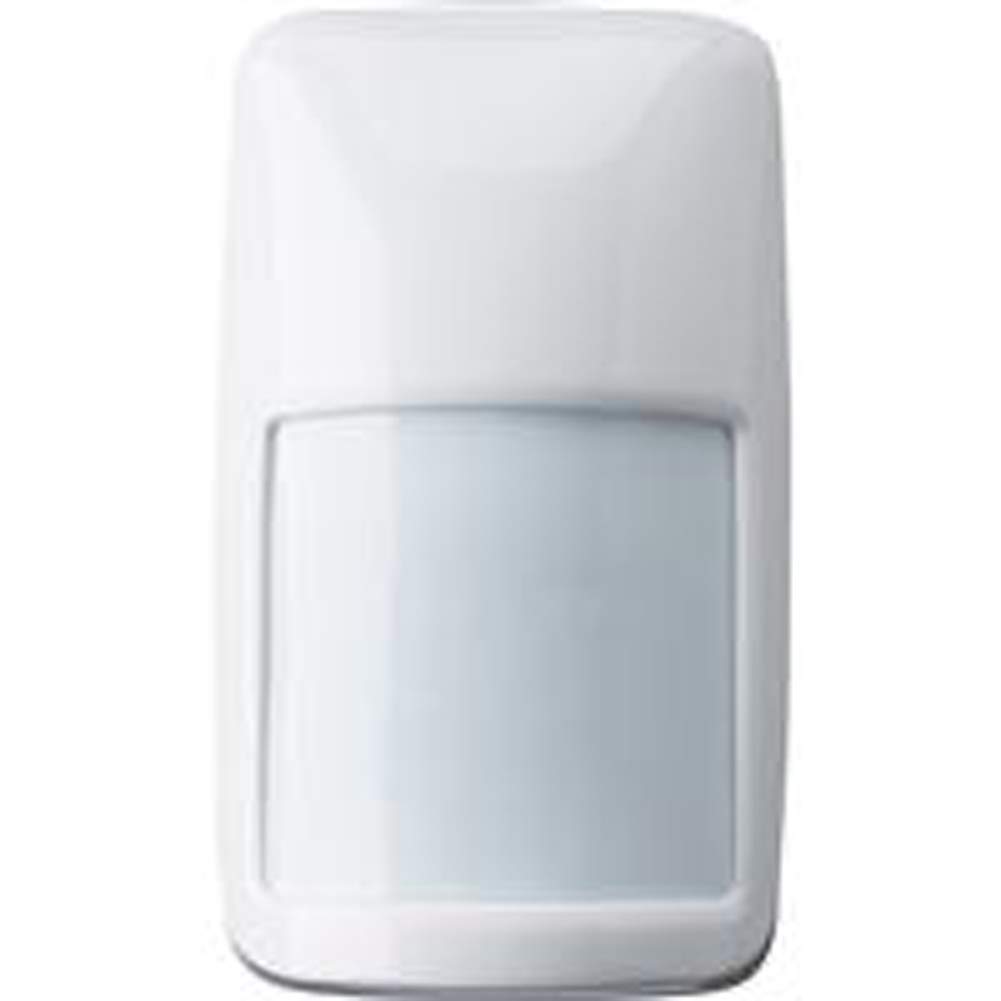 Honeywell DT8050 is designed with the user in mind, and thus it is easy to install, has high-level performance, and is trouble-free to work with. The unit includes a mounting bracket which you screw onto any wall and then attach the detector. This design reduces user installed damage as does the sealed optics and electronics (more on this in a bit). You can install the unit at any height from 6'9" and 8'9" which increases the versatility.

One fascinating feature of the DT8050 happens to be the housing. The unit is ABS plastic, and thus it is durable withstanding shock and impact. Moreover, it blends with any commercial or residential interior. The sealed optics and electronics protect the sensitive parts ensuring that the fragile components aren't damaged during installation, and aren't affected during installation or by insects and drafts.

The DT8050 also happens to have wall to wall coverage, with a switch selectable look down zone. The latter is designed to monitor areas directly below the unit. The protection against false alarms is unmatched as it the white light immunity thanks to the black-bug guard that provides a 6,500 lux of white light immunity. However, our best features were the sensitivity optics and dual-core processing.

Sensitivity Optics – The DT8050 provides uniform sensitivity over the entire spectrum. Thus it will detect targets at the edge of the area as quickly as it senses people directly in front of the detector. This superior coverage provides superior coverage.

DUAL-TEC (dual-core signal processing) – The DUAL-TEC technology analyses both microwave and passive infrared signals for the best results. Thanks to the microcontroller, it can support advanced functions from concurrent diagnostics, digital adaptive microwave threshold, and even bidirectional temperature compensation.

Expand to see more
Product Features

Range: 35" and 50-inches
Installation height: 6'9" to 8'9"

Who is it for?

Well, the Honeywell DT8050 is a pricey unit, and thus we can only recommend it for people who are on a generous budget. Furthermore, it is for indoor use only, and you need a Honeywell system or any compatible hub.

The sensitivity level is exceptional. It picks up people at the edge with ease
It is solidly built with features to protect the sensitive components
It is safe from drafts, bugs, and white light
Testing the unit is straight forward
10. Dakota Alert DCMA-2500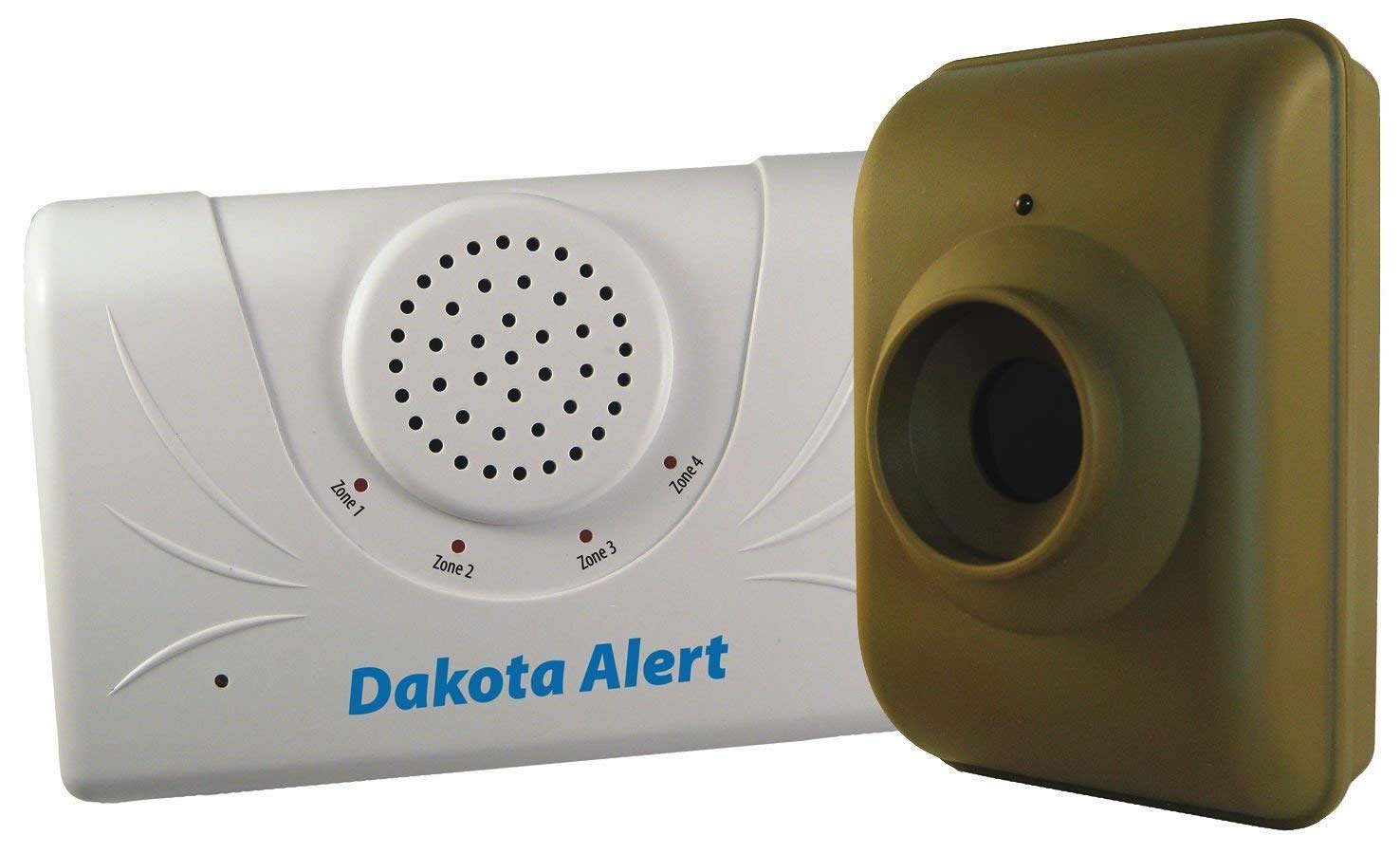 The Dakota Alert DCMA-2500' is an outdoor sensor that will help monitor people and vehicles coming into your home. The unit retails with a transmitter and a receiver. The transmitter needs 9V batteries to operate, while the receiver should be connected to a 120V outlet. The range on this unit is ½ mile giving you broad coverage.

The Dakota Alert is a passive infrared detector and thus will only pick up people and vehicles. However, you can expect some false alarms from the occasional deer or pet. The sensor has a 50' detection range, and thus your driveway is fully covered.

Another fascinating sound is the receiver sounds. The device has four sounds; classical, Westminster, whistle, and ding dong. It also incorporates LED lights that will blink the number of times the transmitter is activated. However, our best features were that it is expendable and waterproof.

Waterproof – The Dakota Alert DCMA-2500' is waterproof, and thus you can install it outside without having to worry about the rain. Moreover, it performs exceptionally despite the conditions.

Expandable – The gadget is expandable to 4 transmitters to cover various zones. Each transmitter is assigned an LED light, and you can assign, and you can assign a tone. This allows one to know form which zone/direction a vehicle or person is approaching from.

Expand to see more
Product Features

Power: Receiver – 120V, transmitter – 9V batteries
Range: ½ mile
Motion detector range: 50-feet

Who is it for?

The Dakota Alert 2500 is an outdoor motion sensor and is for people with sizeable grounds. Preferably farmers and ranchers.

It is well built and thus will serve you for lengthy periods
Has a 5-minute exit delay and therefore you can leave the house without setting it off
It is expandable
The range is shorter than the indicated 2,500-feet
The transmitter is easily set off by wind and white light
Motion Detectors Selection Criteria

Type
There are various motion sensors in the market, and each has its pros and cons.
Passive infrared – These are the most common motion sensors in the market and for good reason. They detect heat and motion and thus eliminate false alarms caused by blowing foliage or other inanimate objects. The gadget creates a protective grid, and any moving object will interfere with some rays in the network triggering an alarm or a particular action.
Microwave sensors – If you want a device with impressive coverage, we recommend you get a microwave sensor. These emit microwave pulses and pick out the reflection from moving objects. However, they are quite pricey likely to cause false alarms by inanimate objects such as foliage.
Dual Technology – These combine features from two types of motion sensors and are ideal for curbing false alarms. A dual tech sensor could be passive infrared and microwave tech. In this case, no alarm will go off should the microwave sensor detect motion from foliage as it will not trigger the passive infrared.
Ultrasonic – These units emit an ultra-high frequency of sound and trigger an alarm should the sound be bounced back.
Vibration – Vibration motion sensors include a lever and a small weight. Any vibration owing to motion triggers the alarm. One drawback is that it is predisposed to false alarms.
Area reflective – The area-reflective sensor relies on infrared rays sent from an LED light to measure the distance to a person or object. The alarm is triggered should the distance change.
Outdoor or Indoor motion sensors
Indoor and outdoor sensors are different given the different conditions in which the units will be operating.
Indoor sensors
Other than the security, indoor motion sensors lower utility bills and increase the convenience. Whether you are coming home at night and your hands are full, or for your kids when they want to hit the bathroom in the middle of the night, automatic lighting goes a long way to ensure you don't fumble and stumble.
Furthermore, these sensors reduce utility bill as the lights are only on when needed.
Nevertheless, they do have their shortcomings as you could be doing something late at night and you don't want to bother your partner, but the lights will come on anyway. Also, you could be reading or working when they suddenly go off. We recommend you invest in a timer to mitigate these risks.
Outdoor Sensors
These devices are for security reasons, and you should use them in tandem with security cameras. However, pets and pests can trigger them, and thus you should think hard before launching to avoid repeated false alarms.
Reset Time
Reset Time is the time the unit takes to shut down whatever it activated (say lights or an alarm). For example, a motion sensor with a one minute reset time will take one minute from when it starts to when it deactivates provided no motion is detected.
Battery Life
We recommend you get a unit with long battery life so that it doesn't give in at a crucial moment. Moreover, you will spend less on batteries, and you will change them less frequently.
Sensitivity
Get a gadget that is pet safe lest you run the risk of your furry friends turning on the lights every time they stroll by.
Compatibility
Compatibility is an essential feature, seeing as the home automation and security industry is massive. We recommend you get a unit that supports most home automation infrastructure.
FAQS
What are driveway motion sensors?
These are outdoor detectors that are commonly used on driveways. They differ from other units in that they include a receiver and have a range of up to 400 feet. They can also be used to monitor sheds, stables, pools or any other large structure. However, for warehouses, private hiking trails, or extensive areas, we recommend you get a device with a range beyond a ½ mile.
What are some of the causes of false detections?
Pets and particularly large canines are the most common causes of false alarms. However, some motion sensors can be triggered by sudden sounds, bursts of air, and white light. We recommend you get a unit which is pet immune to prevent most false detections. Also, direct your motion sensor from areas where there can be sudden movements such as blinds. You can also adjust the sensitivity of your gadget, so it doesn't pick up these motions.
Are motion detector guard dogs a thing?
Well, this often sounds silly, but yes there is. Motion detector guard dogs are for people who desire a guard dog but don't want to deal with an actual pet. The gadget produces barking sounds should it detect a person approaching. Furthermore, seeing as motion detectors are easy to hide, you can secure it in a hard to see area. Finally, you can adjust the volume and speed of the barking depending on how far or close an intruder is.
Conclusion
Motion detectors are an vital part of any home system. Though they are often used for intruder detection, they are versatile and help with home automation. You can rely on the devices to light up rooms you walk into or start and stop home systems such as fans, and furnaces. However, ensure you get a gadget that meets your expectations and is within your budget. Finally, if there is something we missed, please let us know in the comments below.
Subscribe to our newsletter