Best Electrical Tapes Reviews & Price Comparison 2023
last updated:
Apr 06, 2021
Electrical tape is a toolbox essential for professionals and DIYers in the business of handling electrical wires and cables among other automotive components. A simple roll comes handy when insulating, repairing or protection connections whether at home or for professional works. Unlike other types say masking, duct or packaging tapes, electrical taping products are specially designed to work with electricity just as the name suggests. Of, course some people may use them for other different applications from what they manufactured for including color coding, decorations, and wrapping handles of work gear or sports equipment. So let us say there is just no limit to what you can do a piece in your possession.
Our Top 3 Picks
[srpshortcode id="12871″][/srpshortcode][srpshortcode id="12872″][/srpshortcode][srpshortcode id="12873″][/srpshortcode]
Electrical tapes come in many colors and are mainly made of rubber, mastic, PVC or vinyl plastic, and varnished cambric. Of the four materials, PVC is the most preferred, due to its favorable characteristics in light of holding onto surfaces, sturdiness, and resilience just to mention. When it comes to buying the best tape for the job, it's normal that everyone wants to settle for a product that provides reliable and durable performance. However, the market currently offers dozens of such products from equally different manufacturers so identifying what works to satisfaction takes a thoughtful a process. To help you through the selection we have listed important considerations you should have in mind and some of the best options you can try.
10 Best Electrical Tapes
1. 3M Scotch Super 33+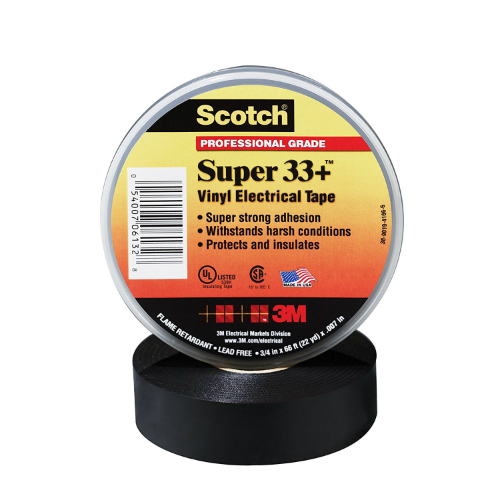 The 3M Scotch Super 33+ is by far the most popular top quality premium grade vinyl electrical tape. Otherwise referred to as '33' by many in the professional cycles, this tape is a favorite for electricians and other
professionals
for its amazing qualities. As far as insulation and mechanical protection are concerned, it leads the way. No wonder it stands out as the best pick for all-around use. There are several explanations concerning the gold standard ranking of this tape from 3M as is widely held by various users. Going by online reviews alone, this product can by no means be compared to any ordinary tapes that have flooded the market in the recent years.
With a thickness of 7-mil, the Scotch Super 33+ vinyl electrical tape is thin but sturdy. It stretches perfectly covering and fastening whatever object or surface in question much to the satisfaction of the user. Of course, it also boats of superior quality and long lasting adhesion that matches the requirements of both indoor and outdoor applications. The tape is made of great splicing compounds that can work with nearly any element.
Expand to see more
It is responsive to pressure, and since it comes with a dependable PVC backing, it is bound to provide impressive resilience in the face of harsh influences. Talk of protection against abrasion, water or any other liquid splashes, UV rays, and rusting for example, then this tape has it all. It is strong enough to withstand adverse temperatures, weather, and environmental exposures. At any point or place of use, you can always remain confident because the performance is nothing but excellent.

Since the Scotch Super 33+ is designed primarily for electrical insulation, it can work effectively in temperatures ranging between 0 and 221 degrees F (-18 to 105 degrees C) and also provide splicing for cables handling up to 600 volts. The excellent insulation properties guarantee consistent performance under various places of application. For instance, it means the tape can be utilized to provide protective jacketing for high-voltage wires not to mention low voltage cables. The dielectric nature of the Super 33+ makes it flame retardant making it ideal for any other random wire binding jobs as well.

While it appears to be a very light tape, you will be impressed at the level of stability and conformity of this electrical tape. It unwraps smoothly from the roll stretching and lining as required leaving no gumming or residue in the hands or surfaces where it is being used. All this time it maintains a "return memory" that allows it to roll tightly into position whether the surface is regular or irregular. In the end, you get a perfect wrapping or insulation. Moreover, the Scotch Super 33+ tears well and can be cut quite easily so you can always have even covering.

The tape is available in multiple dimensions all offering sufficient length for many rounds of use. So you don't have to buy several rolls to complete a single project. In fact, if you are going to use it occasionally, you can manage with a single piece for years. Thanks to the storage container that it comes with, you can keep it safely in its original form as long as it may be necessary.

If you are in need of an all-weather tape that works brilliantly for all manner of electrical projects the Scotch Super 33+ meets the standards. Although you will have to pay slightly more to have it as compared to other alternatives in the market, you will find the quality worth it.

Highly conformable
Offers stable and reliable adhesion
Certified by Underwriter Laboratories telling of its
quality
Suitable for indoor and outdoor use
Lead-free          
Does not give in under extreme temperatures
Comes with a nice storage container
Durable
The application may be limited to electrical works only
2. Duck Brand 299006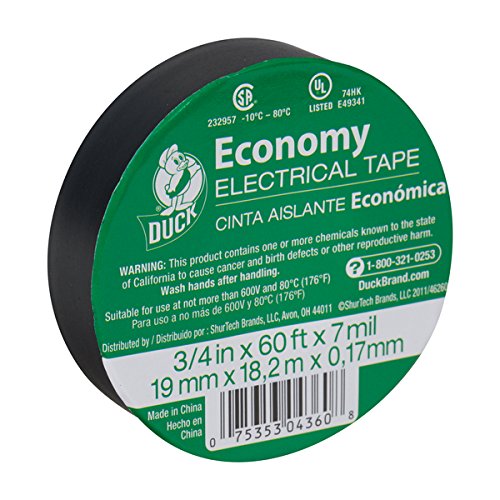 Whether you are an electrician, technician, engineer or just a DIY guy who needs to insulate, wrap or bind some wires together with an adhesive tape; no doubt this will work for you. The Duck Brand 299006 is an all-rounded product that professionals and ordinary handymen can make the most of without the slightest limitation. Made of super durable vinyl that is known to offer befitting taping properties, this is the go-to tape that you will find worthy in your toolbox any day.

Apart from the vinyl used in making this tape, it also boasts of a flexible backing composed of rubber-based adhesives, so bonding with various surfaces comes easy. Whether you are handling smooth or irregular surfaces, it conforms smoothly and tightly. This tape peels off the roll easily and will hold effectively at the point it is placed in a few seconds. The stretch limit is nothing but excellent just like the adhesive capacity.

Expand to see more
The quality of the materials utilized in the manufacture makes it ready to endure various unfavorable influences in addition to the ordinary wear and tear pressures. Although it comes with a thickness of only 7-mil, it can withstand adverse weather conditions such as extreme heat and water spills. It is also flame retardant hence will maintain its high performance regardless of the influences. In reality, this tape is designed to hold up when used on cables with a capacity of up to 600-volts and can also stand temperatures between 14-Degree F and 176-Degree F without any serious hindrance to its ability.
Again, while this tape is by design meant for electrical use, it is nevertheless ideal for a wide range of applications. For instance, you can also utilize it in patching hosepipes, sealing
leakages
or even wrapping the handles of your favorite equipment. It is, therefore, a multi-purpose option whose use is not limited to electrical applications only but can also work reliably in situations where you are conditioned to involve it in different taping needs.
This is a strong electrical tape that will live to the expectations of typical indoor and outdoor use. It can bond or insulate just about anything that you may throw at it considering its incredible stickiness. Working with this tape is equally simple since it leaves no gum and cuts easily with any sharp implement. At its price, it is affordable and worth your hard-earned cash any day. Above all, the unlimited ways you can make use of this tape makes it a good pick for use all-rounded use whether at home or professionally.
Easily comes off the roll
Offers incredible stretch
Offers superb adhesion
Maintains consistent performance even under extreme pressures
Suitable for a wide range of taping applications
Flame and weather resistant
Bonds quickly on the surfaces of use
Has enough length for many rounds of use
Easy to work with
May not hold for too long under high pressure
3. 3M Scotch 35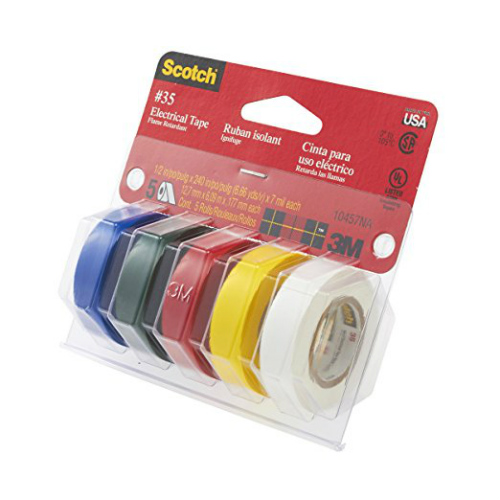 For any taping job, having the right product is crucial to the overall success of the undertaking. While there are hundreds probably even thousands of specialized tapes to address diverse needs, 3M products remain all-time favorites for their stand-out qualities. With each piece from their extensive collection engineered to work efficiently under particular situations, finding what ticks the right boxes isn't complicated at all. However, due to the varying requirements at the job site sometimes it calls for more than one piece to align with the different needs. The more reason you will find the Scotch 35 value pack by 3M quite handy if you need several distinct but superior quality tapes.

The Scotch 35 10457NA contains an assortment of five professional grade tapes in colors blue, green, yellow, red, and white. The pack provides flexibility in what and where you can use the products at any given time unlike when you only have one piece in your possession. Although they are primarily made for electrical applications, they are equally ideal for color coding.

Expand to see more
With the five alternatives, you have the freedom to play around with the different colors such that it doesn't stop at binding or insulating wires but you also get to identify phases and mark specific areas as the job may demand. For instance, if you want to tape some part and at the same time keep it visible from a distance, then the bright colored options will certainly work better over the black ones. And what is more is that all five tapes are fade resistant so will maintain their natural color under all circumstances of use.

In as much as having several rolls has its advantages, nothing can be as important as the super strong adhesion that you will get from these products. The Scotch Super 35 tapes are manufactured using a blend of sticky resin adhesive and pressure-sensitive PVC backing that provides a secure post wrap bonding that remains intact for a long time. The superior adhesion and durability featured in each roll guarantee the edge that professionals require to get the job done faster and efficiently. The tapes are also quite elastic and will stretch and conform smoothly to the point of application leaving it both intact and uniform.

When it comes to endurance and strength, the tapes in this pack are adequately endowed to withstand various extreme conditions. With a thickness of 7-mil, the Scotch 35 is rated to work where temperatures range from 0 to 105 degrees C (32 to 221 degrees F) and on cables transmitting up to 600V. The products will hold up in harsh weather including when it's raining, scorching, snowing among other conditions. Exposure to direct sunlight, water, solvent or chemicals splashes will not have any impact on its adhesive strength. And if you have been disappointed before by other electrical tapes as far as protection against abrasion and corrosion is concerned, that will not be the case with the Scotch 35 tapes. The resilience afforded by these products makes them suitable for a wide range of mechanical applications whether indoor or outdoor.

The value pack is an excellent option if you would like to have a variety in your collection. The price may appear high but considering you get five different rolls it's worth it. Besides you can enjoy unlimited use beyond its primary purpose as electrical tape.

Cuts well and easy to use
Elastic hence conforms to surfaces accordingly
Suitable for a wide variety of uses
Resilient- hold up pretty wells when exposed to harsh conditions or substances
Provides consistent protection and insulation
Different colors enhance choice and flexibility in application
Comes in a storage container for safe keeping
Provides super tight adhesion
The rolls are slightly narrow than normal
4. Duck Brand 299019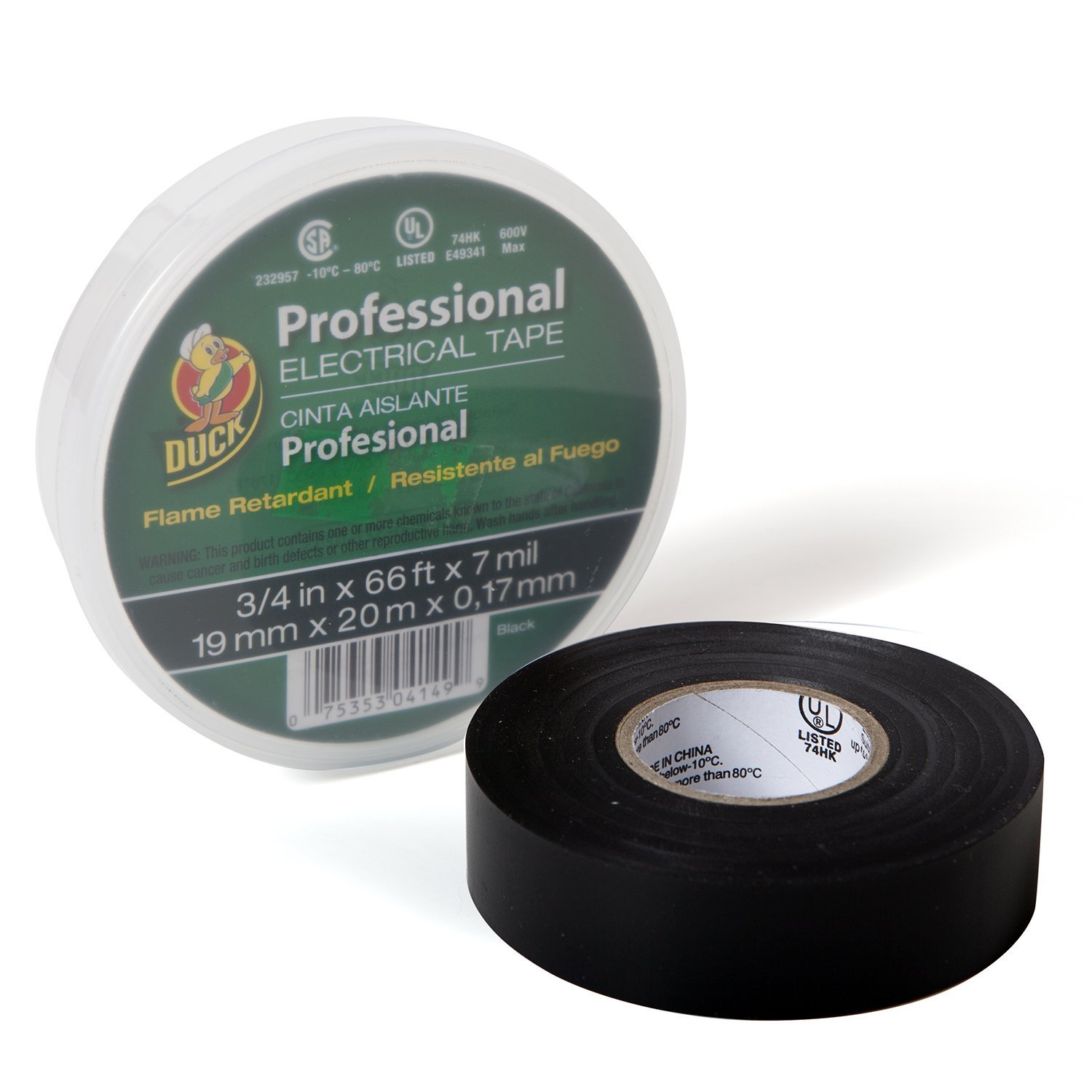 The Duck Brand 299019 is another fantastic pick if you are looking for a product that offers extreme endurance and resistance in the face of typical environmental pressures. Although it is essentially designed for professional electrical applications, it remains a real deal in case you need to use it around the house for various taping needs.

Coming with dimensions measuring ¾-inch by 66 feet it may appear simple to the eye, but the inner detailing speaks volumes but in a rather subtle way. The Duck Brand 299019 has a smooth feeling and is designed to come off the roll quite seamlessly such that you will not struggle to pull it off. Again, when it comes to wrapping around the intended places, it winds efficiently regardless of the approach or angle of execution. In fact, you will be surprised how effortless it is to work with this tape. With just one layer you will be able to insulate or bind wires and surfaces effectively in line with your requirements.

Expand to see more
Unlike other cheap brands in the market, every inch can be put to use with minimal chances of wastage. Although this tape is very sturdy, it cuts well and will leave smooth edges whether you use a knife, scissors or any other sharp blade. Its high-stretch nature ensures it can provide effective mechanical protection or insulation on all kinds of cables and objects even when they are too thin or irregular. The tape will adapt accordingly because the high-performance adhesive that it features holds at any point of application.

The Duck Brand 299019 is made of quality vinyl that guarantees the strength and durability expected of a real professional grade electrical tape. The quality of the material used in the making of this product ensures a high-level resilience and ability to maintain incredible performance at all times.
Specifically, this tape comes with an abrasion-resistant backing which allows proper insulation and protection of the wires which is a definite plus for anyone who may need to use it outdoors. Furthermore, as a professional grade product, the tape is rated for use on wires handling up to 600 volts and will keep working on temperatures ranging from 14 degrees F to 176 degrees F.

With this tape completing the repair, installation, splicing, and fastening projects come smooth and easy. At its price, it's worth having it your utility collection regardless of whether you are a professional or occasional casual user. The quality of this product ensures it will live up to the expectations the more reason it remains a worthy investment.

Weather resistant
Provides tight and lasting adhesion
Has impressive stretch and conformability
Great quality for outdoor use
Affordable
The roll is sufficient to last a while
Has UL and CSA certification telling of its reliability
Comes with a canister for secure storage
Cuts easily
5. TradeGear Assorted (10 Pack Colored)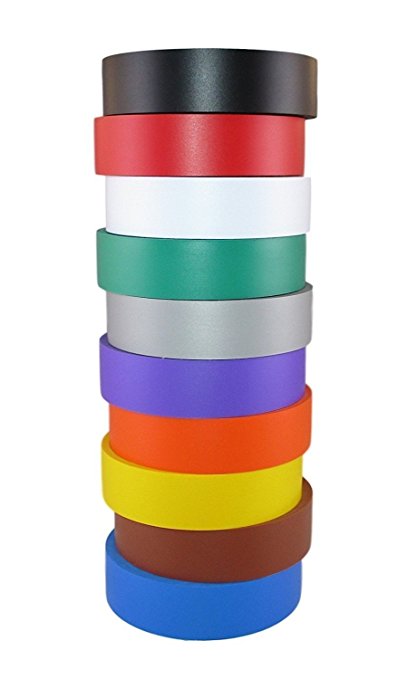 If you need an assortment of electrical tapes that will have all your wiring and insulation needs covered, then the TradeGear Assorted Rainbow electrical tapes is for you.

The package consists of ten multi-colored, heavy-duty electrical tapes each measuring 60 feet by ¾ inches by 7 mm. They come in colors such as Blue, Brown, Yellow, Orange, Purple, Gray, Green, White, Black, and Red as such granting sufficient choice for just every need. The multiple alternatives serve the interest of just about any taping requirement from insulating wires to splicing, phasing, and marking or identification such that every likely use is adequately covered. The glossy appearance of each roll especially saves the day if you want to avoid the confusion of using a one colored taped throughout your projects.

Expand to see more
Apart from the benefits that come with having several colors, you can expect to enjoy incredible holding power stemming from the sticky rubber resin and durable adhesive that characterize each piece. Any of these TradeGear tapes will hold firmly both when still fresh and for a long time to come. And considering the reasonably tensile nature, you can pull and fix it on different places without the anxiety of overstretching.

Likewise, you can depend on these tapes to insulate and protect your wires and cables in rough conditions including very high or exceedingly low temperatures. The products are designed to withstand effects of water spills and exposure to bad weather and can consequently be used to prevent corrosion. And it doesn't stop at that because the tapes are also resistant to alkalis, acids, abrasion, UV rays, and oil just to mention.

Another significant feature worth highlighting of these tape from TradeGear is the fact that they are flame retardant and are rated to operate at temperatures not exceeding 80 ⁰ Celsius (176 degrees F). The maximum operating voltage the tapes can tolerate goes to the maximum of 600V. The ratings lie within domestic and most industrial situations where taping may be needed but either way the tapes remain suitable and safe.

If you are an electrician, technician, engineer, or DIYer, looking for an exhaustive pack of multi-colored tapes, TradeGear has everything you need to take care of quick-fix taping concerns. The difference lies only in the coloring otherwise each roll in the package is suits countless freestyle and professional tasks. The probability of getting a better deal from a different brand at the same price range is quite slim.

Offers plenty color choices for all-around use
Value for money
Durable premium grade tapes
Conforms and hold firmly for reliable performance over time
Ideal for all electrical, wiring, and associated taping needs
Has high temperature and voltage range
UL Certified
30-day money-back guarantee
The ends unravel with time
6. Scotch Vinyl Super 88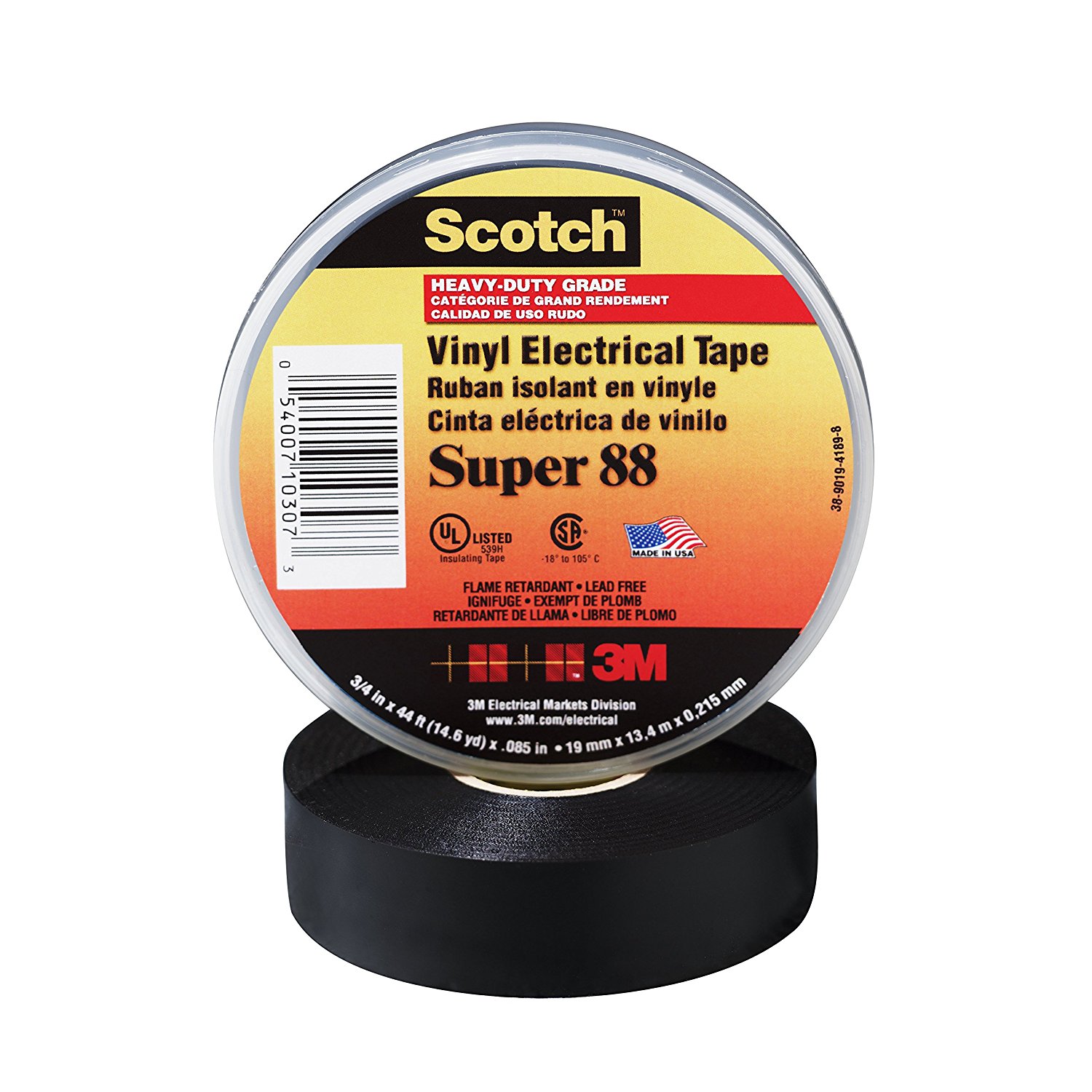 The Scotch Super 88 is another premium alternative from the 3M brand. It is designed to suit the needs of professional electricians among other tradesmen working in relevant craft and repair applications.
The tape is a product of a sturdy and durable combination of mastic and PVC designed to give superfine adhesion. The blend of pressure-responsive, rubber resin adhesive and underlying polyvinyl chloride provides the ultimate electrical and mechanical protection sought continuously in a wide range of wiring and repair projects.

With an 8.5-mil thickness, the Scotch Super 88 is extra dense to allow all-weather binding and insulation. Therefore, with this product users can enjoy not only a superb adhesive technology but also incredible performance regardless of the weather condition. The tape maintains a tight hold and high conformability to surfaces whether the temperature is hitting the rooftop or is extremely low.
Being a product of vinyl preferred for its ability to tolerate both low and high operating temperatures, the Super 88 continues to give consistent results on a defined range of 0 to 220 degrees F (-18 to 105°Celsius) which is basically within the limits of most applications. It is also rated to work optimally in electrical connections handling to the maximum of 600 volts. Considering this tape is also flame retardant it can grip just about anything that comes its way.

Expand to see more
This self-fusing tape is resistant to water, solvent, and chemicals splashes and can provide adequate protection against abrasion, UV rays, moisture, and alkalis. It is, therefore, suitable if you want to prevent corrosion or any other adverse effects on electrical connections and automotive parts. The ability to endure such unfavorable conditions and likely typical influences makes it well suited for both indoor and outdoor use.

The Scotch Super 88 is one product anyone would love to work with on any electrical and associated taping projects. A single piece is long enough to last over numerous projects when used continuously. However, if you are going to use it once in a while, it can rest in your utility drawer or working bench for years. Either way, as long as there is a tape on the roll, keeping it safe and clean won't be any problem since it comes with a storage container. Above all, the pricing reflects the value you get so you may want consider it next time out.

Stretchy and conformable
Provides excellent resistance to multiple harsh conditions
Works for low and high voltage protective jacketing applications
Can be utilized indoors or otherwise
Offers superb adhesive properties
Compatible with most solid dielectric materials
Suitable for unlimited electrical insulation and mechanical protection projects
UL listed and CSA certified
Stickiness diminishes over time when exposed to extreme sunlight
7. Nova Pro Grade 10 Value Pack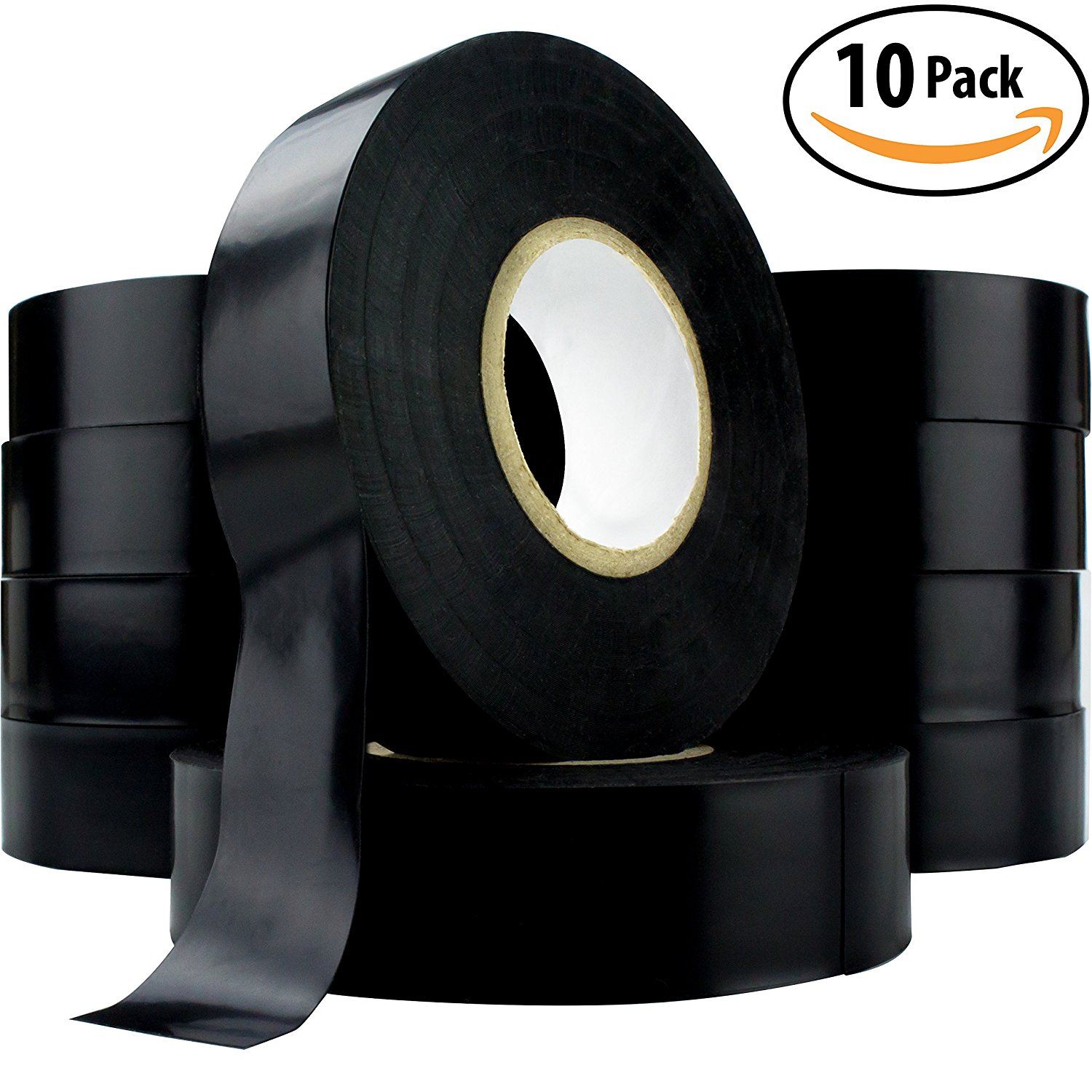 The Nova Pro Grade electrical tape is ideal for those looking for a combination of quality performance and affordability. Given its resilience and stickiness, you would be forgiven if you confuse this with any of tapes from the Scotch brand once it's taken off the package. If anything as far as finishing taping tasks quickly and conveniently is concerned, this tape will comply favorably with the requirements of many projects. Although this tape offers reliably exceptional performance for electrical applications, it can nevertheless be utilized in automotive and plumbing works among other professional wiring and repair works.

The fact that it is a professional grade product means it is more than capable of smoothly handling all types of wiring and repair projects. The powerful combination of superior adhesive and sturdy PVC ensures performance is not compromised on the long-term whether the environment of use remains favorable or unfavorable. The tape is capable and is inherently designed to withstand adverse weather and can, therefore, be utilized for weatherproofing. Exposure to moisture, hot or extremely cold temperatures will have little or no bearing on the stickiness of this tape. Ideally, this tape works best in temperatures up to 176 degrees Fahrenheit (80 degrees Celsius) and on setups transmitting up to 600 volts.

Expand to see more
Concerning ease of use and conformity, it lives up to what users will usually expect of a premium quality tape as the manufacturer asserts. It unwraps from the roll smoothly and will harness wires, cables, and surfaces firmly from the moment it is applied and over time. It does not matter whether the point or surface of application is even or irregular. This tape will quickly adapt nonetheless maintaining the perfect hold for delightfully consistent results. Furthermore, while the quality of material making up the Nova Pro is strong and durable, the overall blend is also soft enough to allow smooth cutting by a knife or simple tears with bare fingers. You can get cuts from the roll depending on what is need at that point in time without much ado. Considering this product boasts of a high stretch and return threshold it will always retain its natural form for optimal conformity.

The Nova Pro tape guarantees the right features to complete any wiring job. By buying the 10 Pack, you will realize a significant amount of savings as compared to purchasing single rolls. Plus having a package of ten tapes in your gear collection means it will never run out any time soon. So this is a pretty good bargain at its price. With this, you can complete your splicing, insulating, protective jacketing works in record time.

Does not leave adhesive residues
Has high and lasting adhesive strength
Weather-Resistant
Provides better conformity
Low lead product
Easy to work with
Quite affordable
Comes with a fantastic 30-day free-return policy just in case the quality does not appeal to you
The 10-pack may be overkill for once in a while DIY jobs
8. Gardner Bender GTPC-550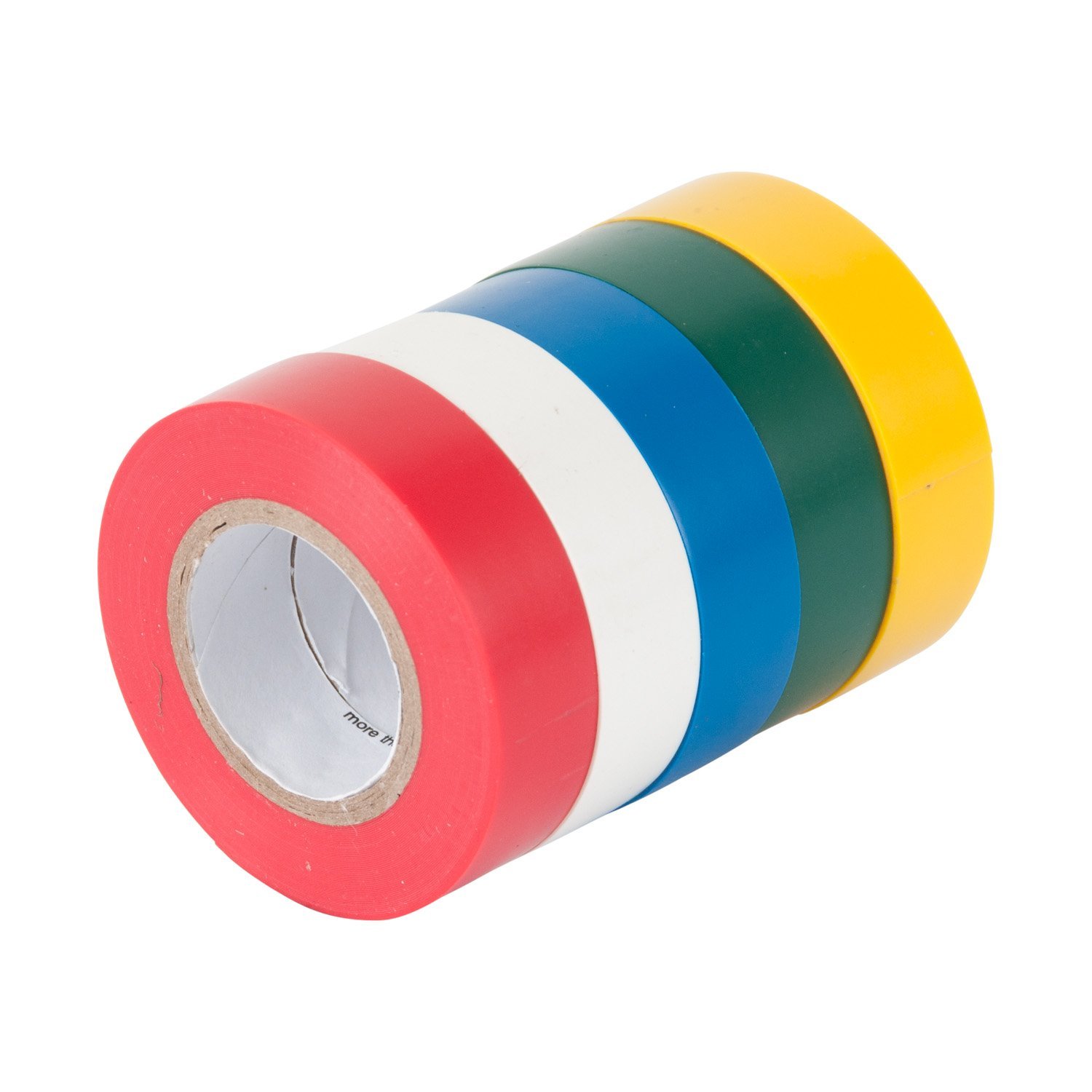 The Gardener Bender is another brand that offers engineers, designers and electricians among other user's quality electrical tapes for a wide range of taping applications. Their GTPC-550 is one product you may consider acquiring for your upcoming project or day to day tasks. Available in five color options namely Red, White, Blue, Green, and Yellow there is no restriction to what you can do with this tape in your possession. For one, although this version is designed to work in electricity cycles and related repair works, it is not limited to that hence individuals including homeowners can benefit from it for occasional repair, decoration, and gripping requirements around the house.

As a vinyl-made tape, the Gardner Bender GTPC-550 features an excellent adhesive ability offering added power when it comes to insulating, attaching, sealing, bundling, protecting, and marking wires, cables, and surfaces. So whether you need a reliable tape for quick repairs, covering, and holding connection points or even as a phasing or visual indicator you can call on this as soon as the need arises. The tape unwraps and wraps efficiently from the roll to the point of application conforming uniformly leaving behind tight and even holds on connections.

Expand to see more
To say the GTPC-55O is merely tough and durable is by all standards a modest description considering the versatility and resilience visibly present in this tape. It comes with an innate strength that ably matches to the realities of both indoor and outdoor use. Specifically, the tape is designed to give maximum protection against dust, moisture, UV radiation, dirt, acids, and alkalis among other solvents. This tape is equally flame retardant, resistant to abrasion, and maintains optimal performance over a wide temperature range to the extreme of 80°C (176°F). The rating beats the sturdiness and endurance test required of electrical tape. It also works well for electrical cables or systems with a capacity of up to 600V.

If you have used an electrical tape before and the experience is nothing to be proud of, then you need to try this assortment because it sticks pretty well. And considering this is a package of five rolls, it's worth every cent you place on it. Instead of spending your money on cheaper alternatives that will most likely disappoint in the middle of your project, this is undoubtedly a better option.

Robust product with the excellent adhesive ability
UL Listed and CSA certified
Can be used for different applications
Highly resilient to typical adverse taping influences
Suitable for indoor and outdoor use
Lead-free hence very safe
Five color options to choose from
The stretch and return capacity is limited
9. JVCC EL7566-AW Premium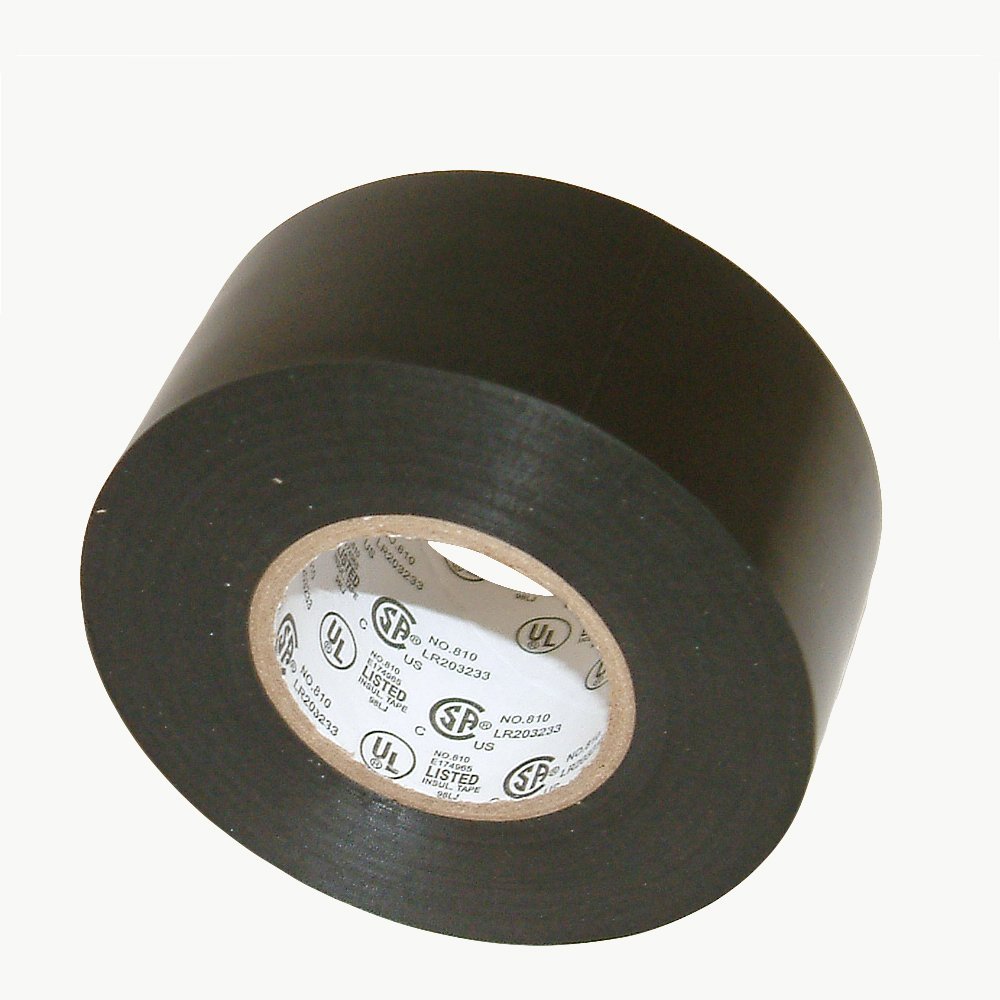 If your experience with electrical tapes has not been a pleasant one, then you should consider the JVCC EL7566-AW for better performance.

The tape is a product of high-quality PVC tailored to suit the requirements of a wide range of applications. By many standards, very few creations of its kind will match the professionally designed adhesive film that guarantees tight and durable bonds from this tape. Unlike other cheap and inferior alternatives which unwind barely after application and leaves goop everywhere from your hands to any surface it touches, the EL7566-AW will treat you to none of that. It sticks from the onset and for a long time going forward. Though it has an 8-mil thickness, it is quite strong and also very stretchy. It can be elongated to about 250% of the original form to blend smoothly on irregular surfaces. You will probably need a knife or scissors to cut it but it not a big deal considering it pulls off the roll easily.

Expand to see more
As a premium grade tape, it is manufactured for all weather use. The quality combination of synthetic rubber and polyvinyl chloride backing ensures it can tolerate the effects of unfavorable weather conditions while maintaining exceptionally consistent results. Dependable electrical tapes can endure extreme temperatures when used for insulation or as protective jacketing. To this end, this tape is sufficiently equipped. It has an operating and application temperatures ranging from 14F to 176F and 32F to 122F respectively. Its dielectric strength, on the other hand, is rated at 6000 volts.

The JVCC EL7566-AW is a perfect pick for a wide array of electrical insulation needs. At its price, you have nothing to complain about because the overall value obtained by using this tape is timeless. It is long enough so when put to best use it will probably last for several projects.

Impressive adhesive strength
Suitable for both DIY and professional projects
Available in several dimensions offering more options
Good working temperature range
Durable
Incredible elongation and conformity
Value for money
Flame and weather resistant
UL/CSA certified
Available in only black color hence may not appeal to those interested in multi-colored tapes
10. Tarvol Black Electrical Tape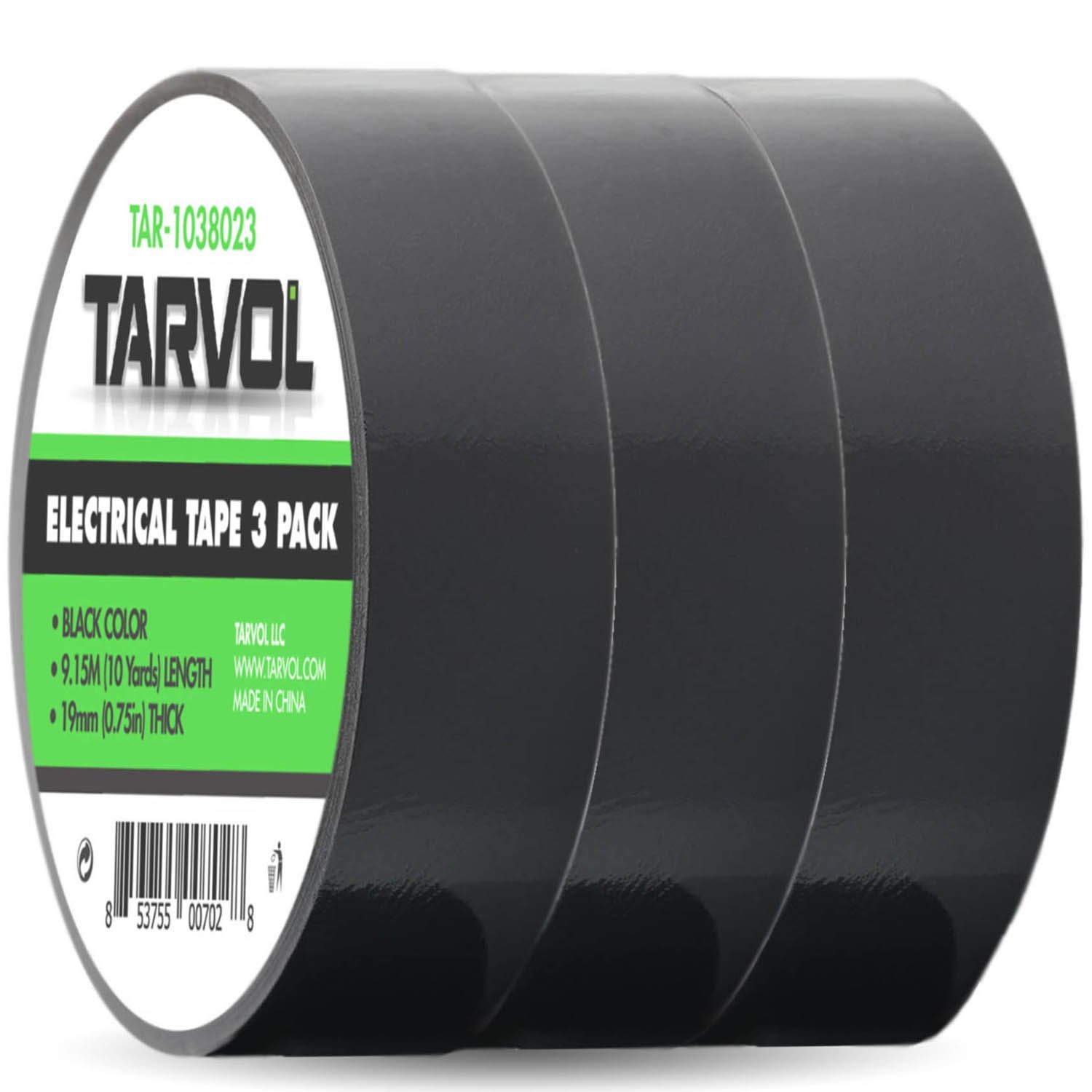 The Tarvol Black electrical is another all-rounded alternative featuring the ideal features to help you complete relevant tasks the right way. This product gets its competitive edge from the manufacturer's ability to blend constituting materials perfectly to produce a product that is resilient, long-lasting, and guarantees superior adhesion. Just like most of the tapes in our list, this is also primarily designed for electrical wiring projects including cable
insulation
, wire bundling, and repairs. However, its versatile properties allow users to leverage for a variety of taping needs.
Tarvol Black comes in a package of three rolls with each piece measuring ¾ inches by 30 feet all totaling to 90 feet of heavy-duty tape. The quantity coupled with the quality provides sufficient power for just about any craft application. This electrical tape boasts of high adhesive capacity even though it seems quite basic. Given the stickiness that is inherently part of it, you will most certainly realize impressive performance on differences surfaces. Whatever gear, wire or cable that this tape grips, it stays on tightly without bulging. Interestingly, despite the firmness, if you want to peel it back up, it comes out smooth and easy leaving no trace of gum.
Expand to see more
The highly tractable nature of this tape is another superb feature that would be of interest to any users. The standard thickness and flexible vinyl backing allow extensive stretching so that holding on uneven surfaces is equally hassle-free. Also, you do not require a scissor or knife to cut this tape because it super easy it to tear. With bare hands you can get a piece from the roll and it won't curl making your work near effortless.

As a premium grade product, the Tarvol Black calls the shots as far as strength and endurance goes. If your project may subject the tape to water, chemical, acids among other solvent splashes worry not because this is designed to resist their effects. It is rated to hold under a temperature range of between 14 and 176 Degrees Fahrenheit. The rating goes to show freezing weather or high temperatures will not impede the performance of this tape. Besides, it will also work with the same efficiency in applications handling up to 600 Volts.

For anyone who requires an electrical tape to make their next project stand out, the tape is indeed a good option. Going by the price, you may just to have it as an all-time toolbox essential.

Undertaking repairs, insulating, and protecting wires, surfaces or objects becomes a no-brainer with the power of this tape.

Blends uniformly on surfaces
Flexible and stretchy
Resilient and durable
Offer quality adhesive properties
Works well in various conditions both indoor and outside
Comes with 100% money back guarantee just in case you are not impressed
Overall length falls short what is expected of a "Giant" tape
Criteria for Choosing the Best Electrical Tape
Adhesive strength
The most basic feature that determines whether a tape will perform lies on its stickiness. While electrical tapes are mainly designed to offer enhanced adhesive performance unlike ordinary tapes, the strength afforded by each product is never uniform. Therefore, in your quest for the most appropriate pick go for something that promises a tight hold from the onset and for a long time to come. A good tape should always grip wires, cables or surfaces just with just one or two rounds of wrapping. The best way of determining the adhesive strength is looking at the grade rating and suitability for both indoor and outdoor use.
Efficiency
In any project, the hassle-free application determines the quality of results achieved in the end. The best tape for your project, therefore, should make your work easier and not complicate the whole process. An efficient tape is characterized by high stretchability and smooth conformity to both even and irregular surfaces. It should be elastic, expanding freely without deforming and at the same time have rebound impetus to allow trouble-free placement immediately after it gets peeled off the roll. Similarly, look out for something that cuts easily and can be unwrapped without leaving behind gum on the hands and surfaces.
Resilience

In your quest for an ideal electrical tape consider going for a product that will remain unyielding in the face harsh exposures and damaging environmental conditions. Specifically, a flexible tape maintains high performance whether the temperature is extremely low or high. Accordingly, your choice should be reliable over a wide range both on the lower and upper limit. Weather resistance, flame retardation, and the ability to prevent corrosion and chemical spills are also worth considering when doing the selection, not to mention the dielectric strength. In short, look out for the combination of features that increases the endurance levels for all-rounded and lasting use.
Nature of your project
The purpose for which you are buying an electrical tape should click in your mind when weighing your options. Industrial or professional needs differ from freestyle and home repair requirements. Considering there isn't one fit for all, your reason for buying is critical. For instance, the tapes available come in different colors, varying dimensions, and are designed with distinct specifications to suit particular needs. So it is indeed necessary to match your needs and alternatives on offer if you are to get the much sought-after results.
Frequently Asked Questions
Q: What is unique about electrical tapes?
A: Unlike other types, electrical tapes blend multiple features among the dielectric strength, adhesion, resilience and so on. They are uniquely designed to perform in electrical applications insulating and protecting wires, cables among other connections transmitting electricity. The ability to work under bad weather, extreme temperatures, and in high voltage connections makes them special.
Q: Can electrical tapes be utilized for non-electrical applications?

A: Yes, although primarily meant for electrical use, there is no specific limitation on where or how you can make use of these products. If anything, they are quite versatile and will work well for other purposes including decoration and as identification marks. Professionals may also use them to wrap handles of their work gear to allow better hold and minimize chances of getting blisters.
Conclusion
Choosing the most suitable electrical tape in line with your needs can be tricky and time-consuming but rewarding. Although the availability of many alternatives increases your options, it complicates the whole idea of buying what works. Nonetheless, by taking into account the efficiency, endurance, adhesive power, among other specifications, you can always filter down to a tape that performs to the required standards.
Subscribe to our newsletter