Best Locking Pliers Reviews and Editorial Ratings
last updated:
Sep 01, 2021
Locking pliers come in handy when you encounter a fastener that just won't budge, however much effort you exert or apply. They make it easy, quick, and effortless to grab, loosen or twist a wide range of rounded over, stuck, stripped, or stubborn bolts and nuts. Besides that, they come with high-quality serrated jaws for locking onto several other objects, making them one of the most versatile tools a handyman can have in the toolbox. The combination of a locking mechanism and clamping down prowess minimizes stress and strain on the hands, enabling you to finish your tasks quickly and easily.
[srpshortcode id="22597″][/srpshortcode][srpshortcode id="22600″][/srpshortcode][srpshortcode id="22604″][/srpshortcode]
After figuring out that you need locking pliers, the next step is ensuring your pick matches the demands of the job you want to undertake. Which translates to analysing, comparing, and testing the hundreds of models currently on offer on the market. If you have neither the time nor the energy, this guide will help you make the right decision. Here, we walk you through the essential factors to consider as you shop for locking pliers. After that, we present you with 10 of the best models to help you decide on the one that best matches your projects.
7 Best Locking Pliers
1. Grip-On 111-10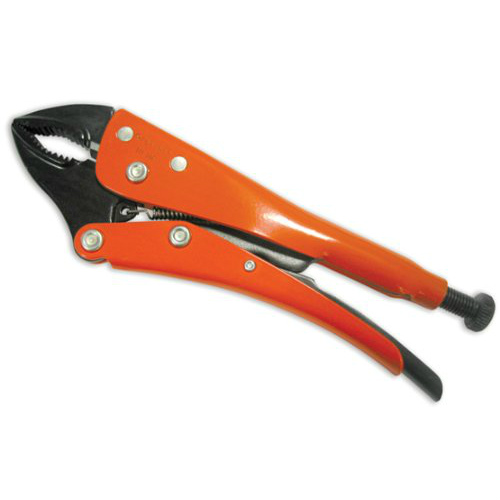 With 35 years of experience, you can trust Grip-On to produce some of the world's best locking pliers, as their flagship Grip-On 111-10 10-Inch pliers prove. Offering fast release with a no-pinch design, the locking pliers also effortlessly combine exceptional locking mechanisms with aggressive gripping power on round objects.

The construction quality of these pliers is excellent. Made in Spain, they are made of metal with easy-to-spot orange epoxy costed handles and are assembled with care. The teeth are strong and durable, and the lower jaw does not wiggle. The locking pliers also boast a maximum capacity of up to 2-1/2 inches, and the opening screw is threaded for comfortable jaw resizing.

Expand to see more
Handymen, carpenters, and DIY enthusiasts who work with them for hours will love the comfort of the rounded over handles that won't lead to blisters or hand strain.

Their performance, practicality, and convenience exceed expectations. They are considerably more expensive, but for 91% of Amazon reviewers, the cost is offset by the responsive unlocking system, superior construction quality, and ease of use.

Multi-functional
Good grip on round objects
Strong and durable forged jaws
Jaw resizes easily and quickly
Has a no-pinch quick-release lever
Lacks padded handle
Expensive
2. IRWIN VISE-GRIP Original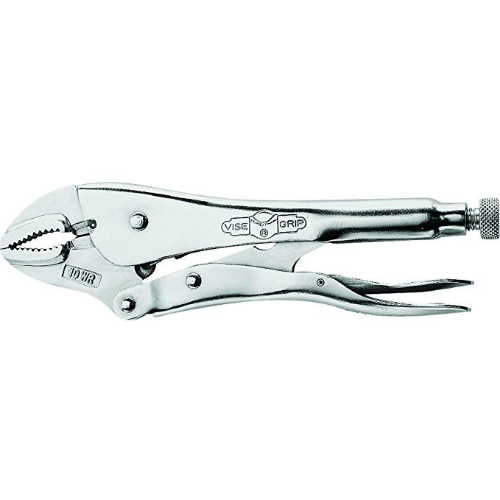 Irwin, which popularized the term for "vice grip" for locking pliers, consistently brings innovative, user-friendly, high-performance tools to the industry. Their Irwin Vise-Grip Original pliers are no different. They offer heavy-duty jaws made from high-quality, heat-treated alloy steel that grip materials firmly and securely and come with a wire cutter for greater versatility. The handles are

A perfect choice for heavy-duty applications, they come with hardened teeth designed for gripping materials from all angles. The curved jaws allow for the easy and quick application of tremendous amounts of pressure on 4 points of any style nut or bolt head. With a length of 10 inches and jaws capable of adjusting up to 1-7/8 inches, they can tackle the most challenging projects on the worksite and around the house.

Expand to see more
The locking mechanism works quickly and instantly and is easy to adjust to plier action. They come with a hex key adjusting screw for varying pressure and drawing materials together, along with a lever for quick release.

The simplicity, performance, and construction quality of these Irwin Vise-Grip Original pliers are outstanding, as they work effortlessly and precisely and are very durable.

High-quality all-alloy steel construction
Comes with a wire cutter
Easy-to-use trigger release
Cost-effective
3. CH Hanson 10100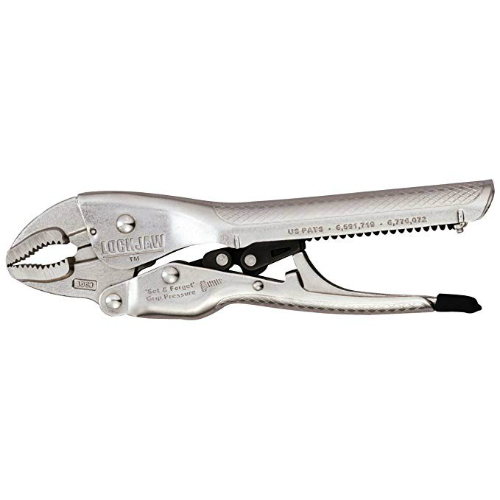 CH Hanson 10100 Lock Jaw pliers tout several nifty features that work together seamlessly to provide the user with one of the best work experiences. They work quickly, effortlessly, and with military precision and are easy to use. If you want smooth, trouble-free performance, these are the locking pliers to go with.

The first outstanding feature is Set and Forget technology with a locking mechanism that allows for automatic and versatile adjustment of the clamping pressure from slight to extreme with equal grip pressure. Once you choose a pressure level that will yield the best results for your workpiece, the jaw will automatically self-adjust. With one hand, you can get a firm grip on the curved handle that you won't lose unit until you activate the easy squeeze release lever.

Expand to see more
The tool is textured to offer the user a comfortable yet firm grip throughout the project, making it easy to do otherwise onerous tasks quickly. And to top it all off, you get a generous lifetime warranty.

Perfect for handymen, craftsmen, carpenters, and extreme DIYers out there, the CH Hanson 10100 pack all the right features for smooth, powerful, and easy performance. They're also affordable and comes with a lifetime warranty.

High-performance jaws with self-adjusting, locking feature
Robust construction
Highly customizable jaws
The grip is comfortable and slip-resistant
Lifetime warranty
A little difficulty closing the pliers
4. Knipex 4104180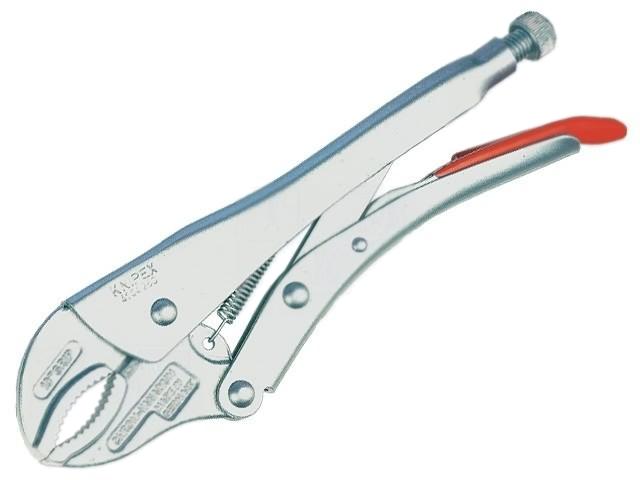 Manufactured by a European fourth-generation family company, the heavy-duty Knipex 7.25" 4104180 locking pliers with round jaws are made by an industry leader to grip and lock onto round, section, or flat materials. With high-quality construction from first-rate materials, the locking pliers can easily last more than a lifetime of heavy use.

This product is a far cry from the flimsy, off-brand models on the market. The body is made using high-strength rolled steel, while the jaws feature an all-chrome vanadium electric steel construction. Yet, the pliers are lightweight and ergonomically designed to offer the user comfort and allow for easy maneuverability.

Expand to see more
Among the features is a toggle lever that facilitates gripping materials, along with an adjustment screw and a release level. These features make it surprisingly easy to operate the tool with just one hand, making them a perfect choice even for inexperienced users.
High-capacity jaw locking pliers
Features a wire cutter
Has quick-release lever
Sturdy construction
6. Crescent Tools Crescent - CLP5SETN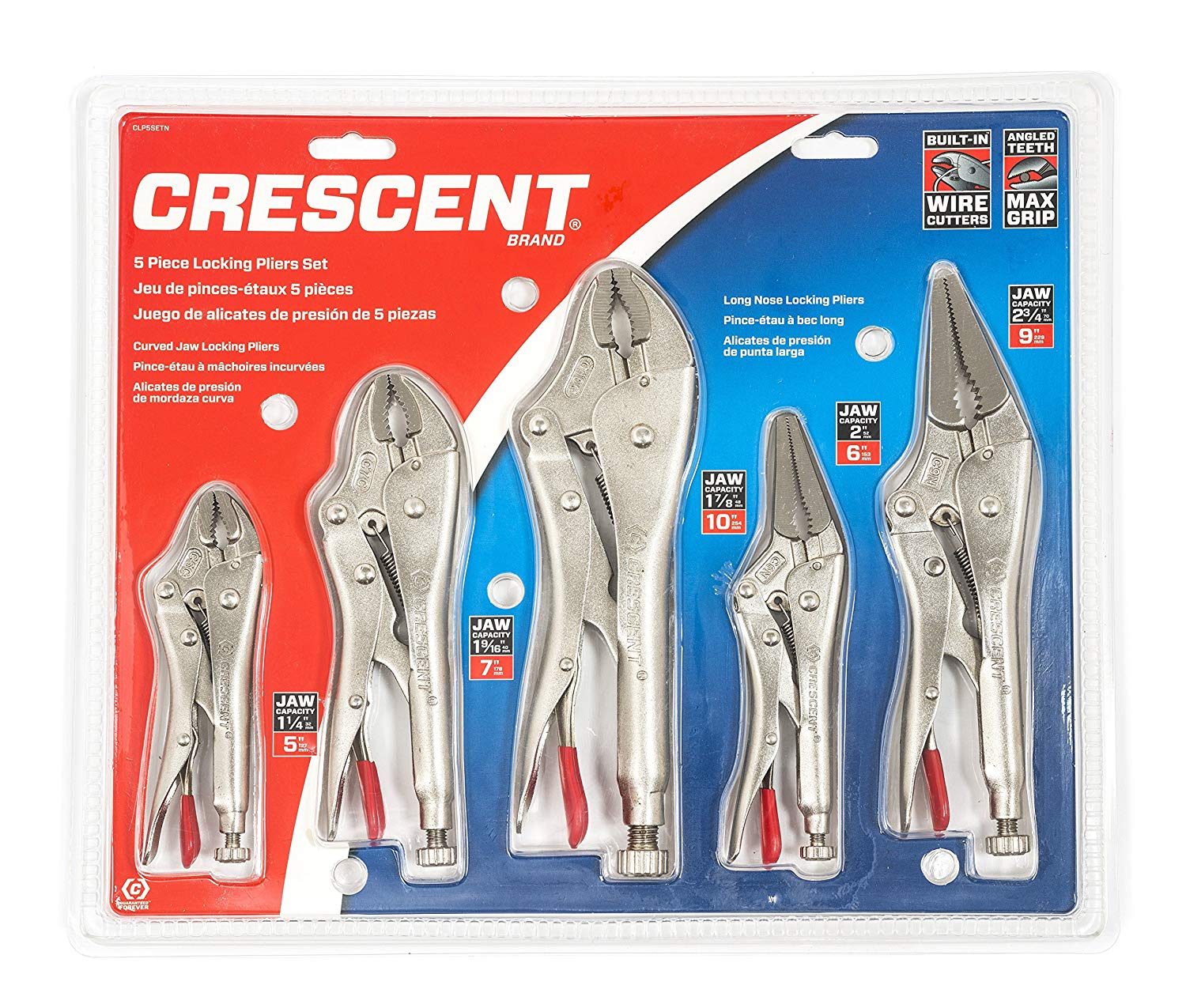 For an option that comes with all the bells and whistles without cutting a huge hole in your pockets, the Crescent 5-piece set of locking pliers will get the job done right every time. Made by an old company founded in 1907, whose trademark is an adjustable wrench of the same name, Crescent is known for its useful, durable tools. This collection is a fine example.

Expand to see more
The set contains two differently sized needle-nose pliers (6" and 9") and three curved-jaw pairs (5", 7, and 10"), an arsenal that always gets the job done right every time. Crafted from first-grade materials for pro-grade performance, all the pliers in the set have a patented angled tooth pattern that provides a secure and firm grip of the workpieces, while the versatile curved jaw design boasts an innovative integral wire cutter. Made to last more than a lifetime of heavy-duty use, they are nickel-plated finish that are resistant to both rust and corrosion.

Unlike many other brands of pliers, this Cresent product has a knurled adjusting screw that turns easily by hand or with a hex key inserted into the hex key receiver on the bottom of the screw

DIY weekend warriors, tradesmen, and other professionals in need of durable, high-performance, versatile, and easy-to-use tools need look no further than this option.

At $41, they are an even better deal than the previous version of this set of Crescent pliers.
Has all essential pliers
Rugged curved jaw with tough wire cutter
Knurled adjusting screw on the bottom of the screw
Long-nose design for easy, quick reach
Rust corrosion-resistant
7. IRWIN VISE-GRIP Original Jaw Locking Pliers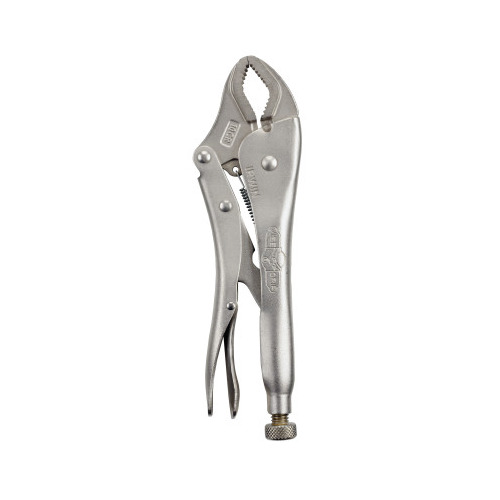 Irwin makes a second entry with yet another high-quality option, the IRWIN VISE-GRIP. In spite of a few similarities with its bigger brother, they do curve their own path, falling far enough from the proverbial Apple tree. First off, they feature a 12-inch jaw that's ideal for all-around performance. Durability is never an issue, and they're built with the convenience of the user in mind. They are easy to use for several hours on end without the user experiencing any significant discomfort or fatigue.

Another IRWIN VISE-GRIP makes our list of best locking pliers. With a 12-inch jaw that's ideal for all-around performance. On big jobs, they are durable and built with the convenience of the user in mind. They are easy to use for hours without the user experiencing any significant discomfort or fatigue.

This length will quickly prove to be an indispensable addition to any serious handyman's toolbox, especially for plumbing, automotive repair, welding, woodworking, and many other applications. Made from high-grade heat-treated alloy steel for longevity, the pliers have heavy-duty jaws with immense gripping power that will tightly hold workpieces of all shapes from multiple angles. The wide opening jaws also mean you can comfortably and confidently grasp light- to heavy-duty projects and then adjust for the correct pressure. The user-friendly trigger release offers exceptional locking force. And thanks to the guarded release, you'll be working safely and quickly for as long as you want.

Expand to see more

The resulting versatility enables you to match the pressure to the workpiece, assisting you in achieving the exact results you need. The ingenious design also allows for one-handed operation, and to make it easy for future projects, the pressure can remain adjusted for repetitive use. Together, these features make the locking pliers one of the easiest to use on the market.
As they are easy to use, you won't break a sweat using the Irwin Wise-Grips Original Jaw Locking pliers.
An all-around performer
Curved jaws and knurled tips for ease of use
Covered trigger release
Generous lifetime warranty
Uncomfortable handles
Not rust-resistant
Criteria for Choosing the Best Locking Pliers
Size and Style of Jaws
The style and size of the jaw of locking pliers have a significant bearing on its ability to complete a particular activity. Ten-inch pliers from Irwrins's Vise-Grip, for example, have a 1″ jaw with a 1-¼" capacity. The 5″ long version has a 51/64″ length with a 1-7/8″ capacity. You might buy the pliers based on overall length, but the capacity and length of the jaw are important and may vary by manufacturer.
The most popular styles of pliers are round, long nose, straight, curved jaw, and C-clamp:
Round-nose pliers work well on rounded objects like tubes
Long nose locking pliers are for clamping onto flatter, smaller objects either when removing or installing them in place
Curved jaw pliers are great to demolish things and twist a wide range of fasteners
Straight jaws are optimized for gripping and holding flat objects, most sheet metals.
C-clamp pliers form the shape of a C in order to clamp around girthier objects.
Clamping and Gripping
Locking pliers differ vastly in terms of performance and usability. For a user who wants the best performance, convenience features can mean the difference between completing various tasks quickly and with ease and returning home with a painful and swollen hand.
Look at the efficiency of the locking and unlocking mechanism. A functional locking mechanism also plays a vital role in the overall usability. And last but not least, pay attention to the handle. Ergonomically designed and padded handles offer superior comfort, leverage, and grip compared to their nondescript counterparts.
Engaging the pliers means tightening a screw that adds pressure or loosening it to relieve it. The best devices have easy grasp screws that are often knurled or ridged to make them easier to grasp. You tighten the knob around the material, which is considered "locking" it.
The best vice grips or locking pliers have an easy release handle that you press rather than have to turn the nut.
To prevent the pliers from slipping out of your hand, the handles might be knurled or covered with a plasticized or rubberized material.
Durability
Durable locking pliers last for years. What leads to durability is the material they are made of, the design and angle of the teeth that grasp the material, and the construction. The most durable ones are made from high-strength steel that can withstand the most extreme conditions, while others might be chrome vanadium or electro-plated.
Multiples in different sizes
Many manufacturers offer their products in different sizes and often package them in sets.
Having multiples of each measurement can often be handy to make sure you have the locking power you need for any size work.
Affordability
High-quality locking pliers are very affordable. Many manufacturers such as Irwin, Crescent, Grip-On, Knipex, and others have been in business for decades and can offer a good product starting around $10. As that is true, going for a reputable brand makes sense.
Larger sizes tend to cost more, as do pliers with special features.
Frequently Asked Questions
Q: What are the uses of locking pliers?
A: These tools are remarkably versatile. Besides using them to clamp, hold, or pull nuts and bolts, you can similarly use them to replace your knob or lever, fix pipe leaks, cut wires, and even squeeze and press things.
Q: How are they better than regular pliers?

With the convenience of its locking mechanism, quick-release lever, and several working parts, these tools are perfect for heavy-duty projects and are considerably easy and quick to use.
Locking pliers are like an extra pair of hands that can clamp something tight as you glue it, screw it, or work on it. They require less force to operate as you can position them as you want them and tighten the knob
Grab your locking pliers any time you need another set of hands. Most automotive jobs, and even those around the house, can become complicated quickly, so turn to your locking pliers to get the job done. Regular pliers, conversely, come with two pivoting jaws and require lots of brute force to operate.
Conclusion
Locking pliers in various sizes belong in any toolbox. The ones we have designated as the best locking pliers have strong jaws with hardened teeth for powerfully securing, gripping, clamping, or loosening a slew of fasteners and other objects. They also have user-friendly handles and no-pinch, quick-release levers for convenience. Provided you go for locking pliers that best match your projects, there are plenty of great choices on the market.
Subscribe to our newsletter