Best Needle Nose Pliers Reviews & Ratings from Our Editors
last updated:
Aug 22, 2018
Also known as long nose pliers or pointy nose pliers, the needle nose is one of the most versatile tools a craftsperson can have. Though it is the cornerstone tool of all electrical work, it can be used for more than snipping, bending and positioning wires. Do you have a toy that is stuck in the sink drain? Get your needle nose pliers. It is your go-to tool to snag that coaster that's fallen behind the radiator or to repair the toilet flush valve.
This unmatched versatility, in that it can handle basic house tasks as well as more complex electrical and carpentry jobs is the reason why everyone should have one.
Our Top 3 Picks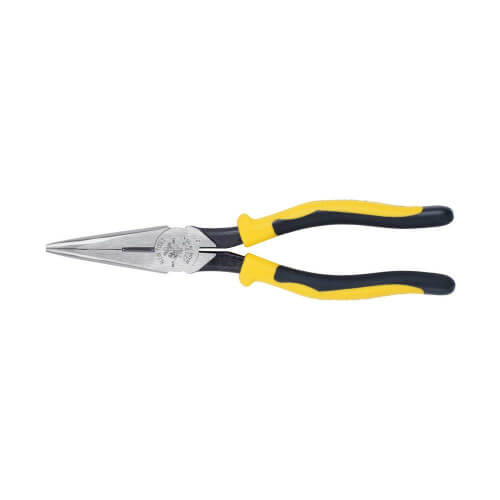 Klein

Our rating
Versatile
Price:

See Here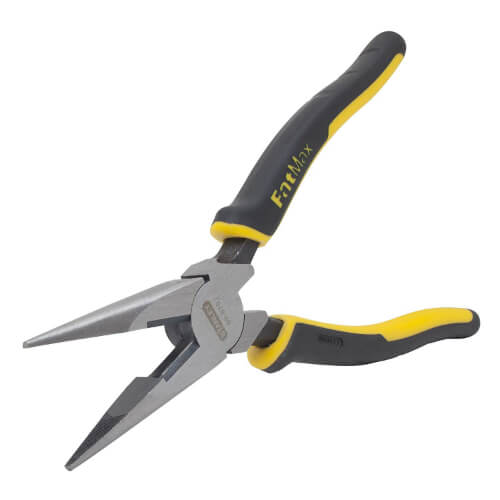 Stanley

Our rating
Quality
Price:

See Here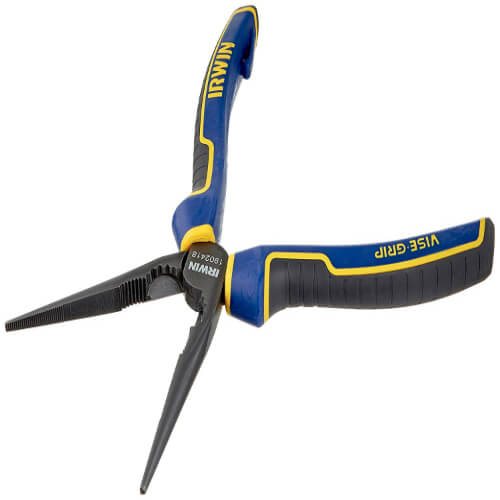 Irwin

Our rating
Unique
Price:

See Here


Nevertheless, with the many brands and designs of pointy nose pliers in the market, making a decision can be challenging. We have created a list of some of the best available, but if you don't find one that fascinates you, please follow the guide below before making a purchase.
10 Best Needle Nose Pliers
1. Klein Tools Needle Nose Pliers with Cutter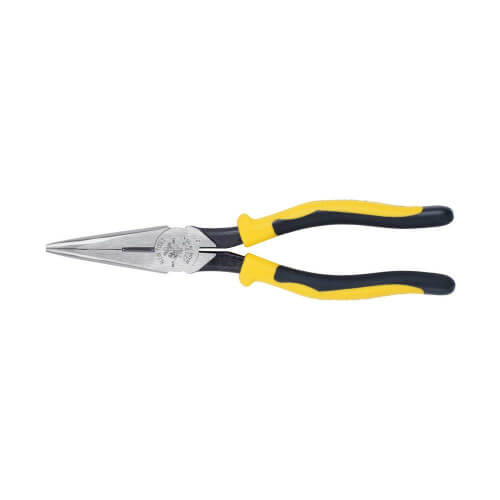 First on our list and our top pick is the Klein J203-8. If you are in the market for needle nose pliers that can handle demanding tasks, and you don't mind paying the substantial amount that this unit costs, we would recommend you get yourself a set. The reason for fewer reviews than most needle nose pliers on this list is that it is an expensive tool. At first sight, you will love the visual appeal thanks to the black and yellow padding. Also, the cutting knives are induction hardened ensuring a long life. Nevertheless, you will only truly appreciate the J203-8 after taking it for a few runs. What we loved most is the build quality and comfort.

Comfort is a crucial concern if you intend to use a tool for long. The J203-8 achieves this thanks to its ergonomic design. First, the handles are extended which offers more reach and leverage.

Second, the double padding on the unit not only provides comfort for the user but also protects the unit from drops. The yellow top padding where the user holds is softer while the harder more durable inner padding serves to protect the tool from damages. The unit is also contoured to fit a gripping hand, while you can also apply significant pressure without the device becoming uncomfortable.

Build quality – if you are looking for needle nose pliers that will serve you for an extended period, we implore you to get the Klein J203-8 as it is built like a tank. Other than the induction hardened cutters, the thick jaws can handle all tasks that can torque them out of alignment. Even after months on daily use, they will still open and close with resistance as if they were new.

Also, the handles provide enough strength for cutting and grabbing. Another thing you will love about this unit is the pivot quality. Other than being sturdy, it is thick as a stack of quarters and riveted for smooth action and to ensure there is no handle wobble.

By and large, this is a professional tool. It has the perfect combination of comfort and durability for any earnest work person.

Expand to see more
Product Features

Induction hardened cutting knives
Extended handles for more reach and leverage
Weight: 1.92 ounces
Material: Steel

Who is it for?

As highlighted, the Klein J203-8 isn't a cheap tool but worth every penny. We recommend it for professionals who intend to use it on a regular basis.

Like most needle nose pliers, this is easy to carry with you as it comfortably fits into any of your pockets
The sturdy nature of this unit is perhaps is a chief advantage over other units; it will maintain the resistance even after several months of use
The jaws can withstand any amount of torque without flexing, and the padding protects it from drops
The overmold on the handles adds comfort allowing you to work for more extended periods
The jaws of the 8-1/2 inch unit are stubby, and though this increases the stability, it reduces the versatility of the unit by reducing the maneuverability in tight spots
2. Stanley 89-870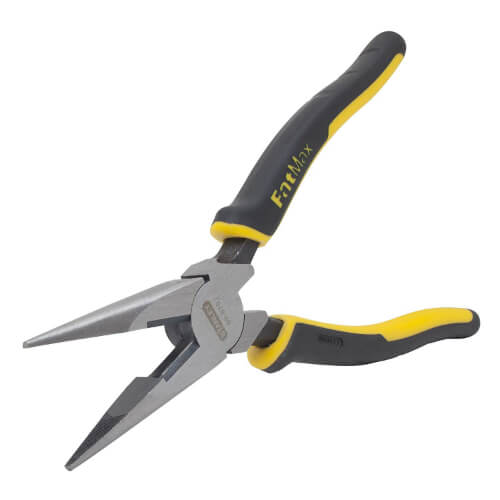 If your needs are a bit low key, or you can't afford the more expensive Klein's, we recommend you get the 89-870 by Stanley which are much cheaper. The 89-7870 are like the Klein J203-8 with the only difference being that the Klein's look like they were manufactured under great care, while the Stanley 89-870 were just built. The fewer reviews are a result of the higher price point of these pliers compared to other units on this list. What stood out for us is the quality and the slip resistance.

Build quality – First, the 89-870 meet ANSI specifications which is a testament that they are quality tools.

Also, the jaws of this unit are precision machined so that they are ideal for gripping. Stabilizing a nail or jewelry repair is now more comfortable with this tool. Also, you will love the induction hardened cutting jaws that will stay sharper longer. Finally, there is the forged high-quality carbon steel build.

Anti-slip handles – If you have the 'Palmar Hyperhidrosis' condition (sweaty palms), you will appreciate the textured handles of this Stanley tool. They allow you to work despite the sweat and are comfortable too.

One advantage this has over the Klein J203-8 is the more elongated handles. These allow you to apply more pressure without the unit becoming uncomfortable.

Expand to see more
Product Features

Meets ANSI Specifications
Length: 8-1/6 inches
Style: long nose
Induction hardened cutting jaws

Who is it for?

We would recommend the Stanley 89-870 for avid DIYers. It is not ideal for professionals as it lacks the stability, and has uneven resistance. However, DIY enthusiasts will appreciate the lower price point.

The build quality is exceptional; thanks to the precision machined jaws, gripping or twisting wires will be a walk in the park
Longevity owing to the induction hardened cutting jaws
The 89-870 has more extended handles and thus still comfortable when applying more pressure
Though they are professional tools, they have uneven resistance
Compared to the Klein J203-8, the 89-870 is uncomfortable, and the rubber padding lose up at the nose
3. IRWIN Tools VISE-GRIP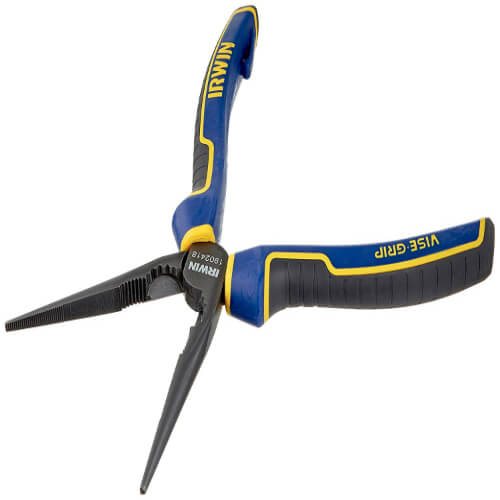 When buying tools, we recommend you consider the brand you are buying. Irwin has long been known for manufacturing top quality tools, and these are no exception. However, we would only recommend it for people whose needs are a bit low-key, and will not be exerting too much pressure or torque on the jaws. Also, you should be on a generous budget as these are pricey. hat fascinated us most was the build quality and the exclusive hook that connects to a lanyard system.

Exclusive hook – The likelihood of dropping pointy nose pliers is often high. However, the issue arises from the damage they sustain from such falls. The unique hook lets you attach the pliers to a lanyard and thus prevents accidental drops resulting in longevity of the tool. Other than avoiding unintentional drops, it also makes them easier to retrieve.

Quality – If you are looking for professional needle nose pliers, these will do. First, these are made in Germany, and thus they are an excellent build. They feature a thin and longer nose than the Klein J203-8 and as a result, have a better reach in tighter spaces. Also, the cutting edges are induction hardened and they will not only last longer but can cut the most robust material. The coating offers superior resistance to rust.

Despite being sharp, they are precise enough to cut small wires. Finally, you will love the ergonomic handles and the color scheme. The yellow strip lining makes these pliers easy to spot in a pile of tools.


Expand to see more
Product Features

Length – 8 inches
Thin nose profile
Exclusive hook for lanyard system

Who is it for?

We recommend these pliers for professionals. Given how pricey they are it's best they be put to good use.

The unique hook makes this easy to retrieve and prevents accidental drops
The thin nose profile helps one get into tight spaces
They are coated to prevent rusting
You will love the color scheme and ergonomic handle
The only shortcoming of these tools is the thin-head profile; despite getting into tight spots, they are not sturdy enough to handle high torque twisting situations
4. Channellock 318CB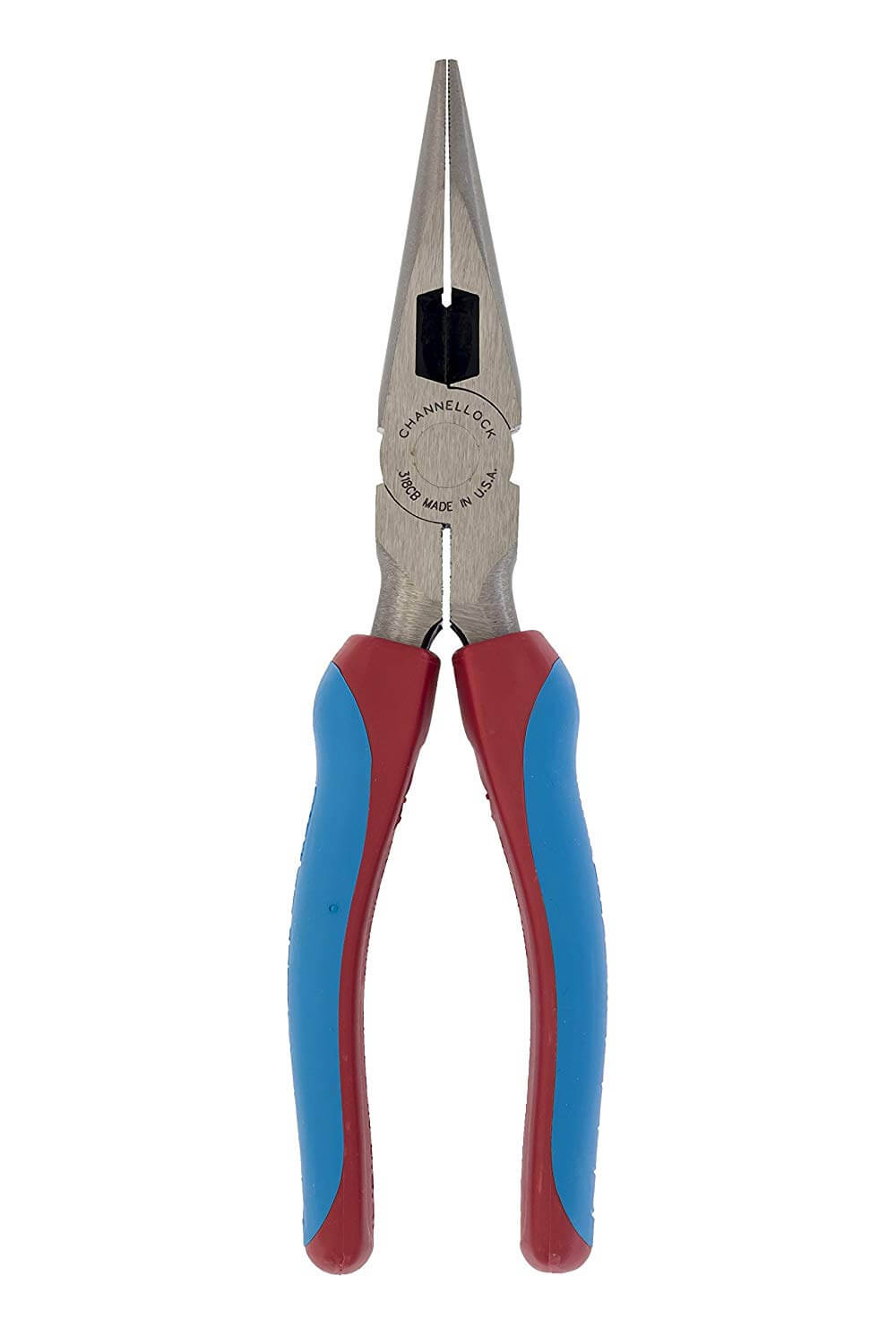 If you are in the market for a unit that is closer to the Klein J203-8 regarding jaw stability and beefy nose, we implore you to get the 318CB by Channellock. We loved that this has been made in the United States. For persons who have used items made in China, you can tell the low quality compared to "made in USA" tools. What stood out for us was the quality and handles.
Handles
– For a tool to rank as one of the best, it has to be comfortable to use. The 318CB handles are designed for just that purpose and durability. The handles are new, and unlike the traditional blue-dipped handles, these have a Santoprene core, with a TPR-rubber overmold. The thermoplastic rubber (TPR), combines the durability of rubber, with the processing capabilities of plastic, resulting in stiff but comfortable handles which are tear proof in all situations. Therefore, your tool is protected from damages and fall.
Quality
– First, given the high price point and the fact that these are manufactured in the USA, you can expect them to deliver. The hard-wearing nose and better jaw stability ensure that they can withstand
high torque
. Second, there is the crosshatch pattern on the jaws that increases the overall grip. The crushing area also comes in handy as does the cutting edge which features a Channellock's knife, and anvil style which guarantees a perfect mating, and superior longevity. The coating protects against rust increasing the life. However, you can't honestly know how well built these pliers are until you put them to the test. You will notice that the pivot is built like a tank as it will withstand any efforts to torque the jaws out of alignment. Despite the shorter handles, this unit still grasps with exceptional strength.
Also, you will appreciate the C1080 carbon steel build that adds performance to these pliers.
Expand to see more
Product Features

Weight: 1.8 ounces
Length: 8.38"
Joint width: 1"
Jaw length: 2.3"

Who is it for?

The Channellock 318CB is a professional tool. Also, if you plan to work on heavy gauge wires or high torque tasks, we recommend you get one as they can bear up the strain.

These are strong thanks to the stubby nose, and thus tough tasks will not be a problem
The 318CBs are well built, and you can be confident of the longevity
Comfortable grip and ergonomic handle
One inadequacy of the 318CB is the cost; it happens to be quite pricey
They have had to sacrifice maneuverability in tight spots for sturdiness
5. Knipex 2611200


Knipex is renowned for manufacturing top quality tools, and the 2611200 are no exception. These are made in Germany, and thus you can expect premium quality. What we found fascinating with these is the elasticity and again the quality.

Elastic precision tips – Unless your pliers have a stubby nose and are built like a tank; there is always the likelihood that they will go out of alignment under high load. It is to be expected since the thin nose profile lacks strength. However, the Knipex 2611200 is designed to be flexible. Rather than damage the tips under heavy load, these are purposed to go out of alignment but will always go back to the original position. After pushing these to the limit, you can still pick a strand of hair with them.

Quality – The serrated gripping surfaces on the half round long jaws makes grasping items a breeze. This tool is made of special tool steel which is oil hardened, and the forged. The induction-hardened cutting edges are also worth considering as they will stay sharper longer.

Finally, there are the ergonomically designed plastic handles that we think you will appreciate how comfortable they are.

Expand to see more
Product Features

Elastic precision tips
Weight: 4.8 ounces
Length: 8 inches

Who is it for?

We would recommend the Knipex 2611200 for individuals that need maneuverability and strength. The thin nose profile makes it easy to get into tight spots while the elasticity ensures you can use them for heavy load work without deforming them.

The elasticity of the tips ensures that you can work on bulky items while still maintaining the precision
Thin nose profile and thus reaching into tight spots will be a breeze
First, these are pricey, and the cutting edge isn't helpful with high gauge wire
6. IRWIN VISE-GRIP


As pointed out earlier, Irwin tools are one of the best manufacturers of power and outdoor devices. Therefore, it shouldn't come as a surprise that two of their pointy nose pliers have made it onto this list. What we loved the most though is the affordability, and appeal of the item.

Affordability – Most of the options before this are quite pricey. Despite being the best, the cost locks out a ton of people from enjoying the quality. The 2078218, on the other hand, doesn't. It is a premium product for a not so premium price. Any hobbyist or homeowner will appreciate the low price point.

Appeal – Any expert will tell you how difficult it is to locate a misplaced tool in a workstation especially if there are no markings on the instrument. With the Irwin 2078218, it will be easy to spot the pliers from a mile away thanks to the blue and yellow color scheme of the vise grip handle.

Another fascinating feature of this is the pro touch grips that provide extra comfort. Thus you can work extended hours with little or no fatigue. You will also appreciate the nickel chromium steel build as and the induction hardened cutting edge. Also, the machined jaws have an excellent hold, and the pliers are ANSI certified.

Expand to see more
Product Features

Nickel chromium steel build
Weight: 5.6 ounces
Length: 8 inches

Who is it for?

We recommend the Irwin Tool 2078218 to avid DIY enthusiasts or homeowners who desire to get into tight spots.

These are the best for anyone They have a stubby nose and thus can withstand any abuse
The pro touch handles are remarkably comfortable and therefore working for extended periods of time will not be a hassle
One complaint with the 2078218, is that the jaws don't close tight enough
7. Stanley 84-096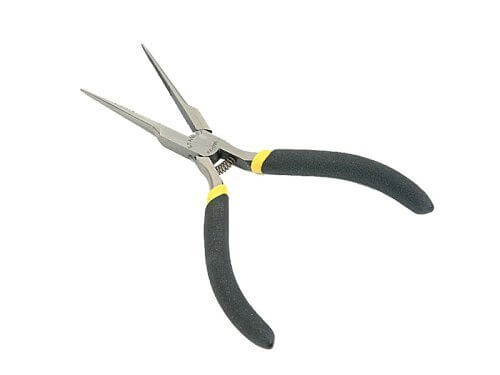 The Stanley 84-096, has to be the most popular needle nose pliers. What stood out for us were the long tampered jaws and the spring tension.

Jaws – There are many instances where you will need to get into some tight spots. Well, you need not concern yourself as these tampered jaws add maneuverability of the tools.

The spring tension makes these extremely easy to use.

We also love the forged steel construction of the 84-096. It is durable and can handle abuse without the tool being deformed. Also, other than precision, the jaws can are strong for challenging work.

You will also appreciate the coated handles and as they are easy to grip and designed to prevent slipping. The 84-096 is also quite light, which will be helpful if you want to work for extended hours.

The rust-resistant finish ascertains longevity of the tool, which is also backed by a lifetime limited warranty.

Expand to see more
Product Features

Lifetime limited warranty
Spring tension
Weight: 3.2 ounces
Length: 5 inches

Who is it for?

The Stanley 84-096 are well built, but unfortunately, they can't handle the strain that professional tools require. Therefore we recommend them for hobbyists and avid DIY enthusiasts.

One of the strong points of the 84-096, is that it's a perfect product but not retailing at a premium price
The thin profile makes it easy to get into any tight spots
The ergonomic design of the handles increase the comfort while the anti-slip design keeps the tools in place even when wet
If you intend to work outside or in harsh conditions, get these as they are rust resistant
The tool isn't well machined, and you will have a difficult time picking small gauge wires
8. Greenlee 0351-08SM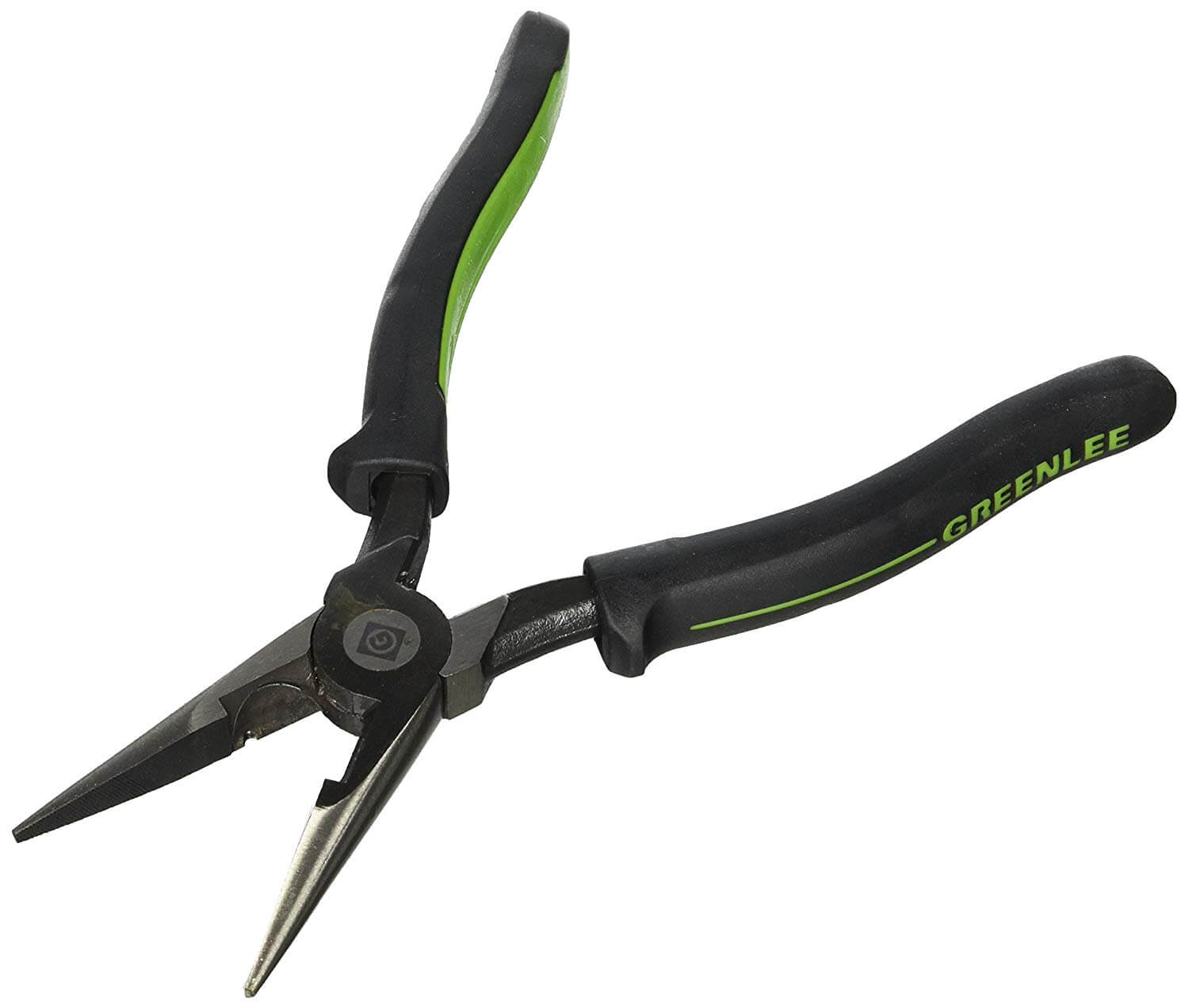 If you are looking for a professional set, and you are on a generous budget, then you will appreciate the 0351-08SM by Greenlee. These are built to last you a lifetime without ever losing the build quality. Made from chrome vanadium steel, there it has more durability and strength. The head is a bit beefy which sacrifices the maneuverability of the tool for potency. It is highly unlikely that you can torque this out of alignment. What piqued our interest with the 0351-08SM were the handles and jaws.

Handles – Comfortable handles are a must if a tool is to be termed as one of the best, and the grips on the 0351-08SM are just exceptional. First, they are custom made for user identification. Now there is no more confusion as to who owns what.

Second, they have a more comprehensive grip design which provides a more significant load bearing. You can apply more pressure without it becoming uncomfortable. Also, there is the double layer vinyl that is slip resistant and quite comfortable.

Jaws – For a better grip, the jaws are serrated and can grasp even a strand of hair. You will love the cutting edge as it is laser hardened for longevity, and can effectively cut solid copper wires.

Expand to see more
Product Features

Weight: 11.2 ounces
Length: 8 inches
Meets ASME/ANSI specifications

Who is it for?

The Greenlee 0351-08SM is a professional tool. Yes, it would serve DIY enthusiasts, but the price point isn't friendly for such individuals.

These are sturdy and can withstand any torque; they will maintain the resistance and alignment even after months and years of use
Feature a laser-hardened cutting edge for longevity
The broader grips increase the load bearing areas
The only shortcomings of this unit are a stubby head and that they are pricey
9. TEKTON 34401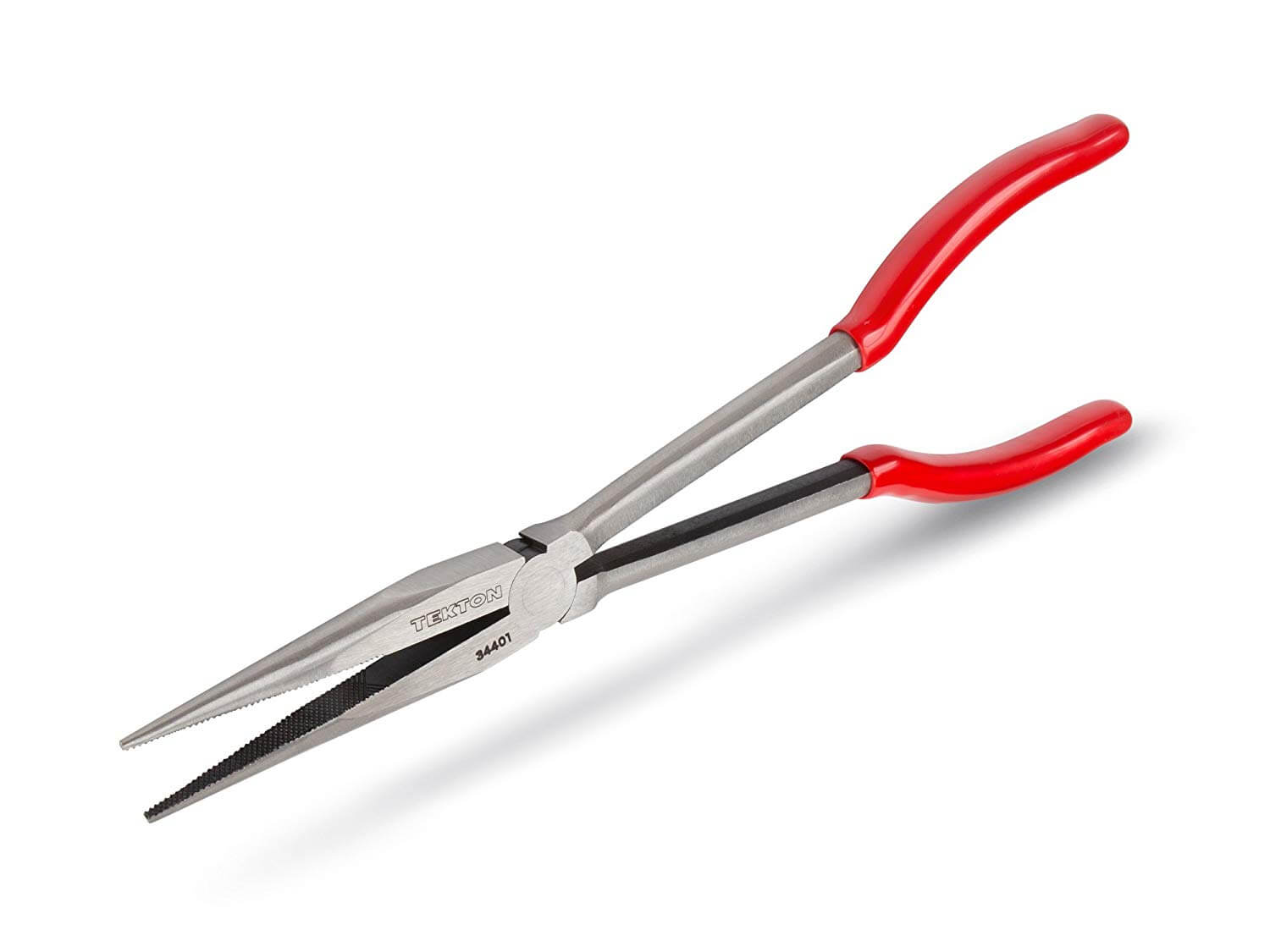 Tekton is another renowned company for the quality of their tools, and the 34401 is no exception. What made this stand out for us was the length. At 11-inches, it happens to be the longest on this list. Other than the handle, it is an excellent item, at a not so premium price. It is made of strengthened chrome vanadium steel, unlike the carbon steel that's used to create lower grade pliers.

Length – When working on or near hot surfaces, you need a tool that has enough range to keep you safe. Also, you might need some extra length to reach into tight spots. At 11 inches this increases your efficiency, and you can access narrow spaces.

Excellent tips – The Tekton 34401 had tapered down excellent tips that will smoothly fit into any tight space and grasp or bend wires with ease. The crosscut teeth too are appropriately designed that you can work without slipping.

Another fascinating aspect is the thin nonslip grips that allow you to work even when wet.

Expand to see more
Product Features

Length: 11 inches
Weight: 10.4 ounces
Finely tapered tips

Who is it for?

If you are looking for an option to get into extremely tight spots, we recommend you get these.

Has tapered tips and is long thus best for working in tight spaces
It is made of chromium vanadium steel which speaks of its quality
One shortcoming is that the jaws leave a gap when closed which beats the idea of a needle nose pliers
10. Milwaukee 48-22-3068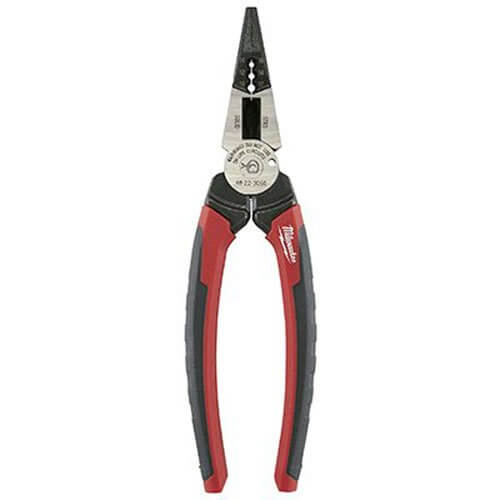 If you are in the market for a multi-tool, this one is not a bad choice at all. You might be thrown off-guard by the looks of the tool, but worry not as these are still pointy nose pliers just with more versatility. What we liked most about the Milwaukee 6-in-1 was the functionality, and build quality.

Functionality – Along with the usual bending, cutting and gripping, you can use these to ream pipes thanks to the milled jaws, use them to strip and loop wires and also pull out nails.

Build quality – Made of forged alloy steel; this Milwaukee is designed to handle robust tasks for more extended periods. Also, it has a rust protective coating making it ideal for use in harsh conditions.

The tapered head is also beneficial as it can reach into most tight areas. As for the length, this is 8" long, with the handles being 5". The long handles in conjunction with the fulcrum allow you to exact a lot of pressure without it becoming uncomfortable.

Expand to see more
Product Features

Length: 8-1/8"
Handle length: 4-7/8"
Rust protected
¾" laser hardened cutting edge
Nail puller

Who is it for?

Given the many uses of this item, we would only recommend it for professionals. Only they can benefit the most from the multi-functionality.

The handles on the Milwaukee are covered in rubber and are anti-slip
They are heavier, longer, and more robust
Feature a laser hardened nail cutter that increases the durability
Some few defects of the Milwaukee are the stiffness and are not smooth to work with
How to Choose a Good Pair of Needle Nose Pliers
Purpose and personal specifications
Pointy nose pliers feature different builds for different purposes. Before purchasing, ensure that the unit is suited for a specific need. One thing to consider is the length with 8" to 8-1/2" being the most popular. Smaller pliers are often delicate and only consider the larger ones if you are looking for a specialty As for the 8-inch ones, they have shorter handles and a thinner nose which increases their maneuverability and gives them a longer reach.
If you want to get into tight spots, we would recommend this unit. However, there are instances where you are searching for a more robust unit. One with more robust and thicker jaws, and a unit that will not flex while being twisted, we would recommend the 8-1/2" unit. Also, check the handles to ensure they fit you. Most common handles are between 4" and 4-1/2 inches. With more extended handles, it will be easier to hold the unit and increase the clamping power while shorter stems have an uncomfortable grip.
Material
Nearly all needle nose pliers are made of steel. Nonetheless, like most other steel equipment, the quality varies greatly. We recommend you get a unit which has been made sturdy through induction hardening. The tips will stay sharper, longer and result in increased productivity. Also, we recommend you get pliers that are corrosion resistant especially if you want to work outdoors or in harsh conditions.
Comfort
Comfort is a crucial ingredient in a tool if you want to use it for extended periods of time. You want a unit that is easy to grip and use with minimal fatigue and injuries. If so, get pliers that are ergonomic and with rubber handles for comfort and to prevent slippage.
Price
The price of items has been falling in recent years thanks to manufacturing leaving the USA to other nations. As much as that isn't good news, it's irreversible. However, it doesn't necessarily mean that all cheap products are premium.
And as much as you would love to save some few dollars on pliers, we advise against it. Also, the tips of cheap units don't line up under pressure rendering the tool useless. We recommend you purchase from reputable brands. Though they might be pricey, there is a no possibility that these units will fall into pieces after the first use.
Warranty
The anatomy of pointy nose pliers makes them quite fragile. The pointy tip is the most affected as it breaks quickly. In the face of this ensure that the manufacturer offers some warranty and that he will honor it.
Wire cutter and multi-tool
One common addition in any pliers is the wire cutter where the bases of the jaw meet. If you want to strip or cut some wires, we would recommend you get a unit with this feature. Also, you might want a multi-tool. It is more versatile, although bulky, and pricey.
With the guide above to help you make a more educated decision when purchasing needle nose pliers, below are our picks. However, before we get started, we would love to remind you to leave your opinion in the comments below and be sure to inform us if there is something we have left out.
FAQs
What is the meaning of needle nose pliers?
Also known as pinch-nose pliers, they are renowned for the long slender heads that are ideal for getting into tight areas. They are used for cutting, holding, and are used by electricians, jewelers, and artisans.
What is the purpose of needle nose pliers?
Initially, they were designed to hold, or bend small wires and for electrical work thanks to the pointy nose.
However, advancements have increased the versatility of this tool which now incorporates a cutting tip, and can be used to get into areas where fingers and other devices are either larger or clumsy.
You can even use it to get items from tight spaces.
Conclusion
All the needle nose pliers on this guide are currently the best for specific markets. Some are sturdy and robust for professionals, while others are slender to get into tight spots. Some are quite pricey which makes them quite an investment while others are affordable and perfect for any DIY enthusiast. Whichever the case, we are sure you can get needle nose pliers that meet your needs. Finally, don't hesitate to tell us what you think in the comments below.
Subscribe to our newsletter