7 Best Keyhole Saws Reviewed & Rated
last updated:
Oct 15, 2021
Anyone who has worked in drywall projects knows that this is an essential item to have. A keyhole saw is used for piercing and cutting small shapes and saw out holes for pipes, switch boxes and other small openings. In most cases, drywall projects are usually dusty and require a lot of concentration and energy to dig in those little holes in different materials. For that reason, investing in the best keyhole saws is the best decision you can make to have a solution for those significant problems.
However, they are not very strong and therefore, they are not good enough for any materials with concrete in them or harder materials like plywood. They are the best in rigid but thin materials that can use a push motion to cut through. However, there are some saws which have teeth that work in both push and pull action. They are small enough to go on your tool belt.
Our Top 3 Picks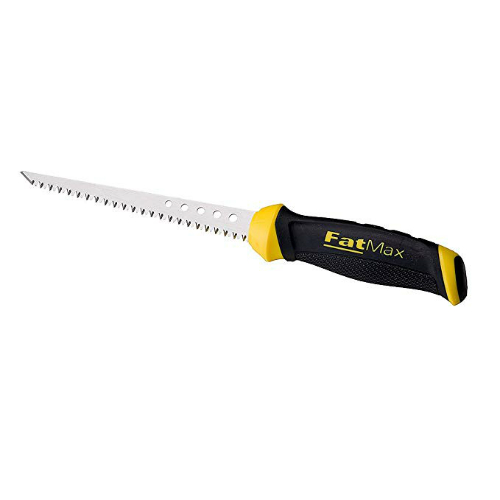 Stanley 20-556

Our rating
Durable
Price:

See Here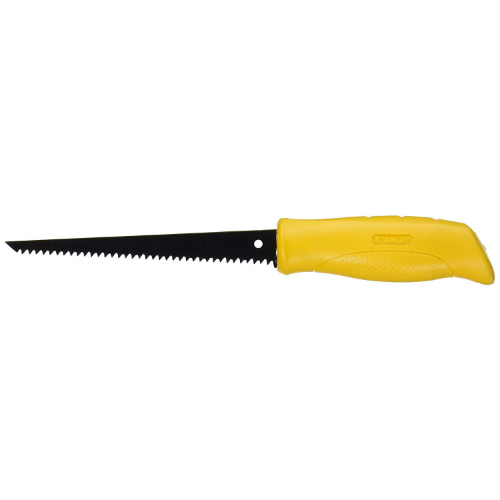 Stanley 15-556

Our rating
Sharp
Price:

See Here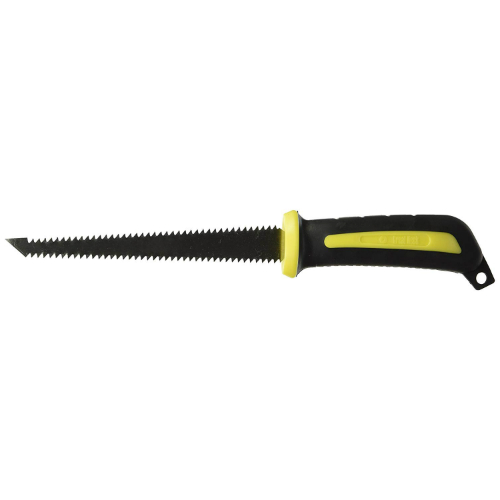 GreatNeck

Our rating
Quality
Price:

See Here


Since they are hand tools, a keyhole saw requires a lot of concentration and energy to burrow through in different thin materials that are1/4″, 3/8″, 1/2″, and 5/8″ thick. For that reason, investing in the best keyhole saw is a decision you will happy you made. Our buying guide will tell you what to look for.
7 Best Keyhole Saws
1. Stanley 20-556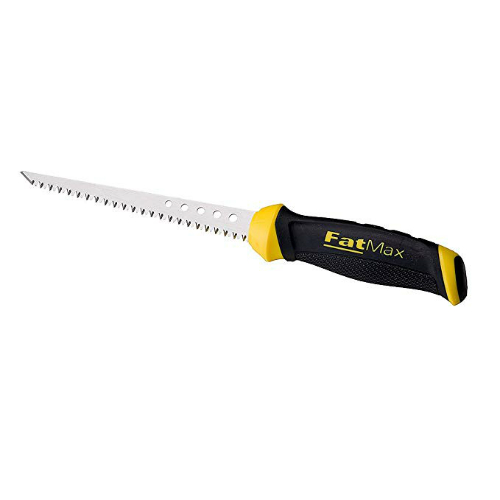 Stanley's 20-556 FatMax keyhole saw is full of features that cry out, "Buy me." Thick and ergonomically designed with a comfortable, slip-resistant handle, it makes your cuts easily

This jab saw provides strength, precision, and durability all in one. With a 6-inch blade, well-sharpened to punch effectively through drywall, wood, and plastics, it is designed to meet high standards for performance and quality. This blade won't get bent as you work. It also has SharpTooth Saw Technology of the hand saw uses three cutting surfaces to cut 50% faster than conventional STANLEY Hand Saws

A great tool that precisely speeds up the pace of the work and also saves time. The FatMax induction-sharpened teeth effectively deliver quick cuts with less energy used. They also stay sharp through extended use. There is a limited lifetime warranty on the blades.

Rasping holes along the blade's side enable you to effectively expand smooth rough edges of sheetrock after you have cut it.

Expand to see more
Product Features
6-inch blade


Induction-hardened teeth


Thick and ergonomically designed


Sharpened tip for puncturing drywall
Who is it for?
It is highly recommendable for anyone who wants to make severe cuts to any material.
Very sharp teeth thus easier cutting
Durable
It is fast and easily provides smooth cuts
Slip-resistant
The handle is too thick for small hands
Only 1 blade
2. Stanley 15-556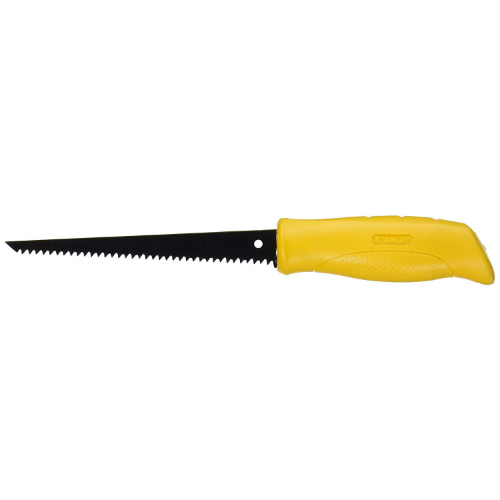 Stanley manufacturers are known for their quality products, as this 15-556 TOOL proves. This $12 keyhole saw has everything required to deliver quality and exemplary results for your cuts for many years. Its teeth are designed to make quick and easy cuts without clogging from particles that come loose when cutting drywall.

The fully hardened, tempered blade on this tool was designed for a long and cutting life, so you will not need to budget for another tool for an extended period. It has an epoxy-bonded blade that ensures your tool is secure, durable, and ready to go for any job. The sharp tip will make it through any drywall.

The curved ergonomic handle is shaped so that you will not get blisters in your hand. It is also soft enough for comfort.

Expand to see more
Product Features
Epoxy-bonded blade


Hardened and tempered blade


Ergonomically designed


Has a sharp tip


The blade is sturdy and strong
Who is it for?
Can be used by anyone who wants to acquire professional cuts.
It is safe to use
It is comfortable to handle and use
Durable
Blades and very sharp therefore provides quick cuts
The blade is not corrosion free
Blade wiggles but this does not impact cutting action
3. GreatNeck 4932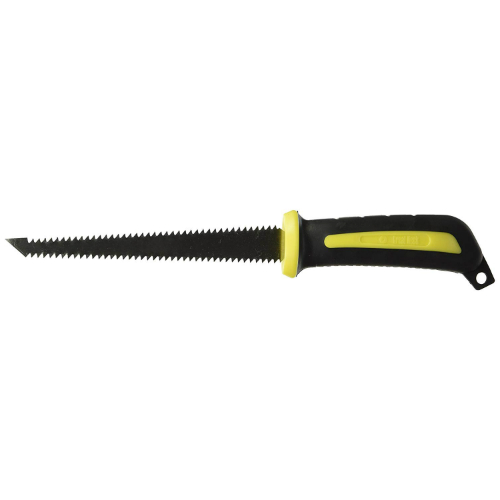 The GreatNeck 4932 is a 6-inch double-edged keyhole saw that cuts wallboard, drywall, or sheetrock with ease. The two sides of teeth cut wallboard products quickly after making the initial jab with the pointed top. Unlike many knives, it cuts curves as well as straight lines.

This unit is strong enough to allow a push-and-pull motion due to its super sharp teeth made of tempered and hardened steel. It won't bend during use.

The handle on this saw is made of rubber that won't slip in your hand.

Expand to see more
Product Features
Hardened and tempered steel


Finished hardwood handle


Pointed tip


Nickel plated ferrule


6" long

Who is it for?

This tool is ideal for DIYers and pros alike.

Easily cut through any material
Easy to hold
Long lasting
Free from rust
$10 or less
The blade is permanent
Adequate performance
Blade got due in use.
4. DEWALT DWHT20123


For those who need to cut drywall and plane the edges, the Dewalt DWHT20123 is the perfect 2-in-1 tool. This keyhole saw has a jab saw blade and a separate rasp blade that fold down and lock for safe carrying and storage. Anyone who has one of these sharp saws in their tool bag knows that it is easy to get cut when reaching into the bag. This handy tool folds away the sharp blades.

The saw blade has triple ground teeth for easy cutting in both directions, while the rasp blade makes material removal easyThe stainless steel blades s ensure that the tool can serve the user for an extended period without rusting.

This keyhole saw has an ergonomic bi-material handle that adds extra comfort to the user to hold the blade at the perfect angle. The bi-material also helps the grip to have durability.

A $23 DeWalt DWHT2124 is a winner to have on hand for drywall projects.

Expand to see more
Product Features
A locking mechanism that locks the blade in the handle


Triple ground teeth for faster cutting


Ergonomically bi-material for the handle


2-in-1 design


Compact storage for both edges
<

Stainless steel jab blade and rasp
Who is it for?
The 2-in-1 design and the compact storage are convenient features for anyone who works with drywall. Professionals who use the tool a lot to cut drywall for pipe, outlet boxes, etc. say that is a great tool for small jobs, but for big jobs, a separate jab saw and rasp are more effective.
Easy to store and carry
Durable
Blades are very sharp
It is ergonomically designed
Can be used to handle different types of cutting
It is a bit pricey
Inconsistent sharpness from tool to tool
Two separate tools might be better for large projects
5. Stanley 15-206


The Stanley 15-206 is one of the best devices to consider if you want to make cuts when doing drywall projects, especially in plasterboard which is a more brittle type of wallboard. The self-starting tip of this tool is very sharp so it can easily penetrate through gypsum boards for plunge cuts. The teeth of this 6" jabsaw are epoxy bonded and ferruled to the handled to make the blade three times as durable as non-epoxy blades.

The saw has a stained wood handle that is slip-resistant. For greater strength and durability, the blade is epoxy bonded to the handle. This keyhole saw has a limited lifetime warranty which is a sign that the tool is designed for long-term use.
Expand to see more
Product Features
Wood Handle


High-quality construction


6-inch blade


Sharpened self-starting point


Non-epoxy bladed edges
Who is it for?
We recommend this to people who need to cut out
electric outlets
in drywall, even brittle plasterboard.
Durable
Very sharp edges
Easy to handle
Can be easily controlled by people with long or short hands
Operates at a faster rate
Limited lifetime warranty
The blade not changeable once it wears out
6. DEWALT DWHT20540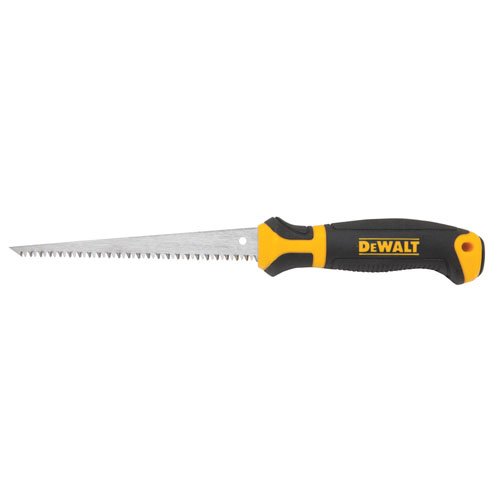 The teeth design on the DeWalt 20540 make it one of the most aggressive keyhole saws on our list. Induction-hardened, these teeth stay sharp and make cutting 50% faster on drywall, plastics, and more. The cuts are very accurate due to the sharpness of this jabsaw. Having one tool that works well on multiple matters saves money and this one does a superior job on building materials; it is not for wood or metals though.

The handle is soft, non-slip rubber that has been contoured to offer maximum comfort during use. The tool has no case or sheath available, which is unfortunate as it is so sharp. Careful users will love this though.

Expand to see more
Product Features
Induction hardened teeth


Aggressive teeth design


Has multiple material usage


Has a plastic with rubber handle
Who is it for?
This aggressive keyhole saw, priced at about $13, will speed up drywall cutting with fast, accurate cuts. It is a good buy for anyone, whether a DIYer or pro.
It is durable
It is safe to use
Easy to carry around
The blade sharpened for easier cutting
A high rate of speed
Very cheap
Limited to the one fixed blade
No case or sheath for sharp blade
7. Kobalt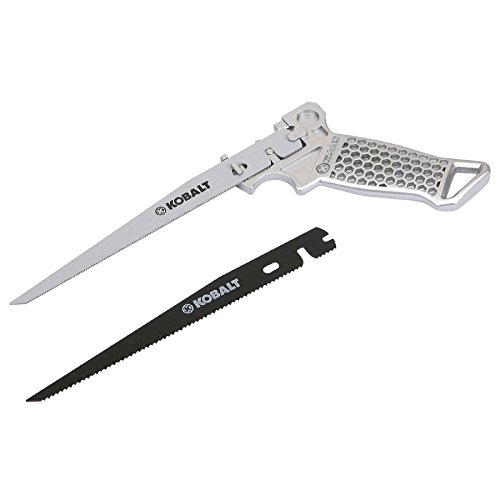 With two alloy tool steel interchangeable blades, the Kobalt 7.5Cross Cutting Hand Saw is good for both metal and woodcutting. It has an aluminum pistol grip handle which is quite comfortable to hold and work with. This keyhole saw is extremely lightweight but still very strong. The blade is also straight enough to achieve deep cuts where most keyhole saws don't reach.

The blades lock both horizontally and vertically and have a total of four positions for multiple uses. Changing the blade is easy. Slide the blade back a little and apply pressure to the side of the blade back where the handle is, which makes the blade pop out of the notch. Rotate the blade out of the holder and reverse the process to put in the other blade. If you need a visual, there are YouTube videos that demonstrate the process.

Reviewers on Amazon and other sites loved this saw. For about $10, the saw made excellent cuts, was easy to handle, and stored easily, as the blade can be removed for safety. Negatives were about performance and the difficulty in finding replacement blades.

Expand to see more

Product Features

Pistol grip handle
Very straight blades
Lightweight but strong blades
Has replaceable blades

Who is it for?

For the low price, this 2-in-1 tool is worth having in a DIYer's or even a pro's toolbox.
Very strong and durable
Can easily replace the blades
Lightweight and portable
Delivers smooth and quality cuts
The saw is a little flimsy
Replacement blades hard to find
Best Keyhole Saw Selection Criteria
Since the keyhole saw is a hand tool, the criteria for choosing the best ones come down to the handle and the blade. Teeth count and length impact the effectiveness of the saw. There are typically two varieties of keyhole saws
Fixed Blade – This type is used commonly in modern construction. A fixed blade type requires a more sharpened point at the tip of the blade to push through the soft materials used in today's construction without making any hole for the blade.
Retractable kind of blade – Some saws have a wooden handle or a cast-iron handle that allows you to retract the blade to an optimum length. By shortening the blade, you can make it the exact length you need it to be. This also prevents any unwanted flex to the edges if the full extent of the blade is not needed.
Here is the list of some things to consider:
The Handle
Comfort in using any tool should be the priority when you buy a keyhole saw. Generally, the best handle is the one that will not make your hands slide even after applying external force. The most common types of handles are wooden handles because they are cheap and easy to access; if you buy one with a smooth texture or an ergonomic design, they will be easier on your hands. A better choice is a handle with a rubber or plastic grip.
The Blade
Most blades have a similar design with alligator teeth along their length. However, blades vary in width, length, and number of teeth or points. Blade lengths range from 5 to 15 inches, and there are 5 to 20 teeth per inch, with 8 to 10 being the most common. Ideally, the blade will fold when not in use so that if you carry it in your tool belt, you won't jab yourself.
Some tools offer replaceable blades, which is not only an advantage if one breaks during use but allows you to select different blades. Some specialty or sawzall blades can make a keyhole saw rival the effectiveness of a reciprocal power saw. Tools that accept replacement blades also allow you to add extension blades if you are trying to make a hole in interior material that you cannot get close to.
Generally, you should put one thing in mind; the best blades for these tools should have the sharpest edge for easier penetration right through the drywall.
FAQS
1. What are keyhole saws used for?
Keyhole saws are hand tools mainly used to make cuts on wood like drywall and plasterboard. It is also useful off chunks of sheetrock to get miters and tenons. In some situations, you can use the saw to perform a curve cutting with special sharp blades that can cut through plywood and wood. In short, they can be widely used in DIY projects.
Besides, depending on the blade in your saw, they can also be used in other works like gardening like cutting small stems, roots, twigs. However, keyhole saws can be broadly used depending on the type of blade used.
2. Are there power keyhole saws?
A keyhole saw is hand-powered. The power tool that can do many of the functions of a keyhole saw is a saber saw, a hand-held powered reciprocating saw with a long toothy blade jutting out of the end. This tool also cuts soft material. It is a bit bigger than a jigsaw and lacks the soleplate that increases control over cutting.

3. How can you change the blade?
If your saw allows a change of blade, the process is easy. First, unscrew the screw that holds the blade in place. Then, take the old blade out, and before re-screwing, make sure the new blade is put in just like the old one. Finally, place your half handle where you removed it and screw all the screws tightly.
4. How does a keyhole saw work?
To use a keyhole safely, you must ensure that you have the right blade firmly attached to the handle. First, mark where you want the hole and make a starter hole in drywall so the tip of the blade can come through. The saw should use short blades to prevent puncturing the opposite wall or anything else. Once the blade is through the wall, give it a little tap on the back of the handle to get it into position.
The best way to handle a keyhole saw is to firmly grip its handle, hold it away from yourself as you saw for safety, and avoid applying excess pressure that can jam the blade; however, don't push it very deep unless you need a big hole.
5. Can you sharpen the blade in a keyhole saw?
You can have blades professionally sharpened, but doing may cost more than buying a new blade or even a new keyhole saw.
Conclusion
Finding the best keyhole saw requires focusing on the type of blade, teeth, handle length and material, handle structure, and the size of the blade. These are the major critical things for you to get the best one that meets all your job expectations. However, even before buying your equipment, you should be aware of the type of work.
To make things easier, consider buying a tool that has all the requirements of your job. We assure you that any of the above keyhole saws will deliver as expected, depending on the type of work.
Subscribe to our newsletter