10 Best Keyhole Saws Reviewed & Rated
last updated:
Mar 26, 2019
Anyone who has worked in drywall projects knows that this is an essential item to have. A keyhole saw is used for piercing and cutting small shapes and saw out holes for pipes, switch boxes and other small openings. In most cases, drywall projects are usually dusty and require a lot of concentration and energy to dig in those little holes in different materials. For that reason, investing in the best keyhole saws is the best decision you can make to have a solution for those significant problems.
However, they are not very strong and therefore, they are not good enough for any material with concrete in them or harder materials like plywood. They are the best in rigid but thin materials that can use a push motion to cut through. However, there are some which have teeth that work in both push and pull action.
Our Top 3 Picks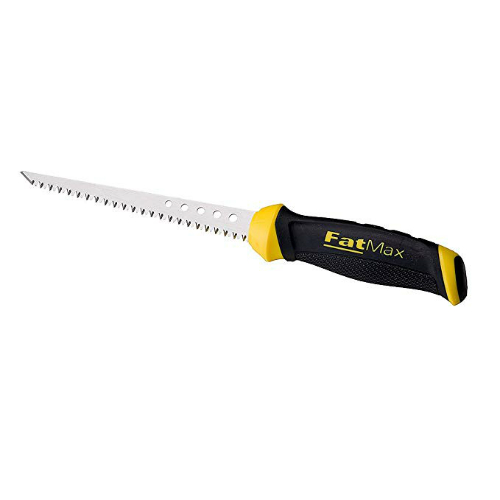 Stanley 20-556

Our rating
Durable
Price:

See Here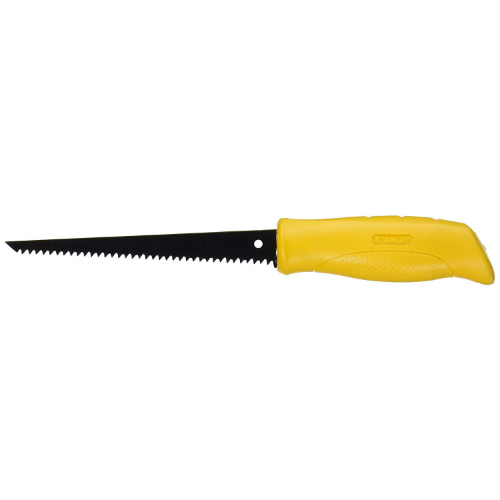 Stanley 15-556

Our rating
Sharp
Price:

See Here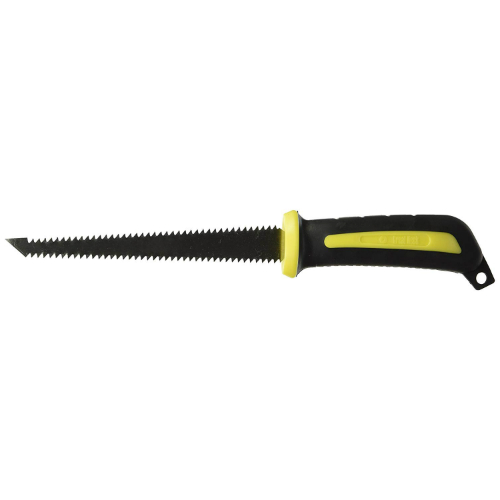 GreatNeck

Our rating
Quality
Price:

See Here


If you want to get that little vacuum out of your drywall panel, this is the best tool to include in your to buy list. Since it is a manual tool, they will not produce fine particles but they save your energy, make your work easier and even save your time. For those inevitable cuts, you can also put it on your tool belt.
Among the hundreds of tools in the market, it is difficult to know which is the best tool for you. Some have familiar and unfamiliar features that can easily confuse your decision to pick the perfect and the most effective tool for your projects. Therefore, we shall include a list of some of the things you should put in the eyes before making any purchase. Read our selection criteria below.
1o Best Keyhole Saws
1. Stanley 20-556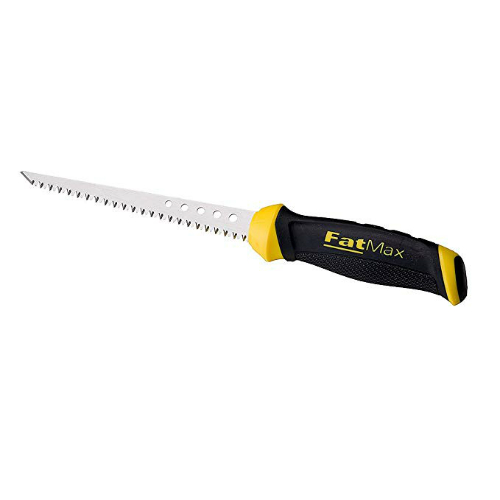 Stanley has brought you a model of jab saw which is composed of some of the most fantastic features that will give you reasons to buy this specific tool. It is thick and ergonomically designed with slip resistant and comfortable handle that allows you to operate and achieve your cuts easily.

This jab saw provides strength, precision, and durability all in one. Besides, it has a 6-inch blade, well sharpened to punch effectively through drywall, wood, and plastics. In other words, it is designed to reach high standards for performance and quality. Among the best features, we also included the following:

Slip-resistant handle - Due to the job this tool performs, it provides comfort to the user by having a slip-resistant grip which has a rubber. It ensures that it does not only provide strength and support but also delivers exceptional control of cuts by the user

Induction sharpened teeth - everyone wants to work with a tool that will precisely speed up the pace and also saves time. This unit has a well-sharpened blades that effectively delivers quick cuts with less energy used.

In addition to its significant features, it might be among the few OPTIONS that have rasping holes along the blades side. These holes enable you to effectively expand smooth rough edges of sheetrock after you have cut.

Expand to see more
Product Features
6-inch blade
Induction-hardened teeth
Thick and ergonomically designed
Sharpened tip for puncturing drywall
Who is it for?
It is highly recommendable for anyone who wants to make severe cuts to any material.
Very sharp teeth thus easier cutting
Durable
It is fast and easily provides smooth cuts
Slip-resistant
The handle is somehow thick therefore small hands can have difficulties while holding
2. Stanley 15-556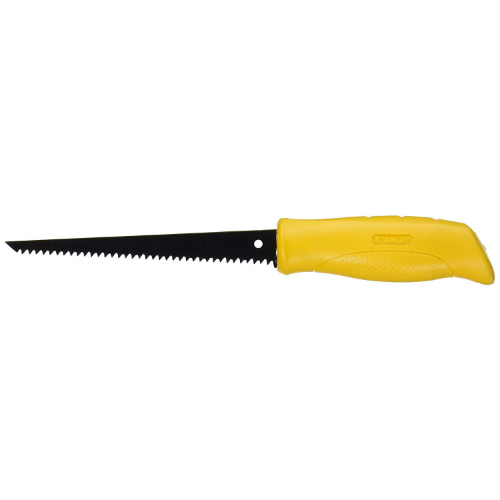 Stanley manufacturers are known for their quality products, and this 15-556 TOOL one of them. It has everything required to deliver quality and exemplary results for your cuts. Among these things, the teeth are designed to acquire quick and easy cuts and prevent clogging. Often, a lot of particles come from materials after using keyhole saws. These particles can, however, form some blockage while cutting and make it hard for you to continue. That's why you require this equipment.

Also, it features a fully hardened, tempered blade that designed for long and cutting life. That assures you that you will not need to budget for another tool for an extended period. Below is our best features in this item:

Epoxy-bonded blade - sometimes making cuts in any materials is not easy. It requires an object that provides safety and also that fits well to handle your task. This unit contains an epoxy bonded blade that ensures your tool is secure and fit to operate. It also provides durability.

Curved handle - we all know that the type and shape of a handle in a keyhole saw are susceptible to the user depending on the kind of work. With a curved handle, you can be able to comfortably make your cutting without the fear of getting blisters in your hand. It is also soft enough.

In addition to these features, this tool contains a sharp tip at the end of the blade to ensure that the user has an easier time making cuts through drywall, without inserting a lot of pressure.

Expand to see more
Product Features
Epoxy-bonded blade
Hardened and tempered blade
Ergonomically designed
Has a sharp tip
The blade is sturdy and strong
Who is it for?
Can be used by anyone who wants to acquire professional cuts.
It is safe to use
It is comfortable to handle and use
Durable
Blades and very sharp therefore provides quick cuts
The blade is not corrosion free
3. GreatNeck 4932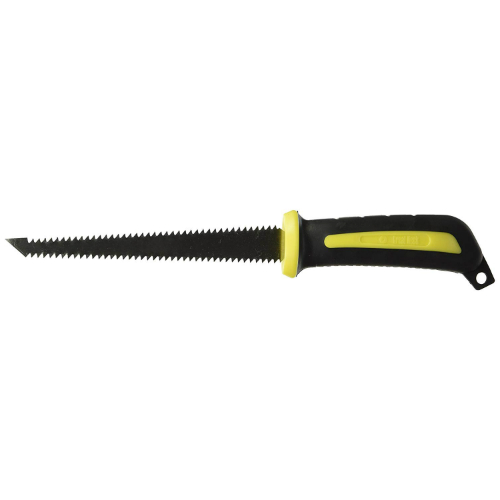 Two significant reasons we would support this tool for you is because it is straightforward to use and its durability. It designed with a nickel-plated ferrule that is the best in resisting dust; thus it will serve you for a long time without wearing out or even looking old.

In addition to this, it has a sharp pointed tip for plunge cutting. That allows the user to have an easier time and use less energy when trying to make holes on hard material. Ultimately, this unit is strong enough and for a push and pull motion with super sharp teeth, and it can be easily used by any person especially professionals who have piled workloads for a faster speed. Also, these are our best features:

Tempered and hardened steel construction - to ensure that it remains strong even when a lot of pressure is inserted to achieve the goal of the user. This tool has hardened steel that prevents it from bending while operating and also increases its durability and its strength.

Finished hardwood handle - making cuts in any material can be very tiresome especially when using a tool with a handle that keeps slipping away from your hand. This equipment has a hardwood handle which is soft and slides free; therefore; you do not need to worry about getting blisters on your hands.

This stool is ideally meant for providing fine finishing and also to ensure the user gets an additional comfort and exceptional cutting performance.

Expand to see more
Product Features
Hardened and tempered steel
Finished hardwood handle
Pointed tip
Nickel plated ferrule
6-inch long
Who is it for?
It is best for people who like to DIYs tasks.
Easily cut through any material
Easy to hold
Long lasting
Free from rust
Very cheap
4. DEWALT DWHT20123


For people who have used this tool before, they will confirm that this is one of the most durable, convenient and efficient cutting tools you can ever have. Whether you want it for cutting drywall or plane edges, this cutting equipment is the best solution. If you need to make a value of your cash, add this tool into your to buy list.
Among the many features held in this unit, it features triple ground teeth. That is a unique feature since it enables it to have a rapid cutting while its rasps blade removes materials. Also, the edge has stainless steel which can serve the user for an extended period
without rusting
.
2 in 1 design
- this is among the few features that most of the options don't have. With this one, it is designed to have two blades that provide convenient cutting. For instance, one blade can be used to cut drywall while the one cuts plane edges. Both modules have different design features that allow perfection for different cuttings.
Compact storage
- safety is always a crucial thing for most customers. This equipment constructed of a small room where both blades can fold into the handle. You can be able to store it in your pocket comfortably without the fear of uncontrolled injuries. It allows easy,
compact storage
.
Also, this keyhole saw has an ergonomic bi-material handle that adds extra comfort to the user to hold the blade in the perfect angle. The bi-material also helps the grip to have durability.
Expand to see more
Product Features
A locking mechanism that locks the blade in the handle
Triple ground teeth for faster cutting
Ergonomically bi-material for the handle
2-in-1 design
Compact storage for both edges
Stainless steel rasp
Who is it for?
This tool is convenient for anyone especially for people working in drywall projects.
Easy to store and carry
Durable
Blades are very sharp
It is ergonomically designed
Can be used to handle different types of cutting
5. Stanley 15-206


It is one of the best devices that you need to include in your to buy list if you want to achieve those small holes in your drywall projects, especially in plasterboards. It has got its tip very sharp that can easily penetrate through drywall or other gypsum boards. One of the most fantastic thing about this tool is that it has a stained wood handle that is slip resistant. Thus, it allows the user to cut any wood, plastic, or sheetrock with a lot of force but still can control its movement.

Most of the people love it due to its well-sharpened teeth that again gives the user a comfortable time and also helps save time and energy. It provides a speed of 50% faster than most of the saws. You should even know that the durability of the induction-hardened teeth lasts almost five times longer than the natural teeth making the cutting more comfortable and enjoyable. Here are some of the best features:

Blade size 6 - this is a quality superior blade size. It allows the user to have relaxed time during stroking since it does not get stuck or caught up and the blade doesn't bend. Again, for people with big hands, it is a comfortable tool to hold, and the teeth still stay sharp even when extended.

Wooden handle - a wooden handle TOOL is one of the cheapest. Therefore, it saves your money and also the handle provides a more comfortable way to hold while operating since the hands cannot slip out easily even when inserting a lot of force.

Apart from these features, it has a high-quality construction that provides durability even to its teeth. It can be used several times for a long time, but its blades remain sharp and sturdy. We recommend this tool for flourless performance.

Expand to see more
Product Features
Wood Handle
High-quality construction
6-inch blade
Sharpened self-starting point
Non-epoxy bladed edges
Who is it for?
We recommend this to people working in cutting out for
electric outlets
and plasterboard.
Durable
Very sharp edges
Easy to handle
Can be easily controlled by people with long or short hands
Operates at a faster rate
The blade cannot be changeable once it wears out
DEWALT DWHT20540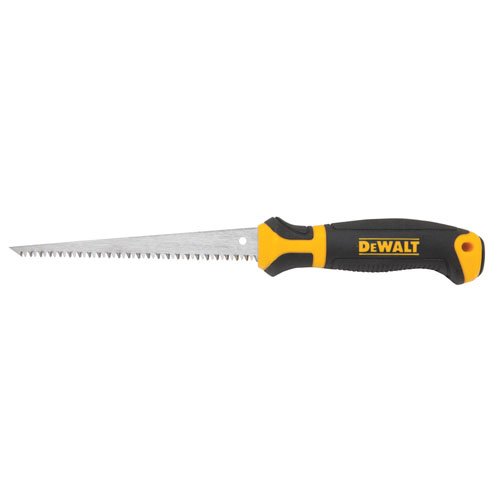 That is one of the most aggressive tools in our lists, and besides cutting sheetrock, it can equally help carve wood, bones as well as
pruning
.
Your security is the top priority with this saw. With a size of 6-inch blade, it is designed with an extra secured edge to handle assembly which therefore makes it safe to carry around the well-sharpened blade whenever it's not in use. Likewise, its handle has a soft, non-slip rubber that has been designed to offer maximum comfort to the user whenever operating. If these features are not enough to you, you can still consider looking at the following:
Multiple material usage
- anyone would love to own a saw that does not only serve one purpose but also designed to help in other jobs as well. It has a combination of multiple features that in return offers multiple material usage. That does not only save your energy and time, but it also keeps your money.
Aggressive tooth design
- for any keyhole saw, the model of teeth is fundamental to the user. This tool has a bold tooth design that enables it to deliver a maximum speed of cutting and also. Compared to the traditional teeth design, it has a 50 % faster rate.
This tool has made it to our top keyhole saws because, it is affordable for everyone. You do not also need to worry about changing the blade for a sharper edge now and then. It has an induction hardened teeth that help it stay bright for long.
Expand to see more
Product Features
Induction hardened teeth
Aggressive teeth design
Has multiple material usage
Has a plastic with rubber handle
Who is it for?
Do you need an aggressive keyhole saw for your job to become faster and more pleasant? We recommend this one for you.
It is durable
It is safe to use
Easy to carry around
The blade sharpened for easier cutting
A high rate of speed
Very cheap
Limited to the one fixed blade
7. WilFiks Razor Sharp 12"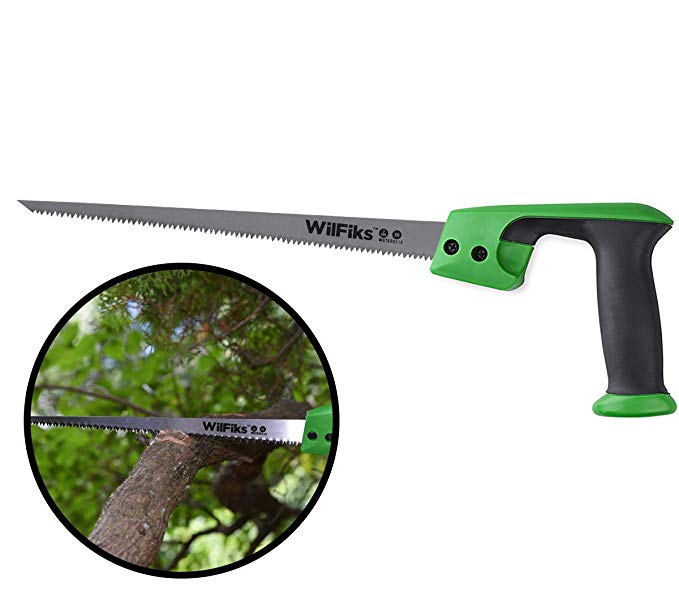 This OPTION is exceptional. It holds all the features anyone would need to acquire excellent results. Among the things you should know about it is that it delivers quick cuts with over 50 % faster than the usual saws. Also, it uses both the push and pulls strokes, therefore, provides smooth and comfortable cuts, and its deep Gullets provides with rapid removal of chips.
Another exciting thing about it is that compared to most tools, it has a thick body blade with 12-inch pro compass saw and 7 TPI high carbon steel blade for more natural control and rigidity. If you need a long-lasting, superior and a tool that delivers excellent results, this is the best for you.

Ergonomic design
- For any perfect keyhole saw, the anti-slip handle is a must-have thing. This tool is constructed of a handle that resists slipping and add more comfort to the user. The super grip handle makes it easier to use even when it is rainy because you can hold it firmly without slipping. Besides, the handle size was designed right enough to be held by both small size hands and extra- large. It also contains a unique handle design that allows superior
cutting angle
.
Durable Construction
- Everyone wants to make a value of his/her money. This gadget is made of induction hardened diamond ground teeth that make it stay for long without getting blunt. In reality, its teeth stay five times longer than the teeth for a standard saw and provide sharp, smooth and quick cuts. To enhance durability, it is made with an extra secured blade that handles more security, and they are also tapered to a point for starting curves and holes.
In addition to these features, it is also designed for precise cutting meaning that it can be usable in plastics, tenons, wallboard, plywood, trees and drywall projects. It can also be usable as a handsaw
Expand to see more
Product Features

Extra secured blade to handle assembly
Nonslip, soft rubber that offers maximum comfort
Lightweight and ergonomically designed
Has long, sharp teeth

Who is it for?

It can be used by profession, a person with DIY projects since it provides maximum comfort even when carrying.

Provides enough safety when not in use
Offers maximum comfort
Provides smooth and easy cuts
It is very fast
It is lightweight
The blade can be a little flimsy if used in concrete materials
8. Kobalt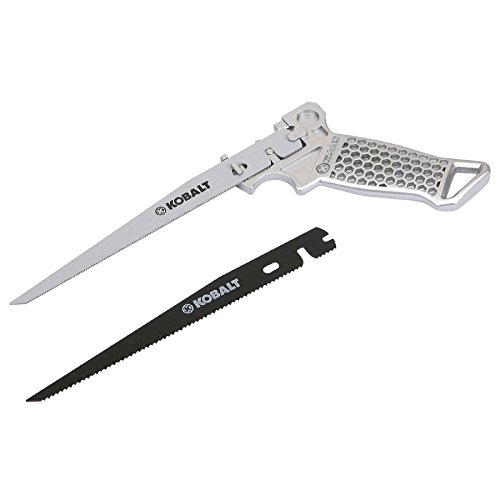 The simplicity in this tool is worth to be on our list. It has a pistol like a grip which is quite comfortable to hold and work with. Also, the saw is extremely lightweight but still very strong which allows the user to change the blades comfortably since it has moving parts that enable easy changing of blades.

As long as you want to attain the best results for your cuts, this tool is definitely worth purchasing. The blade is also straight enough to achieve deep cuts where most of the keyhole saws don't reach. In addition, it is corrosion free therefore you don't need to worry about rusting or effects from chemicals. Here are some of our best features that you might need to have a look:

Pistol grip handle - to enhance a more comfortable holding, the pistol design of the handle allows it to be held comfortably. Extra-large hands or small hands can help it without it sliding away.

Replaceable blades - this is one of the features that is not seen in many tools. The user can easily replace the handle with another one with minimal trouble. Sometimes blades get blunt or get worn out after a long period of working. For that reason, many people might prefer just replacing the edge rather than buying a new one to save the cost.

Expand to see more
Product Features

Pistol grip handle
Very straight blades
Lightweight but strong blades
Has replaceable blades

Who is it for?

If simplicity is a crucial thing for you, then this stool is the best and affordable one you can ever have.

Very strong and durable
Can easily replace the blades
It is lightweight therefore portable
Delivers smooth and quality cuts
The saw is a little flimsy
9. Gunpla 6"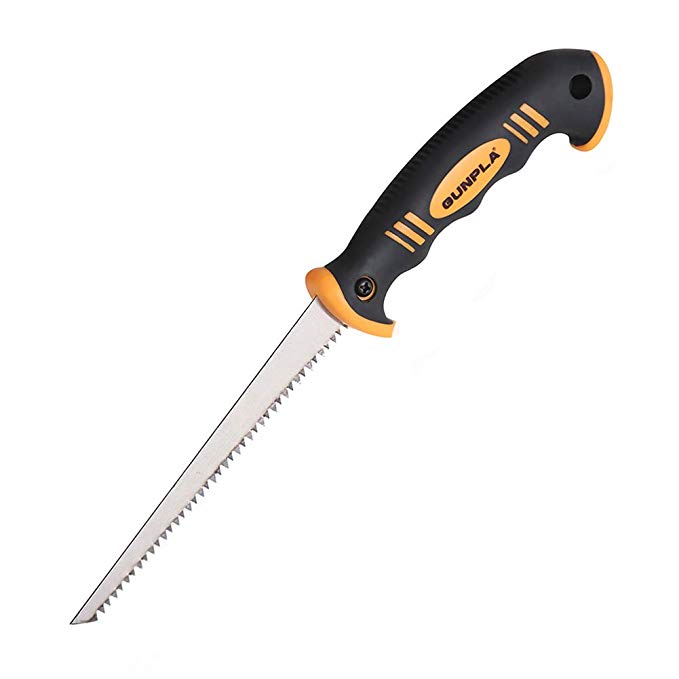 Apart from the fact that Gunpla 6" is a drywall project equipment, it is also widely used in some other tasks effectively. It is useful for trimming, pruning, gardening and cutting wood. Therefore, you do not need to save more to purchase a different tool for other jobs.

It also has 65 manganese steel blade that enhances its durability and also enables the blade to stay sharp five times longer than the traditional drywall saws. Additionally, the blade is extra secured to handle assembly for safety followed by a sharpened tip that easily punches through drywall with ease. To enhance its corrosion resistance, the user can always apply platting.

Has a comfort design - apart from durability, the pro jab saw is lightweight, has a soft grip handle that is ergonomically designed for all-day use with less fatigue, and the handles are impact resistant. For comfort, its handles are also sizeable such that any hand size can hold it comfortably when cutting.

Sharpened tip and sharp triple ground tooth - the primary goal of these features is to attain quick cuts. The sharpened tip allows easy punches through drywall, and the sharp precision triple ground tooth allows easy cuts by pushing and pulling.

Expand to see more
Product Features

Sizeable handle
Very bright and ergonomically designed blade
Extra secured blade for safety
Has impact resistant soft grip handle
Corrosion free blades

who is it for?

We recommend it for anyone having hard times to make cuts through any material.

Comfortable to hold and reduces fatigue
Provides quick and easy cuttings
Durable
Can be widely used
Can cut by both pulling and pushing
The price is a little higher
10. MINTCRAFT 311003L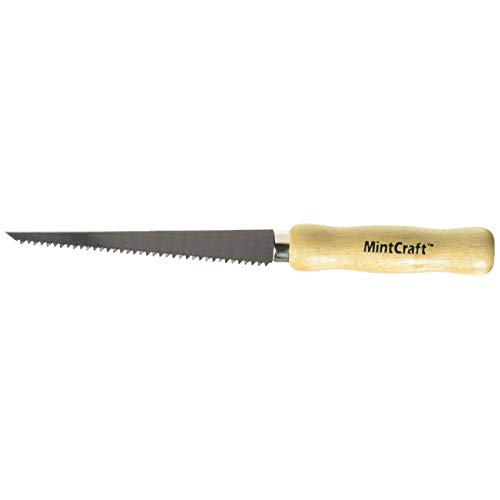 For more comfortable and decent cuts to drywall, this MINTCRAFT tool is one of the best. If you are a home-centered woodworker or even a general contractor working on plywood, things can never get more comfortable for you without owning this equipment. Its blade is robust and sturdy such that even when the user inserts extra force to drill inside those materials, it remains strong enough to attain the cuts.
Also, when compared to conventional drywall saws, this one emerges to have an extra lifespan. It saves you money and energy to continue working on your projects without needing to replace it with another one. You do not also need to worry about the handle being too big or too small for your hands. It has a comfortable and perfect to fit any size of fists. Here are our best features:
Refurbished steel construction
- if a saw is not strong enough for your work, then it's not worth your money. This MINECRAFT tool has a hardened and refurbished material that adds extra strength to your device and also prevents it from rust. You can be sure that even when working in tough materials, it will remain active and sturdy.
Contoured hardwood handle
-
hardwood
made handles are the cheapest. Therefore, for a more affordable tool but quality results you can always choose this equipment. The wood is also soft and comfortable to hold for a long time while operating.
The 6-inch length of the blade also increases its durability, and the teeth sharpened for better and faster cuttings.
Expand to see more
Product Features

Has strong and sharp teeth
Composed of hardwood handle
Refurbished steel construction
Has a sharp pointed edge that easily cuts through materials

Who is it for?

It is ultimately convenient for drywall projects.

It cuts through materials easily
It is lightweight thus portable
Durable construction
Affordable
Comfortable to operate with
The teeth somehow have huge gaps
Selection Criteria
Here is the list of some things to consider:
The Handle
Comfort in using any tool should be the priority. The most common types of handles are the wooden handles because they are cheap and easy to access. If you consider buying a wooden handle saw, then buy the one with a smooth texture or an ergonomic design.
However, with a pile of jobs to partake, consider purchasing a rubber or plastic grip. While buying a rubber one, look for the one that has a hard rubber for extra comfort. Generally, the best handle is the one that will not make your hands slide even after putting some external force.
The blade
For most options, they have almost the same alligator teeth. In many aspects, the length, pattern, and design are almost the same. However, we would encourage strong teeth since they provide fewer tendencies.
Generally, you should put one thing in mind; the best blades for these tools should have the most sharpened edge for easier penetration right through the drywall.
Folding blades
This is not always the case with all the keyhole saws, but the best one is the one that allows you to fold the blades quickly. That is the best aspect in cases of storing it, especially in the pocket.
Blade replaceable type
This might be a bit costly sometime, but this one is substantially a handy one. It helps serve as a reciprocating saw, and the blades make an ergonomic angle making your work more comfortable and lighter.
There are typically two varieties of keyhole saws
Fixed Blade – This type is used commonly in the modern construction. Most of the design specifics and building methods and materials have been advanced, and therefore, a fixed blade type requires a more sharpened point at the tip of the blade which can allow pushing through the soft materials without making any hole for the blade
Retractable kind of blade – This one commonly have a wooden handle or a cast-iron handle to retract the edge in an optimum length. That is always to prevent any unwanted flex to the edges if the full extent of the blade is needed.
FAQS
What are the significant uses of keyhole saws?
They are mainly used to make cuts on wood like drywall and plasterboard. It is also beneficial to cut off chunks of sheetrock to get miters and tenons. In some situation, you can use the saw to perform a curve cutting since they have sharp blades that can cut through plywood and wood. In short, they can be widely used in DIY projects.
Besides, depending on the blade in your saw, they can also be used in other works like gardening like cutting small stems, roots, twigs. However, keyhole saws can be broadly used depending on the type of blade used.
How can you change the blade?

If your saw allows change of blade, then it is as easy as changing an edge in your knife. Here is how you can do it. First, put the saw lying on one of its sides and take a screwdriver and unscrew the screw to separate the saw and remove half of it handle.
Secondly, take the old blade out, and before re-screwing, observing whether the new blade is kept as the old one was is very important. Finally, place your half handle where you removed it and screw all the screws tightly.
How does a keyhole saw work?
To use a keyhole safely, you have to ensure that you have the right blade. In order to make a hole in drywall, the short lengthen blades are the best. The best way to handle a keyhole saw is enveloping its handle and then placing it away from yourself and don't apply excess pressure on it.
To begin a drywall project, penetrating the keyhole at the right spot is most important. Therefore, put the tip of your saw at that point and merely blow a tap on the back of the handle; however, don't push it very deep unless you want to acquire a thick cut.
Conclusion
Finding the best keyhole saw requires someone to focus on the type of blade, teeth, handle and composition material, handle structure and the size of the blade. These are the major critical things for you to get the best one that meets all your job expectations. However, even before buying your equipment, you should be aware of the type of work.
To make things easier, consider buying a tool that has all the requirements of your job. We assure you that any of the above keyhole saws will deliver as expected depending on the type of work. Therefore, We would recommend you to choose from the above list, and you can be sure of the best results.
Subscribe to our newsletter