10 Best Lawn Aerators Reviews & Price Comparison
last updated:
Apr 06, 2021
Ever wondered why your neighbor's lawn is in picture perfect condition while the same cannot be said about yours? Yes, you mow, water, and add all the required nutrients but the results aren't as lovely. Well, maybe it's time you aerate. Most gardeners don't know what aeration is let alone how it is useful in getting a lush yard, healthy vegetables, or a flower garden that is the talk of the neighborhood.
Our Top 3 Picks
[srpshortcode id="15117″][/srpshortcode][srpshortcode id="15118″][/srpshortcode][srpshortcode id="15161″][/srpshortcode]
Lawn aeration is the process of creating tiny holes on your yard or garden to allow water, nutrients, and air to seep into your soil reaching the roots of your plants. The principal reason why you should aerate is to avoid the effects of soil compaction. Compacted soil contains too many particles within a space that prevent air, water, and nutrients from getting to the roots of your plants leading to diminutive growth.
When to aerate?
Other than establishing the importance of aeration, you should also be able to identify if your garden needs aerating.
If your yard serves as the playground or the racetrack, then you should consider aerating. Pets and children will compact the soil.
You should also consider lawn aeration if it was established as part of a new Often, during new construction lawns are established on sub soil since the top soil is stripped. The sub soil has also been compacted owing to the massive traffic in the area which results in poor root development.
Where soil layering exists – Soil layering is frequently established by sods, and is where the soil of finer texture (a sod) is layered on top of a coarser soil which disrupts drainage. Water is thus held in the top layer leading to compaction.
If you have a thatch problem – A thatch is a buildup of dead grass and leaves on top of the soil. The first signs of a thatch are if your lawn feels spongy and dries out quickly. You need to aerate your lawn if the thatch is greater than ½ inch and aerating is simpler than raking

To enjoy the benefits of lawn aeration though, you need to know more than the circumstances under which you should aerate. An aerator is essential too. In this piece, we reviewed some of the top aerators and what you should look for when making a purchase. This guide should be enough to help a first-timer make an appropriate purchase or even help a professional break our tie. However, if you feel we missed something, be sure to let us know in the comments.
10 Best Lawn Aerators
1. Agri-Fab 45-0299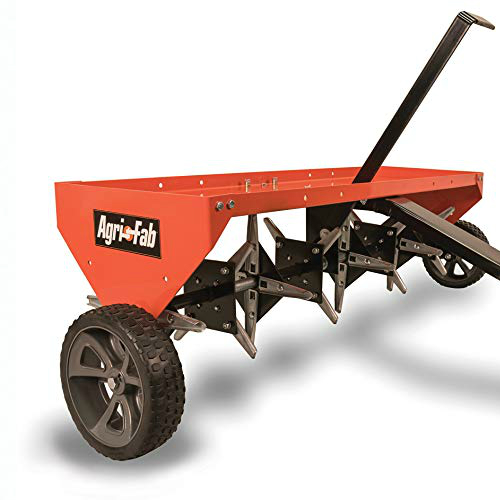 The Agri-Fab 45-0299 is the perfect example of what a lawn aerator should be. The first thing you should know about this device is that it is designed for medium sized to large lawns that receive high traffic. Also, it is a plug aerator and thus it's messier and more disruptive which is why it's perfect for lawns that require heavy duty maintenance. Some of its interesting features are the blade and the 48-inch tray.

Blades – The 45-0299 lawn aerator features 32 galvanized steel super sharp ¾" replaceable blades. These can penetrate and remove 3 inch plugs.

The 48 inch tray is also worth considering. It can hold 175 pounds which increases its stability and performance by deepening the depth of each plugs penetration.

Another interesting aspect of this Agri-Fab is the 10" flat proof tires. They will help you navigate uneven terrains with easy maneuverability and require no maintenance. The cantilever handle enables easy raising and lowering the blade.

Also, this is designed to be pulled behind a lawn mower as the weight can't allow hand operations. For durability, the Agri-Fab 45-0299 is made from heavy duty, rust-free steel, and drawbar welded. Finally, Agri-Fab provides a generous 3-year limited warranty on this product and it will require some assembling before you can use it.

Expand to see more
Product Features

Made in the U.S.A with some high quality imported materials
3 year limited warranty
Features a cantilever transport handle for raising and lowering the tines
Pneumatic tires that promise to never go flat.
48" tray that can hold up to 175 pounds.

Who is it for?

The Agri-Fab 45-0299 is a heavy duty tool designed for homeowners with medium or large sized yards. Also, the lawn should be receiving high traffic. As for the price, the Agri-Fab 45-0299 is a tad expensive.

The coring tines are crafted from stainless steel and thus will not rust or lose their sharpness
Thanks to the assembly instructions, assembly is straightforward
You benefit from a 3-year limited warranty, which is an industry leader
The tool is durable thanks to the heavy gauge materials used
Will work perfectly on uneven terrains thanks to the pneumatic and flat proof tires
You can easily adjust the penetration depth of the plugs by adding or reducing the weight on the tray
There are chances that you will cut yourself during assembly. Ensure you always use gloves
2. Punchau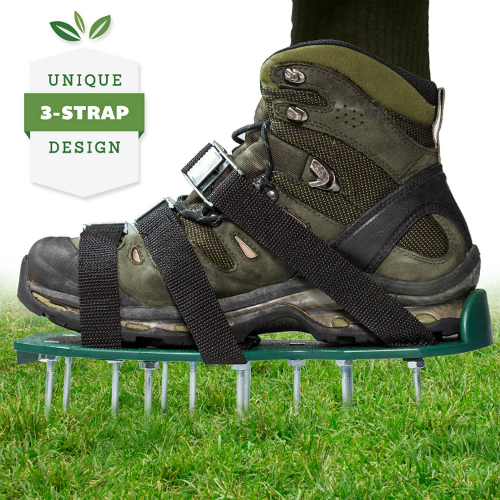 If you are in the market for an affordable aeration tool, we recommend the Punchau shoes. They are not only reasonably priced, but also help you get more from your gardening activities. Whether you are watering or mowing your lawn, you can aerate it too with these shoes. They will take the hard work out of aeration and spring back your lawn. Nevertheless, the two fascinating aspects of the Punchau shoes is the quality build, and how easy a solution it is.

Easiest solution – First, these shoes are cheap, and take the hard work out of aerating by saving you from having to pull around a bulky tool. You can aerate your lawn while mowing or watering.

Quality build – Unlike other shoes, these have three metal buckles that won't break. Also, they are a one size fits all.

Expand to see more
Product Features

3 straps with metal buckles
Weight: 2.31 pounds
Dimensions: 12.9 * 6.2 *2.1 inches

Who is it for?

First, given their affordability, the Punchau are for homeowners who are on a budget. Also, they are ideal for people who do a lot of work around the yard for only then will they be helpful. Finally, they are intended for homeowners with small lots.

A strongpoint of the Punchau lawn aerator shoes is their convenience as they allow you to incorporate aeration with any other gardening activity
These feature a sturdy base, and quality straps and buckles
They also provide a good workout for your calves and thighs
There is a likelihood that you might twist your ankle when you find that rock hidden under the soil
3. Brinly SAT-40BH Tow Behind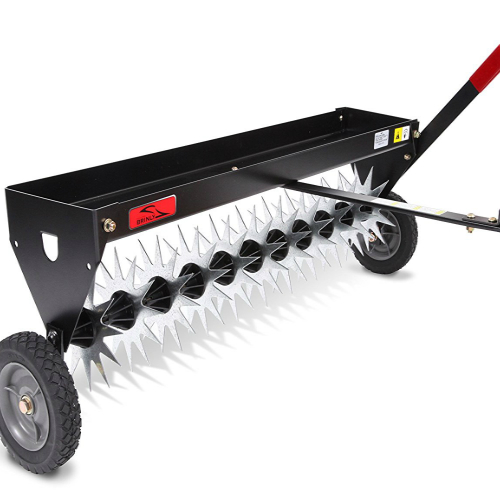 This is a spike and tow behind aerator, and thus you should ensure you have a lawn mower or tractor before making a purchase. As for the design, we loved the 11 tines and transport wheels.

Tines – The Brinly Sat 40-BH has 11 tines which move independently of each other. Each tine has 12 tips bringing the count to 132. The tines are made of galvanized steel, which hinders rust and can also penetrate the soil up to 2 inches.

Easy to engage transport wheels – The wheels can move on soil, pavements and gravel surfaces. Therefore, it will be easier to cross driveways and paths.

Another interesting aspect of the 40-BH is the tray. It is made of steel and can accommodate up to 100 pounds. Yes, this is less compared to the Agri-Fab aerator, but it is still enough to assist with penetration. The Sat 40-BH can also work on any soils, and has a universal hitch of the steel trailer tongue which makes it easy to attach to any lawn mower. Finally, it has a two-year warranty.

Expand to see more
Product Features

11 Galvanized steel tine stars
It can accommodate an extra 100 pounds
Weight: 40 pounds
Dimensions: 43.2 * 9.2 * 4 inches

Who is it for?

The Sat 40-BH is for homeowners with medium sized yards or gardens. As for the price, it is a bit pricey but worth it.

Easy to assemble thanks to the well prepared instructions and diagrams
High quality construction increasing the durability and life
It is easy to attach it to a lawn mower thanks to the universal hitch
The company has the best customer service
Some items needed for assembly might be missing
The carrying capacity is nothing to write home about. It is rather average
4. Yard Butler D-6C Coring Aerator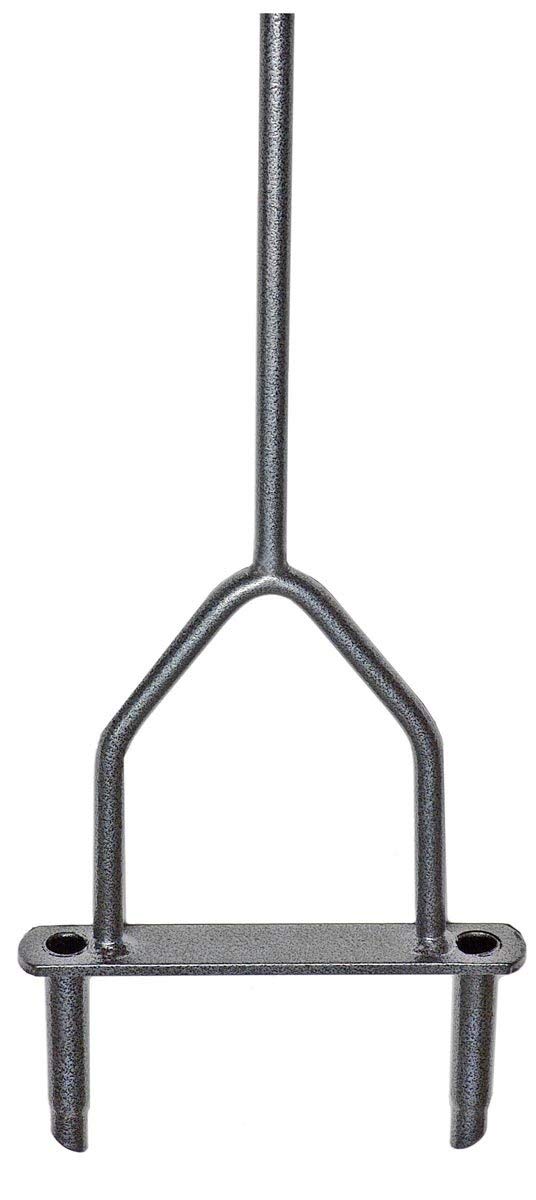 If you are looking for an affordable coring aerator that can handle small lawns effectively, then go with this option. The tool D-6C is made of all steel with a glossy appearance. It is also lightweight, weighing 4 pounds, and thus you don't have to worry about carrying a bulky tool around.

Rubber handles – The rubber handles increase comfort while handlings helping you work for extended periods of time without fatigue.

Foot plate – Manually driving an aerator into the ground can be tasking. However, the horizontal foot plate, reduces the strain on your hands as you can apply pressure with your feet.

The Yard Butler D-6C has two plugs on each end of the foot plate, which are 3-1/2 inches deep and 6 inches apart. The distance between the two is the standard gap according to lawn care professionals. After some time of using this tool, you hands will hurt and blisters will form. It's best you use gloves, and wrap the handles in duct tape if you don't mind the aesthetics. The duct tape will not only cushion you while handling, but will also provide a substantial handle.

Expand to see more
Product Features

3-1/2 inch plugs
6 inch foot plate
Lightweight weighing 4 pounds
All construction steel
Rubber handles to cushion you.

Who is it for?

If you enjoy the manual aspects of aeration, then this is the tool for you. It is also ideal for people with small lawns, or who are on a budget.

Easy to use and quite economical for small yards
It has a solid construction. The plugs withstood boulders and rocks under the sod and the handle didn't bend
You must have a wet lawn for this to work well as it is much harder to push the aerator into a dry lawn
5. Yard Butler M-7C Spike Aerator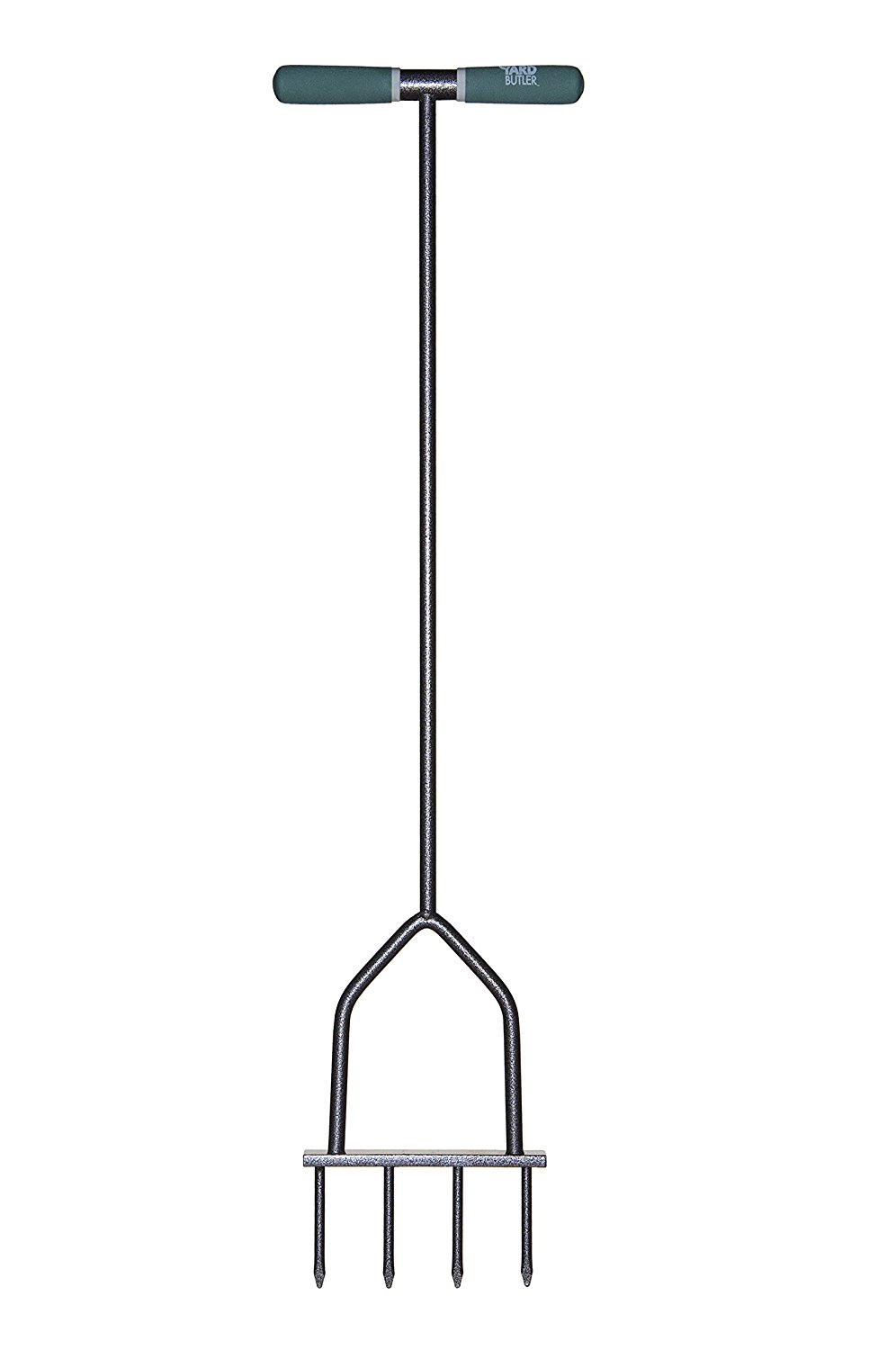 This spike aerator is simple to use, and does a great job of loosening the soil. We implore people with small lawns and who will enjoy the physicality involved when using this tool. It features four 3 inch spikes that can penetrate even the toughest soils.

Foot plate – The M-7C too has a horizontal plate that will help reduce the strain on your hands as you will use your feet to exert pressure.

Spiked – Unlike the D-6C core aerator, the M-7C has more spikes packed in the 6 inch foot plate, and you don't have to worry about it clogging.

Another interesting aspect is the powder coated resin finish that prevents rusting. It is also a lightweight, tool and thus you don't have to worry about moving around with a bulky tool. The spikes too can withstand rocks and tough surfaces and the handle doesn't best despite the strain. Finally, Yard Butler provides a life time warranty for this product which should implore you to purchase it.

Expand to see more
Product Features

Weight: 1.35 pounds
Dimensions: 37 * 10 * 1 inches

Who is it for?

Given its affordability, this is a tool for people on a budget and with small yards. Also, if you enjoy hands on work, you will love the M-7C.

It works on any type of soil. It can withstand rocks and boulders without sustaining any damage
Has a lifetime warranty
Affordable and easy to use
After a few hours of usage, you might develop blisters despite having the rubber bands
6. Garden Weasel Core Aerator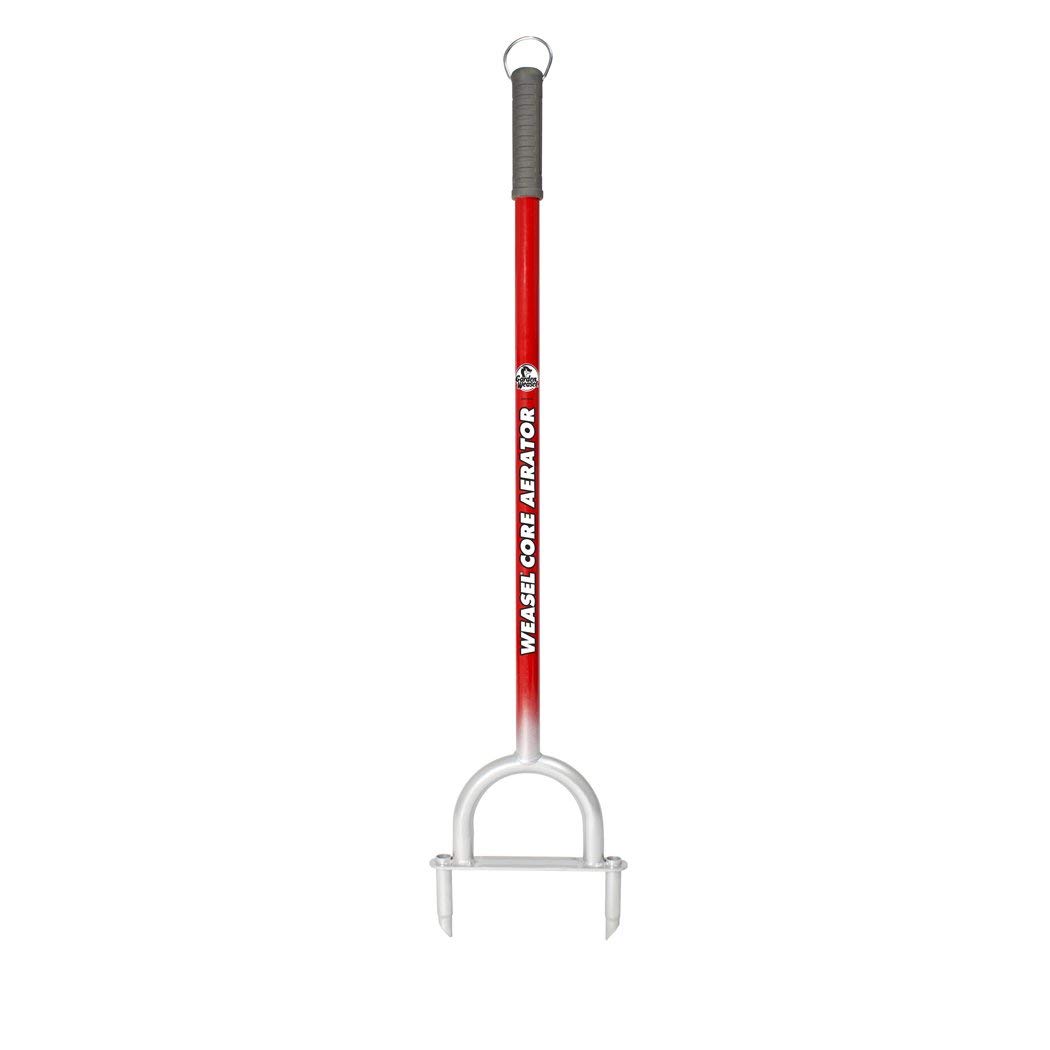 If you are looking to aerate a small yard, and want the same to serve as a workout, you might want to look into the Garden Weasel Core aerator. It is easy to use as the soil plugs will rise out of the tubes easily. It can easily create 3 inch plugs like larger tow behind aerators but at more than half the cost.

Angled tips – The construction of the plugs will determine the amount of effort needed to drive the aerator into the soil. However, you will require little effort with the Garden weasel as the tips are angled for just this purpose.

Wide foot plate – Much like the previous two aerators, this too has a foot plate to help shift the pressure to your feet. However, this foot plate is much wider which makes it pleasant to use.

It features a double welded construction which increases it's durability. Also, seeing it is a core aerator, it leaves plugs behind that decompose adding valuable nutrients and micro-organisms into the soil. The handle is also padded to reduce the strain on your hands.

Expand to see more
Product Features

Weight: 2.35 pounds
Dimensions: 8 * 1.5 * 40 inches

Who is it for?

Again this is an aerator for homeowners with small lots and would enjoy a bit of physical activity. Also, if you are on a tight budget, this is a pretty good option.
Durable build – With its double welded construction, be sure that this will serve you for an extended period
Angled tips make it easy to drive into the ground
Lightweight: Weighs 2.35 pounds
Affordable for home owners on a budget
The design of the handle is a concern
7. VonHaus 12.5 Amp Corded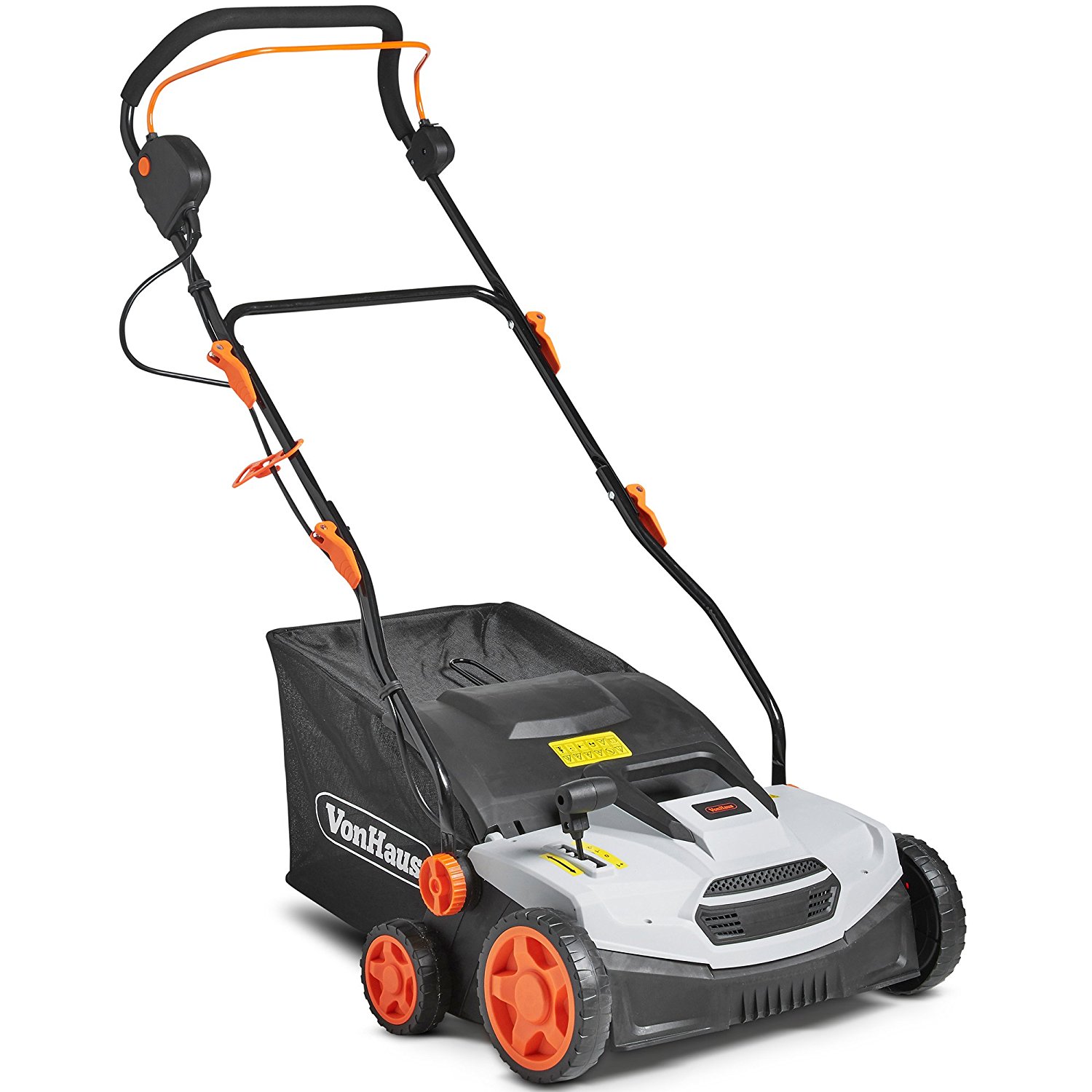 We implore you get one of these if you are in the market for a powered eco-friendly tool. With a 1500W motor, you can easily remove any debris from your grass, and penetrate the ground deeper. Nonetheless, the fact that it's a 2 in one tool and its maneuverability are the two most interesting aspects.

A 2 in one tool – The Von Haus can achieve two essential tasks that will ensure you get a healthier lawn. Being a scarifier, it will easily remove any thatch and moss that keeps the nutrients and water from reaching the roots of your plants. Next you have the aerator. However, what's most interesting is the combined outcome. With the scarifier getting rid of the moss, the aerator can penetrate deeper into the ground.

Maneuverability – Despite being a powered tool, the Von Haus weighs around 34.5lbs whic10-meterher lightweight and has a 10 meter cable which allows you to reach any place on your yard.

Another interesting point about this device is the two year warranty. Also, it has 4 working depths meaning you can find the best depth for your yard. You might also like the 2 stage safety trigger, to avoid any work related injuries, and the height adjustment handle to help you get the ideal working height for you.

Finally, the interchangeable dual purpose allows you to change from scarifying to aerating.

Expand to see more
Product Features

4 working depths
Weight: 34.5lbs
Power Source: Electric with a 32 ft long cord.
Height adjustment handle
2 stage safety trigger
Dual purpose drum
45l capacity collection box
12.5A motor

Who is it for?

The Von Haus 2 in 1 will work well for a number of people. First, if you want to reduce you carbon footprint, get yourself one of these. Also, if you are aerating a medium to large lawn, the Von Haus is the perfect device as it is lightweight.

You will need to get an extension if you are working on an extensive lawn. Also, it is a bit pricey so, ensure you are willing to pay top dollar. Nevertheless, it is worth it.

Quality build – It will serve you for several years, and doesn't overheat or get bogged down
2 year warranty
Easy to change from a scarifier to the aerator
The collection box works perfectly, and you don't have to rake after any task
Easy to assemble
Adjustable depths allow you to find the perfect aerating depth
There have been some concerns with the thermocouple as the device heats up after swapping the drums
8. Goplus Rolling Aerator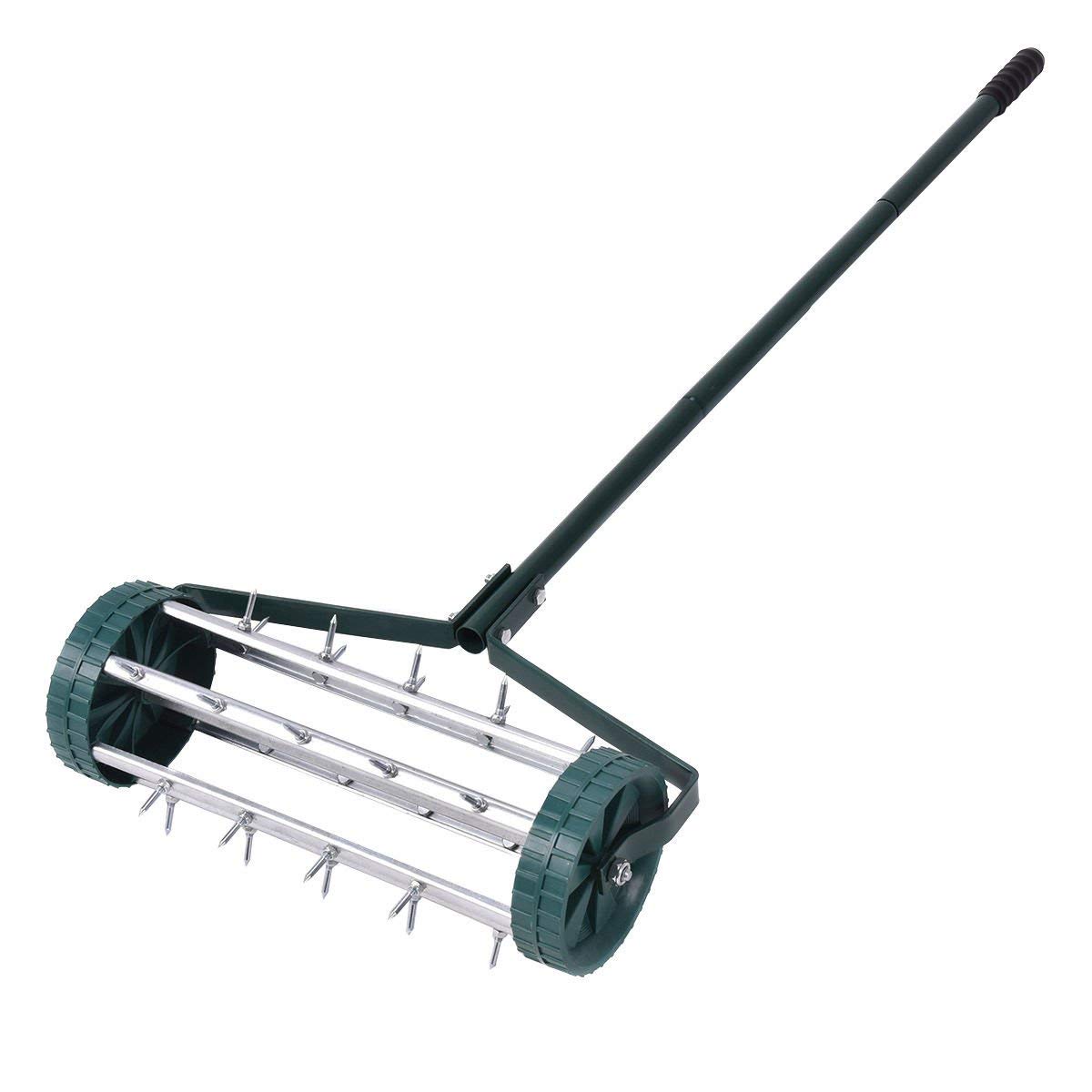 Next on our list is the Goplus rolling aerator. First things first, this is a heavy-duty spike lawn aerator. If you enjoy the physicality involved in aerating, we suggest you get one. Simply rolling it loosens the soil allowing nutrients and water to seep into the soil.

18 inch length – What we loved most with this tool is the 18 inch length as it allows one to cover larger areas using minimum effort. This increased efficiency is always welcome.

Build – We also loved the build of the item. The Goplus rolling aerator promises you several years of service as it is made of durable steel. The rolling parts though are plastic which lowers the weight, and increases the flexibility.

Upon receiving the item, a bit of assembly will be required but it is pretty straightforward. Also, it works best in areas with loose soils.

Expand to see more
Product Features

18 inch rolling length and a 6 inch diameter
3 piece tubular handles

Who is it for?

The Goplus is a tool for individuals who want to exercise as they aerate their lawns. Also, it is only ideal for homeowners in areas with loose soils. As for price, it is well within the affordable range

Easy to use – Simply rolling the Goplus will loosen your soils for healthier grass
18" rolling length increases the efficiency while lowering the effort required
Durable thanks to the steel used to construct it
The spikes should be a bit longer
It doesn't work well in other soils but sand
9. Precision Products PA42GY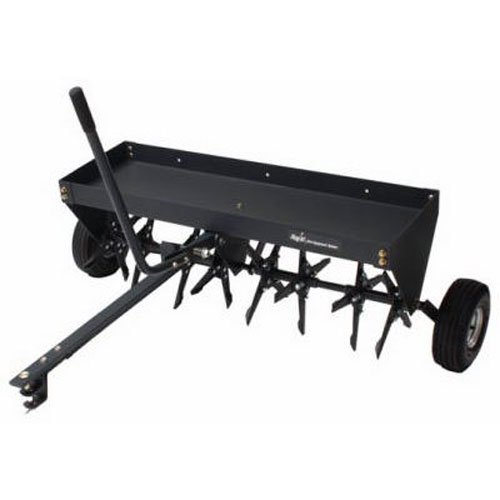 The PA42GY plug aerator by Precision Products follows on our list of top lawn aerators. If you are looking for a tow behind aerator, you might want to consider it. It features a tray with a 150lb carrying capacity. However, you can vary the weight to vary the depth of penetration. It also has 10 inch pneumatic tires that make it a breeze to pull this tool behind any mower, and will keep it stable even on uneven terrain. Nevertheless, the most interesting aspects of this tool are the plugging spoons and the single lever action.

Single lever action – Often, it is difficult to engage tow behind aerators while on the driver's seat. The PA42GY solves this problem with its single lever action.

Plugging spoons work independently which increases the precision and betters the result.

You will also like the build quality of this Precision Product. The trays are made of 11 gauge steel which will increase the life of the product. Also, the steel-reinforced towing bar can work with any mower or garden tractor. The 32 plugs can easily penetrate 2-1/2 inches into the ground even in areas where there is moss and thatch. You will have to assemble the item, but that takes about 20 minutes. Finally, use this in areas with clay-soils or places that receive high traffic.

Expand to see more
Product Features

11 gauge steel frame
32 plugging spoons
A tray frame with a 150lb carrying capacity
2-1/2 penetration depth
10 inch pneumatic wheels

Who is it for?

This item is for individuals whose lawns receive high traffic or who are in areas with dense clay soils.

With the quality, this is an item that will serve you for a couple of years
You will consistently get 2 to 2.5 inch plugs
The single lever action is a plus as it allows to operate the aerator while on the mower
Precision Products only provide a 90 day limited warranty for this item
10. Spike Aerators Hound Dog Steel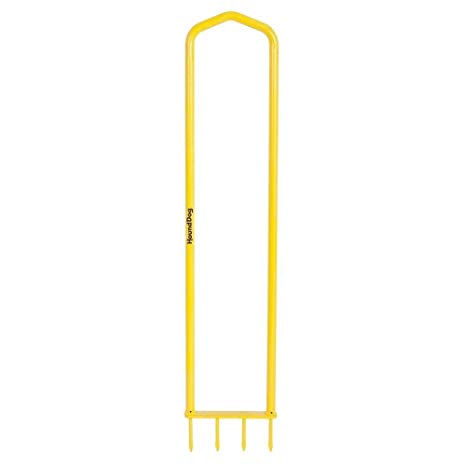 The final item on our list is the Hound DoG Steel aerator. It is a manual tool and thus ideal for homeowners with small lots, or people who love engaging in physical activities. There is nothing much to this item other than the four tines which you will use to aerate your lawn. It also has an ergonomic handles which are appropriately finished to provide good grip. Also, with the size and the structure of the item, storage shouldn't be a problem. Finally, it is lightweight increasing its portability.
Expand to see more
Product Features

Weight: 4lbs
4 tines

Who is it for?

This choice is for owners with small lots.

This is one of the more affordable options
Lightweight increasing its portability
You don't have to worry about storage thanks to its size and shape
He coating on the tines seems to make it harder to use
What to Look for when Purchasing a Lawn Aerator
How much your lawn needs aeration – First, you have to consider your type of soil. Clay soil is compact and requires frequent aeration, unlike sandy soil which needs less frequent aeration. Some grass too will mat together preventing, water, nutrients, and sunlight from reaching the soil.
Traffic – If you are aerating an extensive area that receives heavy traffic such as a playground, you might want to invest in a powerful tool going by the amount of stress the soil is under. However, if your soil is generally well aerated, receives little traffic, and is relatively small, investing in a powerful tool will be prohibitively expensive.
Spike depth – Check if the spikes are of adequate length to penetrate the soil more than a few inches, at least three inches. If the length is substantial, they will loosen the soil at deeper depths allowing air, nutrients, and water to permeate. If you plan to grow bigger plants e.g. shrubs or vegetables, pay attention to your spike depth.
Power source – This boils down to whether the aerator is manual or electric. Manual aerators are cheaper but have their limitation. First, they don't have adjustable settings and electric aerators reduce the physical workload.
Type of aerator – There are two types of aerators to consider: spike aerators and core aerators and both can be motorized. As the name suggests, spike aerators will poke holes in the ground using spikes which are fixed on a rolling drum. A core aerator, on the other hand, pulls out plugs of soil from the lawn using hollowed outlines.
FAQs
When and how often should I aerate?
Professionals advise that you aerate your lawn during the growing seasons as it is when it will have the benefit your grass most. As for the frequency, ideally twice a year, but once will do too.
What about underground utilities?

Most people are concerned about damaging utility lines. However, most of these are buried deep underground and you will not strike them. However, sprinkler systems can be damaged as they aren't buried deep enough.
How do I know my yards needs aeration?
Every lawn needs to be aerated at least once a year. Also, if your yard receives high traffic, you might notice worn out patches as the soil is compacted. Something else to look for is if your grass easily browns up in high heat conditions or it doesn't green up after fertilizing.
Conclusion
"Pruning" your soil is a key step to healthier greener lawns. However, it will be a tough task without the appropriate tools. Lawn aerators come in all shapes and sizes and there is an aerator for every budget and need. As to which product you pick, well that is up to your needs and preferences. Identify your needs first and budget before you make a purchase. We have made the process easier for you by creating a list of the 10 best lawn aerators, but if you feel like we ha have left something, let us know in the comments below.
Subscribe to our newsletter