10 Best Pool Filters Reviewed & Tested
last updated:
Dec 10, 2018
What is the best pool filter is a question that has been around for a while, but one that can only be answered by the individual needs of a pool. You have to consider the pool size, the traffic, whether or not the pool has a screen, climatic conditions, and frequency of use of bather load.
Our Top 3 Picks
[srpshortcode id="20089″][/srpshortcode][srpshortcode id="20090″][/srpshortcode][srpshortcode id="20091″][/srpshortcode]
But what exactly does a pool filter do? Obviously, it cleans water, but to truly understand their importance, we have to comprehend the filtering capabilities. The efficiency of a pool filter is measured by the amount of debris and bacteria it captures, and this is measured in microns. A micron is 1/25,000 of an inch, and for a more realistic picture, the human hair is from 30 to 120 microns. Most pool filters capture debris as minute as 2 microns and rarely allow anything above 40 microns through. Therefore, your pool will be ever clean from contamination by swimmers, the wind, and particles around the pool.
Despite being a simple device, most people can't pick the appropriate filter for their pool. As such we have created a list with our top recommendations. However, below is a buying guide to help you make an informed decision.
10 Best Pool Filters
1. Intex Krystal Clear 1500 GPH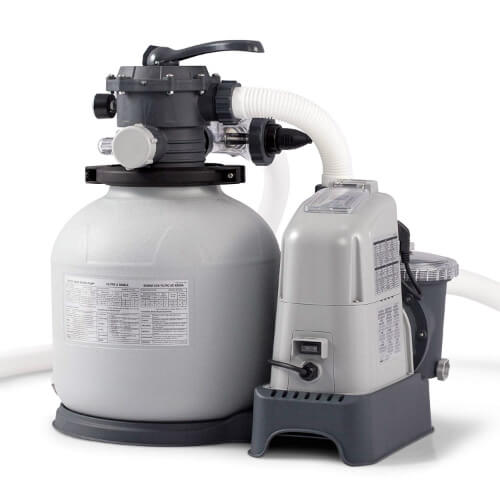 If your budget is limited and you are looking for an option that requires little maintenance, we recommend you get the Intex Krystal clear sand filters.

Being a sand filter, this gadget needs very little maintenance and will last for several seasons before it needs to be replaced. This is a 110-120 volt ac unit and thus can work with any home outlet, and includes a GFCI (ground fault circuit interrupter). It is designed to clean above ground pools with a capacity between 2,600 and 8,500 gallons, and there are four models (1050GPH, 1,500GPH, 2,150GPH, and 3,000GPH) each for different capacity pools. The 3,000GPH unit can clean pools as large as 16'. However, this review is for the 1,500 GPH unit.

The Intex Krystal Clear pump has a 1,600 flow rate, has a 55lb sand capacity and a 40lb filtration glass capacity, and the chlorine output is 7g/hr. Our fascinating feature about this device is the E.C.O (electro-catalytic oxidation) that keeps pool water clean while eliminating harshness of chlorine. Our top features though were the timer and the single valve.

24-hr Timer – Thanks to this inbuilt timer, maintaining the pool is a hassle-free experience.

Sole valve – The Intex sole valve has six functions for total control over the apparatus. By selecting the backwash position, the tool reverses the water flow and directs water out of the drain thereby cleaning. Moreover, you can rinse the sand by selecting the rinse position. This also happens to level the sand.
The filter position directs the sand through the filter and into the pool, the waste or drain position, decreases or empties the pool, while the recirculate position directs water back into the pool without cleaning it. Finally, the close position closes all water flow; never select this position when the pump is on.

Expand to see more
Product Features

2-year warranty
1,500gph
110-120V ac power
24-hr timer
55lb sand capacity
1.5 and no 34 hoses

Who is it for?

This tool is for above ground pools with a 1,500gph flow rate. Moreover, it is best for people on a budget.

It is affordable, and there is no maintenance cost
It is easy to use, as one valve allows you to do everything
Works pretty quickly
It isn't compatible with custom adapters, and the unit doesn't retail with required adapters
2. Pentair Clean and Clear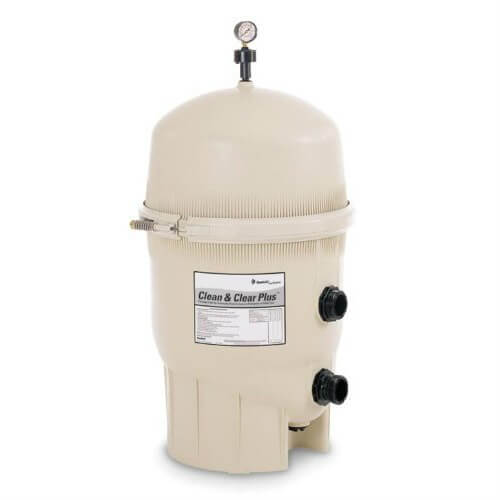 If you prefer a cartridge filter, and the price is not that much of concern to you, we recommend you get the 160301 by Pentair. Pentair happens to be a renowned brand in the pool filter industry, and thus you are assured of getting a quality unit. One remarkable feature is that this unit is built to a fault, but more on this later.

With a 150 gallon per minute flow rate, this pool filter can clean pools as large as 67,600 gallons. It is best for in-ground pools and includes a 1-year warranty. The filter cartridge happens to be easily accessible and removable for cleaning or replacement.

Relief valve – One of our best features on this unit is the continuous relief valve that continually eliminates air accumulation for optimum filtration. Couple this with the manual air relief system and your pool will ever be clean.

Quality – When investing in a filter, you get what you pay for, and as such we recommend the 160301 if you are in the market for a unit that will be around for a while. First, this gadget incorporates a giant filter, allowing it to collect all dirt and a higher flow rate. Moreover, the filter is corrosion resistant thus reliable. Despite being a powerful gadget, it is one of the more compact units on the market, and the rugged fiberglass body and polypropylene tank will ensure durability.

Expand to see more
Product Features

1-1/2" and 100% drain clean out port
150 GPM
Size: 22" by 45" by 22.5"

Who is it for?

We recommend this unit for people with in-ground pools, and who are not on a limited budget.

Features a large cleaning area for better capacity
Thanks to the construction, you can expect this tool to be around for a while
Instant action thanks to the 150pm
It is pricey but worth the price
Limited as it only has a 1-year-warranty
3. Hayward EC75A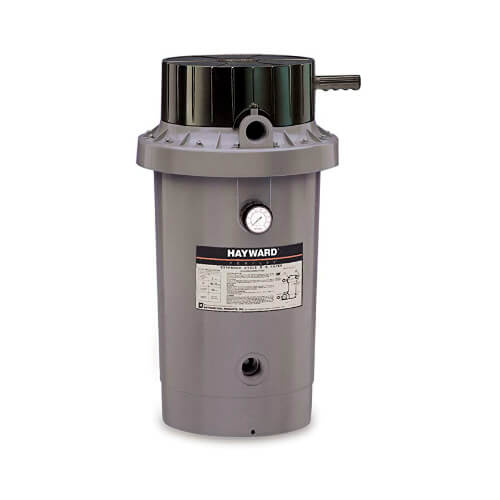 Hayward has been in the pool filter industry for over 80 years, and they have gained a cult-like following thanks to the quality of their products. Their pool filters are cutting edge and feature advanced technology, and the Perflex Extended cycle is no exception.

First, these are ideal for in-ground and above ground pools, but the corresponding pumps are only for above ground pools. Moreover, there are four models, and each is suitable for a different pool. The EC40A is ideal for pools that measure 15' and under, while the most common the EC50A is ideal for pools between 18' and 24' and has a 50 gallon per minute flow rate. The E75A unit is for larger pools about 18' by 36' and has an 80GPM flow rate, while the EC65A is best for pools measuring 16' by 32'.

Another fascinating feature of this unit is the self-venting, and it automatically expels any air present. Moreover, it is easy to maintain thanks to the combination pressure gauge, and service port. The pool filters are also built to last, are dependable, and will offer corrosion-free resistance. Our best features though were the bump valve, and performance.

Performance – Most ilters can only trap debris as small as 5 microns. However, the Hayward Perflex units can trap waste as miniscule as 2 microns as it is a diatomaceous earth unit. Moreover, thanks to its flex-tube design, it gives longer cycles between cleaning as the powder is recycled. Finally, it saves thousands of gallons of treated water as it cleans without backwashing.

Bump valve – The bump valve eases maintenance as it activates the mechanism that drives the flex-tubes to clean themselves.

Expand to see more
Product Features

Patented flex-tube design
1-year limited warranty
4 models: EC40A, EC50A, EC65A, EC75A

Who is it for?

The Hayward Perflex Extended-Cycle units are best, for homeowners looking for an affordable D.E pool filter. Moreover, it is best for individuals with limited space as it is compact.

Efficient as it can trap dirt as tiny as one micron
It is affordable
It is cost-effective as it needs little maintenance, and the D.E powder is recycled
Very quiet
The plastic casing could be better
Though the units are compatible with in-ground pools, the pump only works with above ground pools
The unit does get clogged
4. Hayward S244T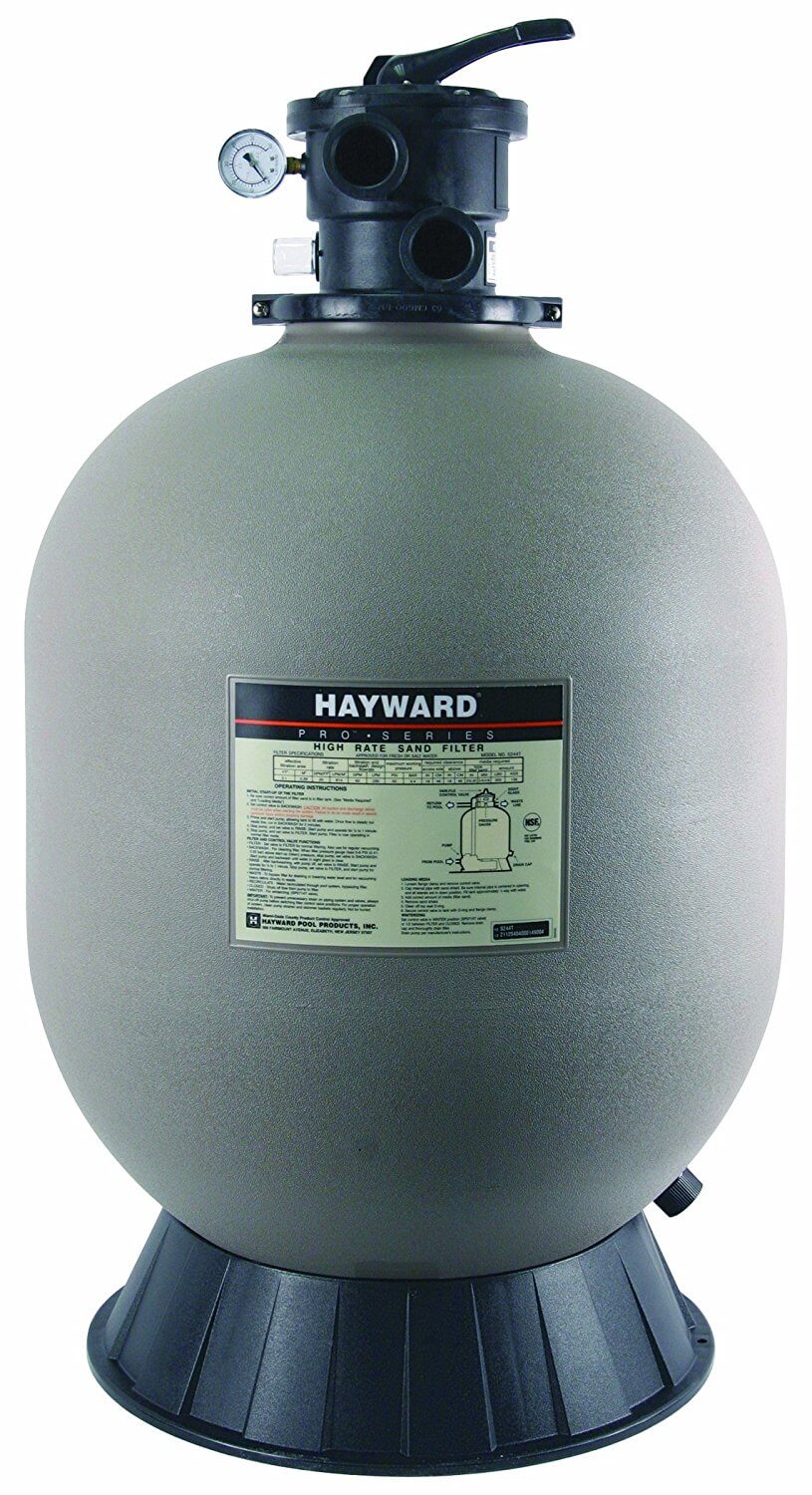 If you looking for an in-ground option, the Hayward S244T pro series should be one of your preferred options. It is a sand filter gadget and thus not as efficient as D.E filters, but given how affordable it is, it is best for people on a budget.

First, it has a patented 6/7 position multiport valve and one that is easy to use as it requires minimum effort. Therefore, even small delicate hands can operate it when called for. It is also, easy to maintain as it only needs backwashing which is a breeze thanks to the valve.

Moreover, you will appreciate that it is corrosion free and that the valve can rotate 360® thanks to the flange clamp to simplify plumbing. The large pressure water drain allows rapid wintering and servicing, while the full-size integral piping for a better free-flowing performance. Nevertheless, our top features were the winter position on the valve and the integral top diffuser.

Winter position – This is not so much a position as it is a safety feature. It is between two positions and raises the valve diverter that it is above the multi-ports. By propping the valve, it creates space in the valve allowing any water trapped to expand into ice without damaging the valve.

Top diffuser – This helps with even distribution of water over the top of the sand bed.


Expand to see more
Product Features

Needs 300lb of sand
6/7 position valve
Works with all in-ground pools.

Who is it for?

The S244T is for in-ground pool filters and best for people on a budget.

Easy to operate thanks to the multi-port valve and maintain as sand is replaced once in 5 years
Affordable
Being a sand filter, it is not the most effective as it can only trap debris between 20 and 40 microns
5. Hayward DE4820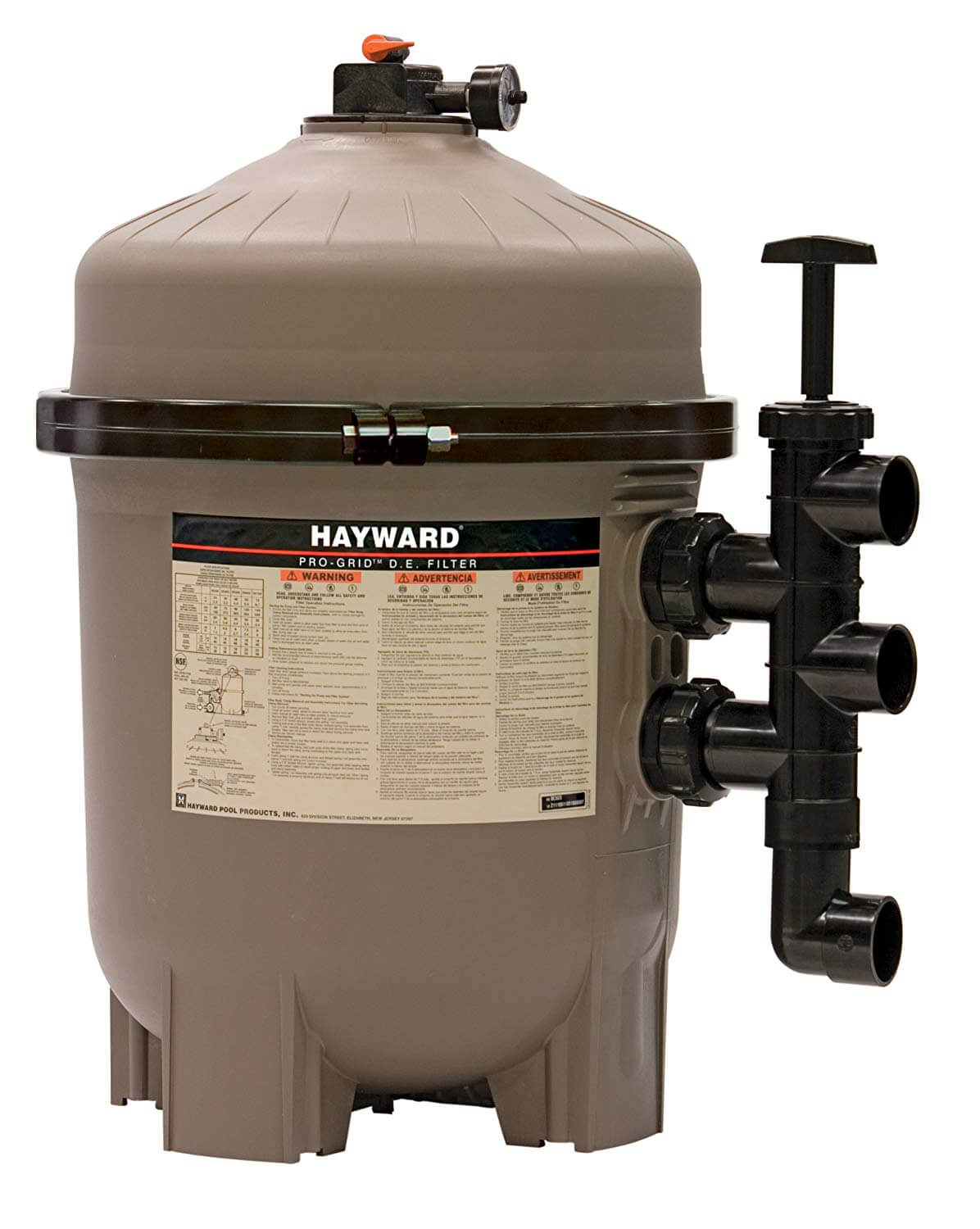 The Hayward DE4820 is an in-ground filter for pools as large as 86,400 gallons. It happens to be a D.E unit and thus will clean dirt as tiny as 2 microns, and we would recommend it for sparkling water.

Some fascinating features of this unit include the indicator gauge which is a combination pressure and cleaning-cycle indicator that will inform you when the appliance needs to be cleaned. Moreover, it features a manual air relief, to purge accumulated air in the system for efficiency. Furthermore, you will appreciate the high impact grid systems as they enable optimum efficiency with the up-flow filtration and top-down backwashing.

For better distribution of incoming water in the system, the tool incorporates an inlet diffuser elbow, for better results. Also, maintaining the unit is a breeze thanks to the internal air scavenger tube that eliminates clogging and the full size 1.5" integral drain allows easy flushing and 100% clean out. Our top features though were the build quality, and that it is effortless to service.

Easy to service – The unit is designed to be simple to maintain. With the self-aligned tank top and bottom, accessing the grid elements is simple enough. Moreover, it includes marked components and manifolds for guidelines during reassembly after cleaning.

Quality build – You can tell that this is a gadget that will be around. First, the bulkhead fitting is heat resistant, and the tank is glass reinforced copolymer for reliable corrosion-free performance. The clamp also happens to be heavy-duty and tamper-free securing the top and bottom together.

Expand to see more
Product Features

2" full-flow internal piping
For 48 sq. Ft. effective filtration
1.5"full-size integral drain
96GPM

Who is it for?

The DE4820 is a pricey option, and we recommend it for people who price isn't a concern or for commercial purposes. Moreover, it is for high capacity in-ground pools.

Has better efficiency owing to the even distribution of in-flow water
Provides many plumbing options
Built to last
Easy t install and a breeze to use
It is pricey
It lacks a user manual, and the packaging could be better for such a pricey unit
6. Pentair 180009 FNS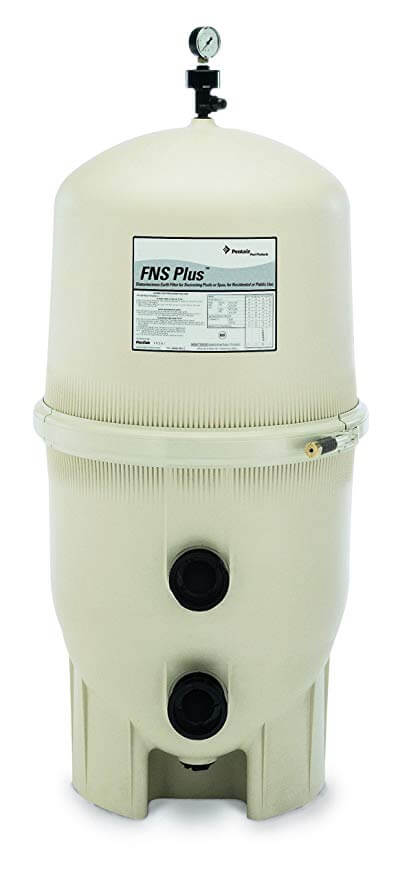 Pentair units are known to be compact, and the 180009 is no different, and we recommend it for people with limited space. Measuring 22" by 50" by 22.5", it can fit into the tightest spaces. Moreover, it is a powerful unit, and with a 120GPM we recommend it for commercial pools and large residential swimming pools. With a 1.5" drain, cleanout should be smooth and efficient. The filter grid also happens to be secured with one nut and thus easily removable for simpler maintenance.

You will appreciate the unique design as it lowers the need for maintenance. It leads to optimal filtration and betters the efficiency when backwashing resulting in extended periods between filter cleanings. Nonetheless, our best features were that it is chemical resistant and the curved grids.

Curved grids – Unlike conventional pool filters, the 180009 vertical grid features curved grids increasing the surface area for better results. The curved grids occupy less space resulting in a compact unit.

Chemical resistant – The gadget is designed for long life thanks to the fiberglass-reinforced polypropylene material.

Expand to see more
Product Features

120GPM
Dimensions: 22 * 22.5 * 50 inches

Who is it for?

Given the capacity and the price, we recommend it for large residentials and commercial purposes.

It is super easy to install
Easy to maintain as it doesn't have fiberglass flakes that could get into your skin like the old model
It is a breeze to use
Hefty price tag and the packaging material could be better given the price tag
7. Intex 28633EG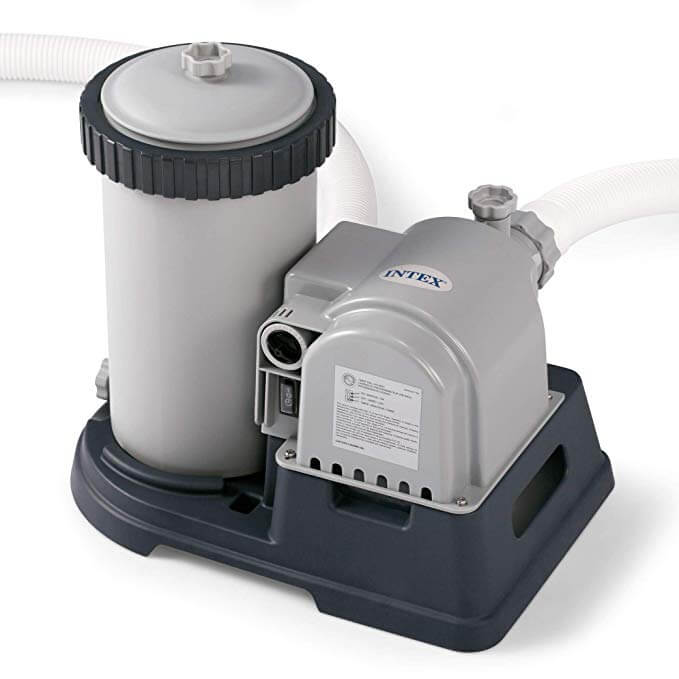 If you are looking for an above ground option, and you are on a tight budget we recommend the Intex Krystal Clear cartridge filter, and especially the 28633EG. This option is only a fraction of the price of other pricier units and happens to be easy to maintain, and easy to install. Setting up involves attaching the hoses and plugging it into your pool.

The pump flow rate is 2,500GPH, but that of the filter is 1,900. You will also appreciate the auto-timer as it comes with preset 2 to 12-hour sequences so cleaning the pool will be a breeze. However, our best features were the Hydro Aeration Technology, and sediment valve.

Sediment valve – The 28633Eg features a sediment flush valve at the bottom of the chamber for effortless cleaning of the unit.

Hydro Aeration Tech – With the improved aeration, fine particles of dirt, and debris settle at the bottom, and they are easier to remove through the filter. Furthermore, it results in improved clarity thanks to the oxidation of iron and manganese. Finally, it increases negative ions and consequently the freshness of the air around the pool.

Expand to see more
Product Features

A cartridge pump
2,500 pump GPH
1,900 filter GPH
Voltage: 110-120V

Who is it for?

This is for above ground pools and ones that do not exceed 15' long.

Maintenance is effortless as it only entails replacing the cartridge after every two weeks. Moreover, cleaning the cartridges is a breeze
It is affordable, and you get more than you paid for
Features a double-insulated pump
The pump doesn't retail with some essential parts such as shut-off valves
8. Jandy CS200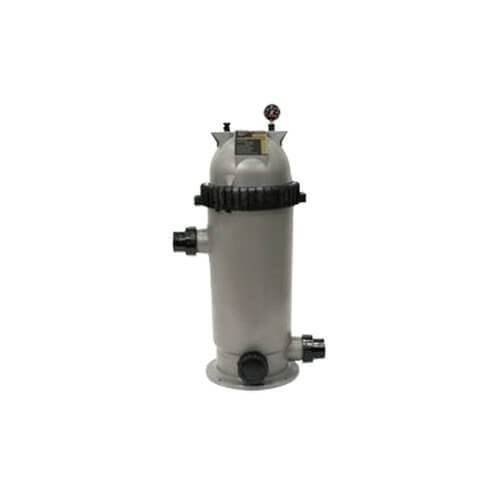 The Jandy CS200 is a gem when it comes to the pool filter industry, and we would recommend this unit if you are looking for something different and compact. It is especially useful for people with limited spaces.

First, you can buy one of four models, and each is designed for a different pool size. It is a cartridge filter and will trap debris as tiny as 15 microns, but it isn't close to D.E pool filters. Moreover, it is easy to connect with other Jandy appliances thanks to the Jandy versa plum system. You will also appreciate the comfortable, easy grip handles as they ease the process of removing the handle. Moreover, the large drain parts make this unit easy to clean.

Our best features though were the quality build and energy efficiency.

Quality build – For durability, this tool is made of high impact, UV and corrosion resistant material and thus you can expect it to withstand the harshest conditions.

Energy efficient – Being a cartridge pump, the Jandy CS200 uses lower pressure for filtration and consequently lowers your energy bill. Moreover, lower pump pressure prolongs the life of your pump.

Expand to see more
Product Features

Available models: 100, 150, 200, 250 square foot filters.
2 by 2.5-inch universal unions
Dimensions: 44.25 by 15.5 by 14.25-inches

Who is it for?

Well, the CS200 still happens to be a pricey unit. We recommend it for homeowners who are on a generous budget and have limited installation space.

It is compact and perfect for homeowners who have limited installation space
Changing the filters is a breeze thanks to the ergonomic handle
It is easy to maintain
The only shortcoming is that it is a bit pricey for a cartridge filter, and it doesn't have exceptional performance like D.E filters
9. Hayward CC15093S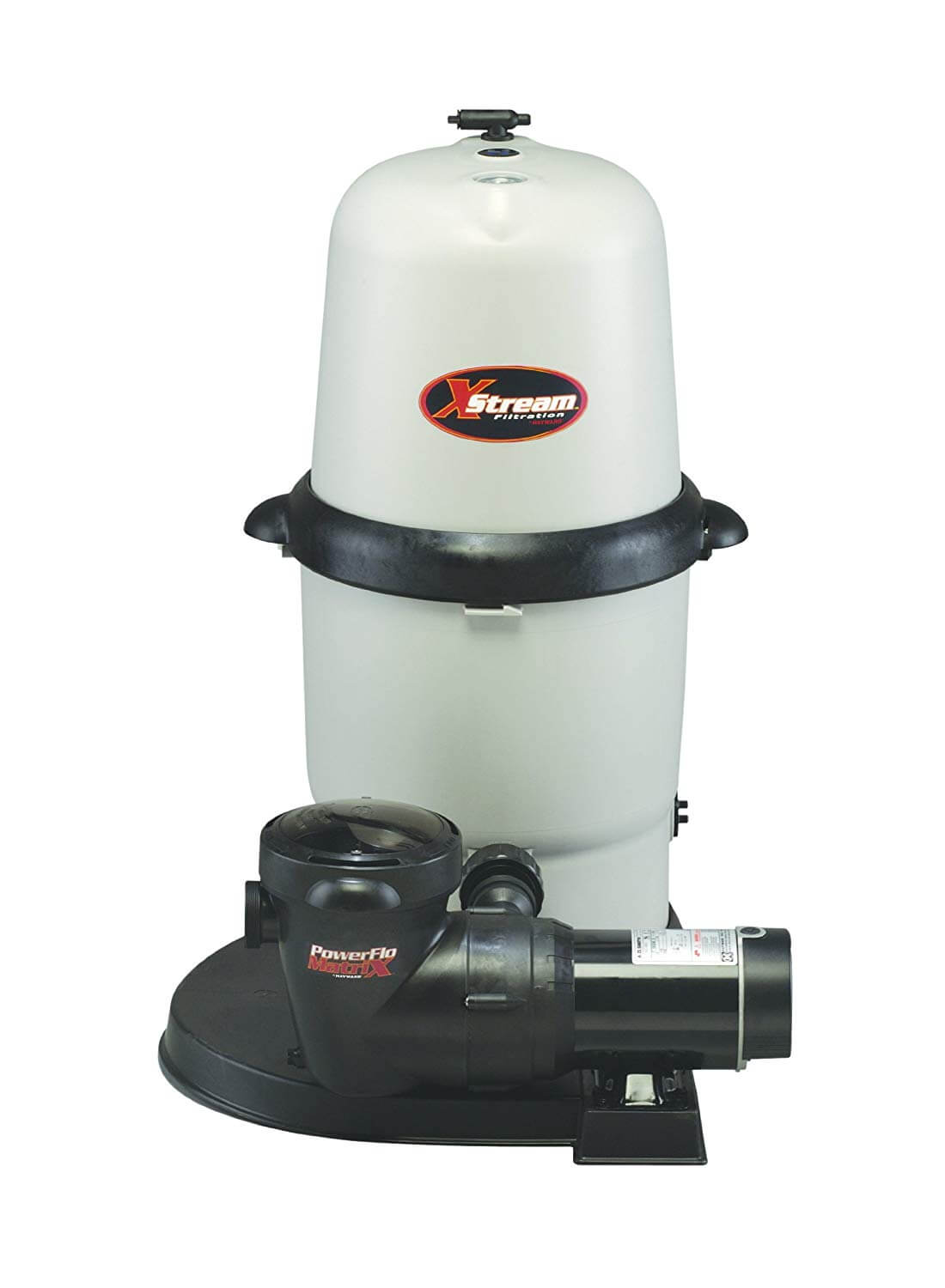 Once you see the X-stream CC15093S, you will be hooked. This is a cartridge unit and thus has decent performance and is designed for large
above ground pools
. With a 1.5HP motor, it can clean pools up to 57,000 gallons with its 150 gallons per minute flow rate. Moreover, it happens to be flexible and easier to maintain as it is a cartridge unit. You clean the cartridge by rinsing it with a garden hose, avoiding the hassles of backwashing and replacing sand or DE.
The filter is also built to be durable. First, it is reinforced glass, and thus it is non-corrosive, and you can be sure it will be around for a long time. The motor too happens to be a solid unit and will last for the entire life of the tool.
Furthermore, the filter body happens to be larger for better distribution of debris. You will also appreciate the strainer basket as it allows you to collect dirt without a lot of strain on the cartridge. The strainer allows for easy maintenance. Also, to prevent clogs, the impeller features an impeller with large openings that let leaves and debris through.
Easy-lok ring design
– This design allows for easy and quick access of internal components as it prevents over-tightening of the lid. However, this doesn't affect the performance.
Versatility
– As it can work with various flexible and rigid
plumbing
, it allows for multiple pumps and other plumbing for compatibility.
Expand to see more
Product Features

Motor: 1.5HP
Speed: Dual
Flow rate: 150GPM
Cord Length: 3ft
Voltage: 115 volts

Who is it for?

The X-stream is an above ground pool filter, and we recommend it for people with large capacity pools or who desire a higher water turnover.

It is energy efficient thanks to the heat resistant double size seal and rear mounted switch
Heavy duty, and is a tool you can expect to be around for long
Seeing as it works with various plumbing, it is difficult to get correctly fitting components
It is pricey
10. Hayward C900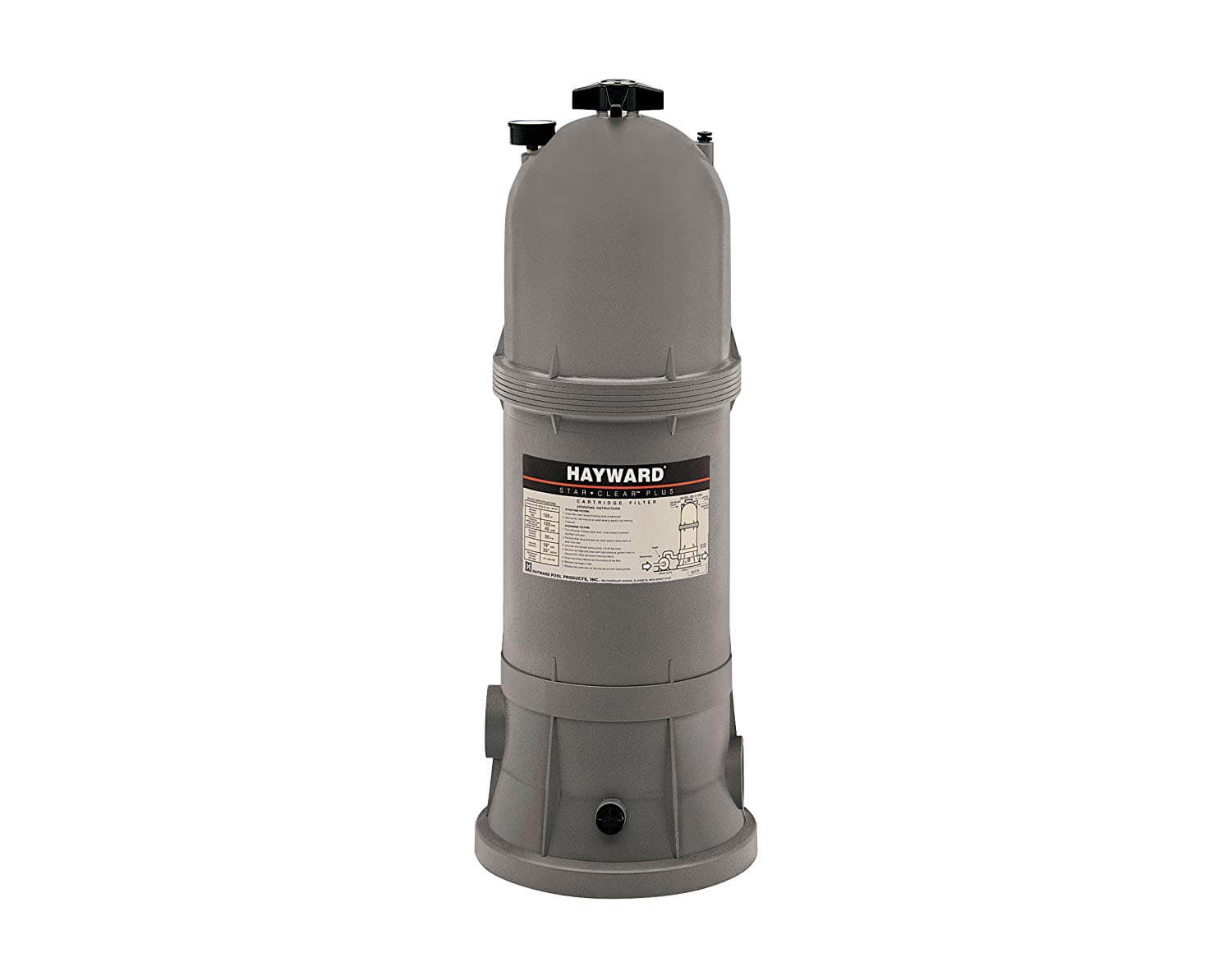 The Hayward C900 is an
in-ground pool
filter that is compact and designed for pools up to 43,200 gallons. It is a cartridge filter and can trap debris 10 microns and larger. Moreover, it is intended to be durable thanks to the perma-glass build for ultimate strength. It also happens to provide corrosion-free resistance, and you can be sure that it will be around for long.
You will appreciate the
energy efficiency
of this unit thanks to the lower pump pressure that consequently results in cost savings. Moreover, it is easier to lock in to place thanks to the sports locking knob that eliminates the needs for bolts and clamps. Another fascinating aspect is that you can rotate the head and ensure the pressure gauge and filter relief are conveniently placed.
The unit is a single-piece injected-molded tool for strength. Finally, there is the debris sump that inhibits accidental bypass of debris. Nevertheless, our best features were the ease of maintenance and the core.
Ease of maintenance
– Seeing as this is a cartridge pool filter, it doesn't require backwashing saving you thousands of gallons of water. Cleaning it is a breeze as all you have to do is remove the cartridge and rinse it with a garden hose.
Core
– The Hayward C900 features an engineered extruded core that provides extra strength and maximizes the flow.
Expand to see more
Product Features

Filtration area: 90 square feet
1-year warranty
In-ground pool filter
Dimensions: 13.5 by 30.5-inches

Who is it for?

This unit is for in-ground pools that are no more than 43,200 gallons in size. Moreover, it is compact for people with limited space.

The pressure is excellent, and the performance exceptional
Made of high-quality material and craftsmanship for longer life
It lacks a waste feature which is a significant drawback
Selection Criteria

Filter Type
There are three types of pool filters, and each has its pros and cons.
First, there is the Diatomaceous Earth filter, which is the most effective and traps debris between 2 and 5 microns and can capture almost anything. They are the best when you are trying to clear a cloudy pool. Nonetheless, they are quite pricey, require high maintenance, and the grids that are responsible for trapping debris don't last that much.
For quality but affordable filters, we suggest you purchase cartridge filters. They trap bacteria between 10 and 15 microns and are cheaper than DE units. Moreover, they maximize square footage thanks to the pleated filter material. They are the easiest to maintain, and they are affordable. However, they tend to cloud if tasked with filtering cloudy or "green" water, but this shouldn't be a problem if the pool is regularly maintained.
Finally, you can pick sand filters which are the most affordable. However, they are the least effective and can only trap waste between 20 and 40 microns. They extract impurities by using sand which needs to be backwashed once the dirt builds up. They are best for pools that get little traffic and are chemically maintained at all times. They are simple to service, but are very bulky and cannot clean cloudy or "green" water.
Size
Most people drop the ball when calculating the size, as they only estimate the size and end up picking the wrong filter which amounts in losses. Since you will be spending a considerable amount, the least you can do is ensure that you get the right size.
First, calculate the volume of the pool and convert it into gallons by multiplying the capacity by 7.48 (this is the gallons in a cubic meter). Next, calculate the flow rate (you can get cheap sensors for this), and then get the right filter that matches your flow rate. Ps. Get at least one size larger.
However, it is vital to consider the pump as the pump will affect the flow rate and has to be ideal for your pool. Ensure you are not going too quickly otherwise, you will have to invest in a monster pump.
Brand Name
This might not be important to all, but getting a gadget from a reputable company can be a life-saver. First, most companies are reliable; their devices are robust.
However, there are chances that you will pay more for these filters. You can still find a gadget among other units out there too.
Ease of replacement
Some pool filters have media that is easier to replace and locate in stores, while others feature parts that are difficult to find. We recommend you get a unit that you can quickly repair, and one whose parts and media are available where you live.
Compatibility
This should only worry you if you have an old pool as most new pool filters are designed to be compatible with existing pool fixtures, and simple adaptions will help in extreme cases. Be sure to check the filters to see if they will work with your fittings.
FAQs
How should I clean my pool filter?
Cleaning one depends on the type that you have. Sand and DE filters are cleaned through backwashing, but you will waste thousands of gallons of water. Also, ensure that you direct the water into the drain and not back into the pool.
Cartridge filters, on the other hand, are simple to clean as they save you tons of water. Remove the cartridge and rinse using a garden hose. You can use a spray nozzle for better results. Moreover, you should have an extra cartridge that you can use when cleaning. Check for holes and replace it if need be. Don't use a damaged cartridge as it will allow dirt back into the pool. Furthermore, ensure you clean the unit quickly so that the waste doesn't dry on the filter material.
Let the unit dry in the sun as the UV light inhibits algae growth, and then use an air compressor or tap the cartridge to get rid of all loose dirt. Finally, put the filter in chlorinated water and let it sit for a day, but preferably five days.
Side mounted valve or top-mounted valve?
When picking a sand filter, you will have to choose between a side mounted unit and a top-mounted unit. The two work the same, but there are some differences in ease of installation and cost.
If you are on a budget, we propose you get the top mounted unit as installation is straightforward. It requires fewer materials, and less labor and thus more cost-effective. However, maintenance is difficult as the pipes are mounted on top, and you have to remove all the pipes to get to the sand.
Side mounted units, on the other hand, are expensive to install, but maintenance is a breeze. You can get into the sand and change it without the hassle of removing the pipes.
How often should I clean my filter?
Again this depends on the type of filter you have. Cartridge filters should be cleaned every 2 to 6 weeks. D.E filters should be backwashed every 3 or so months or after the filter has built up 10psi of pressure. Sand filters, on the other hand, should be backwashed once every four weeks or after they have built up 10psi of pressure.
What should the pressure gauge read?
Though it is often neglected, the pressure gauge is vital as it tells how effective the pool filter is. Normal pressure should be at 10psi, but this is rare due to dirt build up. Most filters will still work at 15-20psi, but you should clean them at this level.
Wrapping Up
Pool filters are simple gadgets, but homeowners still have a difficult time picking the right one. For sparkling water, we recommend D.E units, and sand filters for affordable units. For a combination of the two, we recommend cartridge filters.
The guide above should make purchasing pool filters a walk in the park for beginners and can be used by professionals to break a tie between two great units. Remember to stick to your budget and leave your thoughts on this article in the comments below.
Subscribe to our newsletter