Best Halogen Bulbs Reviewed & Rated
last updated:
Apr 06, 2021
If you frequently drive at night and are concerned about your safety, it's high time you invested in a high-quality halogen bulb. The market is awash with a wide range of them. And our list features the best the market has to offer. They work flawlessly, giving you a perfect down-road view, further complementing it with a long range of vision and a wide range of visibility. And because they're superior to your stock bulbs both in performance and ease of use, they also offer great contrast and colour. The attendant confidence and comfort that come with using halogen bulbs offering exceptional brightness and colour significantly enhances safety, allowing you to get to your destination is one piece.
Our Top 3 Picks
[srpshortcode id="22314″][/srpshortcode][srpshortcode id="22315″][/srpshortcode][srpshortcode id="22316″][/srpshortcode]
Finding the best halogen bulbs for your car isn't akin to finding a needle in a haystack. If you know what you're looking for, you get to spend the minimal amount of time and effort on the exercise. If on the other hand, you're a greenhorn who doesn't know zilch about halogen bulbs, we're here to help. You'll find our carefully curated list of 10 of the best halogen bulbs on the market to be most educative and informative. But first, let have a look at the factors to consider before you commit your money.
10 Best Halogen Bulbs
9. Philips 9003 VisionPlus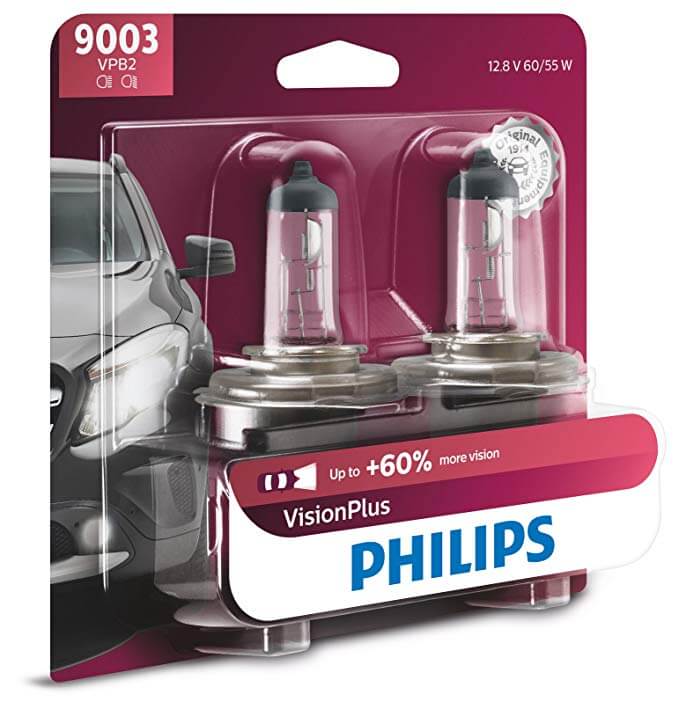 Philips 9003 VisionPlus is designed with the value-conscious user in mind. If want a halogen bulb that performs better than the original stock bulbs your car came with without necessarily having to dig too deep into your pockets, we can't recommend the it enough. It gives you value for money, providing you with up to 60 percent more vision whenever you take to the wheel at night. As we've come to expect from virtually all halogen bulb made by Philips, this model is a high-performance option with approximately 450 hours of useful life, its DOT compliant, produces 3300K of bright light, and installs with ease.

As the name suggests, it provides you with up to 60 percent more light, more than enough to illuminate that squirrel or deer rushing across the road way before you reach it. Like our previous picks, this model also provides you with lots of clean, crisp light full of colour and contrast and closely rivals the performance of its HID counterparts. If you won't take our word for it, maybe the fact that the halogen bulb comes with an original equipment quality seal will immediately sway your purchasing decision.

Expand to see more
The Philips 9003 increases your range of vision by another 80 feet, which further reinforces the feeling of safety, comfort, and confidence. Moving forward, you won't be thinking twice before jumping behind the wheel at night. Whether you're using a familiar road or taking a new route, the perfect illumination eliminates any surprises as you'll be seeing the way ahead more clearly than conventional stock bulbs would have allowed you to. Addition features are DOT compliance, reliable performance, and ease of installation.

In all, it is not the kind of halogen bulb we'd overlook or dismiss if we were searching for a cost-effective, high-performance and durable halogen bulb.

Smooth and reliable performance
Falls on the affordable sideInstallation is a breeze
Bright and durable
2. Philips X-treme Vision +130%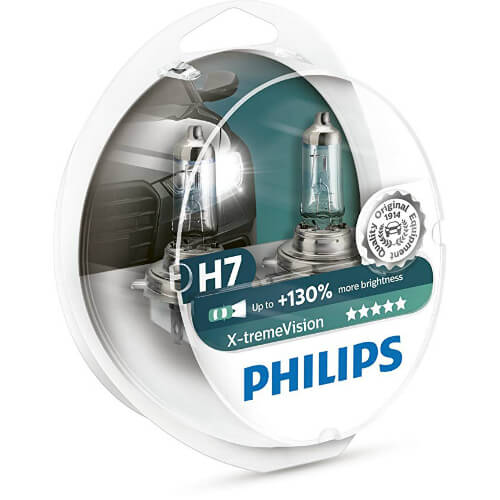 Our second choice is yet another high-performance Philips bulb. Like its bigger cousin we reviewed earlier, it's considerably brighter and offers up to 20 percent more white light compared to the traditional halogen bulb. The ingenious design gives you a superior view of the road ahead, giving you a safer and much more comfortable driving experience compared to most of its rivals on the market. You no longer have to dread driving at night and because it's compatible with your car's original housing, there'll be no need for using any time-consuming and energy-sapping HID conversion kits.

The Philips X-treme Vision are in every sense a significant upgrade from the conventional halogen bulbs you found on your car. Some of the features that make them stand out are the fact they offer more than 100 percent more vision thereby providing you with a beam that's approximately 115 feet longer. You'll be able to see the road more clearly which in turn will boost your confidence to drive at night, even on unpaved roads or where the lighting conditions are less than ideal. You don't have to worry about blinding your fellow motorists or breaking any laws by using them as the halogen bulbs are DOT compliant.

Expand to see more
As for construction quality, you can rest assured it are built to last. They also come with a high precision coating and high-quality UV-Quartz glass. The last feature limits its colour temperature to 3700K, helping your eyes focus for much longer. With proper use, they should provide you with smooth, trouble-free use over their marked 450 hours lifetime. As mentioned earlier, installation is a breeze and they're both road legal and ECE certified.

In sum, these are some of the best halogen bulbs on the market. They're high-performance, easy to install, durable, and enable you to drive safely and comfortably at night by providing 130 metres of light for quick reaction.

Extremely long and clear range
High-performance
Durable
Cost-effective
Prone to heating up
Brief shelf life
3. PIAA 17655 H7 Xtreme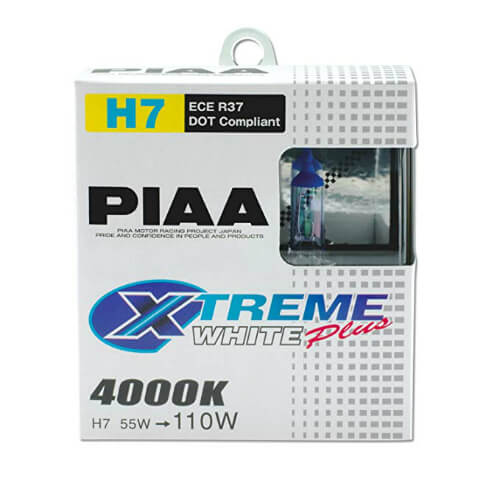 If you dread driving at night because of the poor light output of your stock halogen bulb, then its time to upgrade to the PIAA 17655 H7. Compared to your stock halogen bulb, it offers superior contrast and brightness, enabling you to fee further down the road and therefore contributing to safe and comfortable driving. Among other things, it also boasts a quartz glass, alloy filaments, durable metal, and poly blended bases, and provides for easy installation.

Besides the expensive price tag, PIAA 17655 is a perfect replacement for the stock bulb your car came with. Compared to the vast majority of cheap, run-of-the-mill halogen bulbs on the market, this model boasts a sharp cut beam thanks to its use of heavy-duty alloy filaments and quartz glass. These two features make it a high-performance option that outputs an impressive 110 watts of light despite its 55w rating. Further, it features a cold pressed aluminium base with dampens the vibrations and friction that come with driving, thereby minimizing the likelihood of burnouts.

Expand to see more
Unlike incandescent bulbs, the quartz glass and alloy filament used in the halogen bulb are much long-lasting, which partly explains why the halogen bulb is on the expensive side. In return for digging deep into your pockets, you get a high-quality halogen bulb that provides superior white lumen closely rivalling that of a 4000k HID headlight. It also comes with a crystal blue reflection that, depending on your car's colour and profile, makes it more conspicuous on the road during the day. As you'd expect, installation is a snap and it's recommended you replace both bulbs to ensure a uniform beam.

If you want a detail view of the road at night, this PIAA 17655 H7 Xtreme White Plus High Performance Halogen Bulb is the product to go with. It's bright, has a longer shelf life, and very easy to install.

Exceptional light output
Durable construction using high-quality quartz glass
Provides bright white light for perfect illumination at night
Street legal
4. SYLVANIA - 9006 SilverStar Ultra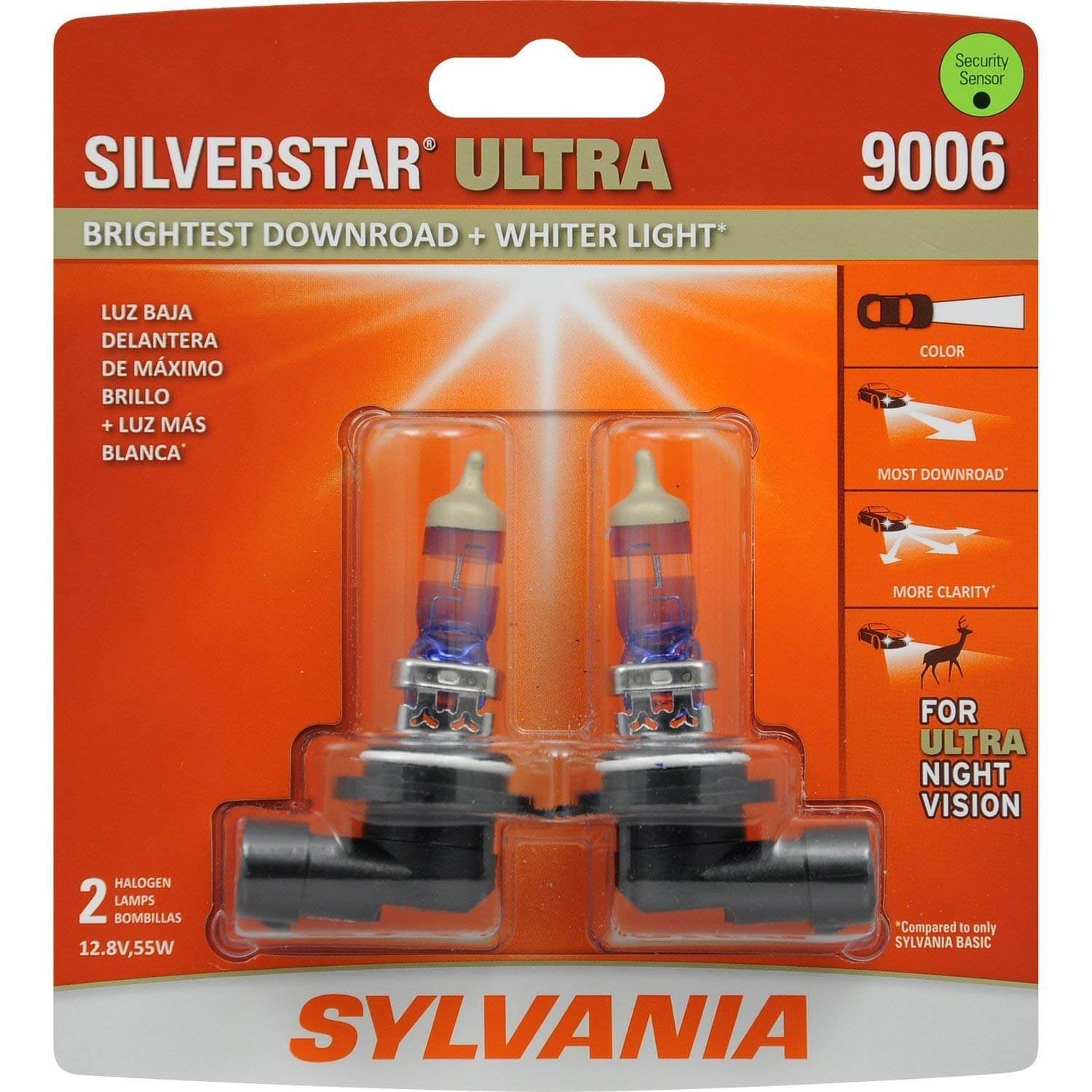 Driving at night can be a dangerous affair, especially if you're not familiar with the road and the terrain on which you're driving. Which is why it's all the more important that you invest in a pair of ultra-bright and durable halogen bulbs. One of the best options the market offers is this SYLVANIA - 9006 SilverStar Ultra. It's a feature packed model seeing as it features a colour temperature rating of 4100K and offers up to 40 percent more down-road visibility and up to 50 percent side-road visibility. It's also easy to install.

It is a prudent choice if you're looking for bright white light to give you a clear down-road view at night or when driving where the lighting conditions are less than optimal. In addition to giving you a clear and far down-road view, it also gives you excellent side-road view with its bright, white light. Seeing the road more clearly and being aware of the going ons around you means driving will be a more enjoyable, safer, and more comfortable experience for you and other road users.

Expand to see more
It is also compatible with most vehicle models and installs quickly and easily. It's however recommended that you ensure compatibility with your vehicle before committing your money. It doesn't have a strong glare like some halogen bulbs on the market and is therefore 100 percent road and street legal. The absence of glare means you won't be blinding other drivers making, minimizing the chances of them running into you in a fit of rage. As was the case with the other models, Sylvania recommends you change both bulbs to enjoy a uniform field of view.
There's every advantage to buying the SYLVANIA - 9006 SilverStar Ultra. It's reliable, high-performance, safe, compliant with all road regulations, and because
it's stylish
, it improves the aesthetic appeal of your car.
Offers remarkable down-road visibility at night
It's very clear
Perfect for use on poorly lit roads
DOT compliant and therefore safe to use on the roads
Not as durable as stock bulbs
5. HELLA H4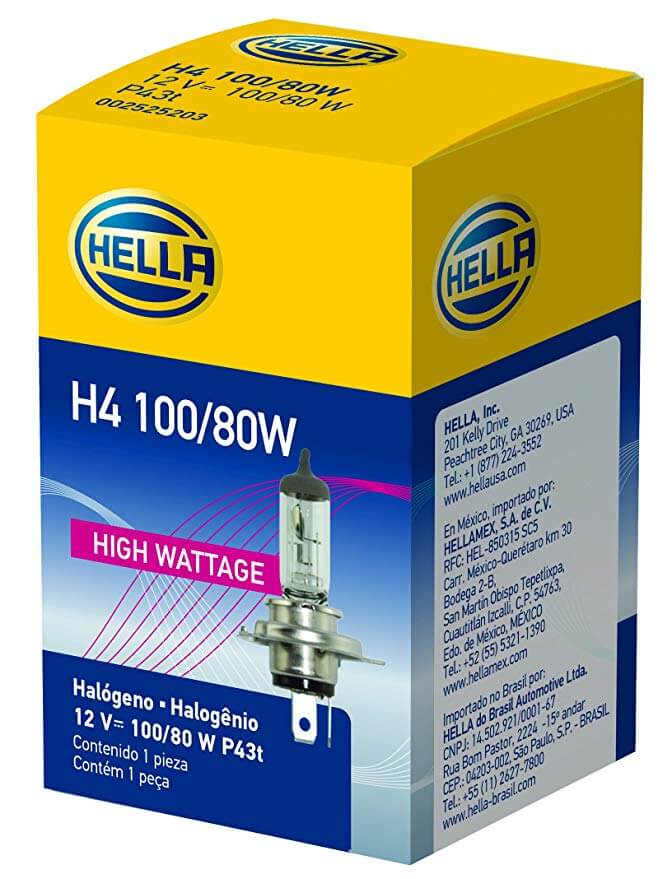 Boasting a laundry list of impressive features, this HELLA H4 is a perfect replacement for the conventional bulbs your car came with. They're durable, pocket-friendly, and are remarkably bright, sufficiently illuminating the road ahead to ensure you get home safely and comfortably without straining your eyes. Before buying though, do a little research to be conversant with your car's wattage so you are not one of the drivers buying halogen bulbs they don't need. A suitable halogen bulb prevents electrical complications with your car such as overheating and ensures the durability of the bulb.

The HELLA H4 is competitively priced and come in a single package to enable those working on a budget to replace their stock halogen bulbs one at a time. If you can though make sure you order two of these to get a uniform range for optimal performance and visibility. Installation won't give you a headache like is the case with some models. Also, because they are OEM quality, you're sure they'll fit comfortably and easily in the car's original housing. Note that even though they're not high-performance and their price is in the low-range, their performance flags drastically over time and this may be exacerbated by harsh or tough working conditions. If you need something long lasting, look at the other end of the price spectrum.

Expand to see more
As for performance, they're specially designed for off-road use. They can't withstand the demands of every day, highway use. Still, they provide an intense low beam without any dangerous glare whatsoever. Its strong beams give you a detailed view of the road however dark it is outside. The beam is far-reaching and it boasts a considerably wide field of night vision, meaning that you can use them at any time of the day and night.

HELLA H4 provides the user with exceptional compatibility, ease of use, long-lasting service, and a pocket-friendly price. For the outdoor enthusiast, there'll be no looking back.

Priced competitively
Lights up brightly without leaving dark spots
Best choice for off-road use
Easy to install and replace
6. Osram Night Breaker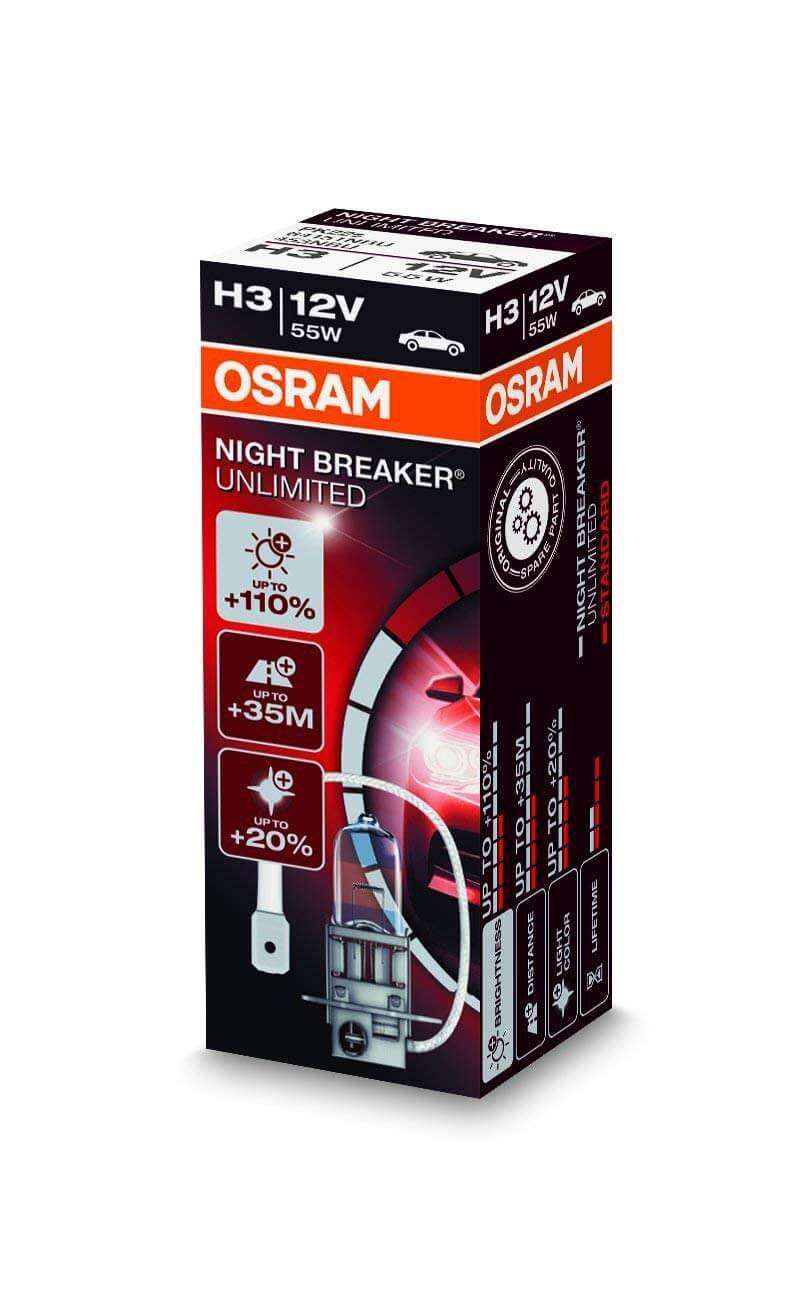 The Osram Night Breaker is indeed a cut above the rest. It easily exceeds performance and convenience expectations and seeing as it comes from an industry doyen renowned for pulling all the stops for the best performance, it'll never disappoint. Construction quality is top-notch which translates to incredible durability and flawless performance all year round. If you're tired of using your low-quality stock bulb with its mediocre performance, it's high time you upgraded to this workhorse. And we'll tell you why you need to get yourself one today.

Right off the bat, the performance of the halogen bulb is leaps and bounds above most of its competitors on the market, and that includes the original stock bulb your car came with. The Osram Night Breaker comes equipped with a high power filament that effortlessly and reliably produces up to 3600K of white light. Needless to say, your original stock bulb can't even begin to hold a candle to it. While it has a rating of 55w, the bulb outputs an impressive 110w of light, with a bright beam that gives you a superior and clear view of not only the road but also the edges of the road, so you're always aware of what is going on all around you.

Expand to see more
The bulb is expertly designed and engineered to withstand the test of time and the roughest lighting conditions. The coiled tungsten filament, for instance, boasts high-temperature tolerance. And to add aesthetic value, it comes with a blue coating for an attractive shine as you drive around during the day. It installs easily and quickly into any housing and there's an informative user manual in the off-chance that you encounter difficulties with the installation.

Overall, Osram Night Breakeris an ideal choice if you want to overcome the fear of driving at night. It's bright and gives you a proper view of the road so you won't be taken aback by any surprises.

Perfect for the darkest of nights
Offer exceptional visibility and perfect down-road view
Cost-effective and durable
Easy to install
7. GE Lighting H7-55NHP/BP2 Nighthawk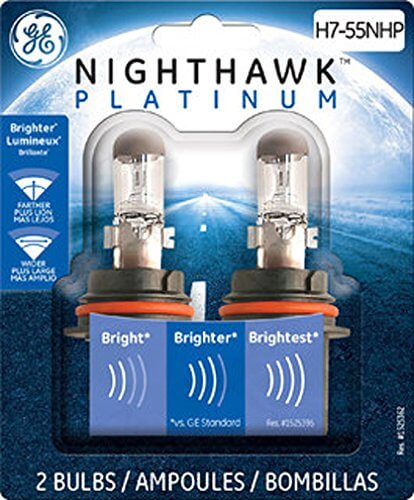 Despite the fierce competition in the industry, this GE Lighting H7-55NHP/BP2 manages to set itself apart from other equally high-end contenders. It works powerfully and reliably, providing you with up to 90 percent more light than traditional halogen headlights. It generates a cool, comfortable white light that helps you stay focused while on the road beside enhancing your
visibility
. The halogen bulb further throws into the fray an ingenious design for near-perfect contrast and provide the driver with a high-quality premium look. Continue reading for an in-depth review.
The GE Lighting H7-55NHP/BP2 gives you the peace of mind and confidence you need to drive at night as you would during the day. Because it provides you with up to 90 percent more light compared to traditional headlights, it significantly reduces the dangers associated with driving in poor lighting conditions. It's clean, white light illuminates everything crossing, using, or sitting on the road and because it's far-reaching without any dangerous glare, it significantly improves your reaction time. If you don't want to contribute the statistics of avoidable road accidents at night, GE Lighting H7-55NHP/BP2 Nighthawk Platinum Replacement Bulb would be a perfect investment.
Expand to see more
They don't have the kind of glare that blinds other road users, increasing their chances of hitting you, which would be very counterproductive. Instead, it produces clean, white light and is, therefore, road legal and Department of Transportation compliant. With regards to ease of use, the halogen bulb easily works with several car models on the road. Even without any assistance, you get to quickly and effortlessly install the halogen bulb and have it working in no time at all. That's more than you can say for most halogen bulbs on the market.

The GE Lighting H7-55NHP/BP2 is feature packed for stress-free, comfortable, and safe driving experience. It offers 90 percent more light compared to standard halogen bulbs and is DOT compliant for street legal lighting. You can never go wrong with it.

Produces bright, white light for perfect illumination
Exceptionally visible and high contrast colour
Street legal considering its DOT compliant
Set up is a breeze
8. SYLVANIA - H11 (64211) SilverStar zXe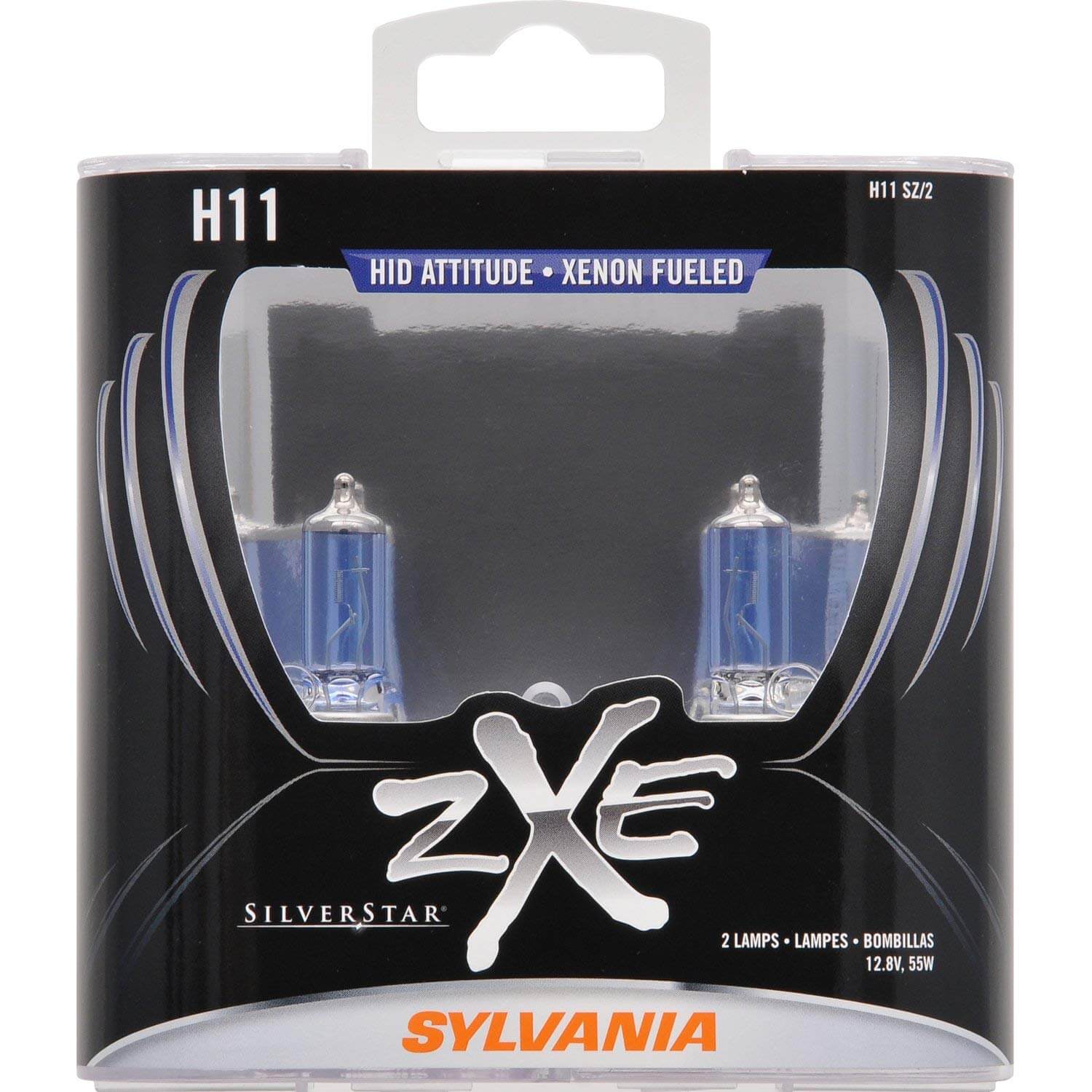 As Sylvania enthusiastically points out, it's been in the business of providing motorists with car lighting solutions for more than a century. It has therefore mastered the art, deservedly earning it the world leader title. As SYLVANIA - H11 (64211) shows, the brand knows how to harness its expertise and experience to make one of the industry's best halogen bulbs to date. The halogen bulb produces not only the
whitest light
for the safest and most driving experience but is also aggressively stylized to compliment the look of your vehicle. Few halogen bulbs effortlessly and expertly bring together style and performance as this halogen bulb does.
The first unique selling point is the proprietary Xenon halogen gas technology that makes them comparable to HID lights in look, feel, and performance. The halogen bulb also oozes style and will greatly enhance the look of your car. With regards to performance, it comes with a mirror top alloy coating and provides the user with a brilliant, crisp white light output. The mirror top extends its reach and range and effectively puts its level of brightness at par with that of a Xenon headlight bulb. The proprietary cobalt blue coating, on the other hand, pairs nicely with the halogen gas technology leading to the creation of a colour temperature that gives HID bulbs a run for their money.
Expand to see more
Another unique feature is that they won't turn on unless you install two of them at a go. The design ensures optimal performance by giving you excellent range and ensure uniform vision, enhancing both colour and contrast. And just in case you're wondering, the bulbs are DOT compliant and 100 percent street legal, so you get to use them without fear of being pulled over.

SYLVANIA - H11 gives you a perfectly clear view of the road ahead at night, enabling you to drive comfortably and safely irrespective of the prevailing weather conditions. It optimally transmits light and colour and keeps you alert whenever you're behind the wheel.

A high-performance option
Reliably produces sharp and bright illumination of the road ahead
Offers the best bang for the buck
Comes with mirror top alloy coating
DOT compliant
1. Philips 9006 CrystalVision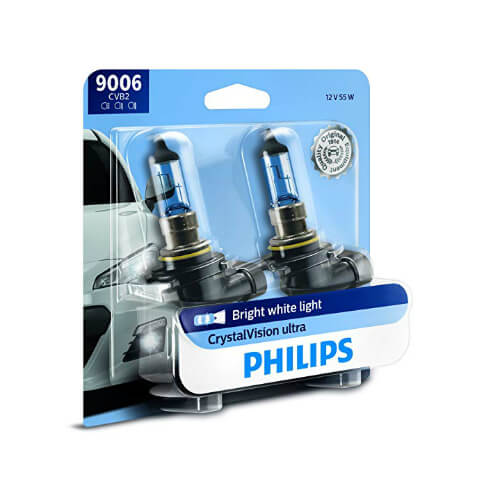 In spite of its budget-friendly pricing, Philips 9006 CrystalVision is hands down one of the best halogen bulbs currently on the market. Its performance closely rivals that of its HID counterparts and considering that Philips has been in the business for decades, you can buy their products confidently and with peace of mind. Like all other Philip's products, the halogen bulb oozes exceptional quality and is therefore guaranteed to withstand the test of time, easily weathering the toughest driving conditions while providing you with a superior view of the road at night.

Seeing as its performance closely rivals that of its Xenon HID counterparts, this Philips 9006 saves you the pain and frustration of straining your eyes or squinting to have a better view of the road. It provides superior quality and bright white light during the night and during the day you get to use the cool blue light as it has a blue cap on the bulb. Being a high-performance option, they're renowned for producing intense light, an extended beam, and a full coverage compared to the stock bulbs the car comes with. Replacing both halogen bulbs simultaneously provides the best results as it guarantees symmetric light beams.

Expand to see more
Another important feature that makes it a must have is the affordability. Compared to other high-end models on the market, this costs a fraction of their price yet overshadows them in performance is more aesthetically pleasing. Besides the durable construction, it also comes with an additional casing for the even distribution of heat, further contributing to its 3000-hour lifespan. Given their compatibility with any car's original housing, installation is a breeze. Lastly, the manufacturer highly recommends that you use gloves or paper towel when handling them.

For those looking for heavy-duty, cost-effective, easy-to-install, and bright pair of halogen bulbs with wide coverage, look no further than Philips 9006 CrystalVision. It works excellently in all conditions.

Shines brightly
Provides far and clear down-road view
Blue effect enhances the car's look during the day
Reliable performance
Cost-effective
10. PIAA 23-10111 H11 Xtreme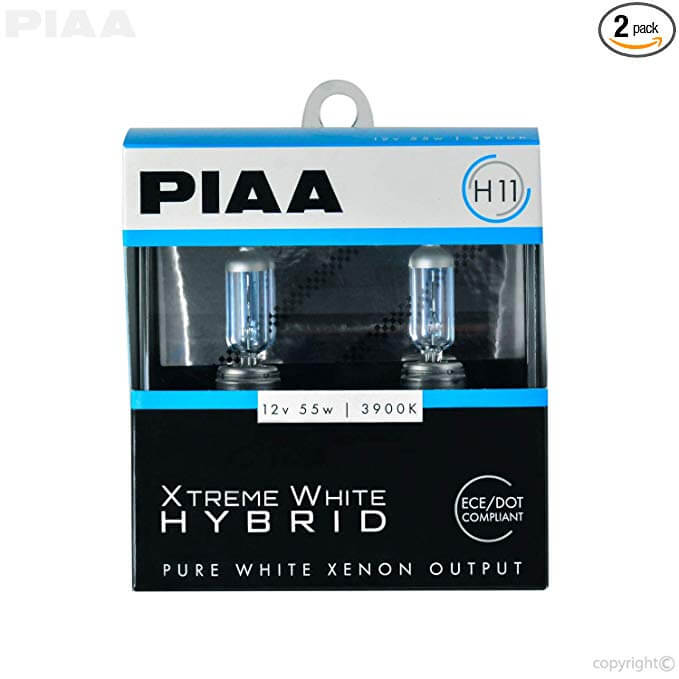 Our last pick is this heavy-duty PIAA 23-10111. It's what value-conscious users always look out for, considering that it seamlessly and expertly balances between performance and durability. It's a perfect choice for drivers in search of high output and reliability. Compared to other models out there, this model comes with an innovative developed bulb coating. It provides drivers with a substantially bright and white beam compared to stock bulbs. Its contrast is also superior which coupled with its perfect down-road illumination, allows the drivers to see farther down the road which in turn farther increases safety and comfort.

PIAA 23-10111 is designed to get you from point A to point B safely, confidently and comfortably. Its colour temperature falls between 3700 and 3900K, which, as indicated earlier, increases depth and contract. It provides one of the best down-road illuminations in the industry and compared to stock bulbs, you'll be able to see much farther down the road. As a result, you'll no longer dread driving at night, fearing you might accidentally run into an object, an animal, or another vehicle. Another feature that sets the halogen bulb apart is its wide range of visibility and ability to reduce dark spots. You'll always be aware of what's going around you as you drive.

Expand to see more
As for durability, it is capable of lasting a lot longer than its competitors on the market. It's constructed using first-rate quartz glass and alloy filaments. These materials have a knack for efficiently dispersing heat, enabling
the bulb
to work flawlessly and at a greater output for much longer than its counterparts would withstand. The ingenious design also minimizes vibration, minimizing the possibility of premature burn out for those who frequently drive over rough terrains. And to seal the deal, the halogen bulb is a cinch to install and the brand offers exceptional customer support.
If you're looking for a halogen bulb that provides the best balance between performance and durability, look no further than this PIAA bulb. Its feature packed, without a doubt, and cost-effective.
Boasts bright, white light output
Durable
Superior contrast and colour
Easy to use and install
Comes with a 12-month warranty
Criteria for Choosing the Best Halogen Bulbs
Performance
This criterion encompasses the brightness of the bulb, its colour temperatures, range, and colour. The best halogen bulbs should elevate your confidence on the road and enable your eyes to comfortably see the long road ahead of you without straining or squinting your eyes.
Further, it should be a high-performance option capable of producing just the right balance between bright and white light. A white beam increases the contrast and colour of the objects in your path, enabling to see them more clearly and easily. To these add the bulb range.
Compared to your original stock bulbs, the ones on our list offer you an incredible range, providing you with the perfect down-road visibility, giving you adequate time to react accordingly.
Ease of Installation
Manufacturers of halogen bulbs go to great lengths to make their products very easy to use. The installation procedure is mostly extremely lined so that the regular car owner can easily and quickly remove their stock bulbs and replace them with halogen bulbs of their choice.
Before going out and getting a pair though, be conversant with your car's bulb housing and the type of bulb it would work flawlessly with. Reading through your owner's manual should quickly provide you with this kind of information.
While installing your new pair, ensure you replace them in pairs and that you don't them with your bare hands and this can shorten their shelf life.
Legal Compliance
Different states have different laws regulating the use of halogen bulbs. It's for this reason that you need to exercise an abundance of caution before investing in a pair. Some models have a strong glare which you may need to adjust to make them street legal or run the risk of attracting the attention of law enforcers. Using halogen bulbs reserved for off-road use around the city may also get you in trouble.
Frequently Asked Questions
Q: How are halogen bulbs superior to their LED and HID counterparts?
A: Besides being considerably brighter than the other two, halogen bulbs are also cost-effective and compatible with a wide range of car models. However, they have a shorter lifespan which means they'll be expensive in the long run.
Q: Why do I have to use install them as a pair?

A: Doing so creates a superior field of vision and so you get the most out of them.
Conclusion
Poor road visibility is responsible for lots of road accidents. Unless you want to be a statistic of road usage, we highly recommend investing in a pair of high-quality halogen bulbs to give you the peace of mind and confidence to get home safely.
Our list aims to take rocket science, time, and effort away from choosing your next halogen bulbs. It features high-quality options that are not only bright but also boast a long range, easy installation, and provide perfect visibility. And for most of them, you won't have to dig too deep into your pockets to get one.
Subscribe to our newsletter