6 Best Garden Spades Reviewed in Detail
last updated:
Sep 30, 2021
Spades are workhorses and are handy tools around the garden. Similar to shovels in function, they have flatter, narrower blades that work well in small spaces such as a flowerbed. Where a shovel's angled blade is efficient at digging, the spade's straighter blade can slice through and lift sod, skim weeds, edge lawns and beds, and open straight-sided trenches and holes. How do you identify the best garden spades?
There are various designs available for about every specialized gardening task. Some of the popular types of spades include:
Digging spade – a squared-off, narrow blade used for moving and turning soil
Border spade – a smaller version of the digging spade, often used in raised beds or around borders
Pointed spade – curved blade with a pointed end
Transplanting spade – sharp, jagged blades
Our Top 3 Picks
[srpshortcode id="20775″][/srpshortcode][srpshortcode id="20776″][/srpshortcode][srpshortcode id="20777″][/srpshortcode]
Garden spades are sometimes mistaken for shovels. Though the terms are used interchangeably, they are different tools. A shovel has a 5-foot length giving you longer reach while a garden spade has a 4-foot enabling you to work close to flower beds. Moreover, spades have D or T-shaped handles, unlike shovels which don't. Finally, a spade has a flat rectangular blade albeit with some variations, while a shovel has a curved scoop-out blade. As manufacturers attempt to make digging tools more ergonomic, some current offerings are hybrid tools with characteristics of both shovels and spades.
First, don't mistake a garden spade for a shovel. Though the terms are used interchangeably, they are different tools. A shovel has a 5-foot length giving you longer reach while a garden spade has a 4-foot enabling you to work close to flower beds. Moreover, spades have D or T-shaped handles, unlike shovels which don't. Finally, a spade has a flat rectangular blade albeit with some variations, while a shovel has a curved scoop-out blade.
Finding the perfect gardening spade can be demanding. especially for new gardeners. You should be looking for a tool that fits your stature and physique for comfort. Our buying guide to the best garden spades should help.
6 Best Garden Spades
1. Spear Head Spade - Reinforced Fiberglass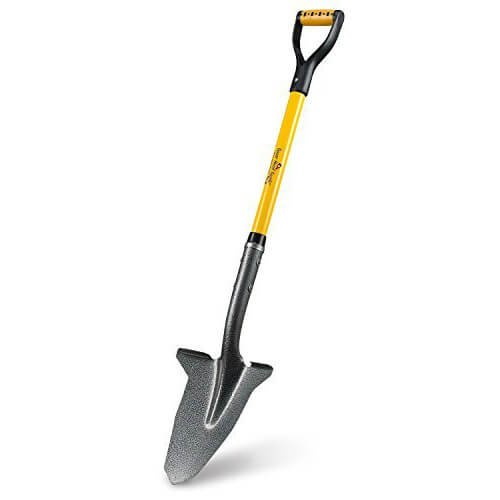 Winner of the Best of the Best award winner in 2020, 2919, and 2018 is this spear head spade with utility function for all landscaping, gardening, and digging tasks. The tool is designed to cut through rocky soils or areas that are often traveled with ease. The blade doesn't resemble a spade and combines the best of a garden ax, a shovel, and a spade. The tool has bent footrests on either side of the blade that enables you to use your weight and power through the toughest soils. The first hybrid shovel/spade is guaranteed to significantly reduce the digging effort in the toughest soil conditions.

Blades and Handles

The reinforced fiberglass handles are lightweight and are durable. Unlike wood, they aren't susceptible to water, don't splinter, and are weather-resistant and low maintenance. Another fascinating feature is the strength of the blade. The high carbon manganese steel blade happens to be 25% harder and 33% thicker than traditional blades. Thus, you can expect it to be with you for years.

The epoxy-coated blade is pre-sharpened at 35-degrees, and the powder coating is designed to wear out at the edges first. Therefore, the edges are continuously sharpened as you work. Moreover, it auto-seeks the path of least resistance, aiding you to ease through clay and compacted 80% less effort. The blades contain UV-inhibitors to allow the tool to withstand harsh conditions. It is also non-conductive, and thus you can use it in the sweltering heat.

Available in several colors, the tool sells for $52 on Amazon.

Expand to see more
Product Features


Length: 41-inches


Weight: 3.8 pounds


Material: Carbon manganese blade with a reinforced fiberglass handle


Cushioned grip


35-degree angle blade
Who is it for?
Given that the Spear Head reduces effort, we recommend it to anyone, especially seniors. It also happens to be our pick for transplanting as it powers through root-infested soils with ease.
The Spear Head spade is a low-cost premium product
It is maneuverable around existing plants, and perfect to eliminate weeds
Includes footrests for exerting pressure
2. Fiskars D-handle Square Spade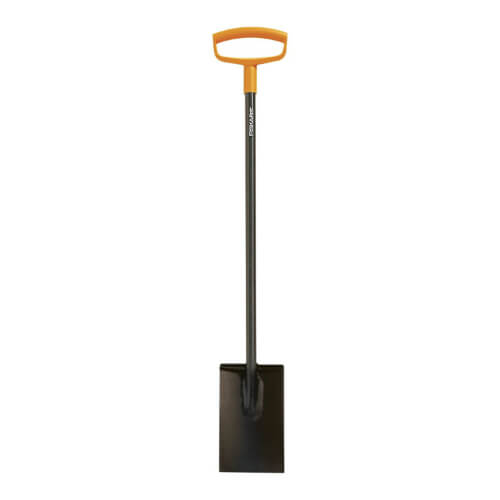 If you need to trench, edge, and slice through thick turf, we recommend the Fiskars 46-inch for its durable design. The Fiskars features welded construction of the steel shaft and blade is more durable than wood and doesn't flex like fiberglass. The teardrop-shaped shaft increases comfort and control. Seeing it has a longer handle, we recommend it for tall people though shorter individuals can use it too. The durability allows you to work on tough soils as the tool can withstand abuse.

Moreover, the sharp blade allows you to ease your way into nearly any surface. Finally, the 14-gauge metal happens to be stronger and more robust than most spades. Much like the Spear Head spade, the Fiskars has a foot platform that allows you to exert pressure using your feet so you can power through root-infested soils without hurting your back. The plastic D-handle is large enough for a two-handed grip, even when exerting pressure on the foot platform.

The tool is available for $30. Multiple packs are also available, but the price per tool is much higher than buying the shaped individually.

Expand to see more
Product Features
Weight: 4.9 pounds


Length: 46-inches


14-gauge steel blade


18-gauge handle
Who is it for?
Anyone who needs to cut small deep holes or cut trenches, edge, or dig will be happy to have this tool. Seeing as this is a 46-inch, we recommend it for tall people. (A 51-inch version is also available.)
It is durable
Digging holes is a breeze thanks to the foot platform
Edges with minimum effort
Includes a lifetime warranty
Thanks to the sharpened blade, it cuts through roots with ease
It is made of conductive materials and susceptible to weather elements; using it in sweltering heat will be uncomfortable
3. A.M. Leonard All Steel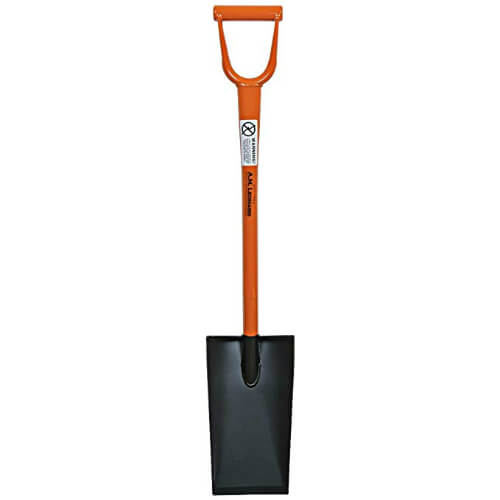 If you are on the hunt for a spade for your nursery and landscaping tasks, we recommend you try the A.M. Leonard. At $89, this is a pricey unit but worth the money. The A.M. Leonard features a fully welded construction that eliminates the weak point at the socket, which allows the spade to withstand some abuse. The A.M. Leonard is orange-colored and thus easy to find on the job site.

The ergonomics of this spade are amazing. Its tear-shaped shaft increases comfort and control while the D-handle allows for a firm grip even with a gloved hand. The 13" blade will enable you to dig deep. Furthermore, the foot step of the A.M. Leonard is unlike any other as it incorporates drilled holes where you can attach rubber footpads. The flat back of the tool eliminates soil build-up and reduces weight.

Expand to see more
Product Features
Blade length: 13-inches


Handle: 27-inches


Blade width: 7-3/4-inches


Welded steel construction
Who is it for?
The A.M. Leonard is for all landscaping and nursery tasks. It is also best for demanding jobs as it can handle them without breaking.
One-piece construction eliminates most of the week points
The all-steel construction means the tool will serve you for long
It is easy to spot thanks to the orange color
It is powder coated to prevent rust and corrosion
Since this spade is made of conductive material, it should not be used in areas with utility lines
4. Spear & Jackson R715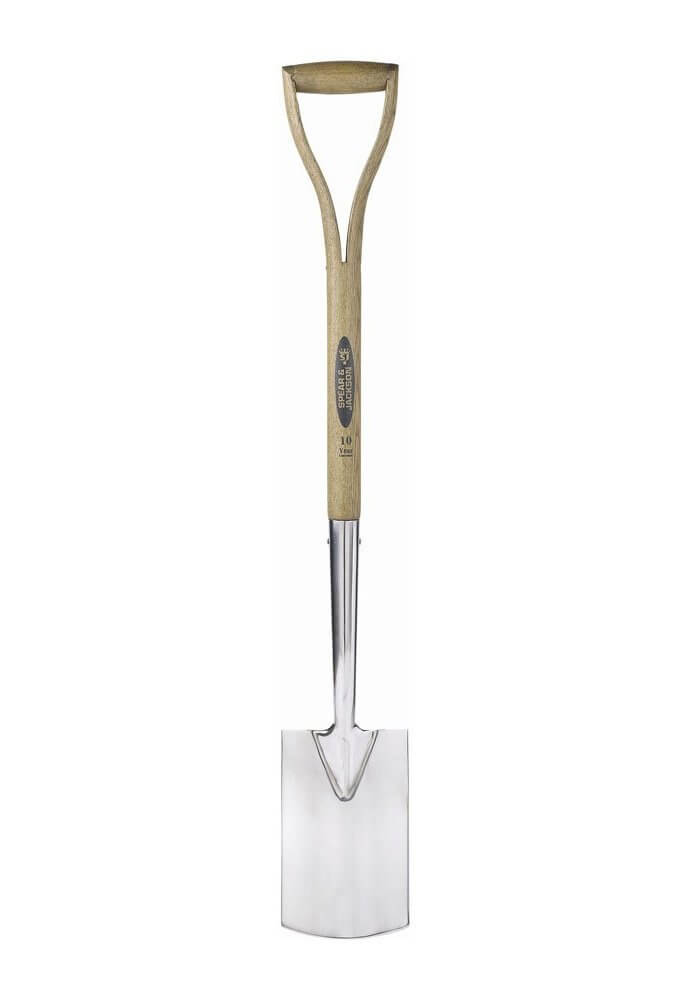 If you are looking for a classic option, we recommend you get the Spear and Jackson R715. Spear and Jackson has its roots back to 1760 and has perfected the art of garden tools manufacturing, as is evident with the R715.

Made of stainless steel for durability, the blade is rust and corrosion resistant, and minimal soil adheres to it, so it is easy to clean. The small-sized head allows the unit to get into tight spaces between plants and borders for effortless gardening. You will also appreciate the ergonomics of the teardrop-shaped handle that increases comfort and control. Moreover, the blade has an extra-long double riveted socket creating a better connection with the wood handle.

The hardwood handle is an all-time classic and is a one-piece split at the top, creating a wishbone handle. The design reduces the number of weak points to increase durability. Moreover, the wood is weatherproofed for longevity.

The model does not seem to be readily available in the U.S., but very similar to the Spear and Jackson item 4454BS, which goes for $63 on Amazon.

Expand to see more
Product Features
Length: 37.8."


Traditional English style border spade, designed for general digging and cultivation in confined spaces or between established plants


Ten-year guarantee


One-piece handle construction
Who is it for?
The R715 is best for people working in areas with utility lines thanks to the non-conductive handle. It is also great for people who desire to get close to existing plants with ease.
It is lightweight at 3. 35 pounds
You can use it in harsh weather thanks to the hardwood handle
Cleaning is a breeze owing to the stainless steel material
Strong socket connection
It is pricey
Handle tends to snap under pressure
Difficult to find
5. Truper 31202 Tru Pro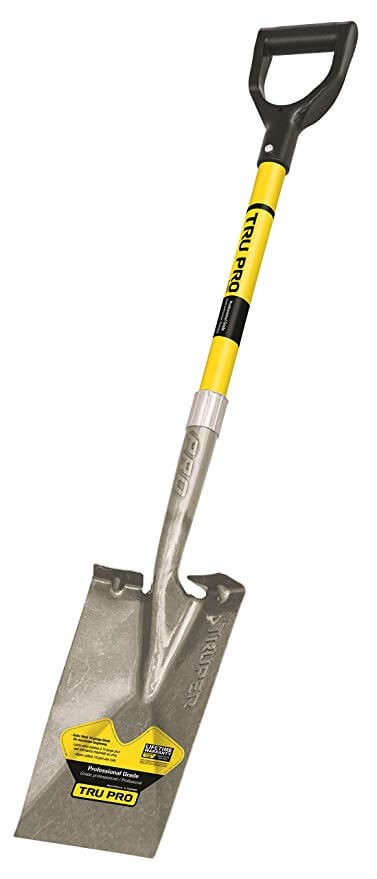 Truper has been manufacturing hand tools for well over 40 years now, and they are the largest Mexican company in the field. Their line of Tru-Pro products features the heaviest gauge heads available, tab sockets or steel collars, along with a select choice of white ashwood handles for the optimum ratio of resistance and flexibility. Lifetime warranty backs all Tru-pro tools.

The experience of the company shows in the Truper 31202 which features a steel blade and a 29" h fiberglass shaft with a D-ring handle. The 14-gauge steel blade can withstand any abuse, and it includes a reinforced feet insert that Truper claims provide 400 lbs of handle strength. Instead of rivets, the 31202 uses a crimped steel collar to connect the handle and the neck. This, in turn, reduces the number of weak points, increasing the durability.

At 3.33 pounds, the Truper 31202 is light and thus a breeze to work with. You can use it for long periods without fatigue. Moreover, the yellow sleeve makes it easy to spot on the job site. The teardrop-shaped handle, on the other hand, makes this an easy spade to control, while the D-ring handle enables a firm grip. It sells for around $40.

Expand to see more
Key Features
Weight: 3.33 pounds


29" handle length


Material: 14-gauge steel head and fiberglass handle


29-inch pro grade fiberglass handle with d-grip for balance and control and protective sleeve to prevent splintering


Heavy duty 14 gauge steel blade for maximum toughness


Reinforced resin handle with feet inserts provides 400 lbs of handle strength


Rivetless, crimped-steel collar ring solidly connects neck and handle
Who is it for?
Given the flat blade, we recommend the Truper 31202 for cutting trenches, edging, and
digging
. It is ideal for areas with utility lines thanks to the fiberglass handle, and rocky places thanks to the durability.
The Truper 31202 is ideal for areas with utility lines thanks to the non-conductive materials
It is lightweight reducing the fatigue and allowing you to work for long hours
The fiberglass handle absorbs shock and vibration for comfort
Affordable
Fiberglass handles mat flex under pressure and are difficult to replace
6. Bulldog 7102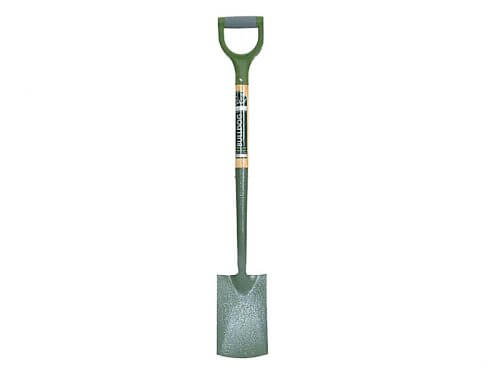 The Evergreen digging spade is one of the strongest options on this list, but it is pricey, lowering its ranking for many home gardeners. However, professional gardeners and landscapers can benefit from its durability. The blade is solid forged carbon steel, while the handle is durable, lightweight ash, and non-slip, allowing for excellent control even under wet conditions. The T D-ring handle provides better grip and more control, while the teardrop-shaped handle increases the maneuverability.

The flat blade makes this tool ideal for trenching and cutting edges, and the one-piece construction ensures it will be around for a while. The forward angled hilt increases efficiency and is bend-tested to exceed all British standards. Nonetheless, our best features were the shaft and the socket.

The socket, where the handle meets the blade, is one of the weakest points of any spade. It is subject to pressure, and it bends or snaps. On this tool, the one-piece construction increases the robustness, but it is also long, so that the handle is buried deep into it, which reduces the pressure it sustains and increases longevity.

Expand to see more
Product Features
Handle: 36-inches


Weight: 4.14 pounds


Blade dimensions: 7.5-inches wide, 11.5 inches deep


Solid forged


Ergonomic forward angled hilt


Ideal for digging between existing plants and shrubs


Long socket for durability
Who is it for?
The $50 Bulldog Evergreen is best for professional gardeners given the durability of the tool.
Incorporates an epoxy-coating that protects it from the elements
It is ergonomic for superior comfort and control
The wood is hand-tuned for superior control
It is maneuverable in tight spots
Best Garden Spades Buying Criteria
How do you buy a good, serviceable spade? Here are the features you should consider. The best garden spades include an optimum combination of materials and design.
Handles
Spades feature three types of handles; the D-ring, O-handle, and the T-handle. The D-ring handle allows for a firm hold. Though most D-ring handles are wooden, newer versions are from "man-made" material that results in a soft feel.

D-handles are inclined to increase the reach and leverage. O-handles are popular on Radius spades and are best for harsh grounds.

Finally, you can consider the T-handles; though they are back in fashion, they aren't as durable and versatile as D-handle spades.

Material
The material used to construct the spade will determine the durability of the tool. We recommend you pick a spade made of stainless steel or carbon. Stainless steel is robust and rust-and corrosion- resistant. However, these are bulky and will require a lot of effort on your part. Moreover, most stainless steel blades are welded onto the flange, and that happens to be their weakness.
Carbon, on the other hand, is durable and lighter than steel. However, it isn't rust- or corrosion-resistant and unlikely to form a strong weld. However, a spade with a carbon steel blade and socket forged as one is strong to rival stainless steel.
Shafts
A spade shaft can be wooden, metallic, or fiberglass and nyglass. Hardwood shafts have been widely used as they have the best strength to weight ratio, and are great at absorbing shock and vibrations. However, they splinter and aren't as robust as metal and fiberglass.
Wood is also vulnerable to water. Conversely, metallic handles are durable and form the best joins with the blade. However, they aren't ideal for absorbing shock and are uncomfortable to use in hot weather as they are great conductors of heat.
Finally, fiberglass combines the best of both wood and metal but it flexes under pressure and the handle is difficult to replace should it break.
Spade or Shovel Type
The American spade has a pointed shovel blade which is easier to drive thus ideal for working on rocky Contrariwise, the English spade is rectangular with a flat edge, and best for digging square trenches.

Finally, we have the Irish spade that focuses force on the soil in front and is best for deeper digging.
Finishes
Finishes help protect the spade from the elements and wear and tear. Epoxy powder is used on steel by spraying highly charged epoxy at the grounded steel. We can also recommend Teflon and gloss coatings. However, the coat wears out with time.
Sockets
Pick a spade whose socket and blade are hand-forged from a single piece of metal for durability. Moreover, pick a tool with a strapped handle connection as these are the strongest. Furthermore, select a piece of equipment with shoe protectors. Your feet will thank you
FAQS
1. What is the difference between a long-handled and a short-handled spade?
Application happens to be one of the significant differences. Long-handled spades provide longer reach and enable you to trench and edge with ease. Moreover, they have better leverage to move items around the garden.
Short-handled units, on the other hand, have better grip and provide better control. Also, they are great for getting close to plants without damaging and having to contend with obstacles.
2. How do I maintain my spades?
Maintaining your spade ensures that they serve you longer. First, make it a habit to clean your tools after every application. Hose them and then wipe using a clean, dry rag. Next, store all your spades in a dry place preferably hanging on a wall or standing against a wall. This is especially crucial for spades with wooden handles.
To keep your spades clean, put sand in a bucket, and dampen it with multi-purpose oil. Afterward, stick your tools in the mixture. The sand keeps your spades sharp, while the oil keeps it from rusting.
Furthermore, sharpen your spades at least semi-annually. You can have them serviced at the nearest garden center, but often it is as easy as using a flat file.
3. How do I keep my wooden handles from breaking?
At the end of every season, inspect your handles for splintering. Sand them smooth, and apply finishing oil until the wood cannot absorb any more oil. The oil waterproofs your handles and keeps them from rotting.
Conclusion
A garden spade is the pillar of any garden. A garden spade is remarkable for digging but is better for slicing through sod and edging. The shorter handles and the D or T-grip handles ensure that spades are easy to maneuver especially close to plants.
When reviewing our guide to the best garden spades, select the one with the features you need. As spades last most users for years, don't skimp on the price as you most likely won't have to rebuy one for a long time.
Subscribe to our newsletter