10 Best Plant Foods Reviewed in 2023
last updated:
Apr 06, 2021
If you have prior gardening experience, you understand that healthy soils aren't always a guarantee and if you are new to gardening it might come as a shock, but it takes more than seeding to get a healthy lawn.
Most if not all of us would appreciate a lush green garden, with flowers, shrubs, and some trees. However, getting and keeping a healthy turf is a somewhat daunting task. You have to get the appropriate balance of moisture, support plants, shade, and nutrients in the soil. You might start with fertile soil, but slowly the nutrients are depleted, and there are no longer enough minerals in the ground to feed your grass or shrubs, and you need to replenish it.
Our Top 3 Picks
[srpshortcode id="17667″][/srpshortcode][srpshortcode id="17668″][/srpshortcode][srpshortcode id="17669″][/srpshortcode]
Plant foods are one way to replenish the soil and create favorable growing conditions. However, these foods do more than add nutrients to the earth. They help with pH balance and increase the organic matter in the soil. You can also have them tailored for a specific plant or a particular need. Also, they are quite versatile as they are available in various forms. You can purchase liquid, compost, dry pellets or even nutrition spikes. By and large, plant foods will help you get that green space you've only been dreaming about.
Before we get into the heart of the matter though, there are a few things you should know that will help when purchasing your plant food.
Understand the numbers – Most plant foods will list their content as N-P-K. The three initials represent nitrogen (N), phosphorus (P), and potassium (K), and are followed by three numbers. The numbers are the percentage of each nutrient in the Each of the three nutrients is important with potassium helping with the development of stems and maturation, nitrogen aids in the growth of green leaves, while the phosphorus will help with root and flower development.
Soil type – First, you need to know the kind of soil you have. Is it clay, sandy, or loam? Loam is the holy grail of soil types since it has just the right amount of nutrients and the proper However, it is a rarity, and the most common is sandy and clay soils. Sandy soils have difficulty holding nutrients as they sandy soils are great with drainage while clay soils are rich in nutrients but have drainage issues. Your soil will determine the fertilizer you use so that it doesn't cause calcium deposits in clay and doesn't wash away in sandy soils either.
Plant food nutrients and ingredients – Ask yourself what your soil is missing. The idea here is so that you can get the appropriate food. You can identify the missing nutrients using a basic soil test that costs less than $10 at your local horticulture extension. The check will provide you with the nutrient composition of your soil and will give you the required nutrient composition required for your plants to do well. Thus, you can purchase the appropriate option. As for the ingredients, try that they don't contain harmful GMOs or pesticides.
Form – First, foods can either be organic or inorganic. We would recommend organic as they have very little strain on the soil and microorganisms. However, some inorganic options are considered the best. Also, plant foods retail in liquid or dry forms. If you are looking for fertilizer to boost your plants, we recommend you get liquid forms as they work faster. They are quite handy in late summer when the heat has taken its toll on the plants. As for the dry forms they are good if you are looking to increase the nutrients in the soil, and for general plant maintenance.
If you are looking for recommendations for the best plant food, we suggest you purchase one of these.
10 Best Plant Foods
1. Miracle-Gro 1001233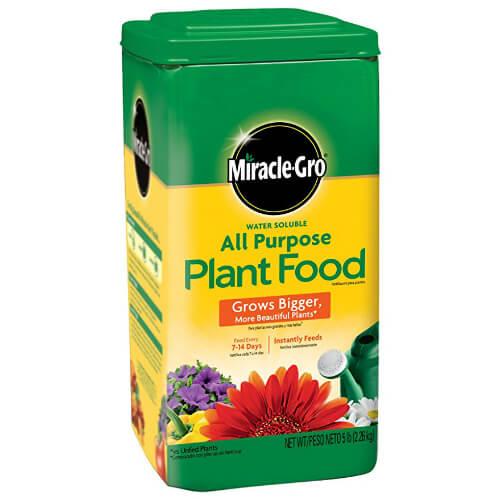 Miracle-Gro water soluble is one of the most popular plant foods. This is affordable, and you don't have to break your bank to buy. Also, it can be used in low-quality soils and replaces the need of having to haul bags of loam soil to create ideal topsoil. It is soluble in water, and one gallon of the diluted product can be used to feed a 10 square foot area. However, our best aspects are the versatility and the high mineral content.

Versatility – It is safe for all plants. You can use the Miracle-Gro for your trees, for the vegetables, for your flowers or any shrub. It even works with indoor plants and will not burn if used appropriately. When using it for the lawn or outdoor plants, use one tablespoon for every gallon of water, and ½ a teaspoon per gallon when feeding indoor plants. The reason for this is some of the food will drain away while used outdoors, but indoor plants use up most of the plant food.

Results –The Miracle-Gro is somewhat of a miracle worker. The fertilizer grows the plants twice as big as unfed plants and will have people stopping to take pictures.

Expand to see more
Product Features

Safe for all plants
Feed every one or two weeks
NPK – 24-8-16

Who is it for?

We recommend the Miracle-Gro plant food for people with rather thin soils.

The 1 to 2 weeks feeding regimen gives you enough freedom without compromising the health of your lawn
It has ten nutrients
Affordable and you require very little quantity (1 tablespoon for 10 square feet) to get the right results
It is safe for all plants if you use the right quantities
Available in various quantities
The nitrogen can be harmful if not used in the appropriate amounts
2. Jobe's Organics Bone Meal Food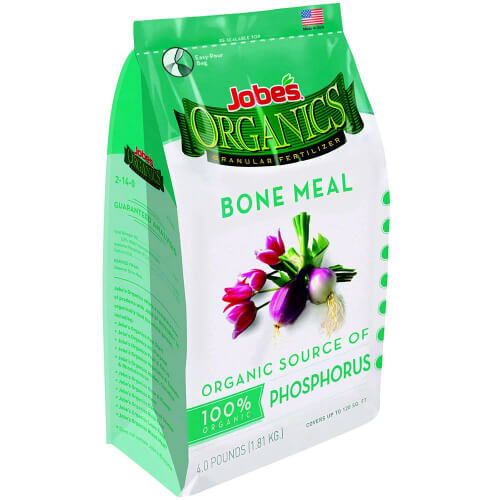 This is a dry food and thus ideal for increasing the fertility of your soil. It is also eco-friendly (more on this later), and you are only required to apply it once every three seasons, i.e., minimal effort is needed to keep your plants healthy. The unit has 2% nitrogen, 14% phosphate and 15% calcium.

The low nitrogen content protects your plants from getting burnt even when applied directly to the leaves. However, our best features were the eco-friendliness and the high phosphate content.

Eco-friendliness – We live in a world that is increasingly becoming inhospitable owing to the chemicals we release into the environment. We have very little green water left having polluted most, and fertilizers are the culprits. So, products that improve the soils without causing any harm to the environment are ever welcome. The Jobe's Organics Bone Meal is OMRI listed by the USDA meaning it has no harmful synthetic chemicals.

High phosphate and calcium content – If you are new to gardening, phosphate is responsible for root development. So the 14% phosphate betters root formation not only for anchorage but for feeding too. If you are planning to grow tubers we recommend you get a bag of this bone meal. The calcium, on the other hand, fosters healthier fruits and blooms.

You will also appreciate the granulated form and the easy pour bag.

Expand to see more
Product Features

Weight: 6 pounds
Organic and USDA certified
Feed every season or every three months

Who is it for?

If you are searching for an excellent source of phosphorus and calcium, get the bone meal by Jobe's Organics. Also, it is for outdoor use only.

It is safe for use around pets and children
As an organic option, it betters the environment
The low nitrogen content and the granulated form reduce the likelihood of burning your plants even when applied inappropriately
Great to foster root development in tubers and promote healthier fruits and flowers
Affordable
It cannot be used indoors
3. Osmocote Plus Outdoor and Indoor Smart-Release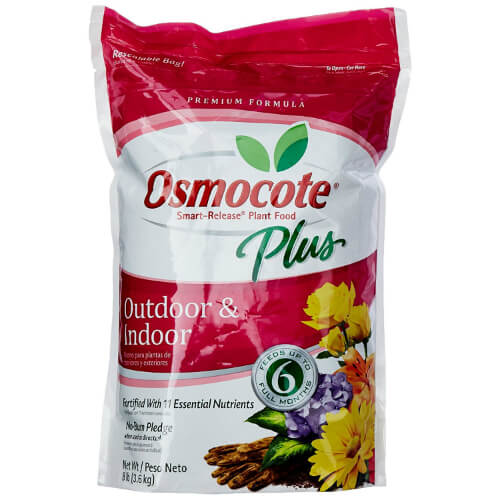 We recommend you get an all-purpose option if you want to get the job done without requiring many options. From the name, it can be used for both outdoor and indoor application. First, you will enjoy the fact that this comes with a small scooper which you can use to measure the appropriate fertilizer amount when feeding your plants.

All that's required is to mix with the top layer and water will do the rest (more on this later). However, what we loved most were the smart-release granules and the fortified nutrients.

Smart-release granules – If you want to go for a long time without feeding your plants, get the Osmocote Plus Outdoor and Indoor. The pellets will feed your plants for about six months after which you have to reapply.

Here is how it works; the granules are coated with a semi-permeable resin which allows water through. The water dissolves the nutrients and released with temperature changes. More nutrients are released in the warmer months when there is active plant growth while very few are discharged during the colder months. You can think of it as having your plants on an IV system.

Fortified nutrients – It has 11 nutrients and is the company's best formula. It provides enough nutrients for all plants and can work in any growing conditions. With a 15-9-12 formula, there is enough to green up the plant; there is a little bit to help it flower, and just enough to help with the root development. It also has micronutrients such as iron, magnesium, sulfur, copper, zinc, etc.

Expand to see more
Product Features

Slow-release granules
Feeds up to 6-months

Who is it for?

If you don't want to feed your plants regularly, get some Osmocote Plus.

Your plants will love it, and you will appreciate the results
It is a no work option as you only apply it twice a year
It's packed with nutrients and works with all plants and all growing conditions
• It will not burn your plants if applied appropriately.
• Affordable
It is not healthy for the environment
4. Fox Farm Big Bloom Liquid Concentrate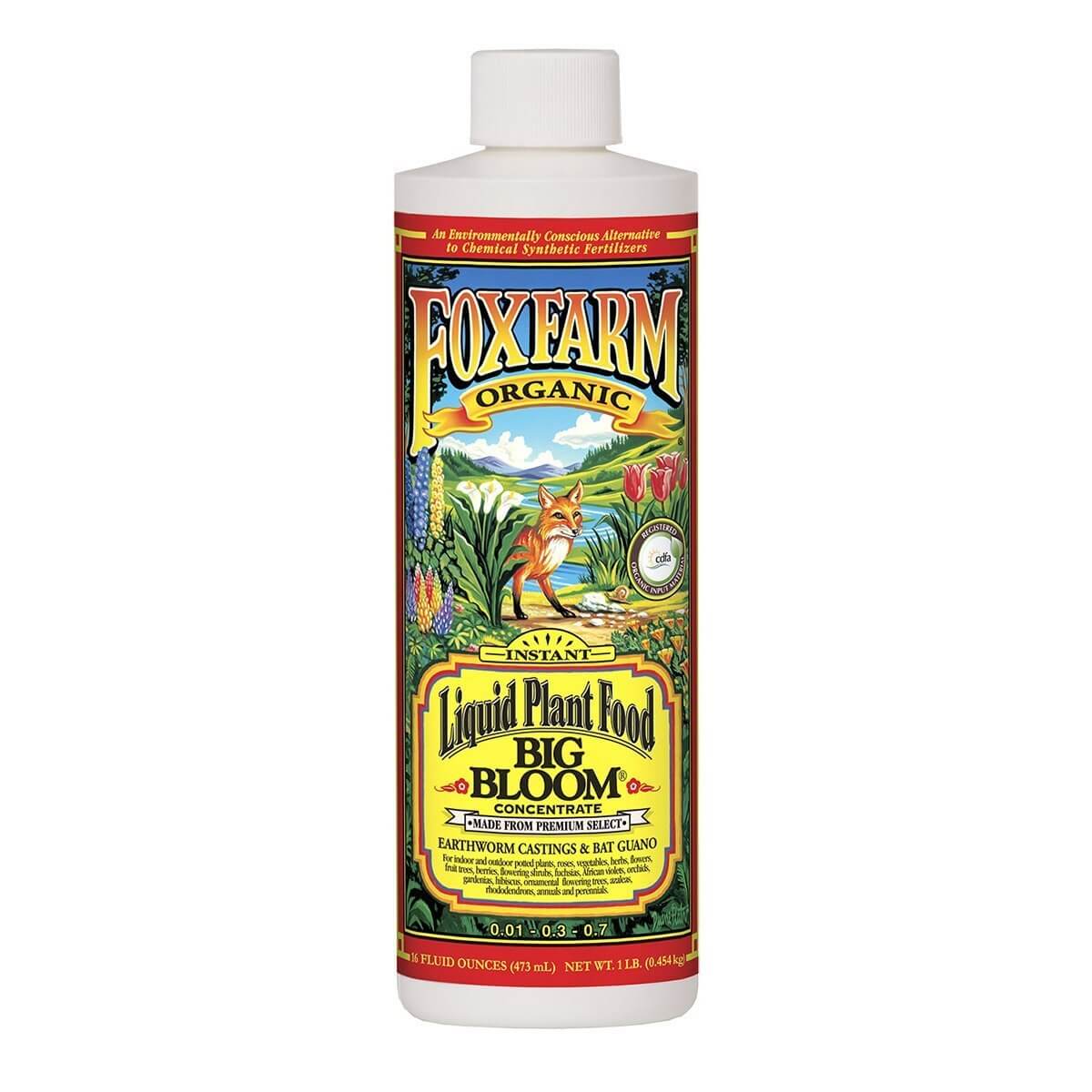 First, this is a bit pricey; but if you don't mind the high price tag, it is the best plant food for blossoming plants. If you want to improve the quality of your flowers, the fragrance, and better the production of essential oils, you should get the Fox Farm Big Bloom. What we loved most though is that it's organic, and their unique formula.

Organic – Again, we don't need to go adding more inorganic materials into our environment. The world is polluted enough as it is, and we should be looking for ways to protect our environment from further damage. The Fox Farm Big Bloom will feed your plants while protecting the environment we live in.

Formula – The elements in the Big Bloom formula are rich in nutrients which is what makes this option stand out. The earthworm castings and bat guano have high nutrient concentration while the Norwegian kelp improves the yields and nutrient uptake. Finally, the rock phosphate aids in transferring energy from one part of the plant to another.

Expand to see more
Product Features

Organic with, a micro-brewed formula
Quantity – one pint

Who is it for?

We recommend it for people who are only looking for bloom quality or are in the market for organic options.

The Norwegian Kelp increases the uptake of nutrients and consequently the effectiveness of the food
It is eco-friendly
It is odorless and can be used indoors and outdoors
It is safe to use with water
It increases flower fragrance and flavors in plants and fruits
It is expensive and is not practical for most gardening needs
5. Schultz All Purpose 10 15 10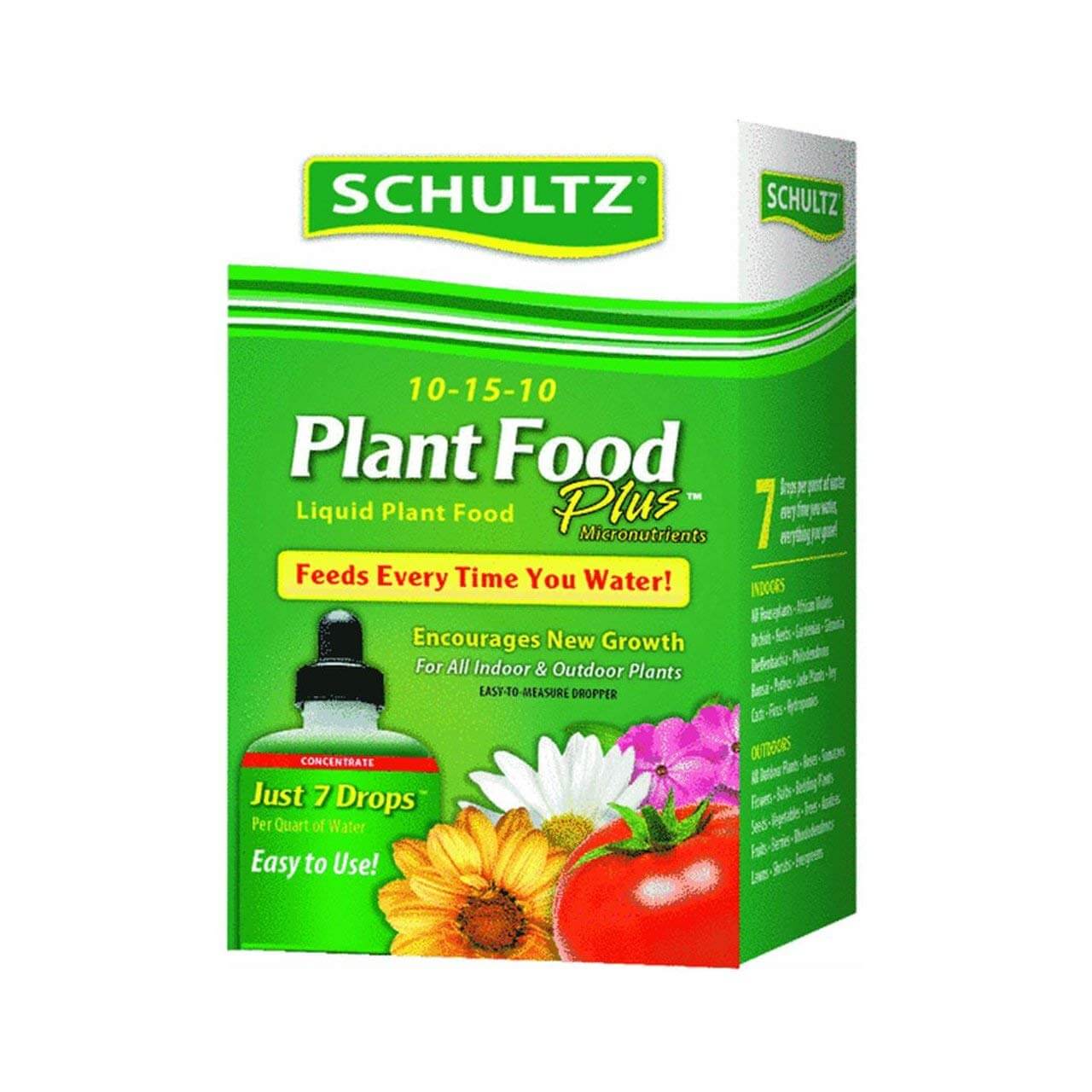 If you want a plant food that works for both indoor and outdoor plants, we suggest you get the Schultz all-purpose option. Also, it works fast, and the results are outstanding. It works for vegetables, tubers, trees, flowers, and shrubs. It is also in high concentration that very few drops are required to get the right results. Use seven drops (1/8 tsp) in one quart of water when feeding indoor plants and four droppers or one tablespoon per gallon of water when feeding outdoor plants.

Being a liquid option, it is quickly absorbed into the plant system, and the results are almost instantaneous. Our best features about this are the high phosphate content and the dropper.

High phosphate content – To have healthy plants, you need healthy roots. Phosphate helps in root formation and makes the bulk of this fertilizer. At 15%, compared to nitrogen 10% and potash 10%, you will be correct to say that Schultz focused on root development.

Easy to measure dropper – Measuring the appropriate amount for both indoor and outdoor plants would be a hassle without this item. Given the high concentration of nutrients, very little is required, and the dropper helps you measure the right quantity.

Expand to see more
Product Features

Easy to measure dropper
High concentration of nutrients

Who is it for?

This will work for all gardeners, but if you are looking for a plant foot to foster root development, we recommend you get a pack of Schultz all-purpose.

It works almost instantaneously as it is in liquid form
Best for repotting or transplanting as it fosters root growth
Dropper allows you to measure just the right amount
You get top value for money
Some plants require few drops otherwise you will burn them
6. Scotts Turf Builder Lawn Food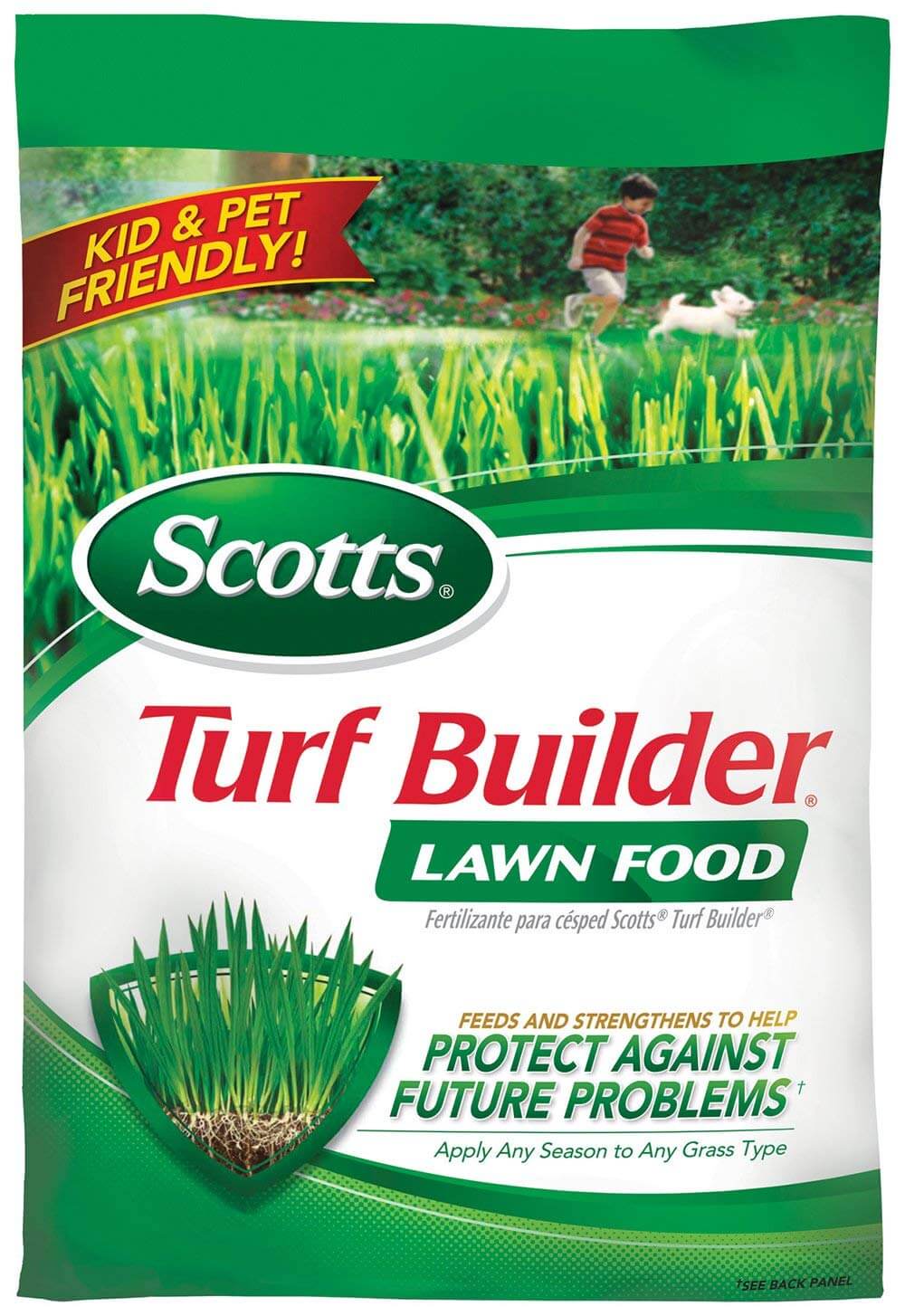 We don't know about you, but we know that most people desire that lush lawn that makes neighbors envious. Often, getting a lush lawn is an arduous task. Not with the endless traffic, and the stress owing to different weather conditions. However, the Scotts Turf Builder allows you to create a strong foundation now while protecting against future problems. Scotts are renowned for creating different formulas for different seasons, but this formula can be used in all seasons. It works for any grass type and application is required at least every 6 or 8 weeks.

Fosters root formation – Your grass has to have deep and well-formed roots if you are to have and maintain a lush lawn. This lawn food not only improves the foundation, but it also helps prevent future problems.

A fed lawn absorbs water faster than an unfed lawn. The results are a much healthier lawn.

Expand to see more
Product Features

Apply every 6 to 8 weeks
Apply when temps are between 60F and 90F

Who is it for?

If you don't want the strict Scotts Turf Builder WinterGuard regimen, but you want the same results, we implore you to get this lawn food as it can be used in all seasons.

It works for any grass type and can be used in all seasons
It covers a vast area of 5,000 square feet and 15,000 square feet
It improves the root, which betters water absorption and leads t greener lawns
It cannot be used to feed flowers, shrubs or vegetables
7. Scotts Turf Builder Lawn Food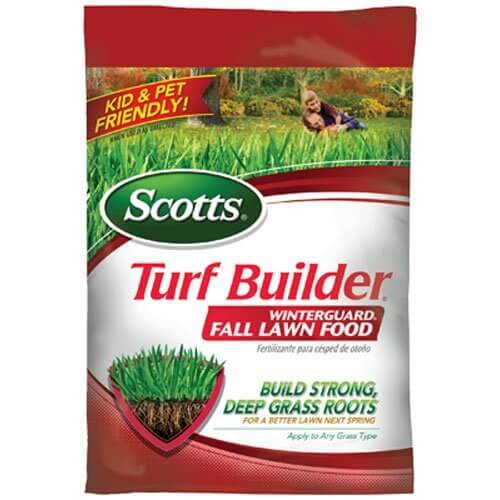 If you are in the market for an option that will help you get a beautiful lawn, you should get the Scotts Turf Builder WinterGuard.
Scotts Turf Builder is one of the most popular lawn foods, and the WinterGuard shows this quality with rave reviews. The WinterGuard fosters root growth while protecting the roots too. It works for any grass type, but it cannot work for any other plant. It happens to be quite affordable as well since you only need one bag for 5,000 square feet, and you feed during the fall.
Fosters root growth
– Summer or hot months put a strain on
your grass
and often the high temperatures damage the roots. Winter is no better as the conditions are equally harsh, and the chances that your lawn will survive the winter if not taken care of are slim. The WinterGuard not only helps the heat damaged grass return to health and lushness, but it also prepares the roots for the harsh winter conditions.
Water absorption
– It improves your grasses ability to absorb water and other nutrients leading to healthier lawns.
There are some precautions required during application. The Nitrogen content in the WinterGuard is quite high at 32% which can burn your grass if not applied correctly. Only use when the temp is between 60®F and 90®F. Also, don't use flowers or any other plant other than grass.
Expand to see more
Product Features

Formula – 32-0-10 NPK
For 5,000 square feet

Who is it for?

This is for gardeners residing in cold areas, or for people who want to repair their heat damaged lawn. Again, it is only used to foster healthier grass.

You are only required to feed your grass at most two times a year
WinterGuard builds healthier roots for a lush lawn next spring
It is packed with nutrients that help the grass heal from activity and heat
Affordable
Cannot be used to foster growth in other plants other than grass
8. Miracle-GRO Indoor Plant Food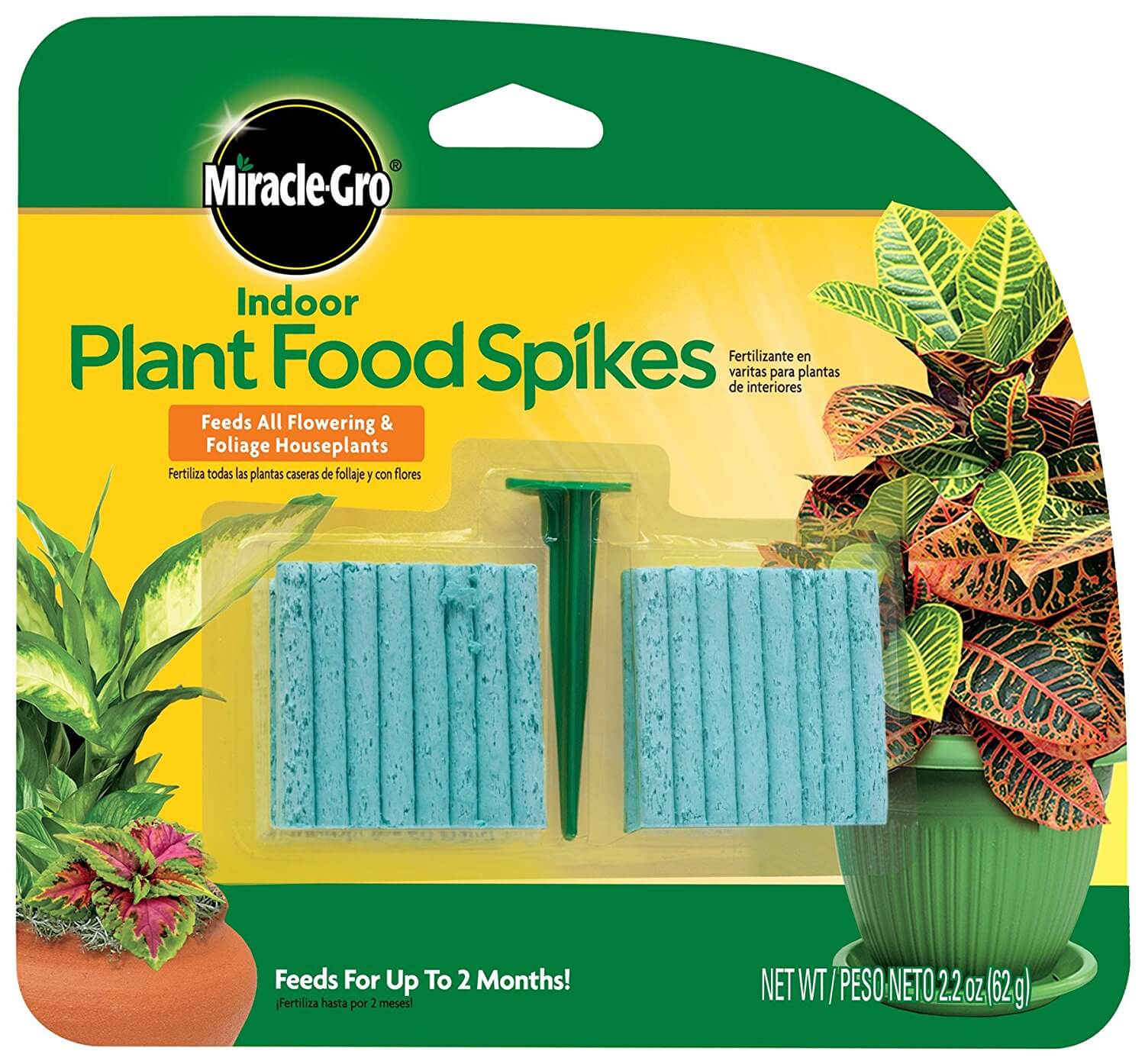 If you are in the market for the best option for indoor plants, we would recommend the Miracle-Gro spikes. They are quite easy to use and are safe in a house where there are children and pets. The 6-12-6 NPK formula helps foster root development as phosphorus makes up the bulk of the nutrients. There is also enough nitrogen for leaf and stem development. Other nutrients include boric acid and micro-nutrients such as iron, zinc, and copper. Our best features though were how easy it was to apply and the intervals.

Ease of use – The number of spikes per pot will depend on the diameter of the container. Use the edge of the card to measure the size of the pot, and determine the spikes required. Next, make a hole halfway between the plant and the rim of the container with the aerator and put one spike in each hole until it's covered with soil. Water regularly to release nutrients.

Intervals – You are only required to change the spikes at most once a month. During summer, change the spikes every 30 days, and every 60 days during winter and fall.

Expand to see more
Product Features

NPK formula: 6-12-6
48 Spikes
The packet has a spike aerator
The Miracle-Gro spikes have specially formulated ingredients for indoor plants.

Who is it for?

The Miracle-Gro indoor spikes as you gathered are only for indoor plants.


These do the job quite well and eliminate the messy solutions
Though it's not recommended, they work equally well with outdoor plants
They give you excellent results with very little work
There are some concerns of plants wilting after using the indoor spikes
9. Humboldts Secret Golden Tree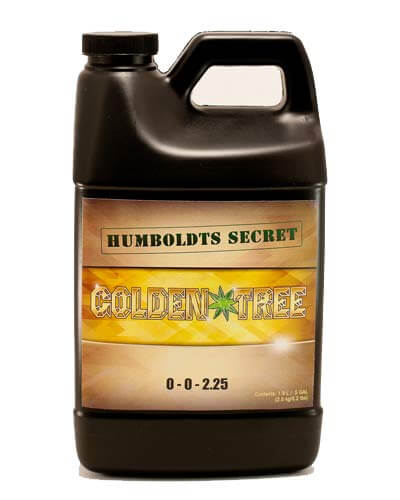 Another favorite option, the Humboldts Golden is an organic mixture and in a league of its own.

We love that it is organic, but we also appreciate the high concentration of nutrients. It is a professional quality food that can work with all crops. You can apply it to vegetables, trees, flowers, tubers, fruits, lawns, etc. You can also use it with different technologies such as hydroponics and aeroponics.

Organic – We all can't be environmentalists, but we should strive to better the world or at least stop polluting the environment in our small capacities. The fact that the Humboldts Secret Golden Tree is organic is enough reason to top any list.

Highly concentrated – First, it is available in various quantities, and thus you are sure of getting the quantity suitable for you. However, it can make up to 1,000 gallons of nutrient solution. It contains most additives that you buy separately. As a result, in=t increases yields by 20% and growth by 50%.

Expand to see more
Product Features

A blend of amino acids, carbs, and kelp.
Can be used as a foliar spray, or a soil drench
Use 2ml in vegetables and no more than five gals in flowers.

Who is it for?

This is all-purpose plant food. It can work with any other company's nutrients and any plant. However, if you are in the market for an eco-friendly option that will replace all the additives you need, get the Golden Tree.

A little goes a long way. With the capacity to make 1000 gallons of nutrient solution, a small quantity will serve a large area
It increases the produce by about 20%
It eliminates the need for additives
Can bring back your flowers and plants
It's liquid and thus easily absorbed by plants
Happens to be quite pricey
10. Jobe's Organics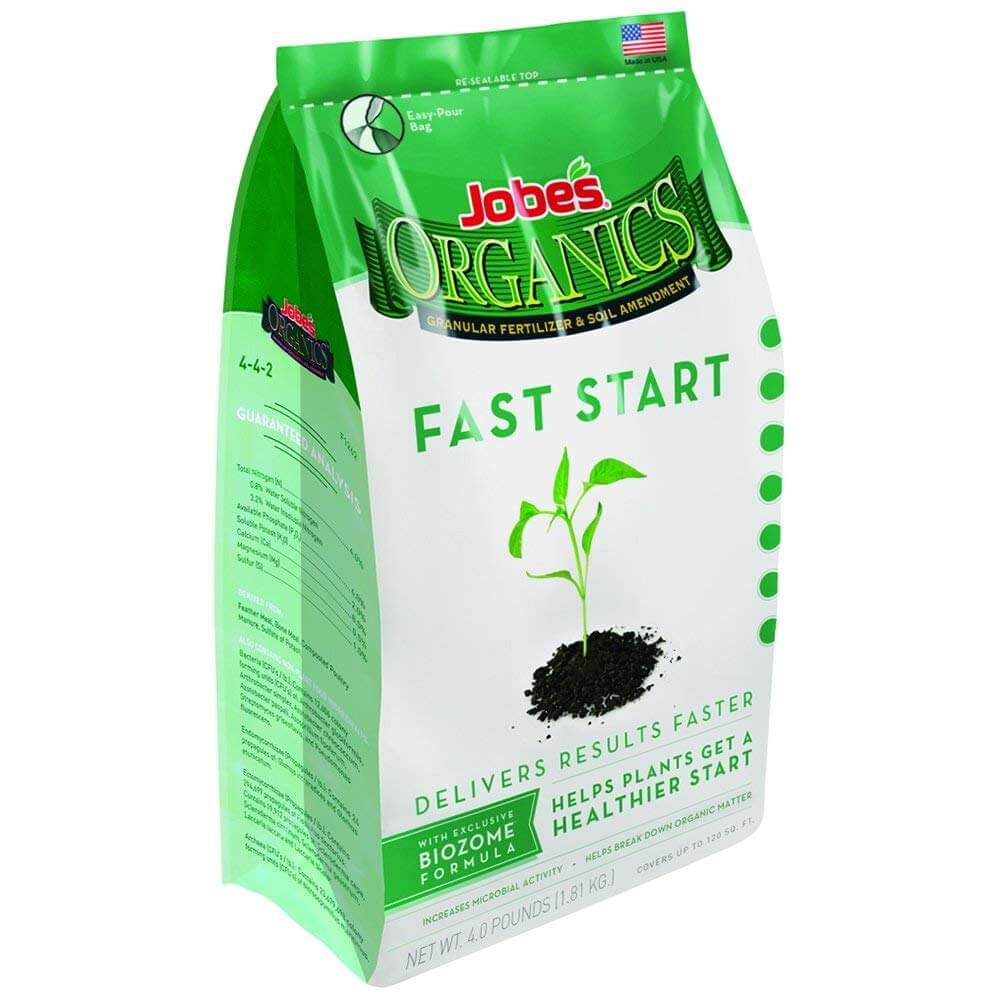 If you are looking for a plant food that will give your seeds and seedlings a fast start, we advocate for the Jobe's Organics Fast Start. We especially appreciated the Jobe's Biozome, and that it is organic. It is OMRI listed for organic gardening by USDA which is proof enough that it doesn't contain any synthetic chemicals. It acts fast improving root growth of new seedlings. Also, the 4-4-2 formula includes elements in meager quantities so as not to damage the roots of the young plants.

Improves soil conditions – Given that this is organic, it betters the soil conditions helping resist pests, drought, and diseases during the growing season. The result is healthier and more robust plants.

Jobe's Biozome – This is the micro-organism archaea that breaks down materials for faster absorption by the plant.

The Fast Start should only be applied at initial planting.

Expand to see more
Product Features

Formula: 4-4-2
Jobe's Organics Fast Sart contains bone meal, biozome, feather meal, processed manure, and sulfate of potash

Who is it for?

The Jobe's Organics Fast Start is for seeding. If you want your plants to develop a good foundation and grow faster, we recommend you get a bag.

It is safe to use around pets and children, and thus you can apply it to your indoor plants
It works with all plants and doesn't contain elements that can burn a plant
The Biozome creates an ideal balance between the plant and the soil
It increases micro-organisms resulting in healthier soil
FAQs
Which is the best option for my plants?
Determining the best option for your flowers or vegetables can be a bit confusing. However, the labels will tell you which type of plants it works for. But for general recommendations, lawn foods have high nitrogen to get the lush green while planting foods are high in phosphorus for better root development. If you don't want to handle the various types, we recommend you get an all-purpose plant food as it contains Nitrogen, phosphorus, and potash.
What form of plant food should I use?
It depends on what you want. Do you want immediate results or do you want to build the quality of your soil? For quick results, we encourage you to use liquid options as they are quickly absorbed by plants. To make soil quality, we encourage you to use granular or slow-release plant food.
What's the appropriate rate and frequency of application?
These depend on the plant, the soil, and the nutrient analysis. If you are gardening outside, its best, you start with a soil test to identify the missing nutrients in the land. Once you do that, you can tell what is required.
However, for general recommendations, annual flowers will require regular feeding when flowering. Houseplants will need more food in spring and summer, very little in fall, and none at all in winter. Perennial plants need fertilization only once or twice a year while established trees barely need feeding.
Why are plant foods colored?
Often they are dyed to identify them as fertilizers. Blue is the predominant color, but pink is used as well. A darker dye tells you the food has higher nutrient content.
Can you over-fertilize?
Yes, you can, and this can burn the roots or leaves of your plants leading to stunted growth. Always follow the guidelines on the labels for proper application.
When is the best time to feed my plants?
First, it depends on the type of plant, and the form of the food. If you are dealing with liquid plant foods, we recommend you apply in the morning between 6 and 10 am as very little is lost through evaporation. There is enough time for it to seep in the soil. As for the best season, you should fertilize late spring or early. For the best turf, it's best you feed your grass or crops in fall. Don't apply plant food over frozen soil, and during the summer.
What is phosphorus and which number on the bag represents it?
Phosphorus gives plants the energy to grow. You can call it the carbohydrates of the plant world. It comes from fossilized remains of marine life or plant and animal remains. It is best for root growth and applied during the initial planting. The number in the middle represents the percentage of phosphorus.
Conclusion
Grass, shrubs and indoor houses need nutrients to grow. Yes, you might have fertile soils, but they too get depleted. However, test your soils before you apply any plant food. You want to identify which nutrients are present and which are lacking. You can also consider foliar feeding as plants absorb eight times more nutrients through the leaves than through the roots.
Finally, it's up to you to make the final decision. Be sure to consider the plant, the type of soil, and the desired results. Thank you for coming this far, and be sure to leave your thoughts in the comments below.
Subscribe to our newsletter