Best Screw Guns Reviewed & Tested
last updated:
Jan 30, 2019
A screw gun is what you reach for when your traditional cordless screwdriver just doesn't cut it for you. Also, compared to the conventional drill, a screw gun comes with requisite heft, power, ease of use, versatility, and practicality for undertaking the most demanding screw driving applications. It allows you to complete a wide range of applications, both around the house and on the construction site or elsewhere, quickly and professionally. It simplifies otherwise onerous tasks such as laying or handing drywall, assembling countertops, and cabinets, among several others.
Our Top 3 Picks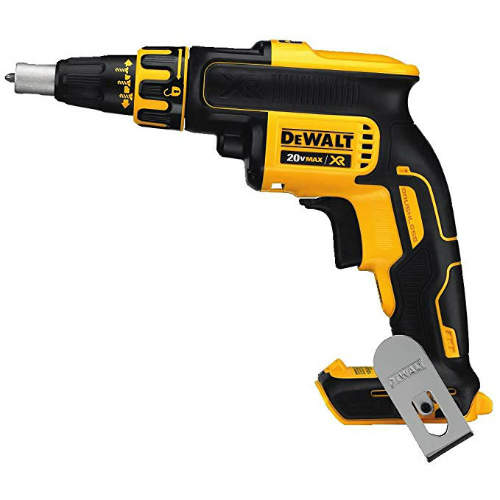 Dewalt

Our rating
Portable
Price:

See Here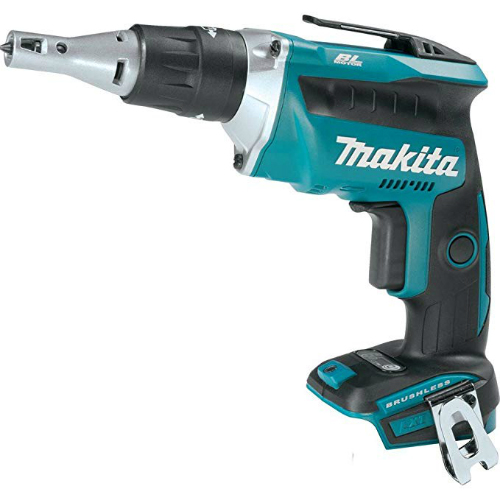 Makita

Our rating
Powerfull
Price:

See Here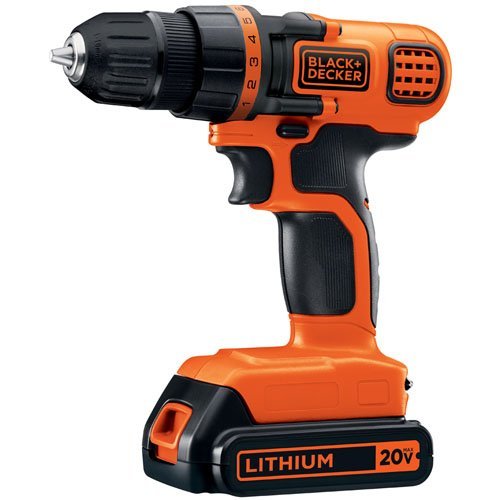 Black&Decker

Our rating
Durable
Price:

See Here


Our carefully picked screw guns are the best the market has to offer. They pack a slew of instrumental features and offer immense benefits. Carefully evaluate our list against your needs and requirements to help you make an informed choice you won't regret later.
10 Best Screw Guns
1. DEWALT DCF620B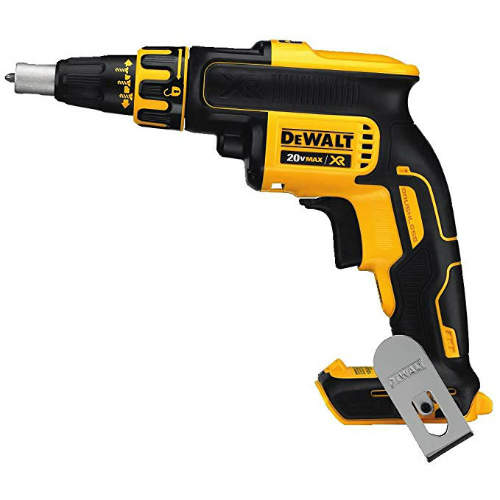 Besides the useful LED light and cone lock feature that set it apart, DEWALT DCF620B comes with a litany of several other features that set it apart. These include a high-capacity and powerful Li-Ion battery, an efficient brushless motor, variable speed feature, and an ability to adjust the screw depth. These features make it hands down one of the best screw guns currently on the market, and would make for a prudent selection for the value-conscious user looking for the best bang for their buck. As we've come to expect from all Dewalt products, the screw gun perfectly balances speed, power, and ingenious design.

The first unique feature is the high-performance Dewalt brushless motor that boasts a knack for invariably delivering superior performance and incredible runtime. The powerful motor works flawlessly and seamlessly with the incorporate smooth-transitioning gear system to deliver heart-stopping speeds of up to 4,400 rotations per minute. While this is not the best performance, it's more than enough to drive in screws into various materials and surfaces easily and quickly.

Expand to see more
The tool is a cinch to use, too. The fastidious construction that utilizes high-quality materials means it's capable of enduring hard use and withstand attrition for years on end. Also, the strategic placement of the nosepiece at the front allows for easy adjustability and customizability, providing for superior consistency in screw depth.

The soft rubberized and ergonomically designed handle, on the other hand, ensures your grip is both snug and firm and minimizes hand exhaustion for prolonged use. Being cordless, it has a high-capacity battery that provides continuous runtime and it has a fuel gauge to eliminate surprises. The LED light sufficiently illuminates your workpiece and area, providing enough light for those who'll be working where the lighting conditions are less than ideal.

Overall, DEWALT DCF620B is hands down one of the best screw guns you can buy. A cost-effective, efficient, and powerful choice, it's all you need to drive small and big screws quickly and easily.

Cordless and very portable design
Powerful brushless motor performance
A cinch to use
Lightweight, compact, and with LED light
Safe to use with the two-finger trigger with lock
No battery in the package
Only compatible with Phillips screws
2. Makita XSF03Z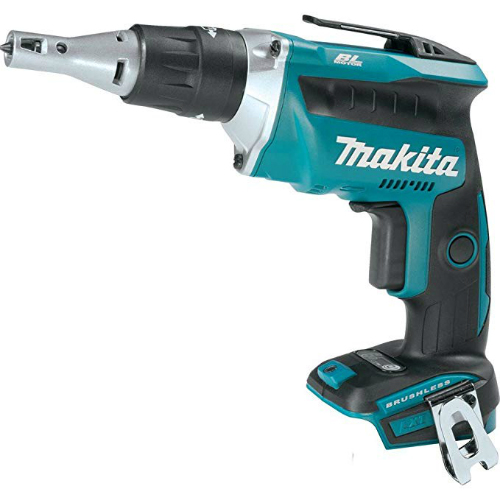 With a bunch of heart-stopping features and specs, it's hard to overlook the workhorse that's the Makita XSF03Z. For the contractor who wants it all, the screw gun is a must-have. It breaks new ground with its powerful and long-lasting motor for longer runtime, exceptional power and speed, and durability. Outstanding features include a lock-on mode, near grave-quiet operation, improved dust and water resistance, and a budget-friendly price tag. Coupled with the powerful motor and high-capacity battery and the fact that it's cordless, it's a solid choice for hanging sheetrock, metal framing, installation of subfloors, and a wide range of decking applications. If this sounds like the tool for you, keep reading.

A perfect choice for drywall and framing applications, this Makita XSF03Z comes with a powerful BL motor that effortlessly and reliably delivers speeds of between 0 and 4,000 rotations per minute. Thanks to the high-capacity 18V battery and the long-lasting brushless motor, you can spend the entire day quickly and efficiently driving screws into a wide range of dense and tough materials. Because of the push drive mechanism, you won't be doing the heavy lifting. Together with the intuitive and easy-to-adjust nosepiece, you'll be consistently driving screw to the right depth without pulling the trigger. The technology also saves your battery and minimizes noise levels.

Expand to see more
It weighs a paltry 3.8 pounds despite its all-metal construction. Extreme Protection Technology (XPT) increases resistance to dust and water while the LED light provides illumination. A 3-level LED gauge helps you monitor the amount of juice remaining while the soft grip handle offers comfort and superior controllability.

Makita XSF03Z is a perfect choice for decking and framing applications. It offers superior durability, portability, ease of control, and immense value. It comes highly recommended.

High-end construction for longevity
Performs powerfully and quickly
Energy-efficient
Lightweight, easy to use, quiet, and has LED for illumination
Not ideal for large, fat screws
Only works perfectly with drywall
3. BLACK+DECKER LDX120C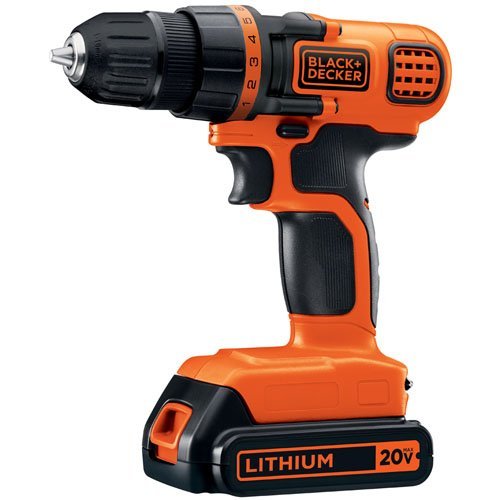 Black & Decker is a brand synonymous with premium, durable, practical, and easy-to-use tools. It's an industry doyen that demonstrates its mettle with this high-quality BLACK+DECKER LDX120C that's a perfect choice for a wide range of projects including drilling into wood, metal plastic, and general screw driving applications. All the features are impressive. However, the variable speed feature trounces them. It enables you to accurately and seamlessly countersink without damaging your workpiece, a fete only a handful of screw gun can accomplish.

Like all options with a brushless motor, this screw gun works exceptionally quickly and with remarkable ease. The high-capacity battery supplies lots of juice for longer runtime and improved performance. With a full charge, you can accurately drive several screws into a wide range of materials that include but are not limited to wood, plastic, and even metal. The combination of a brushless motor with a variable speed feature and the 11-position clutch enable it to overshadow the performance of its competitors, putting it on a whole different level. The features enhance precision and control while variable speed, as mentioned earlier, is perfect for countersinking.

Expand to see more
This profession-grade screw gun is crafted using industrial-grade materials and can therefore confidently take on the toughest professional and domestic screw driving projects. It weighs just 3.4 pounds and measures 10.6 by 3.7 by 8.5 inches, making it one of the most compact and lightweight screw guns on and outside of this list.

You can drive screws with for a considerable amount of time without ever experiencing fatigue or hand strain. The small profile also enables the user to drill or screw in confined or tight spaces. The handle is textured and rubberized for a firm, secure grip and comfort.

In all, handymen will greatly love this this option. It has all the right and essential features to allow for flawless, quick, and accurate drilling. With maximum speeds of 650 RPM and powerful swappable battery, you'll never look back ever again.

Ideal for heavy-duty applications
Powerful, long-lasting battery
Long-lasting construction
Variable speed dial for versatility
A little costly
Steep learning curve
4. DEWALT DW268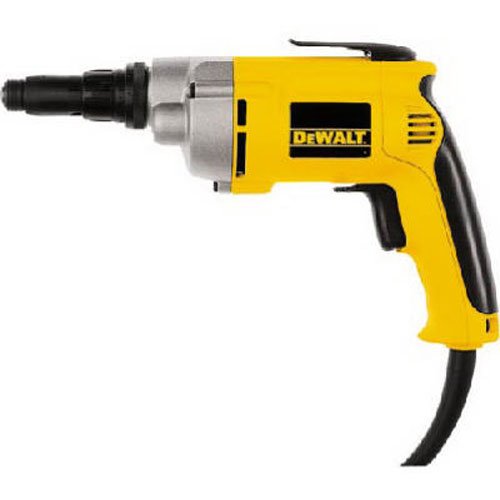 For all your heavy-duty framing applications, you need a rugged, high-quality option to make quick and short work of those projects. One of the safest and best bets is DEWALT DW268. It brings together a rugged design, a high power motor, helical-cut steel and heat-treated steel gears for durability, and an innovative Versa-Clutch system for effortless and hassle-free torque adjustment. Featuring hardy, fastidious construction, this screw gun has what it takes to power through intense screwing tasks around the house and on any worksite. If these features don't tickle your fancy, maybe the fact that it has a dynamic 6.5-amp motor that attains speeds of between 0 and 2,500 rotations per minute will do the trick.

One of the most essential considerations when shopping for a screw gun is performance. Compared to its flimsy, humdrum competitors, this tool houses a high power 6.5-amp motor that delivers up to 2,500 rotations per minute. The brushless motor prevents overheating and increases the tool's shelf life in addition to enabling the quick and effortless driving of various screws into a wide range of materials and surfaces.

Expand to see more
Its construction with pro-grade materials should give you the confidence and peace of mind to undertake a plethora of heavy-duty tasks. It comes with helical-cut and heat-treated steel gears which, coupled with the construction quality, and substantially extends its useful life. Throw in the game-changing torque adjusting Versa-clutch system and you have in your hands a screw gun that not only performs efficiently and reliably but is also reliable and a cinch to use.

The fact that it is corded is actually a blessing seeing as you don't worry about the likelihood of running out of power. Hand exhaustion and fatigue will also be a thing of the past as the screw gun is both lightweight, compact and comfortable.

In closing, its excellence of performance can't be discounted. It's built to last even when you subject it to tough screw driving applications.

Packs a high-performance motor
Built to last
Offers superior handling and control with its rubber grip
Versatile and lightweight
5. BLACK+DECKER BDCS20C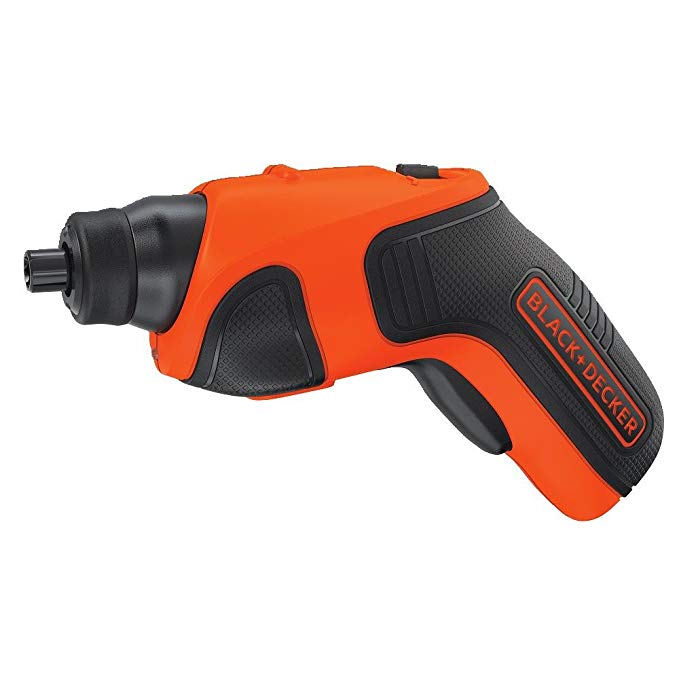 If you can overlook the low rotation speed, BLACK+DECKER BDCS20C is a solid choice for undertaking various projects around the house. It sports a lightweight and small profile design but oozes excellence in craftsmanship, performance, convenience, and versatility. Your wallet won't take a beating should you decide to reward yourself with one, which is also one of the reasons greenhorns and seasoned professionals consider it their go-to screw gun. With a chuck capacity of 1/4-inch, a paltry weight of 1.1 pounds, a forward/reverse switch, a lock-off slider, speeds of up to 180 RPM, and 35 inch-pound torque, you have every reason to confidently invest your money in this tool.

A versatile pick, it's optimized for on-site industrial projects and various domestic tasks. The high-performance electric motor takes the time and hard work away from working with several fasteners, even short and long ones. The motor manages up to 180 rotations per minute and 35 inch-pounds of torque. This is more than enough power for a wide range of light- to medium-duty projects. In light of its lightweight and small profile, BLACK+DECKER BDCS20C gives the user quick and easy access to hard-to-reach or tight spots that would otherwise be out of reach with conventional screw guns.

Expand to see more
It has an innovative inline trigger grip that provides plenty of control and comfort so that performing various household tasks becomes a snap. The 1.5Ah battery provides sufficient runtime and recharges reasonably quickly. With a choice of three operating modes, it's definitely a cinch to use. The forward and reverse modes are particularly useful for those keen on accuracy and quality. The handle provides comfort and a secure, slip-resistant grip with its ergonomic design and because of its bright orange colour, spotting it is a breeze. Together with the even weight distribution and lightweight design, you'll have fun using it.

Offering an abundance of convenience and performance features, this option is all you need to effectively drive screws into and out of various surfaces.

Powerful enough for light- to medium-duty applications
Small profile and lightweight
Comfortable
Cost-effective
Not ideal for heavy-duty projects
6. Senco DS332-AC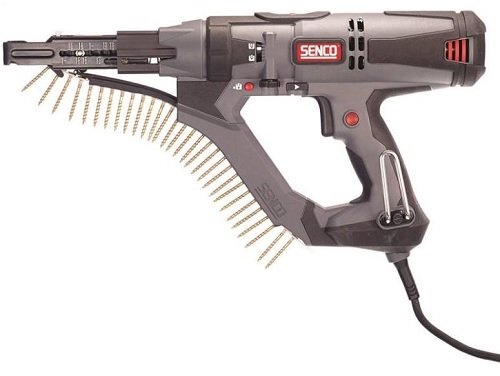 It may seem like an unlikely contender for the top spot but this heavy-duty Senco DS332-AC comes with all the hallmark features of a premium screw gun. A high torque AC motor outputting up to 2500 rotations per minute, a corner fit feed system, a variable speed trigger with lock and reverse, accurate and easy screw length and drive adjustment, and several features deservedly earn it a spot on the list of 10 of the best screw guns currently on the market. To these features add high-quality construction and affordability as well as compatibility with long screws.

The versatile, electricity-powered tool is an excellent choice for contractors handling light- to heavy-duty projects. It sports a high-torque 6-amp motor featuring a built-in cooling system that delivers impressive speeds of up to 2,500 rotations per minute. A perfect choice for working on plasterboards and other relatively tough materials, the screw feeding system works automatically, making it significantly easy to use, especially for greenhorns. It accepts screws with a length and diameter of between 1 and 3 inches and 0.06 and 0.12 inches, respectively. Considering its ease of use and versatility and an ability to adjust screw driving depth, it works wonderfully for professional and domestic projects.

Expand to see more
The belt hook comes in handy for contractors and handymen for attaching the machine to their belt or a hook in between uses. The trigger lock also frees up your hands and prevents hand fatigue as well as ensuring consistency. An ergonomically designed handle provides superior traction and comfort while the forward/reverse switch helps you avoid costly mistakes while working. Also, the user interface is user-friendly and intuitive and the curved nosepiece makes working in tight spaces and spots easy.

If your heart is set on acquiring a premium yet pocket-friendly gun that harmonically blends trouble-free performance, exception construction and practicality, look no further than this option.

Packs incredible power
Feature-packed
Has a variable speed mechanism for flexibility
Works fast and conveniently
Optimized to work with Senco screws only
Limited portability
7. WORX 4 Volt Lithium Ion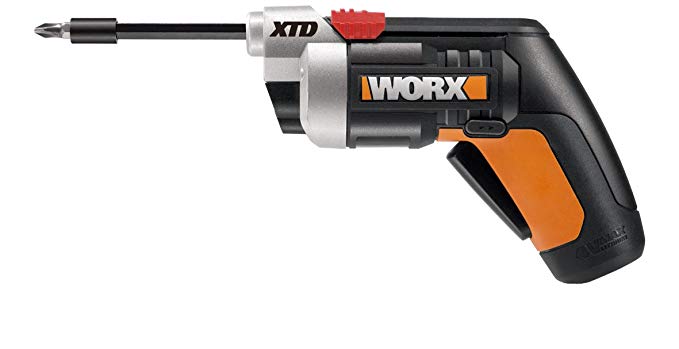 Worx's successful combination of stellar performance, exceptional quality, and ease-of-use explain why it makes the list. It's a feature-packed selection that comes with all the time- and energy-saving features weathered professionals prioritize in a WORX 4 Volt Lithium Ion. For instance, it comes with a pull-out chuck that makes it possible for the user to choose up to 10 different screwing positions for comfort and versatility. A 2-inch long chuck makes it easy to work in tight or confined spaces while a bright LED bulb provides adequate light for those planning to work in poorly lit environments. Another important convenience feature is the forward/reverse switch.

Its motor is not nearly as powerful as our top choices. It manages speeds of up to 230 rotations per minute while torque comes in at an equally decent 27 inch-pounds. That's enough power to quickly and effortlessly drive in or out fasters from drywalls, slats, and even aluminium surfaces. Irrespective of the screw's hat, the provision of 9 different attachments should be enough for accomplishing a broad range of projects.

Expand to see more
A 4V Li-ion battery ensures continuous runtime and uninterrupted performance. It charges within a paltry 5 hours and holds power for nearly 12 months when not in use. The battery has a handy indicator to assist with monitoring the remaining charge. The tool also combines a lightweight design, compact profile and the adjustable, pull-out shaft with its ten screwing positions of 2-inch increments to offer you superior control, precision, and reach to tight and hard-to-reach spots. And when it gets too dark, a bright LED light provides enough light for stress-free screwing in poorly lit areas.

The construction quality is also top-notch. The frame is made with high-quality plastic and has rubber covering for a commanding, firm, and slip-resistant feel in the hand. In addition to locking the chuck, you also use in forward/reverse mode. In all, these features and specs mean it is a worthwhile consideration expertly designed to always get the job done right at all times.

Fast-charging and powerful battery
Compact and lightweight
Flexible
Has convenient battery monitor
The LED light isn't very bright
8. Hitachi W6V4SD2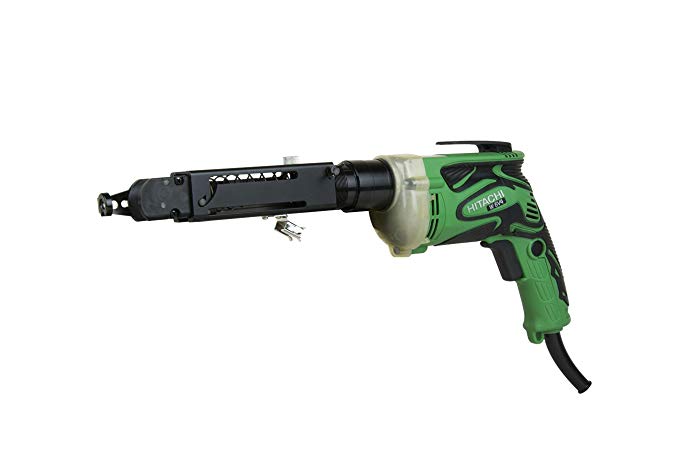 Our 8th high-quality, heavy-duty option comes from Hitachi, a household name that consistently pushes the innovation and performance boundaries with newer, more advanced products. Its flagship screw gun is this Hitachi W6V4SD2, a machine that seamlessly combines speed and power and is filled to the brim with a bunch of convenience features for effortlessly, efficiently, and quickly driving screws into various surfaces and objects including wood and drywall.

With its head-turning speeds of up to 4,500 rotations per minute and corresponding torque rating of 81.5 inch-pounds, few screw guns can come close to challenging its dominance. If you want a screw gun that drives screws quickly, easily, and efficiently, we highly recommend this gun.

Expand to see more
Its heavy-duty frame houses a high power 6.6-amp motor that delivers up to 4,500 rotations per minute with a corresponding torque of 81.5 inch-pounds. The resulting efficiency, speed, and power mean it should be your first and last resort when you're looking for a dependable way of fastening drywall and wood. The likelihood of your hands fatiguing, straining or slipping while screwing is remote considering the machine is made from robust and sturdy plastics and covered with an elastomer.

Besides the above-mentioned features, the inclusion of an aluminium gear case significantly contributes to its structural integrity. In spite of that, its weight comes to a paltry 5.5 pounds. Its construction using highly efficient, reliable material gives you the confidence and peace of mind to subject to some high-load tasks. With a substantially long 24.6' cord, you can easily reach the furthest corner of the room and other hard-to-reach spots without breaking a sweat.

You'll also benefit from a trigger lock-on button for consistency and hands-free operation. Even weight distribution and a user-friendly handle eliminate all discomforts, with the latter ensuring a firm, non-slip grip.

Boasting incredible speeds of 4,500 rotations per minute and a bunch of convenience features, Hitachi W6V4SD2 will always get the job done without any fusses. You'll be investing in a premium, high-performance option.

Outstanding performance
Easy to use
Offers exceptional reach with its long power cord
Versatile speed settings
Lightweight design and has a safety trigger lock
Necessitates two-hand operation
9. DEWALT DC970K-2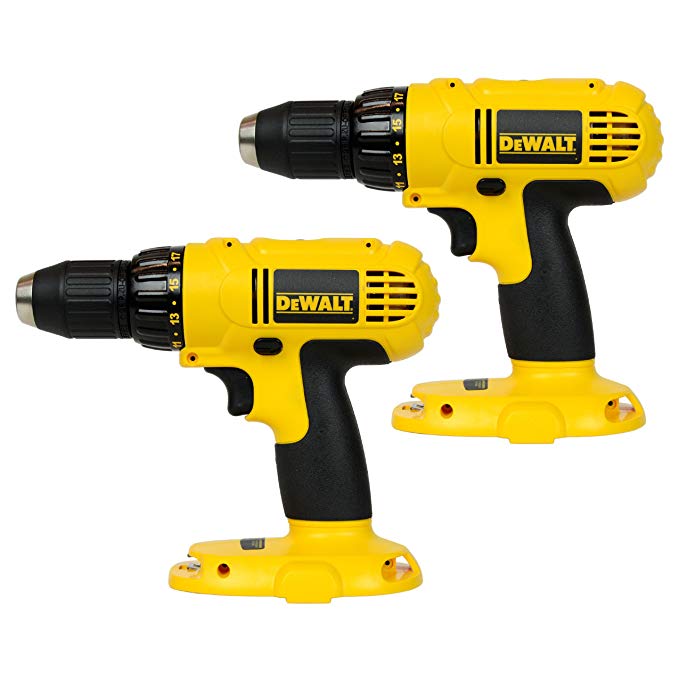 Another perfect candidate for quick and effortless drilling and fastening has got to be this top-of-the-line DEWALT DC970K-2 kit. It offers the user remarkable flexibility considering that it's a 2-in-1 screw gun expertly put together for a wide range of screwing applications in awkward and confined spaces. As is the case with virtually all other Dewalt screw guns, the tool seamlessly continues the tradition of flawless, dependable, and efficient performance. Continue reading to find out how it stacks up against other industry giants.

Not a slouch when it comes to performance, this premium screw gun arrives with a high power 380 unit watts motor with a variable speed feature. You can easily choose low speeds of between 0 and 450 rotations per minute or higher speeds that range between 0 and 1,500 rotations per minute. The versatility means it's an all-around performer ideal for undertaking a wide range of screw driving application both domestically and for on-site industrial tasks.

Expand to see more
There are several other convenience features that contribute to its optimal performance. One such feature is the physical dimensions. It has a length of 9 inches and a weight of 5.2 pounds which make it perfect for accessing tight spaces and working at
awkward angles
. A heavy-duty all-plastic constructed 1/2-inch single-sleeve keyless ratcheting chuck tightly holds the bits for superior retention, thereby ensuring precision and accuracy. And just to prove it's not all performance-oriented, DEWALT DC970K-2 also comes with a rubberized body with a soft grip to eliminate the possibility of inadvertent slippage. Your grip will always be firm and secure but without the risk of blisters and hand fatigue or exhaustion.
Additional features that may sway your purchasing decision include the provided heavy-duty contractor bad and generous 36-month warranty. The latter feature protects you from deficiencies in material and craftsmanship. Still, for a high-performance, lightweight, and cost-effective screw gun, don't look any further than this kit.
Fast accurate drilling even in confined spaces
Built to stand the test of time
Powerful battery
Comfortable rubber grip
10. Pink Power Drill PP182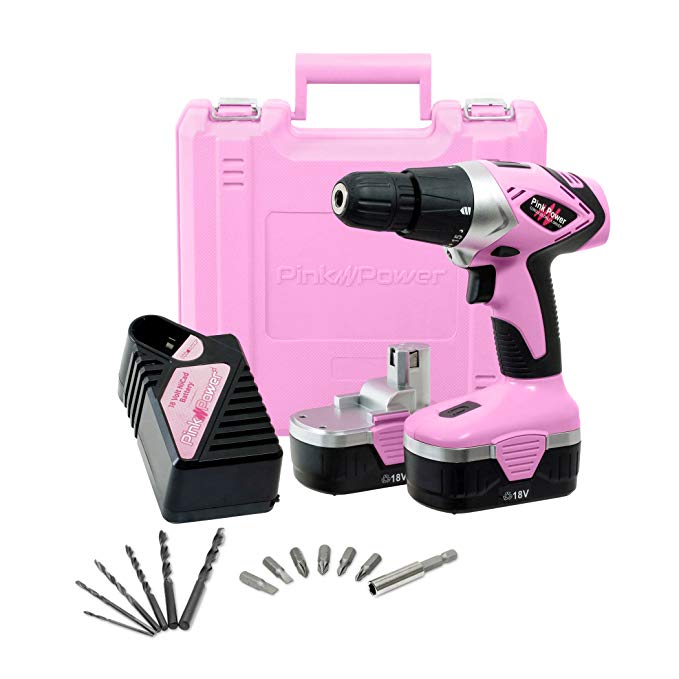 Here is a little something for people – not necessarily women – with small hands. As you've come to expect from our picks, this Pink Power Drill PP182 set also comes with all the flair professionals look for in a screw gun before committing their money. A high power motor tops the list of instrumental features followed by a lightweight and compact design. Capable of easily and quickly attaining maximum speeds of 550 rotations per minute, it's an ideal choice for light- to medium-duty screwing projects at home and even on the construction site.

The formidable combination of a keyless chuck, a high-performance motor with a variable speed setting and 16 torque setting mean completing various home improvement tasks will be akin to taking a walk in the park. It works accurately and fast. A built-in bubble level ensures you'll always be accurate and precise. And to take the frustration and effort away from working with small fasteners, the Pink Power Drill PP182 conveniently features a magnetic base.

Expand to see more
Together with the battery, it weighs a paltry 3.5 pounds, hardly enough to compromise controllability and manoeuvrability. Together with a comfortable, easy-to-grip handle, even weight distribution, and a small profile, you can practically use the Pink Power Drill PP182 for hours on end and not worry about the risk of hand straining, fatigue or blisters. Further, it has a built-in LED light that kicks in the second you squeeze the trigger, helping to illuminate your work area and workpiece for those who'll be unfortunate enough to work in less than ideal lighting conditions.

Another obvious advantage to going with this set is the ease of spotting it in a tool bag. We can't count on one hand the number of tools with a pink colour. Identifying and reaching for it should, therefore, be a snap. With the pros far outweighing the negatives, we can't think of a single reason as to why this tool can't make for a great choice. It has all the bells and whistles of its bigger cousins and performs just as efficiently.

Cordless and highly portable
Packed with several convenience features
Has a bright LED light
Powerful, long-lasting batteries
Criteria for Choosing the Best Screw Guns
Power Source
The market offers you a choice between cordless and corded screw guns. Cordless models come with the obvious advantages. They offer the user unlimited portability seeing as they don't come with any heavy power cords that get tangled around obstacles. They also give you quick and easy access to hard-to-reach spots.
On the downside, their batteries are a tad heavy and this makes them hard to move around with and you have to constantly worry about running out of juice. Corded screw guns, on the other hand, are a little more powerful, lighter, easy to use, and of course more affordable.
Performance
Your chosen screw gun should be able to get the job done with minimal hiccups if any. The depth of the screw should also be to your satisfaction because if it's not deep enough, your workpiece will be flimsy. If it's too deep then you run the risk of ruining it. An obvious solution is to invest in a screw gun with a variable depth adjustment feature, enabling you easily and quickly make the changes you want to achieve the quality you've always desired.
Other features to look out for are motor power, torque, and speed. Models with high-capacity batteries or high-performance motor do all the heavy lifting, with minimal requirement from you.
Other features that help with the performance that you need to look out for are variable speed and an adjustable clutch. These two features enhance versatility and the ability to work with a wide range of screws and various surfaces.
Convenience
To get the most out of your screw gun, train your eyes on the one with the most convenient features. These include the shape, ergonomics, and a bunch of other additional useful features. The handle, for instance, needs to feature heavy-duty rubber pads to give you a firm, secure, and comfortable grip to minimize the likelihood of inadvertent slippage.
Trigger lock latch allows for uninterrupted use without incessantly pulling on the trigger and for customizability, look out for screw length adjustment and variable driving depth. In case you drive the wrong screw into a workpiece, you can always use the reverse action system to make a correction. Other instrumental features to pay attention to include an LED light and a belt hook for safe storage in between uses.
Frequently Asked Questions
Q: What is the difference between an auto-feed screw gun and a collated one?
A: Auto feed screw guns offer the extra functionality of automatically, quickly, and easily feeding screws without the extra hassle of digging into a box. Even though your wallet will take a hit, they are a perfect choice for heavy-duty applications. Their collated counterparts, on the other hand, are
Q: Between NiCad and lithium battery, which one is superior?
A: Li-ion batteries are the obvious winners. They boast a lightweight construction and higher energy density, allowing them to consistently deliver power over a long period of time.
Conclusion
For contractors, handymen, and extreme DIYers, few tools are as indispensable as a screw gun. And for good reason. In addition to providing quick and accurate performance, they also take hard work, time, and frustration away from the process. Our picks have all these and several more features. They perfectly balance quality, performance, ease of use or convenience, and practicality.
Provided you choose a screw gun that best matches your project, driving screws of various sizes into different workpiece will be an effortless, quick, and accurate. Happy shopping.
Subscribe to our newsletter