Sun Joe MJ401E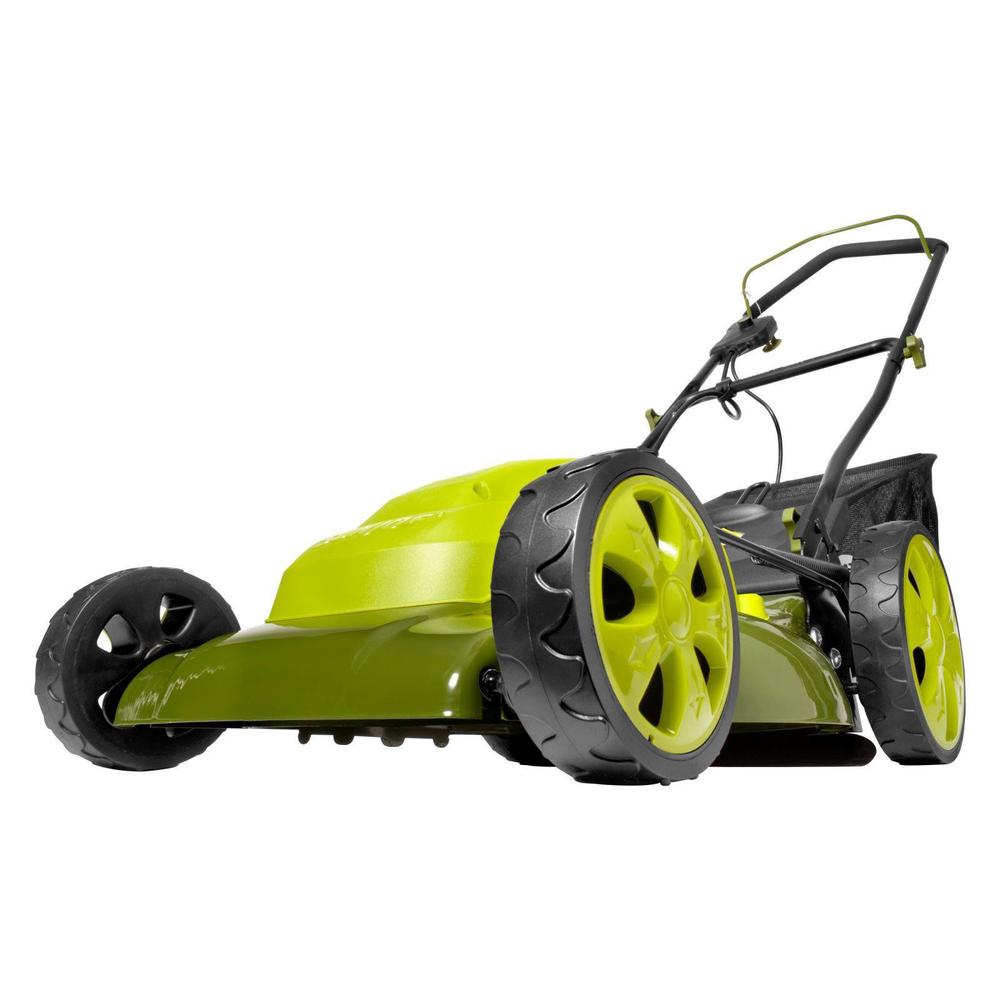 Editor's Pros & Cons
Painless and easy to understand settings
Environmentally friendly
Amazingly effective catcher
Powerful motor, great maneuverability
Review
This electric lawn mower is perfect for light-duty grass cutting. And it's perfect for all kinds of users, from old folks to anyone who is probably using a
lawnmower
for the first time. Everything about Sun Joe MJ401E is simple and straightforward.
It has three settings; High, Mid, and Low whereas the High option is already low enough such even your teenage son can handle it with ease.
Its assembly is nothing but a breeze and succinct. It takes literally minutes dissembling it. But be careful, though; you don't want to take it for a test drive only to find yourself
mowing the entire lawn
.
Being an electric mower, this is a great advantage since you don't have to worry about polluting the environment. There is no gas smell, and the mower is less noisy.
Starting it up is instant and with no tune-ups of any sort, thus probably the reason why anyone can operate it. And if you think that's that; well, it also features a safety switch that prevents it from accidental starting. The best thing about MJ401E is the fact that it requires minimal maintenance.
Its muscling is out of this world. It comes installed with a 10.6-gallon grass catcher that collects and stores grass clippings. If there's one thing that most reviewers (including myself) love about this mower is the fact that its catcher detaches very easy. That's ideal for convenient disposal.
You can also use the mower without the catcher. That's if you find it cumbersome or maybe you don't like emptying it every time it's filled up. Removing and reinstalling the catcher is trouble-free. However, when using the mower without the catcher, you'll have to look out for sticks and rocks.
Despite being a relatively "light" lawn mower, you shouldn't be fooled. It comes with a powerful 12 Amp motor, which cuts 14-inch wide paths. The Sun Joe MJ401E is great in tight spaces. This is attributed to its rugged and
all terrain wheels
. The rugged and practical maneuverability is augmented by an excellent job done by its sharp blades. They cut super clean as the mower offers high power for dense areas. This means that your mowing time is cut in half.
verdict
From an overall point of view, the Sun Joe 14 Inch Mower is great potential. And I would recommend it to anyone looking for a simple mowing experience.
According to some reviewers, the wheels tend to fall. But that depends on the lawn being mowed. Don't use it on extremely
rugged areas
. The wheels are just beautiful and feel sturdy on the wheel base area. So don't be leery of the criticisms and complaints.
Advice is to avoid running it through massive amounts of grass. Of course, it will work, but don't expect it to be that great. The mower is ETL approved with two years warranty, which gives you some sense of
security
. Better yet, it goes for an extremely affordable price and that is amazing considering what it can do.
Subscribe to our newsletter