GreenWorks 25022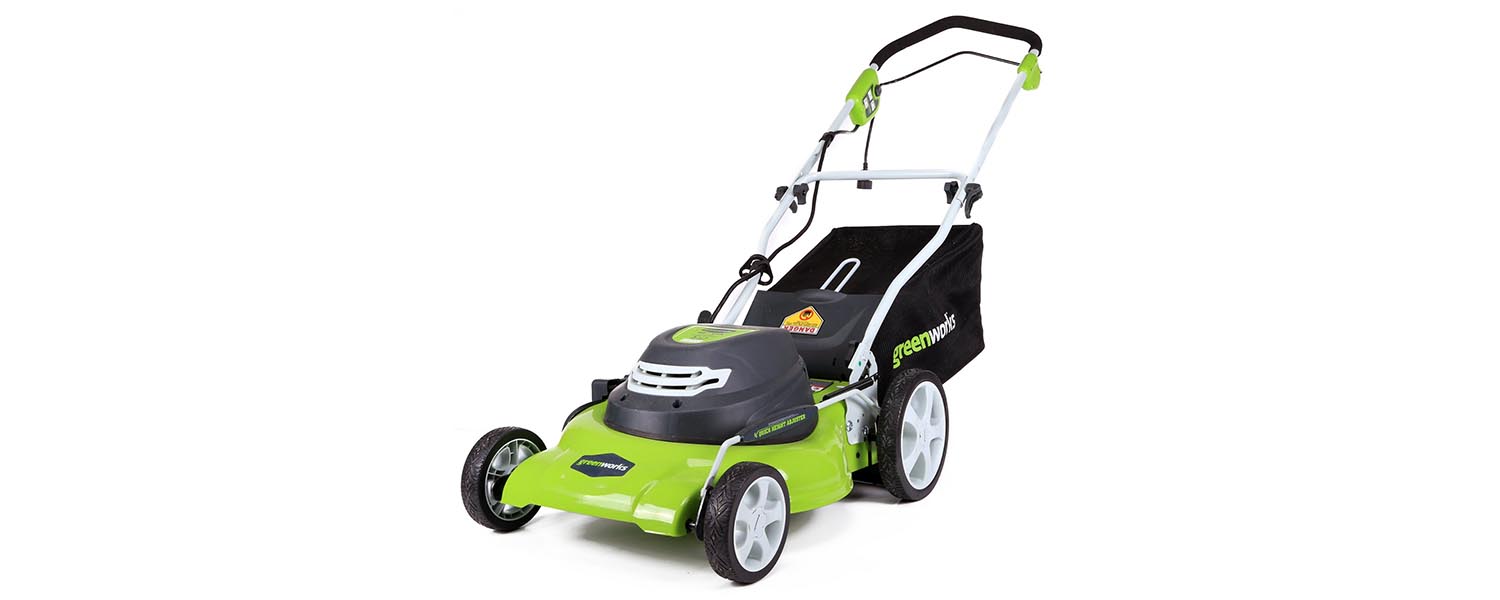 Editor's Pros & Cons
Amazing look and design
Emptying the bag is stress-free
Offers up to 7 height adjustable positions
It's quiet and tranquil
4-year warranty
"No worry" feeling when operating it
Review
Now, if you are looking for an
electric
lawn mower that's going to cut your mowing time in half, then the GreenWorks 20-Inch 25022 is the perfect option. How different is it from the rest? Well, this machine comes with lots of features that make it easy to operate. But most of all, the GreenWork 12 Amp Corded Mower is durable.
It can handle all sorts of abuse, from leaving it in the rain to exposing to excessive heat. It won't crack!
Its mulching bag is easily installable. Just lift the back door and remove the plug. That's it. Moreover, the bag comes attached with two hooks to ensure that it securely fits on the mower. Emptying the bag is quick and works like a charm. One noticeable aspect of the bag is its narrow feature such that it fits between the handlebars. This way, you can effortlessly pick the bag without necessarily bending over and pulling it all the way back.
Its durability has been tested and found that this 20-Inch 12 Amp mower can last several years without any issues. That is, you can even leave out in the rain or let it sit out in the snow during winter, but when spring comes, the mower starts right up. It means that you don't need a
tool
shed or a garage to own this amazingly sturdy machine.
The height adjustment isn't a problem. You can adjust the height of the entire lawnmower by use of only one hand. The best thing? GreenWorks 25022 offers about 7 height adjustable positions. This is bumped up by wide 10-inch rear wheels that makes the mulching process much easier.
The wide rear wheels also improve on the mower's
maneuverability
, which is a huge plus if you are a clumsy user.
Its cutting deck is made of steel (read durability) and does its job much quicker and more efficiently and in a quieter manner. This GreenWork mower is a preference for most reviewers because of its quietness and the fact that it's so lightweight compared to other
battery-powered
mowers.
One more thing about this 12 Amp corded mower is that it requires no maintenance other than sharpening of its blades. You also don't have to worry about using and storing gasoline. It's always cumbersome.
Finally, the GreenWork 25022 Electric mower comes with a 4-years warranty. This covers defects in workmanship and material parts. However, the warranty only covers those using it for personal and not for commercial purposes. Overall, this is a relatively
sturdy lawnmower
.
The very first thing you'll notice about this lawn mower is how COOL it looks. Okay, I know that looks aren't that important in such cases, but you got to appreciate the designers who burnt the midnight oil working on its fantastic look. I guess the company is going to receive extra buyers just because of its "cool" design alone.
Once the mower has been delivered to your doorstep, you don't have to worry about the dreadful unpacking process. Because it's easy.
All you need is get it out of the box, unfold the handle bar, have the cord attached, and you're all set to cut the grass. Starting the mower isn't a problem either. Just press the control handle down along with the start button and start mowing.
Using the mower is a breeze and it can handle whatever it is you throw at it. No matter what it is (thick grass, wet grass, etc.), the mower works just fine. The main aim of GreenWorks 25022 is to be able to deal with all those things you're going to come across while mowing. There is that "no worry" feeling whenever you push the mower along your lawn since you know very well that nothing is gonna happen to it. Now that's something, isn't it?
Subscribe to our newsletter