Best Solar Generators Reviewed & Rated
last updated:
Jan 09, 2019
There are manifold advantages to purchasing a solar generator as opposed to its conventional gas-powered counterpart. It's economical to run and because it harnesses the power of the sun, it's eco-friendly, easy to maintain, grave quiet, and of course cost-effective. They are a source of clean, reliable power and considering their small footprint and lightweight design, you can also use them on several outdoor adventures such as camping where you are no longer connected to the grid.
Our Top 3 Picks
[srpshortcode id="20896″][/srpshortcode][srpshortcode id="20825″][/srpshortcode][srpshortcode id="20826″][/srpshortcode]
The ubiquity of these devices on the market an understandably make it difficult for a person to choose one that best meets their power requirements. That's where we step in with objective and in-depth reviews of 10 of the best solar generators currently on the market. All you have to do is decide which one of them is suitable for you and your loved ones or fellow outdoor enthusiasts.
10 Best Solar Generators
1. Renogy Phoenix 210Wh/150W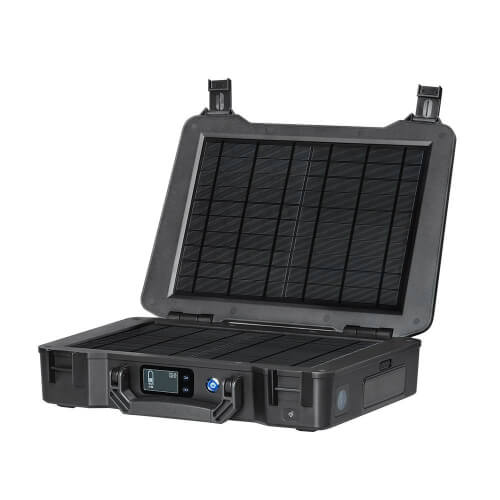 As Renology wax lyrically and correctly points out, their flagship solar generator, the Renogy Phoeni, is a top performer. It's a versatile choice that comes with a 20W built-in solar panel you can use to efficiently power a wide range of mobile, off-grid applications or tasks. A perfect choice as a secondary source of emergency power, the solar generator comes with all the features and specs you need to live comfortably and worry-free off the grid. With two heavy-duty solar panels, a high-capacity and replaceable battery, and a lightweight and highly portable design, this is all you need for all your outdoor adventures such as camping and travelling.

The Renogy Phoenix packs an incredible amount of power to provide the user with flawless and efficient performance. The efficiency of its two Renogy 20W Monocrystalline Solar Panels capable of expanding up to 100W and the high-capacity 16Ah lithium-ion battery provides the user with the capability of unlimited power. Because it comes with four high-speed USB ports and two DC outlets and is to run continuously, the solar generator is a perfect choice for powering or charging all your favourite electronics including mobile devices such as laptops, mobile phones, cameras, drones, and mini fridges and just about any electronics you have.

Expand to see more
It is not all performance oriented; it also comes with a few performance features to make your work easy. One such feature is the convenient handle that pairs nicely with the fact that the solar generator weighs an underwhelming 12.8 pounds. The handle is further ergonomically designed to make portability a breeze. It also comes with a convenient LCD display through which you can monitor various performance aspects while the included LED light torch can come in handy for avid outdoor enthusiasts. The rugged exterior construction enables it to withstand rough environments and conditions.

The Renogy Phoenix is efficient, powerful, and cost-effective. On top of these, it features an exceptionally robust and resilient design and craftsmanship. For the next several years, you'll be prepared to venture outdoors or keep your essential electronics running in a moment's notice.

Perfect for off-grid uses
Durable water-resistant construction
Chargeable 3 different ways
Versatile
2. Paxess 100-Watt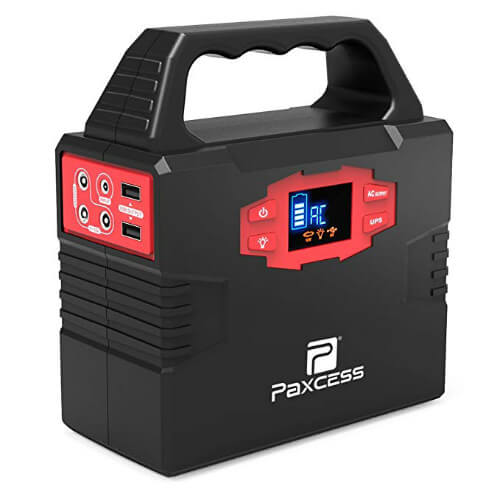 The second slot goes to yet another industry giant, the axess 100-Watt generator. Compared to a conventional generator, this solar generator is 5 times smaller and 7.5 times lighter and being an eco-friendly alternative, it doesn't release any toxic fumes into the environment, which by extension makes it safe to use from just about anywhere, including
the kitchen
, the bedroom, and even inside a camping tent. Also, while a traditional solar generator is between 52 and 60 decibels loud, the Axess is 0 decibels loud. Additionally, it features several power outlets or ports for keeping various devices under 100W running efficiently. And, to top it all off, it's easy and quick to recharge through a solar panel, car battery, and from the main power outlet.
A reliable source of cheap, clean power, the Axess is an indispensable addition to your outdoor arsenal. You can as well resort to it for clean power in case of a power outage. Irrespective of application, the solar generator comes with dual 110V AC for charging various mobile devices including laptops, box fans, camping
lamps
, and cameras among several others. There are also 3 12V DC for car powered devices under 180W and another 2 high-speed 5V USB ports for phones, iPads, GPS, MP3 players, and cameras.
Expand to see more
You have 3 ways of recharging it. You can connect it to a compatible solar panel, which you'll have to buy separately though. The second recharging option is plugging it into a power outlet, in which case it'll take up to 8 hours to reach full charge. A third and equally convenient option is connecting it to your car's 12V adapter where it'll take up to 9 hours. The solar generator outputs an impressive amount of power but couple that with it convenient recharging capabilities and you have a solar generator that's unstoppable.

Another feature we find profoundly endearing is the simplicity of the machine's design and the attendant ease of use. Its lightweight design considerably enhances portability. The ergonomic handle minimizes hand fatigue and strain while the LCD display helps you keep tabs on its performance.

For all intents and purposes, the Axess would make for a great choice. It's a simple, easy-to-use, and reliable solar generator.

Lightweight and highly portable
Can be charged three different ways
Long-lasting, high-capacity battery
Long-lasting construction
Doesn't come with solar panels
3. Suaoki 222Wh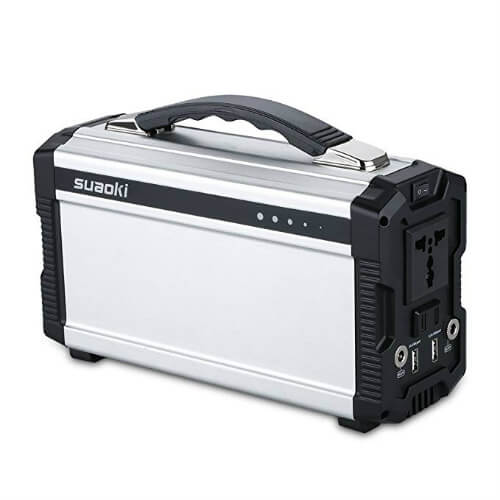 Suaoki is another feature-packed solar generator. As well as being versatile and portable, it also boasts a high-capacity battery capable of generating enough power for keeping your electronics up and running smoothly and efficiently. Like our two earlier choices, this product is lightweight and highly portable, weighing just about 5 pounds, meaning that you and your outdoorsy posse are in for a smooth, drama-free, and fun-filled weekend camping. The solar generator is also eco-friendly, very quiet, powerful, and a cinch to use. For those who want clean, reliable power they can take with them wherever they go, we highly recommend taking a serious look at it.

Patently, it comes with several head-turning features but the one that stands out the most is its output of a pure sine wave enabling it to power up several electrical devices with remarkable efficiency and versatility. The technology enhances safety by eliminating power disruptions and overloads, which makes it a perfect source of clean power for emergencies and outdoor adventures like traveling, camping, fishing, and picnicking. It comes with a beastly 60,000 mAh battery packing enough juice for powering your smartphones, laptop, and a few appliances. To put this in perspective, you can charge your smartphone more than 20 times and the laptop up to 4 times.

Expand to see more
As is the case with high-end, high-performance options, this solar generator is easy to use. It's light in weight and therefore hassle-free to transport or bring with you wherever you go. There are 5 LED light indicators that help you monitor the amount of power remaining so you can either scale down your power needs or connect more devices. As for durability, the solar generator is constructed with high-end materials to withstand the scorching sun and be prepared for the vagaries out the outdoor environment.

Besides reliability, the Suaoki is also renowned for its quiet operation, and safety. The efficient and pure sine wave output is all the more reason to go with it.

Lightweight and easy to use
Comes with several outputs for versatility
Attractive design
Works reliably and quietly
4. Anker Powerhouse, Compact 400Wh / 120000mAh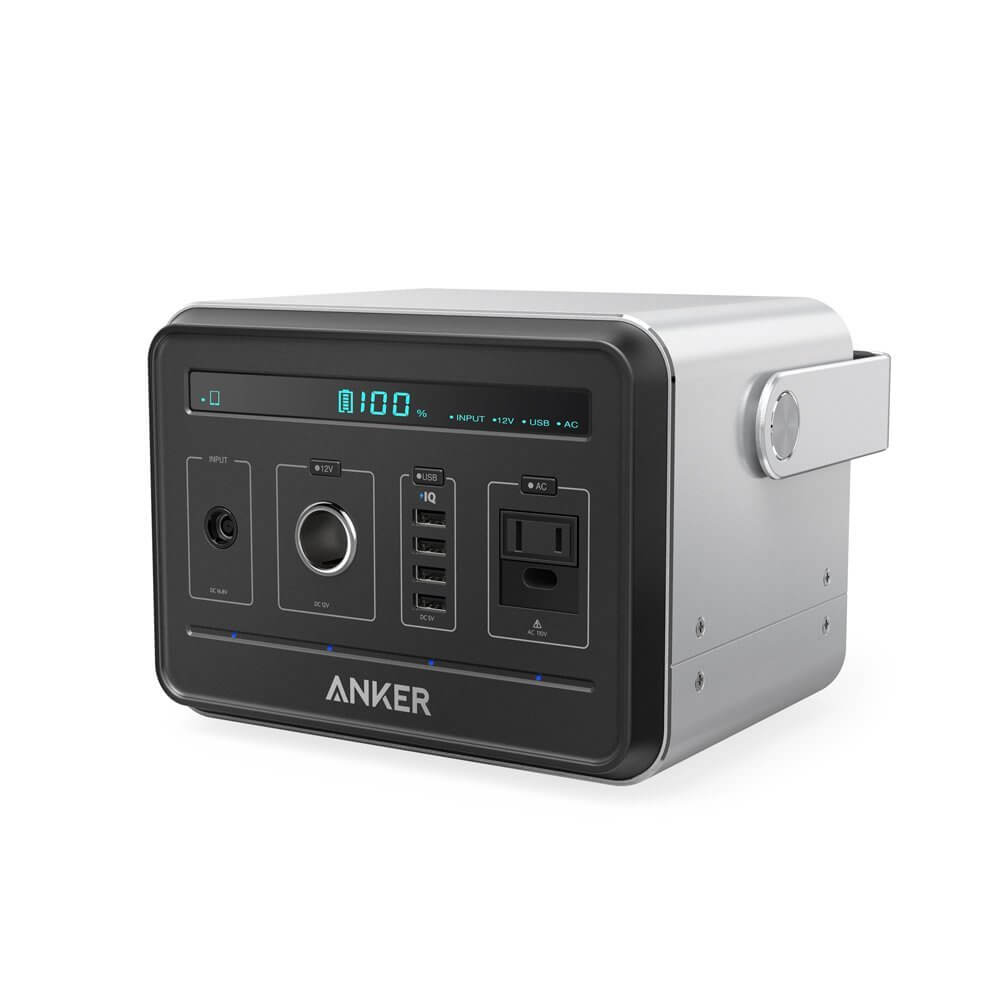 In spite of its small footprint and laughable weight, Anker Powerhouse is a high-performance generator, supplying all the clean power you need to keep your favourite electrical devices operating smoothly and safely. As Anker accurately points out, its flagship option is extremely potent. It works smoothly and reliably, delivering power to all the essential appliances within your home, office, dorm room, and car. And if you decide to take the party to the great outdoors, it'll be easy to tag along because compared to bulky and heavy options out there, this machine is remarkably lightweight.

If you literally take the power with you wherever you go, and always be prepared for rampant power outages, this heavy-duty and powerful device should be up your alley. It houses up to 434-watt-hours of power. This means you'll never miss that important business email even when you go off-grid. It's capable of recharging your laptop up to 15 times and your smartphone up to 40 times. The inclusion of 4 high-speed USB ports incorporating the innovative PowerIQ technology means you won't have to wait for other phones or appliances to fully charge before plugging in yours.

Expand to see more
An ideal indoor and outdoor enthusiast, the Anker Powerhouse is capable of powering a 15V lamp for more than 100 hours. When the sun goes down or there is a sudden power outage, you won't be left groping aimlessly in the dark. In addition to being highly portable, it's also ultra-quiet and
eco-friendly
. The solar generator also regulates its own temperature and voltage so that your electronics don't suffer short-circuiting or damages resulting from power fluctuations.
To the elucidations provided above, add the fact that the Anker Powerhouse weighs just 9.26 pounds, has multiple charging ports, and comes with a generous 18-month warranty. The warranty is confidence-boosting, giving the user the assurance that any and all deficiencies in material and craftsmanship will be rectified free of charge.
High-capacity batteries
Lightweight and compact
Multiple charging options
Generous 18-month warranty
Operates silently
Doesn't come with solar panels
Doesn't support high-power appliances
5. Goal Zero Yeti 400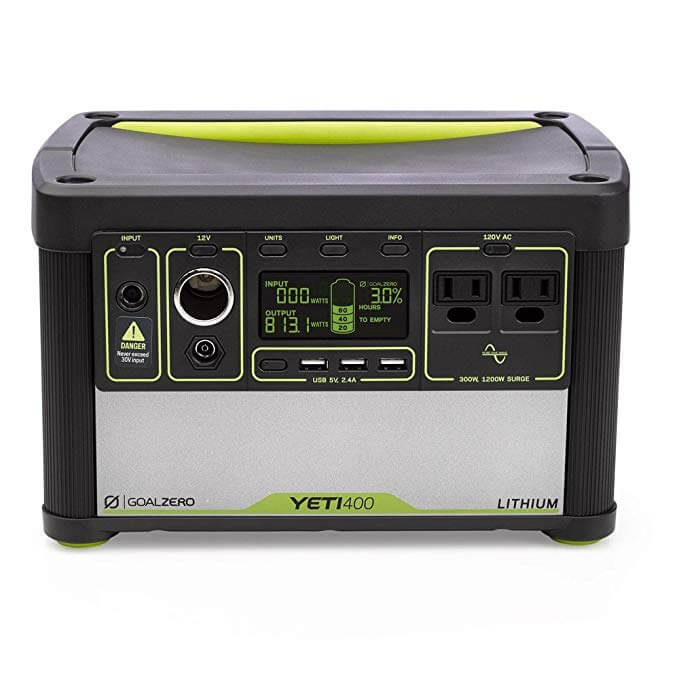 If you're anything like us, Goal Zero Yeti 400 will immediately win over by how quietly and seamlessly it runs. It works reliably, providing you and loved ones or camp mates with plenty of reliable power to keep your laptops, mobile phones, and a few other essential electronics running. If you have devices running on 120V AC, 12V DC, or 5V AC, this versatile solar generator should be up your alley. It also features industrial-grade construction, remarkable portability, and a high-capacity, long-lasting battery, all of which immensely contribute to its seamless performance.

The capacity of this generator stands at 39,600 mAh at 10.8V though it can go up to 119,000 at 3.6V. Couple this with the pure sine wave inverter and 2 AC outlets, 3 2.4a USB ports, and 2 12V ports and you at your disposal an industry stalwart designed to supply clean, reliable power to up to 7 devices simultaneously. With the solar generator, the days of having to put off assignments, work projects or limit outdoor ventures to daytime are long gone.

Expand to see more
Other standout features include the informative LCD screen, the replaceable battery design, and durability. It also spares you the frustration of dealing with gasoline, fumes, oil messes, and the hassles that come with running a traditional gas-powered generator.

If you're looking for a lightweight, easy-to-use, portable, and powerful solar generator, look no further than this Goal Zero Yeti 400. It's aptly named, and easily meets and exceeds expectations.

Exceptional quality
Provides remote control
Small prole and lightweight
Multiple charging options
No solar panels in package
6. Kalisaya KP201 KaliPAK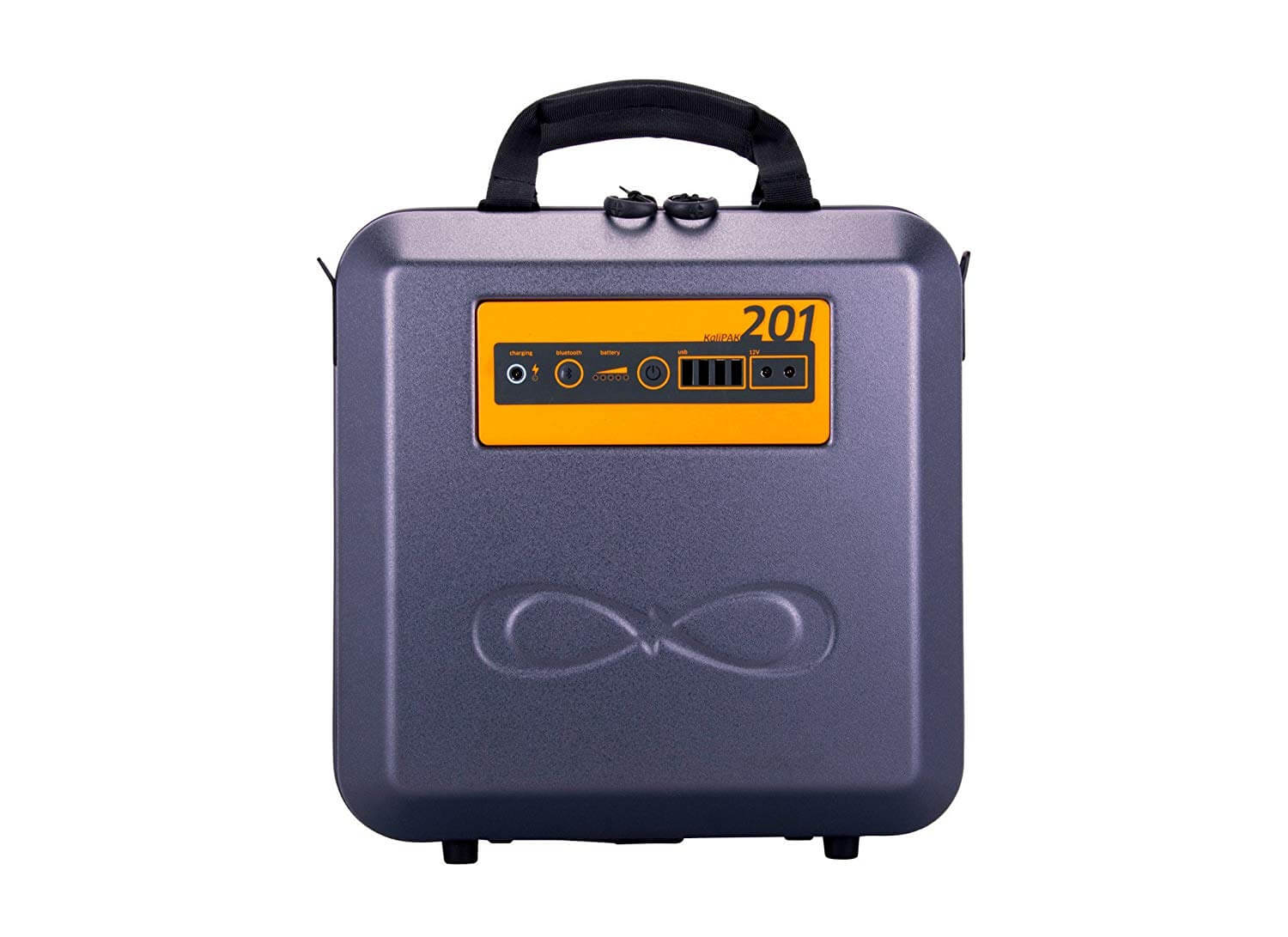 The Kalisaya KP201 is one of a handful of solar generators designed by experts for use by other experts. It's a feature-rich solar generator with all the essential features seasoned users look for in a solar generator. Its reliability and consistency in providing clean secondary power in case of power outage give you peace of mind, enabling you to carry on with normal, everyday activities. In addition to being compact and lightweight, it brings together a solar and battery power to keep your favourite electronics running efficientlyand it features a convenient Bluetooth transmitter and a KaliApp.

Few solar generators out there can seamlessly combine powerful performance, portability, lightweight design, affordability, and versatility like Kalisaya KP201 does. Despite weighing just about 11 pounds, the solar generator boasts up to 192Wh of raw power you can take with you wherever you go. It has two high-quality, durable solar panels for trapping solar energy whenever the sun comes out. Setting them out is a cinch, and the instructions manual diligently walks you through the entire process. Included in the package is a highly portable and water-resistant 10,400 mAh capacity power bank. The power bank features a rugged, compact profile and features 4 USB ultra-fast charge ports for various mobile devices and 2 other 12V DC ports for lighting.

Expand to see more
One feature that's guaranteed to catch your attention is the remote system monitoring and control through iOS and Android smartphone app. The features give you superior control over the operation of the solar generator and is both time and effort-saving. It also has a bright, powerful 5W
LED light bulb
that comes in handy for home emergencies and outdoor events like parties, camping, fishing, and etcetera.
To recap, the Kalisaya KP201 Solar Generator is a perfect choice for homeowners, professionals, and outdoor enthusiasts in search of a reliable and consistent source of clean power. With a Bluetooth transmitter and smartphone app, using it is effortless and straightforward.
Long-lasting, high-capacity battery
Ergonomic handle
Very portable and lightweight solar panels
Works reliably and consistently
Offers remote monitoring system
7. Jackery Portable Power Station 240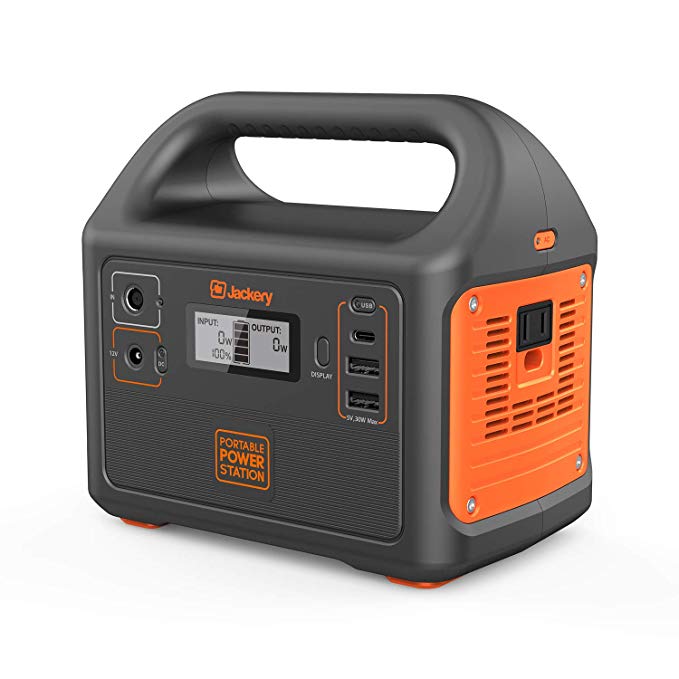 As this high-end option easily proves, a power outage or being off-grid doesn't automatically translate to scaling down your power needs. The Jackery generator allows you to stay connected to the world around you while you're on the go. Whether it's an unplanned picnic, a camping, a fishing trip, or an excursion, you'll always have the power you need within an arm's reach. It is as lightweight and highly portable as it's powerful. If you're looking for a concrete reason to reward yourself with one, continue reading and we'll give you several.

An essential part of any solar generator is the power bank. In the case of this one, it features a high-capacity and long-lasting 240Wh capacity lithium ion battery. It packs enough juice for simultaneously charging several devices several times over. There is a DC input, 2 high-speed USB outputs, an AC outlet, and a car port that conveniently supports several connects at the same time. The best part is that it sport dual charging options. You can decide to plug it into a wall outlet or connect it to a solar panel. In the latter case, you'll have to wait for between 7 and 10 hours before it charges fully.

Expand to see more
With a paltry weight of just 6.6 pounds and a slim profile measuring 5-inches in width and 8-inches in height, this is one of the most portable solar generators we're reviewed so far. The implication of its dimensions is that portability is never an issue, especially when you throw in the comfortable, ergonomically designed handle. Additional convenience features include the noise-less operation and zero toxic gas emissions. This gives you the confidence and peace of mind to use in within the confines of your house or even within a camping tent.

For the homeowners and adventures in search of a solar generator, here is a reasonably and justifiably priced optionr. Jackery Portable Power Station Generator is light in weight and easy to transport. And of course exceptionally powerful.

A cinch to use
High contrast LED flashlight
Comes with several input and output options
Reasonably priced
Not compatible with 12V car adapter
8. Goal Zero Yeti 1400 Lithium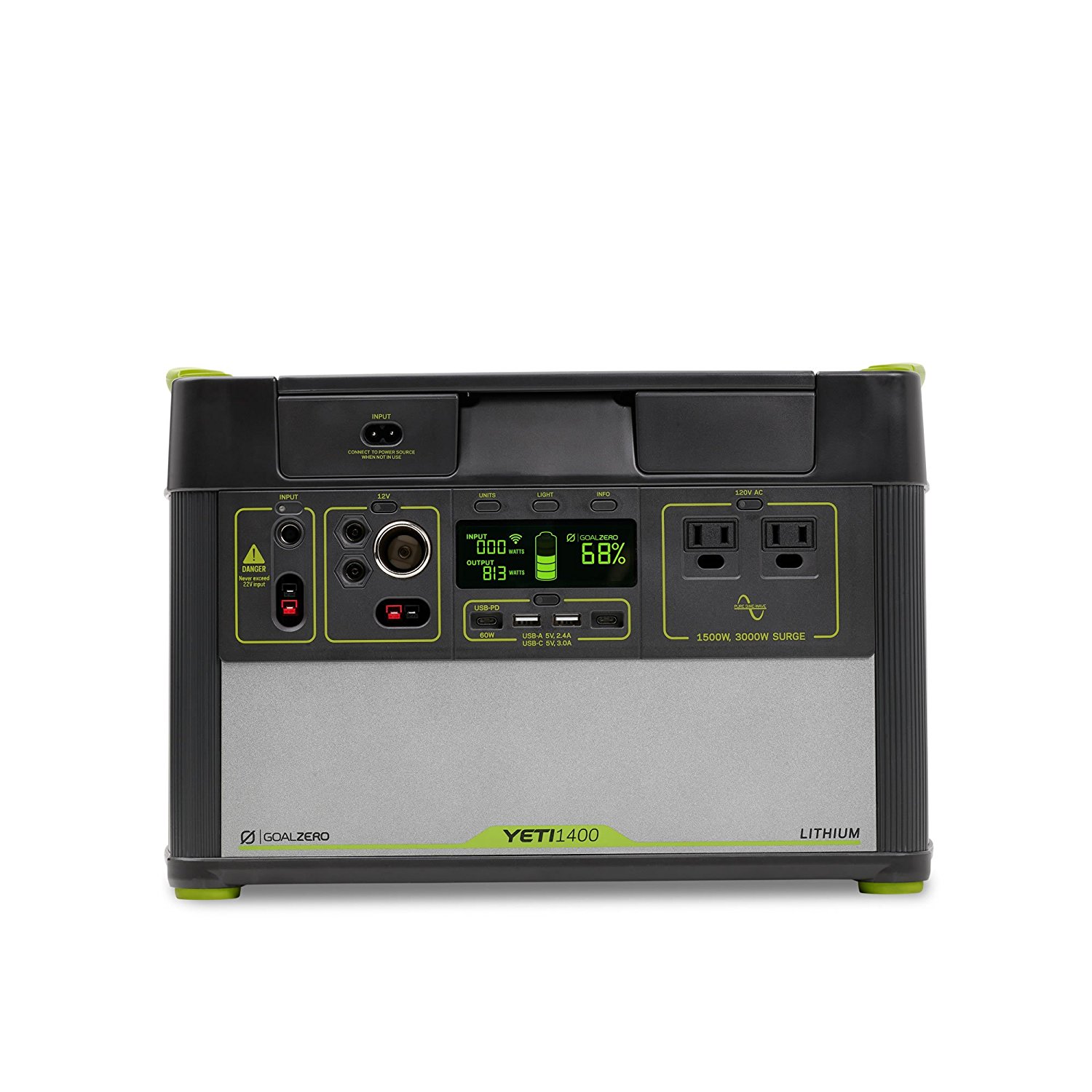 The Goal Zero Yeti 1400 Lithium station is an ideal choice for users who need on-demand power on the go. As some users point out, it's an ultra-high-capacity power station that provides reliable and clean power for use around the house, on the great outdoors, and even in the office. Considering that it harnesses the power of the sun and can be quickly charged by plugging it to a power outlet, it's eco-friendly, ultra-quiet, and very cheap to run.

Boasting an impressive output of up to 1500W and with a surge capacity of up to 3000W, it is a perfect and solid choice for anyone who needs to reliably and smoothly run their high-power electrical devices such as fridges, sump pumps, and even power tools. To ensure seamless and continuous performance, it comes with a 1425 watt-hour capacity with several high-power AC, USB, USB-C, USB-PD, as well as 12V outputs. The latter feature is able to support up to 10 devices at the same time.

Expand to see more
Another feature that endears it to the vast majority of homeowners is ease of use. It comes with Wi-Fi connectivity for effortless remote controlling through a user-friendly Yeti App. Further, you won't have to contend with toxic fumes, relentless noises, and dealing with messy fumes. Conversely, it generates clean power quietly and without exposing you to various health risks. On the flipside, it weighs a whopping 43.7 pounds, which is admittedly on the higher side. Even with the built-in ergonomic handle, you're still going to need some significant upper body strength to move it around.

If you need power on the go or for powering various home appliances in case of a power outage, it comes highly recommended. It's easy to use, durable, and outstandingly reliable.

Durable construction
Easy to use
Versatile
An ultra-high capacity power station
9. Webetop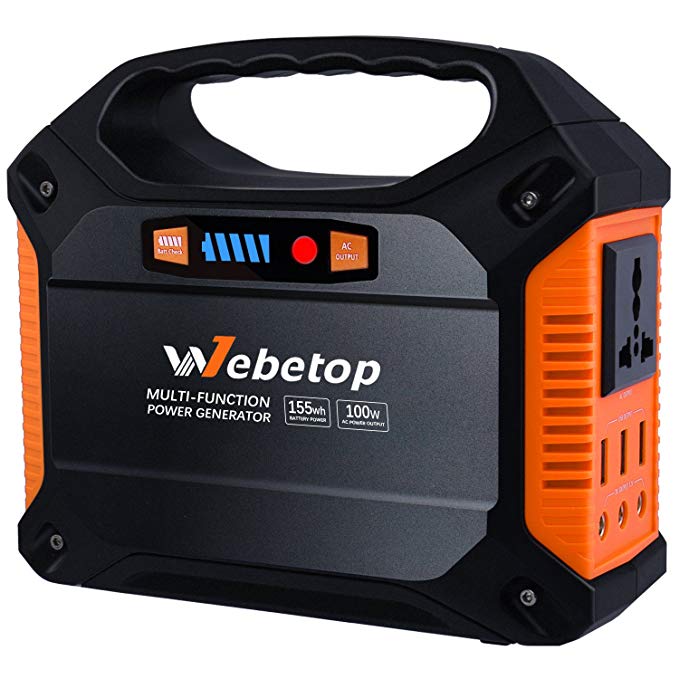 The Webetop shares the lightweight, highly portable, easy-to-use, and cost-effective narrative of the vast majority of top-of-the-line solar generators. However, what sets it apart is the considerably large power capacity 42000 mAh. Cheap, off-brand options on the market emphatically can't compete with that and only a handful of other top-notch solar generators come close. That and the fact that it features several high-speed USB and DC ports makes this Webetop 155Wh 42000mAh generator the first preference for several homeowners, travellers, campers, and professionals. As an emergency power backup, it's also ideal for recharging a wide range of mobile devices including but not limited to phones, laptops, and cameras.

The fact that the AC, USB, and 12V DC outputs are evenly spread out allows for the simultaneous connection of several devices. There is a 110V Dual AC outlet with a maximum sine wave output of up to 150W, 3 12V DC ports and another 3 5V USB ports.
Expand to see more
Like virtually all other options, you can charge this model via a wall outlet using the provided power adapter or use 13V to 24V solar panels to harvest the power of the sun. If you have neither, you can resort to using the 12V car adapter. Irrespective of the method you find most convenient, it should charge quickly and easily, at least going by the experience of thousands of current owners. Note that the solar panel is sold separately.

As for portability, it comes with ultra-lightweight and compact 155Wh 42000mAh Li-Ion batteries. They weigh a paltry 3.48 pounds with dimensions of 7.67 by 6.73 by 3.54 inches. You'll be hard pressed anything smaller. Plus, they can fit easily and snugly into a backpack for ultimate portability.

There's every advantage to going with this options. We'd run out of space listing all of them. The gist of it though is that the generator is reliable, safe, quiet, cinch to use, highly portable, and with a knack for providing powerful, clean energy.

Large power capacity 42000 mAh
Features several high-speed USB and DC ports
Versatile
Multiple charging options
Ultra-lightweight and compact
A little on the expensive side
10. Goal Zero Yeti 1250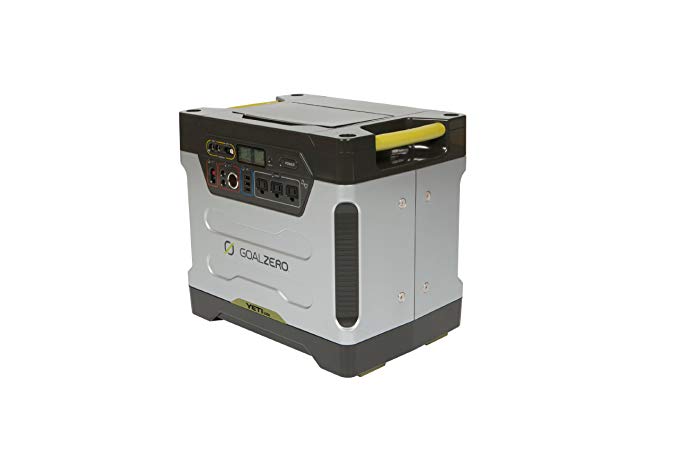 Our last pick, the Goal Zero Yeti 1250, should be up your alley if you want a reliable source of unlimited, portable power. Unpredictable power outages caused by vagaries in weather and other conditions won't mean the ingredient for your favourite recipes will go bad. Neither will your various mobile devices, including camera, run of out of power in the off-chance that the outage lasts more than a few hours. This option packs enough power even for outdoor activities.
The simplicity and efficiency of the Goal Zero Yeti 1250 put it at par with other industry giants. It boasts a high-capacity 1200wh battery with more than 100 amp hours of continuous use. It's capable of powering a few laptops and a
mini-fridge
. Just because you're off the grid doesn't mean you have to contend with hot drinks. The battery can withstand years of recharge cycles, meaning that it'll provide you and your posse with several years of clean, efficient power.
Expand to see more
Compared to cheap, off-brand models, it features several outlet ports so you can connect several devices to charge at the same time. There are 3 high-speed USB ports, a 12V port, and another three AC ports. Like the other models, there are several methods of charging it. You can resort to using solar panels, connect it directly to a power outlet, or out of desperation, use the 12V car adapter. Irrespective of your preferred recharging method, you'll enjoy fast charging times. And being an eco-friendly option, it spares you the agony of dealing with dangerous fumes, ear-piercing noises, and messy oils and gasoline.

For homeowners and outdoor enthusiasts in search of a rugged, high-performance, and durable solar generator, your search stops with this option. While it can't power an entire house, it's a perfect choice for powering essential appliances around the house and on the camping expedition. Plus, it's a cinch to use and budget-friendly.

Affordable
Innovative design
Powerful performance
Quick charging time
Multiple charging options
Heavy at 116 pounds
Not as powerful as other models
Criteria for Choosing the Best Solar Generators
Performance
The essence of any solar generator is to meet all your power needs in case of a power outage or when you go off-grid. And to effectively harness the power of the sun, it has to have efficient, high-performance solar panels, of which you have a choice of three; monocrystalline panels, polycrystalline panels, and thin film panels.
Monocrystalline panels are up to 20 percent efficient and capable of operating in extreme weathers. Polycrystalline panels fall slightly behind monocrystalline panels considering they have several crystals. The last on this list is obviously thin film panels. Choose in accordance with your power needs.
The capacity of the Battery
A second deciding factor has got to be the capacity of the battery, measured in watt-hours. The higher the battery capacity the more devices you'll be able to operate, sometimes simultaneously. Operating high wattage appliances such as mini fridges will require a solar generator with a much bigger battery capacity.
It helps to know your total power expenditure and multiply the figure by the number of days you expect to be off-grid to help you narrow down your search.
Physical Dimensions
This refers to the weight and size of the generator, two important features that also have a significant bearing on ease of use. If you want a portable option, go for one that's both lightweight and compact. It'll not only be easy to move from one place to another but also easy to store when the sun goes down.
It'll take minimal storage space in the garage or wherever you decide to keep when the day is done. A lightweight and compact option is also easy to adjust to ensure optimal exposure to the sun. Of course, the physical dimensions won't be overly important if you don't want a portable model. And even if it's going to be static, is it large enough to capture solar power as much as possible?
Additional Features
Look at the construction quality. To get the best out of your generator, ensure its high-quality and durable so it can withstand the test of time and harshest climatic conditions.
Also, if it has several outlets capable of supporting several devices, you'll be able to charge several at the same time. A fast charging solar generator can also be helpful for those in areas with few hours of sunshine. And of course, the price should be commensurate with its performance.
Frequently Asked Questions
Q: Are they capable of powering a home?
A: For small homes with average power demands, yes. However, running an entire house on solar power can be an expensive affair in the short run considering the high cost of acquiring and installing the necessary hardware.
Q: What are the different ways of recharging a solar generator?

A: There are up to three different ways of charging it. The most obvious is by using solar panels. The second method is plugging it into a power outlet, and the last option is connecting it to the car's 12V adapter.
Conclusion
Our list features the industry's most powerful, efficient, and safe solar generators. There is something for everyone, from the homeowner looking for economical backup power in case of a power outage to the outdoor enthusiast looking for a powerful, portable model.
With these, you can keep the fridge running and your mobile devices running smoothly for as long as it takes. Essentially, this buying guide takes the hard work and time out of the decision-making process, making it easy and quick for you. It covers all the bases and will leave you thoroughly informed.
Subscribe to our newsletter