Best Wood Chippers Reviews & Ratings
last updated:
Oct 09, 2018
One of the first steps to keeping your yard pristine and picturesque is adding to it freshly-shredded chips or ridding it off fallen branches, twigs, shrubbery, and brush. It's in this endeavor that a wood chipper becomes an indispensable part of your garage, helping you to quickly and easily decimate or eliminate overgrown bushes and thick limbs. Compared to using traditional methods, a wood chipper works much faster, requires minimal effort and supervision, and, depending on the weight and physical dimensions can be highly portable.
Our Top 3 Picks
[srpshortcode id="18584″][/srpshortcode][srpshortcode id="18585″][/srpshortcode][srpshortcode id="18586″][/srpshortcode]
In light of the continued proliferation of wood chippers on the market, choosing a suitable model can be an uphill task. To help with the task, we've dutifully put together reviews of ten of the best models the market has to offer. Before diving into that though, take a look at the factors to keep in mind while shopping.
10 Best Wood Chippers
1. Sun Joe CJ601E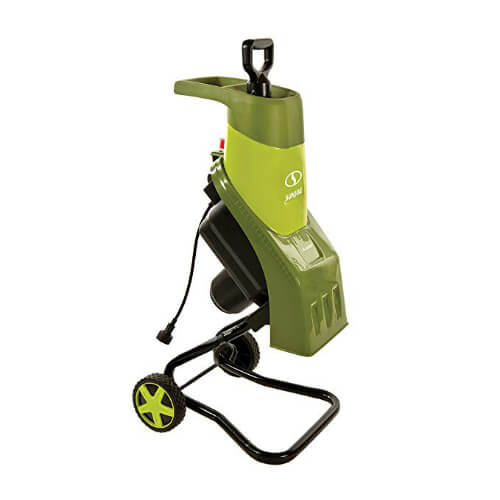 The Sun Joe CJ601E is a no-frills choice that should be up your alley if you're looking for a cost-effective, lightweight, easy-to-store, option. Among other things, it is an epitome of excellent craftsmanship, performing as advertised to quickly, effortlessly and efficiently mulch brush, leaves, and branches up to 1.5-inches thick. Additionally, the wood chipper is a breeze to use and because of its lightweight and slim profile, it takes up minimal storage space in your garage.

It has all the hallmark features of a high-end option. Compared to cheap, off-brand models masquerading as wood chipper on the market, this model isn't a slouch when it comes to performance. It packs a reliable and high-performance 14-Amp motor capable of effortlessly and quickly generating speeds of up to 4,300 revolutions per minute, enabling the user to finish their wood chipping tasks effortlessly and in a fraction of the time it would take weak, run-of-the-brand models on the market. It takes the time and effort away from chipping brush, leaves, branches, wooden sticks, and limbs that are up to 1-1/2-inches in thickness.

Expand to see more
Reducing, reusing, and recycling yard debris into nutrient-rich garden mulch has never been easier. A 16:1 reduction ratio goes a long way in helping you reduce yard waste, leaving your yard a lot cleaner and neater than it originally was. Compared to its heavy and sometimes bulky gas-powered counterparts, it is lightweight and boasts a slim profile, which, coupled with the fact that it incorporates 6 heavy-duty, all-terrain wheels, makes it one of the most portable wood chippers on the market.

Additional noteworthy features and specs include a generous 24-month warranty, a confidence-boosting ETL certification, and a safety hopper that has a locking knob for preventing the motor from accidentally starting when opened. And since it eco-friendly, it's safe to use around children and pets.

In addition to being an epitome of reliability, efficiency, and high-performance, the cost-effective Sun Joe CJ601E is also a cinch to use and starts instantly. Coupled with its 16:1 reduction ratio, its near grave-quiet operation, and portability, it's easy to appreciate why it's an all-time favorite of homeowners the world over.


Works powerfully and efficiently
Mulches perfectly
Cost-effective
Heavy-duty construction
2. Tazz 18493 K32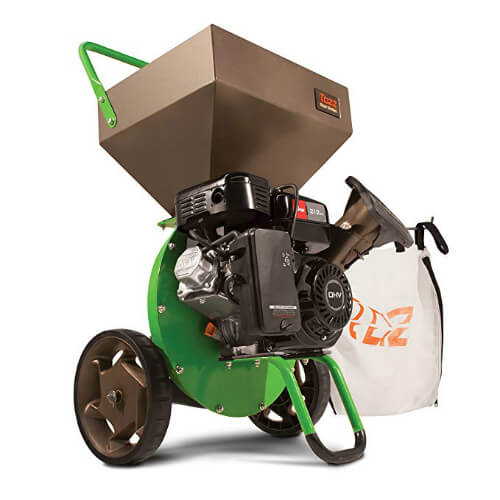 For homeowners with eyes keenly trained on acquiring a high-end, all-around, evenly distributed wood chipper for use around the house, let's introduce you to the wonder that's the Tazz 18493 K32. This is a workhorse, easily excelling at the tough and challenging wood chipping tasks its closest competitors struggle to finish. It has a reputation for achieving clean, efficient, and quick results, thanks to a massively powerful 212cc 4-cycle engine and an impressive 3-inch chipping capacity.

Surprisingly, it doesn't leave a hole in your pocket with an exorbitant price tag in spite of its exceptional performance, durability, and practicality. Continue reading for an in-depth review of the wood chipper.

Featuring a powerful 212cc, 4-cycle engine, you're sure you can invariably rely on the Tazz 18493 to get the job done quickly and efficiently all year around. The engine supplies more than enough power to make short and quick work of wood chipping tasks, making the wood chipper an excellent choice for light- to heavy-duty projects both around the house and on a commercial scale.
Expand to see more
However long you keep it running, you won't experience even the slightest hesitation, choking, or struggle while chowing through branches, brush, and twigs up to 3-inches in thickness. The wood chipper's unparalleled performance means it's the go-to tool for most seasoned and greenhorn homeowners looking to reduce yard waste by a reducing ratio of up to 20:1.

One glaring downside of the wood chipper is its weight. While it's compact with dimensions of 25.4 by 29.9 by 51 inches, it nonetheless weighs a whopping 121 pounds. Nonetheless, it offsets the weight disadvantage by incorporating long-lasting 11-inch no-flat wheels for hassle-free portability.

Other features that stand out include an eye-popping 60-month warranty, a handy debris bag attachment for conveniently depositing freshly-shredded chips into a zippered fabric bag, consequently easing the process of disposing off it. To these features add an ingenious limb chute, a durable steel hopper.

The ingenious and durable design and construction of the Tazz 18493 guarantee it provides you with several years of flawless and hassle-free wood chipping.

Highly portable
Slim and lightweight profile
A powerful 212cc engine for effortless performance
Not as durable
Susceptible to jamming
3. Patriot Products CSV-3100B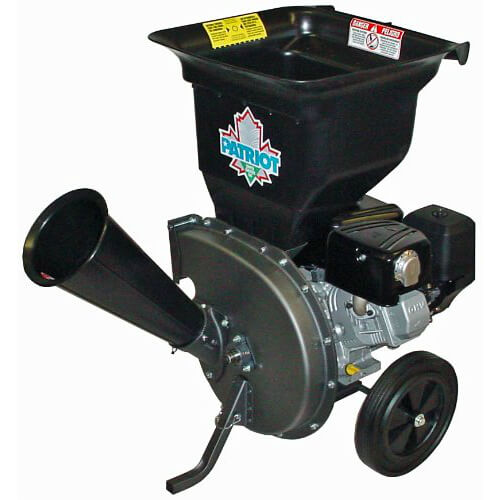 If you're anything like us, you'll immediately be won over by the heavy-duty performance and brute force the Patriot Products CSV-3100B so easily offers. Powered by a high-performance 10-HP Briggs & Stratton gas-powered engine, other wood chippers pale into significance compared to the resultant performance, which is why it comes highly recommended for heavy-duty wood chipping applications around the house. Couple the powerful engine, the heavy-duty construction, remarkable chipping capacity, and ease of use and you have yourself a pro-grade machine capable of ruthlessly decimating the thickest of brush, branches, and twigs. Roll up your sleeves for an in-depth but brief review of the wood chipper.

A unique selling point of the wood chipper is its 306cc, 10-HP Briggs & Stratton engine. The direct drive design of the engine and the sheer power it generates is directly transmitted to the chipping knives and the 6-steel Y-hammers. The result is a machine that effortlessly, quickly, and efficiently decimates twigs, branches, and brush up to 3-inches in thickness into coin-sized chips, reducing their size by up to 20 times their original size. To further aid the smooth performance, the wood chipper incorporates a large capacity of 14 inches by 16 inches hopper that provides for continuous, uninterrupted chipping of various plant materials.

Expand to see more
There are a few additional features that contribute to the efficient and its impressive performance. The first is the side discharge that eliminates the need for incessantly moving the machine, especially considering its heavy at 139 pounds. A second feature is the wheels that allow for quick and hassle-free portability and a 36-month warranty that covers the user against deficiencies in material and craftsmanship.

For a hassle-free wood chipping experience, we highly recommend you seriously consider the Patriot Products CSV-3100B. The unit is feature-rich and comes with a powerful motor and handy feed system for the best performance.

A cinch to use
Chows powerfully yet quietly
Unique and elegant design
Exceptional feed system
Poor design of the bagging system
4. ES1600 14-Amp Electric Chipper / Shredder / Mulcher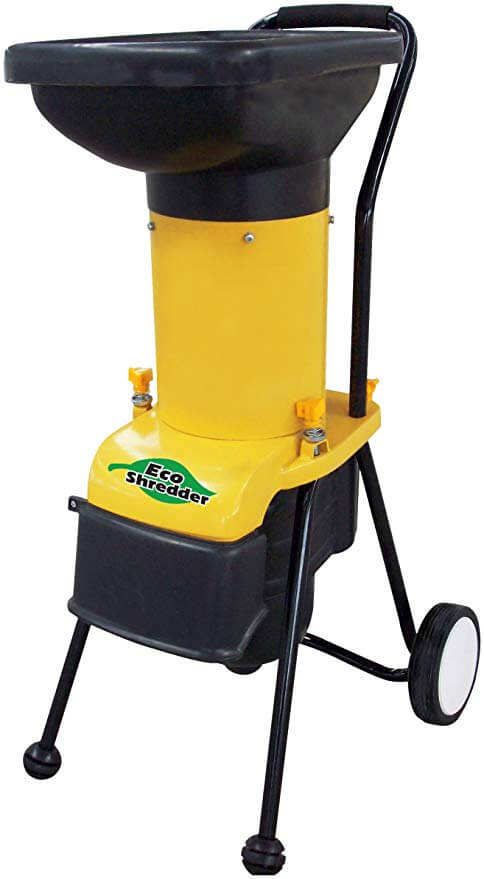 In spite of the simplistic, humdrum appearance of the ES1600, it packs a punch and seeing as it comes from one of the industry doyens, ticks all the right boxes. The brand pulls all the stops to provide the user with powerful, trouble-free, quiet, and quick performance. To these slew of attributes add the pro-grade construction quality that implies the wood chipper has the requisite ruggedness and sturdiness to withstand the test of time and years of heavy-duty, extreme use in multiple settings.

It boasts a high-performance and powerful 14-Amp electric motor that substantially enhances productivity, enabling you to achieve an outstanding reduction ratio of 10:1 for the material waste in your yard or garden. It also boasts triple action, meaning that in addition to chipping, it's also capable of cutting, shredding, and mulching, making it an economical and space-saving choice for use around the home.

Expand to see more
In spite of packing a powerful 2.5-HP motor capable of impressive speeds of up to 2,800 revolutions per minute, it works efficiently and remarkably quietly. For safety purposes, the chipper has an overload protection switch that automatically turns it off in case of jamming, thereby guaranteeing consistency and uniformity in its results. Moving it around the yard is a breeze as it weighs a paltry 70.8 pounds and measures 22 by 22 by 24 inches. Portability will never be an issue with the chipper as it also has 7-inch wheels and ergonomically designed handle.

The ES1600 is an eco-friendly way of cleaning up the yard of branches, leaves, and twigs. With a cutting capacity of 1-3/8-inches, a powerful 14-Amp, 2.5-HP motor, and 3-cycle shredding and mulching system to boot, you can never go wrong with it.

Powerful and productive motor
Arrives with extra blades
Versatile and quiet
Starts and stops easily
Powerful but slow performance
5. Earthquake 9060300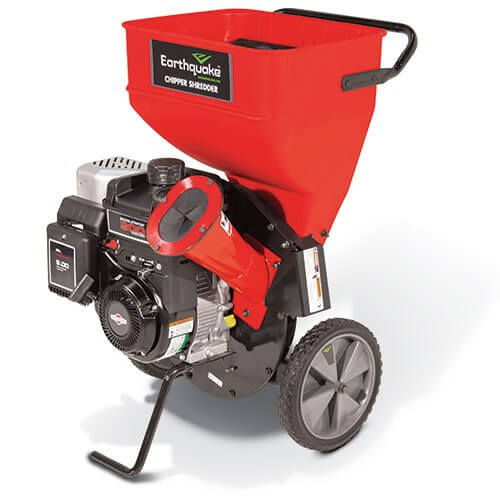 Chipping thick and tough pieces of wood, twigs, branches, and brush requires the use of an equally tough and rugged chipper, built to withstand the rigors of the trade without the slightest performance hitch. If you're looking for an option that fits that description to a T, then the Earthquake 9060300 is the product for you. A few of the features that make it immensely endearing the vast majority of homeowners are the 3-inch chipping capacity, fast and effortless performance thanks to the heavy-duty chipping knives and hammers, a remarkable reduction ratio of 20:1 and a generous 60-month warranty.

A powerful 205cc 4-Cycle Briggs engine provides smooth and fast speeds to chipping up tough and abrasive pieces of wood, shrubs, and branches. A chipping capacity of 3-inch make it a perfect choice for handling a wide range of woods, branches, and twigs. The versatility of the unit is hard to overlook. In addition to chipping wood, the unit is also a solid choice for shredding leaves and creating mulch. The overall construction quality and the powerful engine minimize the likelihood of performance hitches or choking, as is often the case with flimsy, run-of-the-mill options on the market.

Expand to see more
For convenience, it comes with a long-lasting metal feed chute that substantially contributes to the optimal and flawless performance. Weighing about 107 pounds and measuring 27 by 23.5 by 34.2 inches, the product is neither too heavy nor bulky to compromise portability over large swaths of large. Plus, it comes with two, no-flat all-terrain wheels for easy movement around the yard or garden. Other features include a conveniently large metal cone whose strategic placement eliminates too much bending over or leaning.

This shredder is bound to leave your yard clean after just a few minutes. It's easy to use, cost-effective and has sturdy and robust hammers and knives for a trouble-free, effortless performance.

Features robust, reliable engine
Heavy-duty construction for durability
Instant start
High chipping capacity
Very portable
6. Champion 3-Inch Portable Chipper-Shredder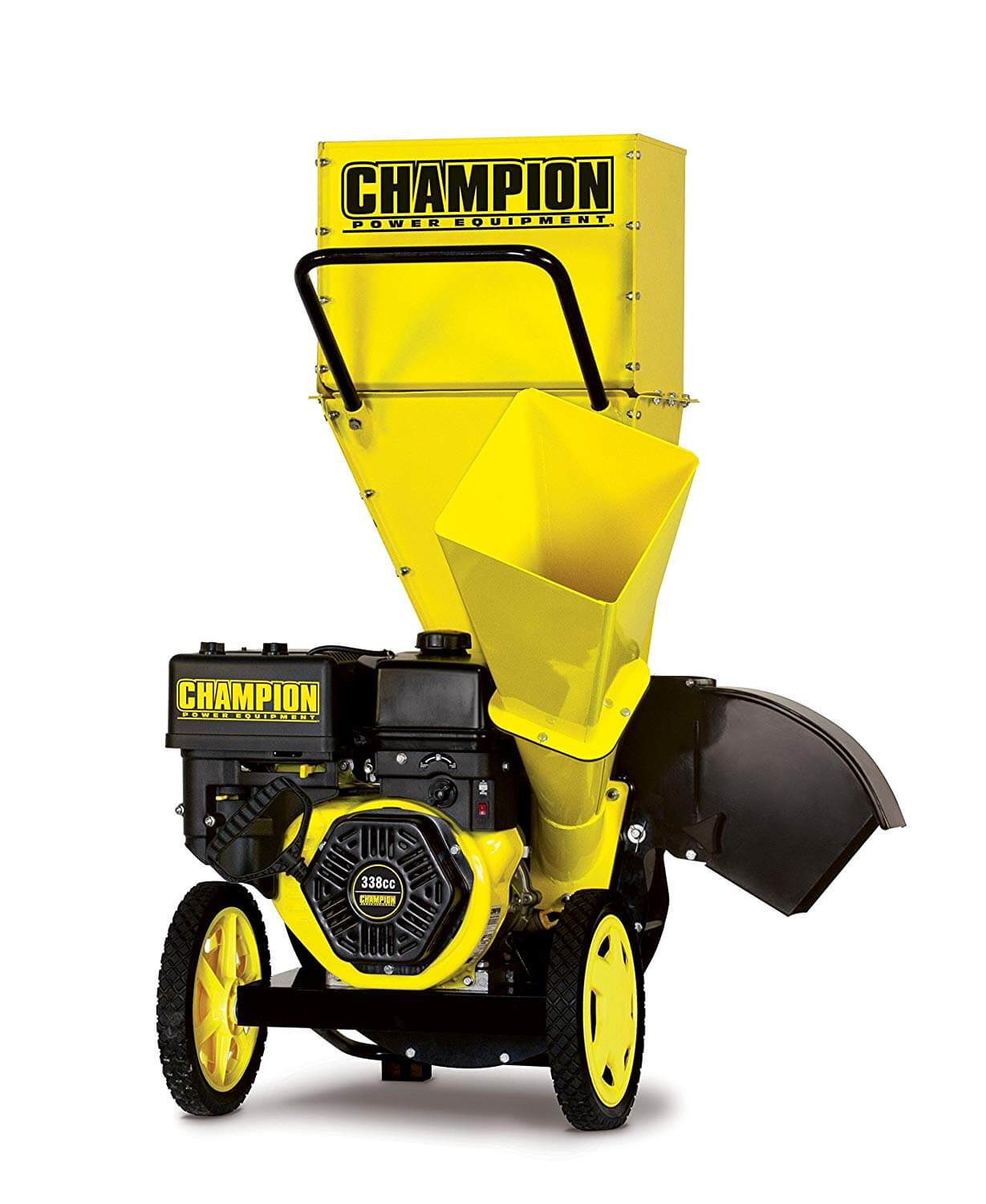 Another high-quality, durable, practical, and all-around chipper that can do it all is the Champion shredder. The powerful engine and the pro-grade construction of the tall feeder enable it to efficiently handle light- to heavy-duty chipping applications, meaning that it doesn't clog up, choke, or experience performance glitches when handling branches, twigs, and shrubberies up to 1/2-inches in thickness. And despite the whopping 190 pounds weight, portability won't be problematic with the product's never-flat tires, integrated handle, and vertical design. Bottom line is that it is the epitome of powerful and flawless performance, heavy-duty construction, versatility, and convenience.

The powerful 338cc Champion single-cylinder OHV engine provides more than enough power for everyday chipping and shredding of branches, twigs, brush, and shrubbery around the house. Being a gas-powered model, this shredder overshadows its electric counterparts in both power and efficiency, and will invariably enable you to quickly and easily chip and shred shrubbery, leaves, and other debris on the yard up to 1/2 inches in thickness. In light of its ability to handle all the aforementioned materials, the wood chipper also joins a short list of some of the most versatile options on the market.

Expand to see more
Its flawless and quick performance is entirely attributable to the powerful 338cc champion single-cylinder OHV engine and the inclusion of heavy-duty, hardened steel blades. It's not every day that you unearth a wood chipper that seamlessly and perfectly combines these qualities and still feature a budget-friendly price tag.

Maneuvring and storing the wood chipper is a breeze because compared to most of its counterparts flooding the market, it features two heavy-duty never-flat wheels, an integrated handle, and boasts an innovative versatile design. Add the handy 2-bushel collection bag to the mix and you have a user-friendly wood chipper that takes nearly all the time and effort away from any yard cleaning exercise, partly explaining why it's an all-time favorite of value-conscious users.

Smooth and flawless operation
Rugged, long-lasting construction
Has a handy collection bag
Very portable and maneuvrable
7. Patriot Products CSV-2515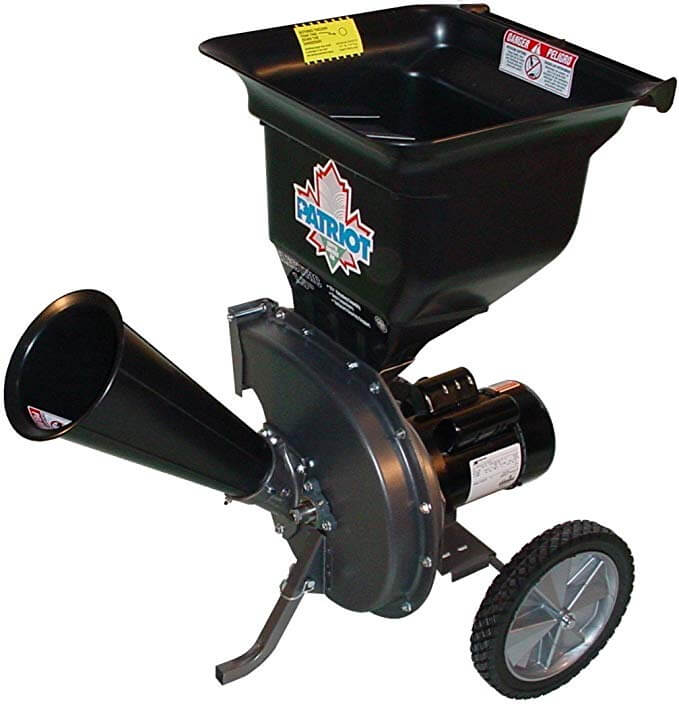 For homeowners in search of powerful yet budget-friendly option for decimating or conquering thick and tough piles of wood, leaves, branches, and twigs up to 2-1/2-inches in diameter, let's introduce you to the Patriot Products CSV-2515. A lightweight and compact design and the fact that it comes with two heavy-duty, never flat tires provide for outstanding portability. Being electric, the wood chipper is also a cinch to use, clean and maintain, which a far cry from the cumbersomeness and frustration of using its gas-powered counterparts. Plus, it comes with a standard collection bag for easy and quick disposal of the newly-shredded chips.

A powerful 14-Amp motor makes short, quick, and easy work of a wide range of yard wastes including but not limited to brush, branches, twigs, and leaves. Provided the wooden material is up to 2-1/2-inches in thickness, it can't put up any significant resistance to the unit's devouring prowess. You'll also like the ease of assembling and getting it up and running. Compared to its gas-powered counterparts that require oil and gas, all you need to get the electricity-powered unit running is an extension cord and a power outlet.

Expand to see more
By simply flipping a switch, the CSV-2515's engine quickly and reliably roars to life, running smoothly and quietly in spite of any loads. Like mentioned earlier, the wood chipper is lightweight and compact, weighing just 95 pounds and featuring two oversized wheels and a handy, ergonomically designed handle for hassle-free portability and storage.

Unlike cheap, humdrum models that will easily jam and choke on wet, green leaves, this model doesn't have the slightest problem with those, thanks to the large hopper. There is also a convenient collection bag for hassle-free clean-up and you get to enjoy a generous 24-month warranty from the date of purchase.

Overall, the Patriot Products CSV-2515 is a solid and suitable choice for heavy-duty wood chipping tasks around the house. It's cost-effective and spares you the trouble of hassling with gas and oil.

Easy to use, lightweight, and portable
High chipping capacity
Powerful performance
Portable with large-capacity hopper
Expensive
A disappointing reduction ratio of 8:1
8. Tazz Chipper Shredders 30520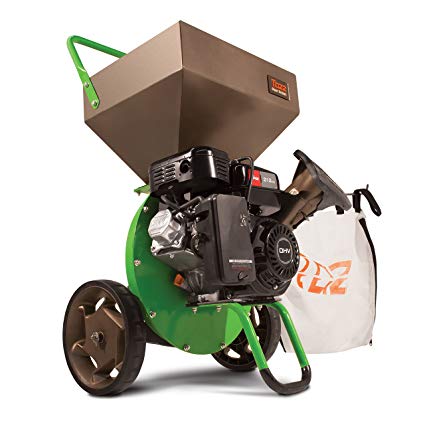 For less than a thousand bucks you get to sample what industry enthusiasts fondly and wax lyrically describe as incredible and smooth performance. The Tazz Chipper Shredders 30520 may have a deceptively lightweight and slim profile but beyond that is raw and unmatched power for decimating and devouring a plethora of garden and yard materials. Whether it's the branches, the twigs, shrubbery, bushes, or other types of vegetation, the wood chipper packs nearly all the auxiliary features to reduce them to coin-sized chips in no time at all, and with minimal effort on your part.
Like the vast majority of high-end options, it comes with a powerful engine – a 212cc Viper – for quickly and easily reducing branches up to 3-inches in diameter and leaves to coin-sized ships in just a few seconds. A reduction ratio of 20:1 coupled with
heavy-duty knives
and hammers in the grinding means the wood chipper is a perfect choice for use on large tracks of land. The smooth, quiet, and, reliable engine, like the rest of it, is professionally crafted from industrial-grade materials, thereby guaranteeing pro-grade performance all year long. The likelihood of its choking or jamming are minimal at best.
Expand to see more
To further make your work easy, the chipper features a heavy-duty and durable debris bag for efficient collection and disposal of the resultant chips or mulch. The bag has a zippered bottom, enabling you to quickly empty the contents and a dock-and-lock connector for a quick and hassle-free hookup. The convenient placement of the rugged steel hopper at a height of 34 inches substantially reduces the effort it takes to feed the limb chute.

For efficient portability, transportation, and storage, the wood chipper features two 11-inch never flat tires and a compact, space-saving design. Plus, each purchase accords you a confidence-boosting 60-month warranty, allowing you to attain full productivity in the course of using the product.

In all, the Tazz shredder has all the features and specs for quickly and effortlessly eating up and spitting out all types of yard material, leaving it clean and usable.

Features powerful, effortless and quick performance
Highly portable with 11-inch, never flat wheels
Easy to use
Cost-effective
9. Greenworks 24052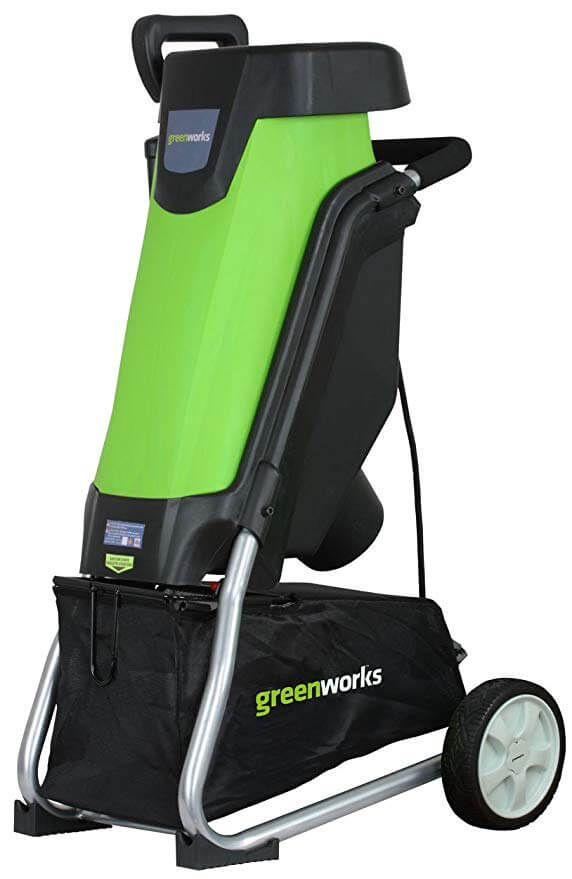 Unearthing an electric wood chipper capable of holding a candle to the immense and flawless performance of gas-powered models is no mean fete. Yet, Greenworks, one of the customer-trusted and highly reputed industry manages to achieve exactly that with its flagship option, the Greenworks 24052. The pro-grade performance, practicality, affordability, and durability of the wood chipper deservingly earn it a spot on the list of ten of the best wood chippers on the market and a spot in most
garages
around the world. And we'll tell you why.
A powerful 15-amp motor effortlessly drives the hammers and heavy-duty blades in the
grinding
chamber to quickly shred and chip various yard debris in a fraction of the time it takes other flimsy, run-of-the-mill options out there. The vast majority of homeowners also find the product's reliability and ease of use a huge plus in helping with clearing yard debris. In addition to leaves, shrubbery, and twigs, the wood chipper also makes short and quick work of branches up to 1-3/8-inches in thickness, thanks to the impressive 4,000 revolutions per minute speeds.
Expand to see more
If the outstanding performance of the unit doesn't cut it for you, maybe the high-quality and durable construction, which also informs the generous 48-month warranty, will do the trick. Greenworks uses first-rate materials for the construction of the whole package. The result if a machine that can easily stand the test of time and withstand heavy-duty use for several years on end.

The 4-year warranty guarantees that any and all deficiencies in material and craftsmanship will be addressed without any additional charges to you.

For convenience, relocating, transporting or storing it is a breeze as it incorporates two heavy-duty, never flat tires and an ergonomically designed handle. Given the ingenious location of the push paddle, you won't experience any difficulties adding debris and the heavy-duty collection bag enables quick and hassle-free disposal of the chips.

For homeowners who need assistance chipping yard debris without much hassle, we can't recommend this option enough. The powerful motor, tough and durable construction, ease of use, and an impressive reduction ratio are hard to beat.

Portable and easy to maneuvre
Superior cutting capacity
Powerful and reliable performance for best results
Has additional blades
10. Power Smart PowerSmart PS10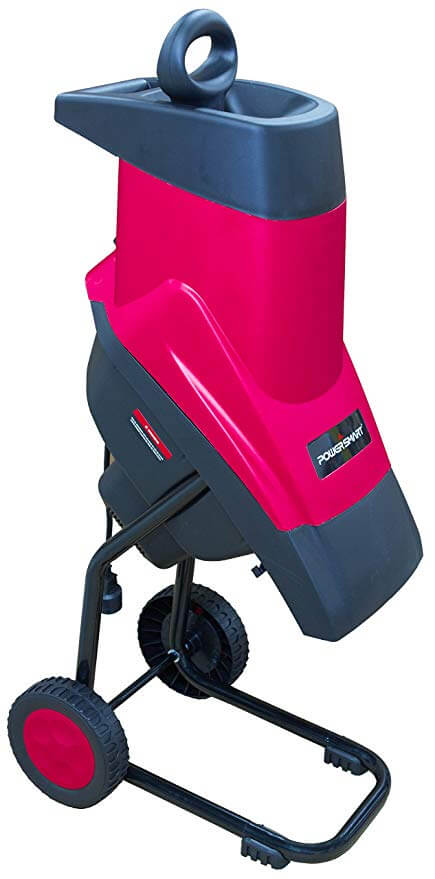 Compact and powerful, the Power Smart PowerSmart PS10 is very effective at decimating and reducing yard debris, including branches, shrubbery, and twigs, to chip for easy disposal or for creating mulch. This option impressively stacks up against costly, high-end models that surprisingly don't offer any distinguishing features. Some of its distinguishing features, while not very different from its competitors on this list, include a powerful 15-Amp motor capable of 4,500 RPM, a cutting capacity of 1-5/8-inches and a lightweight, compact and highly portable design. Continue reading for a brief but comprehensive review of the machine.

The performance and convenience features closely mirror those of our previous pick. Like the former, this model has a high-performance 15-amp motor outputting impressive speeds of up to 4,500 revolutions per minute. The power and the attendant speeds spell doom for yard debris with diameters up to 1-5/8-inches in thickness. While it's optimized for devouring mature, dried out debris, it's equally capable of efficiently tackling pliable debris provided they're fed into the machine slowly.

Expand to see more
For convenience, the wood chipper weighs just 31 pounds has physical dimensions 12 inches by 17 inches by 24 inches. It is hands down one of the most lightweight and slim profile wood chippers on and outside of this list. To that add the durable 6-inch wheels and you have a product that's not only highly portable but also easy to transport and store after a whole day of chipping various yard debris. And that's on top of the ergonomically designed and user-friendly handle which provides for effortless maneuvrability and controllability around the yard.

Additional stand out features include an overload protection system and a convenient hopper height 37 inches for trouble-free and easy loading of debris, twigs, and branches. To eliminate the likelihood of the blades and the machine itself inadvertently turning or spinning when switched on, the manufacturer thoughtfully includes a safety locking knob.

Whether you need a wood chipper for light-, medium-, or heavy-duty chipping tasks, you can always count on the Power Smart PowerSmart PS10. It's a feature-rich option that also budget-friendly and a cinch to use.

Durable, high-quality construction
Powerful but quiet
Lightweight and easy to use
Impressive chipping capacity of 1-5/8-inches
Not ideal for leaves
No chute extension
Criteria for Choosing the Best Wood Chippers
Power Source
Wood chippers are either gas-powered or corded, each model coming with its fair share of pros and cons. Gas-powered models have the advantage of flawless, quick, and efficient performance seeing as they pack incredible amounts of power. Essentially, they take the time and effort away chipping, shredding or mulching the toughest and thickest yard materials and debris.
The downside is that they are typically heavy and bulky, expensive, noisy, and cumbersome to maintain. Their electric counterparts, on the other hand, are nearly maintenance-free, inexpensive, highly portable, and easy to use, among other benefits. Consider these pros and cons before buying.
Performance
A second imperative consideration is the extent to which the wood chipper can address your needs. Ideally, it should feature a decent chipping capable so it's able to handle all the yard materials quickly and easily. A general rule of thumb is that models with higher amperage are more powerful.
Consequently, if you have particularly thick or tough branches, a model with higher amperage would be perfect. It should have a superior reduction ratio and be versatile enough to handle a wide range of yard materials including but not limited to branches, twigs, brush, and shrubbery.
Convenience
In additional to being powerful, a wood chipper needs to be easy to use. To this end, pay attention to the weight and profile and how this affects portability, transportation, and ease of storage. A model with a collection bag makes it easy to collect the freshly-shredded chips for easy disposal or reuse on the garden. Another convenience feature is the ease of starting the wood chipper.
Electric models start easily with the press of a button while their gas-powered models will require mixing gas and oil.
Safety
Wood chippers have fast-spinning blades and hammers for reducing even the thickest and toughest branches, twigs, shrubbery, and brush into chips in a matter of minutes. In light of the fast speeds and the tough yard debris, they're prone to jamming and overloading at times, which can expose the user to grave danger. To keep any fatal or injurious possibilities at bay, some feature a paddle for pushing in the branches and debris while others have safety switches and safety locks on the hopper for safe clearing.
Others have an auto-shutoff feature to prevent jamming and overfeeding. To stay, insist on a model with at one if not all of these and several more safety features.
Frequently Asked Questions
Q: Do I need to take safety precautions while using a wood chipper?
A: As is the case with the vast majority of power tools, you need to prioritize safety when using one. For instance, it's recommended that you use a broomstick for pushing the yard debris into the chute to prevent the hand from inadvertently entering the grinding chamber. Tie your hair, wear reasonably tight clothing, safety goggles, ear protection, a hard hat, and gloves at all times.
Q: Between gas- and electricity-powered options, which one is better to use around the house?
A: The two models come with their unique advantages and disadvantages that appeal differently to various people. An electric chipper offers incredible efficiency, affordability, and portability and is considerably lighter and more compact.
However, they're less powerful and have restricted reach. Gas-powered models, on the other hand, are infinitely powerful. On the flip side, they're noisy, high-maintenance, heavy, and expensive. Choose accordingly.
Conclusion
Now that you're armed to the teeth with the most relevant information and have gained great insight on wood chippers, based on our top ten picks, selecting one – or two – from the market should now be a breeze. A value-conscious user will train their eyes on a highly functional, high-performance, durable, easy to use, and safe wood chipper. As an anecdotal advice, consider your needs before committing your money.
Subscribe to our newsletter