10 Best Composite Toe Boots Reviewed & Tested
last updated:
Oct 23, 2018
When purchasing protective work wear, we tend to pay more attention to other parts of our bodies and ignore our feet which also need protection. This is often a fatal mistake as a 2005 U.S. Bureau of Labor Statistics study shows that about 60,000-foot injuries occurred across the construction industry. This is a high number as 15% of these were fractures, bruises, sprains, and puncture woods. Moreover, most of these people were not wearing protective footwear.
To protect yourself from fractures or crushed feet which are the most common injuries in construction, we recommend you get composite toe boots. They also protect from cutting hazards such as chainsaws especially for individuals in the logging industry, and they support the ankles protecting against ankle sprains.
Our Top 3 Picks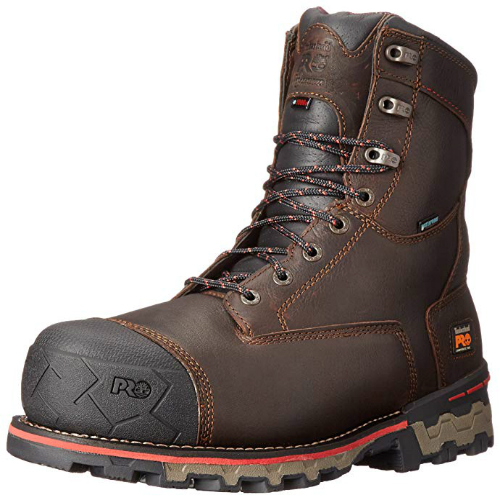 Timberland

Our rating
Quality
Price:

See Here



KEEN

Our rating
Comfortable
Price:

See Here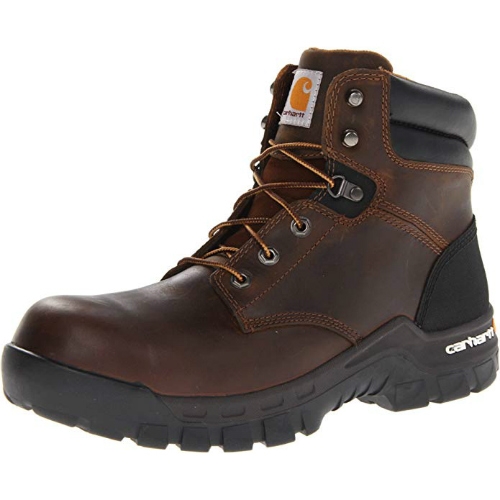 Carhartt

Our rating
Affordable
Price:

See Here


By and large, we recommend you get to know your composite toe boots better as they can make the difference between safety, and a grave foot injury. We realize that research can be wearisome given the many styles in the market, but it is the only way to ensure you get a quality product. However, you are in luck as we have some few recommendations and a buying guide.
But what exactly are composite toe boots?
Of all your body parts, your toes are the most vulnerable in any work environment partly because they are the lowest and most protruding part of your body but also because they get bumped and tripped a lot when walking. Now, to keep your toes safe, standard safety footwear should be able to carry 1,000kgs of resting mass and be able to withstand about 200 joules of impact. Steel toes are the most common amongst boot makers, but composite toe boots are equally good.
These boots comprise mainly of plastic, Kevlar, or carbon fiber toe caps that meet ANSI standards. Though they function the same as steel toe caps, they are lighter and thus more comfortable to use. Nevertheless, they happen to be thicker leading to a bulkier silhouette. Furthermore, they are ideal for cold areas as they cannot transfer heat or cold as they are nonmetallic and nonmagnetic. They are also suitable for use in metal-free areas such as places with electrical hazards.
10 Best Composite Toe Boots
1. Timberland PRO Men's Composite Boot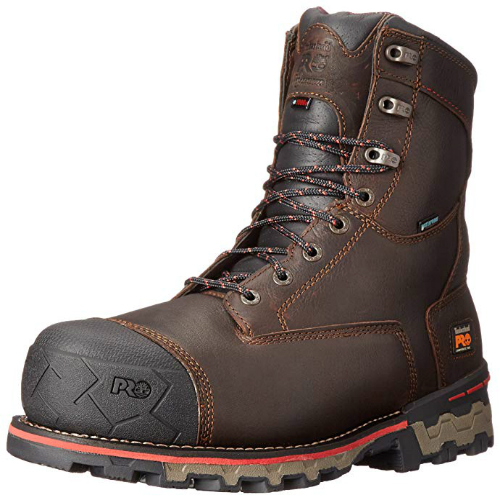 Timberland has set the bar high for quality, performance, and reliability of their work boots. The Timberland PRO 8" Boondock is no exception and lives up to all Timberland Standards. At 8" it will protect you when wading in water or other liquid material. The boot features an all leather premium upper that is waterproof and abrasion resistant. It also has a waterproof membrane for dry feet. They are for general use and trade works, and safety and comfort are their exciting features (more on this later).

Another fascinating aspect of the PRO 8" Boondock is the three-quarter combination welt and cement construction. You can expect the shoe to serve you well for a long time without needing repair.

Comfort – Seeing as composite toe boots are for trade work, they should be cozy increasing the productivity of yourself and workers. First, the PRO 8" Boondock has a flame-laminated 1000g thermolite that enhances the comfort of the boot without adding bulk. Therefore, you can use it in frigid cold conditions with utmost comfort. Moreover, there is the rigid heel cup that increases lateral stability, and an outstanding fingertip pull-on feature that eases entry. The fiberglass shank increases support, while the dual-density anti-fatigue tech absorbs shock while returning energy at critical zones.

Safety – First, the composite toe cap offers non-metallic protection for superior fit. The toe is CSA grade 1 and is electric shock resistant (ESR). Finally, the Vibram fire and ice anti-slip sole will keep you safe in slippery conditions.

Expand to see more
Product Features

Composite toe cap
Leather Uppers
1000g thermolite insulation
EH-rated
Padded collar
Oil resistant sole
Deep lugs for mud and ice protection

Who is it for?

Well, the Timberland PRO 8" Boondock is for individuals on a generous budget and are looking for a waterproof, and heat-insulated composite toe boot.

These will keep your feet dry and warm all day long
Easy to clean without wearing them off
Quite comfortable
It is pricey and loses its shape with each step you take
2. KEEN Utility Men's Sheridan Insulated Boot

If you are looking for a composite toe boot that is equally as good as our top pick but doesn't retail for such a high price, we recommend you get the Sheridan Insulated.

The Keen Sheridan is best suited for cold areas and working during winter thanks to the 600g Thinsulate. By working, we mean moving around and expect a few chills if you will be standing on the same spot for long periods. Moreover, it is a safe and comfortable shoe. First, the Composite toe meets all ASTM standards and is left and right asymmetrical resulting in a roomier toe box. The sole can absorb and repel all impact, and the shoe is EH-rated. Moreover, it features a 90® heel for added safety when climbing a ladder.

For comfort, there is the hydrophobic/hydrophilic 2-zone comfort tech and the Keen.Warm that ensures your feet are warm. Furthermore, there are multiple lacing options for maneuverability. Our best options though were the Keen.Dry, and the thermal heat shield footbed.

Keen Dry – This is a unique feature that allows moisture out but will not let water in. Thus, moisture will wick out increasing comfort and leaving your feet warm and dry.

Thermal heat shield footbed – First, this is removable for those instances where you don't need it. However, it is an excellent combination of softness on the outside, great support from the midsole, and a thermal foil barrier to keep the cold out and heat in.

Expand to see more
Product Features

Composite toe
Nubuck leather uppers
600g Thinsulate insulation
Rubber sole
Metal hooks and eyelets
Padded collar

Who is it for?

The Keen Utility Sheridan is for use during winter or in cold areas. They are also great for people who spend long hours on their feet.

They are warm and best for use in cold areas
The composite toe is fantastic as it is spacious
Comfortable especially for people who spend the whole day on their feet
Well, it takes about a week to break in and has a bulky appearance
3. Carhartt Men's CMF6366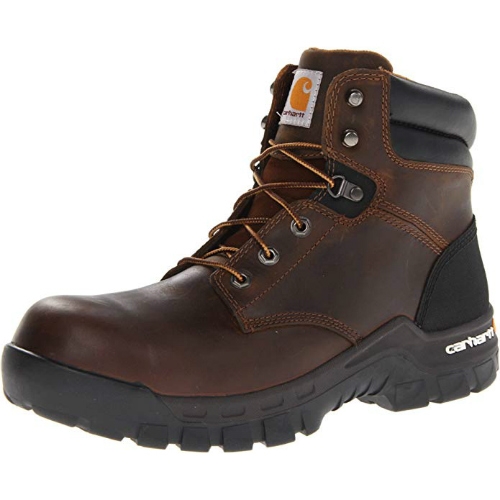 We think the CMF6366 deserves to be among the top three best composite toe boots on this list. First, it is affordable, and its high quality endears it to many workers. First, the Carhartt boot is on full grain leather which increases the durability but is only water resistant. Thus don't expect it to keep your feet dry when working in wet conditions. It will keep out some water though.

Another fascinating feature is the durability of this boot. Thanks to the cement construction, expect the boot to last for long periods and the style, allows you to use it as a casual shoe too. Nevertheless, our best features were comfort and safety.

Safety – Thanks to the composite toe, your toes will always be safe and highly unlikely to be crashed. Furthermore, the ladder lock on the bottom increases safety when using ladders. Finally, the boot is slip and oil resistant and is EH-rated.

Comfort – The CMF66 is built with coziness in mind, and it happens to be one comfortable work boot. First, it requires no break-in period and stretches with you throughout thanks to the rugged flex technology.

Moreover, the insole is thick and is great at shock absorption once combined with the EVA insole. Matter of factly it matches the shock absorption found on Keen Utility shoes. It is also stable thanks to the steel shank while deep grooves on the outer sole offer grip.

Expand to see more
Product Features

Leather Uppers
Rubber soles
Electric hazard protection
Water resistant
Cement construction
They meet ASTM requirements

Who is it for?

Seeing as the CMF6366 is only water resistant, we recommend it for people who work in dry conditions. It is also perfect for anyone who spends a lot of time on their feet or moving around.

The composite toe is light and non-conductive and thus best for use in the electrical industry
Affordable
They fit perfectly
The only shortcomings were that it is not waterproof and the ankle support is only moderate
4. Ariat Men's Workhog Trek

If you are on a budget, we recommend you get the Ariat boot. It happens to be a premium quality work shoe but at a not so premium price. The Trek 5" H2O packs all of Ariat's top of the line work footwear in a lace-up shoe aimed for the trade worker.

The round toe profile is roomier and comfortable and also happens to be lighter as it is a composite toe. Moreover, you will appreciate the premium full grain leather upper as it is water resistant and will keep your feet warm in any wet conditions. The book features metal hardware all through and nice hooks at the top for quick and easy lacing.

The boot is well cushioned to keep you comfortable for long hours. The ATS max tech is another fascinating feature of the Ariat, and it will increase the support for tough tasks and long hours. However, our best features were the shock absorption and extra wide shank.

Extra-wide shank – It increases stability and proper body posture thus reducing body fatigue. Thanks to this, you can work for extended periods of time.

Shock absorption –T hanks to the EVA midsole and the moisture wicking gel-cushioned footbed, your feet will not feel any impact or shock.

Expand to see more
Product Features

Duratread outer sole with a gel cushioned insole
Mesh lining
Leather Uppers
The platform is 1.25 inches
The shaft is about 5" from the arch

Who is it for?

This is best for loggers owing to comfort. Workers who spend long hours on their feet will find it hard too.

They are affordable and quite comfortable
The duratread outer sole is slip and oil resistant and also non-marking
They require very little time to break in
Sole durability may be an issue
6 Inch Waterproof Comp Toe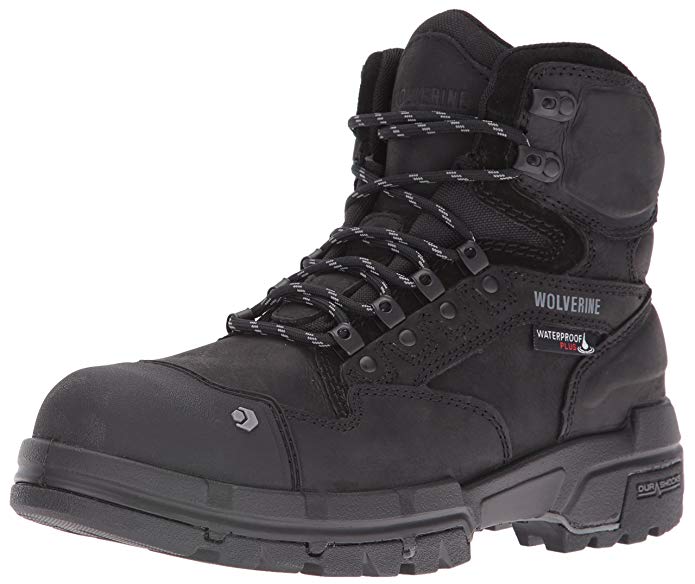 Wolverine has managed to claw its way to the top with its unique and quality shoes. The Legend 6" is one of the many products and the company's best composite toe work boot. First, the composite toe is roomier than a steel toe increasing comfort, but also lighter allowing you to work for more extended periods.

You will also appreciate the waterproof full-grain uppers as they will keep water out when working in wet conditions. The inner mesh lining is also waterproof and has moisture wicking features. Thus it allows moisture out without letting water in ensuring your feet are ever dry. Moreover, the shaft measures about 6" from the arch and therefore adds comfort. Nevertheless, the fascinating feature about this boot is what lies beneath your feet.

Comfort and Safety – First, the outsole is durable and can handle the abuse that is common in job sites. The deep grooves are ideal when working in muddy conditions, and the lugs on the bottom make it slip and oil resistant. As for comfort, the ortholite insole cushions every step you take while the midsole has compression sidewalls that absorb the shock.

H-plate suspension – Placed between your outsole and insole, the H-plate suspension system stabilizes your feet and makes you more productive when working on uneven surfaces. Furthermore, it propels you forward with the energy from your step thanks to the four independent quadrants.

Expand to see more
Product Features

Leather uppers
Rubber soles
H-plate suspension system
6" shaft

Who is it for?

If your feet are a tad large, say you wear a 10-1/2 shoe in which case 10 would be too small, and 11 too large, we suggest you get the Wolverine Legend 6" as they ran a bit large and will fit you well.

First, you will love how flexible the unit is straight out of the box
They are great looking and can be used as casual wear and are lightweight for those who spend long hours on their feet
These shoes run a tad large and will be great for people with large feet
They are comfortable thanks to the mesh lining that caresses your feet
Affordable
There are quality issues with the eyelets and hooks
6. Magnum Men's Precision Ultra Lite II

The Ultra Lite II have a simple look but are quite complex and a well-crafted pair of composite toe-boots.

First, there is the waterproof breathable membrane inside them that keeps water out but allows air in and out. Conversely, your feet will be dry throughout the workday. You will also love the composite too as it is lighter and roomier increasing comfort. Moreover, the Precision Ultra Lite II is a lace-up boot that gives it a better fit. The tongue is gusseted keeping debris out, and it is padded at the top alongside the collar to increase comfort and support. Our best features though were the M-P.A.C.T insole and the leather uppers.

Leather uppers – The full-grain leather uppers are deceptively simple-looking, but they have some significant benefits. First, they are waterproof and can also withstand wear and tear. It is supple, stays strong against strong winds, and flexible even when wet.

M-P.A.C.T insole – The insoles are made with contouring foam material and will take the shape of your foot for comfort. Moreover, they are soft and will absorb shock, so your feet don't have to, are moisture-wicking to keep your feet dry.

Expand to see more
Product Features

I-shield technology
Leather Uppers
Rubber soles
M-P.A.C.T insoles

Who is it for?

Owing to the electrical hazard protection, we recommend it for electricians.

The boot retails with a spare pair of laces making your life a lot easier
They are very light, and the quality is excellent
They are premium products at a not so premium price.
They repel water and dirt owing to the i-shield technology
Slip and oil resistant thanks to the outsole.
The boot leather is quite stiff the first few days and will take a while to break them in
7. Caterpillar Women's Ally 6"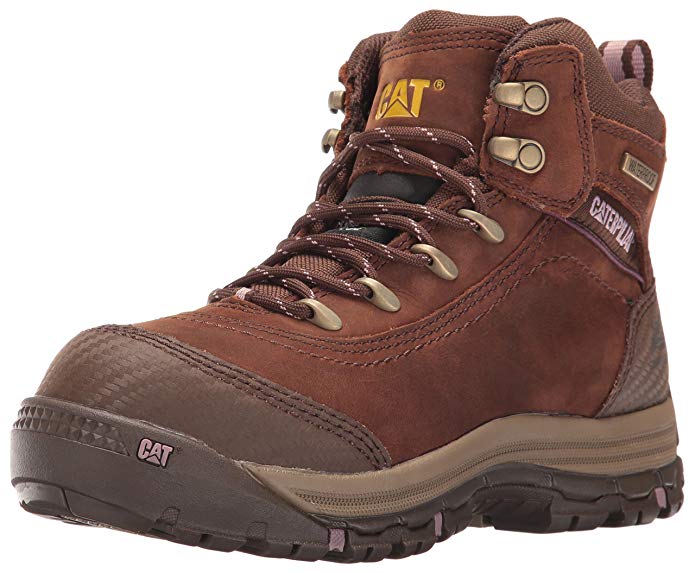 CAT machines are renowned for being strong, and durable and CAT work boots are made on the same principals. The boots feature a full grain leather upper, which is waterproof. Even the seams are sealed to reduce the likelihood of water seeping into the boot. To fortify the structure of the boot, the Ally 6" uses cement construction and thus boots can withstand wear and tear. The full-grain leather upper is durable too.

For traction, the unit features SRX rubber soles which are oil and slip resistant. Moreover, the deep grooves are handy in muddy conditions.

Furthermore, they are electric hazard rated up to 600 volts in dry conditions. You will also appreciate the hooks that make this unit easier to lace-up. Our best features though were the nano toe cap and the comfort.

Nano toe cap – Composite toe caps are light but often result in a bulkier silhouette. The nano composite toe cap, on the other hand, is equally strong but far lighter and thinner than the traditional composite toe cap resulting in an appealing design.

Comfort – The Caterpillar Women's Ally 6" is also built with comfort in mind. The top of the tongue and collar are padded for comfort and stability, and it features a moisture-wicking waterproof membrane that keeps your feet dry at all times. The strabel construction increases the durability, while the EASE tech in the midsole offers superior cushioning.

Expand to see more
Product Features

Leather Uppers
Rubber soles
6" shaft
Waterproof moisture wicking membrane
Nano composite toe
EH-rated

Who is it for?

These are women's work boots and are best for ladies in the electrical field. Moreover, we recommend them for ladies who spend long hours on their feet as they are lightweight.

They are well priced
They provide pretty good support and allow you to be on your feet the entire day with little fatigue
They are a great neutral color, unlike the everyday pink women's work boots
You cannot retread these boots
8. Thorogood Men's Boots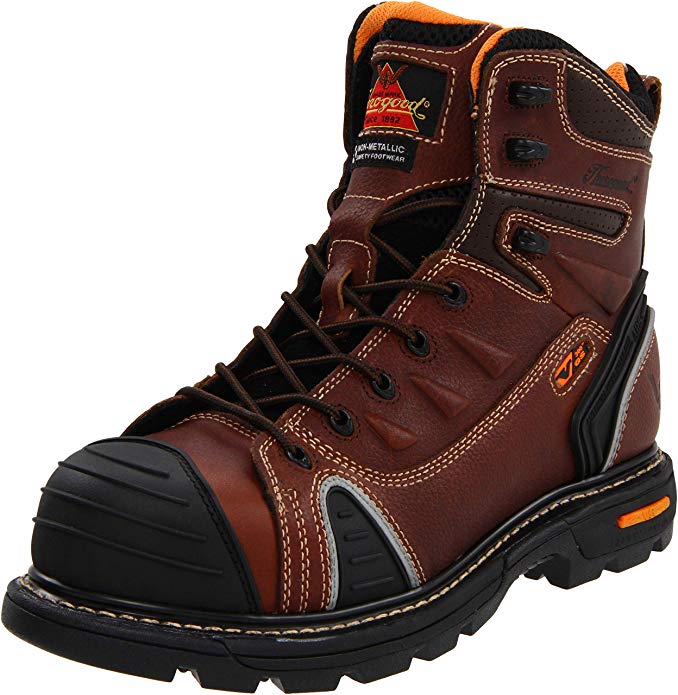 If you are in the market for exceptional feet protection, look no further than the Thorogood 804-4445 boots. These are ASTM 175 and CTA 75 approved which is something very few composite toes can match. It also happens to be a rare combination of safety, quality, and incredible comfort.

First, the unit meets ASTM standards for compression and impact. You can expect the composite toe cap to protect your toes from all types of hazards. Moreover, it is ideal for use where there are open-circuits thanks to the 18,000V electric hazard rating. What's more, the abrasion resistance on the rubber toe, the ankle guard and side bumps are unmatched. Finally, you will appreciate the outsole as it is Gen Flex II dual density which is perfect for working on uneven ground. Our best features though were the durability and comfort.

Comfort – Though there are still some shortcomings in that the shoe is a standard fitting unit and not ideal for people with wider feet, it is still mainly a comfortable shoe. The opening of the boot is 13 inches and thus wearing it or pulling it off will be a breeze. Moreover, the EVA insole cushions your feet, while the composite shank helps you keep an upright posture.

Durability – The Thorogood cannot be used for casual wear as it is not a looker, but you can tell that it is built to last. The uppers are full-grain leather with a storm-welt construction. The metal hardware is stitched down to reinforce strength, while the stitch down method makes it possible to replace the sole.

Expand to see more
Product Features

Meets ASTM standards
Oil and sleep resistant
Storm-welt construction
Leather Uppers
Composite toe and shank

Who is it for?

Given the 18,000V electric hazard rating protection, we recommend these boots for people who work around high voltage open circuits.

They require no break in period and are comfortable straight out the box
They are comfortable
Quite durable thanks to the stitch-down method
The boots aren't waterproof, nor are they water resistant, and lack insulation as well
9. Timberland PRO TITAN 6"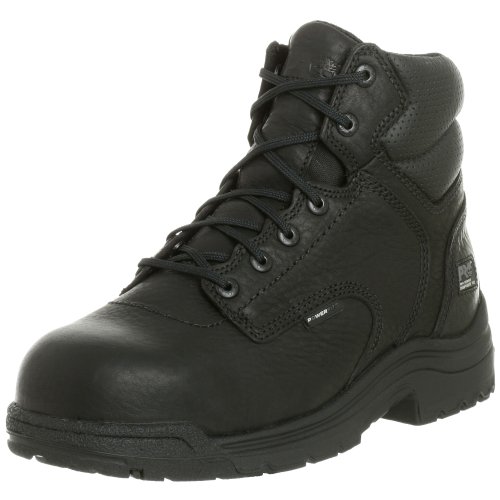 All Timberland boots have premium features and are top quality. The Pro TITAN 6" is one of the many premium timberlands that don't retail at an obscene price. They are also great in the looks department and have some of the best comfort features.

First, you will love the ASTM rated toe cap, and the highly durable outsoles that also resist heat. The boots are abrasion, oil, and slip resistant and have some fantastic traction. Moreover, you will love the full-grain leather uppers as they are robust and can handle abuse in the job site. They are among the few boots with triple-stitching which should give you some assurance of the quality. The cement construction increases flexibility, while the hardware is strong for tough tasks. However, our best features were the comfort and the 30-day comfort guarantee.

Comfort – First, these boots are soft and require little break in period. Also, the ortholite footbed is contoured and integrated with Outlast Adaptive Comfort Technology that ensures your feet are dry and enhances breathability. Furthermore, the midsole cushions your feet from impact while the nylon shank increases torsional rigidity. You will also appreciate the padded tongue and collar as it improves comfort while the mesh lining wicks out moisture.

30-day comfort guarantee – If within the first 30 days you are dissatisfied with the comfort of your Timberland Pro TITAN, you can return them for a refund.

Expand to see more
Product Features

Leather Uppers
6" shaft
Powerfit comfort system
Triple stitched
Ortholite footbed
Rubber outsole

Who is it for?

The Pro TITAN will work for all trade works. It is EH-rated, for electrical jobs, durable to handle construction and light for tasks that need you to move around a lot.

First, this shoe is affordable, and you can expect it to fit you as expected
Sturdier and more scratch resistant uppers. You can expect them to maintain their appeal longer
EH protection rated keeping you safe on the job site
The Outlast Adaptive Comfort technology offers anti-microbial treatment for odor management
The eyelets may fall out as they aren't appropriately attached to the eyelets
10. Skechers for Work Men's Vinton Gurden Comp

Sketchers manufactures footwear for serious people and has won some awards for their quality items. The Vinton Gurden is one of their many boots and one that people especially electricians will appreciate.

First, the Vinton Gurden has an EH protection of up to 18,000V in dry conditions making it the best for use in high voltage industries. Moreover, the composite toe keeps you safe from impact or compression and also happens to be lightweight. As for the soles, they are nitrile rubber cut soles and have exceedingly high traction. Our best features though were the material and comfort.

Material – First, the uppers are synthetic leather that increases the comfort. You don't have to break in the unit. Furthermore, it resists scuff and water, but it isn't completely waterproof. The cement construction, on the other hand, keeps the flexibility of the boot while creating a seam-sealed design that keeps any fluids out.

Comfort – The Vinton Gurden is made with comfort in mind, and has the features to back it. First, there is the relaxed fit design that results in plenty of room and a comfortable fit, has a padded tongue and collar for stability and comfort and features a gel-infused memory footbed. You will also appreciate the shock absorbing midsole that saves your feet from the impact.

Expand to see more
Product Features
Memory foam footbed
Composite toe cap
4.5" shaft
Cement construction
Synthetic sole
Who is it for?
We recommend the Vinton Gurden for
electricians
who work with high voltage owing to the 18,000 volts electric hazard protection.
They are quite comfortable and require no break-in period
They are lightweight and allow you to work for long hours with little or no fatigue
The quick laces make it an easy task to put the boots on and take them off
They are affordable
They are only synthetic leather and will wear out faster than full-grain or nubuck leather, and the sole is irreperable and irreplacable owing to the cement construction
3 Things to Consider When Buying Composite Toe Boots
Material and durability
The quality of an item will let you know if it is going to last. You don't want to spend a small fortune on a shoe that needs to be changed every few months or requires constant repair. Get a full-grain leather boot as it can withstand any job demands. They are a bit on the heavier side, but it is a worthwhile tradeoff for the stamina and endurance.
Rubber is the go-to-material for top quality soles, and you will love that they are strengthened for longevity. Check the construction method as well and pick a stitch-down unit if possible. Direct soling is equally good as it creates a hard to detach bond. Nevertheless, you might be on a budget in which case we recommend cement construction.
Comfort
Often, people pick composite toe shoes thanks to the coziness they have over steel toe boots. As such, ensure that you get a great sensation and relaxation when you put them on. Get footwear with an upper soft, and great fitting that nothing rubs on it the wrong way.
Ensure they are shock absorbing and comfy that you don't have to spend more on orthotics, that they have a robust shaft for support and feature shank for backing under the foot.
Extra features
Picking protective footwear goes beyond picking getting a unit with composite toes. We recommend you get shoes with additional features to keep you safe from other dangers on the job site.
First, purchase boots that are EH-rated; these can keep you safe from up to 6,000 volts. Moreover, get shoes that are waterproof, too keep your feet dry when working in wet conditions. Ensure that they have a breathable meshing for comfort and that they are insulated if you want to use them in cold weather. Get shoes with a thick sole too as they are a buffer to sharp objects, and ensure that bottoms have lugs for better traction and grip.
FAQS
How does a composite toe compare to a steel toe?
The debate of which is better between the steel toe and the composite toe is unceasing. However, you have to make the final decision of the shoe you want, and ensure it meets all your needs. For argument's sake though, here is a short comparison.
Steel toe options are made of heavy-duty metal, mainly steel, and will protect you from compression and impact. They are designed to withstand anything but have some shortcomings in that they conduct heat and cold and cannot be used where there is electricity hazard. Composite toe boots, on the other hand, will meet ASTM and standards but will not compare to the protection steel boots offer. Nevertheless, they are roomier, lightweight, and more comfortable.
What type of work are composite toe shoes and boots suited for?
Steel boots provide more protection from falling objects, but they are quite heavy which will limit you. As such, there are industries where having a composite toe boot is preferred. First, if you walk long distances, say meter readers, we recommend you get a composite toe boot as it is light. Also, if you spend long hours on your feet, you will appreciate the comfort of the composite toe.
Other industries where composite toes are better suited are electrical fields and when working in snow or sweltering conditions. The composite toe is made of non-conductive material and will not conduct electricity, heat, or cold.
Conclusion
Work boots are a necessity for every worker. Toes sustain most injuries as they are protruding more than any other body part, but are the lowest and you will trip often. Getting the proper safety shoes can save you the trip to the ER while increasing your productivity. In the guide above, we have considered all factors from the excellence of the boots to the style, and the budget. There is something for everyone; those looking for top-notch boots as well as people looking for economical options.
Finally, be sure to tell us what you think of our list in the comments below.
Subscribe to our newsletter