Best Composite Toe Boots – 2023 Buying Guide
last updated:
Jul 28, 2021
Work boots with protective steel or composite toe guards are a mainstay for tradesmen, laborers, and construction workers.
According to a 2005 U.S. Bureau of Labor Statistics study, about 60,000-foot injuries occurred across the construction industry alone, which resulted in the victim being off work, at an average cost of $9,600.
For these reasons, we take testing, reviewing, and ranking the best composite toe boots on the market very seriously. After hundreds of hours of real work tests, surveys, and customer reviews, we've put together a list of the top composite toe boot options available. Peruse our picks below before making your purchase decision.
Our Top 3 Picks
[srpshortcode id="18980″][/srpshortcode][srpshortcode id="18981″][/srpshortcode][srpshortcode id="18982″][/srpshortcode]
7 Best Composite Toe Boots
1. Timberland PRO Men's Composite Toe Boot 8"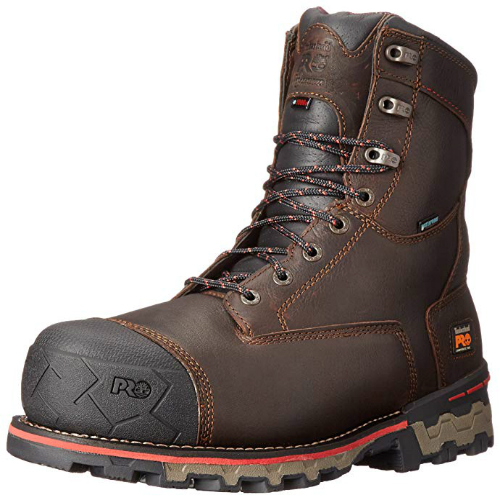 Timberland has set the bar high for the quality, performance, and reliability of their work boots. The Timberland PRO 8" Boondock is no exception and lives up to all Timberland Standards. At 8", it will protect you when wading in water or other liquid material on the job or on a hunting trip. The boot features an all-leather premium upper that is waterproof and abrasion-resistant. It also has a waterproof membrane for dry feet.

Safety

First, the composite toe cap offers non-metallic protection for superior fit. The toe is CSA grade 1 and is electric shock resistant (ESR). Finally, the Vibram fire and ice anti-slip sole will keep you safe in slippery conditions.

Construction

This boot has a leather upper with a composite toe cap and a padded collar, Another fascinating aspect of the PRO 8" Boondock is the three-quarter combination welt and cement construction. You can expect the shoe to serve you well for a long time without needing repair.

Comfort

First, the PRO 8" Boondock has a flame-laminated 1000g thermolite that enhances the comfort of the boot in frigid cold conditions without adding bulk. Its rigid heel cup increases lateral stability, and the boot features an outstanding fingertip pull-on feature that eases entry. The fiberglass shank increases support, while the dual-density anti-fatigue tech absorbs shock while returning energy at critical zones.


Expand to see more
Product Features


Composite toe cap


Leather Uppers


1000g thermolite insulation


EH-rated


Padded collar


Oil resistant sole


Deep lugs for mud and ice protection
Best for:
They are for general use for work and recreation. Individuals on a generous budget who are looking for a waterproof and heat-insulated composite toe boot won't go wrong with this boot.
Durable construction
Will keep your feet dry and warm all day long
Easy to clean without wearing them off
Quite comfortable
2. KEEN Utility Men's Philadelphia Insulated Boot 8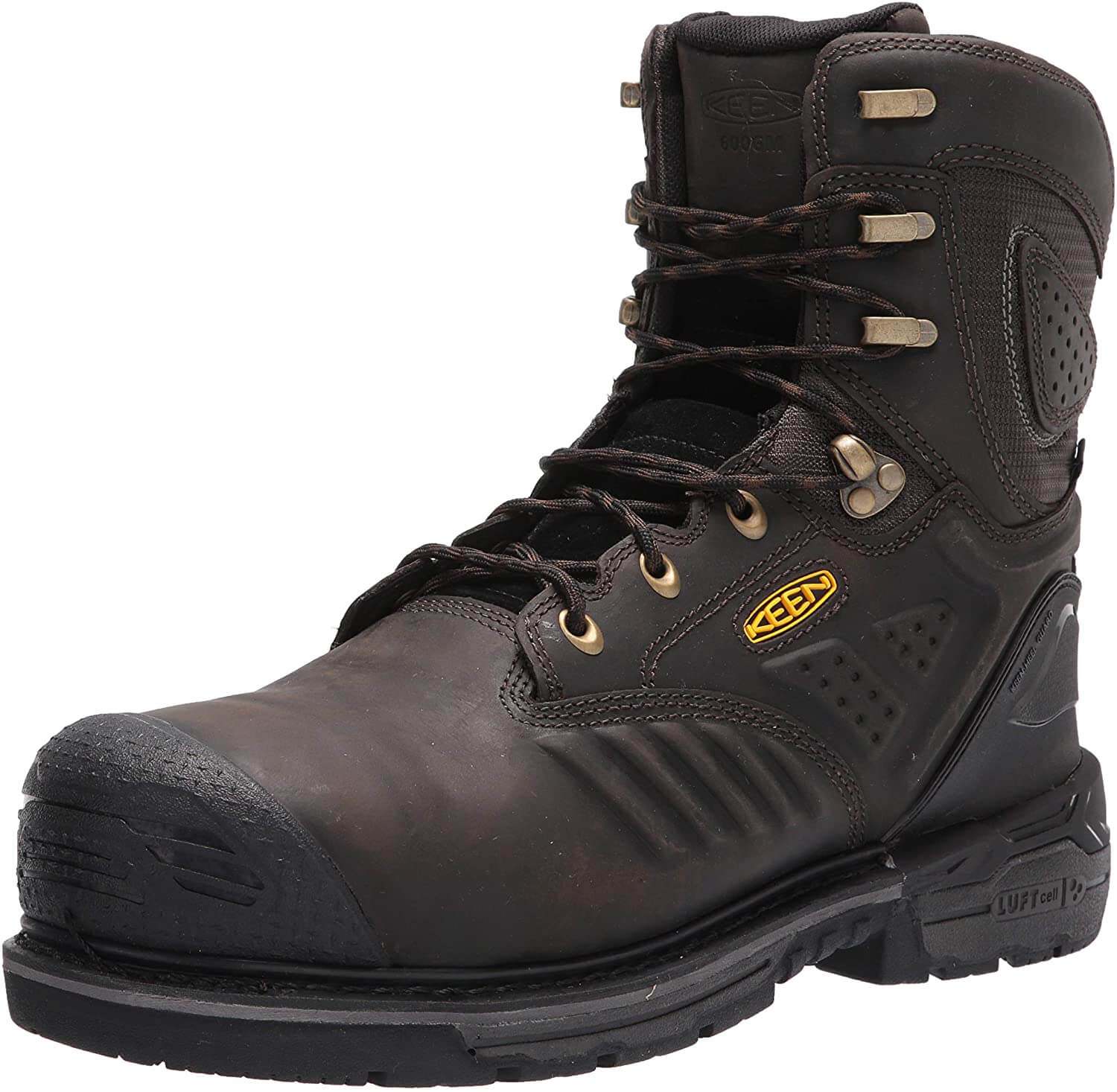 If you are looking for a composite toe boot that is equally as good as our top pick, we recommend you consider the Keen CSA Philadelphia+ 8" 600g Insulated Composite Toe Waterproof Work Boots. Made of leather from responsibly sourced tanneries certified by the Leather Working Group (LWG), they offer waterproof construction, a ¾ welt construction and heel stabilizer system, and KEEN.POLAR TRACTION micro-cleat grip outsole.

Safety

The carbon fiber composite toe meets all ASTM standards and is left and right asymmetrical resulting in a roomier toe box. The sole can absorb and repel all impact, and the shoe is EH-rated. Moreover, it features a 90® heel for added safety when climbing a ladder. These boots also meet CSA Z195 standards for electrical shock resistance and Grade 1 standards for toe protection.

Construction

With a rubber sole and an 8" shaft, these waterproof leather boots feature a KEEN.DRY waterproof, breathable membrane liner that wicks moisture and CleansportNXT probiotic technology for breaking down odor in sweat in addition to the insulation. Its thermal heat shield footbed has a removable insole, is soft on the outside, great support from the midsole, and a thermal foil barrier to keep the cold out and heat in,

Comfort

A safe and comfortable shoe, the Keen Philadelphia is best suited for cold areas and working during winter thanks to the 600g Thinsulate rated at -55 F/-48 C for extra warmth. If you will be standing on the same spot for long periods, expect a few chills.


Expand to see more
Product Features


Carbon fiber composite toe


Leather uppers


600g Thinsulate insulation


KEEN.DRY waterproof, breathable membrane liner


Rubber sole with superior traction


Metal hooks and eyelets


Padded collar
Best for:
The Keen Utility Philadephia is for use during winter or in cold areas. They are also great for people who spend long hours on their feet in heavy-duty work settings in construction, energy, heavy metal fabrication, landscaping, maintenance, manufacturing, masonry, transportation, and utilities. Many Keen boots turn up at campsites and hunting lodges too.
Warm enough for in cold areas
Spacious toe due to wider footwear form and asymmetrical right and left foot
Removable insoles
Comfortable especially for people who spend the whole day on their feet
Takes about a week to break in
Has bulky appearance
3. Carhartt Men's CMF6366 6" Composite Toe Boot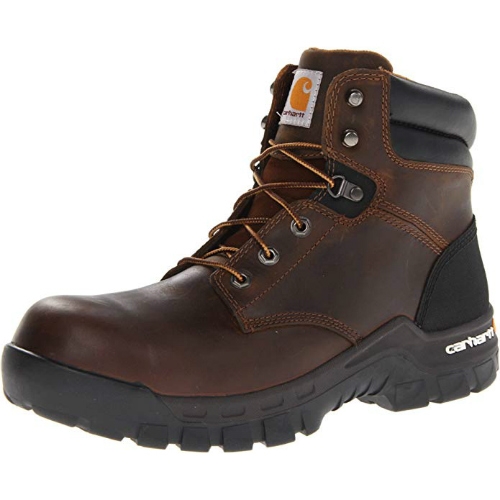 We think the CMF6366 deserves to be among the top three best composite toe boots on this list. First, it is affordable, and its high quality endears it to many workers. First, the Carhartt boot is on full grain leather which increases the durability but is only water resistant. Thus don't expect it to keep your feet dry when working in wet conditions. It will keep out some water though.

Another fascinating feature is the durability of this boot. Thanks to the cement construction, expect the boot to last for long periods and the style, allows you to use it as a casual shoe too. Nevertheless, our best features were comfort and safety.

Safety

Thanks to the composite toe, your toes will always be safe and highly unlikely to be crashed. Furthermore, the ladder lock on the bottom increases safety when using ladders. Finally, the boot is slip and oil resistant and is EH-rated.

Comfort

We think the CMF6366 deserves to be among the top three best composite toe boots on this list because it is affordable without compromising quality, which endears it to many workers. Made of quality leather, this composite-toe 6" work boot has a cemented rubber sole, a 1.5" heel, rugged flex construction that allows it to move and stretched with throughout the day. Though variations of this boot such as the CMF8720 are available in an 8" style, this lower version is a popular casual shoe style too.

Safety

Thanks to the non-metallic composite toe that meets the ASTM F2413-18 standard, your toes will always be safe and highly unlikely to be crushed. Furthermore, the ladder lock tread on the bottom increases safety when using ladders. The boot is slip and oil resistant and is EH-rated. However, it is water-resistant, not waterproof.

Construction

Aside from the quality leather and synthetic materials that go into this boot, the way it is made guarantees comfort. Its extra-wide toe allows your toes to move around. A dual-density footbed with OrthoLite top layer topped by a foam cushion insole provides comfortable support and reduces foot fatigue, while a wicking lining absorbs sweat. An EVA midsole with a Strobel pad provides extra layers of cushioned comfort to protect you when you have to stand on cement floors. The cemented flex rubber outsole is durable enough to last for years of hard use. These boots live up to their company motto: If you can't quit, YOUR BOOTS CAN'T EITHER.

Comfort

The CMF66 is built with coziness in mind, and it happens to be one comfortable work boot that requires no break-in period. They will stretch with you plus absorb shock (as noted above) just as well as the more expensive Keen Utility shoes. The steel shank with deep grooves on the outer sole offers reassuring grip and stability.


Expand to see more
Product Features
Leather Uppers


Rubber soles


Electric hazard protection


Water resistant


Cement construction


They meet ASTM requirements
Best for:
Seeing as the CMF6366 is only water-resistant, we recommend it for people who work in dry conditions. Its non-conductive toe makes it great for those in the electrical industry. It is also perfect for anyone who spends a lot of time on their feet or moving around.
Light composite toe is light and non-conductive
Affordable
Perfect fit
Water-resistant, not waterproof
Moderate ankle support
Wider toe may not suit some wearers
4. Wolverine Legend 6" Waterproof Comp Toe Work Boots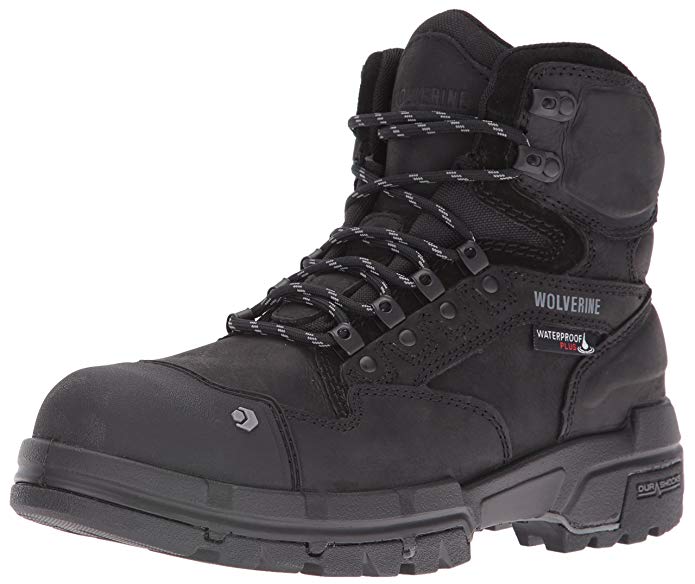 Since 1883, Wolverine has merged craftsmanship with superior materials to produce comfortable work boots that perform in the field and last forever. The Legend 6" is a top-selling full-grain leather, composite toe work boot that incorporates the latest work boot technology while being reasonably priced.

Safety

With CarbonMAX nanotechnology safety toe for reduced weight, the Legend will protect workers' feet in many situations as it is rated ASTM F2413-11 M I/75 C75 EH. Not only do the boots have impact safety toe protection and compression safety toe protection, but electrical hazard protection as well.

The rubber sole has deep grooves that are ideal when working in muddy conditions, and the lugs on the bottom make the boot slip and oil resistant.

Construction

The upper of the boot is leather which offers enhanced waterproof protection, plus has a waterproof membrane inside with moisture-wicking mesh to keep feet dry. The cemented outsole of the Legend is durable and can handle the abuse that is common in job sites, while the inside of the boot boasts many features that contribute to the safety and comfort aspects. The nylon shank positioned between the heel and balls of the feet offers more support.

The boot has the trademarked Wolverine H-Plate™ suspension that utilizes four responsive quadrants to harness the energy of each step and adds stability to one's walk – a necessity in dangerous work conditions. Confident you won't fall, you can be more productive on uneven work surfaces and even approach your work with more spring in your step due to the way the shoe propels you forward.

Comfort

Inside the boot, a removable OrthoLite® cushioned footbed provides more support, stability, and comfort. Most Amazon reviewers claimed they felt like familiar old friends right out of the box. Although they come in tan and brown, they look particularly cool in black. Despite their protective toe, they feel light on their feet.

These boots tend to run a bit small and narrow, so it's best to order up if you wear a half size. They come in three widths to assure that your toes won't be squashed even if you wear heavy socks.


Expand to see more
Product Features


Leather uppers


Rubber soles


H-plate suspension system


6" shaft


Composite toe


Electrical hazard rated


Waterproof


Slip-resistant
Best for:
Anyone who is is on their feet all day, even in wet conditions, will love these comfy boots.
Affordable
Flexible straight out of the box
Great looking as work boots and casual shoes
Lightweight for those who spend long hours on their feet
Comfortable thanks to the mesh lining that caresses your feet
Some customer complaints about waterproofing and durability
5. Caterpillar Women's Ally 6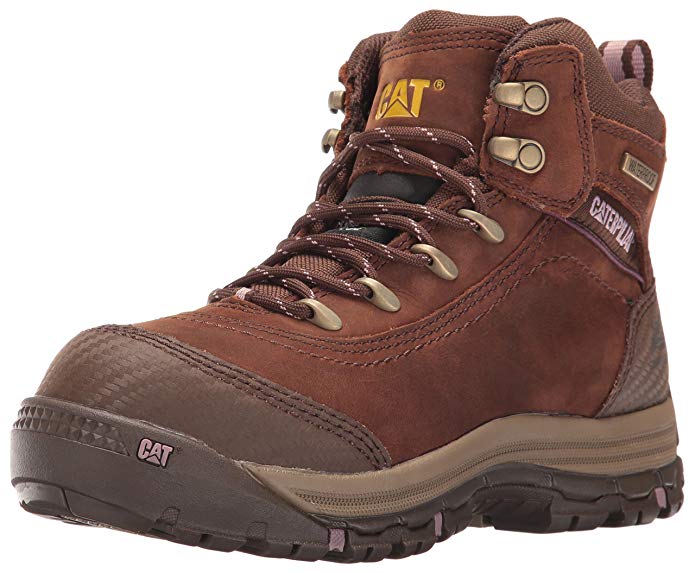 CAT machines are renowned for being strong and durable and CAT work boots incorporate the same principles. The boots feature a durable full-grain leather upper, which is waterproof. Even the seams are sealed to reduce the likelihood of water seeping into the boot. To fortify the structure of the boot, the Ally 6" uses cement construction for boots that can withstand wear and tear.

Furthermore, they are electric hazard rated up to 600 volts in dry conditions. You will also appreciate the hooks that make this boot easier to lace up. The best features though are the nano toe cap and the comfort.

Safety

Rated as ASTM F2413-18 EH, they protect the toe from impact or compression and also protect against open circuits up to 600 volts in dry conditions. The nanocomposite toe cap is strong, but far lighter and thinner than the traditional composite toe cap so the design is appealing.

For traction, the unit features SRX rubber soles which are oil, slip, and abrasion-resistant. Moreover, the deep grooves are handy in muddy conditions.

Construction

The Caterpillar Women's Ally 6" work boot is also built with comfort in mind. The top of the tongue and collar are padded for comfort and stability, and the boot features a moisture-wicking waterproof membrane that keeps your feet dry at all times. The Strobel construction increases the durability, while the EASE tech in the midsole offers superior cushioning and shock absorption.

Some buyers complain about poor ankle support, but women with this issue might look for a taller 8" boot.

Comfort

Those who stand on their feet all day will day will appreciate the sturdy but well-cushioned design.

Though the description does not address the special features for women, but the narrowness many reviewers mentioned indicates that the boot was designed of the feminine foot.


Expand to see more
Product Features


Leather Uppers


Rubber soles


6" shaft


Waterproof moisture-wicking membrane


Nanocomposite toe


EH-rated
Best for:
Slip-resistant and EH-rated, they are especially good for women in the electrical field or for anyone who spends long hours on their feet as the boots are lightweight and shock absorbent.
Well-priced
Waterproof and slip resistant
Good support and comfort for standing all day without fatigue
Neutral color
Can't retread these boots
Poor ankle support
6. Thorogood Men's GEN-flex2 Series-Composite Safety Toe Boot 6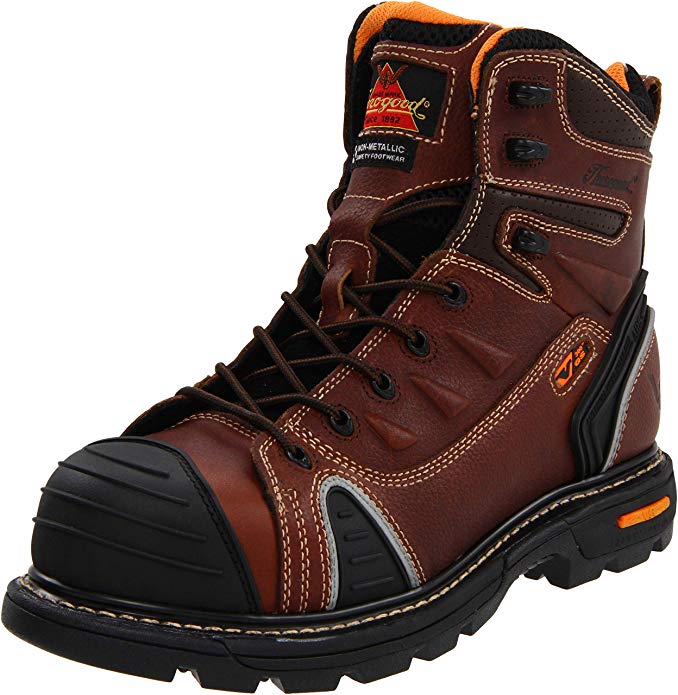 If you are in the market for exceptional feet protection, look no further than the Thorogood Men's GEN-flex2 Series - 6" Cap Toe, Composite Safety Toe Boots. These are ASTM 175 and CTA 75 approved which is something very few composite toes can match. It also happens to be a rare combination of safety, quality, and incredible comfort.

Safety

First, the unit meets ASTM standards for compression and impact. You can expect the composite toe cap to protect your toes from all types of hazards. Moreover, it is ideal for use where there are open circuits thanks to the 18,000V electric hazard rating. Even the eyelet for the laces and other hardware are non-metallic. The boot is rated as "best" for abrasion resistance, oil resistance, chip resistance, and slip resistance and "good" for heat resistance. Finally, you will appreciate the outsole as it is Gen Flex II dual density which is perfect for working on uneven ground. Our best features though were the durability and comfort.

Construction

Some buyers might not want to wear this Thorogood boot for casual wear as it has a more industrial look, but you can tell that it is built to last. The uppers are full-grain leather with a storm-welt construction. The metal hardware is stitched down to reinforce strength, while the stitch down method makes it possible to replace the sole.

Comfort

Though strong, the shoes are light and made for foot comfort with its EVA multi-layer cushion insole and shock-absorbing properties. The opening of the boot is 13" and thus wearing it or pulling it off will be a breeze.

These boots come in medium and wide sizes, which may not make them a good selection for those with larger feet. The composite shank helps you keep an upright posture as you stand throughout your workday.


Expand to see more
Product Features
Meets ASTM standards


Oil and sleep resistant


Storm-welt construction


Leather Uppers


Composite toe and shank
Best for:
Given the 18,000V electric hazard rating protection, we recommend these boots for people who work around high voltage open circuits.
They require no break in period and are comfortable straight out the box
They are comfortable
Quite durable thanks to the stitch-down method
Durable with welt stitching
Comfortable without a break-in period for most people
Rated for slip resistance compression and impact, and electric shock resistance
7. Timberland PRO TITAN 6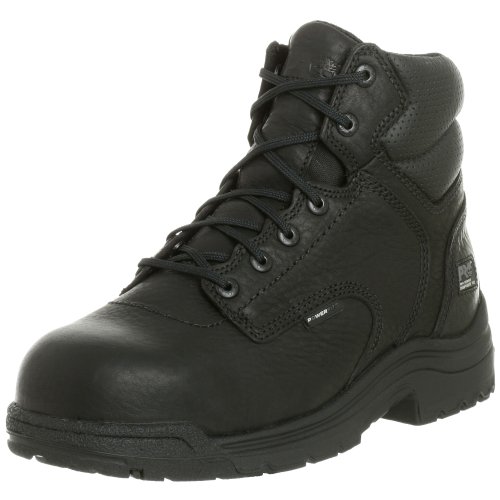 All Timberland boots have premium features and are top quality. The Pro TITAN 6" is one of the many premium Timberlands that don't retail at an obscene price. They are also great in the looks department and have some of the best comfort features.

Moreover, you will love the full-grain leather uppers as they are robust and can handle abuse in the job site. Made of scratch-resistant leather, you can expect them to maintain their visual appeal longer. Even if you wear them for work and play, they will continue to look great.

Safety

At a value price, are they safe? Their ASTM-rated Titan toe cap will protect your toes, while the highly durable outsoles resist heat. The boots are abrasion, oil, and slip-resistant and have some fantastic traction.

Meeting ASTM F2412-11, ASTM F2413-11, and ASTM F2892-11 standards, they provide secondary underfoot protection against live electrical circuits, electrically energized conductors, parts, or apparatus.

Materials

This lace-up leather boot with PowerFit has a rubber sole comfort system featuring a padded collar.

They are among the few boots with triple-stitching on the body which should give you some assurance of the quality. The cement construction increases flexibility, while the hardware is strong for tough tasks.

However, the best features were the comfort and the 30-day comfort guarantee.

Comfort

First, these boots are soft and require little break in period. The toe cap is asymmetrical to follow the toe contour which increases comfort. The padded tongue and collar as they improve comfort while the mesh lining wicks out moisture.

Inside the Pro Titans have the Timberland Powerfit ™ Comfort System. The Ortholite footbed is contoured and integrated with Outlast Adaptive Comfort Technology that ensures your feet are dry and enhances breathability. The midsole cushions your feet from impact while the nylon shank increases torsional rigidity.

They also feature a 30-day comfort guarantee– If within the first 30 days you are dissatisfied with the comfort of your Timberland Pro TITAN, you can return them for a refund.

For those who like a taller boot, this boot also come in 8".


Expand to see more
Product Features
Leather uppers


6" shaft


Powerfit comfort system


Triple stitched


Ortholite footbed


Rubber outsole
Best for:
The Pro TITAN will work for all trade works. It is EH-rated, for electrical jobs, durable to handle construction and light for tasks that need you to move around a lot.
Very affordable
Reliable fit with 30-day comfort guarantee
Sturdy, scratch resistant uppers
EH protection rated keeping you safe on the job site
Outlast Adaptive Comfort technology offers anti-microbial treatment for odor management
The eyelets may fall out as they aren't appropriately attached to the eyelets
Some customer complaints about sole splitting or detaching
3 Things to Consider When Buying Composite Toe Boots
Safety
To protect yourself from fractures or crushed feet, which are the most common injuries in construction and other industries that use heavy equipment, you need boots with protective toe caps and other safety features. Traditionally, this has meant steel toes, but now, composite toe boots are popular and meet ASTM International requirements for protective toe caps.
Composite boots have plastic, Kevlar, or carbon fiber toe caps that meet ANSI standards ASTM F2412 (Standard Test Methods for Foot Protection) and ASTM F2413 (Standard Specification for Performance Requirements for Protective (Safety) Toe Cap Footwear). The boots undergo testing for impact and compression, as well as electrical shock, punctures, and other hazards.
To keep your toes safe, standard safety footwear should be able to carry 1,000kgs of resting mass and be able to withstand about 200 joules of impact. As compared to steel-toed, composite toe boots are equally good and are even better in some circumstances.
Composite toe boots perform well in impact tests and compression tests. They also protect from cutting hazards such as chainsaws especially for individuals in the logging industry, and they support the ankles to protect against ankle sprains. When properly designed and constructed with a durable sole, they are ideal work boots that are also comfortable and lighter on the foot. Proper fit is very important as well.
Materials, Design, and Construction
Quality items last longer. You don't want to spend a small fortune on a shoe that needs to be replaced every few months or requires constant repair. Get a full-grain leather boot as it can withstand any job demands. They are a bit on the heavier side, but this is a worthwhile tradeoff for them lasting longer.
The way the boot is made always affects durability and longevity. This is especially true for how the boot is fastened to the sole, which can be by directly attaching the upper part of the boot to the sole with molten rubber and then cementing the outsole (the part that touches the ground) to the rest of the boot with a durable, flexible adhesive. This type of boot construction has one major disadvantage: if the sole is damaged or separated from the boot, there is no repair possible.
The best boots are welted by attaching the sole and the upper body of the boot with a "welt" or a strip of leather, rubber, or plastic using a single stitch (Blake welting) or double-stitched (Goodyear welting.) Both of these methods result in boots that are easily repaired and are durable, long-lasting, and – more costly. Goodyear welds, the more expensive manufacturing process, are more supportive and water-resistant and are especially good for cold, wet climates. Blake welds are more flexible and are great for walking and climbing.
Rubber is the go-to material for top-quality, long-lasting soles, and you will love that they are strengthened for longevity. For some industries, heat-resistant TPU (thermoplastic polyurethane) or EVA (ethylene vinyl acetate) that provides great cushioning are a better choice. Check the construction method as well and pick a stitch-down unit if possible. Direct soling is equally good as it creates a hard to detach bond. Nevertheless, if you are on a tight budget, cement construction is an acceptable alternative.
Comfort
Work boots should be as comfortable as possible for people on their feet all day. Footwear should not rub or chaff when on the feet so they should feel good when you buy them; steel or composite toes do not stretch with wear. The boots should feel supportive without requiring you to spend more on orthotics.
Often, people pick composite toe shoes due to the coziness they have over steel toe boots. Since metal is a good conductor, any warmth from your feet passes through the steel toe into a cold winter day, while composites, often plastic, do not transfer heat or cold so well. The key to buying work boots is finding ones that fit, but those who work outside should aim for boots that are insulated and waterproof too.
Composite-toed boots may be lighter to wear, but they often are thicker and have a bulkier bulbous silhouette to offer the desired protection. This may impact the feel of the boot and may offset the weight savings from the composite toe.
Extra features
Picking protective footwear goes beyond deciding on a unit with composite toes. We recommend you get shoes with additional features to keep you safe from other dangers on your job site. Features to consider include:
Slip resistance to lessen the chances of falling, tripping, or slipping. They may have jugs on the bottom for better traction and grip.
Protection against electrical hazards. Boots should be EH-rated, which means they can keep you safe from up to 6,000 volts. Composite-toed boots are also suitable for use in metal-free areas such as places with electrical hazards.
Waterproofing to keep your feet dry in wet conditions.
Insulation to keep your feet warm, especially in cold weather.
Orthopedic protection and shock absorption to protect feet and joints after standing on concrete all day.
Static dissipation where static build-up is a problem
Often, people pick composite toe shoes due to the coziness they have over steel toe boots. Since metal is a good conductor, any warmth from your feet passes through the steel toe into a cold winter day, while composites, often plastic, do not transfer heat or cold so well. The key to buying any for work is fit, but those who work outside should aim for boots that are insulated and waterproof.
Composite-toed boots may be lighter to wear, but they often are thicker and have a bulkier bulbous silhouette to offer the desired protection. This may impact the feel of the boot and may offset the weight savings from the composite toe.
FAQs
How does a composite toe compare to a steel toe?
The debate about whether the steel toe or the composite toe is better is unceasing. However, you have to make the final decision of the shoe you want, and ensure it meets all your needs. For argument's sake though, here is a short comparison.
Steel toe options are made of heavy-duty metal, mainly steel, and will protect you from compression and impact. They are designed to withstand anything but have some shortcomings in that they conduct heat and cold and cannot be used where there is an electrical hazard. Composite toe boots, on the other hand, will meet ASTM standards but may not protect as well as steel.  In circumstances where the worker is at risk of having heavy equipment dropped on the foot, steel toes shield the toes better. Nevertheless, composite toed boots are roomier, lightweight, and more comfortable.
What type of work are composite-toe shoes and boots suited for?
Steel-toe boots provide more protection from falling objects, but their heaviness which will limit you. Carrying around the extra weight of steel can take its toll over the course of a day.  For these reasons, there are industries where having a composite toe boot is preferred. First, if you walk long distances, as meter readers do, we recommend you get a composite toe boot as it is lighter. Also, if you spend long hours on your feet, you will appreciate the comfort of the composite toe.
Other industries where composite toes are better suited are electrical fields and when working in snow or sweltering conditions. The composite toe is made of non-conductive material and will not conduct electricity, heat, or cold.
Conclusion
Work boots are a necessity for every worker. Foot injuries are debilitating no matter whether they affect the toes, top or bottom of the foot, heel, or ankle.  Toes sustain most injuries as they are protruding more than any other body part, and take the brunt of accidents where items fall or equipment tips over, or you trip and fall.  Getting the proper safety shoes can save you the trip to the ER while increasing your productivity. In the guide above, we have considered all factors from the excellence of the boots to the style, and the budget. There is something for everyone from those looking for top-of-the boots and people looking for economical options.
Finally, be sure to tell us what you think of our list in the comments below.
Subscribe to our newsletter