Window Shutters Cost Guide & Contractor Quotes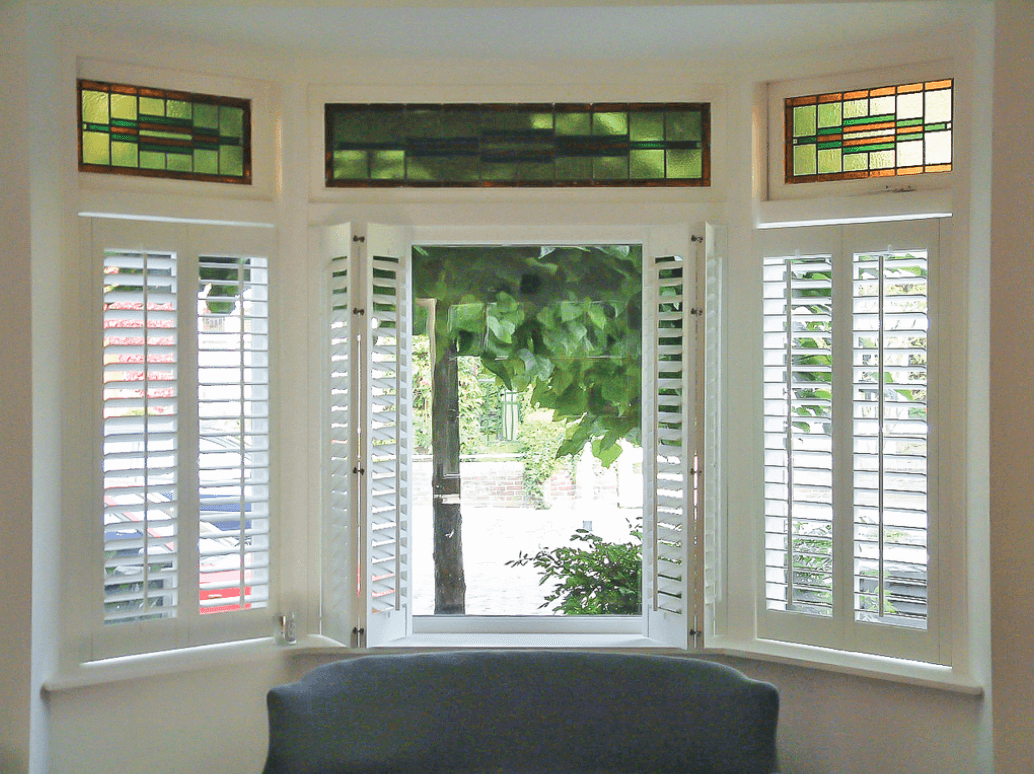 Window Shutters Cost Guide & Contractor Quotes
earlyexperts.net
Today we discuss window shutters types, cost, design as well as installation. You can also get up to 4 free contractor quotes on our pages.
If you are looking to give your room or house a facelift while protecting the windows, then shutters are the answer. They not only beautify your windows but are also functional. Shutters have a long history and they have been around longer than glass. Before we get into the cost, here is a bit of history on shutters.
Shutters can be classified into different categories. Unlike the early days, there are many choices today. Below are some classifications and costs involved.
Interior Shutters
These are typically made from wood. They are designed to control the heat, air, light coming into the house, and provide privacy and don't do much to protect the glass. They are divided into two or more units so that units cover each side of the window. They are durable seeing as they aren't left at the mercy of weather elements. Also, seeing as they are often made of wood which is a good insulator, they can help to lessen the utility bills. However, the frames can be filled with other materials too. Finally, the slats can be operable or stationary.
Exterior Shutters
These are used on the outside of the window. Like the interior shutters, they are used to provide privacy and control light. However, they are also used to protect your glass and keep your home safe from extreme weather. One such shutter is the hurricane shutter which is used to protect windows from extreme weather disturbances. They also offer better protection than interior shutters.
Materials
When investing in shutters, you should be extra careful. They not only influence the value of your home, they are also expensive and a long-term investment. Without proper considerations, you can put in shutters that will be worn out after 5 years, but with a bit of effort, you can have some that will look a million bucks after 15 to 20 years. Most people have embraced the white wood shutters owing to their relaxed mood and minimalist look. However, there are other materials you might want to consider.
Aluminum – These are the best for the exterior. You can use them for shading on the outside of windows, or to provide privacy. They can last for over 10 years with the right finish, and maintenance. Don't use aluminum inside your house, as it is a good conductor of heat. Finally, it is not a green product. First, because it consumes a lot of energy to produce, and it isn't biodegradable.
Plastic – If you want to cover a small opening or you are looking for a cheap shutter alternative, you might want to look into plastic shutters. They are also plastic and durable with a 25-year warranty. However, the warranty doesn't cover manufacturing faults. Also, plastic is thermoplastic and is easily affected by high temperatures. Major manufacturers have been struggling with producing a stable plastic product for years now and some have opted out. Finally, it too isn't eco-friendly and will take hundreds of years to break down.
Composite Wood – This is another cheap alternative and is often used as cabinet doors. Despite it being cheap, it is heavy and absorbs moisture. The longevity of this material is also in question and you might have to replace it before plastic or even solid wood.
Wood – Full grown woods sold as premium timber products. They are painted or stained to increase the longevity. Wood shutters will last longer than composite wood, but plastic has a longer lifespan. Also, wood will insulate your home reducing your utility bills.
Nevertheless, there is a shortcoming in that it puts a strain on our forests.
Canadian Red Western Cedar – This is the finest quality for window shutters. The Western Cedar has an incomparable lifespan and the highest insulation rating. Also, it is eco-friendly as it is sourced from sustainable forests. Finally, they are beautiful and they can be left natural or painted. Nevertheless, it does have its inadequacies in that wood chips, warps, and is expensive.
Cost Factors
Below are some of the factors that influence the cost of installing shutters.
Materials – Which material do you intend to use. Wood is the most expensive material while plastic and vinyl are the least expensive. However, should you settle on wood exterior shutters, remember that different woods have different prices. Oak shutters will not cost the same as cedar or ash. Also, wood will cost you more to maintain. The constant restaining to maintain structural integrity will set you back some few dollars.
Size and number of windows – The more the windows and doors, the more the shutters you need, and in turn the higher the cost. As for the size, you can acquire standard size shutters that will fit standard size windows. They are available in sizes of 48', 60' and 72 inches with various options in between. Other window sizes and shapes will need a custom cut and will be more expensive. Also, wider and larger shutters cost more than narrower shutters.
Type – There are various shutter types available and you can have anything from aesthetic only shutters to fully motorized pieces. You can also choose between aesthetics and functionality. Shutters that improve the aesthetic value will be cheaper than the functional and motorized units. There are also various options available in between.
Customization – You might want some better shutters to either match the style of your home or just to be in line with your taste. Customization will cost you more and depends on the shutter you choose. You can have anything from handcrafted units to custom colored pieces to complement the exterior of your home.
Accessories – Finally, we have the job supplies and fittings. Shutters designed for the aesthetic value only are often good to go as is. However, moveable shutters will cost you. They need extra such as hinges, locks, tracks, etc. You can purchase low-cost functional fittings or opt for premium products.
Costs
Plantation Shutters
These are the most common interior shutters. They resemble blinds but there are some noticeable differences. Blinds are narrow and often made from vinyl or aluminum while plantation shutters have wide louvers. Blinds are also controlled using a gear or pulley system while plantation shutters are controlled by a wooden rod that's often running up in the middle. Finally, plantation shutters will swing away on hinges when not needed, unlike blinds.
The average cost of installing these shutters is $2,500. However, you can pay anywhere between $1,275 and $4,000 depending on the size of your shutters and your preferred materials. Other factors such as whether or not they are custom made or not and who installs the units will also influence the total amount you pay.
You can save money on labor if you DIY, as plantation shutters are easy to acquire and install. However, you will have to purchase the materials and know how much your time is worth. There are instances where it is better to engage a professional than to DIY.
As for the materials, expect to pay between $80 and $200 for faux wood. Natural wood will set you back between $90 and upwards of $600. You will also need job supplies and tools. Hang strips are $4 to $15, and an extra $4 for mounting hardware. Expect to pay about $15 for locks, or use shutter magnets for $1.50 per kit that keeps them securely shut. You might have to pay about $50 for shipping and more so if you are ordering online. Finally, remember that these pieces don't have decorative framing.
Professional Installation Costs
Professionals, on the other hand, have more predictable costs. Having done this for extended periods of time, they can quickly assess the measurements and offer advice on which materials will work best where. For example, wood shutters are amazing in the living room but aren't functional over the kitchen sink or in the bathroom as it warps. Contractors also have access to materials and shutter sizes that you wouldn't have access to, and they can get better discounts given their relationships with suppliers. Below are some material costs for standard-sized windows.
Generally, these shutters will set you back about $20 a foot. As for the labor, expect to pay about $100 per hour. The labor cost depends on how remote the location is, the environment, season (whether it's the high or low season for the contractor), and contractor's overhead. If you want a better deal, hire contractors during late fall or during winter. There is often aggressive discounting during these months as they are the contractor's low months.
| | Costs | Avg |
| --- | --- | --- |
| Total Average | $1,750 - $4,000 | $2,500 |
| Faux Wood | $80 - $200 | |
| Natural Wood | $90 - $600 | |
| Hang Strips | $4 - $15 | |
| Mounting Hardware | | $4 |
| Locks | | $15 |
| Shutter Magnet Kits | | $2 |
| Shipping | | $50 |
| Labour | | $100/hr |
Advantages of Plantation Shutters
Insulation – Most plantation shutters are made from good insulators. They can keep heat in during winter and out during summer. The end result is a low energy bill.
A permanent addition – Though there is no guaranteed return on investment, shutters are a permanent addition to your home, and are often included in appraisals. Also, they improve the curb appeal which helps your house sell faster.
Versatility – One of the top advantages of plantation shutters over exterior shutters is the flexibility. You can adjust the slats to control the light and air coming in. You can even open the upper half to let air in while closing the lower half for privacy. If you desire an unobstructed view, you can swing them away.
Easy to maintain – The louvers are wide and thus are not a problem to clean. A simple wipe down is often all you need. Also, there are some shutters that you can take down for any major cleaning or repair.
The only shortcoming of shutters is that they are permanent window treatment. You cannot make adjustments.
Plantation shutters are available in six different shutters. You need to understand them, for you to make an appropriate decision when purchasing.
Full-height shutters – Cover the whole window panel. They are suitable for most windows and in rooms where little light is needed. They offer max privacy and insulation.
Tier on tier shutters – The idea behind these shutters was to provide privacy while still allowing enough light and air in. They are made of two shutter panels that are erected such that one sits above the other. You can open them together or open the top independently and more so where privacy is needed.
Café style shutters – These got their name from French cafes. They cover the bottom part of the window but leave the top uncovered. They were designed so to give patrons privacy but still allow light through. They found their ways into our homes and are ideal for townhouses that are adjacent to the road.
Shaped shutters – Shaped window treatments are custom designed to fit uniquely shaped windows. Could be round windows, semi-circular, or triangular windows.
Solid shutters – If you are looking for plantation shutters with great insulation, you should look into solid shutters. They are made of solid panels and are also way better at blocking out the light.
Tracked shutters – Finally, we have the tracked plantation shutters. They fold away in a concentina way thanks to the tracks they are fitted with at the top, and at the bottom. Perfect for large windows.
Plantation shutters are quite versatile that homeowners dream up unique ways to use them. Below are a few unique ways.
Exterior Shutters
These are an amazing aesthetic addition to your home but are also quite functional. They offer protection from the sun and other weather elements. However, most of these are not suited to protect your home from adverse weather. Only hurricane shutters are designed for such purposes. There are a variety of exterior shutters and are available in standard sizes or can be custom designed. Designer shutters will definitely cost upwards of $400, but stock shutters will only set you back between $20 and $320.
Hurricane Shutters
These are exterior shutters and are designed to mitigate against storms. They protect your glass and the inside of your home. Though hurricane glass is slowly gaining popularity, hurricane shutters still remain the most popular method to safeguard your house.
The various types of hurricane shutters are:
Storm Panel Hurricane Shutters – These are steel or aluminum shutters that are attached to the walls around the windows. They are attached on bolts or tracks so that they can easily close during storms, and easily open when it is over. The panels or shutters are corrugated and for strength, the pieces will overlap over the next. There are three styles of storm panels you can choose from.
The first uses both bolts and tracks. The bottom part of the window is secured to the wall on bolts, while the top part is slipped into a track. The second storm panel shutters are fitted with C-shaped tracks both above and below. The bolts will slide into the tracks from either side but must be aligned with the holes on the shutters. The final storm panel style you can choose uses bolts that are set into the windows and doors permanently.
As a precaution always check the panels when purchasing a house. Most homeowners make the mistake of not inspecting the panels only for them to find out that they were improperly cut, or some panels are missing when it is too late. As for the price, expect to pay between $7 and $8 per square foot.
Advantages of Storm Panels
These shutters are preferred as they are inexpensive.
They are removable and thus you don't compromise the aesthetics of your house when they are not in use.
They are sturdy providing excellent protection for doors and windows.
Accordion Hurricane Shutters
Going for between $16 and $20 per square foot, these are one or two piece shutters that are housed beside the doors or windows. To protect your windows and doors, they open out accordion style.
Advantages of Hurricane Shutters
Seeing as they are house besides your windows, they don't consume storage space. You also don't have to worry about erecting them and removing them once a storm passes.
You can easily make them storm ready. It will take you between 15 and 30 minutes to have the entire house ready and you don't need the help of a second person.
You can also purchase closeable models. These will deter thieves.
Colonial Hurricane Shutters
If you are looking for shutters that won't compromise the aesthetic value of your home, look into colonial shutters. These are louvered and attach permanently to the wall next to each window. They fold together and lock to protect your windows.
Advantages of Colonial Hurricane Shutters
The top benefit of colonial hurricane shutters is that they are aesthetically pleasing and functional.
They are also permanently fastened to the walls next to the windows so you don't have to worry about storing them.
Finally, they are easy to prepare. You can do it yourself, and it should take between 45 and 60 minutes.
Bahama Shutters
These are other hurricane shutters you can consider for their aesthetic value. They are designed for windows and are made of horizontal metal slats in a rectangular frame. They are permanently affixed with hinges above the window. Other than metal, they can also be made from fiberglass or wood. When they are not covering the windows protecting your house from storms, they are held at an outward angle by side arms. As for the cost, expect to pay between $18 and $30 per square foot.
Advantages of Bahama Shutters
Bahama shutters are fastened above your window. Therefore, you don't have to worry about storage.
They are easy to operate, and often take one person between 15 and 30 minutes to prepare the entire house.
They also provide shade and privacy.
Rolldown Shutters
If you are looking for convenience and function, you can invest in the more expensive roll shutters. They are either PVC or louver shutters and are preinstalled. They are housed above each window or entryway and will roll down along some tracks and lock at the bottom. They can be motorized such that they roll down and lock at the flick of a switch. You will have to reinforce your shutters for large windows and doors. You can do this by inserting reinforcement rods after deployment. Expect to pay between $20 and $35 per square foot.
Advantages of Rolldown Shutters
These can be prepared in less than 10 minutes if it's done manually, or instantly if they are motorized.
Since they are housed above the window, they don't consume storage space.
Plywood Shutters
If you are looking for something strictly functional, consider using plywood shutters. These are the most basic, and the cheapest option available. They are also meant for DIY so ensure you have the basic skills. However, they are heavy and can be difficult to install alone. It is recommended that you use plywood that is not less than 5/8 inches thick. Also, don't use it to cover openings that are larger than the plywood. Finally, they cannot be used to protect doors. You have to invest in other shutters for that.
Hurricane shutters are exterior shutters that serve the purpose to protect your house. However, there are more exterior shutters.
Fabric Hurricane Panel
This is made of a lightweight fabric coated with PVC. The top advantages of these shutters are that they can be customized for any door or window, and the fabric allows air in and out of the home. However, they are time-consuming to set up and pull down.
Other than hurricane shutters, there are more exterior shutters.
| Hurricane Shutters | Cost |
| --- | --- |
| Storm Panels | $7 - $8 /sq ft |
| Colonial Hurricane Shutters | $18 - $30 /sq ft |
| Bahama Shutters | $18 - $30/sq ft |
| Rolldown Shutters | $20 - $35 /sq ft |
How to Get a Credible Shutter Installation Company
When you install shutters, you not only refurbish the décor, you also increase the value of your home. You, therefore, want to ensure that the pieces are installed to a fault. The first step to achieve this is to ensure you get a credible contractor. Here is how.
Referrals
Friends, family, and colleagues are an ideal way to know of credible shutters installers around you. If you are considering asking friends, ensure their shutters were installed within the last six months. Ask about their experience with the contractor and if they would hire him again.
Online Reviews
If referrals don't lead you to a credible contractor, you can always rely on online reviews. There are companies that have made it their responsibility to ensure that the consumers get credible contractors. One such site is Angie's List. The Better Business Bureau is also geared towards helping you get credible contractors.
Invite Estimates, Ask for References
Once you have shortlisted contractors, invite estimates. As a rule, always ask for 3 or more estimates. Ensure that they are in person quotes and that all contractors are bidding for the same job. As for the references, make sure to follow up. However, they shouldn't be clients only but financial references as well.
How to Avoid Scams
Get it in writing
The best way to avoid all scams is to ensure that you sign a detailed contract with the contractor. The contract should cover all areas. It should stipulate the materials to be used, the amount, and the cost. It should also stipulate the timeline for the job and the labor costs. If you find that the contract is insufficient, you can either ask for adjustments or draw up a new agreement.
Payments
Always remember that frauds are after your money. Therefore, ensuring you make payments through the appropriate channels and in the appropriate manner will drastically reduce your chances of being conned. First, never make payments beforehand. You should work on a payment schedule from the deposit to facilitate the work to the final payment. Only make the final payment after you have inspected and you are satisfied with the job.
Secondly, avoid making cash payments as you can be subjected to double payments as they are difficult to prove. We advise you make all payments through financial institutions.
Questions to Ask a Shutter Contractor
How long have you been installing shutters?
Contractors who have been operational for a period of time have worked through the problems most businesses go through in their fledgling years. They have also created systems to ensure work is done appropriately and on time, and their services are streamlined.
However, despite a business being operational for a long time, you can also opt for a new business owner but ensure he has been in the business for a long time. All in all, get a person with enough experience.
When can you complete the job?
This is an important question especially if you are installing hurricane shutters. With an impending storm, you want to make sure that your chosen contractor can complete the task well before the storm hits. Also, try and anticipate the issues that can be a hindrance.
Conclusion
When installing shutters, remember they can either be functional, or decorative. They can also perform both functions. Also, there are various types of shutters available, and it will boil down to your tastes and preferences. However, make sure to check your house requirements and your finances before investing in shutters. Some designs and styles will break your bank.