Best Peel And Stick Tiles Reviews & Ratings
last updated:
Aug 12, 2021
Both the old and new generations of vinyl floor tiles have a lot to offer homes, offices, and places of business. Self-adhesive glue has become stronger, and for most models, it is enough to get them in place without the additional use of third part adhesives. Now that vinyl has become faster to install than any other tile, consumers can be a little bit pickier with their choices as they go for the best peel and stick tiles.
While some models excel at design, others seem to be more durable. Finding the right balance between design and function is hard, with only a few companies capable of producing consistent models. Buyers will also have to consider the cost per tile in a box, as most models have different quantities. A little forethought is required to get everything just right with a final decision. Once you find the right vinyl tile, installing it is an easy-to-follow DIY project.
Our Top 3 Picks
[srpshortcode id="10823″][/srpshortcode][srpshortcode id="10824″][/srpshortcode][srpshortcode id="10825″][/srpshortcode]
Best Brands
Home Dynamix and Achim Home Furnishings are the two biggest name brands on the list. The former has several collections that work well inside and outside of the home. Their color and design choices are incredible, with all of their products coming with an extensive five-year warranty. Achim Home Furnishings is the safest bet on the list for consumers that aren't quite sure what they want out of vinyl flooring. The other brands are great for users that have used vinyl before and are looking to their next big project. The majority of the choices on the list of best peel and stick tiles use self-stick adhesive, so brand-specific adhesives (or third-party choices) are not needed.
6 Best Peel And Stick Tiles
1. Achim FTVSO10320 Nexus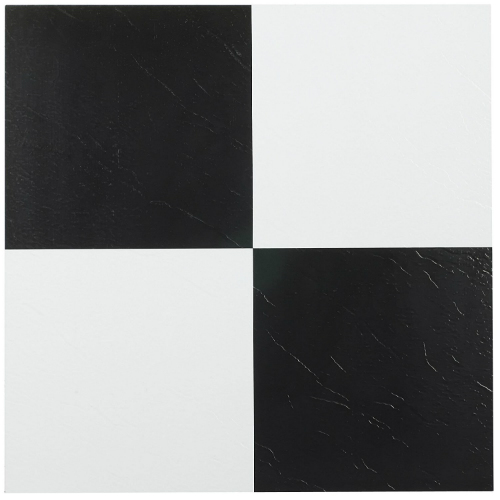 This takes the top spot on the list of best press and stick tiles, and of course it is made by Achim Home Furnishings. It is part of the Nexus collection, and over time has become one of their most sought after colors.

Low Maintenance

The checkerboard look is great, but one of the main concerns is the white portion of the tiles getting dirty. That isn't too big of a problem with this vinyl set, as it doesn't suffer from the same downfalls as other light colored tiles.

Expand to see more
Features and Specifications

• High gloss finish
• Peel N Stick w/1.2mm thickness

Price/Value

You can't beat the low price of these tiles, especially since there are twenty in the box. It's an incredible deal that makes it easy to plan vinyl projects for larger areas.

Decision Time

Even if the checkerboard pattern from the Nexus collection doesn't move you, there are plenty of other choices. The collection continues to be a great resource for consumers that want to redo their floors.

One of the lowest prices on the list
Tiles are low maintenance and high in durability
Backing paper can be a pain to remove
[srp_anchshortcode id="10823″][/srp_anchshortcode]
2. Achim VFP2.0MH10 Tivoli II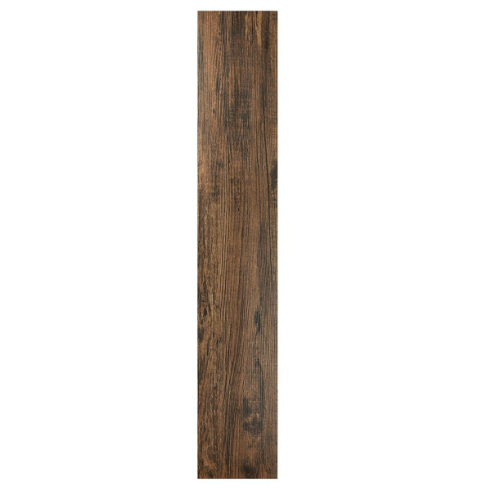 The Tivoli II is the first vinyl floor plank on the list, and also one of two Achim products to make the top two spots. There are many uses for floor planks, and this particular model seems to be popular among consumers and critics.

Real Mahogany Look

Mahogany wood is not the easiest look or feel to get right, especially with vinyl. The Tivoli II is the greatest example that mahogany can be done correctly with the right materials and company.

Expand to see more
Features and Specifications

• Available in Redwood or Mahogany
• 2.0mm gauge planks

Price/Value

Although it is high in price, if buyers are getting the Mahogany color then they are getting a great value. There is no other competing vinyl plank tile that does the same for a lesser price.

Decision Time

Consumers get the choice of two great colors with the Tivoli II that will improve any room they are put in. With top class materials and a good price, this is a highly recommended buy.

Looks and feels just like Mahogany
Great adhesive material used for the Peel N Stick
[srp_anchshortcode id="10824″][/srp_anchshortcode]
3. Home Dynamix 1009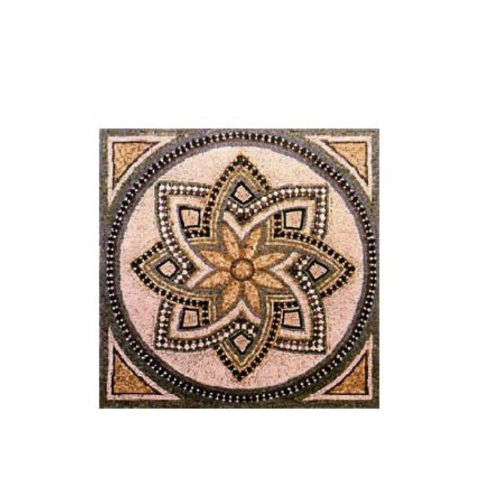 Home Dynamix makes the list again, this time with one of the better looking designs on the list. Model 1009 is popular in their catalog for multiple settings, especially those that want their vinyl flooring to be the centerpiece.

Eye Catching Design

It is a unique design that has the benefit of being dark colored. Years after installation, it will still look newly installed.

Expand to see more
Features and Specifications

• Box of 20 12 x 12 tiles
• 1.2mm thick

Price/Value

The price is a little above average, but nothing out of the ordinary. Consumers that want to try something more upper tier will appreciate this value.

Decision Time

It's nice to have vinyl floor tiles that keep their colors/designs even after years of usage. This set will be one that you rarely have to replace or look after.

Great fade resistant design
Solid material that doesn't require a lot of upkeep
[srp_anchshortcode id="10825″][/srp_anchshortcode]
4. MAX KD0309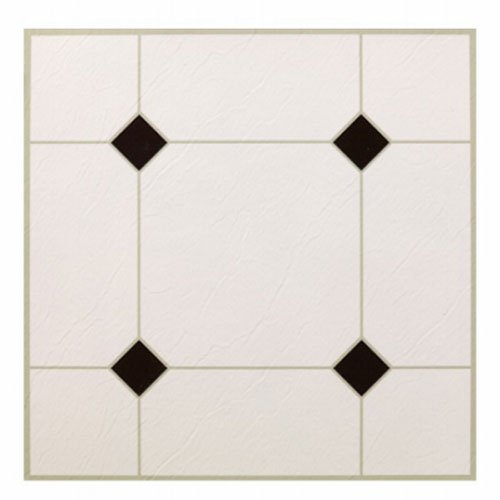 In fourth place is the MAX KD0309 5Th Avenue, a well-known vinyl floor tile that matches multiple decors. Consumers that want a high grade finish with their vinyl floors will find this the most acceptable option.

Great Finish

A good finish turns an average vinyl floor into a great one. The high gloss no wax finish of this set last for years even in heavy traffic areas.

Expand to see more
Features and Specifications

• Peel and stick adhesive
• Thirty tiles in a box

Price/Value

For such a low price, this is a really good deal. You'll get plenty of tiles in a box that are guaranteed to have high quality finishes.

Decision Time

The MAX KD0309 5Th Avenue is in a weird spot on the list since it is good enough to be in the top three. Even at #4, it is a recognizable brand selling a top tier vinyl set.

Best looking finish on the list
Low price
Needs a lot of maintenance to keep clean
5. MariDeck Marine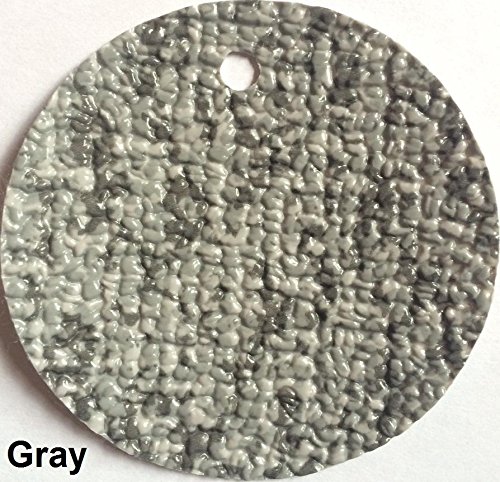 This is the most unique vinyl floor tile on the list. It mimics high quality marine carpet, but without all of the cons.

Best Material

MariDeck produced a tile set with the best material on the list. It feels great underneath the feet, with enough thickness applied to make it feel like the real thing.

Expand to see more
Features and Specifications

• Available in four sizes/six colors
• Can be installed on multiple surfaces

Price/Value

Although one of the downfalls of this set is the price, consumers get a great value if they want to get as close to authentic as possible. Samples are available, and that alone should increase the value of the product.

Decision Time

Marine Vinyl Flooring is hard to find with this same quality, which is exactly why this set made it in the top five. Buyers will become instant fans of MariDeck after this fulfilling purchase.

Great color choices
Slip resistant textured surface
6. Home Dynamix 1002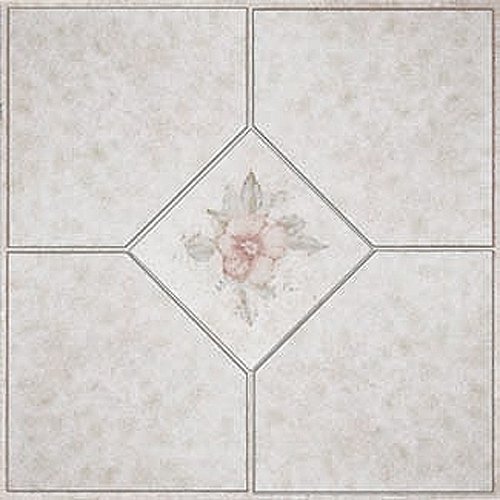 This beige/pink set of vinyl floor tiles goes back to the simple and elegant look that consumers love about Home Dynamix. There are enough tiles in the package to work for small and medium rooms without having to buy a separate pack.

Good Amount Of Tiles

Count this as another set that gives you more than the default of twenty tiles in a box. With thirty available with a single purchase, multiple purchases to fill some rooms aren't necessary.

Expand to see more
Features and Specifications

• 30 tiles in a pack
• Self-Stick Vinyl

Price/Value

For the amount of tiles you get in one box, they charge a fair price. The real value comes from their choice of high quality adhesive glue.

Decision Time

There are some nice choices on the list already, even without getting into the top five. This set will be a useful option when buyers want to keep things simple.

Great quality adhesive glue
Pretty look without being too glossy
Rose in the center of tile is dull purple, not pink
How To Make The Best Decision When Choosing Vinyl Floor Tiles
Between prices, design, and adhesive types, the best peel and stick tiles have all sorts of small things to look at. None of the three features just mentioned cover durability, another important factor when buying vinyl floor tiles. If there are three things that make the buying choice easier, it is the following;
Price/Quantity Ratio – You want a good balance of each when doing small and medium rooms. A lower-priced pattern isn't always the best choice if the quantity in the box is small. For larger rooms, having more in the box will always trump price since it keeps you from buying multiple boxes.
Durability – Higher durability keeps buyers from having to constantly replace tiles that are breaking in high traffic areas, or from being too generic to keep up with daily demand. A long warranty is nice, but it is better to have vinyl tiles that can keep up with the demands of the area.
Design – Floor tiles don't have to be an extravagant work of art, but the colors and design need to not look cheap. This is where a good finish can make a big difference in how nice the floor looks. A good design is one that you'll want to reuse constantly, and may also introduce you to other products from the same company.
FAQ
What Is Vinyl Made Of?
Modern vinyl flooring is made up of colored polyvinyl chloride chips. There are many different variations of the material, so some may feel more authentic than others based on their material division. But thicker does not mean higher quality, although it usually points to more durable materials. When you have it in your hands, vinyl flooring feels and acts like plastic since it is made from the same synthetic materials as plastic. It isn't uncommon to find ethylene and chlorine traces in the finished materials before they're shipped out. The quantity of both is up to the manufacturer and the overall quality of the shipped tiles.
Is Luxury Vinyl Worth It?
The benefits of luxury vinyl come with better quality, durability, moisture resistance, and even look. There are a lot of colors and patterns only found within the luxury vinyl line. The con of buying luxury vinyl is the expense. You'll end up eating the extra cost whether it is a small or large area that needs to be covered, so size doesn't really factor in. Luxury vinyl is a better long-term value than regular vinyl flooring. In areas where you expect a lot of foot traffic, getting luxury vinyl may be worth the extra expense. But with projects that have a tight budget, regular vinyl flooring does the job without any trouble. Doing measurements beforehand will give you a general idea of which type works with the project.
Are Adhesives Strong Enough?
Vinyl floors can come with glue or without it. The glue that comes with the vinyl floor is effective, and will hold just fine against impacts, spills, and scratches. For vinyl that relies on your applying the glue yourself, its strength will depend strongly on how well you spread the adhesive. So with that in mind, vinyl without glue is the better choice as it puts the strength of the adhesive in the hands of the user. You can choose any compatible brand, and if you spend a little more, can purchase adhesives that are strong enough to last 20+ years without reapplying.
Will Loose-Lay Vinyl Become A Problem As It Ages?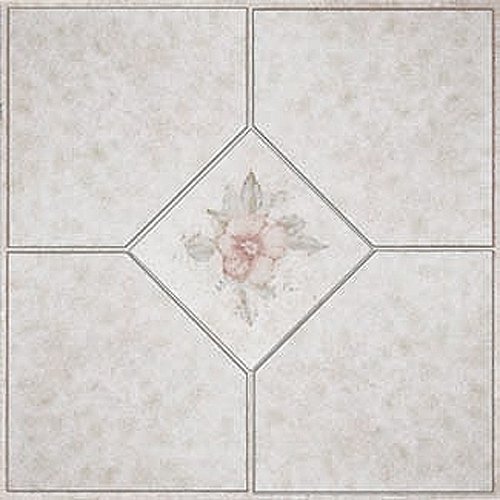 No, in fact, it is more stable than regular vinyl that comes with the glue already applied. Loose lay vinyl planks do not rely on any fasteners, adhesive, or even tongue and groove mechanisms to hold themselves in place. This has to do with the thicker texture and how they fall in place like pieces to a puzzle. All of this hefty construction of loose-lay vinyl helps it to last years longer than other materials. You're also less likely to install it wrong, so once it is in place the area is set for a couple of decades (unless it isn't properly maintained). No glue is involved with this method, making replacing a broken tile a trivial process.
What Is The Best Adhesive?
There are plenty of contenders in the category for the best vinyl adhesive. This of course applies to vinyl flooring that doesn't come pre-glued. Roberts has large and small options and seems to dominate the shelves on a lot of local stores. They also have relevance with a lot of big-name chains like Home Depot. But there is also a lot of noise for Loctite, a favorite of many consumers. It has the same popular reputation that Gorilla Glue has – tough, reliable, and great pricing.
Why Should Consumers Buy Vinyl Flooring?
The biggest reason to consider vinyl flooring is the price, which is always going to be cheaper than alternative options. The second reason is variety, which is something you will get accustomed to when looking at luxury vinyl. It is comparative in quality to a lot of high-end floor options, yet still has a lower price. The third reason consumers buy vinyl flooring has to do with durability. When you want moisture resistance without sacrificing looks, vinyl flooring is going to be the best choice.
What Are The Cons Associated With The Materials?
With all of the great things that come with vinyl flooring, there are also some cons. It's easier to replace vinyl flooring than it is to repair it if something goes wrong. This is only an issue if you didn't install the flooring yourself. A lot of information needs to be digested before handling a DIY install. But a lot of customers still forget to check whether the vinyl comes pre-glued or not. So even if you have the vinyl in hand ready to be installed, the project may be put on hold if you forgot to purchase separate adhesives.
Are DIY Installations Of Vinyl Easy?
Yes! The biggest hurdle is the information gathering. After that, the only thing you have to do is lay down the materials with simple to follow directions. With a lot of planning ahead, installing vinyl flooring is an incredibly fun DIY project. A lot of measuring is needed, but that is no different than if you were installing regular flooring. Most time spent installing vinyl is with deciding on the type and design that best fits your project area. Since pricing is balanced within the industry, the only time you'll have to put thought into it is when deciding between regular and luxury vinyl flooring.
Are Any Tools Required For Vinyl Installation?
A couple of tools are required, but nothing out of the ordinary. Consumers that have worked on a DIY project before will most likely have these tools ready. A tape measure, pencil or chalk, utility knife, and optional adhesive if you purchase vinyl flooring that isn't pre-glued. That about rounds up all the important tools needed to get the job done on project sizes of all scales. So the other good news with this project is that the price won't go up substantially if tools need to be purchased.
Would A Professional Installer Be A Better Idea?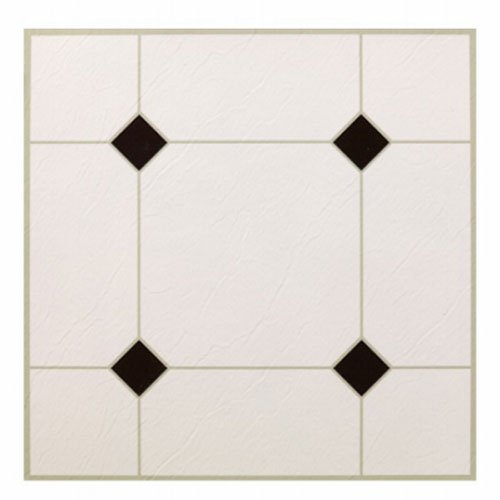 That comes down to your personal expertise with DIY installations. Installing vinyl flooring is on the easy side, but there are still consumers that want the convenience of professional installation. It guarantees the floors get done correctly, and of course, the installation is backed by a warranty should something go wrong. You don't have to worry about getting the wrong measurements, forgetting the adhesive, or leaving uneven patches all over the floor. When the DIY option will take up too much of your time, then consider hiring a professional to do the job.
Why Does Surface Embossing Matter?
Surface embossing is what makes vinyl look like the type of surface it is mimicking. Think of it as a way to rate the quality of the pieces you're buying. Want vinyl to look like wood? The surface embossing will make this possible. Surface embossing that is deep tends to be more realistic, even when you're holding the vinyl at an angle. Surface embossing has different levels and can produce products that even pass for aged wood. Users that are specific about the design of a room will want to pay attention to surface embossing with their vinyl.
Can You Save Time By Installing Tile Over Vinyl Flooring?
Instead of pulling up all the vinyl to install new tile, you can save time and money by skipping the removal step. Instructions vary since it can't be done with all setups. For instance, it is a good idea to only do this with vinyl that is in good condition. The same applies to the floor underneath the vinyl, which could possibly be in bad condition. A lot of prerequisites like this have to be met before installing tile over vinyl, but there are plenty of guides available to help you through the process.
Is It Safe To Install Vinyl Floors On Stairs?
Yes, and it can be a great alternative for stairs that are past their prime. Consumers that want an easy way to spruce up their old stairs can use leftover vinyl flooring from their main project. That way it matches the current setting and doesn't cost you extra. If you intend to prioritize adding vinyl flooring to stairs, then consider making it a separate project altogether. You can buy specific vinyl flooring that fits your current theme.
What Is Rolling?
Rolling a vinyl floor after installation will bond it to the area for a better fit. You would usually do this before the adhesive dries and has time to settle. A rolling pin wrapped in a plastic bag will do the trick, but using a tool meant for the job will give better results. Rolling isn't necessary yet remains a great way to ensure the installation stays put. This prevents the vinyl from coming up at the seams or in any other easy-to-miss areas. If you're in doubt about this method, then look through the instructions.
Why Are Tiles In A Box Different?
This is confusing for users that buy 20+ packs of vinyl flooring. If the tiles look a little different from one another, it is normal. This is done to give them a natural look instead of making the floor one big generic space. The changes are subtle enough from one tile to the next so they are still uniform, but unique in their own way. When you finish doing the floors, take a look to see why the differences in the tiles make sense for a project.
Will Sunlight Damage Vinyl Flooring?
Constant sunlight won't damage vinyl flooring, but it will affect the color. Buyers will notice that vinyl floors exposed to sunlight for long periods of time will fade in color. This has nothing to do with the brand, and it isn't a quality issue. Materials that make up vinyl flooring react with the sunlight, so it is a natural progression for the colors to fade when left in sun rays. The best way to counter this is by closing drapes or blinds on sunny days so that the contact with the light is limited, even by a little.
Do You Have To Use Recommended Adhesives?
Consumers are often directed to choose adhesives from the same brand that made the new vinyl flooring they bought. There are no special benefits to doing so, and by going to a different brand you may save money. Think of the recommendation for brand adhesives as optional rather than mandatory. Even when handling full reapplication to old vinyl floors, using the type you want will get the job done without a problem.
Criteria For Evaluation Of The Best Peel And Stick Tiles

When we looked at the vinyl floor tiles across many lists, some stood out more than others. We prioritized the following when determining our criteria; durability, price, design, adhesive strength, and brand. These are the five criteria used to balance out the list, the same one that decided Achim Home Furnishings deserved multiple top spots. There was no point in ranking the tiles on their ease of use, as all vinyl tiles follow the same easy to install instructions for small and large projects.
Durability
With durability, tiles were rated on their ability to withstand cracking and chips. Vinyl flooring that was naturally low maintenance consistently ranked high with the durability criteria. They were resistant to dirt and easy to clean with non-harsh chemicals. Any tiles that were too flimsy didn't make the list, since they were a problem waiting to happen. High durability doesn't mean that the tiles were hard to cut, so there was only upside to scoring high with this criteria. Brands that offered long warranties scored extra points, making it much easier for consumers to go all-in on one model.
Price, as noted earlier, is also tied to durability. This determines the full value of the criteria, making it more about how much a consumer gets for their money. That is why a lot of vinyl floor tiles didn't make the list even if they scored high in other areas. Only one super-expensive brand even made the top ten, and it still had a lot to do with their overall value per piece. The price criteria weren't too divisive once a few adjustments were made (quantity per box) and value for the price allowed some brands to make a push for the top three.
Design
Design is subjective, so a better way of describing these criteria is whether the design lasts the lifetime of the product. Vinyl floor tiles are often put in high-traffic areas like the kitchen, bathroom, and even the living room. Multiple people will walk across it, spill stuff on it, and track dirt from point A to point B. The difference with the design criteria from durability is that it measures a model's ability to 'look new' after heavy usage. It also takes into consideration that some colors may fade, or be completely off from pictures shown of the tiles online. In extreme cases, these models were not included in the top ten. There is an incident with a Home Dynamix model where the rose in the middle was the weakest part of the design due to the color.
It made the list only because this was a minor design flaw, and not a representation of the entire tile. Adhesive strength measured the quality of the glue that came with tiles using their own adhesive. After peeling off one end and putting it down, it isn't uncommon for bad adhesive to make the tile come up. That can be a frustrating experience when you have an entire room to finish. Although it is an easy fix by purchasing third-party adhesives, we chose to exclude any model from the list that had low-quality glue. This trimmed down the list quite a bit but got rid of brands that thought of their adhesives as an afterthought. For Peel N Stick models, low-quality glue was an almost guaranteed removal from the list.
Brands
The last criterion we measured was brand, which is made up of two things: the variety of tiles available and how quickly the company got in touch with consumers. The easy takeaway from this criteria is any company that had a reputation for bad customer service was left off of the list. There was no point in including them since it would also affect warranties, personal services, and returns. Variety of tiles available for the brand criteria was a solid win for companies like Home Dynamix and Achim Home Furnishings. They have an extensive catalog so were included multiple times within the top ten.
How do you clean and maintain tile?
Cleaning vinyl floors is a simple task, and not that much different from cleaning regular floors. This could of course change depending on whether the vinyl floors are installed badly or correctly. Badly installed vinyl floors will leave small gaps where dirt can collect. So the best upfront maintenance for vinyl floor tiles is to install them correctly the first time so that cleaning them doesn't require extra effort.
Maintaining Tiles – Because of the low cost of tiles, if there are any cracks in your vinyl, replacing it is the best maintenance option. Tiles that come up due to weak adhesives or badly applied glue can be redone without replacing the entire tile. When installing tiles, keep everything as uniform as possible so bigger maintenance issues with gaps don't show up in the later years.
Cleaning Tiles – To keep your tiles looking brand new, periodically sweep the floors before dirt gets a chance to settle. When dirt settles, you can move to stronger techniques like apple cider vinegar+water and a mop. That will get just about anything off of your vinyl. Commercial cleaners meant just for vinyl are available, so that is an option if you want to clean while also adding a fresh scent to the area. Users should be careful about the type of cleaners they use outside of these suggested two items since harsh chemicals can damage vinyl floors.
Conclusion
When you are seeking the best peel and stick tiles, our guide should get you off to a good start.
Subscribe to our newsletter