10 Best Gas Water Heaters Reviewed & Tested
last updated:
Aug 28, 2021
Unless you love cold showers, having a hot water heater is a necessity that brings warm water into the home for a luxurious showering experience. While you may have one powered by electricity or less commonly solar-powered, gas hot water heaters are a popular choice for many homeowners.
Our Top 3 Picks
[srpshortcode id="22037″][/srpshortcode][srpshortcode id="22038″][/srpshortcode][srpshortcode id="22039″][/srpshortcode]
There are many options to consider, so we have developed a buying guide to get you started. The traditional water heater has a tank to store water that is heated and ready for you to turn on the hot water faucet; as long as there is hot water in the tank, you will get some though it may take some time to get it the right temperature. The tank is always warming water, so part of your energy cost is to keep the tank in readiness to deliver hot water. A modern tankless unit warms water on demand so that up to 98% of your energy cost goes for the water you actually need. Tankless gas heaters are the focus of our buying guide, although we feature a tanked alternative.
Criteria For Selecting the Best Gas Water Heater
What do you need to do the job in a residence or even a commercial building? What are the criteria when selecting a gas water heater? Here are some key factors we considered when preparing our buyer's guide to the best gas water heaters.
Tank or Tankless?
Traditional water heaters have tanks that heat and store a large quantify of water until needed. A flame burner heats the water and regulates its temperature with a thermostat. Having one with a storage tank of 40 gallons or more is what many Americans are used to, but the disadvantage of this type of heater is that when the water is gone, the tank must refill and heat the water. The process is inconvenient in a large household where several people need to shower or want to run the washer or the dishwater at the same time. However, 90% of US homes have tank-style water heaters that store 30-80 gallons of water.
Tankless gas water heaters warm waters on-demand, and depending on your climate and its capacity, can easily serve the needs of your household. They can be installed to meet the needs of a whole house or even at a single location in the home or business.
Efficiency
The popular and more efficient alternative to a tank for many homeowners is the tankless heater that is as much as 98% efficient for electric models and 90% efficient for gas. Some condensing gas models offer increased efficiency by reusing some of the heat. They are also eco-friendly with fewer NOx and CO2 emissions, compact in size, and wall-mounted to save floor space.
Some tankless heaters have an Energy Star rating that equates to even greater energy efficiency.
Capacity/ Flow Rate
The bigger your household, the bigger the water heater you will need. As noted, with tanked units, this means that the storage tank will have a greater capacity. For tankless models, which store no water, gallons-per-minute or GPM indicates the delivery rate. The water is virtually on demand. The process starts with your groundwater, which will start out warmer in warm climates and impact the GPM. Tankless gas heaters typically tell you the flow rate to expect if the temperature is cooler.
In a home with a 50-gallon gas water heater, a full tank might allow for three 10-minute showers that use 10 gallons each, a few faucet uses (1.5-2.0 GPM, and running the dishwasher (0.5 – 1. GPM) or clothes washer (2-2.5 GPM.) To replace this capability, you might need a 10 GPM gas tankless heat in the north and a 7 GMP one in the south to account for the difference in groundwater temperature.
Cost/Price
Gas water heaters with tanks usually cost less than tankless models. Tankless one may require special wiring and piping that adds to the initial cost. Once installed, tankless gas water heaters may use less energy and result in lower fuel bills. They also last over 20 years vs. the 8-12-year lifespan of a tankless model.
The 50 gallon tank mentioned about might run from $800-1,800 on Amazon.com, as compared to a 10 GPM Rinnai RU180eN that runs $1,605 or a 7.5 GPM Rinnai RUCS75iN priced at $1,100. According to Home Advisor, labor and parts such as connectors, piping, venting, and hardware could add another $400-1,500 to the cost of the unit. The total cost to install a tank might be $150-600.
The gas water heaters themselves may be sale-priced, but labor costs depend on the rates in your area, plus the complexity of the installation.
Warranty
Though tankless units might last 20 years or so, the warranty typically lasts about half of that, for about 10 years on the heat exchangers and 3-5 years on other parts.
5 Best Gas Water Heaters
1. Rheem RTGH-95DVLN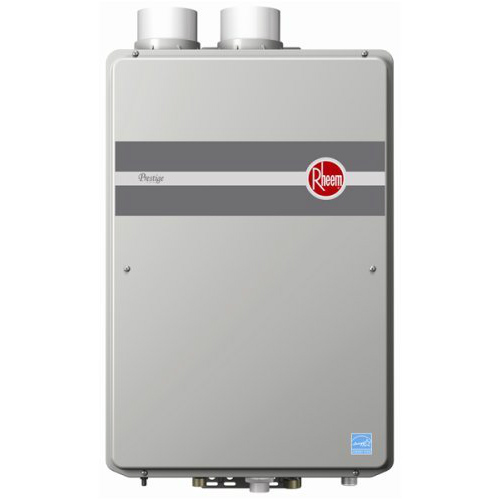 Rheem is a top name in both tank and tankless gas water heaters. Their rigorous manufacturing process ensures quality. Designed for indoor use, their tankless model Rheem RTGH-95DVLN offers high efficiency of 94% to lower your gas bill. The heater has a stainless-steel condensing heat exchanger and uses a second heat exchanger to efficiently capture excess heat instead of letting it escape through a vent. As a result, the heater is more efficient than other gas heaters than non-condensing models. It uses 11,000-199,900 BTUs/hr to heat the water.

This full-featured model has remote control and digital display so you can set the temperature and assure it is set to deliver what you need, plus a self-diagnostic system for easy installation and service. The RTCH-95DVLN also has a Hot Start program to make the system truly on-demand and eliminate the "cold water sandwich," or fluctuations in temperature when the water is turned on and off frequently.

When the unit must heat the water that comes into your home by 35° F, the delivery rate is 9.5 GPM; if it has to heat it by 45° F, the flow rate is a maximum 8.4 GPM. This is ideal for 3-bathroom homes, so it is possible for multiple people to shower or use faucets, washing machines, or the dishwasher at the same time. The heater is flow-rated simultaneous showers using 2.5 gallons per minute, so the tank may not accommodate multiple long showers or higher flow rates.

Warranty

The unit has an impressive 12-year warranty on heat exchanger, 5-year on parts, and 1-year on labor

Expand to see more
Product Features

• Self-diagnostic system
• Two-pipe direct vent system
• 30°F freeze protection
• Digital Display
• 94% energy efficiency
• Remote control
• Overheat film wrap protection
• Low Nitrogen Oxide

Who is it for?

The pricing is moderately high. Once you get through installing it, you can bank on a return of investment in a couple of years. Most previous customers have found this tool a joy to use, and there is no doubt that you will too.

Who is it for?

The Rheem RTGH-95DVLN is priced at over $1,300, but most customers maintain it immediately shows its worth in lower energy bills.

Simple to use
The display is visible even from a distance of 10ft
Very quiet in operation
Supports use of large amounts of water at a time
Saves on the gas bill
The water temperature remains consistent once you have set it up
The installation process is quite long and sometimes expensive
2. Eccotemp i12-NG Tankless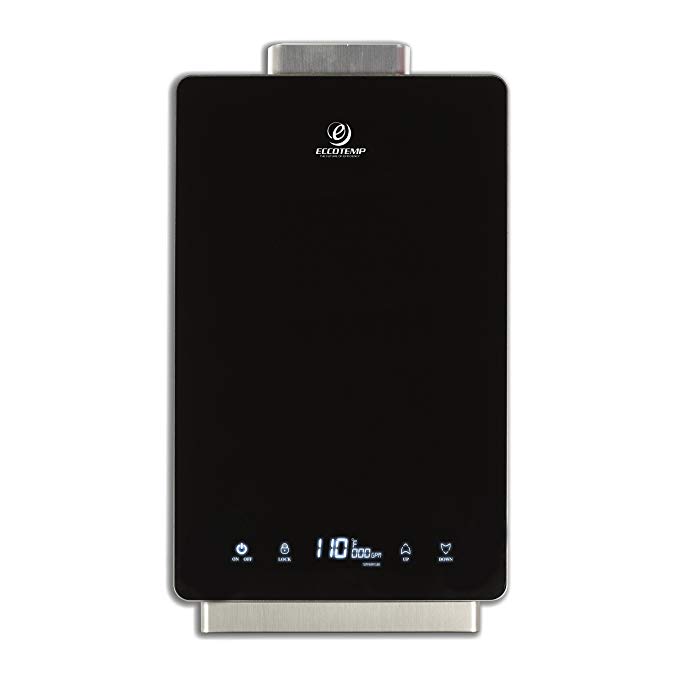 With a flow rate of 4 GPM, the Eccotemp i12-NG Tankless Water Heater is considered a whole-house model for a vacation cabin or a small home. It uses between 25,000-80,000 BTUs to heat the water. Oner report that it can easily provide hot water for a shower, kitchen sink, and bathroom sink. Depending on the groundwater temperature, the GMP could be a slow as .6
The Eccotemp is an attractive unit with black tempered glass on the front with an LED touchscreen to adjust and monitor the settings. Among the controls it has are an energy-saving mode and child lock technology so kids can't tamper with it.

Installation is easy as the gas heater used ½" NPT water filters and horizontal venting. Its electronic ignition system plugs into a 110v electrical outlet.

Expand to see more
Product Features
• Sleek modern design
• Touchscreen
• Display LED
• Automatic temperature and GPM controls
• Safe electronic ignition system
•
Child lock
feature
Warranty
The unit has a 5-year warranty on the heat exchangers and 2 years on parts.
Who is it for?
The Eccotemp i12-NG is currently $325 on Amazon for the natural gas model and $37 for the liquid model.
The automatic temperature controls make it easier to use
Easy to view the temperature and flow rate settings through the screen
Easy to install
Uses a relatively low amount of electricity to stay on
The flow rate isn't exactly impressive when compared with other devices; It will probably be suitable if only one of you is using the showers in the house at a time
3. Rheem G100-200 Natural Gas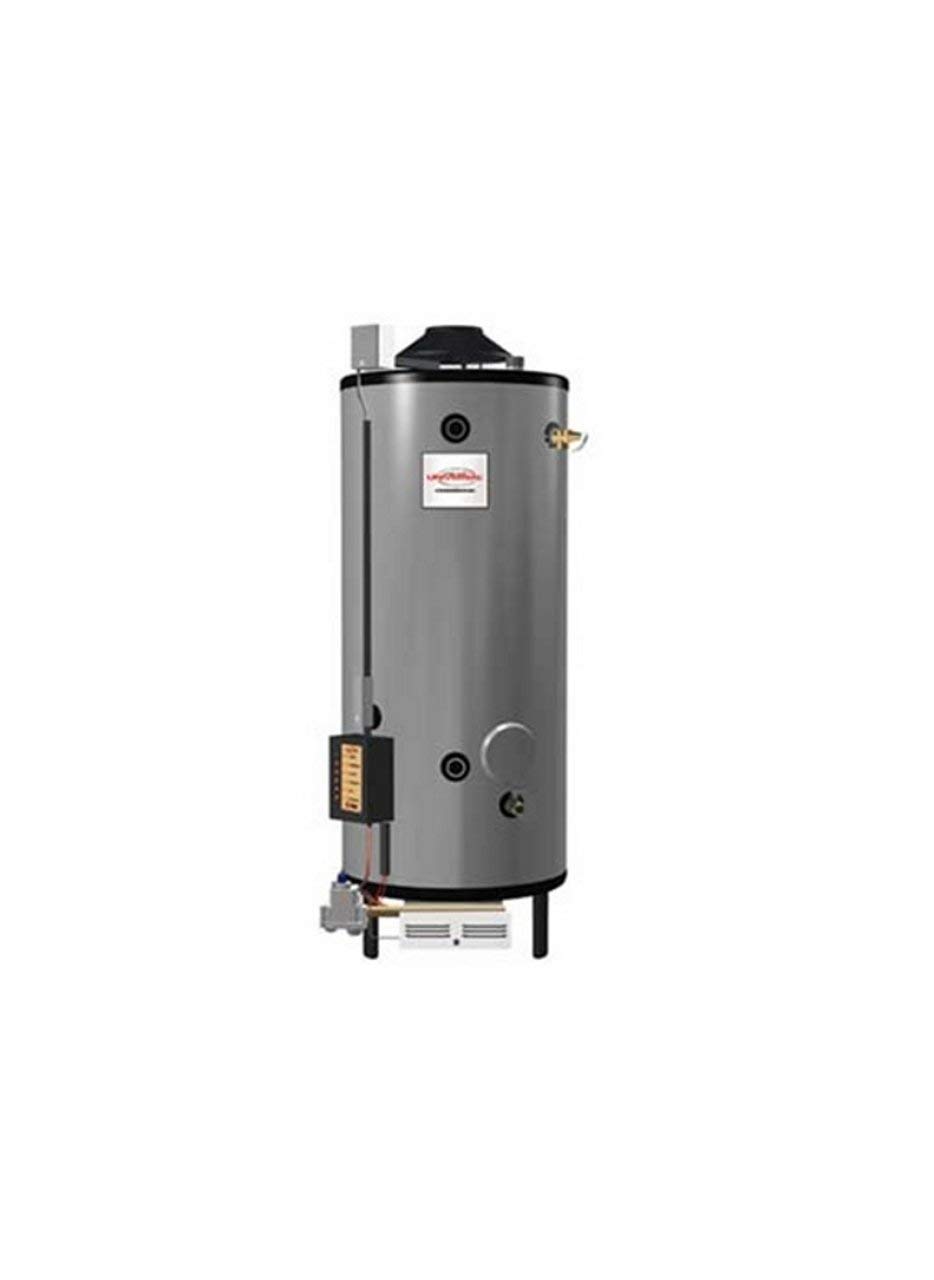 When you have a mansion, apartment building, restaurant, or another commercial establishment, you might prefer the large 100-gallon tank from Rheem. Though it has a space-saving design, the tank has a diameter of 30.25" and high 66.12" and weighs 780 pounds. It takes up a considerable amount of space and adds sizeable weight to the floor. However, it is easy to install as compared to other commercial units.

Using a maximum BTU of 199,000 BTU/h, the Rheem G100-200 will heat water up to 180° and had a thermal efficiency rating of 80%. It has a recovery rate of 264 gallons per hour – a crucial number if you have high water needs throughout the building.

The product features a Direct Spark-to-Pilot ignition system that ignites the pilot only when there is a demand for hot water, a factory-installed brass drain valve for faster draining and service, stainless steel burners, and an LED diagnostic system to verify system operations step by step. The product is available in several Low Nox models that reduce Nitrous Oxide emissions.


Expand to see more
Product Features

• Universal tank design
• Multi-fuel tank design
• 199,000 BTU output
• Automatic fuel damper

Warranty

The Rheem G100-200 has a 3-year warranty.

Who is it for?

Priced at nearly $4,300 on Amazon, this commercial tank heater is worth considering if your water usage is high.

Space saver design saves a little on the space you have to use to install it
Large water capacity in the tank
High efficiency in heating water
Can service many faucets at a time
4. Rinnai V75IN 7.5 GPM Indoor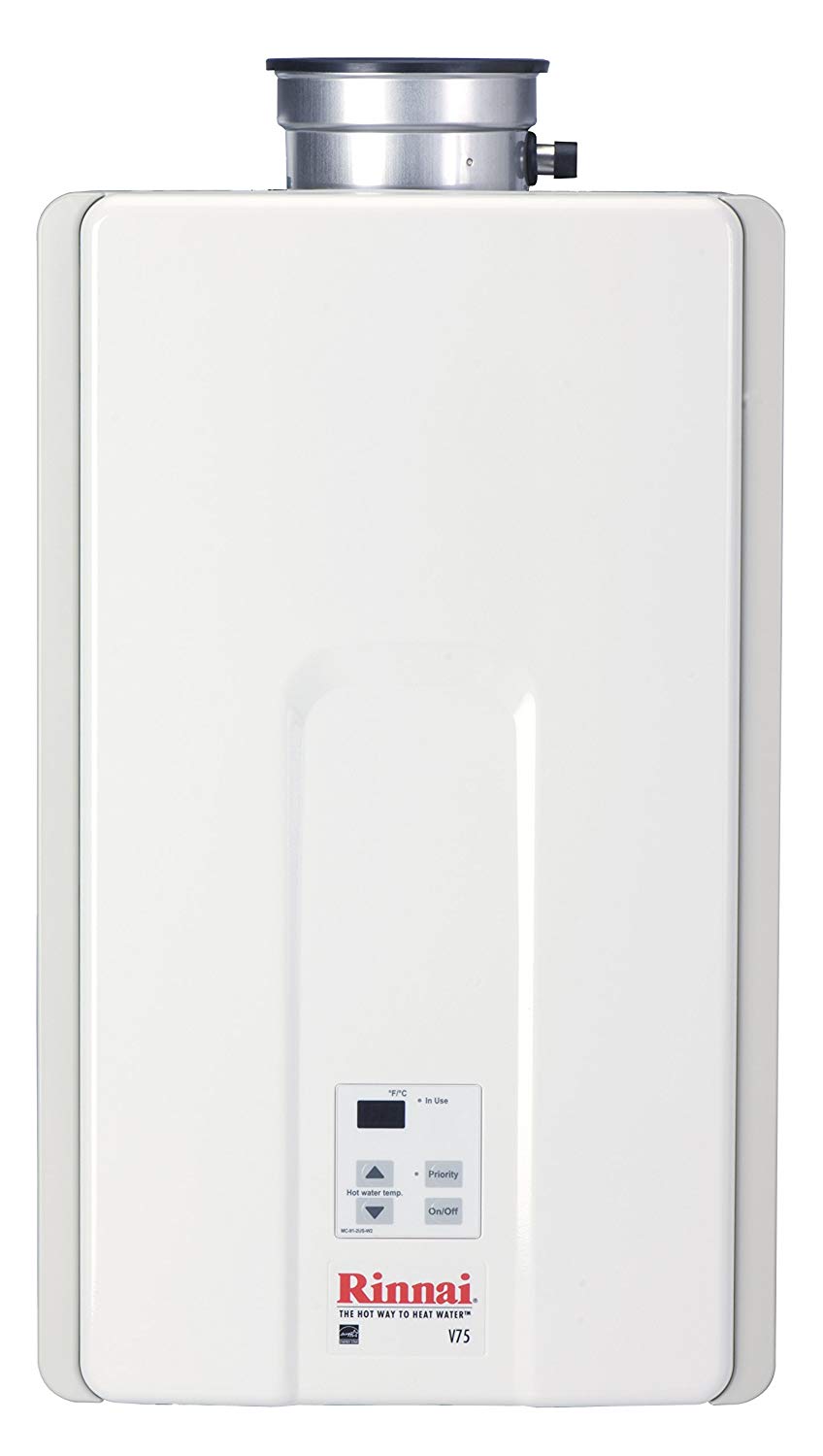 The V75IN by Rinnai is an excellent 7.5 GPM product with value pricing. The heater uses a maximum of 180,0 00 BTUs/h and can reach a temperature of 98°- 120°F (37°C - 49°C) without the remote, and with MCC-91-2 controller, 160°F (37°- 71° C ) for hydronic applications (radiant heating under the floor.) Without the remote, the default is 120° F (49°C) (factory default) or 140° F (60°C) for hydronic use.
This non-condensing model uses a Concentric Venting System with a single-vent assembly option featuring an inner tube for exhaust and an outer tube for fresh air from outdoors. The vent only requires a single penetration through the wall of the home and uses simple positive-fit components to securely connect the system; the joint seals expand and contract as the weather changes to prevent damage. While professional installation is usually a good idea, even a savvy DIYer could effectively install this system.
The resulting direct-vent sealed combustion system is safe and performs well with many
safety features
built in to prevent damage and injury to both you and your family. For example, leak detection will shut the device off to limit property damage, which is especially useful in a vacation property or when you are away from home.
To prevent tampering, it has temperature lock that prevents kids or other family members from changing the temperature setting, which might lead to an unpleasant experience if you unknowingly jump into the shower when the temperature is set too hot or too cold.
TheV75IN even has scale detection that prevents any significant damage to your unit, plus Flame Failure - Flame Rod, Boiling Protection, Combustion Fan RPM Check, Over Current - Glass Fuse, Remaining Flame (OHS), Thermal Fuse, Automatic Frost Protection, Water Flow Sensor, Electronic Water Control, and Fixed Bypass Control. Due to all the extensive safety precautions, this model is even recommended for mobile home installation.
Expand to see more
Product Features

• Non-condensing
• 0.82 energy factor
• 98°F to 140°F temperature range
• Leak detection
• Scale detection
• Temperature lock

Warranty

The unit has a 10 year warranty on the Heat Exchanger, which is increased to 12 years if installed with an isolation valve kit for residential and hydronic applications, with 5 years on all other parts and components, and 1 year on "reasonable labor. The warranty might be reduced to 3 years on all parts when the heater is used for 3 years if used as a circulation water heater within a circulation loop.

Who is it for?

At under $900, the unit offers excellent water heating capabilities for many consumers.


Very quiet in operation
Lowers your gas bill due to high fuel efficiency
Relatively easy to install for a DIYer
Can take up to one minute to heat up
5. Rheem RTGH-95XLN-2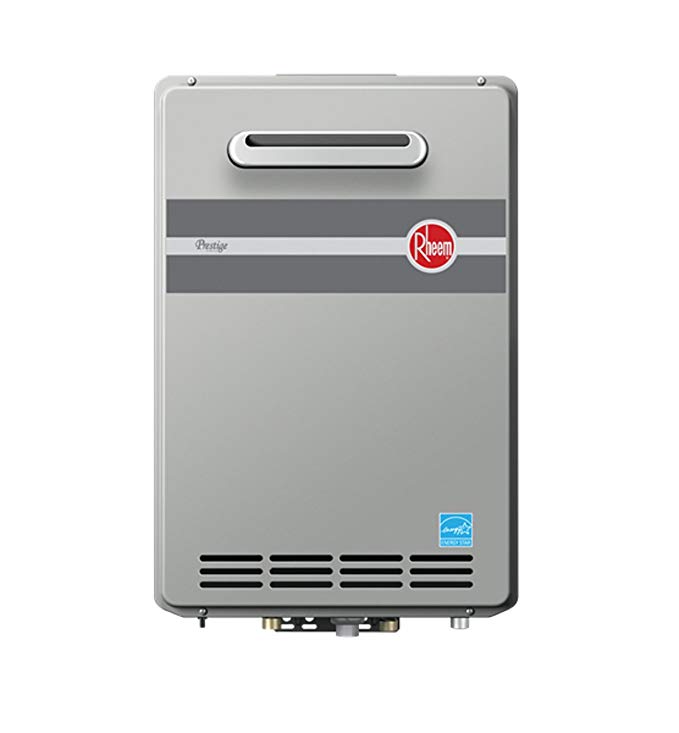 Rheem is an industry leader in the water heater market, and its Prestige line of condensing and mid-efficiency tankless gas water heads are designed with both homeowners and contractors in mind as they save water, energy, and installation time and have built-in diagnostic features. The Rheem RTGH-95XLN is a top performer that uses 199,000 BTU/h and a delivery rate of up to 9.5 GPM. The temperature varies from 80°F minimum to 140°F maximum temperature, with a 120°F factory reset. It is designed for outdoor installation.

The product has an Energy Star rating as it has water-saving technology that conserves up to 1,100 gallons per year and a 94% fuel efficiency rating. In addition, the unit offers an industry-leading minimum flow rate of 0.26 GPM and a minimum activation flow rate of 0.40 GPM. This is due to Hot Start Programming that makes the "cold water sandwich" a thing of the past when you turn on the water for quick use between back-to-back hot water needs. It is an Ultra LoNox model that emits low rates of nitrous oxide. The heater is the first in the industry to have a built-in condensate neutralizer to allow the disposal of condensate without additional installation cost and time.

Its EcoNet® Smart Monitoring System offers a new level of protection, comfort, and energy savings. You can receive mobile notifications and maintenance reminders by adding the EcoNet® Accessory Kit which is sold separately.

A few of the extras in the package include a digital remote control and thermostat wire. If the heater is not enough for your needs, you can connect up to 20 of them to function as one if you purchase the optional MIC-180 plus the MICS-180 manifold control. Another great feature found in some Rheem products and found in this model is that it will work up to 9,840 feet above sea level. Made of copper and stainless steel for durability, it has an electronic ignition.

Expand to see more
Product Features

• High altitude capability
• 26GPM minimum flow rate
• 0.94 energy factor rating
• Digital remote control
• Self-diagnostic system
• Built-in electric blower
• Space-saving design
• Overheat film wrap
• Outdoor installation

Warranty

The product offers a warranty of 12 years on the heat exchanger, 5 years on parts, and 1 year on labor.

Who is it for?

The RTGH-95 runs $1,100, but it is worth every penny you put into it. The heating capability and efficiency are just unparalleled, and hence you should get it right away if you feel it is right for you.

Easy to use
Better water flow and heat during winter
Efficient heating
Installation is straightforward
Some customers have complained that it takes a while to heat the water; the waiting time is however minimal sitting at below 1 minute
FAQs
How long do these take to warm up?
It depends on the heater. Gas water heaters with tanks can fully heat the water in the tank in 30-40 mutes, while electric models take twice as long.
As for tankless models, some will take as little as 15 seconds, while others can go up to 60 seconds. Tankless gas heaters are quicker than electric, but the speed depends on factors such as the distance from the tank to the fixture, the initial groundwater temperature, the settings, and the age of the tankless unit.
What is the "cold water sandwich"?
When the water dispensed from a tankless heater is warm then cold before becoming warm again, the occurrence is called a "cold water sandwich." This is more likely to happen with tankless electric models than gas ones, as gas models reach the desired temperature almost immediately while electric models may need a minute or two to reach the right temperature.
One solution to this issue= is to have a hot water recirculation system installed by a plumber.
How long does a water heater last?
Most gas water heaters will service your household for eight to twelve years. When well taken care of, some heaters can last even up to 15 years. Tankless models can serve a homeowner for well over 20 years.
When is it the right time to replace your heater?
If your heater starts making loud noises anytime during operation, you should probably have it serviced. The sounds may indicate internal corrosion that when mineral deposits eat away at the water heater's elements; they burn away to produce a crackling sound. A plumbing contractor can flush the tank and determine the condition of the tank lining and the sacrificial anode rod, the long magnesium or aluminum rod the extends through the tank to attract minerals in the water. As the name implies, the rod corrodes rather than the tank; it should be replaced every few years when it is more than 50% corroded. Replacing the rod yourself can void the warranty on the water heater,
When it is getting to the end of its lifespan, you may experience leaks, rust, and the buildup of minerals, or a considerable reduction in flow rate. Rusty tanks often develop bulges that indicate the tank is wearing thin. You can always check to see if it can be repaired, but when the tank itself is deteriorating, it is time to buy a new one, many even a state-of-the-art tankless model.
Conclusion
When you are selecting a new water heater, our buying guide can direct you to the best manufacturers and models in the industry.
Subscribe to our newsletter